This is how the truck stands as of today
Winter Time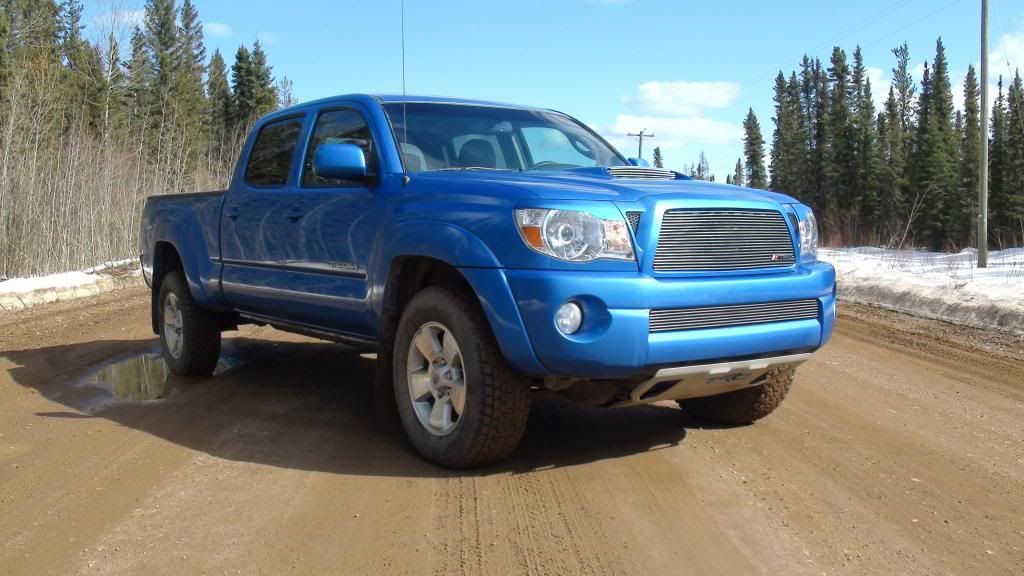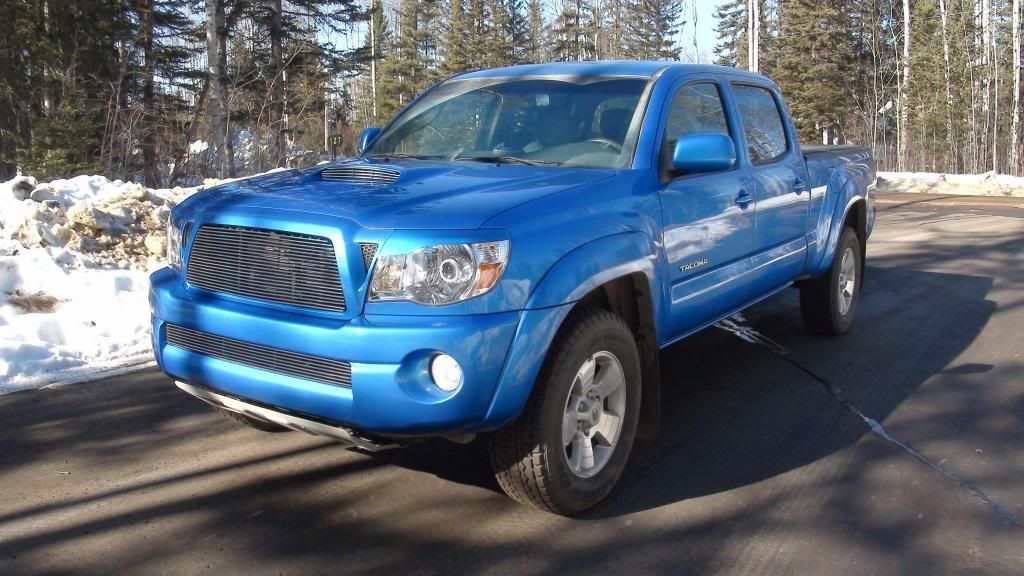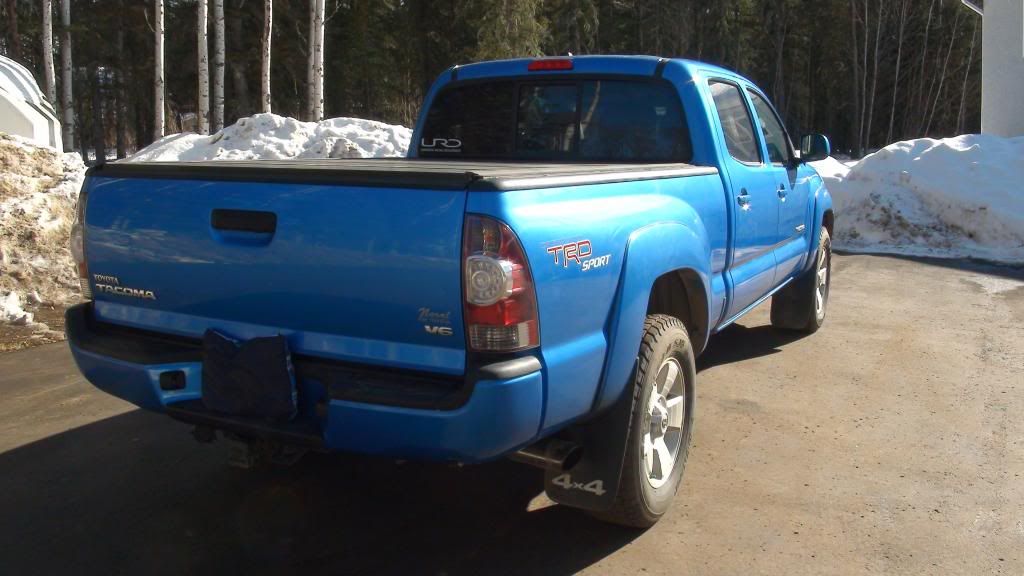 MODS
Engine:
TRD Supercharger
AFE Cold Air Intake Stage 2 SI
TRD Exhaust
Doug Thorley Long Tube Headers
Vibrant Ultra Quiet Resonator
URD
Y-Pipe
URD 2.7 Pulley
Aeromotive Stealth Fuel Pump
AEM Fuel Regulator (FPR Mod)
URD 170*F Thermostat
Exterior:
Retrofit Halo Headlights
Angry Eyelids
Billet Grill
Toyota Devil Horns
17" American Racing Daggers Rims
URD Rear Window Decal
Tonneau Cover
(Backflip G2)
High Power Reverse Lights
Interior
Alpine INA-W910 Head Unit
2 10" JL Audio 10W1v2 Subs
Steath Box
AFR Gauge AEM
Command Start (CompuStar)
LED's Map & Dome
Various Carbon Fiber Wrapped Pieces
Current Exhaust Set-Up Video
Acceleration Videos!! (These were with the 2.8 pulley)
* * * * *
Well I suppose il start off with what ive got for now for mods but first lets start from day one !
I bought the truck brand new off the lot at my local dealership back in 2010 and so this is my very first vehicle I can call my own. (this is the only good picture i have for it being completely stock)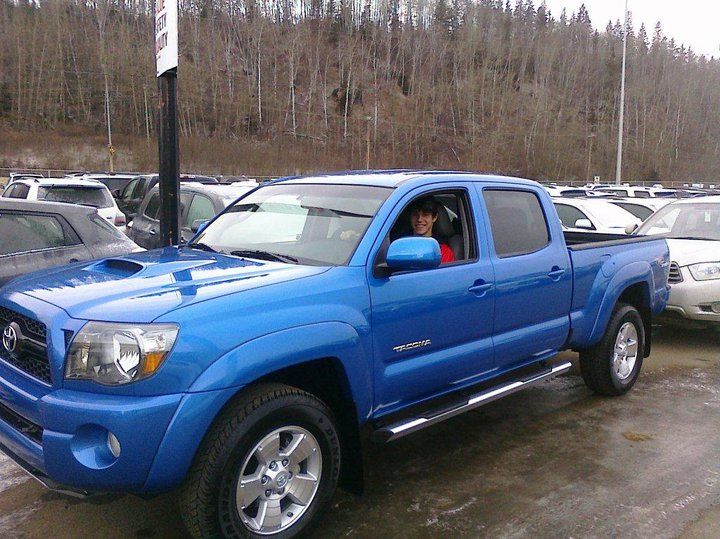 The picture was literally the first day i got to pickup my truck at the dealership! haha
So exaclty one week later i got the command start which is a very nice plus to have with these cold winters we have here. Soon after that I got myself a tonneau cover, this came in handy for the many roadtrips I take during the year for when bad weather hits i dont have to grab a tarp and wrap everything inside! lol
Fast forward about 3-4 months later i heard that toyota offers a S/C for our trucks! I was pretty much sold one that since i thought the stock motor was lacking a bit of HP. Back then i never heard of URD or else i would have went with URD but i dont regret having this S/C as well.
I know my engine bay isn't as pretty as others but its hard to keep clean (the intake and exhaust came 6 months after haha)
After getting the supercharger i wanted to get some new rims so i went to my local Kal-Tire to get some new rims and rubber and i believe they look nice. (Dunno why but reading quite alot of builds people dont seem to like chrome? lol)
Wasn't soon enough i ordered a new pair of headlights as well (got these off
ebay
& my first pair of HID's)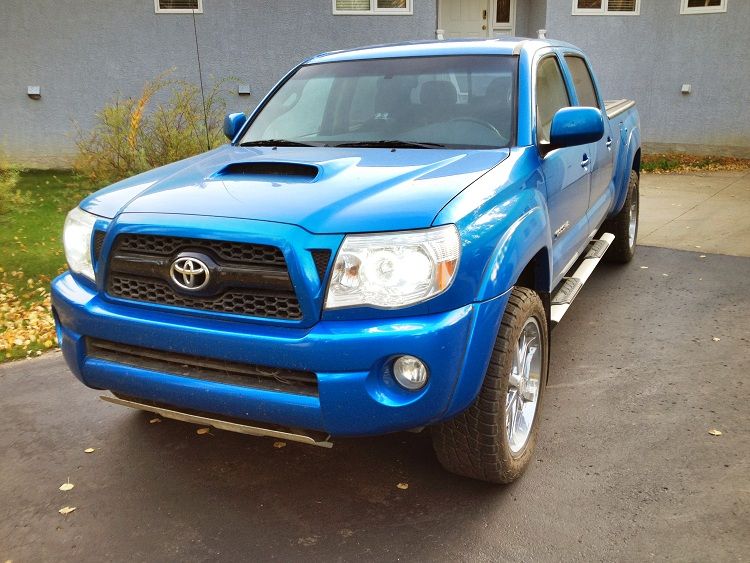 Few more months went by and i decided to upgrade to a touchscreen deck and i went with an alpine deck. At the same time upgrading to a couple of 10" subs from JL audio. JL audio made a very nice stealth box to fit behind my rear seats withough sacraficing to much room, i thought it was the perfect bang for your buck!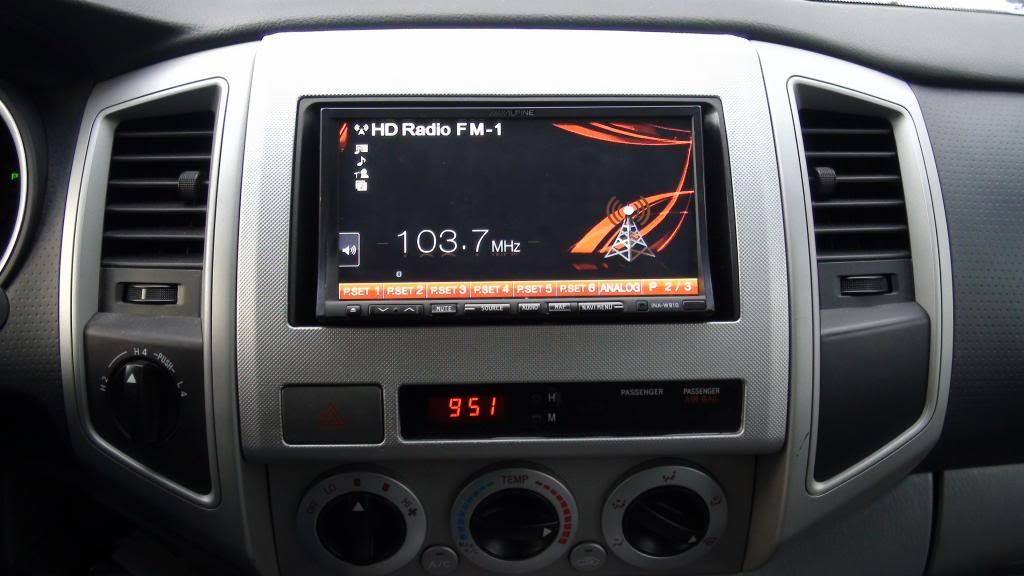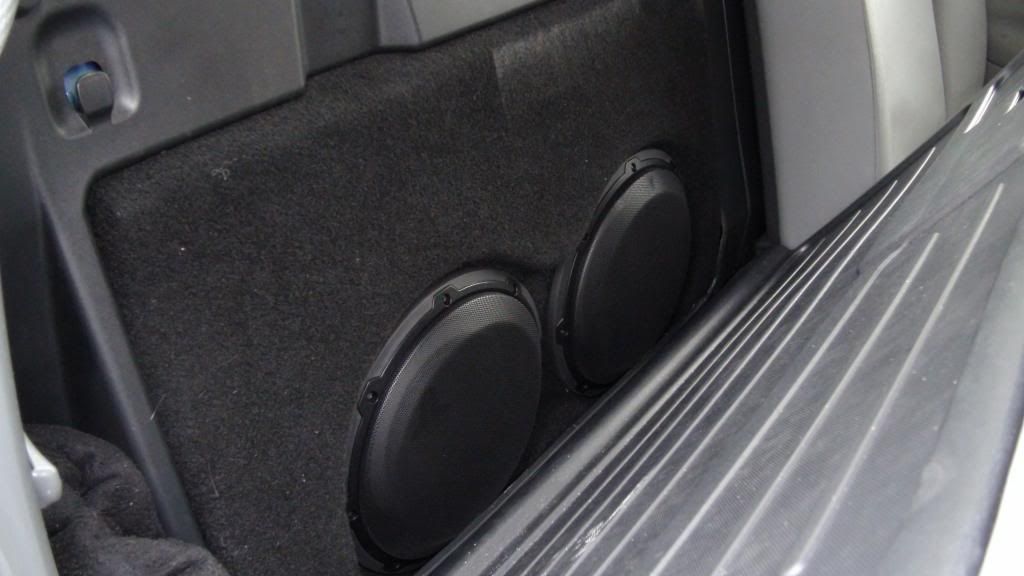 As well I have an 800W amp just powering the subs, I left the stock speakers in and still get a pretty good sound!
So thats where my truck stood for the longest time until i ran accross TacomaWorld, asked a few questions and became hooked to see where this build will go. Soon after running into that site i got asked to check out XRU and became hooked here as well !
Thats when the mod bug really took affect and i ordered a bunch of more goodies for the truck! (fuel pump, headers, y-pipe, smaller pulley, better HIDs, grill and new retrofit headlights)
I finally was able to install the headers, y-pipe and my AFR guage just little while ago and gotta say first impressions was that since the TRD exhaust was more tame the y-pipe and headers made the exhaust TWICE as loud. I loved the deep purr at idle and even a WOT, the one thing i need to complete the exhaust is a RESONATOR since ive got the insane rasp!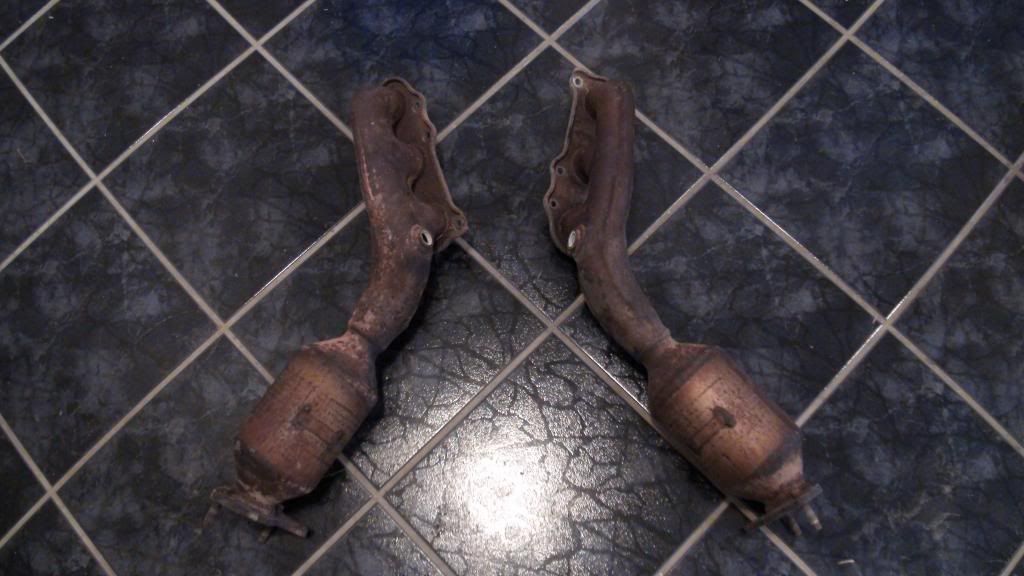 Out with the old and in with the new!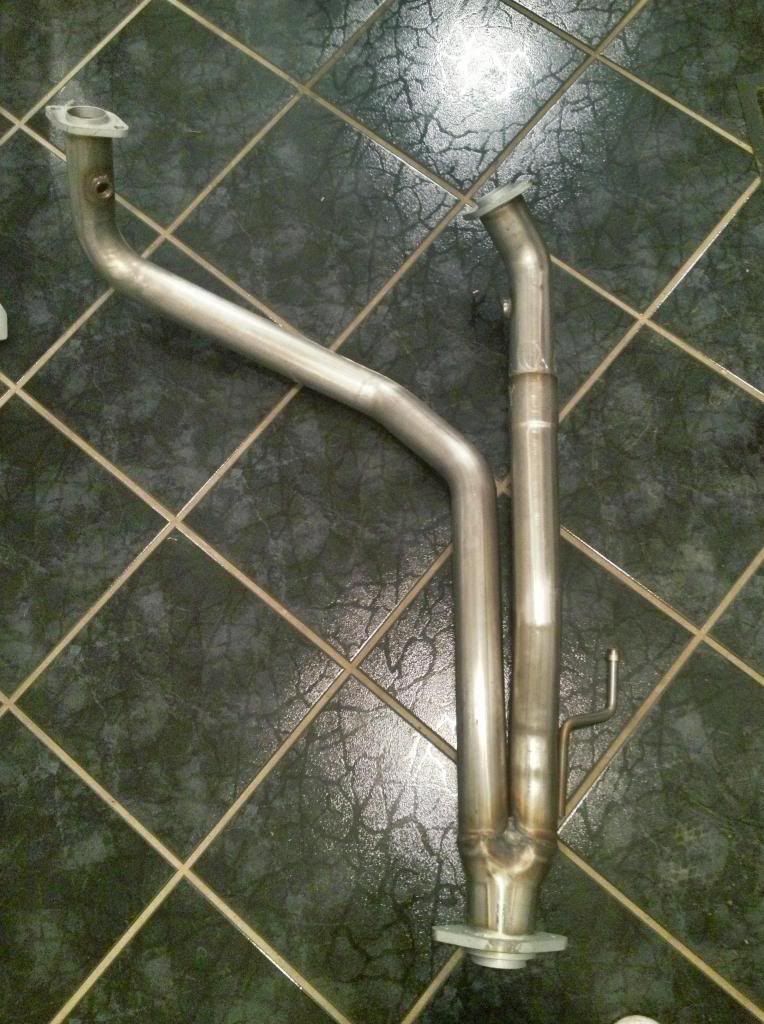 Pics when there installed
Now for hooking up the O2 sensors ive got mine right in the collector for the engine can read from all 6 cylinders and have the middle bank plugged off (its a little hard to see in the pic)
As for the AEM AFR Gauge I needed an extra bung welded to the Y-Pipe, had the bung welded in the collector as well for i can see what all 6 cylinders are doing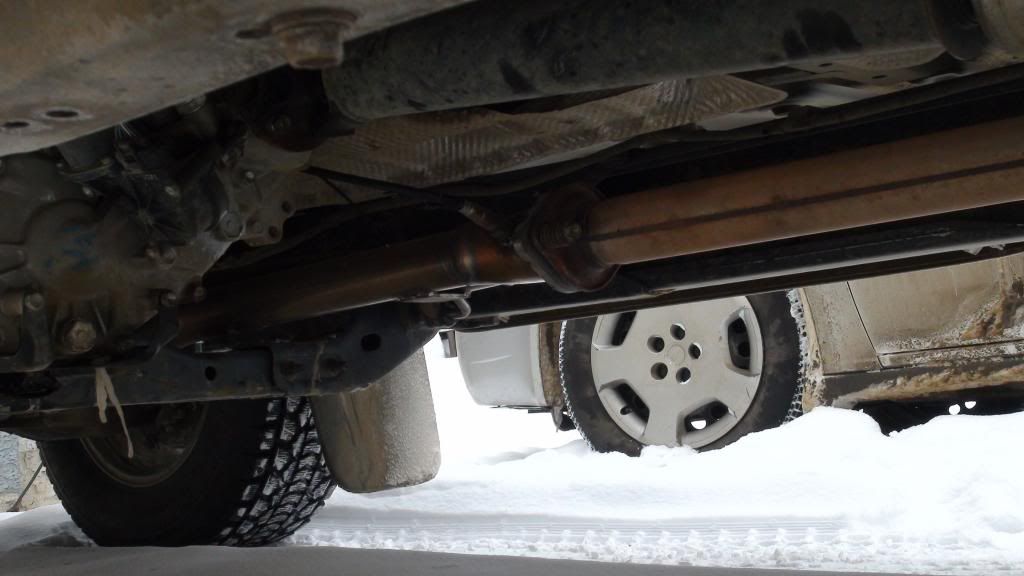 Now this was just when i turned the engine on for i can show you the gauge and my set-up (looks like what everyone else is doing LOL)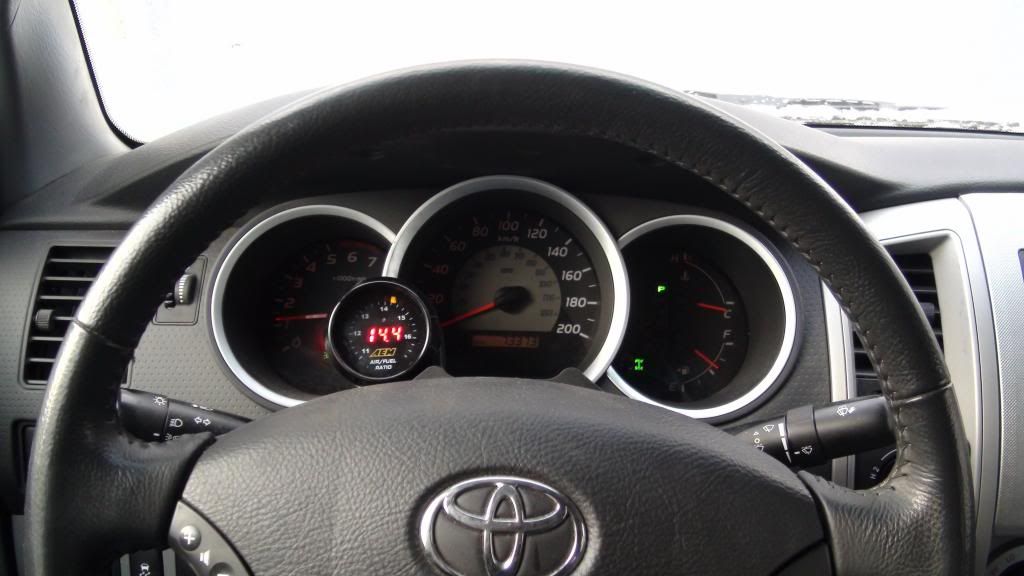 For now this is all ive got but there will be ALOT more coming, i figured i would get a head start on this before everything gets installed
To Be Installed
-Stealth Aeromotive Fuel Pump / FPR Mod?
-URD 2.8 Pulley
-Retrofit Headlights With Eyelids
-Billet Grill
-Interior Lighting
*NOTE*
Im only going to be updating the current pic and mods list, to find out what happened go through the build!