Updated 8/13/14
Ordered on 1/5/13 - Picked up on 2/6/13
2013 TACOMA
-TRD O/R 4x4
-DCSB
-MGM
-JBL/Entune/Nav
As it sits: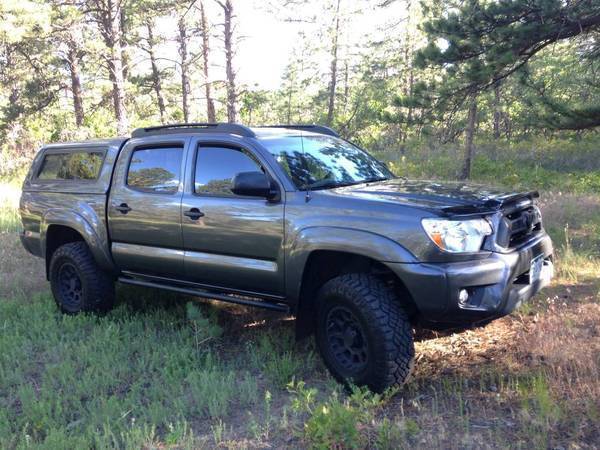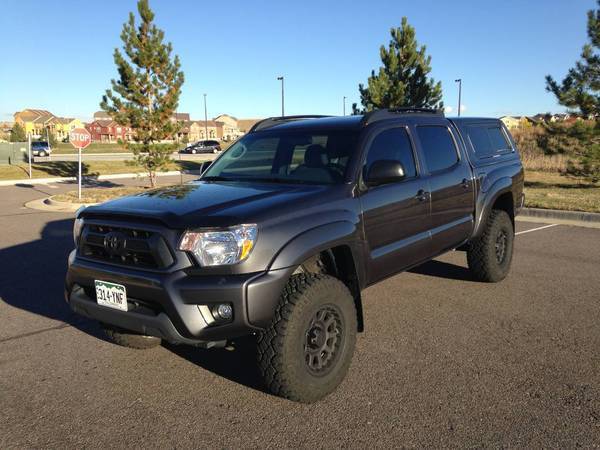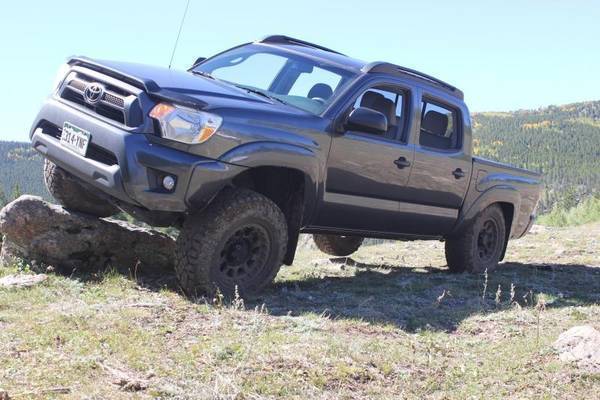 MODS:
INTERIOR:
-WeatherTech Digital Liners (front/rear)
-ImMrYo rear view mirror bracket
-Tacoma door sill protectors
-White LED Dome Light
-LED Map Lights (one red, one white)
-Salex console and glove box organizers
EXTERIOR:
-OEM hood protector
-Clear bra
-Tint
-OEM roof rack
-OEM bed mat
-Trimmed front and rear mudflaps 4"
-Debadged
-Color matched grille
-Color matched rear bumper
-Plasti Dipped front Toyota emblem
-A.R.E. CX topper (LED brake light, LED interior lighting, sliding windows, pet screens, carpeted headliner)
SUSPENSION:
-OME 884X coils with trim packer on driver's side
-OME Nitro Sport 9000 shocks
-Deaver/
ToyTec
AAL with OME N182 shocks
-ToyTec swaybar relocation bracket
WHEELS/TIRES:
-Pro Comp 7032 16x8 4.5"
-Goodyear DuraTrac 265/75/16
ARMOR:
-BAMF Sliders - bolt on
MISC:
-Trailer harness relocation bracket
-Diff breather mod (relocated to tail light)
-Hose clamp tailgate security mod
-Exhaust cutoff right behind last hanger
One day after purchase:
Added Clear Bra, OEM Hood Protector, Tint, OEM Roof Rack, and trimmed the mud flaps 3".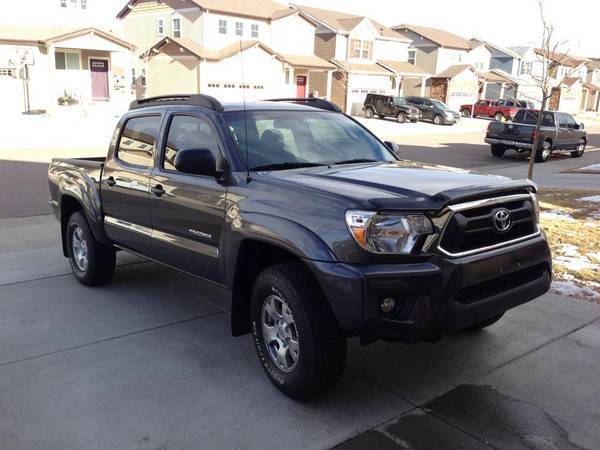 05/15/13 - Just picked up my OME lift. I chose to do the 884x coils and the TSB AAL (even though I don't have the TSB). I wanted to have a noticeable lift, but didn't have the money to get UCA's that I would need for the 2.5" or higher lifts, and as much as I would love 33" tires, I couldn't justify the loss in performance for what I use the truck for 95% of the time. I also shied away from the 5100 route because I didn't want to sacrifice ride quality by preloading my progressive Off Road coils. I picked them up for about $800 from ToyTec assembled and will do the install in a couple of weeks when I have the time.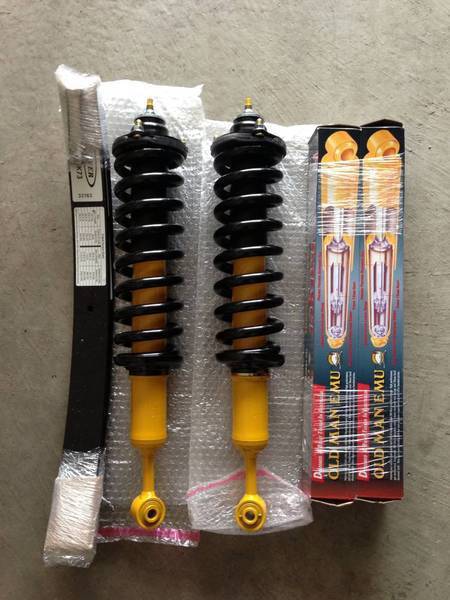 5/23/13 - Picked up a color matched grille! Took about 5 minutes to swap out and I'm pumped with how it really cleans up the front of the truck. I also snapped a couple of photos of the debadge and the derped front Toyota emblem: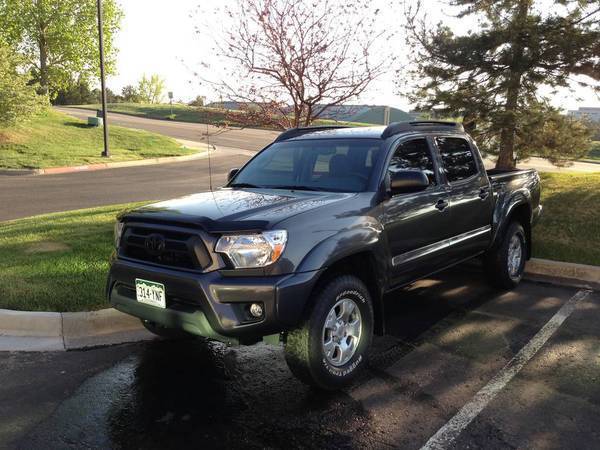 6/1/13
Finally got around to installing the suspension! I went from 20" (hub to fender) up front to 22". Love the way the truck looks and performs. Smooth, but firm ride (very close to stock, but a tighter feeling). I was able to get the lift done, as well as swapping my old stuff onto my wife's 4Runner with a few friends in just a little over 3 hours. Before the lift I had the 15-25 mph shudder, but after the lift the truck is smooth as glass! That was a very unexpected surprise!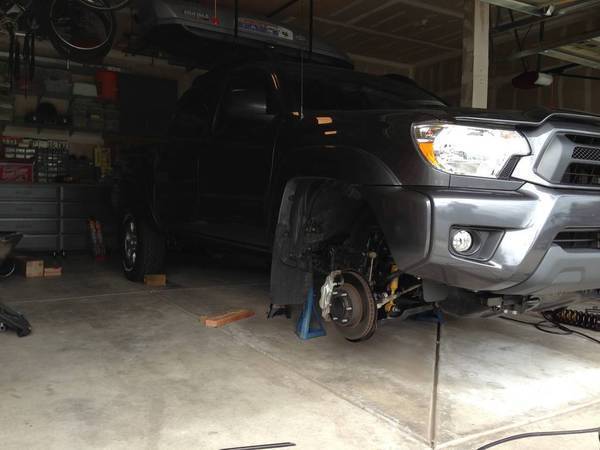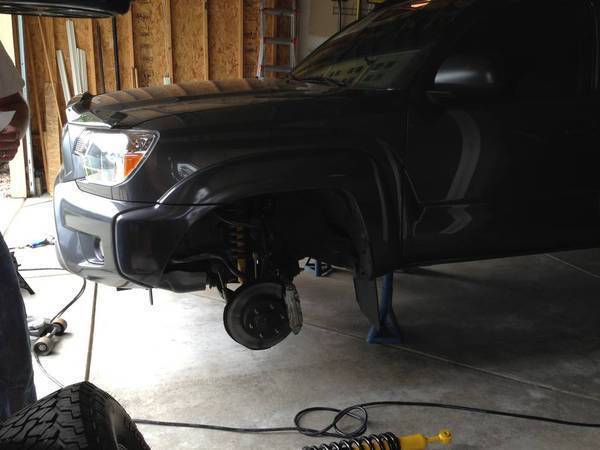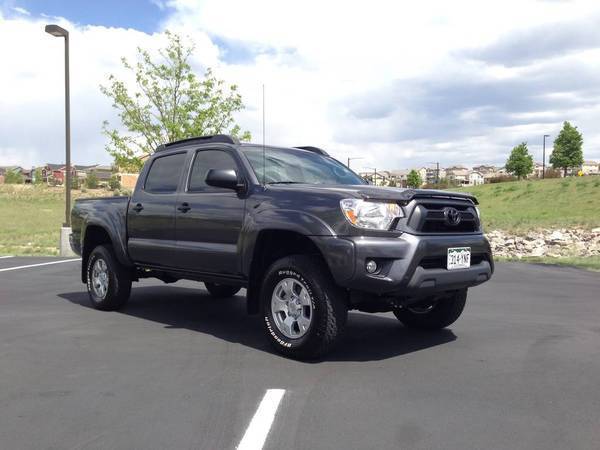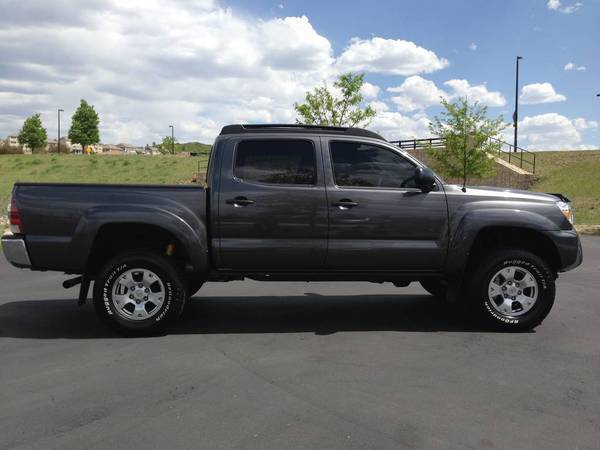 6/20/13
Found a local guy who wanted to do a straight swap: his MGM bumper for a chrome bumper! It took us about an hour to complete the swap. You can also see the trimmed rear flaps in these pictures. No more white 4x4.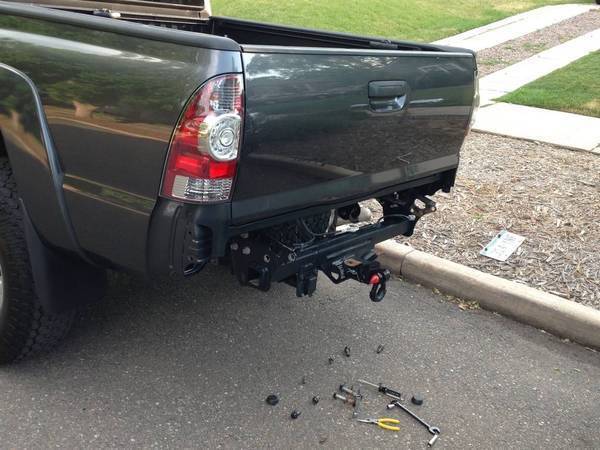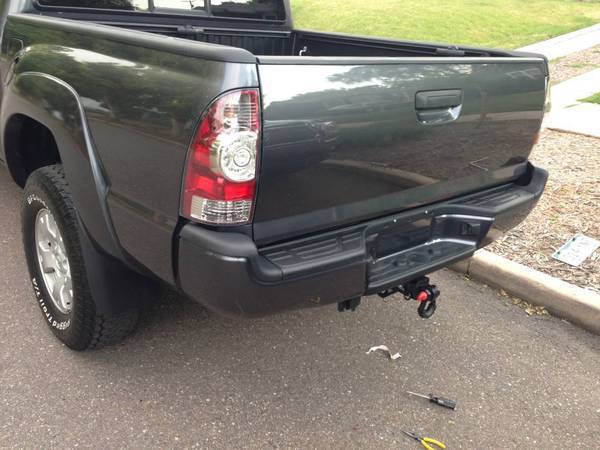 6/24/13
Fabbed up some trailer harness relocation brackets.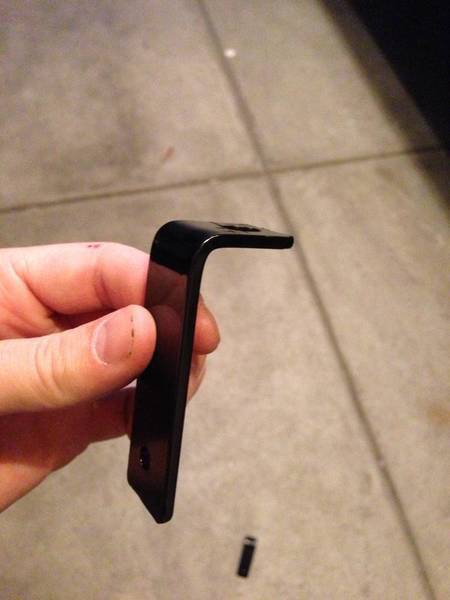 Side picture:
7/11/13
Did the rear diff breather mod and the hose clamp tailgate security mod! Ran my diff breather up to my back left tail light.
8/20/13
Got wheels and tires installed!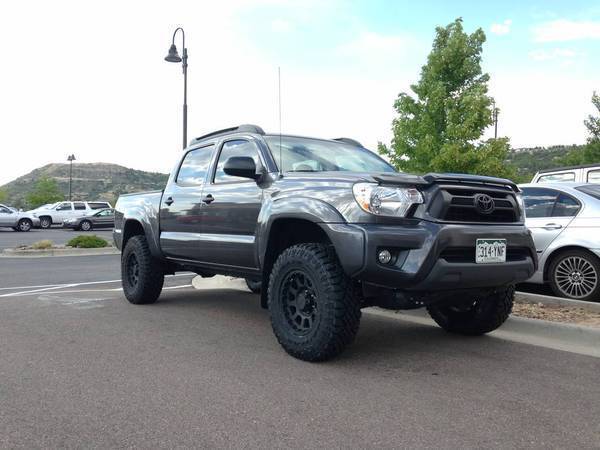 10/31/13
Picked up a new A.R.E. CX topper. I'd searched craigslist on a nearly daily basis since I bought the truck with no success, so I finally gave in before winter. Carpeted headliner, 12V LED interior light, sliding windows, pet screens, and LED tail light.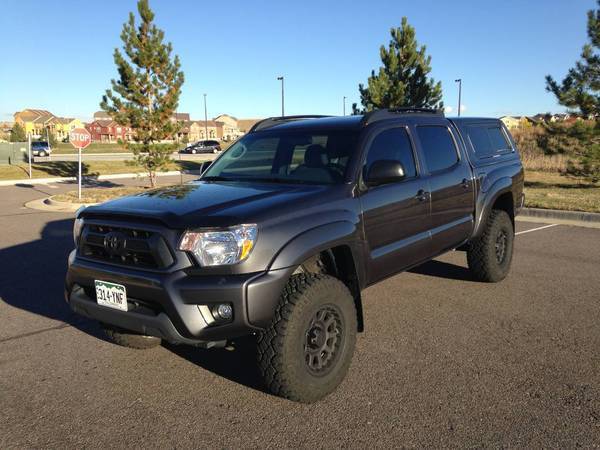 7/27/14
Finally found the time to drill out the frame holes to completely bolt up the sliders. It was actually a lot more effort that I had anticipated, but fortunately I'm done with it. I'm not sure if I'd do it the same way again, but it is nice to know that I could take them off if I ever wanted to sell the truck/part it out.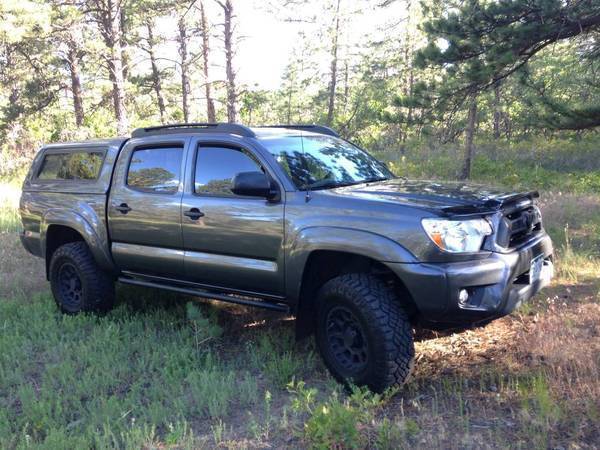 FUTURE MODS:
-
Full set of skid plates
-
Leather/heated seats
or
Clazzio Covers
-
Topper Rack
Thanks for taking a peek, and I'll keep this updated as best I can!