I have had a ton of PM's lately asking about the mods I have made to my newest truck. After having 4 Tacomas (counting my current), I have learned a ton of things from not only members on this forum but others as well.
My biggest concern is trying to balance a nice build with good parts without breaking the bank. Of course there are a lot of directions I would still like to go but when you are trying to balance a job/family/life choices have to be made that do not involve a fancy truck... Well I feel that my ride is still unique.
With that being said, my newest truck was ordered (first one ever) in January of 2012. I was in my 2008 at the time and went my dealership just to check out the new front end. After 3hrs I was awaiting a Silver SR5 4x4 with a few accessory packages. Most of my other Tacomas were always TRD offroad but I never saw the real value in the package price.
First day.
I was not willing to part with my wheels/tires (16" Dick Cepek Torque with Pirelli Scorpion 265/75/16 E)from my previous taco so as part of the sales deal I swapped after delivery. I then installed my trifold bedcover, AVS in-channel vent visors and tinted the windows to 5% all the way around.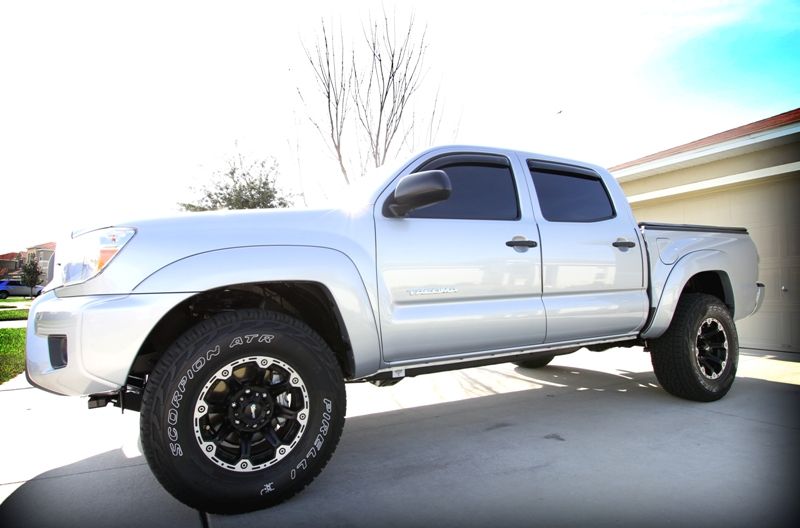 5100's ordered and after a long discussion I decided to set them at 1.75" (my previous truck was at 2.50" without upper control arms. Bad move because my alignment was never dialed in correct). I also contacted a member here and purchased a set of TRD sport springs / TRD Bilsteins (yellow) for next to nothing. I took the springs to my local powder coating shop and had then coated red for $25 a spring.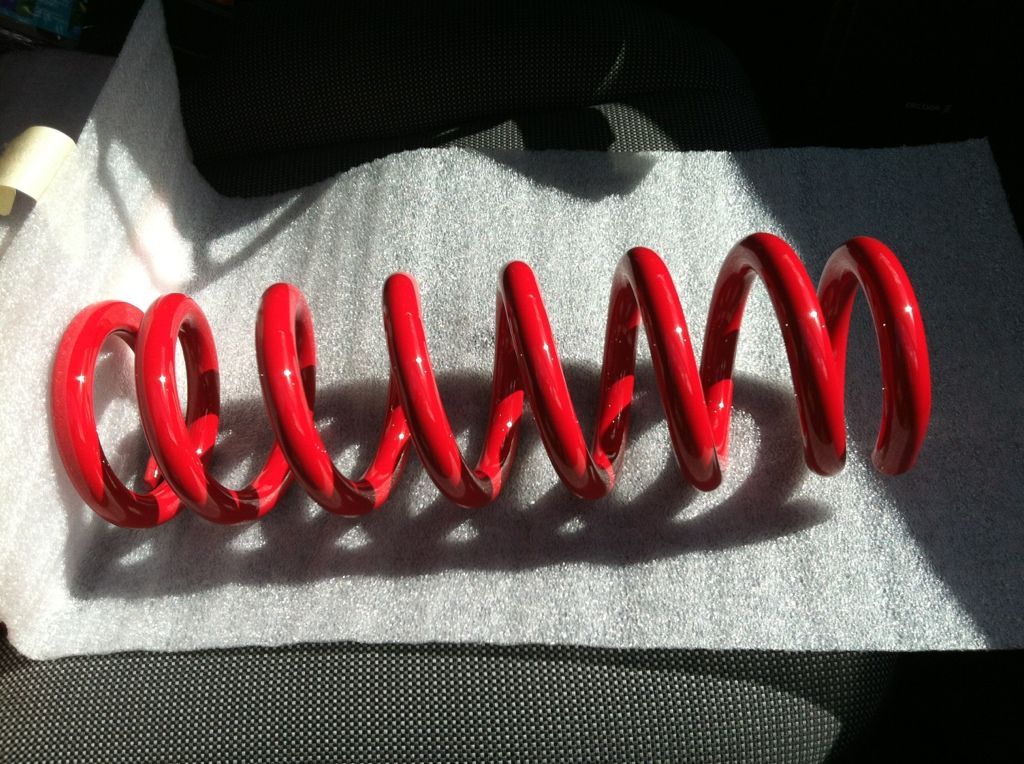 After installing Bilsteins I noticed the rear end was starting to settle, bringing the front-rear measurements too close for my taste. I have never been one to like the "nose up" look so I ordered a set of 1" rear blocks and installed the yellow Bilstein rears to make the stance more my style. I also ordered a set of Nokya yellow fog bulbs (anytime mod) along with some Sockmonkey style!
I then started looking for a set of step rails... Craigslist is by far the best resource for parts out there and sure enough I found a set of NFab rails for $200 that were taken off of a new truck after purchase. I also sanded and painted the Toyota symbol along with starting to remove badges.
If anyone has ever seem the factory mudflaps in action while the truck is moving you will understand why I also purchased a full set of Husky flaps ($60) and sold my factory flaps for $160ish.
I was enjoying the red accents so I picked up some caliper paint...
Mods stopped at that point for several reasons and I almost came to the point where I had to sell my new Taco... Luckily everything worked out and about 6 months later I started the process again... With some unallocated tax returns I started my next phase. I was wanting a more aggressive tread but could not deal with the E load ride. I also figured if I was going to upgrade the tire it may be a good time to go up one size on the wheel.
Goodyear Duratracs continuously came out on top when I compared what I wanted but didn't want to sacrifice ride, comfort or handling.
When I originally purchased my Dick Cepek Torque wheels (for my 2008) I went with 16" because due to budget reasons I could not get new wheels/tires. I LOVED the Torque wheels and received tons of compliments but the entire time I wanted Jesters... Well now was the time to get some.
I also wanted to protect the carpet so
Weathertechs
were installed...