This is how she sits as of 04-28-14: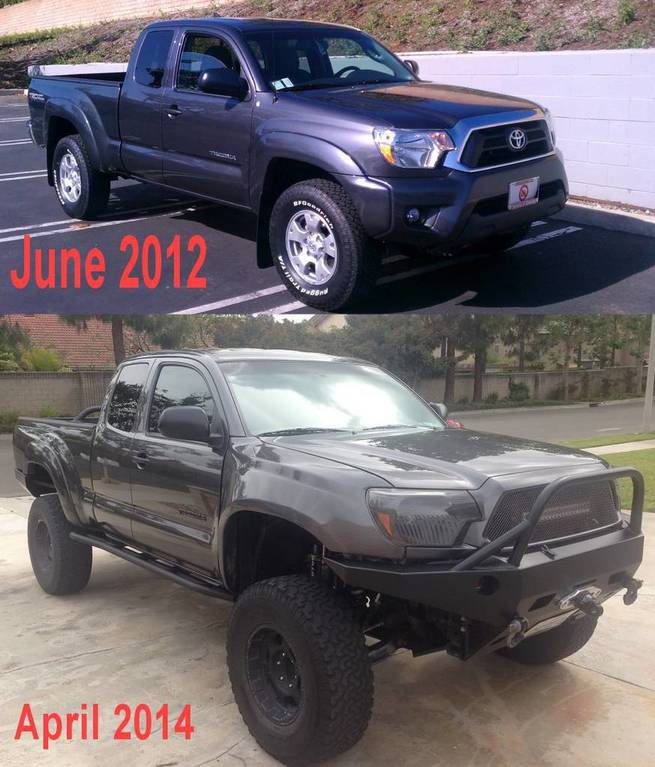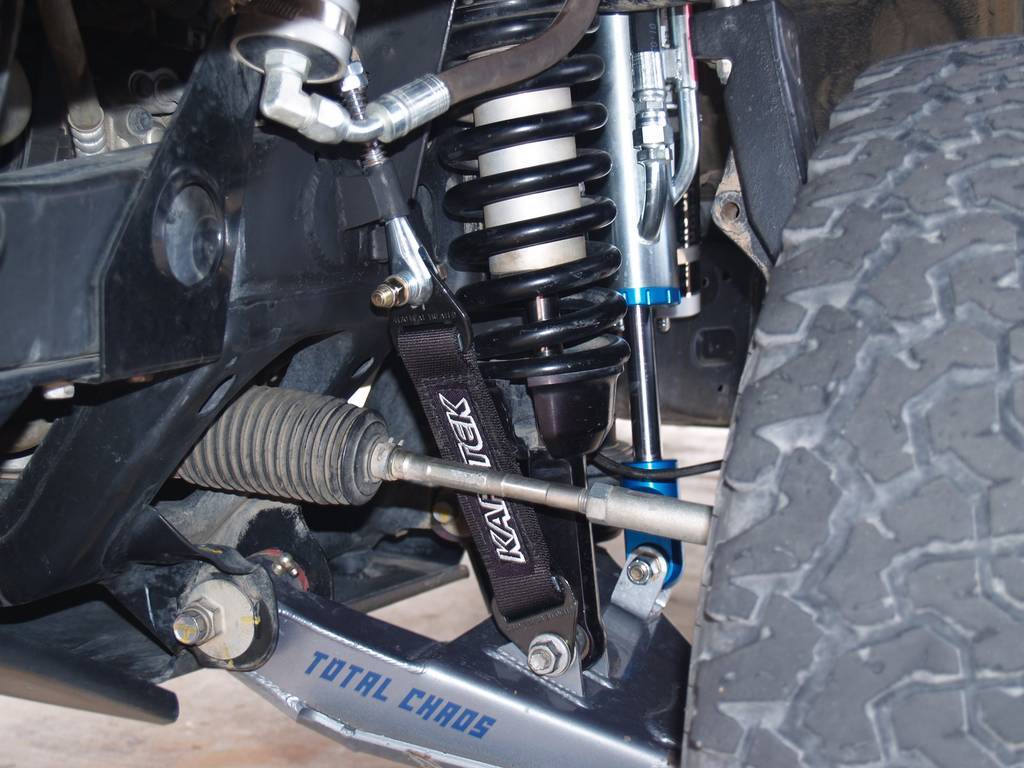 Mods as of 4-8-2014
Suspension
Icon
2.5 Extended Remote Resi Coilover's
King 2.5 2 Tube Remote Resi Bypasses
Icon Tubular Upper Control Arms
Total Chaos Stock Length Lower Control Arms
Total Chaos Dual Shock Hoops
Kartek 10 Inch Limit Straps
Maxtrac Spindles 4 inch lift
Icon 2.0 Rear Resi's
OME Dakar Leafs with D29XL leaf
AllPro
U-Bolt Flip Kit
Extended Brakelines
Total Chaos Cam Tab Gussets
Total Chaos Coil Bucket Gussets
Exterior
E&G Grill
Trailer Products Fibergalss fenders 3 inch flair 2 inch rise
BHLM
TRS Bi-xenon Morimoto Mini Stage III Kit (D2S)with Halo's
CsJumper LED's- DRL switchbacks, parking lights, Tag Lights, Reverse Lights 55w, Dome and maplights
ProComp Wheel Series 7089
Hankook Dynapro's 315/75-16
Rigid Industries 20" LED lightbar
Rigid Industries Dually's 20* Spot Pattern
Trailer Harness Relocated to Rear Bumper (Standard with the
Pelfreybilt
HC Bumper)
BAMF Behind the Grill Lightbar bracket
Relentless Bed CrossBars
Garvin Wilderness Rack
Fog Light anytime Mod
Redline Tuning
QuickLIFT ELITE Hood Gas Shocks
Rear Diff Breather Mod
Cab Mount Chop
Interior
Sony MEX-GS600BT Head Unit (Hidden)
In-Dash Apple iPad Mini (Controls Head Unit and Navigation)
Alpine MRX-F65 Amp
Alpine SWS-10D4 Sub
Image Dynamics CTX65cs component speakers
Dual Universal Bluetooth GPS Receiver
Yaesu FT-60R 2M/440 with MARS Cap mod
Armor
Pelfreybilt IFS Skid
Pelfreybilt Mid Skid
Pelfreybilt Front Plate Bumper
Pelfreybilt Rear Hi-Clearance bumper
AllPro Heavy Duty Rock Sliders
12-25-12
Well i've had the truck since last june and discovered TW in December and it's been all downhill for my bank account since.
It started in late December with a Grill from E&G.
12-27-12
Then it rolled right into the stereo. I wanted to keep the stock head unit but still get some thumpin going on:
First I ordered the CTX65cs component speakers from tacotunes with the MDF speaker adapters.
Got me an enclosure with a single Alpine SWS10D4
Remote bass control knob installed into one of the blank covers
Alpine MRX-F65 amp installed under the drivers seat
I am extremely pleased with this installation. The thing absolutely thumps. Mirrors vibrating...people in other cars looking at you like WTF..exactly what I wanted and all with stock head unit!
I installed the CTX65cs speakers myself which was easy enough but got lazy and decided to let Car Stereo and Alarm in Brea CA do the install of the amp, sub and bass control and PAC line converter. The work was excellent and the final product is exactly what I asked for and sounds better than I expected.
The amp is pushing 110 watts rms on channels 1 & 2 to the front component speakers and the sub is getting 320watts from a bridged connection on channels 3&4. I chose to go with only one sub so I didnt lose all my space in the AC and i'm really pleased that I did. On a recomendation of the stereo shop I did not disconnect the rear headliner speakers, as he said there is really no downside leaving them hooked up and that they will provide a little bit of fill behind me. They do not run off the amp just off the head unit.
2-7-13
LED lights from CSJUMPER2003
At this point I did the interior lights, front parking lights and the white/amber Drl's. Real happy with the service and the installation of the DRL's went well with the instructions provided. Got a few pics below and a short video.
Interior Before:
Interior After:
Video of the White/Amber DRL's in action
http://youtu.be/F7oZeQz6qmc
2-14-13:
Then it came time for some Bi-xenon Morimoto Mini Stage III Kit projector headlamps from TRS. I also installed the LED halos inside the G37-R shrouds. I did the whole install myself. It really was not the difficult.
http://youtu.be/sun8wHw8jRI
Pics:
Here is a shot of the beam pattern before I made any adjustments.
2-18-13
I just added some new ProComp 7089 series wheels with the stock tires.
Next is a lift...stay tuned