Bought my first Tacoma a few weeks ago. Bought it from a guy in Colorado. He bought it from a dealer in Vermont where the original owner lived. I flew down to Colorado to get it. Looked at the truck overnight and noticed some damage to the body here and there. My main concern was if the truck was mechanically sound and it was. So i bought it and stayed at my dads in Colorado Springs for a few days. Well we looked at the truck some more in close details and noticed that cosmetically there was a lot more wrong with it than i thought when i looked at it the night before. There is lots of rust/corrosion, rear end has been hit at some point in life and the front as well. I do regret buying this truck just because i felt like i paid a bit to much, but i just have to take it like a man and move forward.
When i got home i really looked at the truck in great detail and even went as far as get the service history for the truck. Well after looking at it, i felt better but still regret it. Its a no wonder why the truck runs and drives great is because of all the service that was done on it. A few things to list: 6 speed manual transmission replaced, exhaust manifolds and exhaust tubing replaced with o2 sensors, leaf springs replaced, and other minor servicing. So really all im dealing here with is just rust/corrosion and bodywork.
I decided to get to work and bring this truck back to good shape starting with the frame with out spending an arm and a leg on it. Really just the rear and front of the frame needs treated, the middle where the cab sits is fine. I stared in the bed area. Took the bed completely apart. Breaking it down all the way will also help my painter not having to do so much work and ease up on the bill.
I thought about taking out that x frame and fabricating me a tubular x frame but i think i may just leave it. After all this is going to be my daily driver and i hardly tow anything heavy or big, at most just a trailer with a car on it.
The rust looks bad but it really isnt that bad, no holes that ive found. The flaking is this coating i would assume the original owner put on cause it doesnt look factory. Its pretty much the coating mixed with surface rust. My goal is to strip the frame down to bare metal and coat it with real man coating, POR15. stuff works great, used in the past.
Pictures: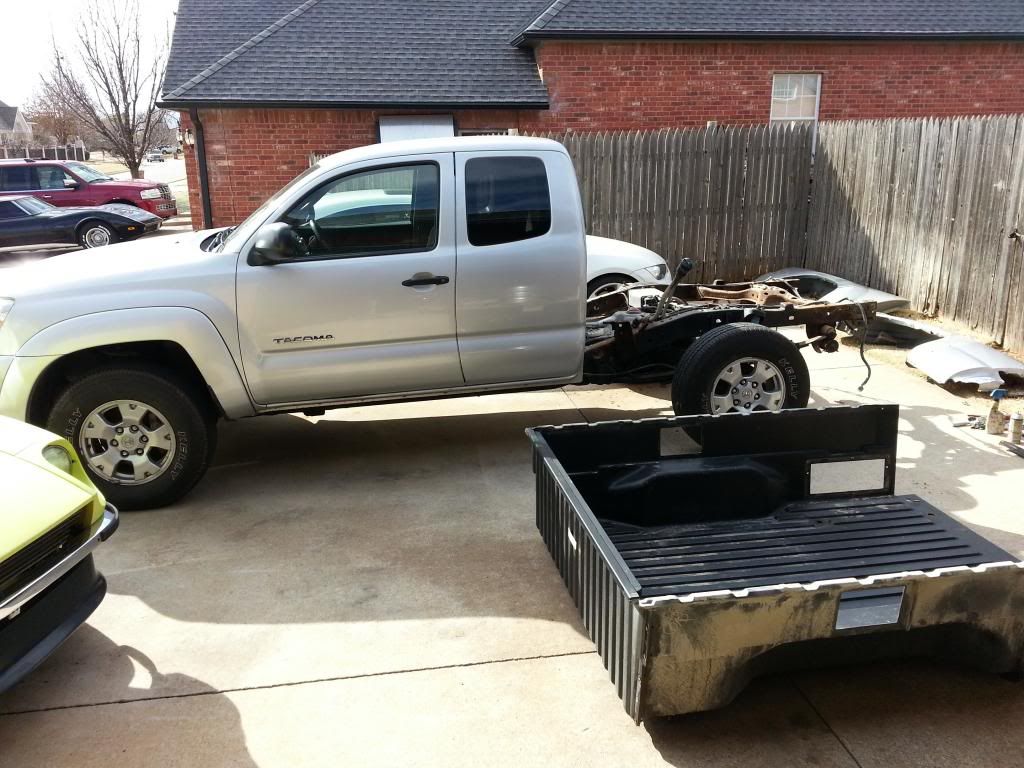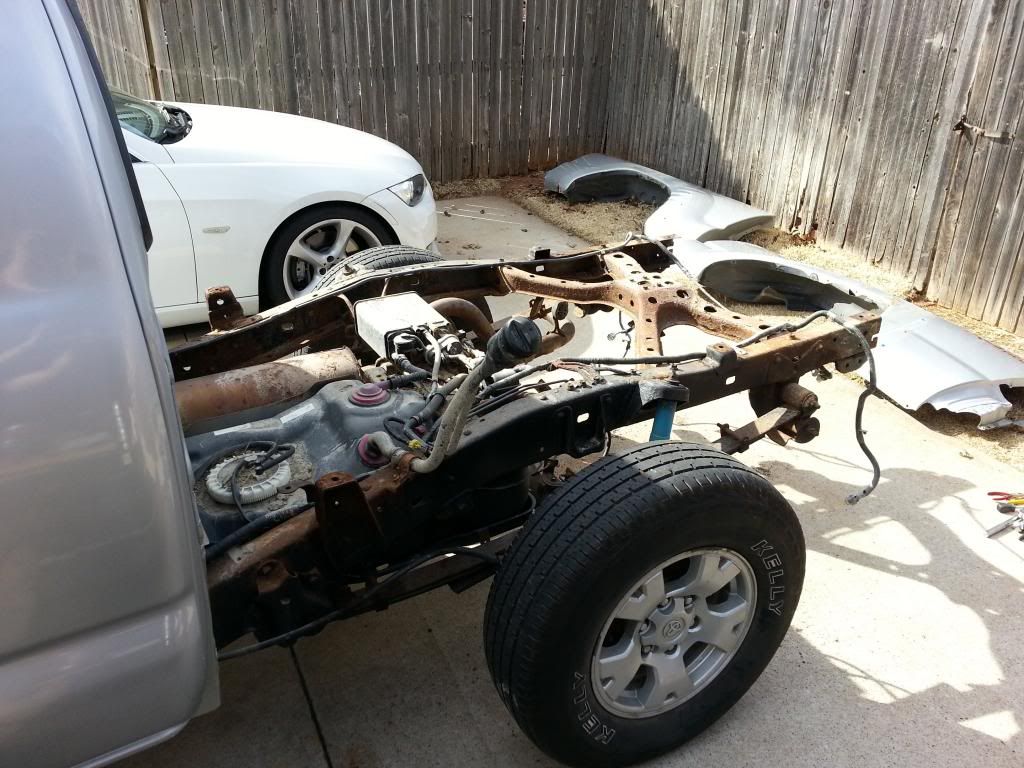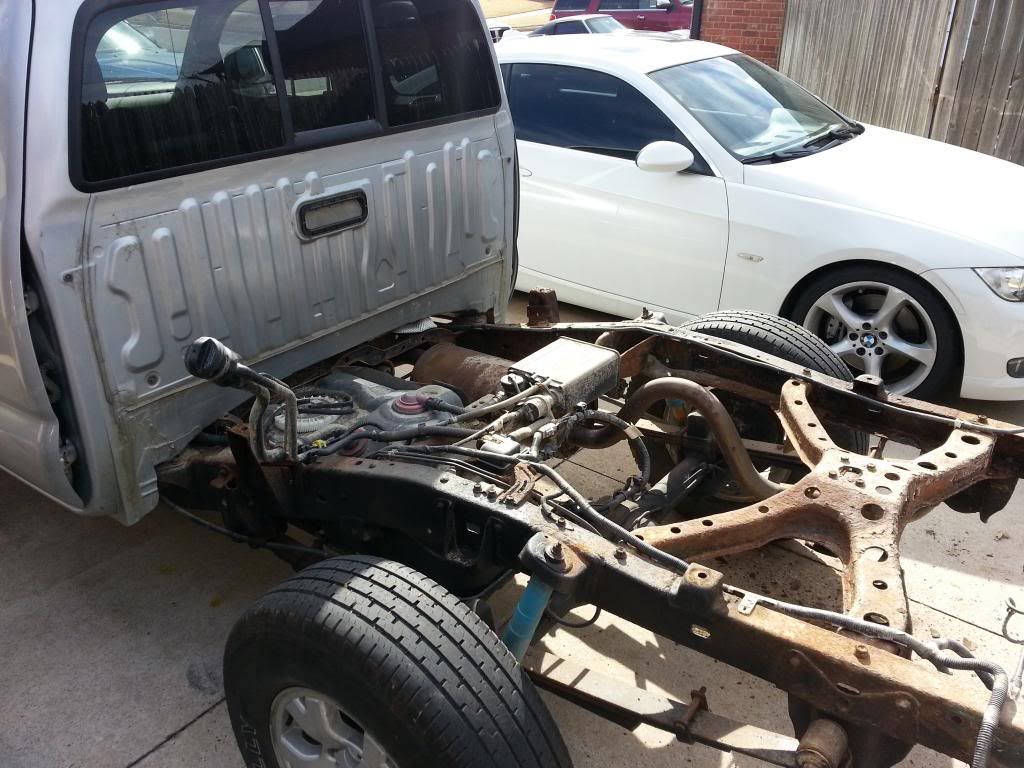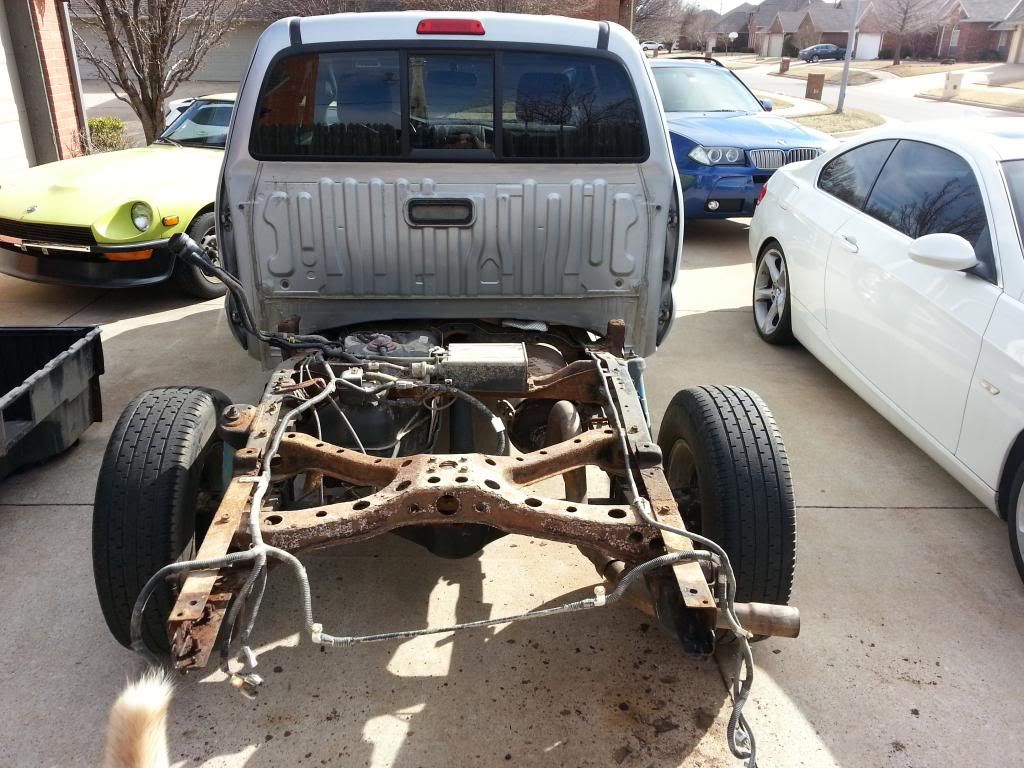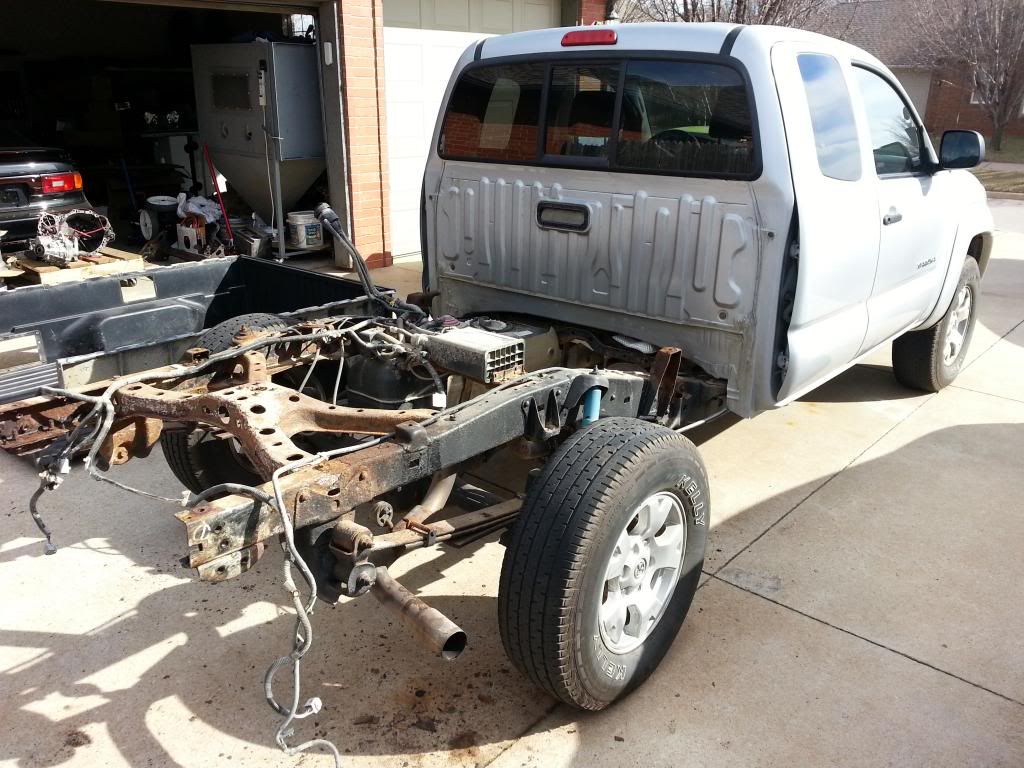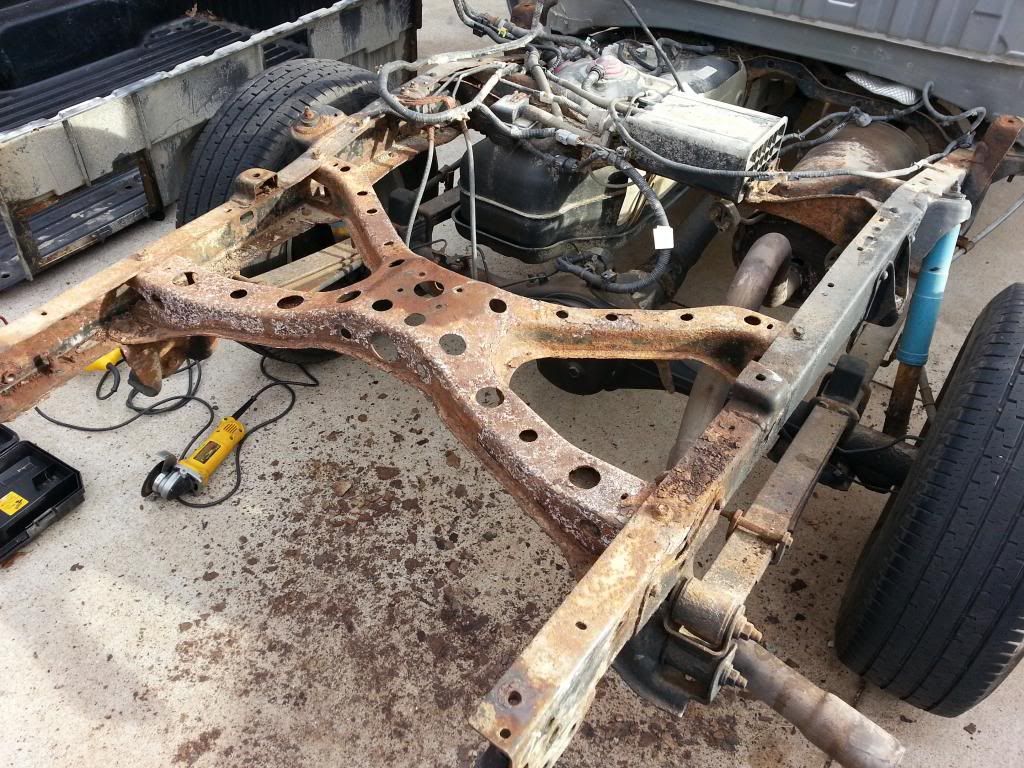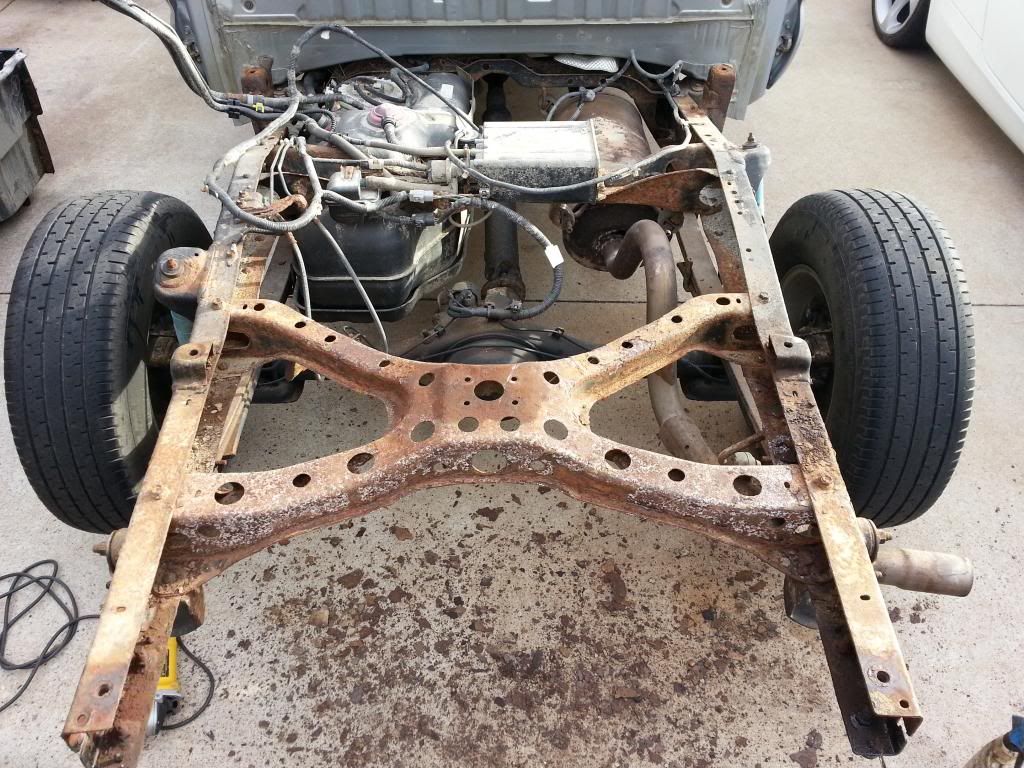 The body damage on the rear was on the bedside fenders (most of it on the driver side), rear cross sill, and lower corner of the tailgate. The rear tail lights didnt line up at all since the rear cross sill was damage which made the area on the side panels where the tail lights attach too no line up. The tailgate hinges were bent so the tailgate didnt line up or open and close smoothly. I only have pics of the panels and cross sill for now.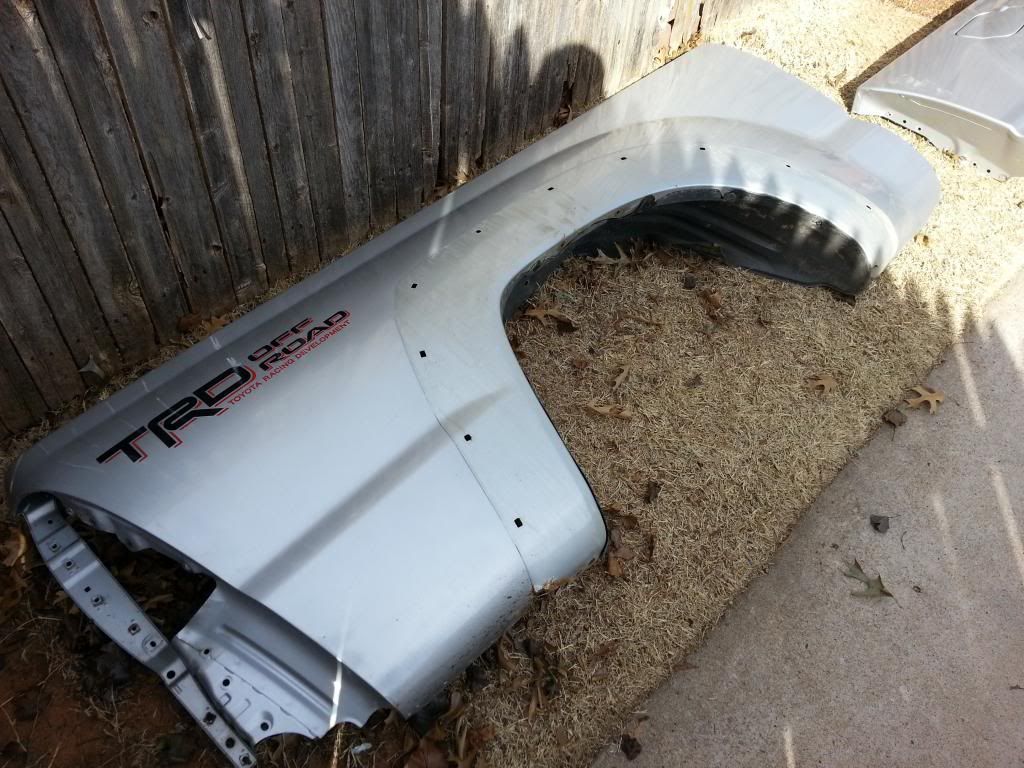 Thats all i have for now, waiting for parts to arrive this week (new rear cross sill, led new taillights, new rubber for the flares, new rear lower side garnish, new tailgate hinges, sport smoked headlights, new front driver side fender, and front bumper reinforcement).