Latest snap: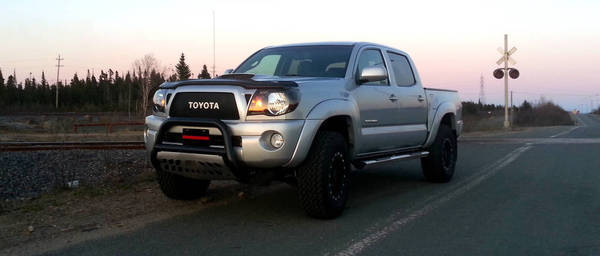 Not too sure where to start, but I wanted to tell a story mostly because I love finding stories on here at it is a good informational passtime and everything I decided on was due to this site. Also I wanted to get the thread going while I have extra time to ensure I do it... sooo.... I've been stock piling parts and pieces for my tacoma since last year, aiming to put it on all at once, a 24h pimp my ride if you will and hopefully I'll put it on soon, but it is really hard with a little spare time and this site, always more!
So far, bought BHLM from another TW member, got toyotaman sleeper eye lids, my tacogrill is currently in production and soon to be shipped, the fj emblem is on its way as well.... about to get my tonneau low profile cover as well. (my last tonneau took flight
while driving)
Just ordered my billies this morning, tires (undecided) and method double standard (blacks) are the last piece before i start the pimp my truck. Undecided if I will wait for roof rack, black magics and new sliders. Currently have the oval aluminum side steps (not a fan, want silver mica and black only look).
As the things slowly start coming in I will decide a date kinda like a Taco-Mas, hopefully before the 25th of December.
How she sits today: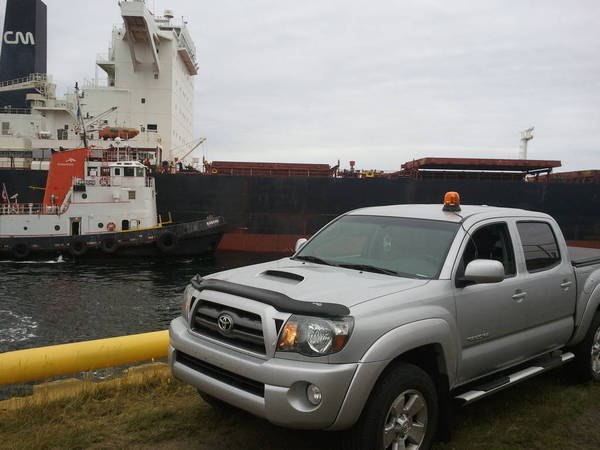 Summer: stock everything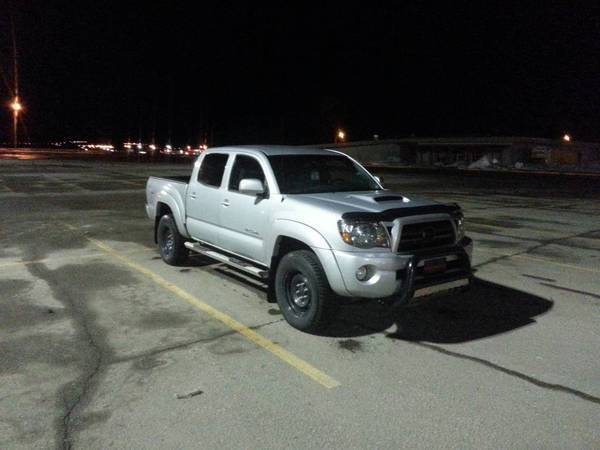 Winter: 245 70 17's GT champiro's with winter steelies.
Modifications
:
Mods so far
:
Billies 5100 all around, General Tire Grabbers AT2 (265 75 R16), Pro Comp 7031's (16 inch),
(Thanks to TW member KPT for the assitance on the wheels n tires!)
BHLM, homertaco grill with 14 inch FJ emblem,
Hood deflector
, white speedometer swap, all purpose rear seat hammock, Aries black and aluminum bull bar, TRD radiator and oil caps, Trico Force wipers, Silver steak mica sleeper front headlight covers, plasti-derp (emblems).
Mods not installed
:
Hella 500 Black Magics, custom un-official TRD seat covers (on their way), weather tech front and rear floor mats (also on their way)
Future mods (Wish list)
:
Cold air intake, rear black lights,
tonneau cover
, oem roof rack, interior cabin LED's, Smitybuilt NFab 4" nerf bars, may take off bull bar during makeover for lower bumper black valience.
Off Topic: All mods that happen or will happen will have the stock pieces for sale. Send PM for inquiries.
Update! 04-05-2013:
Billies arrived!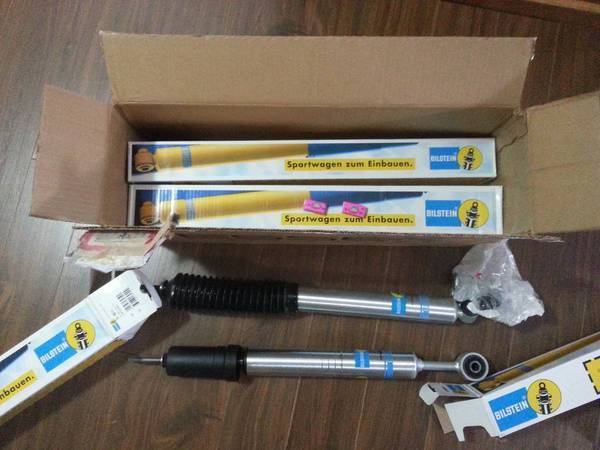 Got two free double bubble's!
Gonna set those sucka's at 1.75 in front should be pretty even from what I hear with the tsb's in the back. Decided to go with pro comp 7031's basically because I live in the north pole and there are no method pushers up this way. Downgraded rim size to 16's for more tire and got 265 75 16 general tire grabber at2's on the way.
Also just received my
HomerTaco
grill yesterday....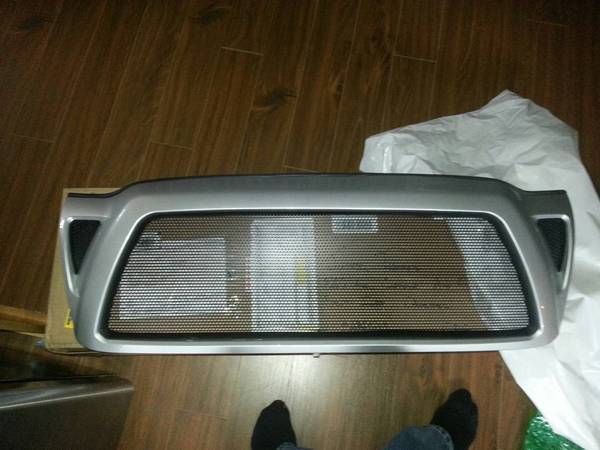 My BHLM`s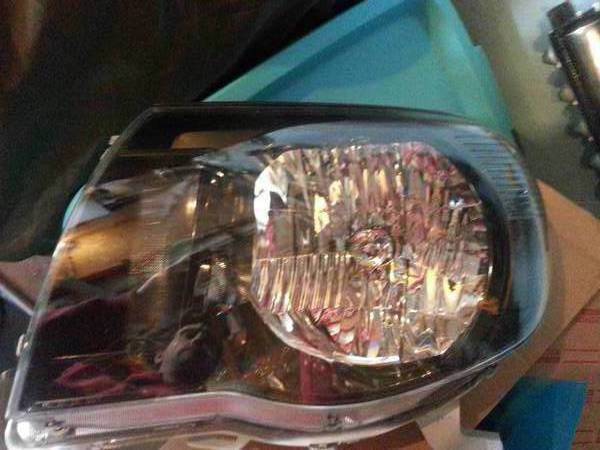 Waiting for the emblem to show up to complete that area. (front: bhlm+
toyotaman
sleeper headlight covers+homergrill) Still undecided about some hella black magics for some uber light power.
EDIT:
Tacoma world to the rescue...just got a pair off a fellow member for a good price. Will be slapping them on as soon as I get em.
Got a can of plasti derp on the way as well for those chrome (sorry chrome diggers, me no fan) badges and some tacoma oem protective vinyl's to stick on the bottom door sills, also need to find a hook up for some duplicolor - hot tires (red), tire paint.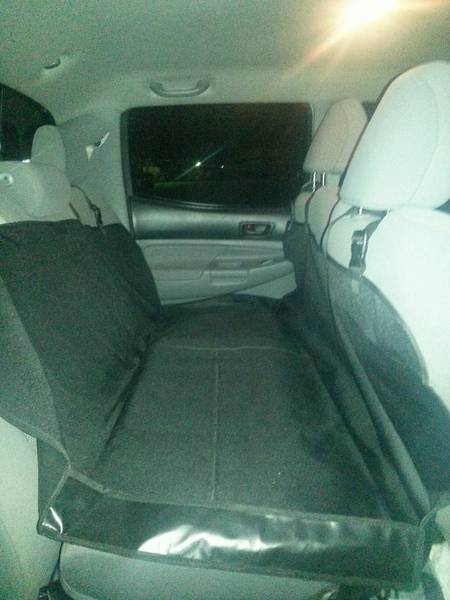 Got my all purpose dog hammock off of
ebay
for $20CDN shipped! good quality, water proof cover (with side lips to keep spills in), keeps the back seats clean and do not have to worry about any hastle when throwing cargo in the back seats.
Also just remembered that I have my skid plate ready to go hidden in my garage that I need to put back on that has been off since last fall...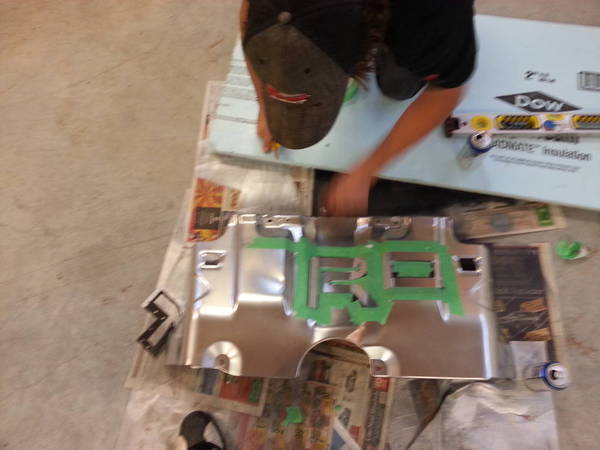 Preping for paint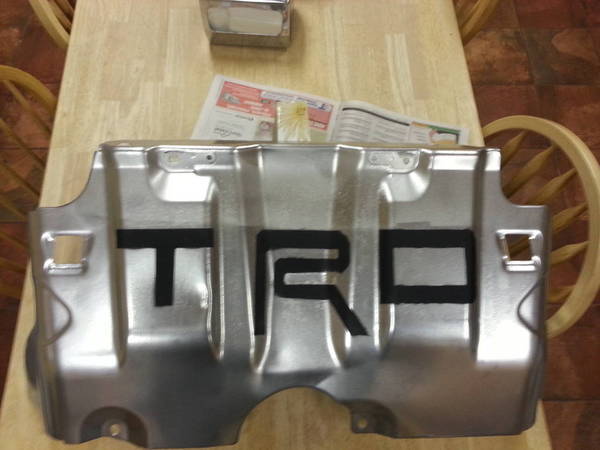 Finished result, had a hard time with the TRD and the curves of the plate....wasnt expecting that color either of metallic grey...should of knew better. But the main point of it is for protection. So time to let it get beat up so I can paint it black
Next weeks paycheck is already planned for some oem style black rear lights. To give er the all black and silver look. Will probably order the sockmonkey TRD Black stickers to slap on her both rear cheeks.
EDIT: Just found out sock does not do, anymore decals
But! Managed to get one of the last sets off of him with TRD burton snowboarding. Wasnt my top choice but it was actually in my top 5...so beggers can't be chosers!
So hopefully looking to do the transformation in 2-3 weeks.
After all that is done I'll throw on a roof rack for good measure.
Update! 04-19-2013
:
Received the HomerTaco grill with the FJ emblem, threw the emblem on top of the grill to see what it would look like, debating paiting it silver...oh and a can of plasti-derp lurking underneath which will be for my emblems.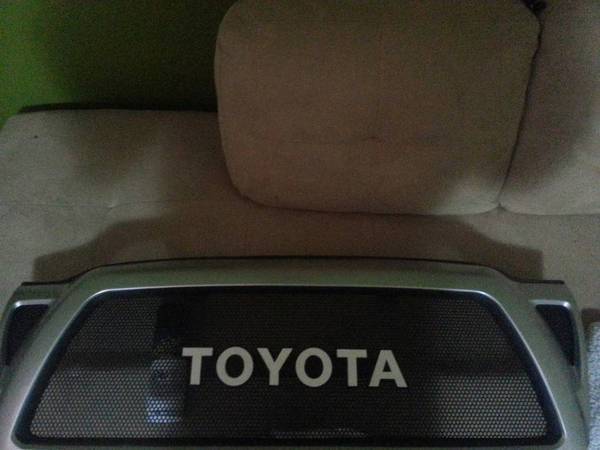 One week later my pro comp 7031's show up, blinging right out of the box.
Then finally yesterday picked up my General Tire AT2 Grabbers...tried to get a every angle shot showing their treads and sidewalls....yup they are chilling in my kitchen...and no that is not a mini stove.
If only I had a spring compressor so I could swap out my front billies....but nay, so booked the appointment for the next week....at the same time they are gonna balance and align em as well. But at least it will save me 40 mins of me taking off my winter tires. Truck should look alot different next week! Getting stoked, can't believe this is all coming together so fast! Still remember when I joined the site....thought my taco was gonna stay stock...
Update! 04-27-2013:
The morning of her going into the garage which should be a painless/quick transition to shitty rims and shocks to new crunk ones.
(the new tires/rims in the box)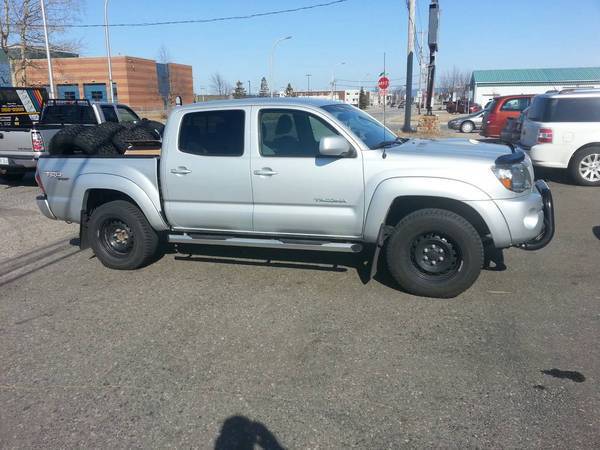 Well, got the new grabbers at2 spinned on the new pro comp 7031's !!! Looks sweet!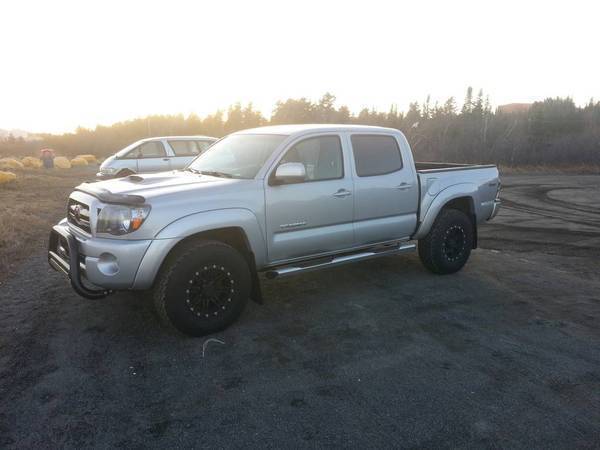 Only one problem....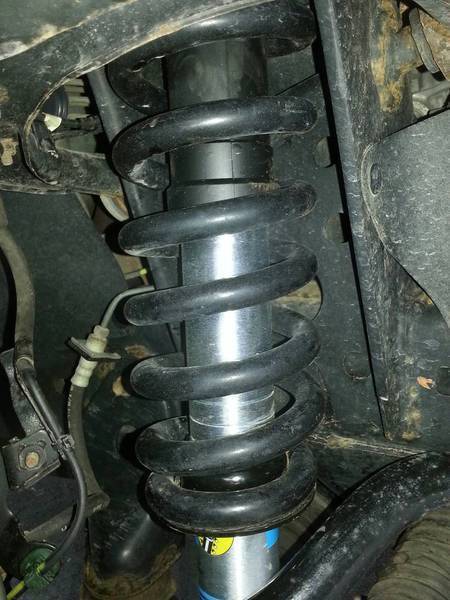 1...2.....3....ah crap.
That....after explaining to the garage, giving them a instruction sheet, with arrows circles pointing at the 1.75 setup ensuring the "suspension specialist" get a copy of the instructions I took off from the garage that day expecting to get my taco back soon and the way I asked for. Went in at 9am, got it at 4:30pm, 30 mins before closing...After driving it home realized the my 265 GT grabbers were rubbing
Get home, finally snap above pic of the whole truck and noticed that it wasnt quite level. Took a quick peak under, snapped a pic, and realized the shock setting was still on the lowest.. So called the garage back...and gotta bring it back Tuesday, delaying the whole one day transformation....
That being said it has given me time to do things properly.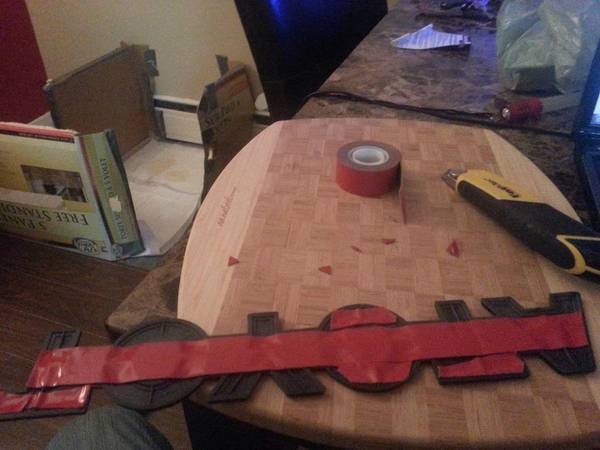 FJ emblem going on satoshi soon, will install homertaco grill at the same time as the BHLM's
Also, just picked up a pair of Hella 500 Black Magic's from TW member OldSkoolArcher that I am going to slap on my bull bar for now until the fate of it can be decided. This might make or break it.
Next piece I really want is front
WeatherTech
mats and husky front mud guards. My OEM ones got ruffed up a bit by the rubbing and I find them too long anyway. Once I pull the trigger on that, it will probably be a tonneau cover, seat covers, followed by roof rack. After that, TW time will tell!
Next week hopefully I will be able to update with the truck leveled and TW's HomerTaco grill/BHLM and TW's ToyotaMan sleeper headlight covers installed...
Update! 13-05-2013:
Well brought the truck back to the garage this morning, and to the mechanics dismay, he had to do everything over again...Many many hours later, truck finally comes out of shop re-aligned and leveled.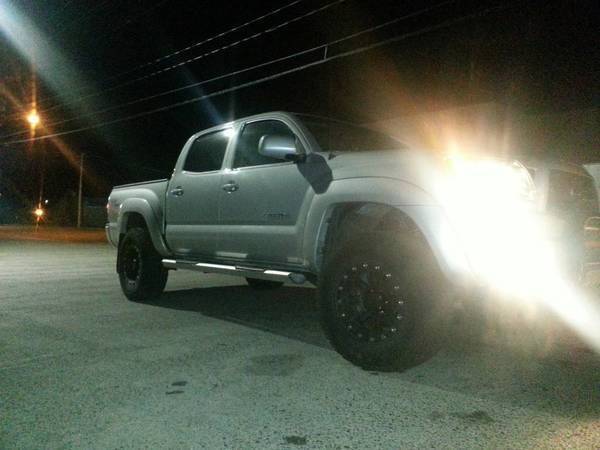 Once again due to it taking the whole day (again), I had to put off the grill+bhlm mod for another day....like... the next day. Soooooooo, first thing first un-snap/de-clip/un-screw the OEM grill, throw it over the shoulders and unscrew/toss to the sides the horns, then paint the radiator with some VHT high temperature header paint.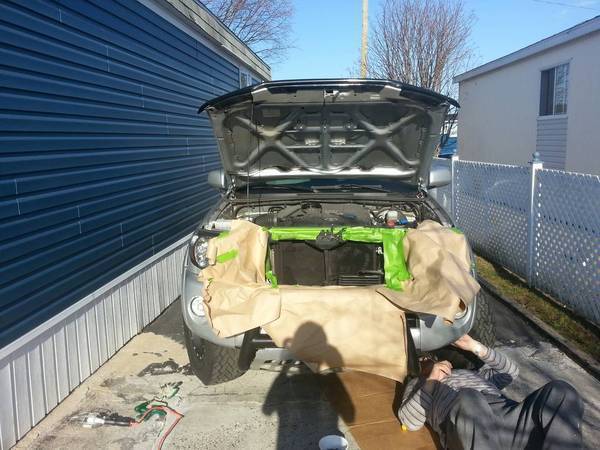 While waiting for that to dry time to get those pesky lights off...As you can see from the above picture, my Dad wanted to help so I gave him the task of getting the invisible screw out....took me more time trying to explain to him where they were then it took for him to get them out once he found it...but needless to say it worked out well as he worked on those two bolts and me everything that was not those two bolts.
Headlight removal:
http://www.tacomaworld.com/forum/2nd...oval-pics.html
Total time took about 2 hours and a half to stick/level FJ emblem on grill, paint radiator, remove headlights and swap out the grill. Went from this: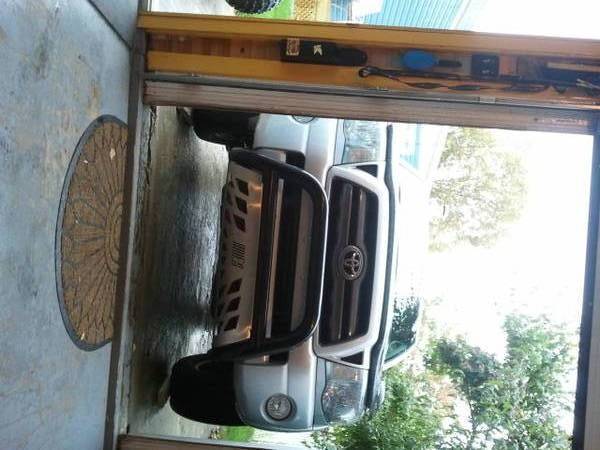 To this: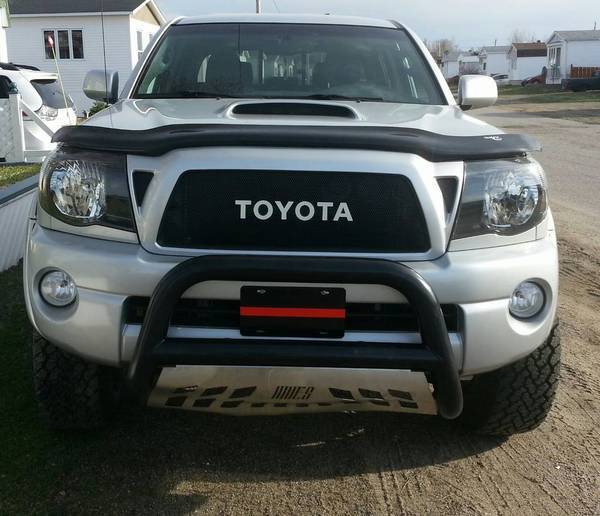 You cannot see my TRD re-painted skid plate underneath my bull bar which is a shame...which has me pondering more on the whole bull bar situation that and it looks like the paint is having issues only after one salty winter...
Next step (whenever I get good weather, no garage) is too black out emblems with the derp-a-derp, slam on sleeper head light covers, order a tonneau cover so my roller hockey goalie equipment will stop getting rained on...and some customs front seat covers along with weather tech mats. Nice update should be when ever I get those new seat covers which already has some interest around here on the forums, you can take a look here:
http://www.ebay.ca/itm/for-TOYOTA-TA...48852202461929
I will be definetely going to be going outer light grey (to match) with inner black and a orange TRD, can't wait to get my cheeks on em!
Update! 05-24-2013:
Finally remembered to take a picture of my white speedometer...was wondering if anyone else has this color?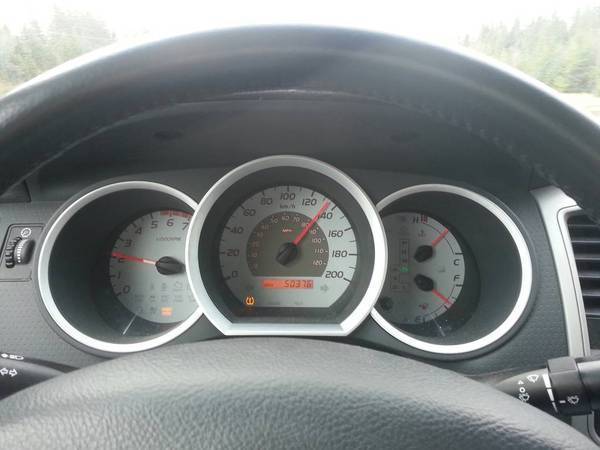 Anyway, back to more mods. Yesterday went at her again with an oil change some plasti-dip and those sexy sleeper headlight covers.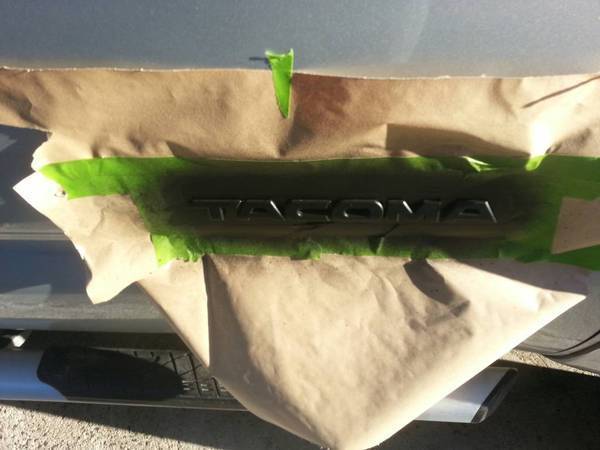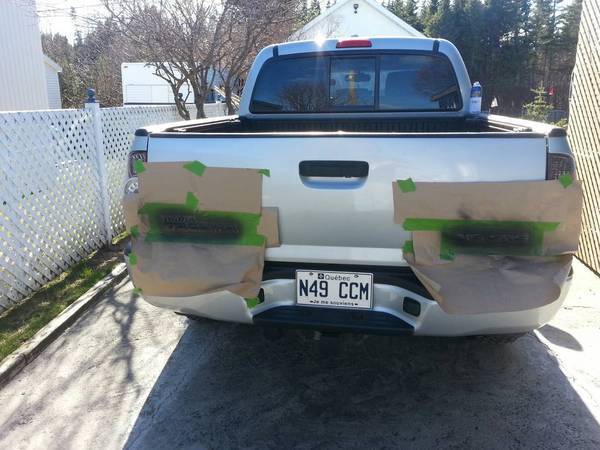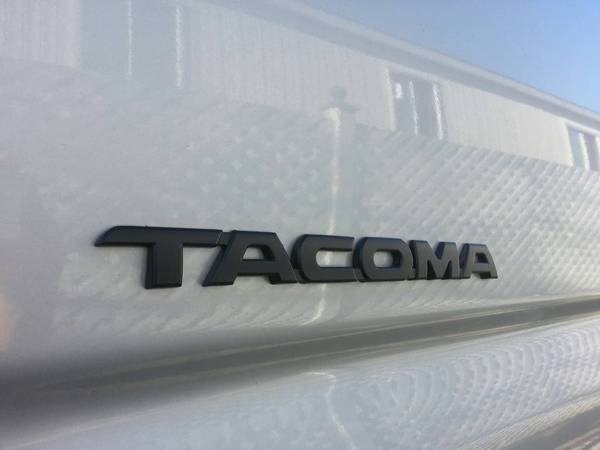 I can honestly say, that Plasti-Dip has impressed the s**t out of me! Felt really weird spray painting right on my truck over the emblems and my dad was making me more nervous with his comments you should of tried it on something first...but after 3 hours of coating/drying and started to peel the painters paint off....and the whole nasty triangle came with it, right to the letters! Was amazed! Just need a toothpick and some tweezers to get the leftover derp in the middle of the O's and A's!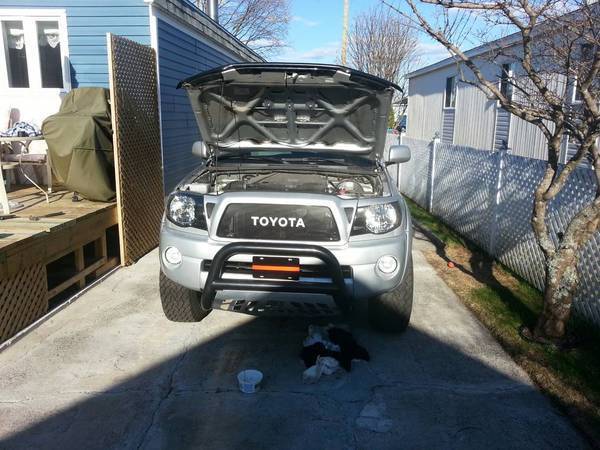 Here is the only pic I have of the sleepers so far...(it's winking) will have to snap a new one in the next update...but for all those interested in installing these little guys, ENSURE you do not have a hood deflector as it will mess s**t up! When I closed my hood there was not enough clearance and it cracked my lids a bit...
Next mods are for the interior...after searching TW forever looking for a deal on weather tech digifit's (even if you find one they are sold in 5 minutes) I caved and bought the whole set from weathertech canada. At least I know if I ever need to sell them I will have a buyer
Also still awaiting my custom fit/made TRD seat covers (un-official) to arrive. Will update once they do!