Name is Brenden
This is my build
"SNOFLAKE"
2008 Base Access Cab
2.7 L
5 speed
Exterior:
Black Housing Headlight
T1 eyelids
8k HIDS
Smoked fogs (purple HIDS)
LED tails
Paint Matched: front bumper, rear bumper, mirrors, grill, handles
Dipped lower valance
Dipped third brake light
RGM (satoshi)
Thule Racks in the bed
Removed antenna
De-badged
5% tint 3 rear windows
35% tint 2 front sides
40% tint windshield
Interior:
Stock
COSTCO SEAT COVERS
Stickers
JVC Double Din
Performance:
K&N
Air FIlter
Remove secondary filter
LCE Header
URD
MAF CAL (Soon to be installed)
Aero Turbine 2525 (non-resonated)
3.5x12" TIP
Suspension:
XII drop coils
DJM UCA & LCA
4 inch BEEF blocks
Bilstein 4600 front struts
Qa1 18 way adjustable rear shocks
Dearched X-runner leafs
Notch frame
notch rear crossmember
Flipped overload
Wheels/Tires
19x9.5 +20 Stance SC5 black insert with machine face
245/35/19 Lexani tires 1" smaller than stock
Perfect fitment IMO
rolled rear bedside and removed bed side bracket
The 20's you see below were purchased off craigslist and ended up F****** me over also after I dropped the truck they rubbed way too much so yes i am running the same styl rim except brand new and not staggered!
I started with a 2005 reg cab which I bought as seen it the first pic of it and pretty much used it for parts. Bought the 2008 AC taco from my Dad's company swapped all the painted parts and XII coils and sold the reg cab as a stock looking taco with wheels.
Now i am riding low but not slow in the 2008 AC Taco
Current Pic: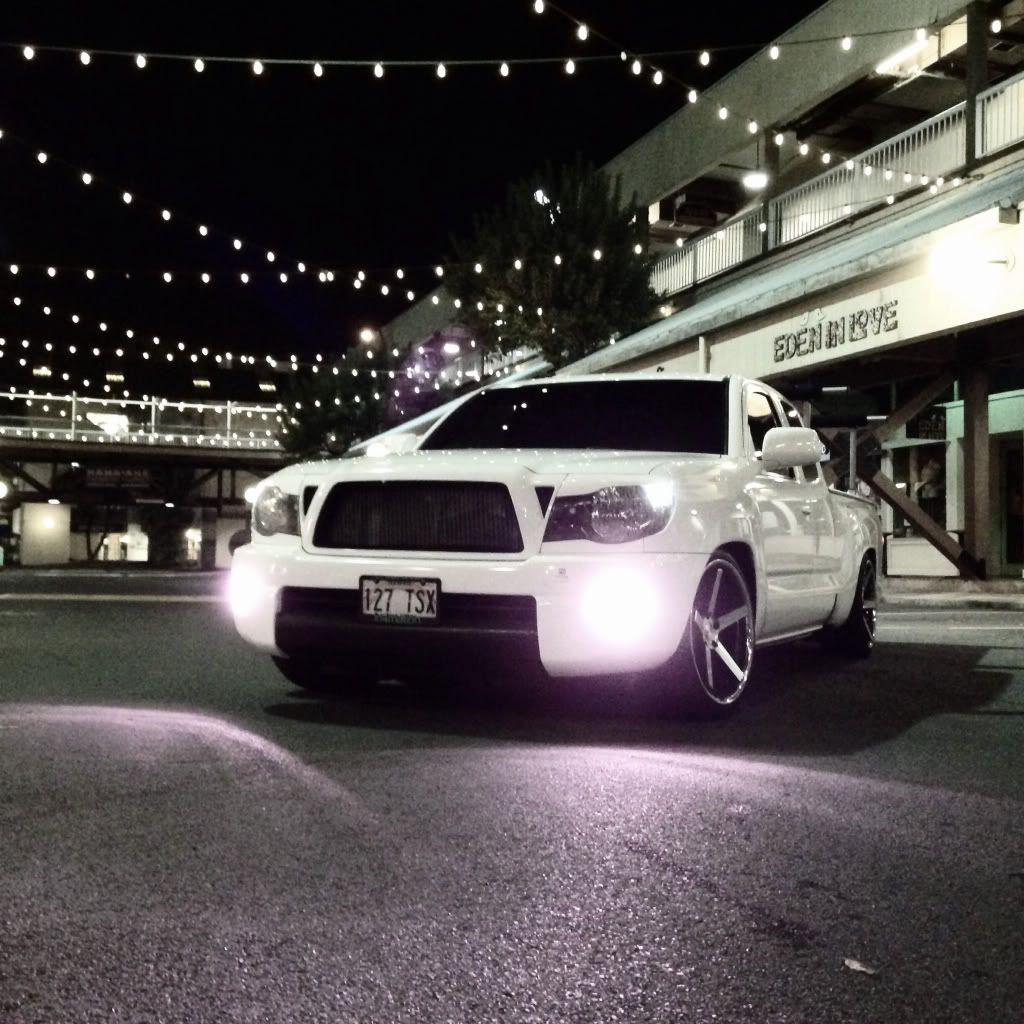 This is in chronological order:
FIrst week: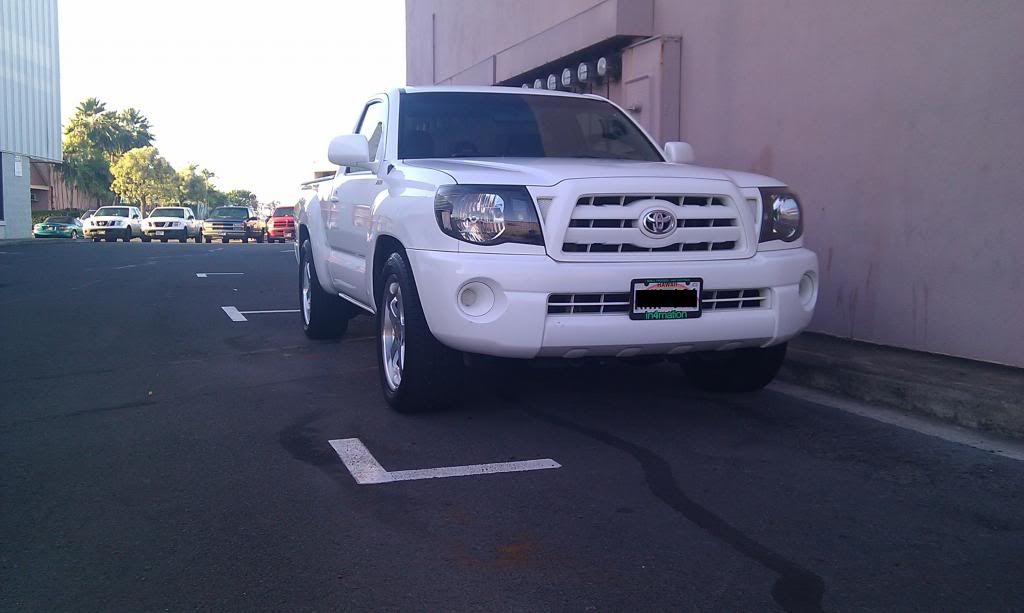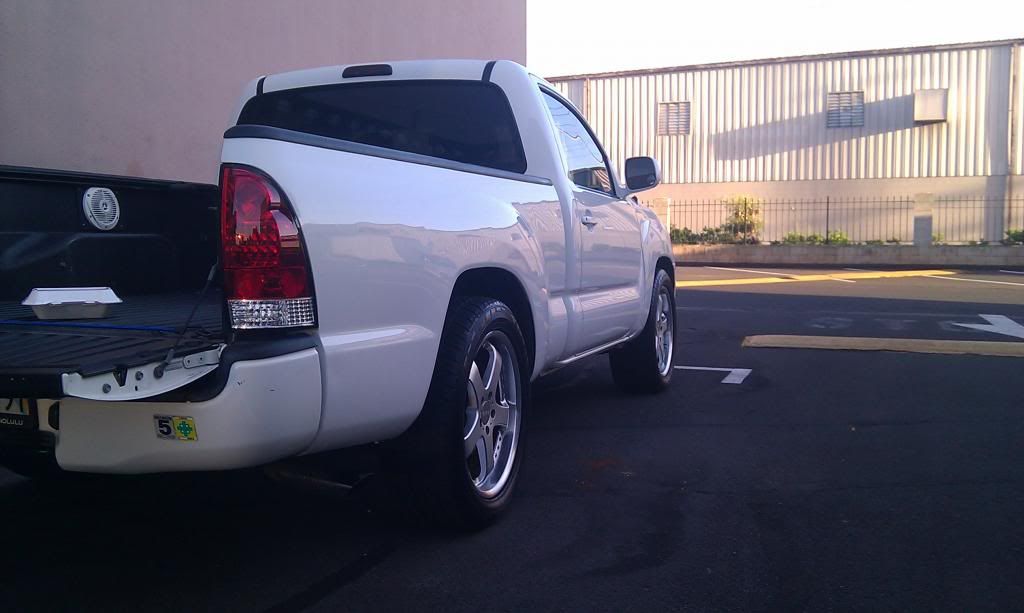 Plasti Dip and 4x4 Leafs: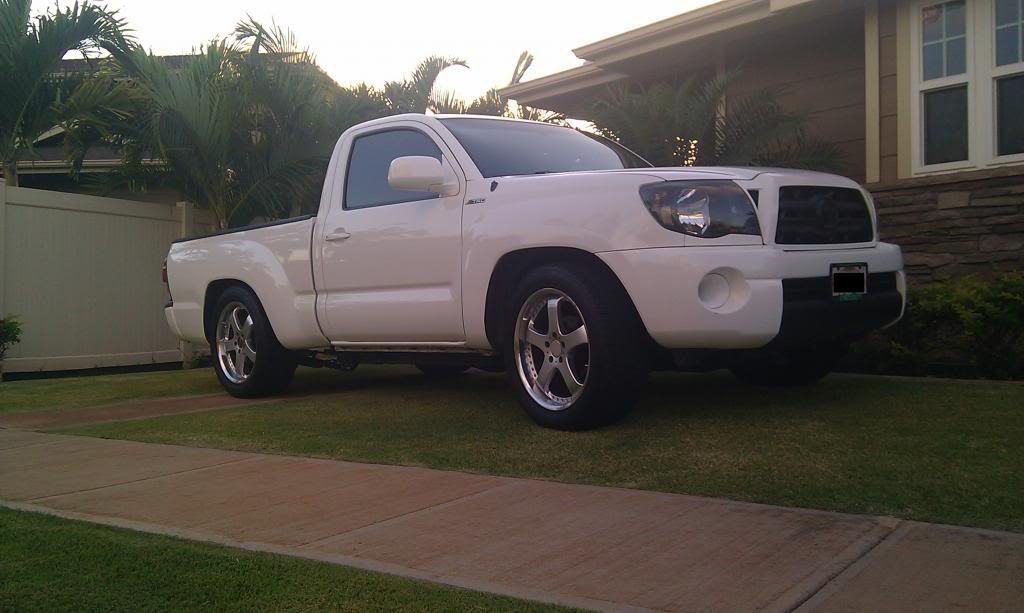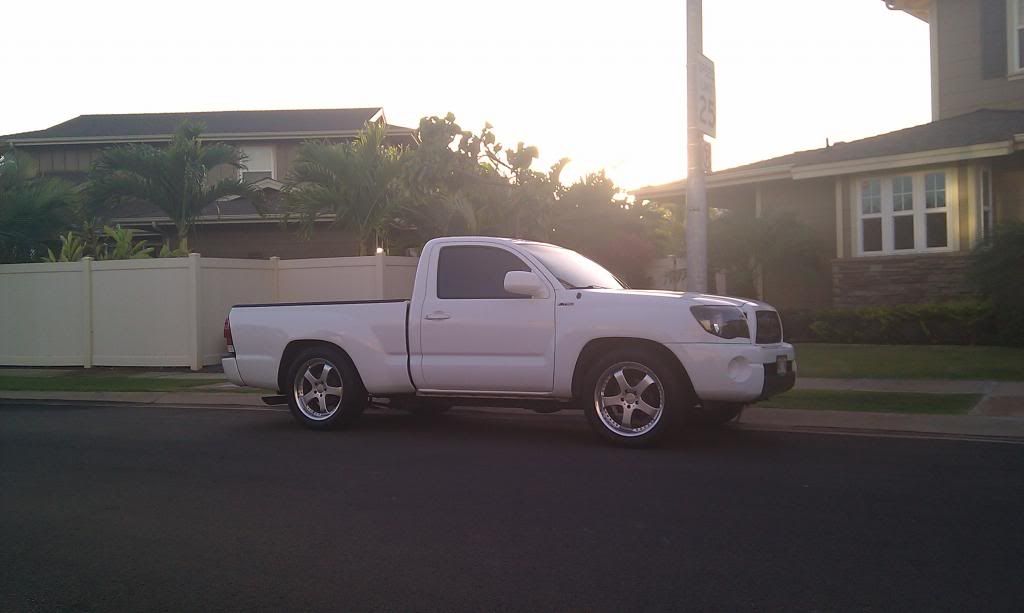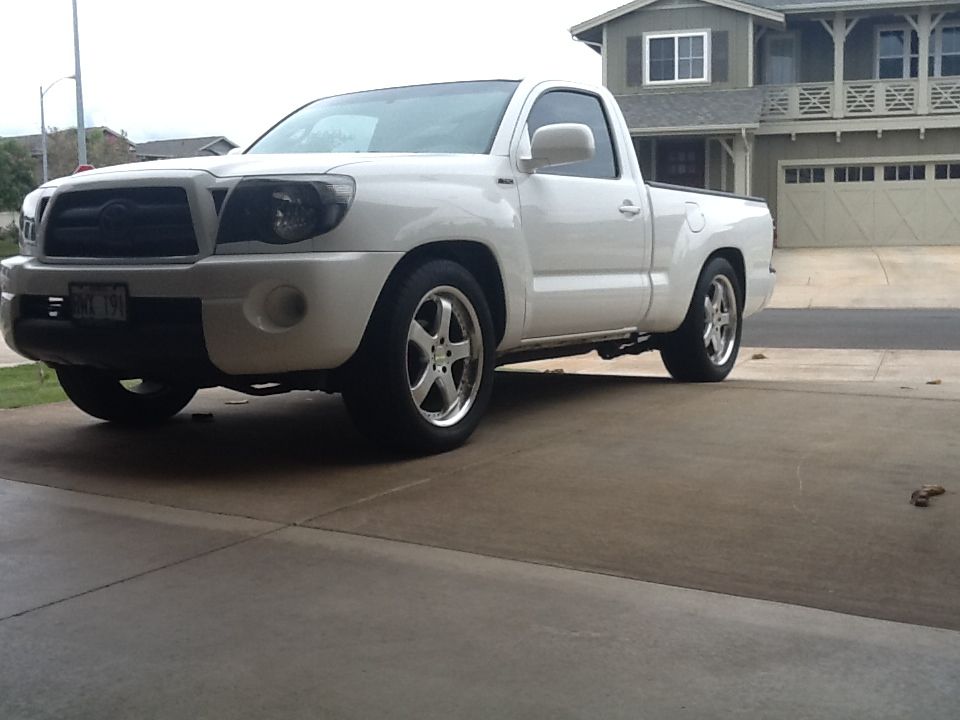 Stance wheels 20x9 (245/35/20) up front 20x10 (275/30/20) out back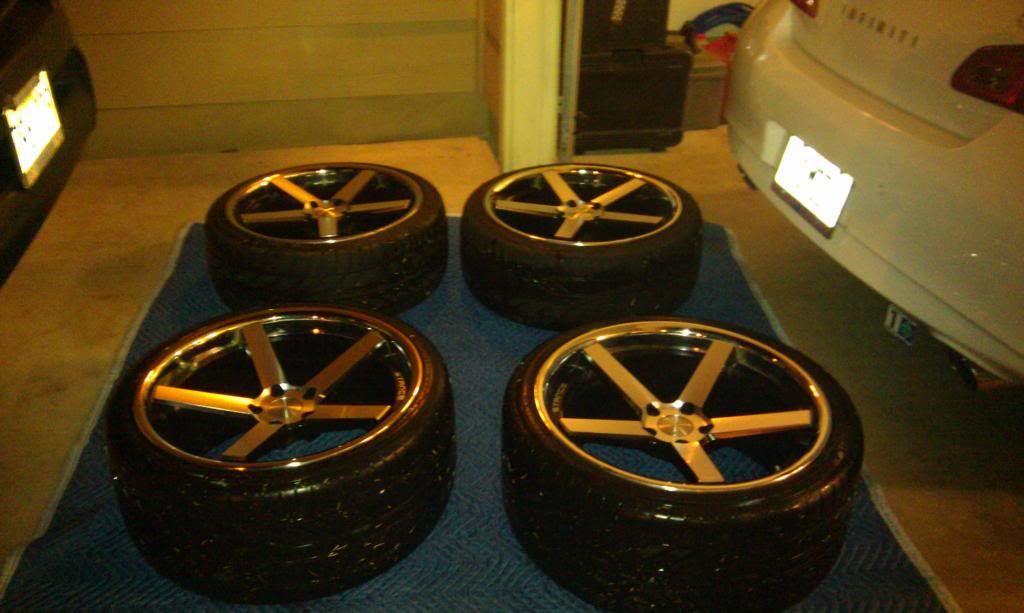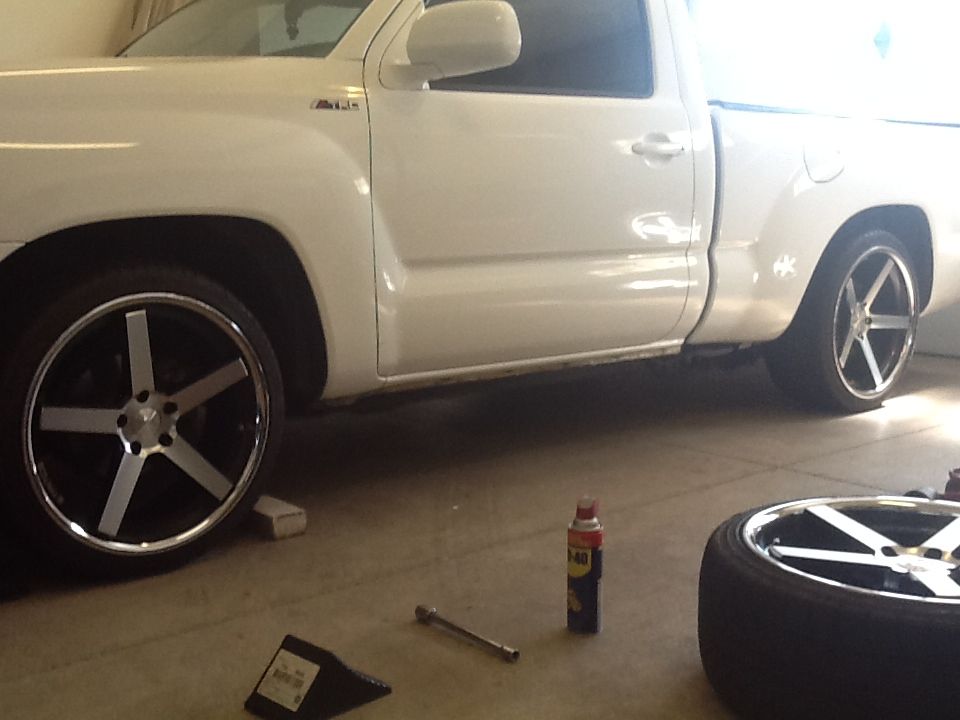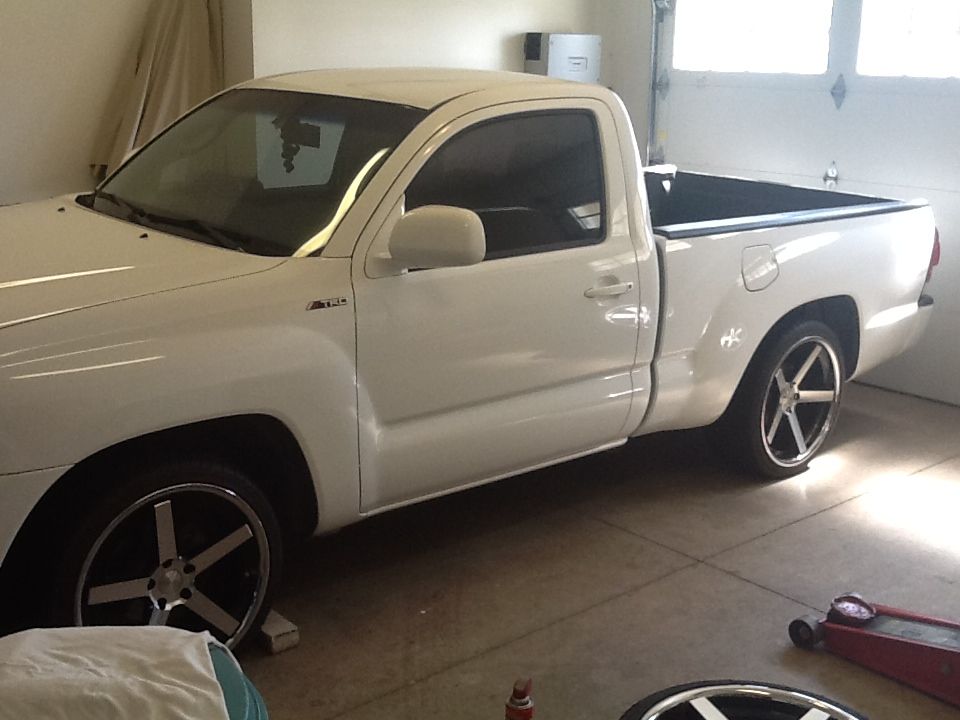 This truck was only temporary because I was waiting for my Dad's shop to give up their extra cab which they finally sold it to me so this upcoming week (3/25/13) Planning on switching the bumpers mirrors and suspension parts onto the extra cab and selling the reg cab. Stay tuned for much more pics of my build it will prolly be a never ending process
Items on the way: DJM Control Arms w/ balljoints installed, DJM C-Notch, DJM 3 inch blocks (until I order some BEEFED blocks with offset pins
Ultimate goal is to be 5/6 drop Low and Smooth
SHOOTZ!!!