Ok maybe I'm completely biased on this matter but it does look pretty amazing. I'm so happy with how it turned out. This was a gift to my dad for Christmas. Not a surprise gift, I needed his input on what he wanted for different things but none the less. Also I gotta give credit where it is due- This bumper build was influenced alot by brute force Billy's bumpers. So without further a due... Here is the build. Enjoy.
The initial draw up was on a CAD program by torchmate. I'm lucky enough to have a great friend with more shop tools then I would ever know what to do with. For example- plasma cutter/table/ CAD program, multiple welders.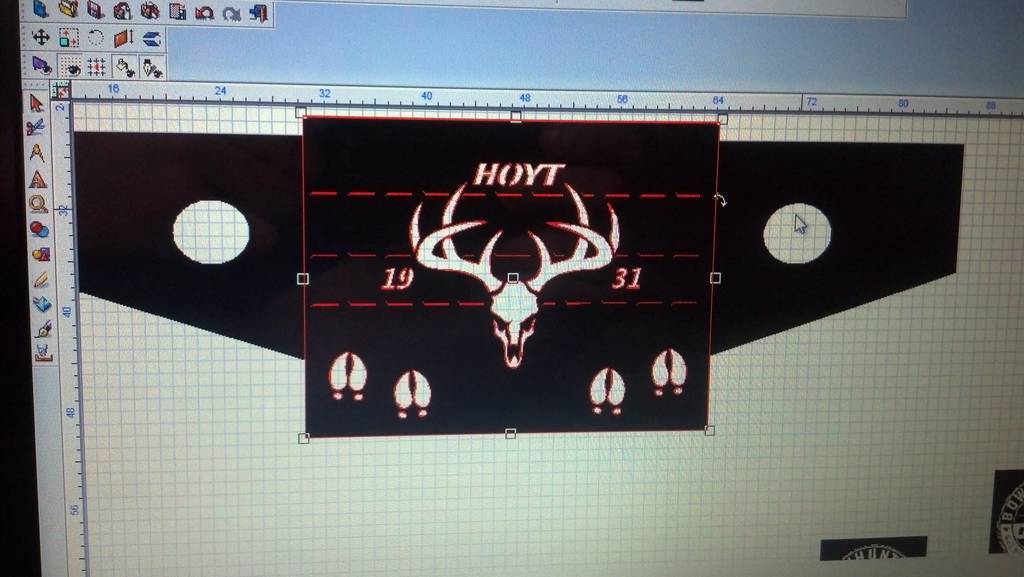 I spent a couple days working in the cad program to get it just right and doing minor tweaks. I was never really trained in CAD so it takes me some time but this is how the sheet metal came out.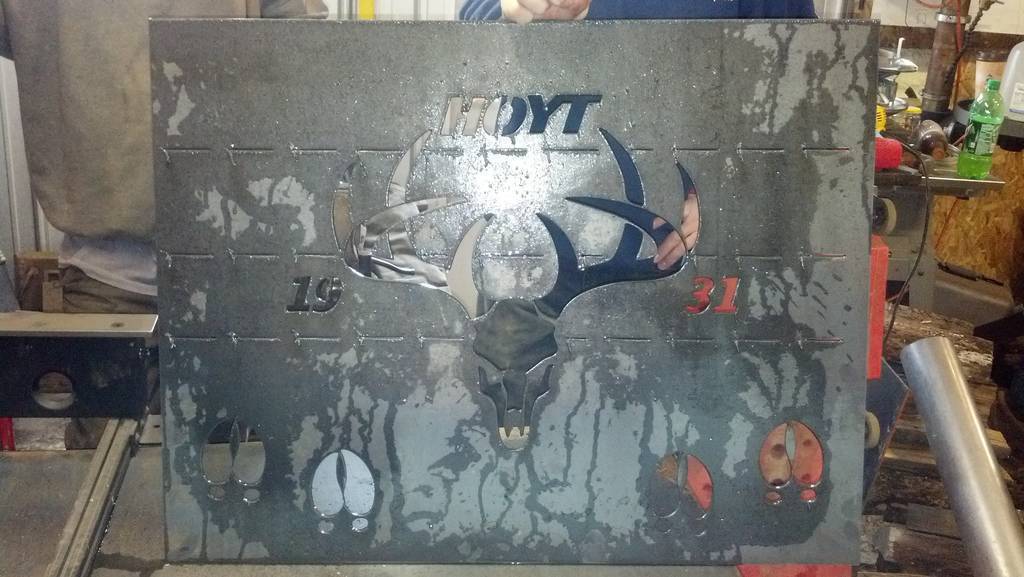 I'm missing some pics here that I'm kicking myself for. Anyways as you can see, I bent the metal where I had originally cut the slots out. After the angles were right, I filled the slots in with weld and ground everything smooth. Also I have finished the sides at this point and have cut spots out for oem style fogs. His truck didn't come with fogs so this is just an extra perk to his Christmas present I guess.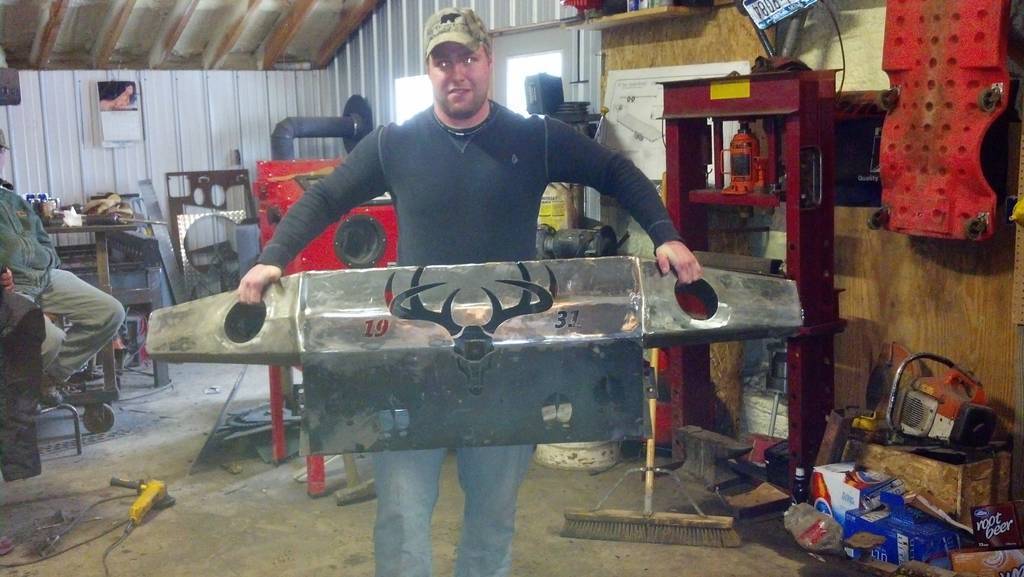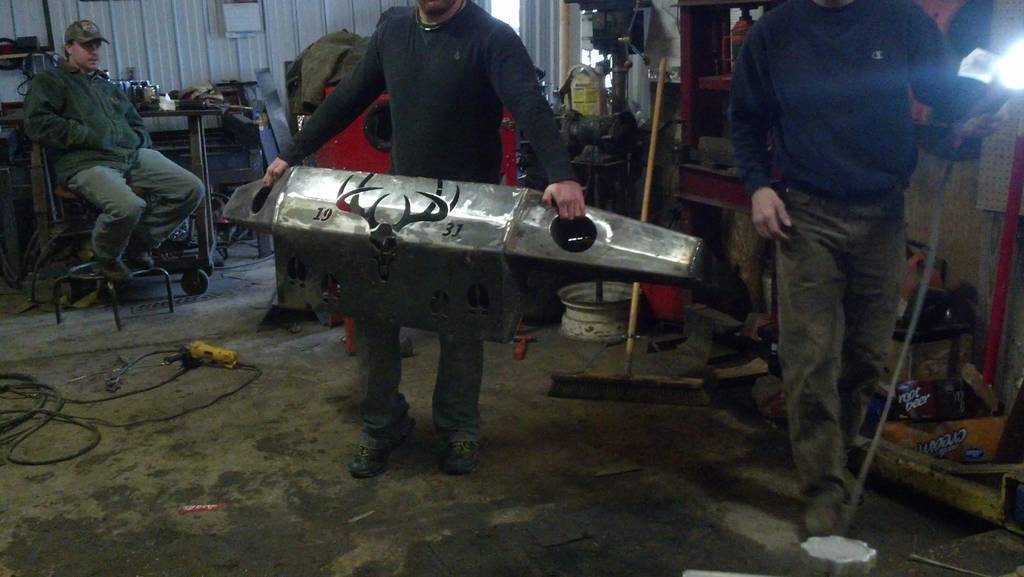 Then added some baja style tube to the front. We spent a very long time getting it just right. Ended up renting a pipe bender/roller and really had to take our time or else we kinked/crushed the pipes. After a long weekend playing with pipes, it was right and welded up.. Here it is test fitting on his truck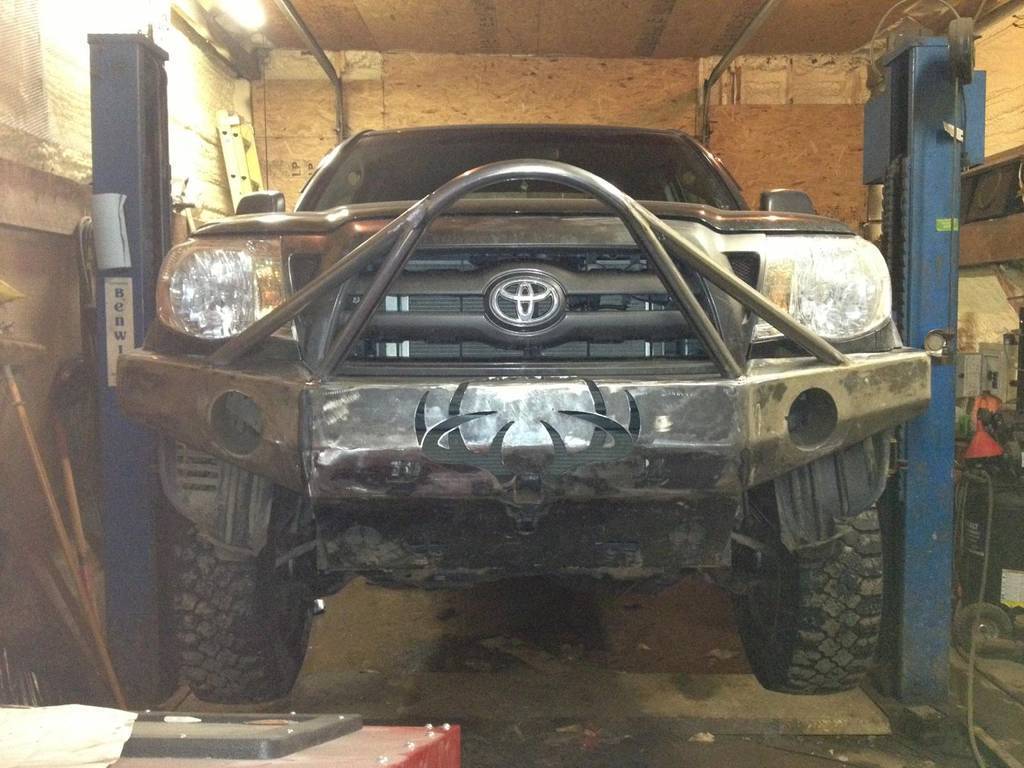 To finish it all off, we got the bumper galvanized and powder coated in a color call copper vein. It goes great with a spruce mica green and really makes it stand out. You might think galvanized and powder coated is extreme but we live in the north east and the salt on the roads is murder.
Here's the bumper after being galvanized but before powder coat. I was almost tempted to just put clear powder coat on it. It looks pretty good like this after all.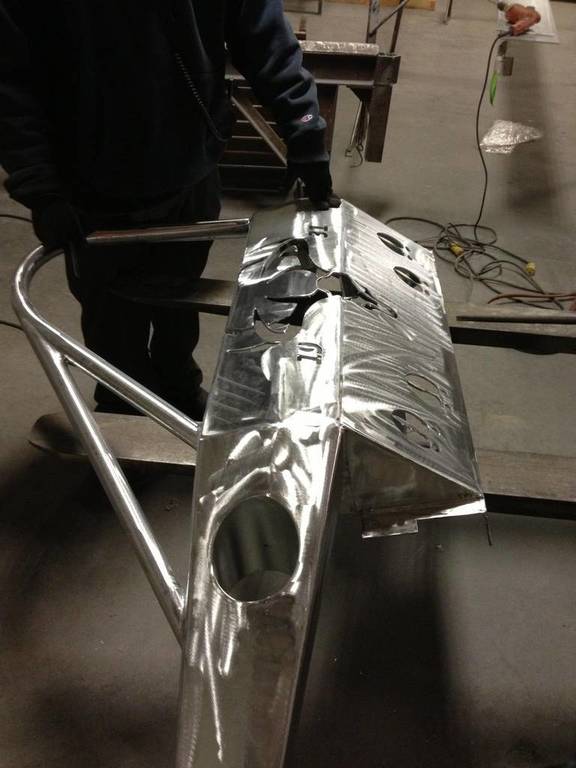 About a week later it came back from powder coat and we put it on the truck. No fog lights yet. they were another week away or so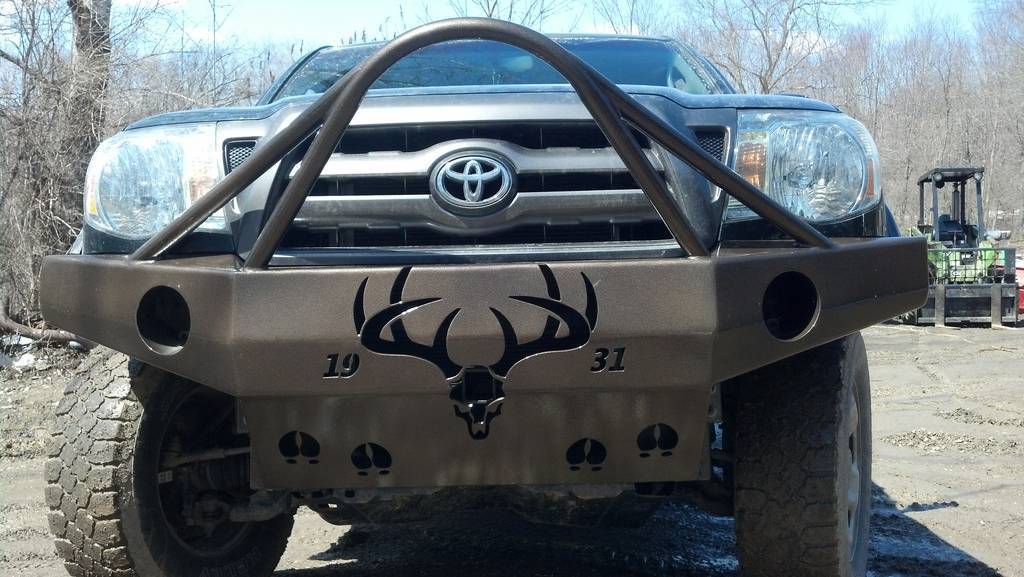 If you take a closer look at the center, you can see we put a 2" receiver hitch hidden inside the deer head. Also this is a nice up close pic of the copper vein finish.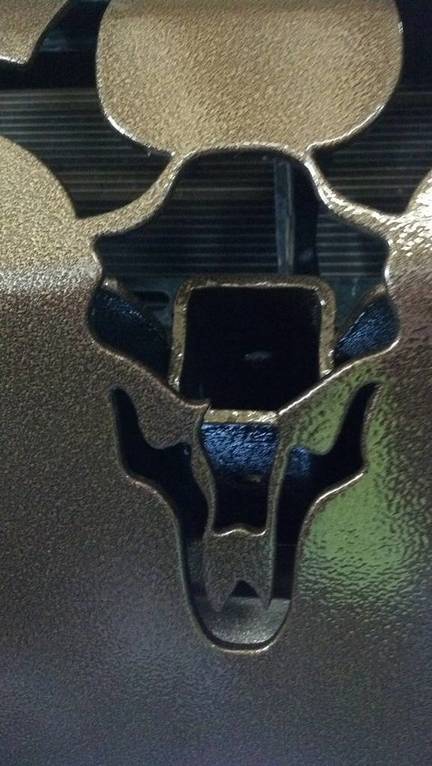 Ended up getting some 35w HID fogs from
ebay
and put them in. A good fit with good light output. Cant complain.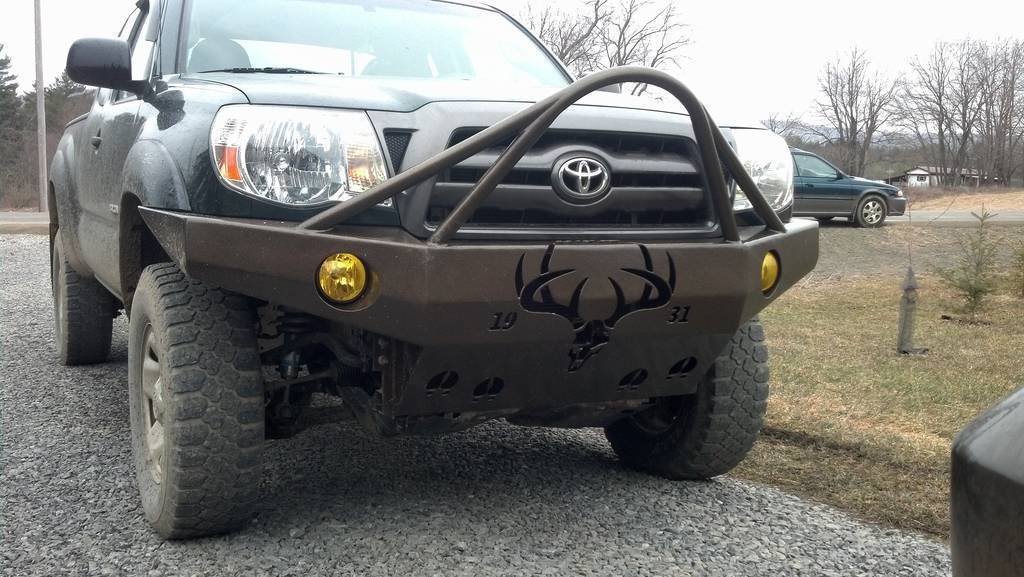 note how tight the fit is, we didnt plan on it being this tight by any means but of course we neglected to think about the mill thickness of it being galvanized and powder coated
Here is the Hoyt logo. Not visible directly from the front. You gotta move a little closer to see it.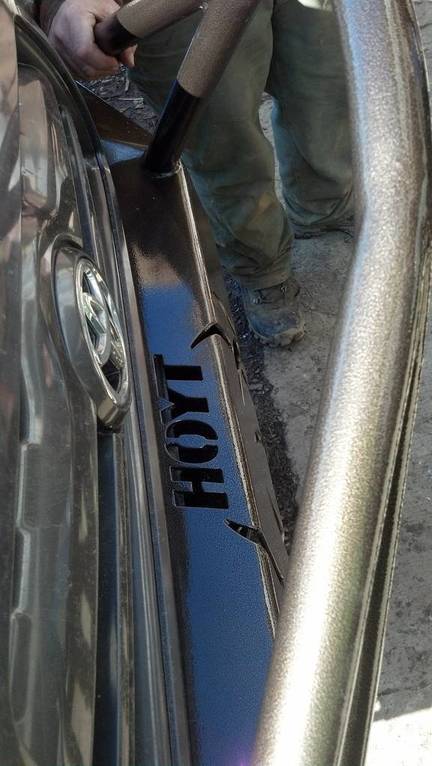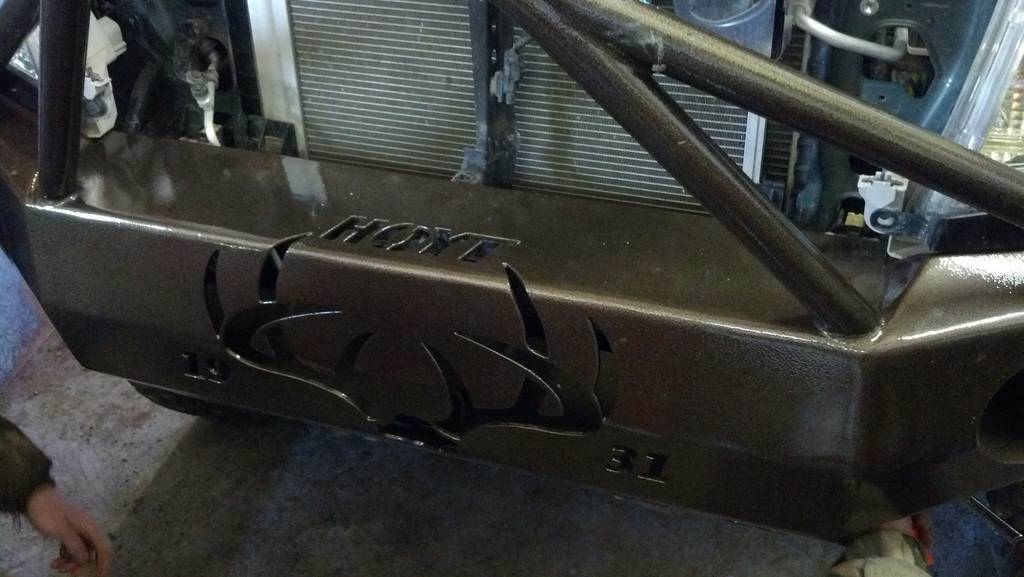 That's it for now. Please tell me what you think. In the end my dad loves it so that's what matters to me.