So here's my build thread. I'm hoping it gets more interesting as i move on to bigger and better improvements.
The obligatory "How she sits today" pic,
As of 7 February, 2015 (1inch block in the rear to level it out better, going to get an AAL soon)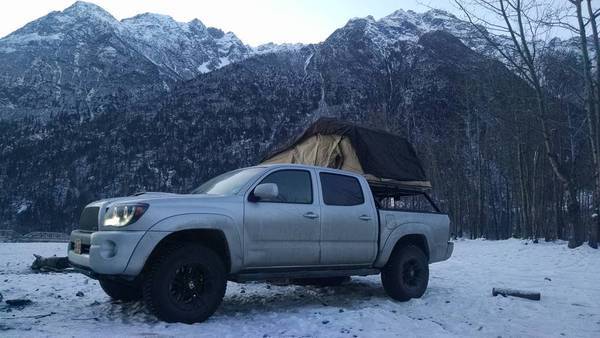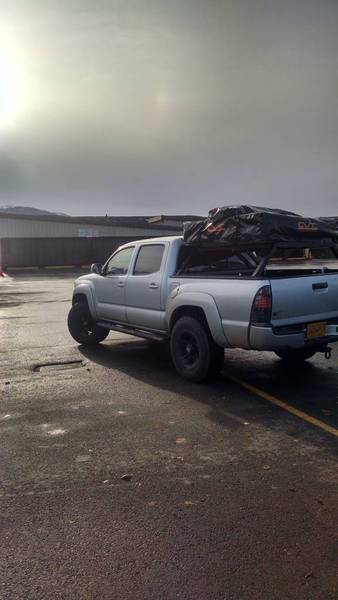 As of 5/19/14: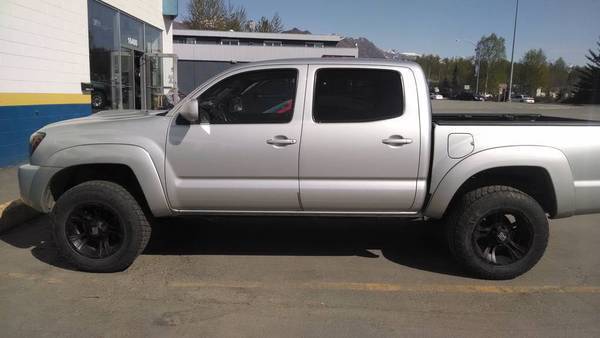 Mods:
Suspension:
(Updated Feb 9 2015)
(front) Bilstein 5100's @.85"-stock Sport coils (probably going to set them to 1.75" shortly)
(rear) Bilstein 5100's w/ skyjacker soft-ride AAL (probably about 2" lift? it added about 1-1.5 with my tent on)
measrements (from ground through hubcap to fender w/ 265/70/17 tires)
F: 36"
R: 37.5"
Tires:
265/70/R17 Nitto Terra Grapplers**new Sept 2014
on XD Crank 17x9
Exterior:
CVT Tent!! ** New Sept 14
Bed rack by Anna** New Sept 14
bedliner'd step bars**New Oct 14
debaged
grillcraft grill
Syper Auto headlights (LED corner markers, LED DRL--read further on the pain of that)
blackedout LED taillights
K&N drop in filter
bed extender
Smitty Built
tonneau cover
Smitty Built trailer hitch shackle
anytime fog light mod
plasti-dipped bumper
Bedliner'd TRD skid plate
Rugged Ridge floor mats
Diff breather mod
Painted engine cover (Iron Man theme)
Someday:
Relentless Fab plate bumper- Front and rear
Sliders
My Story
I love cars and working on them. i don't have a picture of my very first truck. it was a 1989 blue SCSB S-10 complete with lots of rust, lol.
then i got this beauty from my grandpa for free. well i don't have the original pictures...but it was UPS brown...yeah, that had to go, and with it began my bug for working on cars. And the first bite was really bad.
Here is my first vehicle I really built with my dad. A 86 S-10. (I know it's not a taco, but it's pretty unique). I still have her today.
oldest picture i have.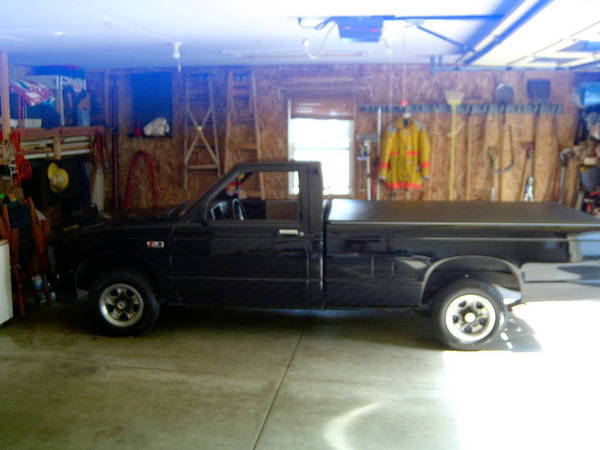 but we couldn't just leave it with a nice paint job, so i did a 2" spindle drop in front and a 3" block in back and got rims and tires a few things.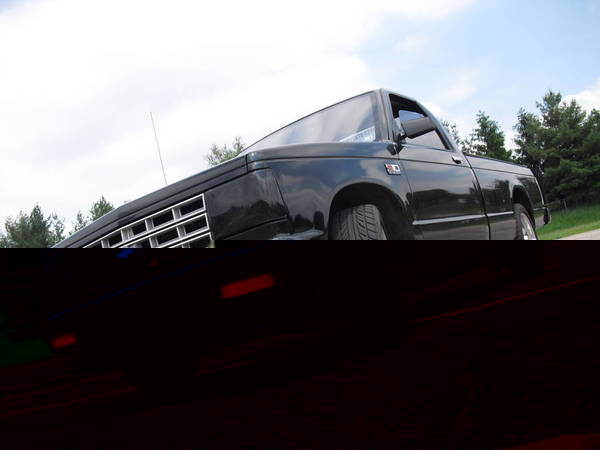 and then right before i left for college a guy at work said he was selling a V8 he'd had for years, and i had always wanted to put one in an S-10....=D
Yup...Chevy 350 from a camaro =D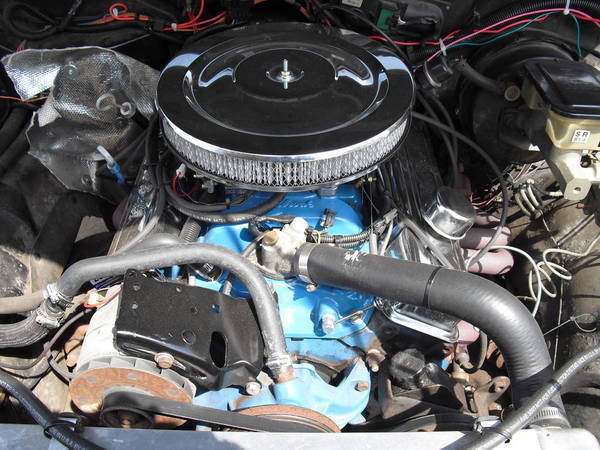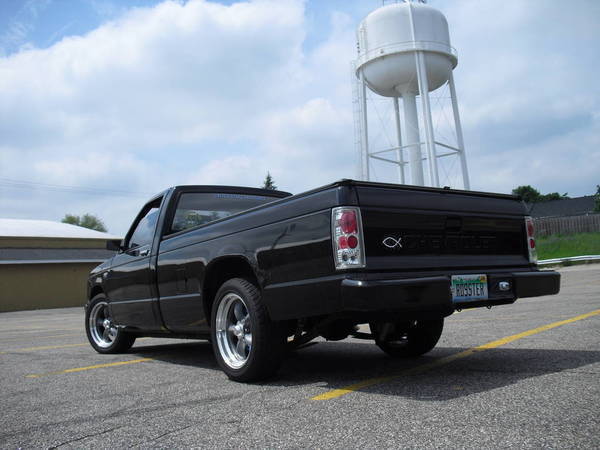 then i needed a more practical car for college and got this sporty little thing, a 2004 Mazda3 hb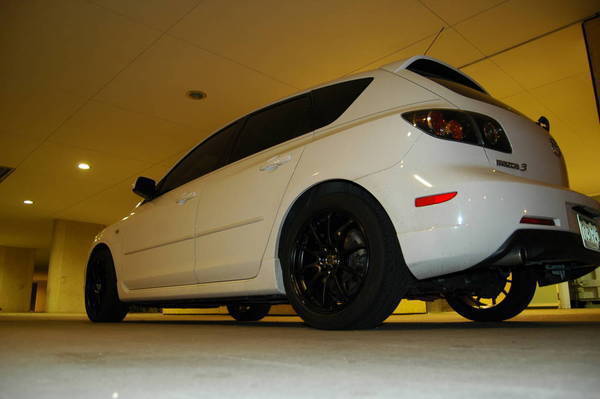 then some dude didnt' know what a flashing red light at midnight meant and did this to me with his 95 silverado 2500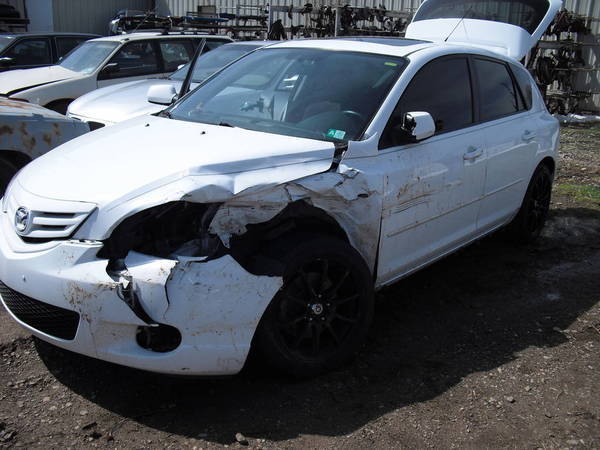 then i drove th S-10 for a while before i got married and we needed a more fuel efficient option.
(i had a brief love of Mazda 3's...)--2007Mazda 3 hb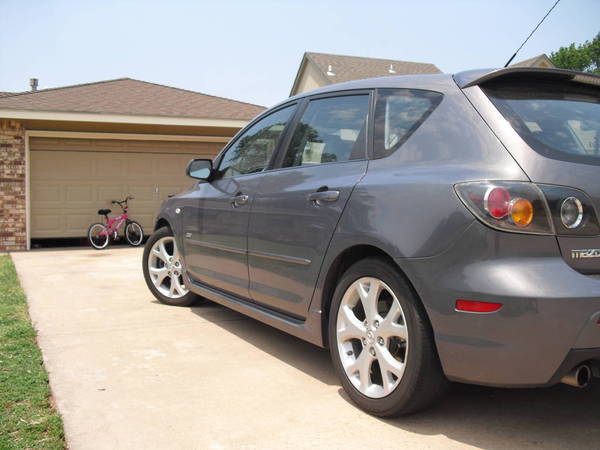 but i didn't really have it long enough to do all the things i wanted to it before i got my orders to Alaska and decided i finally NEEDED a real truck.
Ok,sorry for the trip down memory lane, on to why I'm really here: my first real truck, my SSM DCSB TRD sport Tacoma!
I got my orders to Alaska and decided my little 07 Mazda 3 just wouldn't cut it up here. My wife had been wanting a Tacoma for a while, so I checked some out and fell in love with this beauty. Sold on my first drive.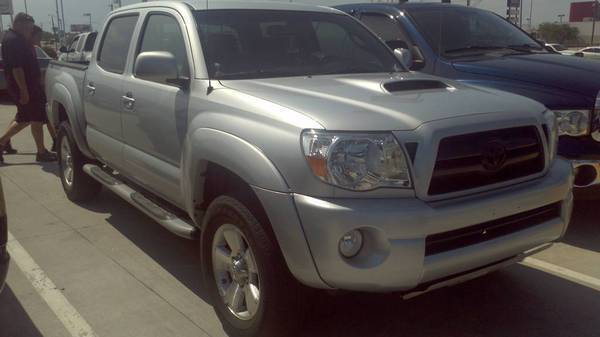 Closest to stock pic I have. (sorry these are all cell phone pics...)
blacked out the yota emblem and ditched some crappy little 4x4 emblems the previous owner put on...they were all painted teal...
So no joke the day after I bought her some jerk in a mustang smashes into my rear diver side rim trying to cut inside of my left turn.
Don't have any pics of my damage (it merely scratched the rim and busted the center cap) but he wrecked his bumper, new paint job and headlight.
I needed new tires and wanted new rims anyway, so this is what I got.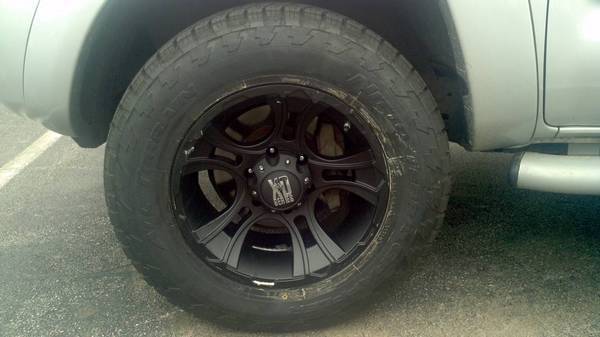 Some XD Cranks with Nitto Terra Grapplers
And this is how she sat for quite a while.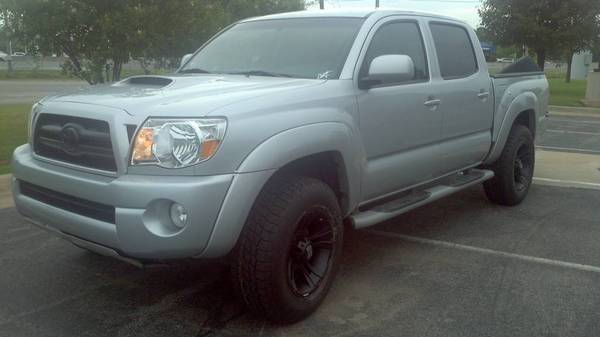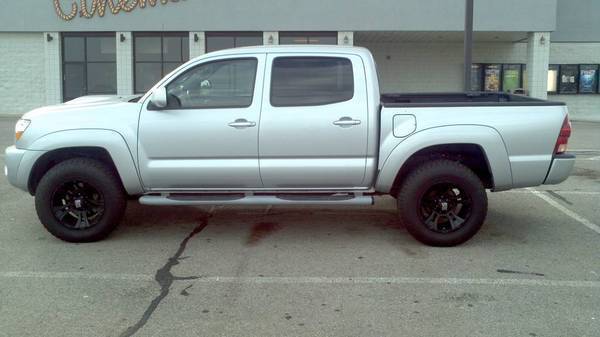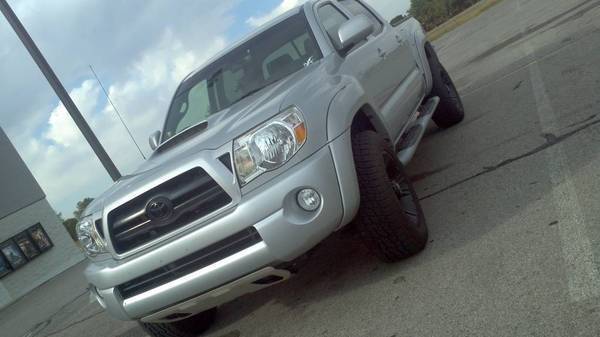 First time playing in the mud.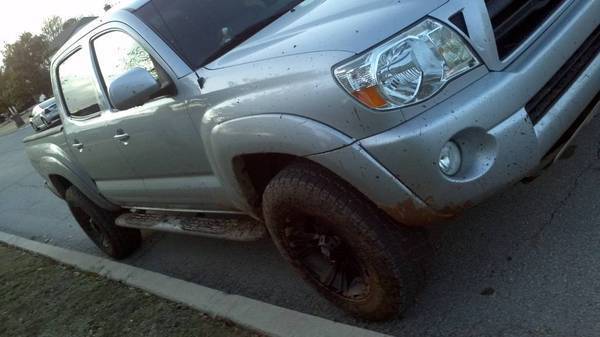 Then the 2,100 mile treck to Bellingham, WA; 3 day ferry ride; and 750 mile drive from Haines to Anchorage. (good way to break in a new truck). Had to get a tonneau to carry my stuff up to AK and keep the weather off of it. (better gas milage too i suppose)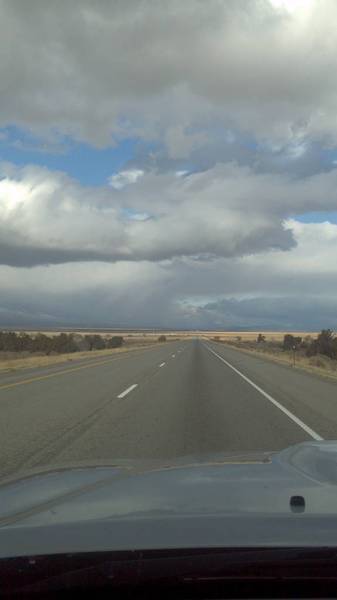 middle of nowhere Idaho or Utah or Colorado somewhere....don't remember.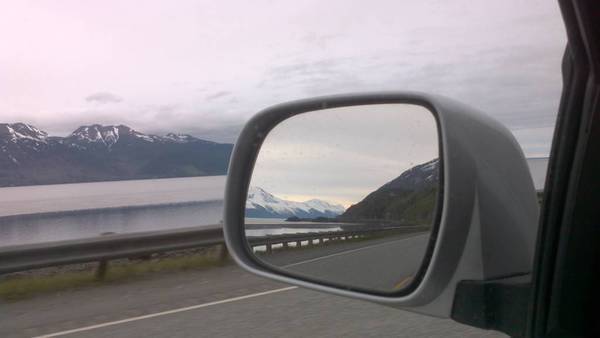 AK in the summer
Got a house, got the wifey up here and settled in (we had been stationed 4500 miles apart for about a year)
I love my wife of almost 3 years very much, but she drives a 2 door jeep and those things turn around on a dime (really a shortbed taco isnt much, but her whole jeep almost fits between my wheelbase)...well, she was moving my truck one day and didn't see the mailboxes across the street...
But God bless her, she felt so bad she said I could get new taillights AND headlights! I had been eyeing these things for a while, and I know many people here have some dislike to them, but I like the look and I think I'll get some brighter lights in there eventually. But, first big self mod.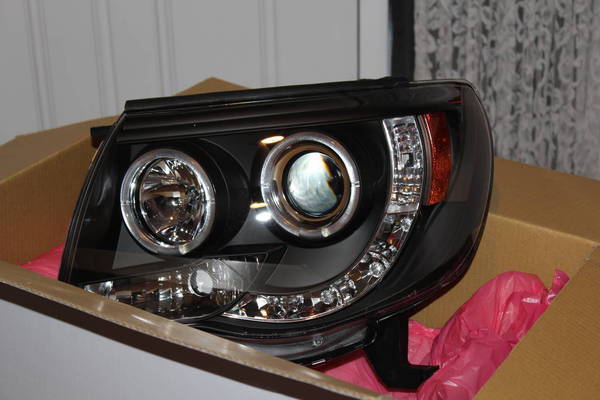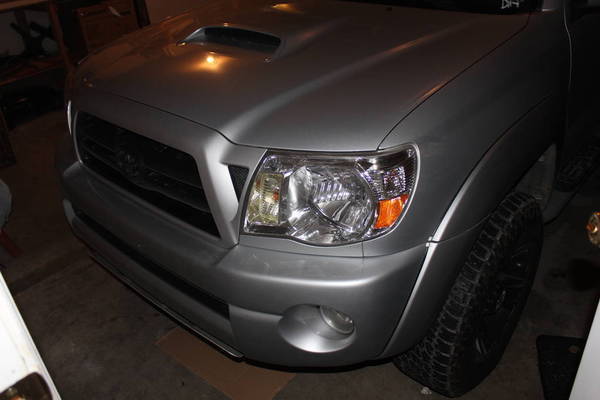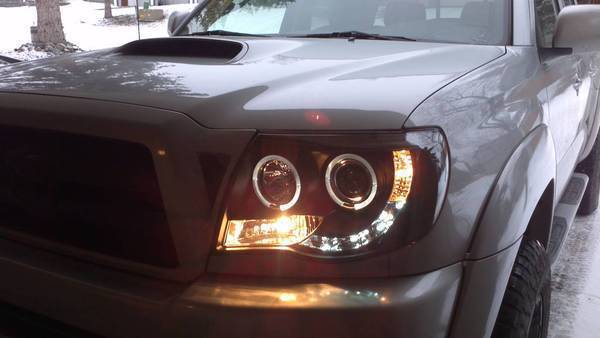 **UPDATE** All LED =D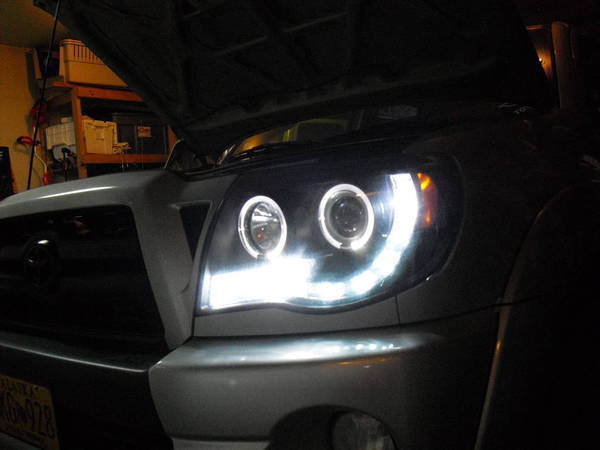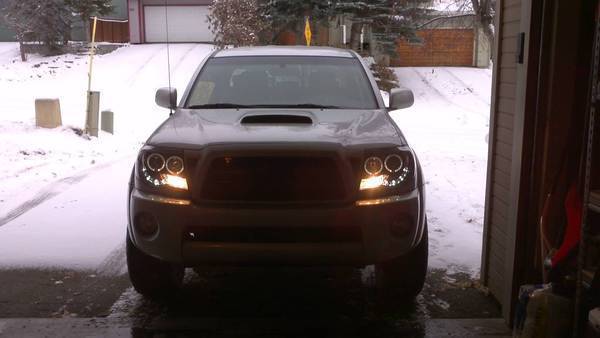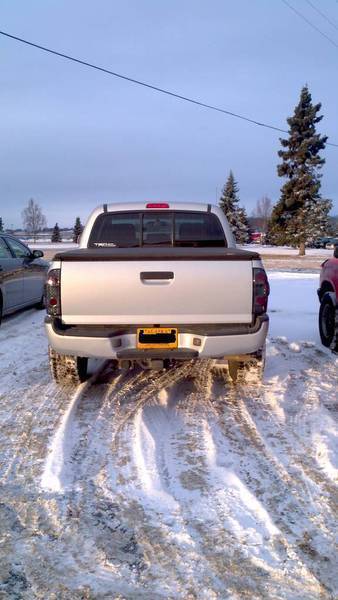 Before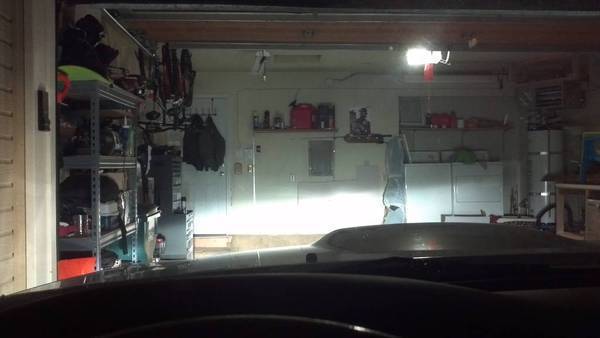 After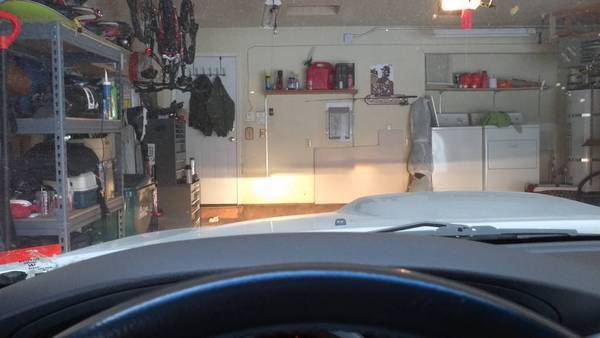 (didn't quite have them lined up right.) I was really surprised how bright the stock ones were. probably should have left them for practicality, but I like the blacked out look with the LED lines. I also think this picture is a little misleading; I don't think the stock ones were that much brighter
*****UPDATE****
ok...I'm and Iron Man fan...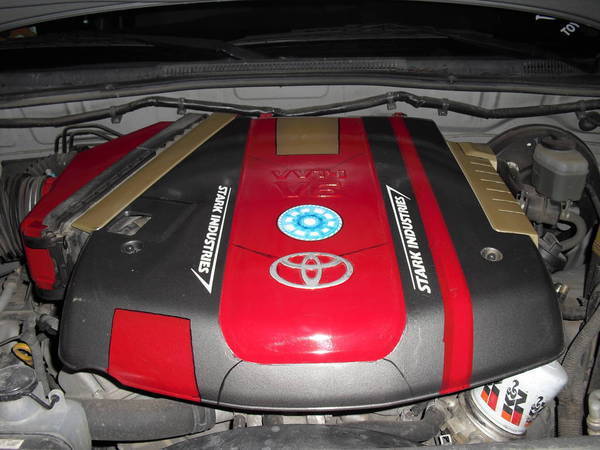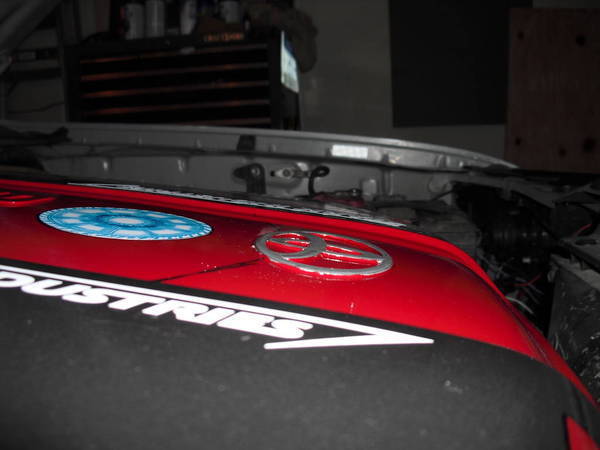 SNOW SHOES!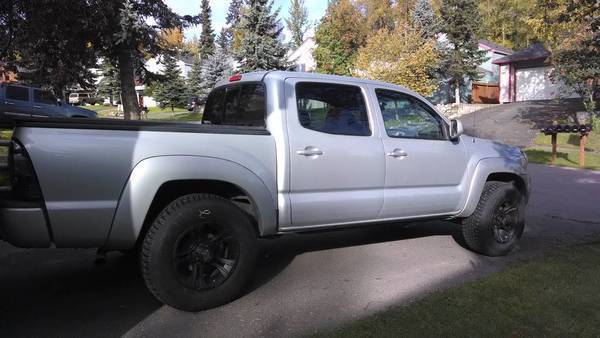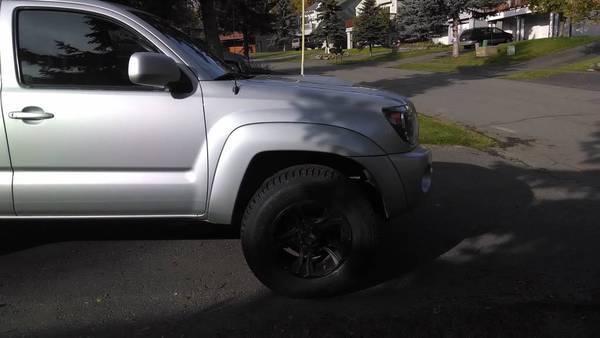 I kind of got used to the 265/70's and now that I have my regular tires back on, they look a little puney. The 265/70's look pretty decent, but I'm not sure if I really want to make the jump to 285's.... I love the look of everyone elses, but it is quite the jump in work and drop in MPG...