Well, here begins another obsession... or rather a continuance of an old obsession. But I recently found myself in the position to acquire a new 2013 access cab, I have to thank the folks of this website (and a couple others) for the information on this site, fantastic folks and great information.... and also a black hole for my $$$, but life is short so enjoy what you can.
So begins my build, I picked up a stock 2013 AC, ordered Mar 5th/2013... I had the dealership bring in a 3 inch OME lift, rear 2" AAL and firestone ride rite rear air bags. I wanted those on the truck before I even saw it, during our negotiations they "advised" me that it was best if they installed the first round of goodies.... i was skeptical but they did a great job.
Here is pickup the new pickup day:
A pic of her and our 1987 which we have loved for longer than I remember...
The first drive 04/24/2013, took her down to the Bow River for a photo shoot: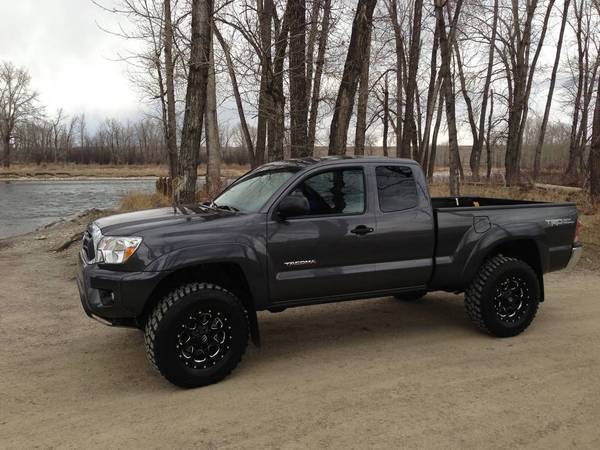 Current shot taken 11/15/2013: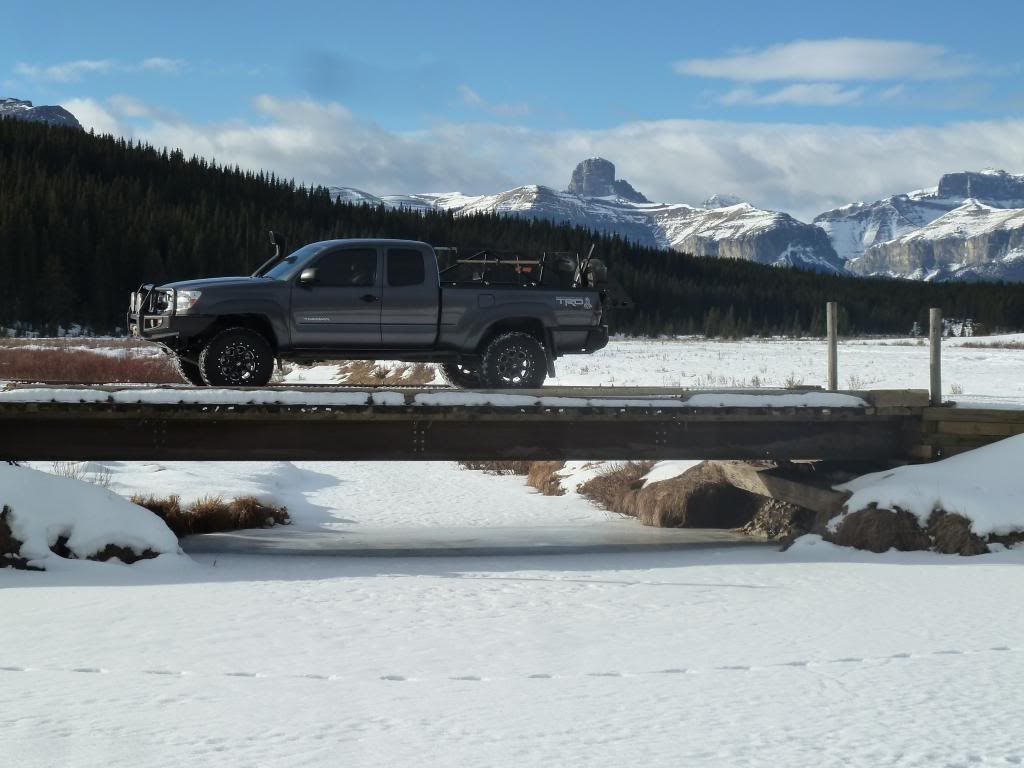 Mod list:
- 285/70R17 BFG KM2's
- Fuel Boost off road rims in 17"
-
Firestone ride-rite air load bags
-
OME 3" lift w/886 coils
- Rear 2" AAL
- Taco sill protectors
-
Weather Tech
floor mats
-
Softopper
in black
- End gate
pop and lock
- Taco bed mat
- Sockmonkey 3rd brake light in toy devil horns
- Tinted side windows, 50% small sides, 25% front sides.
-
Rear diff breather
re-located to the truck bed storage box
- ARB front bumper/WARN XD9000 rebuilt
-
Wet Okoles
-
Tekonsha P2
Brake controller
-
TJM X-ray vision 220 HID's
-
Andres Devil horns grill emblem
-
Ultra gauge V1.2
installed top left of windscreen
-
ImMrYo rear view mirror bracket
(this is by far one of the best mods done to the truck!!)
-
B.A.M.F. sliders
-
Airflow Snork
-
Custom bed rack for roof top tent mount/max trax/shovel/axe mounts...
-
CrusinOffRoad rear bumper
- Custom TRD graphic by me.
The wish list and to do:
- Get rid of those POS mudflaps and replace with something off road friendly... or just cut down the OEM ones!
- Skid plates...
- On board air, ARB 12V hi-output just have to install.
- Dual batteries
Thanks for having a look! :-)
*list will be updated as bank account empties...