I decided I wanted to do a build thread so here it is. Hope you guys like it.
First off I would like to thank everyone on here who has helped me with either installing something or explaining stuff to me. That would be Patrick, Josh, Juan, and Jake. And if I forgot anyone I'm sorry. Enough with the talking heres the list haha
.I also wanted to thank all the shops that have given me information and parts for this truck
SDHQ
,
Downsouth Motorsports
,
Sierra Expeditions
, and KM Fabrication.
I started with a 2013 double cab short bed TRD O/R PreRunner in magnetic grey metallic. Since then I started dumping all my extra money in the truck.
Cosmetic/Random Other Mods:
Removed Mud Flaps
Debadged Tailgate and Doors
Plastidiped front emblem
Colormatched Grille and Rear Bumper
5% Rear Window Tint
15% Front Windows
Antenna X Short Antenna
Weathertech
Floorliners
Salex Center Console Organizer
Avid Offroad
Bolt on Sliders
Blue Sea 12 Fuse, Fuse box with a circuit breaker
KM Fab Cab Mount Chop
All Pro
Front Skid
TJM Air Compressor
Bullaculla Trailer Harness Relocation Bracket
Toyota Bed Net
Hella Supertone Horn
Security:
Hose clamp tailgate mod
Viper 5704 Alarm with Remote Start
MattGecko Sliding Window Security Bar
Lighting:
BHLM with a Retrofit(Morimoto Mini D2S with Gatling Gun Shrouds and LED Angel Eyes)
Jumper's LED Interior and Reverse LED's
Foglight anytime mod
OKLED Light Bar 30" double row
GetHIDlights.com 6k HID kit in the fogs H11 I think
Rigid Dually's on hood hinge brackets by Famous Fabrication(not yet installed)
Blacked out tail lights(not sure how I feel about it yet)
Lift and Tires:
Camburg 4" Lift Spindles the Sway Bar Version In Case I Decide To Sell the Truck
Icon
2.5 RR Extended Travel Coilovers
Total Chaos Upper Control Arms
Icon 2.0 RR Rear Shocks
Icon Progressive Pack
5 Method Double Standard 17's Black
5 Toyo AT II's 285/70/17 tires
Performance:
AFE Cold Air Intake
AFE Exhaust
Communication:
Uniden Pro520XL CB Radio
Firestick II antenna kit 3'
Stereo System:
Kenwood DDX790 DVD Touch Screen Headunit
Kenwood XR600-1 Digital Amplifier
Infinity 9602ix Speakers
Infinity 6501ix Speakers
Clarion xc1410 power pack
2 Kicker Comp RT 10" woofers in custom sealed box
Hushmat sound deadening
Future Plans/Wish List:
Total Chaos Race Lowers
Bypasses for the front
Defined rear spring under kit
Some sort of rear shocks
Icon bumps
Vision X Light cannons on the hood
50" Double row light bar on the roof
20" Amber Led Light bar in the grille
Some sort of rear FU Lights
Wet Okoles Black with Charcoal Piping and Charcoal TRD Logo
Some sort of Grill eg. Grillcraft, Satoshi, or something
N-Fab in bed tire carrier with a full size spare
Bottle opener in the bed mod(no clue where to get one yet)
Pelfreybilt
Trail Armor
Current Looks as of October 6, 2013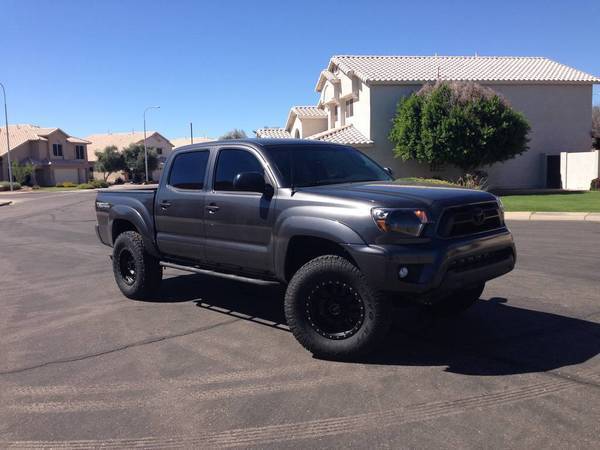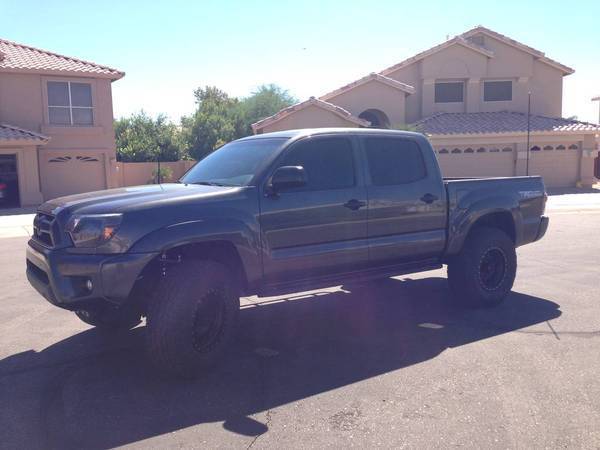 The first day I bought it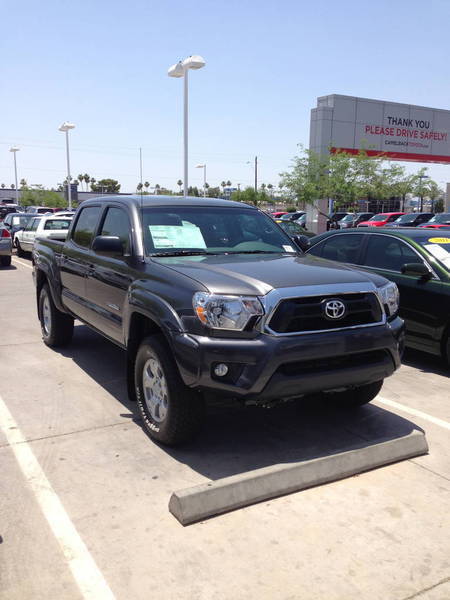 I then took off the mud flaps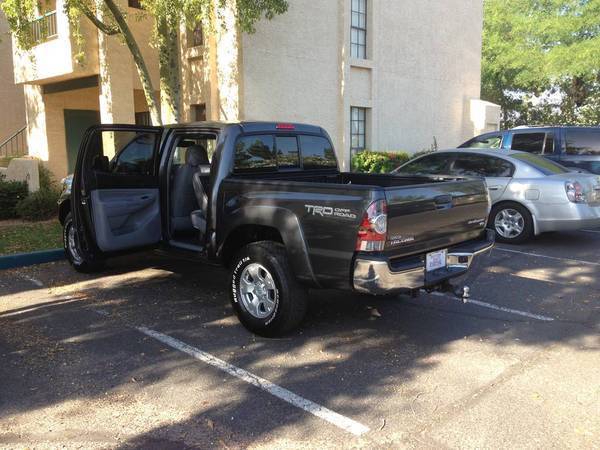 I decided the stock antenna was too long so I got an Antenna X short antenna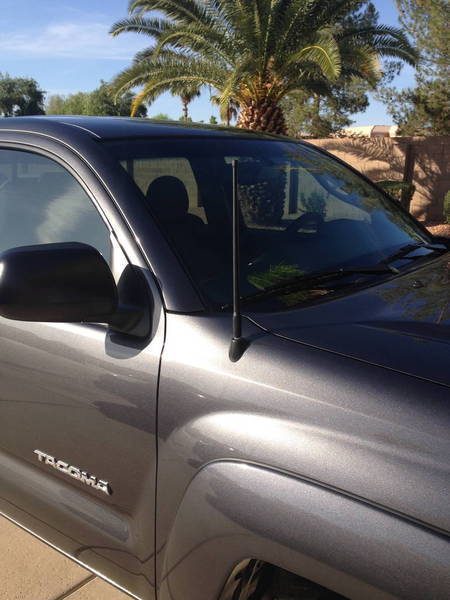 Next I plastidipped the emblems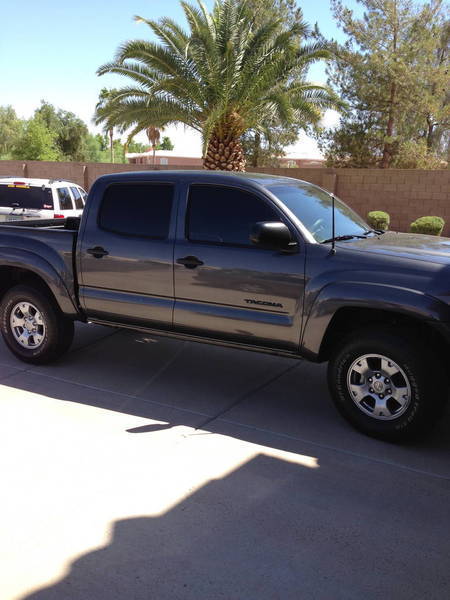 Then I got window tint 5% on the rear windows and 15% on the front windows
Next up was 8k HID Headlights and Fog Lights from DDM Tuning(dont buy anything from them) they were replaced with 6k kit from gethidlights.com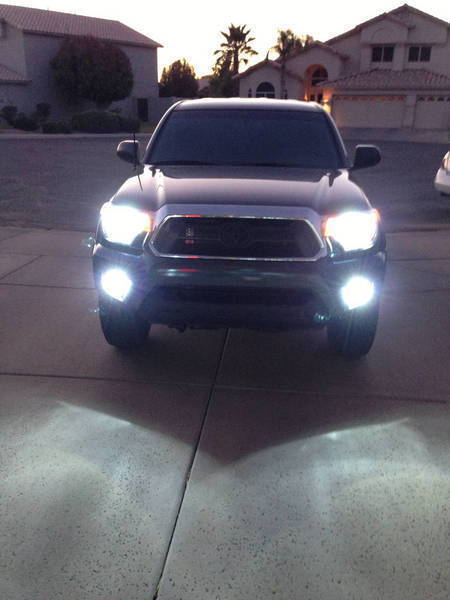 Night View of HID's