uncleART's 2013 MGM DCLB TRD Sport
As it sits today (1-27-2014)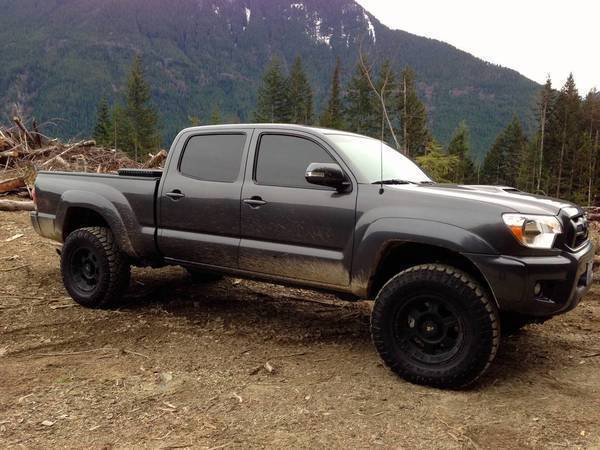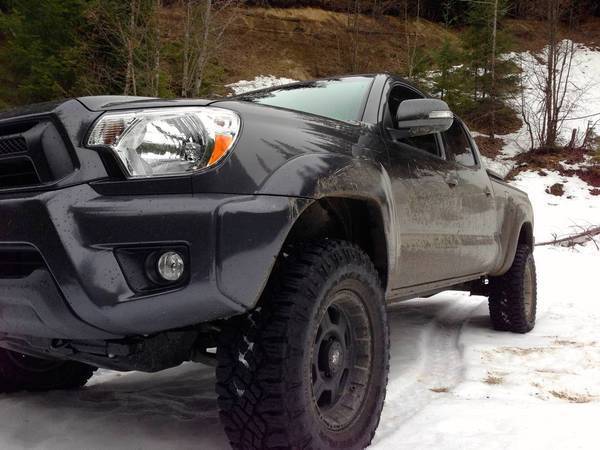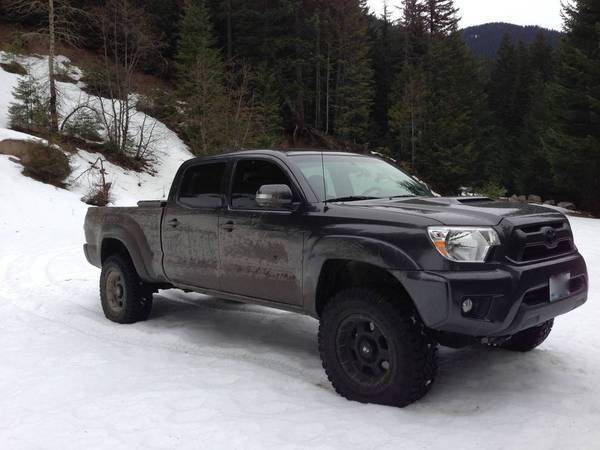 The day I bought it on 5-13-2013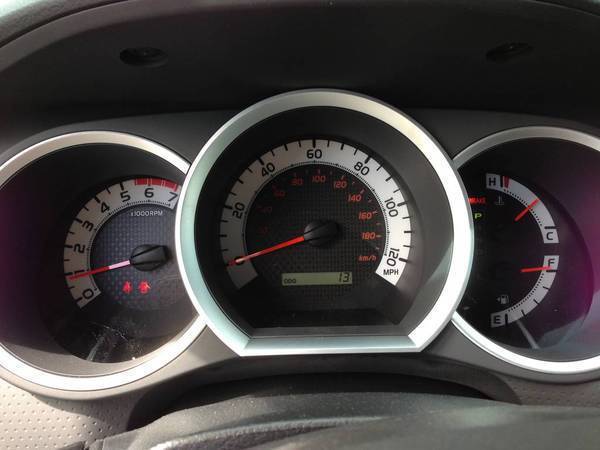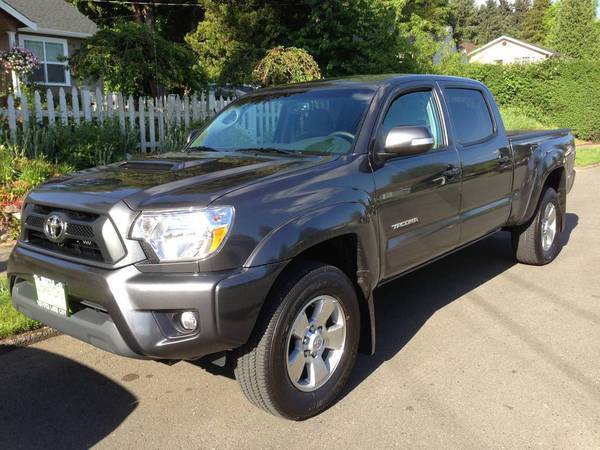 Bought with 6 miles on it and took this when I got home.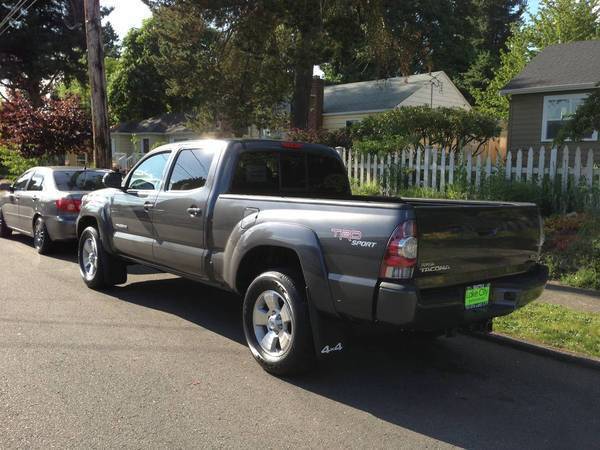 Many thanks to this TW community for all of the ideas, inspiration, technical info, and a thinner wallet.
My Mods
DeBadged
DeFlapped
Toyota Bedmat
TRD exhaust
Window tint 30%
Weathertech
Floor Liners
Blacked-out grill emblem
Toolbox Bedrail mod
TW sticker
_
Bilstein 5100s
Toytec coil overs
Dakar leafs
Light Racing UCAs
SwayBar relocate
ECGS Bushing
_
Pro Comp 7089 Wheels
Goodyear Duratrac 285/70-17
_
TRD Offroad front tow hook
Tailgate anti-theft mod
CBI receiver shackle w/ Bolt Hitch Pin
RotoPax
Spare tire mod
UWS toolbox with Bolt Latch Retrofit
Rear Diff vent relocate
Trailer Plug relocate
Backup Light Mod
Redline Hood Struts
Mod Pics
DeBadged.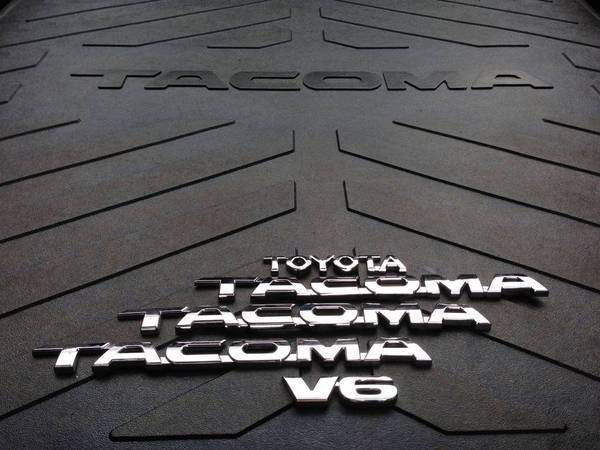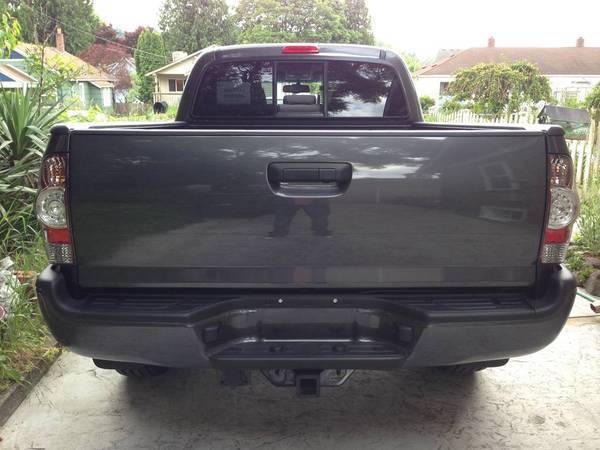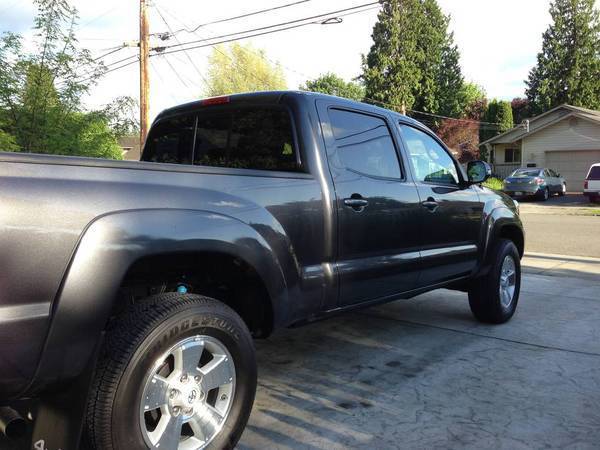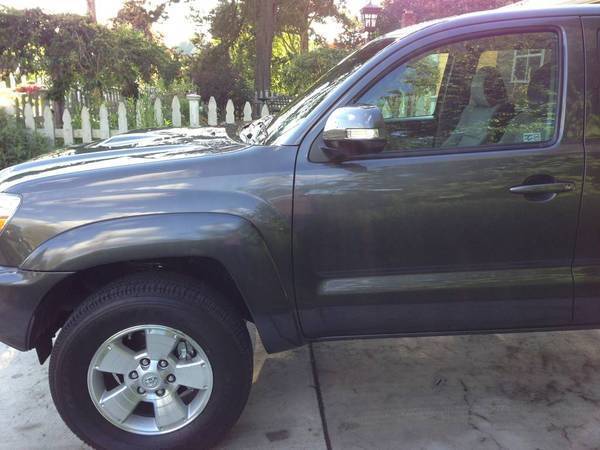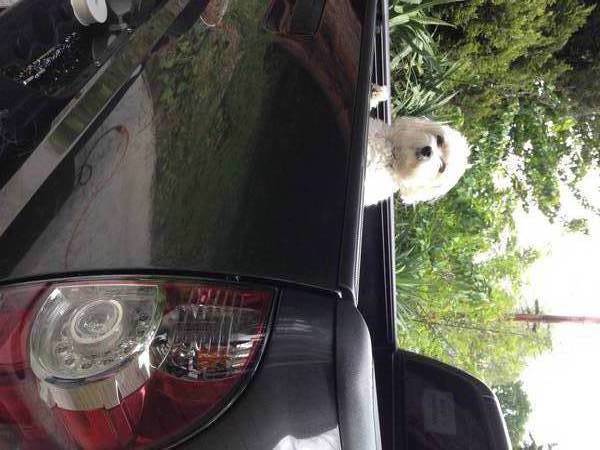 Sophie helping me DeBadge.
TRD cat-back exhaust.
I love the sound - the sound definitely affects the mpgs sometimes.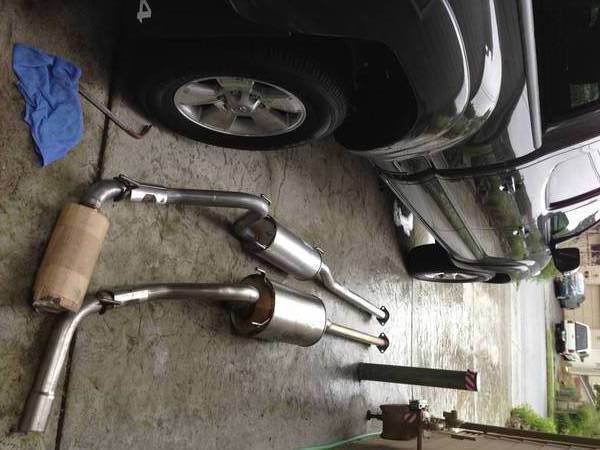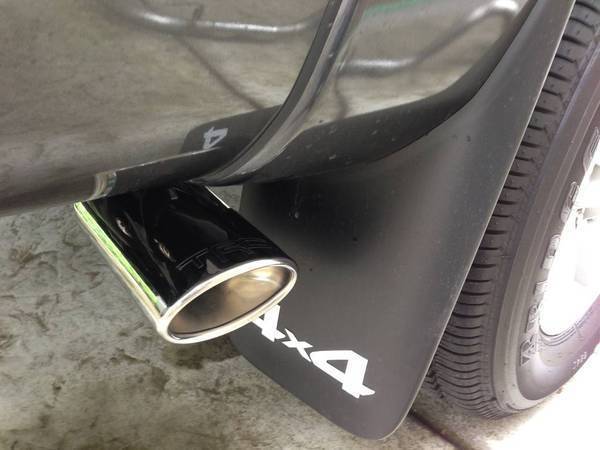 Front Windows Tinted at 30%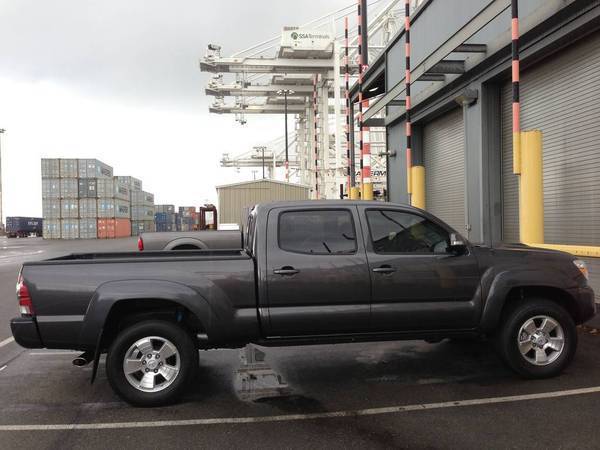 3" Lift. (Ultimate Lift Kit from
Toytec Lifts
)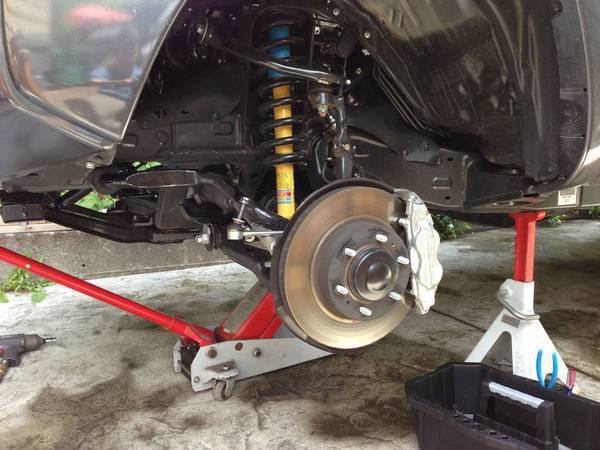 Out with the old TRD Sport.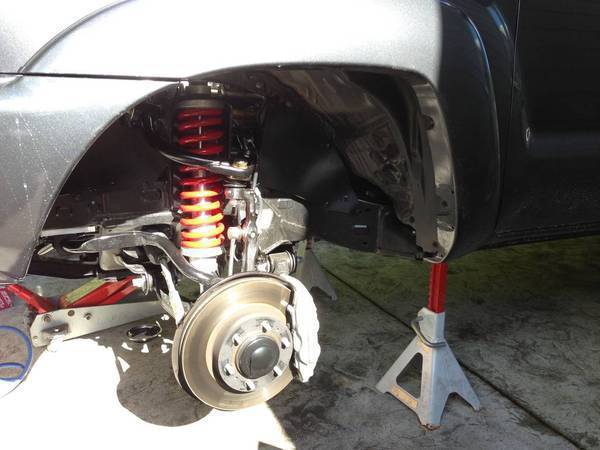 In with the new. Bilstein 5100/Toytec Coil, LR UCA, sway bar drop.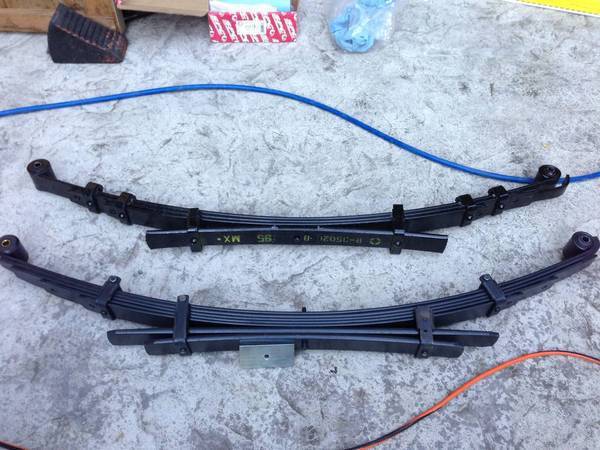 OME Dakar next to a stock spring. I didn't use the shims - no vibes.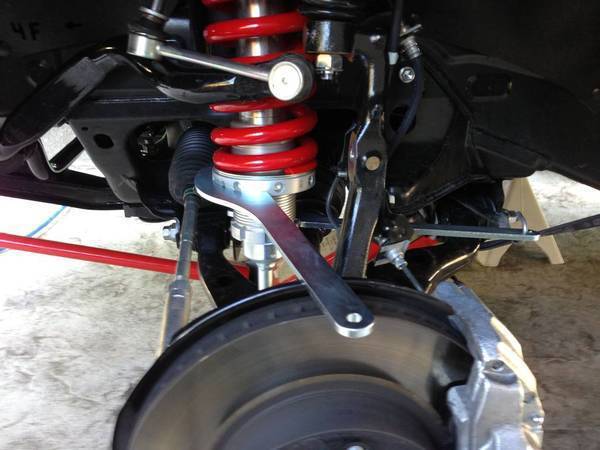 Adjusting for Taco Lean.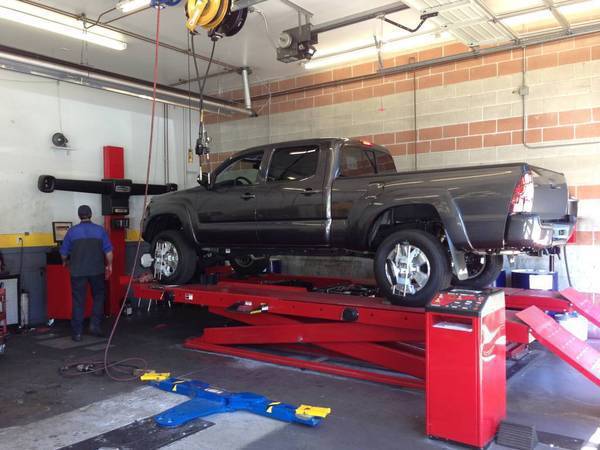 Alignment went very well.
I set the LR ball joint at the -1.0 (E) setting for an overall UCA Caster adjustment of +1.0.
I rolled the lower cams to pitch the LCAs all the way forward.
Doing this along with the UCA adjustments gave me an additional 1" of clearance behind the tires.
Here's my final alignment results:
Camber.....left -0.1 right -0.1
Caster.......left 2.1 right 2.2
Toe...........left 0.07 right 0.03
I have no tire rub issues with my 285/70-17s, stock Sport wheels, with 1" spacers.
Added a TRD Offroad tow hook, with new longer bolts.
Toyota part #s: Hook: 51961-35080 / Bolts: 90119-A0193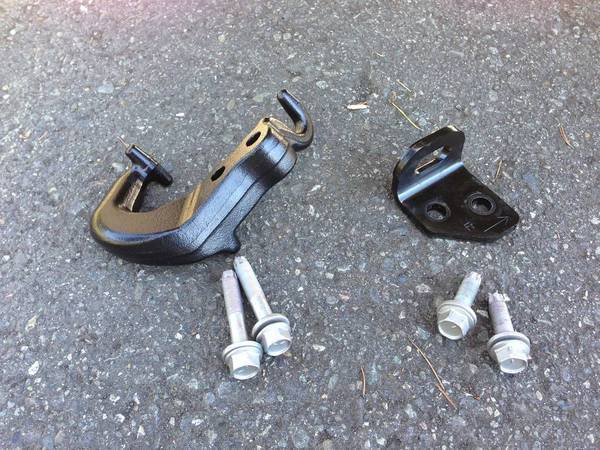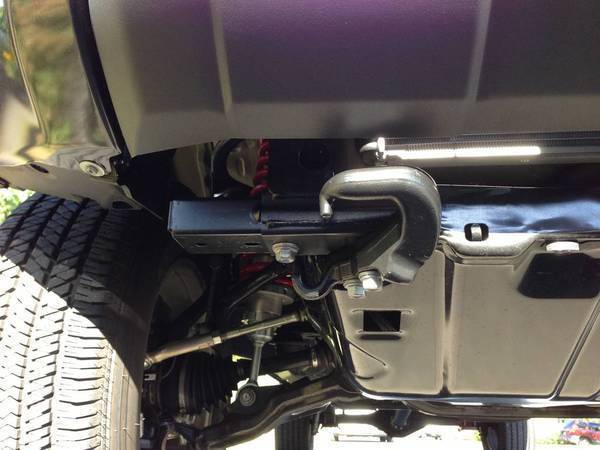 Tailgate anti-theft mod.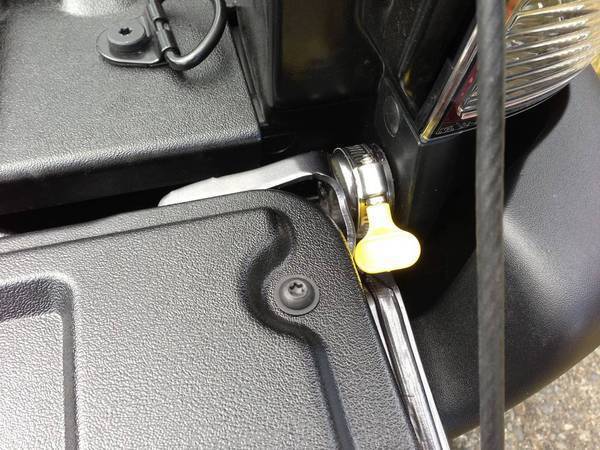 (I did remove the yellow handle and put it in the glove box).
Grill Adjustment. Fixed my 40mph whistle.
The grill wasn't straight, allowing for a loose hood gasket. So I adjusted the passenger side in, where it belonged.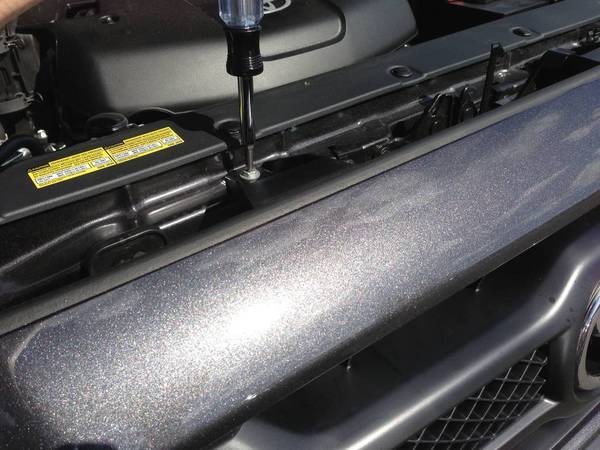 Loosened this bolt and pushed the grill in. Tightened.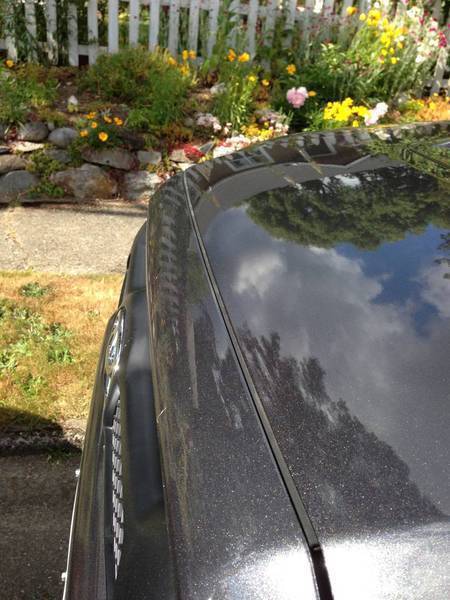 Now the gap between the grill & hood is parallel. And no more whistle.
Bora 1" spacers installed.
(Click Here for the Benson X review of these)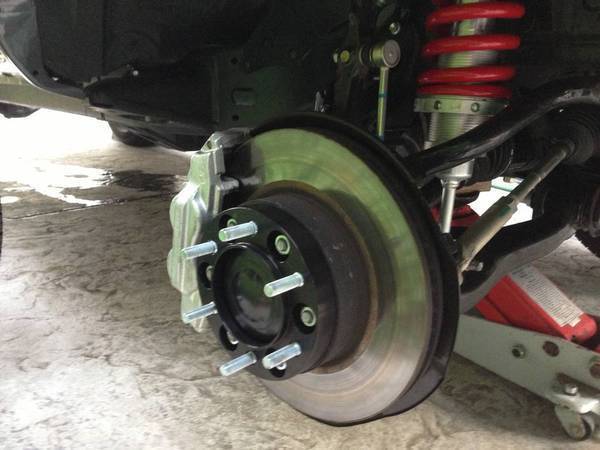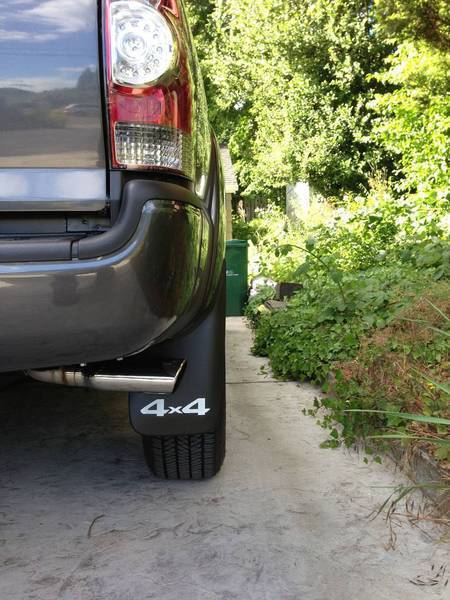 Before Bora.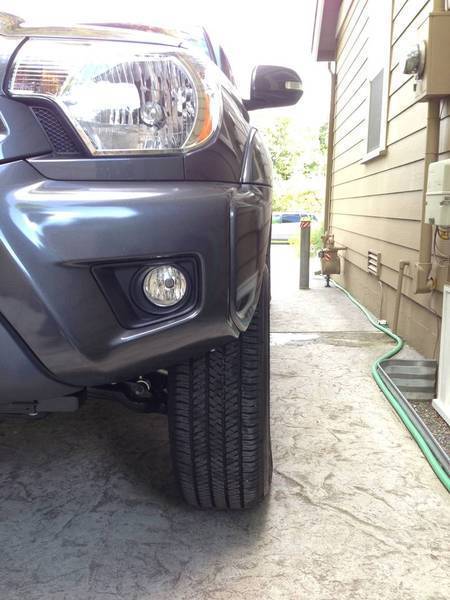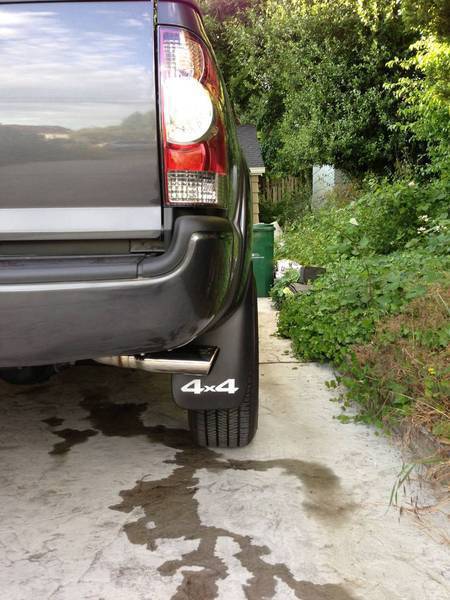 After Bora.
Installed a CBI Receiver Shackle, with a
BOLT
locking hitch pin.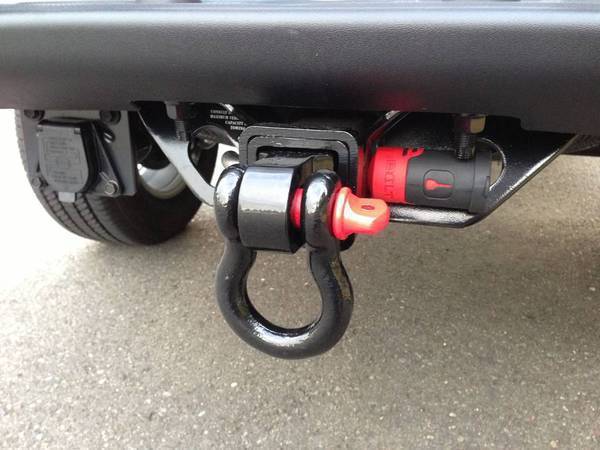 Finally got my Goodyear DuraTracs!
I drove around for about 3 weeks with the little shoes on.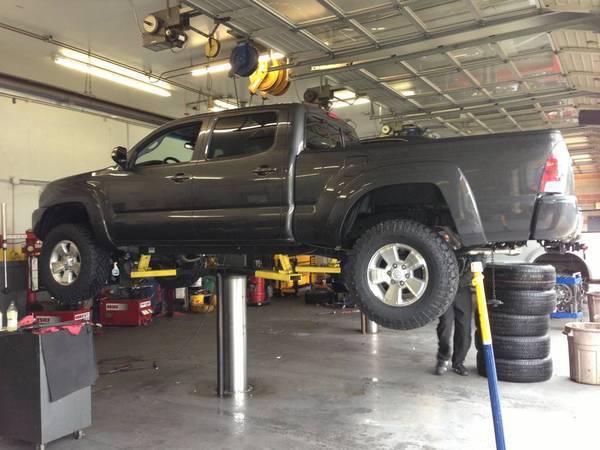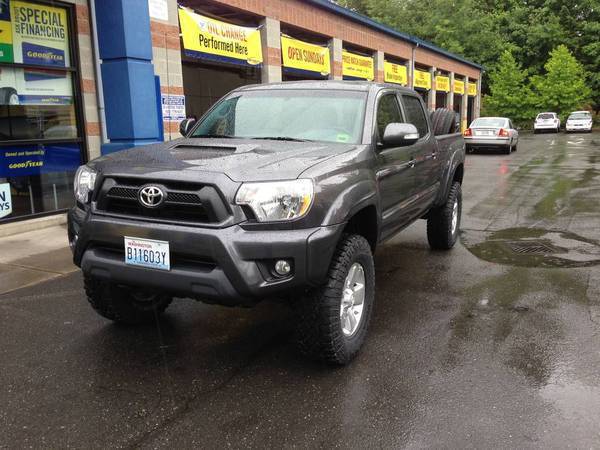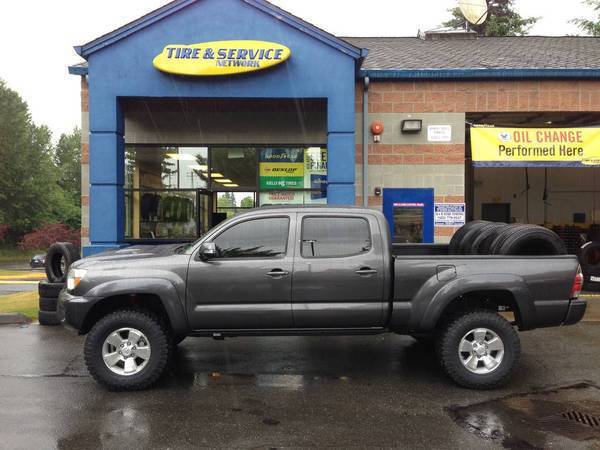 Installed my WeatherTecs. These are awesome.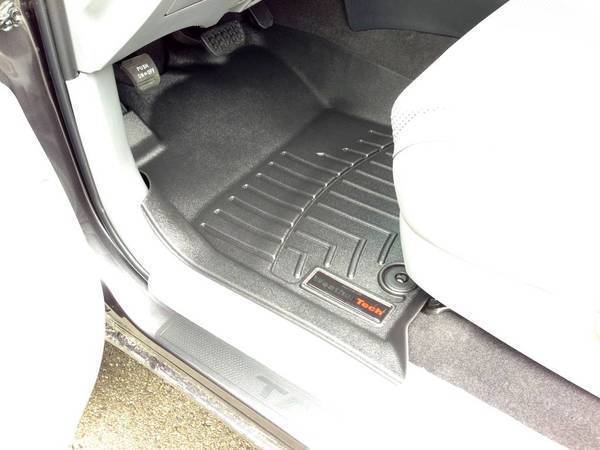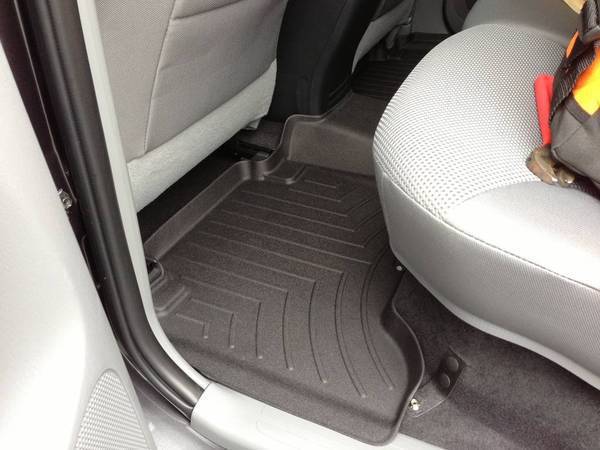 33" Spare Tire Mod.
(Click Here for my write-up)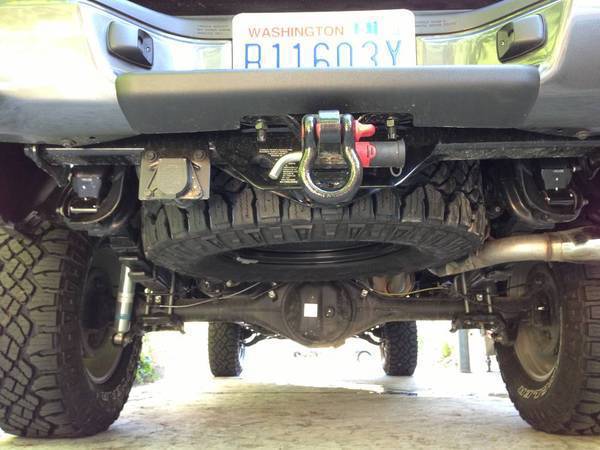 UWS Truck Box. With a
BOLT
latch retrofit kit.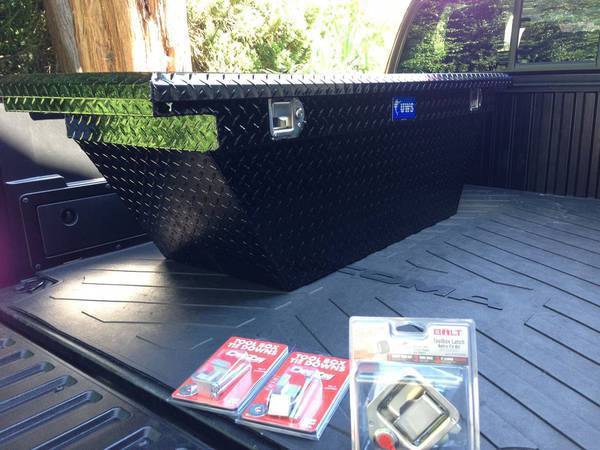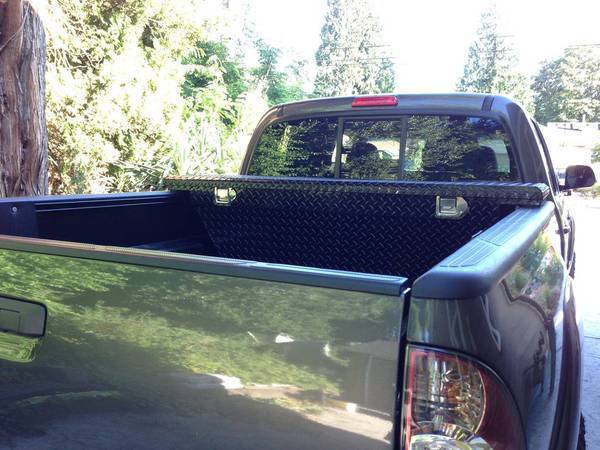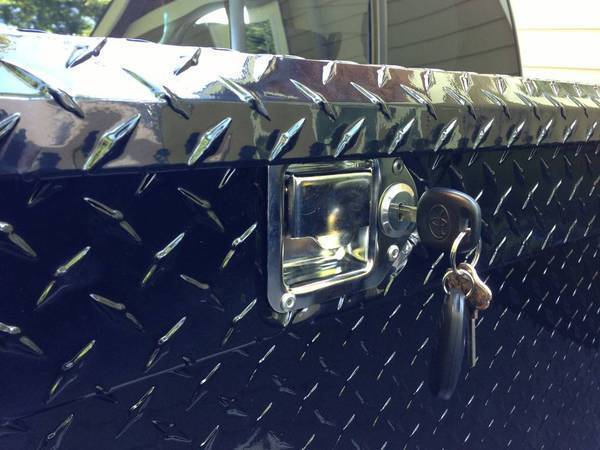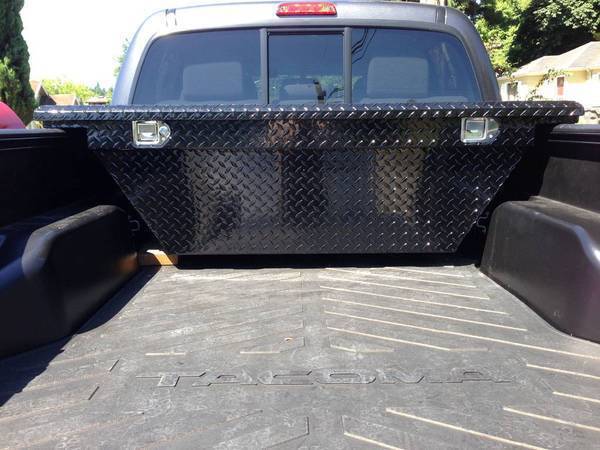 Rear Diff Breather Relocated.
(Click Here for my write-up)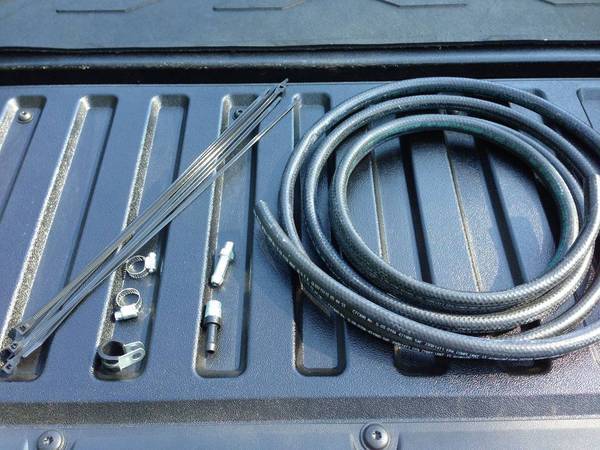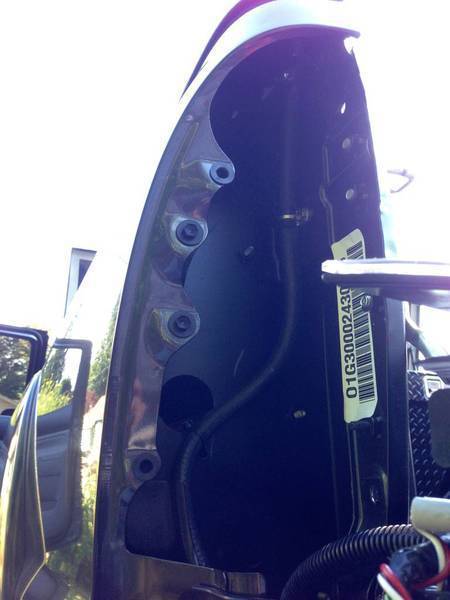 Blacked out my Grill Emblem.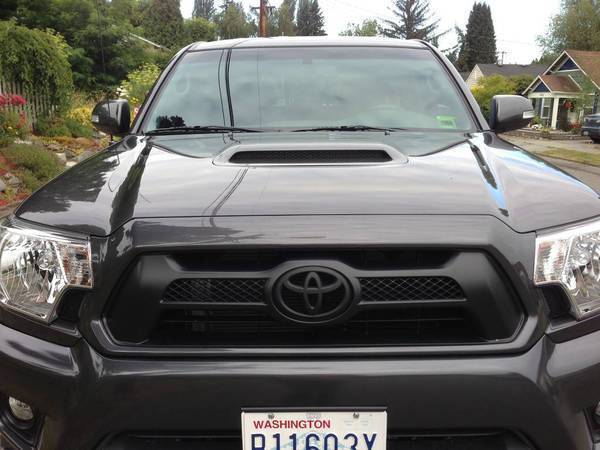 Installed an additional bedrail to my toolbox.
Parts Needed: ($75 total)
PT278-35100-BH
66134-04010 (2ea)
Stainless hardware
I cut 2-1/4" off of the rail so it would end flush with the box. I was careful to measure and utilize one of the accessory cam notches for the end cap to snap into. I installed my panhead bolts, with fender washers, from the inside of the box so that the tray would still slide. The nylocs that I used, were shallow so that the rail accessories would also still slide past each nut.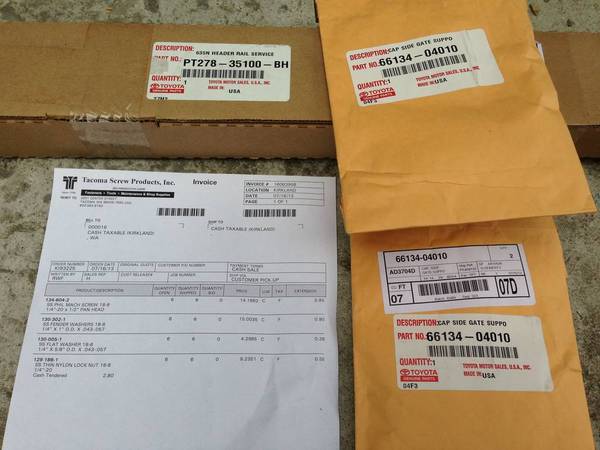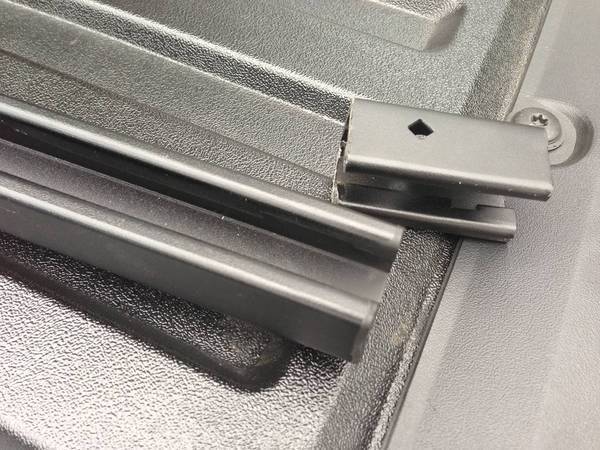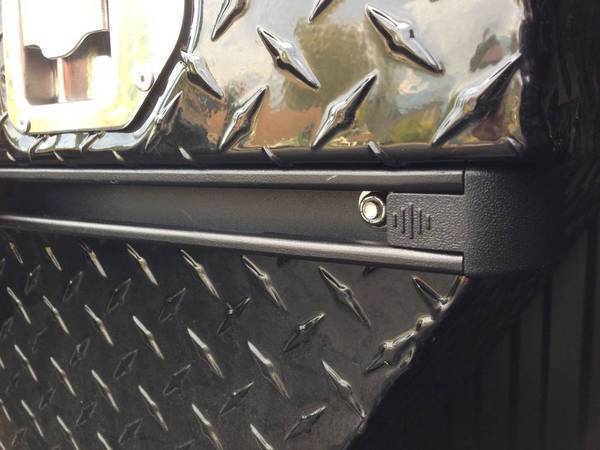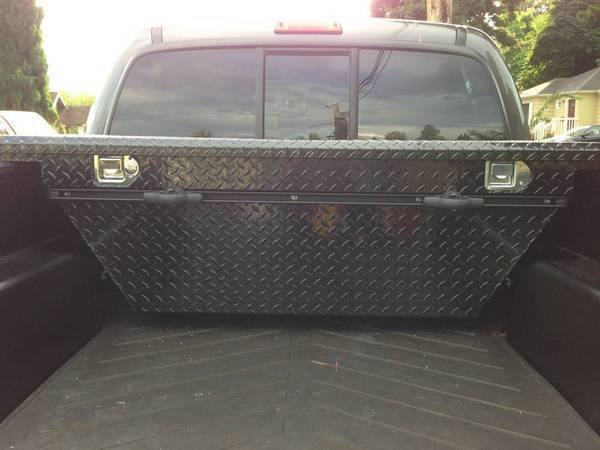 Trailer Plug Relocated.
This custom bracket just clears my 33" spare.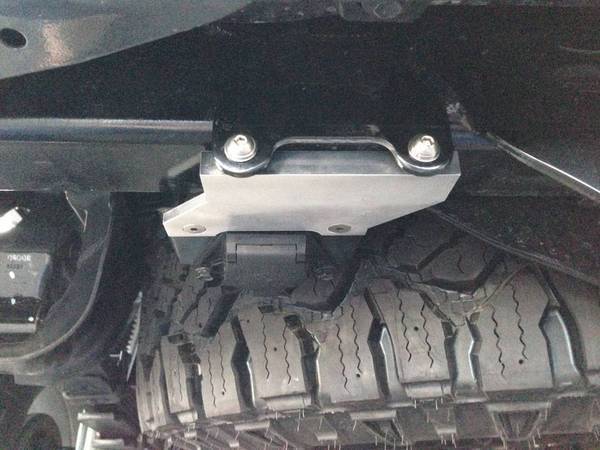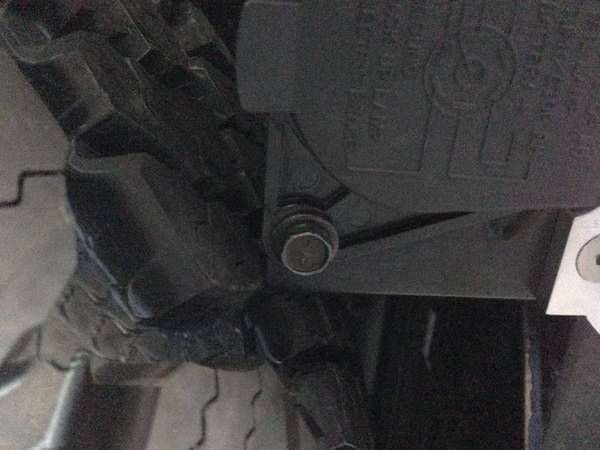 New MGM DCLB
.
Hypnotic Coma
.
ToyTec ultimate lift kit installed today
.