Backstory:
Im currently a Contractor in Afghanistan. Been here for 10 months so far and havent been home yet. In 4 days, I leave this dump to go on a 3 week vacation back to the states. After that, I come back here for another 13 months.
Prior to today, my girlfriend has been driving 2002 Mitsubishi Lancer for the last 10 years. Shes a student, and has had alot of trouble with her car. With me being overseas...I dont like thinking about her being stranded somewhere, and I have been having her drive my Avalanche for the time being....which is nerve wracking, thats my baby lol. So 2 months ago I ordered her a 2013 Magnetic Gray Metallic DCSB TRD Sport. Added Entune to the package. I did have the dealer put on fender flares, a bull bar, and nerf bars.
Im going to use this thread to Document the progress so I have something to refer back to should I need it. I dont have any pictures yet, but I will once I pick up the truck. For now, Heres a list of mods and what I paid for everything. It was cheaper for me to source everything and have it delivered to my house. This will be installed within 3 days of picking the truck. I will get some pics up when im back in the states. Keep in mind, I know absolutely zero about Lifting vehicles and Tacomas. I think I did good considering. The only offroad this truck will see is the beach and during a Zombie Apocalypse lol.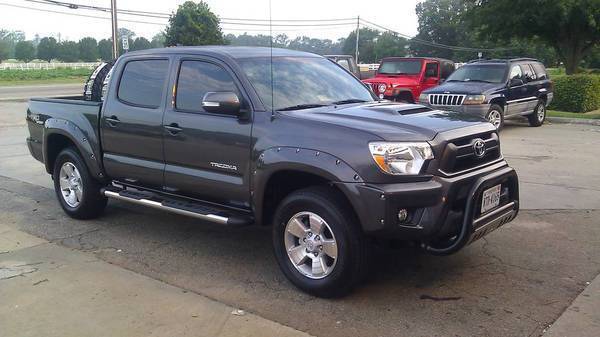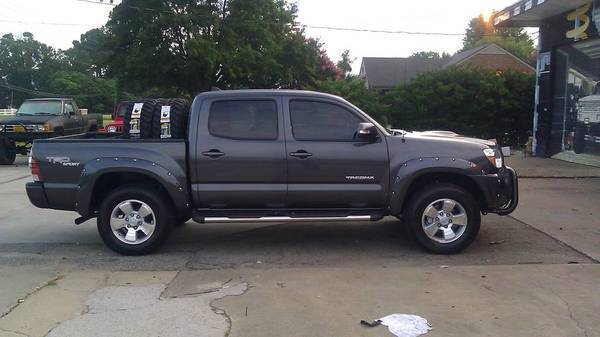 Add on Costs:
- Bushwacker Fender flares
- KMC XD Spy Rims
- Westin Bull Bar
- Iron Cross Nerf Bars
- Pop lock
- Relocate mirror
- License plate relocator
- Pro Comp Lift Kit
- Nitto Trail Grappler Tires
-
Icon
Coilovers
- Icon UCA's
- Kuda mount
- Wet Okole Seat Covers
- TRS HID Retrofit
- Headlight Butyl
- Boltlock
- Bedmat
- Alcan 6" springs
- Window Tint
- Toyota Paint/Labor
- Lift Install
- Devil Horns
-
Bak Flip Tonneau
Cover
--------------------------