Hey guys. Started making progress on my build. Working with a double cab long bed. 2012. Was only available as a pre runner so we had/have some issues. Wanted something more of a street truck but Toyota didn't offer anything close to what I was looking for.
So far did the usual, led lights inside and out. Made an aux fuse panel cause I wanted 12v outlets outside of the cab so I wouldn't be running a long ass extension for my compressor. Didn't wire it yet but the rest of the hardware is there.
The biggest project is lowering the truck. Started off as a sr5 pre runner. Got ahold of a tundra racing drop kit and threw that on. Truck was about 2" lower in the front and 3" lower in the back. But it still handled the same as before the drop. Ordered a hell wig rear sway bar and that improved things. Then got some qa1's for the back and things got even better. Saw room for improvement in the rear sway bar department so I ordered a 1-1/16" rear sway from XII performance. Needed end link mounting points on the frame and end links so I ordered the sway bar mounting kit from tundra racing. With the qa1's at 7, I'm pretty happy.
Areas that still need to be addressed is the rake. No rake at all right now. 33" to the fender all the way around. Pretty much going to redo the whole front. Going to keep the same stock sr5 springs but throw them on the TRD bilstein shocks. Also have a 1-3/8" hell wig front sway bar coming in. To address the rake I'm going to try the spindle spacer and to correct the camber, installing some light racing UCa's.
I'll post some pics of the different projects in others posts. My pics are all in my gallery for now but hopefully I can get them organized and make it easier to see the different stages the truck has been through.
sorry, my notes aren't in order. Decided to make a build thread after I had done some of my stuff. Sorry. Hope it helps.

Added notes: as of 8/17/13
Stuff done:
Chassis and suspension
Tundra racing lowering kit
Hell wig rear sway bar 3/4" (removed)
Hell wig leaf helper springs
1" spindle spacers
XII performance 1-1/16" rear sway bar with
Tundra racing sway bar mounting kit
Added shaft collars to help locate rear sway bar
Hell wig 1-3/8" front sway bar
Qa1 rear shocks
Trimmed factory bump stops (not low pro ... maybe medium pro right now)
Xrunner trans cross member braces
Light racing upper control arms.
Lighting
Aux fuse panel (not hooked up yet)
Jumper LEDs for:
dtrl(switchbacks)
White parking lights
700 lumen reverse lights
White dome and map lights
Red tail lights (factory early style tails)
Soon ...
Red led tail bulbs
Switchback turn/reverse lights
Later... signal mirrors, ambiguous projectors
Engine/performance
Haven't decided yet.
Wheels and tires
Stock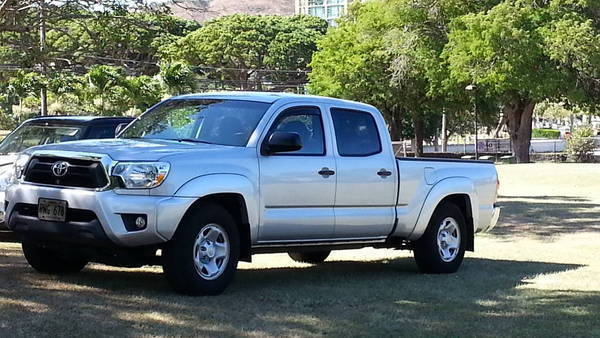 Companies I've worked with/dealt with on this project that I've had positive experiences with:
XII performance. Great guys to work with. They will find out the best way to ship your stuff. Plus they know their products and tacomas very well. Pleasant, quick, and quality parts.
Tundra racing. Very knowledgeable and willing to work with you. I hate nylocks and tom ended up sending me a ton of standard nuts to double nut my axle. Wanted a thicker spacer for my sway bar to clear my spring, no problem. Wanted just the swasy bar mounting kit without the swasy bar, no problem. Flat rate box USPS.
Csjumper. Really accommodating. Knowledgeable. Values customer service and willing to sit down and walk you through issues over the phone. Great customer service. Has pride in his product line.
Cboy808. Patient guy. If you want to design your own stickers, see this guy. For the amount of time he spent trying to get my logo just right, I didn't pay him enough. Spent about 3 days and over 30 emails to get it how I wanted it.
Fat bobs garage and spec. Got my light racing control arms from fat bobs. Unfortunately it came from china with the wrong ball joints. Within two days of letting them know, I had the correct ones in hand. Good product and good customer service. The guys at fat bobs are willing to flat rate box your stuff if it'll fit. That's plus points in my book.
Amazon
. If they got it and it qualifies for free shipping, I'm almost guarantee buying it from them. Sorry, can't beat it. What customer service? Do they know their product? No. But cheap!