I'm Steveo. I'm from Pittsburgh. I have a 2011 TRD Off Road package Tacoma.
I bought the truck as a new daily driver as I got sick of driving my '03 Malibu. It was boring, ugly, and just no fun.
I plan on doing a buncha small stuff to this truck, but nothing major since it is my daily driver. The plan is to make everything I do reversible just because. I already have a full out built show car for the extreme modifications kinda shit.
I wanna keep track of the stuff I do to the truck and share DIY's so I'm going to do a small "build" thread
Anyways, heres my fun/show car. Its a '92 VW Jetta. I've been dicking with it since 2005 -
Its currently in the body shop getting the engine bay re-shaved and the exterior resprayed.
And here's the build thread for it -
http://forums.vwvortex.com/showthrea...ct-Thread-LA1Z
and this is my girlfriend's '99.5 VW Jetta, its her fun/show car, which I've also done all the work on -
DSC04910
by
steve009_67
, on Flickr
And here's the build thread for it -
http://forums.vwvortex.com/showthrea...uff-amp-things
I like doing these kinda threads to keep track of stuff and post pictures.
MODIFICATIONS -

Current Mods :
Front suspension

- Bilstein 5100s set at 1.75" w/ stock springs


Rear Suspension

- Wheeler's Progressive 3 leaf add-a-leaf
Brakes
- Paint front calipers
Wheels & Tires


- Stock 16" TRD Off Road alloy wheels
- 265/70/16 Cooper Discover AT3's

-
1.25" Spidertrax wheel spacers
Interior
- Rear headrest delete
- Lighted 4wd indicator
- Painted radio & dashboard bezel
-
Weathertech
mats
Entertainment


- '14 non
JBL
w/ navigation headunit retrofit


Exterior
- Plastidip'd front badge
- TRD skidplate
- Additional bed rail hold downs
- Xtang Trifold
tonneau cover
-
Yellow Lamin-x on front fogs
-
Any time fog light modifications
- Brighter reverse bulbs
- TRD grille badge
- TRD tailgate badge
- Trimmed front mudflaps
- Debadged tailgate
Engine/Trans
- K&N panel filter




FUTURE MODS -


Front suspension

- Light Racing upper control arms (currently being rebuilt)
- Eibach #620 front coil springs
-
Toytec
top plate spacers


Rear Suspension

- Bilstein 5100's
- 1" blocks
Brakes
- NONE


Wheels / tires

- 16" Eagle Alloy 187s (currently being refinished)
- Custom fabricated rock rings w/ new hardware
- TRD centercaps
- 285/75/16 Goodyear Duratracs
Interior
- Ambient footwell lighting
- Console organizer
- Console lock
- Painted HVAC control panel
- Additional 12v outlets in center console
- Additional 120w outlet in the center console


Entertainment
- Bluetooth/voice command steering wheel control retrofit
Exterior
- Additional D rings in the bed
- Pop & lock tailgate lock
- Aux. reverse lights
- TRD exhaust tip
- Raptor style grille lights
- Hella Black Magic aux driving lights
Engine/Trans
- NONE
Anyways.


On to some pictures -
Here's how she sat when I bought her -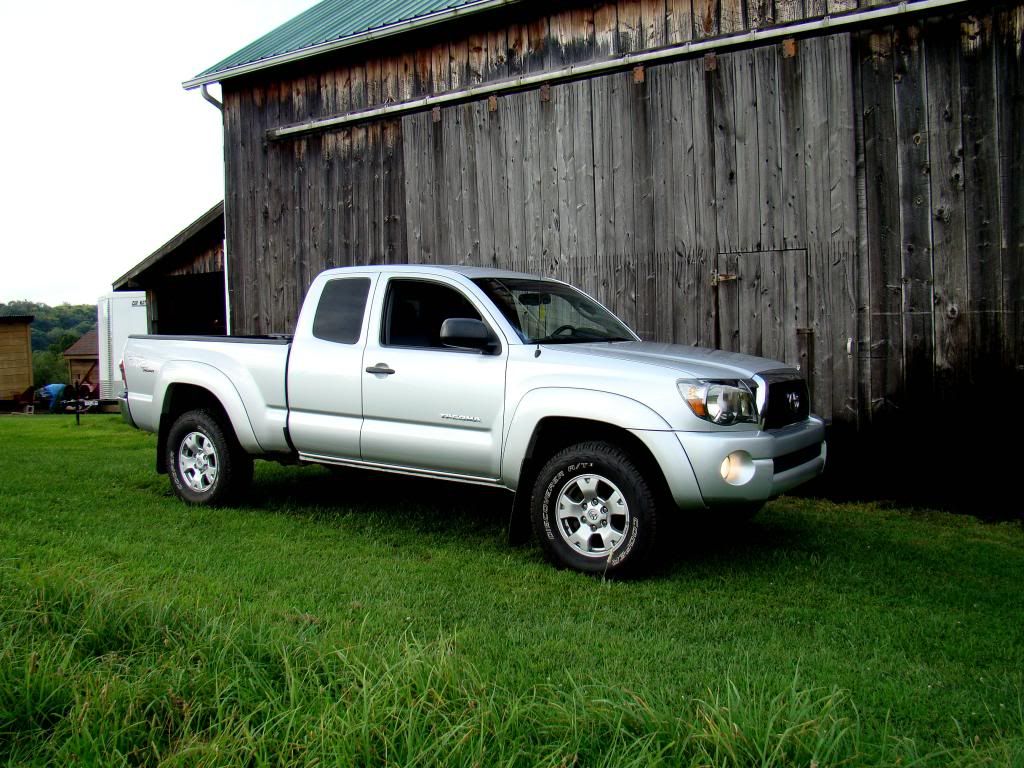 Also. The Front Bilsteins are are currently on a UPS truck somewhere in the Mid West. And I have 2 more bed rail hold downs in the mail as well.
I will try to update this thread when anything fun and/or exciting happen.
:beer: