Bought her new 8/11/13, I ended up trading in my 2011 Black Double Cab Pre-Runner Tacoma because I just couldn't pay on something I wasn't happy with......In the end I WANTED 4x4 so I did it. And I'm glad I did, the '13 seats are amazing compared to my SR5 seats and tan interior my '11 had. I've always wanted to wheel my vehicles and I just wasn't comfortable running solo without 4x4. I ended up buying Pyrite Mica, originally I asked for MGM or Black but once I saw the Pyrite Mica on this truck I changed my mind....
I bought a 2013 Double Cab Short Bed TRD Off-Road 4x4 in Pyrite Mica, Paid $32,995.54 OTD Purchased August 11th, 2013 (1st time I've had a 4WD vehicle)
UPDATED as of 9-07-14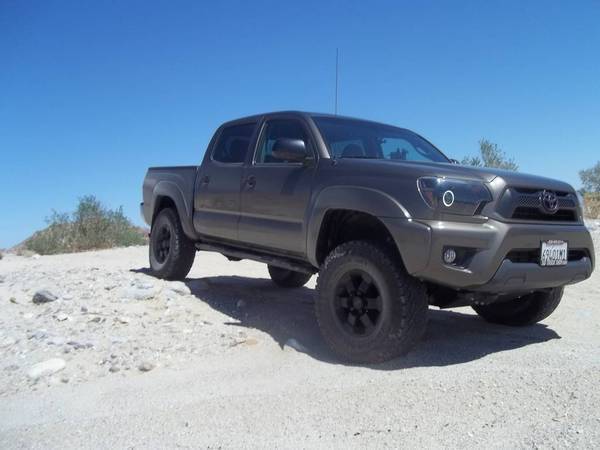 Model
:Tacoma TRD Off-Road Edition 4x4
Drive-train
:4.0 V6 w/ 5AT
Color
:Pyrite Mica (4T3)
Purchase Date
:August 11th 2013
Center Hub to Fender Measurements:
Front Driver-side - 23 1/16"
Front Passenger-side - 23"
Rear Driver-side - 25"
Rear Passenger-side - 25 1/2"
Unfortunately like most of us Tacoma owners trying to pay off their debt I just had to find Tacomaworld.com and spend all my money......The truck went from a means of transportation to a hobby!
Modifications (Completed)
Wheels & Tires:
16" FJ Trail Teams Edition Wheels
285/75r16 General Grabber AT2 Load Range D (Installed 4-16-14 @ 15,600 miles)
CMC done @ SD TruckShop
Engine/Performance:
Toyota OEM Oil Filter (90915-YZZD3)
Wix Air Filter (Part #46888)
Mobil1 5w30 Synthetic Motor Oil (Switched over @ 8,471 Miles)
Mobil1 75w90 Synthetic Gear Oil w/ LS Front & Rear Differential + Xfer Case (Done @ 8,560 Miles)
Lubegard ATF Protectant (Red) @ 23,600 miles
Gibson SuperFlow SFT Stainless Steel Muffler w/ Tip in Stock Piping (Part # 788500S)
ADD W1 Polished Aluminum Catch Can (Installed 3-15-14)
Crown Performance Extended Rear Brake Lines
Suspension:
Front -
King Extended Travel 2.5" Coil-Over w/ Remote Reservoir 650# Coils set @ stock height (Driver side cranked 1/2 in), Extended: 21.687" Collapsed: 16.750" Travel Length: 4.937" (Installed 11-27-13 @ 6,400 Miles)
Total Chaos Upper Control Arms (Installed 11-27-13 @ 6,400 Miles)
DJ Safety Limit Straps (Installed 4-16-14 @ 15,600 miles)
Wheeler's Off-Road Super Bumps Front (Installed 3-9-14)
Sway-Bar Relocate
Rear -
All-Pro Standard 3" Leaf Pack
All-Pro U-Bolt Flip Kit
Fox Adj Reservoir FJ/Taco Rear Shock, 2.0 Body, 9.5" Travel w/ 40/80 Valving. (982-02-366-A) Installed @ 23k Miles.
Wheeler's Off-Road Super Bump Kit Rear (Installed 3-9-14)
Exterior:
TOYOTA & 4WD Old School Decal on Tailgate
OEM TRD Off-Road Bedside Decals Black w/ Red outline
Debadged Truck
Devil Horns in Gun Metal Black
Color Matched Grille in Pyrite Mica
OEM 4x4 Mud-flaps
FX-R Stage 3 Retrofit Projectors; Apollo Shrouds w/ LED Angel Eyes in White + BHLM
Miscellaneous:
Rear-Differential Breather Mod routed to bed storage (Done @ 8,600 Miles)
ARB ARB505 E-Z Deflator
Interior
"ImMrYo" Rear-View Mirror Bracket
Armor
Pelfreybilt Hybrid Sliders (Installed 11-13-13)
Pelfreybilt IFS Skid (Sprayed w/ Rust-oleum Hammered Finish)
Future Plans to Help keep track of my obsession, Yeah I'm a loser....
Performance:
Doug Thorley Short Tube Headers
Dynomax Super Turbo Muffler Part #17748
TRD Supercharger w/ URD 2.85" Stealth Pulley
URD Fuel Pump/Filter Kit w/ Walbro 255 LPH
Airaid MXP Series CAI
Armor:
BAMF LCA Skids
Pelfreybilt Mid Skid
Pelfreybilt Standard Bumper
Suspension:
King 3.0" I.D. Coil Spring (KingSPR3-14-650 OE) for damaged driver-side coil
Total Chaos Bolt-On 2.0 Rear Bump Stop Kit (Fox Part# 48623F)
Fox 2.0 Air Bump Stops
Interior:
Viper Alarm
Weather Tech DigitalFit Floor Mats in Black
Wet Okole in Light Grey w/ TRD Off-Road Logo
Exterior:
KC HiLITES LED Grille
OEM Roof Rack
Color Matched Side Mirror w/ Turn Signals
Color Matched TRD Sport Hood
Color Matched Rear Bumper
TRD Badge in Black (PT413-35120-03)
Tire Carrier w/ Full Size Spare
Extra Misc. Items for Trail'n:
Garmin Oregon 600 GPS
Viar 400P Portable Air Compressor
Redline Tuning Hood Struts
*2011 Tacoma Pre-Runner 4x2*
2011 Toyota Tacoma Pre-Runner SR5 in Black (202), purchased July 6th, 2011.
Anyways here is a couple pics of my 2011 Tacoma. She was supercharged so its alittle depressing without it now......Had 18" XD Monsters w/ LT285/65r18 BFG AT at first then switched to XD Hoss 16" w/ P265/75r16 Toyo Open Countries ATII.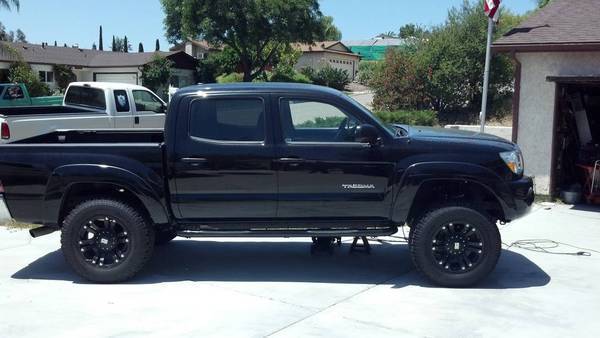 Installing "Total Chaos" UCA's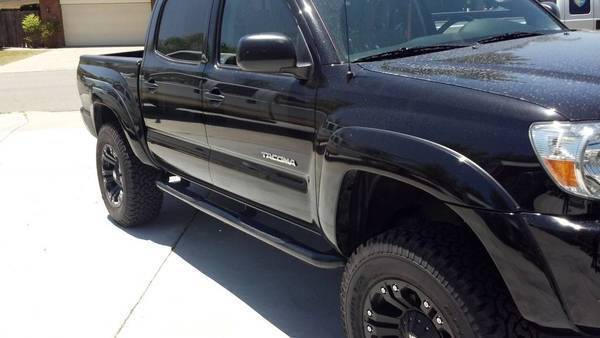 XD Hoss 16" w/ Toyo Open Country ATII. Bilstein 5100's set @ 2.5" and Factory TSB in rear.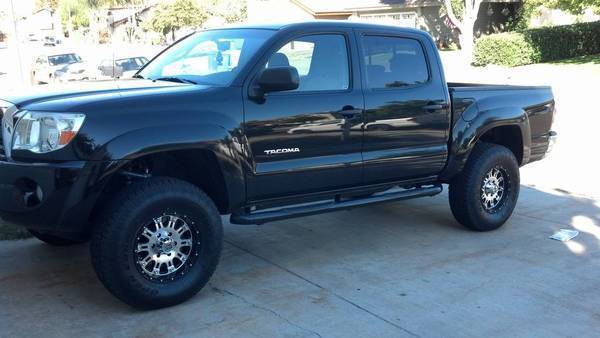 TRD Supercharger (Dearly missed)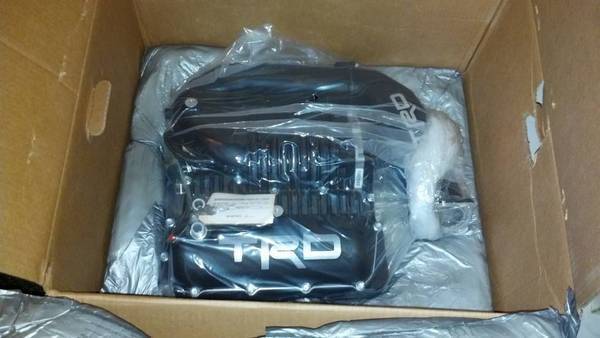 -----------------------------------------------------------------------------------------------------------------------------------------------------------------------------------------
*2013 4x4 Tacoma TRD Off-Road*
Now here are some pics at the dealer before purchase. The first picture together......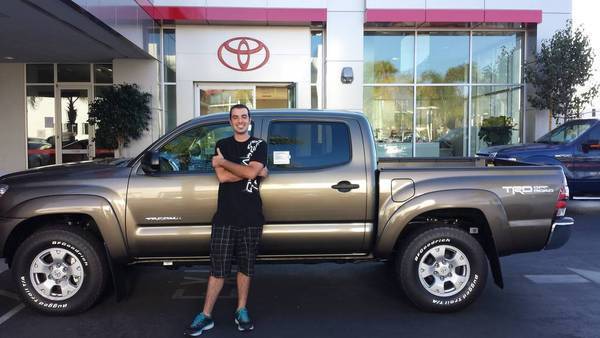 More Pictures.....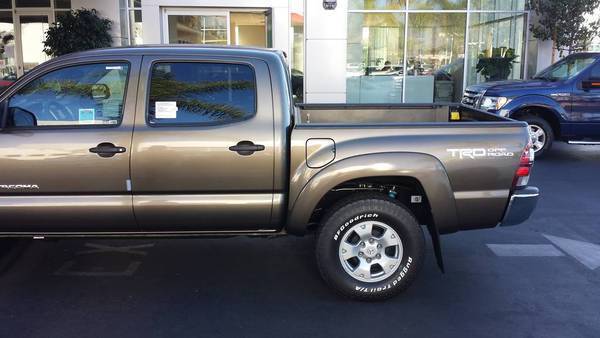 First thing I did was debadge it. (I put X-Runner BSP Emblems on doors, I can't make up my mind on badges or....no badges)
Doors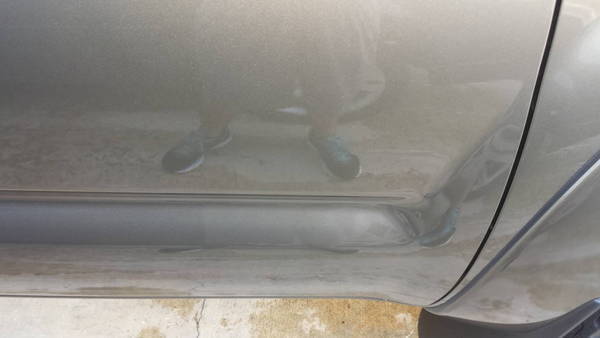 Tailgate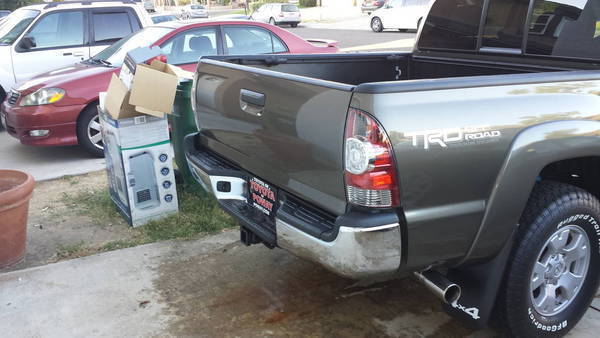 This was my first trip using 4x4, never been before so it was an adventure. I ended up going to Indian Truck Trail in Corona, took that all the way to the Main Divide through Maple Spring Truck Trail and out onto Silverado Canyon Road. YAY for not knowing where the F*** you are going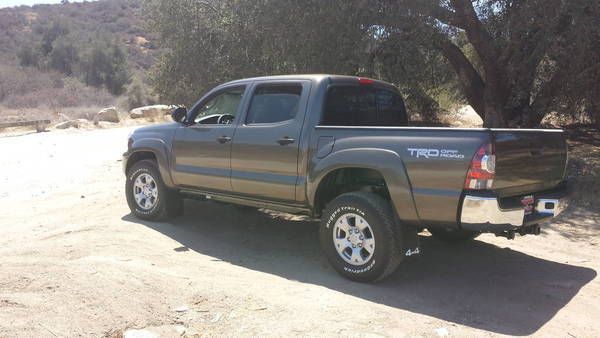 Sadly no pics after...she was waaaaaaay dirty. Still have new plates from dealer hehe
Eibachs for 1.6" Lift (Removed, Install King 2.5" RR CO's see down page)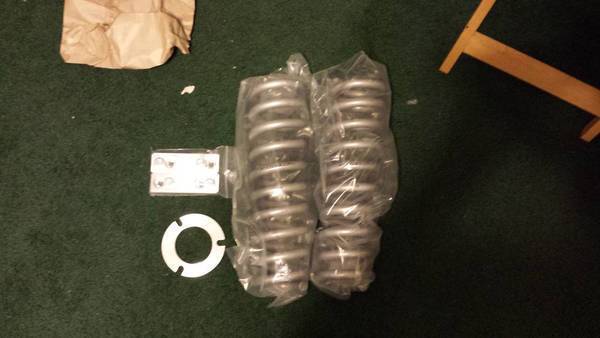 Bilstein 5100's (Removed for King's)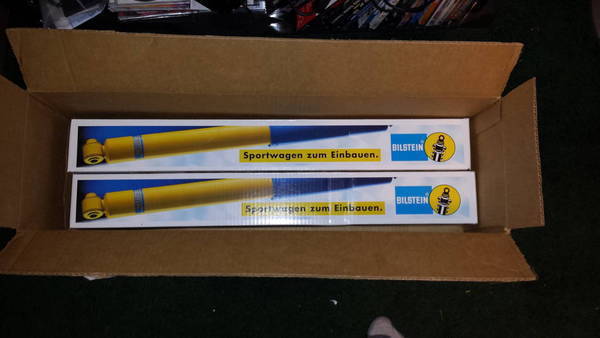 Got my Borla muffler in the mail today (10-24-13) Removed and went with stock, It feels much stronger and smoother with stock muffler. Plus the sound was getting to me. Curently using Gibson Muffler as of August, 2014.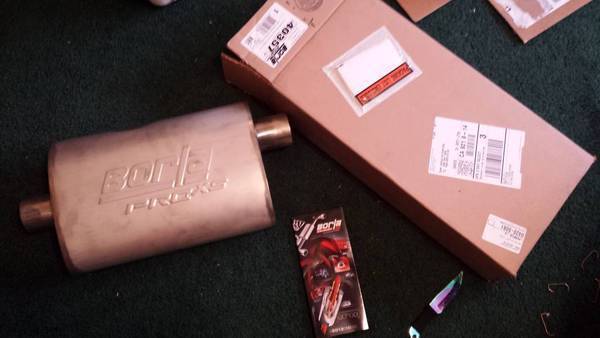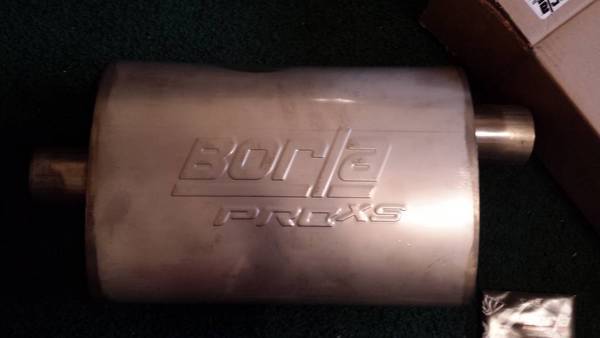 Got my Eibach's Installed w/ 5100's set @ 0" (Great set-up, would have been perfect except I needed to spend more moneys)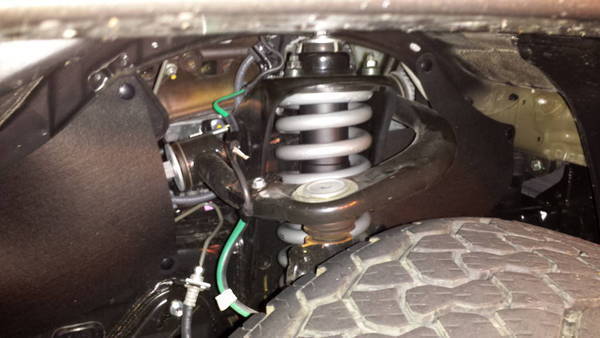 Ordered a set of FJ TT Wheels from a local dealer, got super lucky. Going to mount to P265/75r16 Hankook Dynapro ATM which look awesome might I add. And here they are ! (EDIT: Been driving on these wheels + Tires for a couple thousand miles now, I must say they are wearing evenly and perform great on-road. UPDATE 3/31/14 Tires have been on for 12k + miles and perform and look great, if not for them being P-rated I'd keep em forever).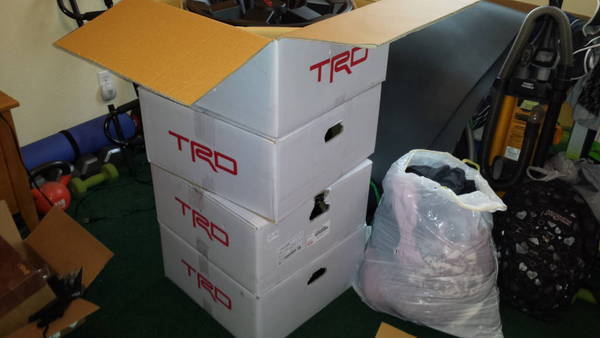 Close-up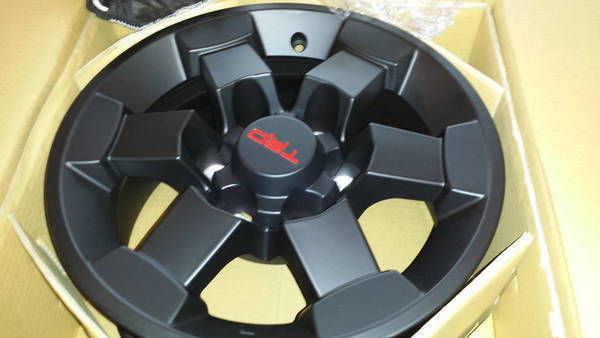 Just got back from Discout Tire w/ my new shoes! Had the old ones in the back still. (8/31/13 Purchased. Installed September 1st w/ around 1,500 miles)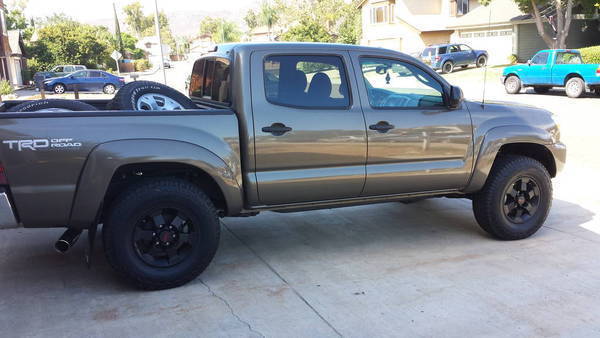 BSP Door Emblems on...again (Off again...).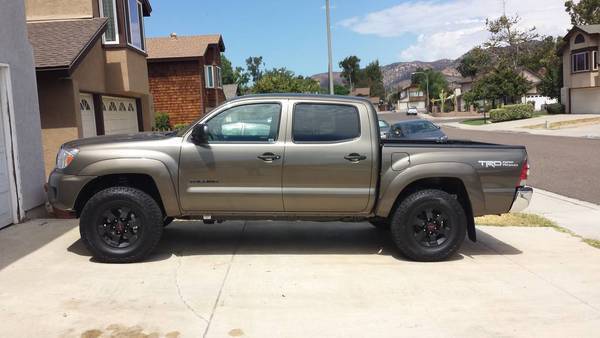 Corona Shopping Outlet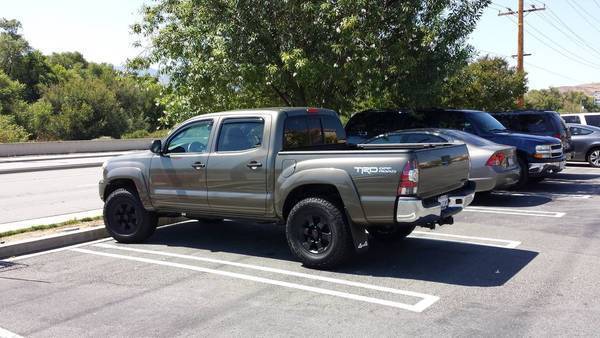 In for my first service @ the dealer (11-2-13)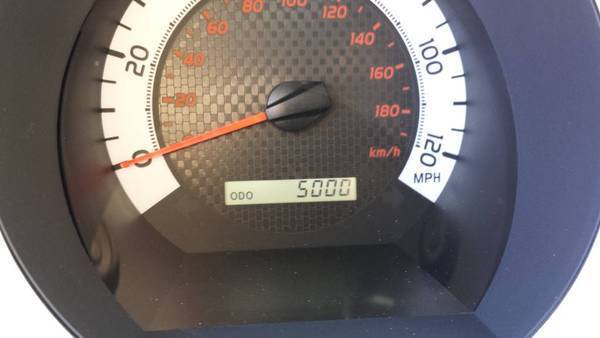 Just picked up my truck from Pelfreybilt w/ new sliders! (Installed 11-13-13)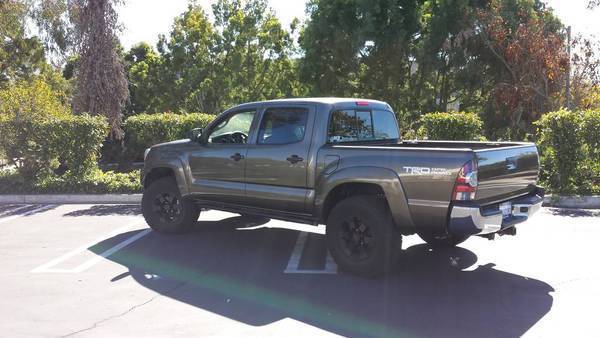 Close-up (Quality work; will be buying from Pelfrey again)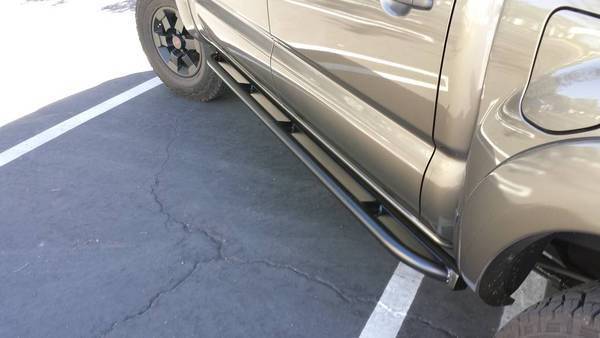 Installed King 2.5" Coil-overs up front (Stock setting w/ driver side cranked up 3 extra threads) w/ Total Chaos UCA. In the rear Fox FJ Piggybacks. (Installed 11-27-13 @ TheSDTruckShop)
Front Set-up. King's lifted me higher then I expected, I hope they settle a bit.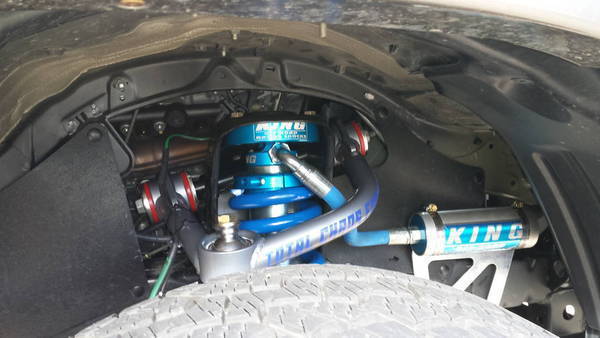 Rear (Still need to get
Icon
3 Leaf AAL)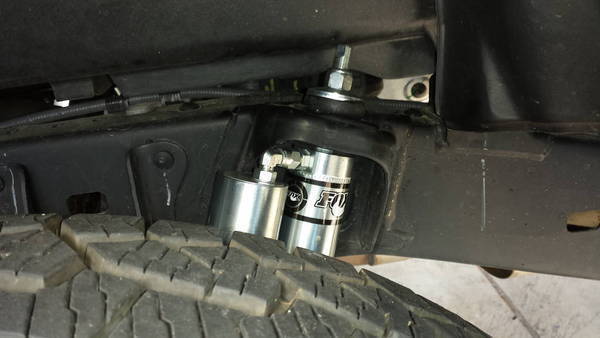 Side Picture (Need rear lift!!!)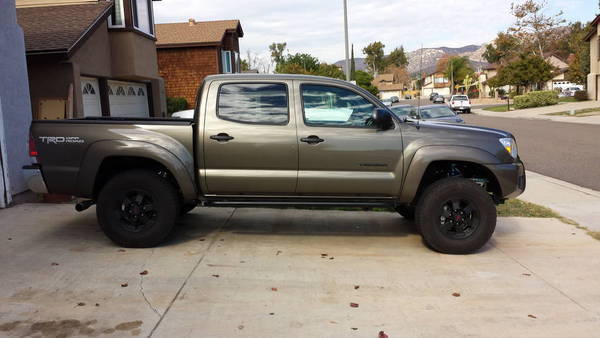 Rear Breather Mod done, routed to bed storage.
At the Breather.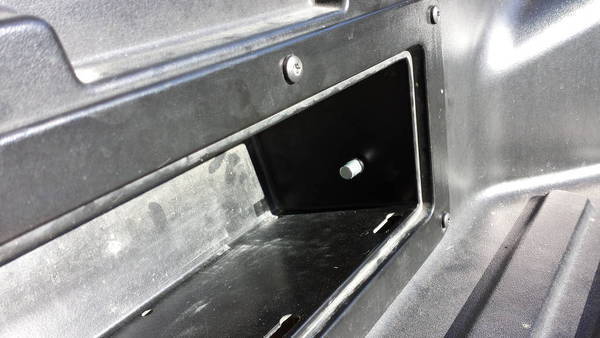 At the Differential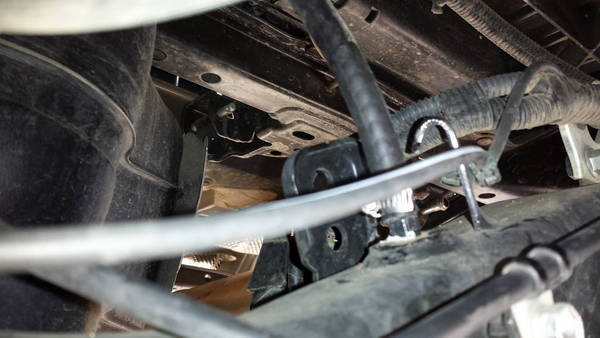 While doing all that also changed Front/Rear Differential and Transfer Case to 75w90 Mobil1 Synthetic and greased drive-shaft w/ Mobil1
Removed King's to replace 700# Springs w/ 650# (I was actually sent the wrong springs from KING).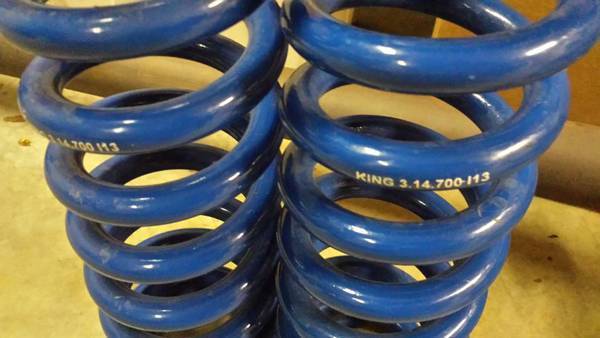 Installed Gibson Stainless Steel Exhaust 2-12-14. By far my favorite exhaust, has little to no drone and a great rumble. Also noticed some increase in performance, the other exhausts felt "laggy" and seemed like it robbed me of torque. I would highly recommend this set-up. (For reference the AFE exhaust was annoyingly loud and seemed to rob too much "back pressure", same goes with the Borla Pro XS muffler I had previously with stock piping).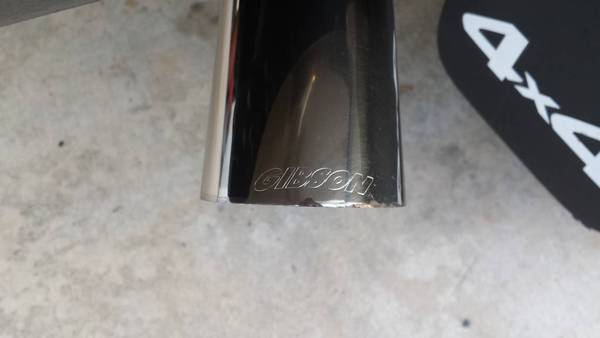 Rear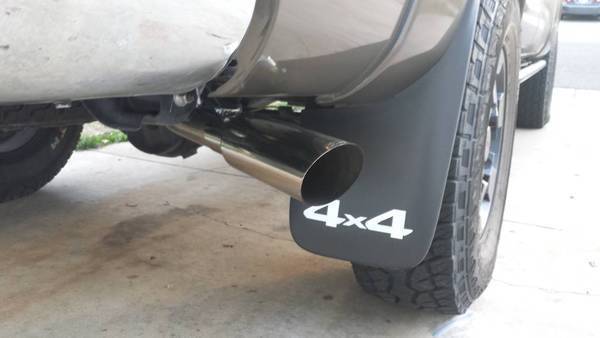 Sway-Bar relocated (To my garage!) No noticeable difference on-road.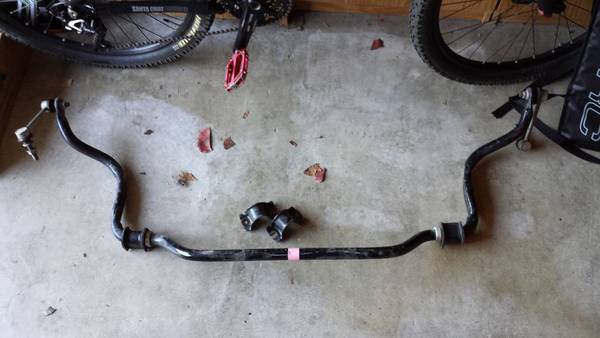 Pelfreybilt Skid-plate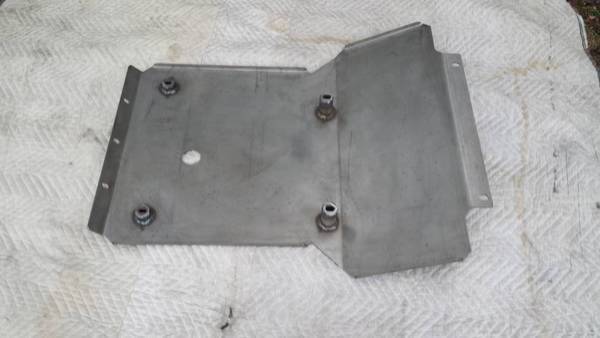 Installed on truck (Painted w/ Rustoleum "Hammered" Finish)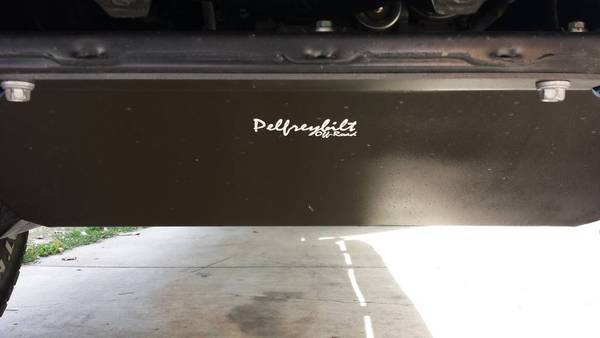 Wheeler's Off-Road Super Bumps Front and Rear installed March 9th 2014
Wheeler's Off-Road Super Bumps Front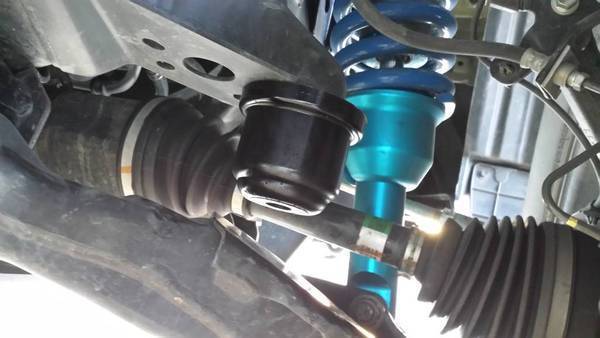 Wheeler's Off-Road Super Bumps Rear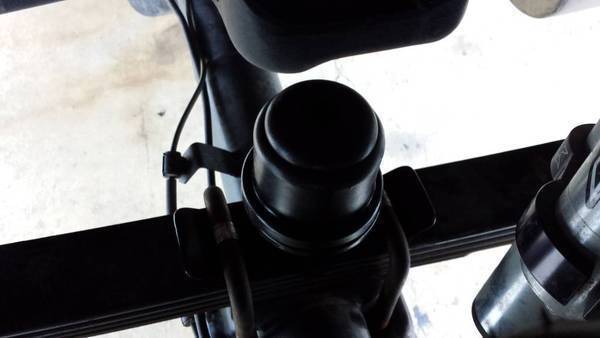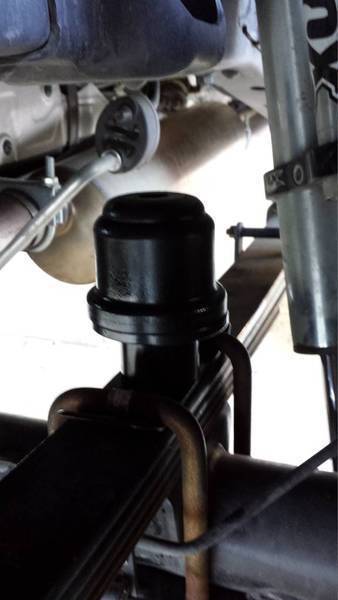 ADD W1 Oil Catch Can Installed. (After about 200 miles of driving had a decent amount of oil)
I used the bracket that came with the W1 can and drilled a bigger hole. I then used my spare skid plate bolt and bolted to an existing hole in the engine bay.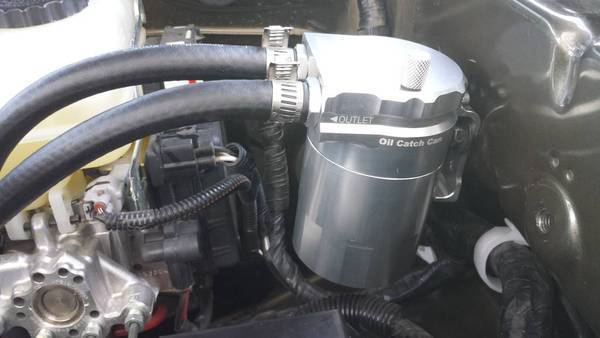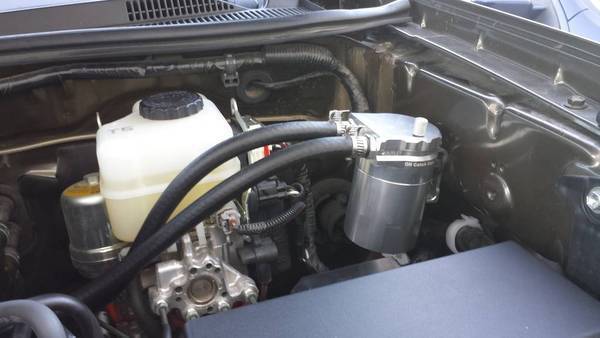 Installed General Grabber AT2 in 285/75r16 and Cab mount chop to clear off-road (Compliments of SDTruck Shop)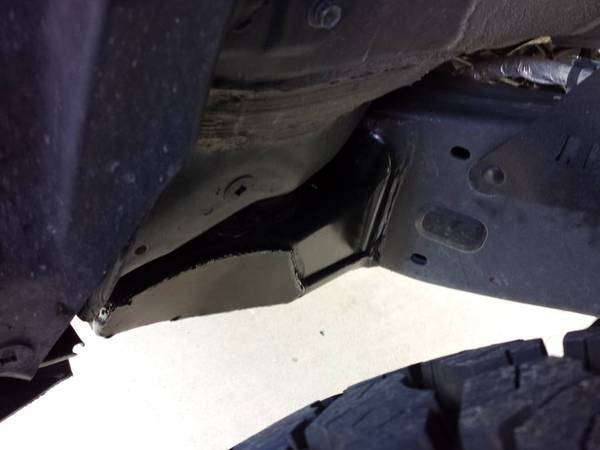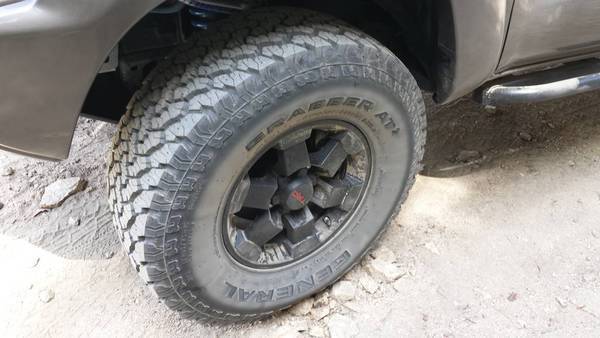 Installed DJ Safety Limit Straps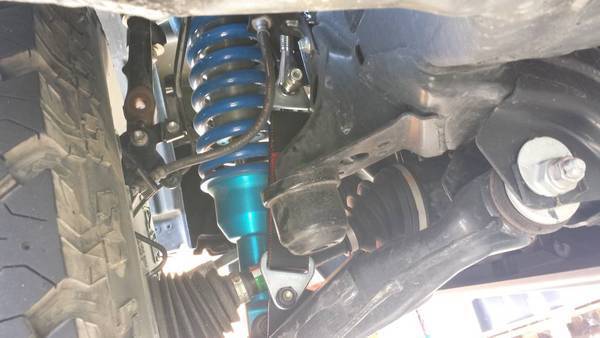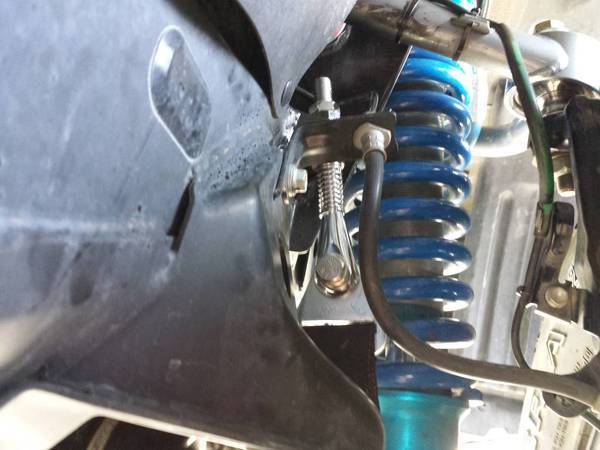 To prevent this.....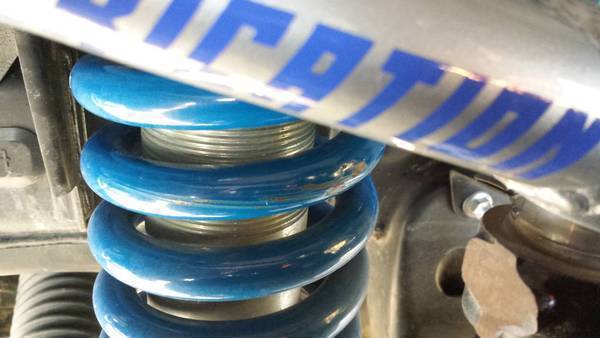 ARB ARB505 E-Z Deflator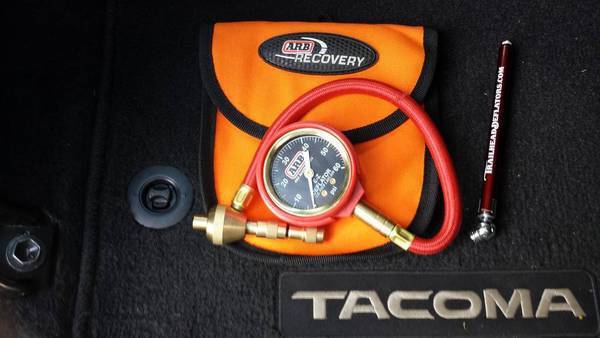 ScanGauge II mounted on-top of steering column (Changed)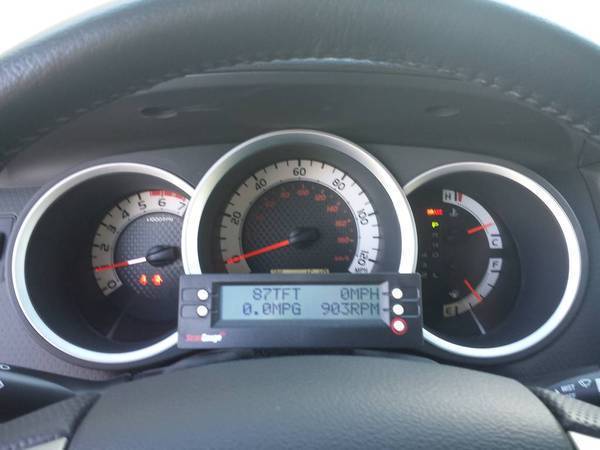 Blocked my view of signals.....New mounting location Thanks to Detective_Dan! (
Mod Thread
)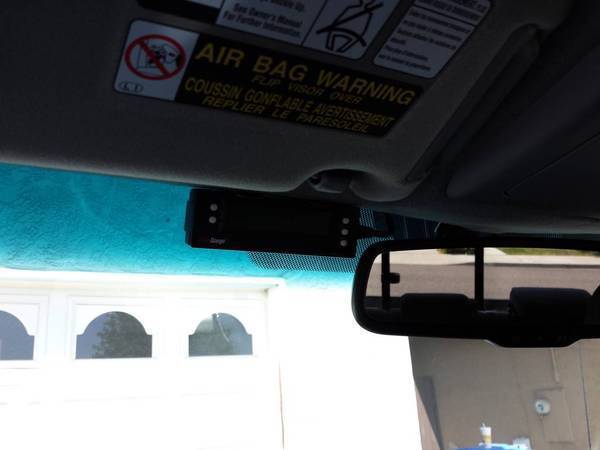 Decided to check transmission fluid because of this thread:
Trans Fluid Low From Factory
It ended up being about 0.5 Quart low, shifts are smooth and doesn't seem to stick so bad changing gear from "Park" now.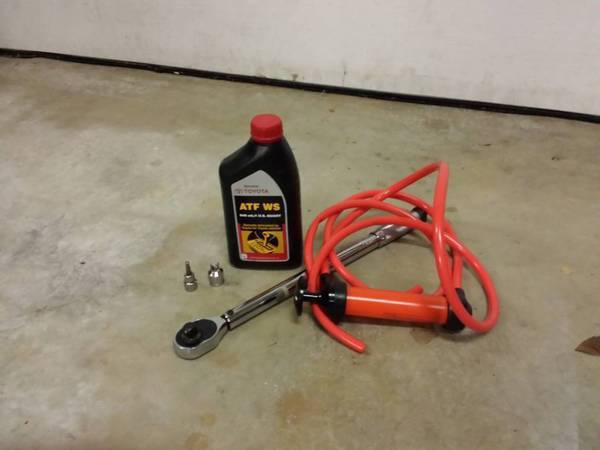 Gibson sent me a replacement muffler, exhaust clamps didn't want to hold the 2nd time around so had to get it welded in @ Ed Hanson's Muffler Service.
@ the Tip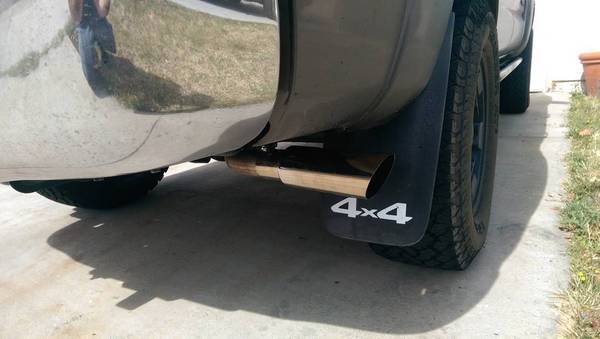 @ the Muffler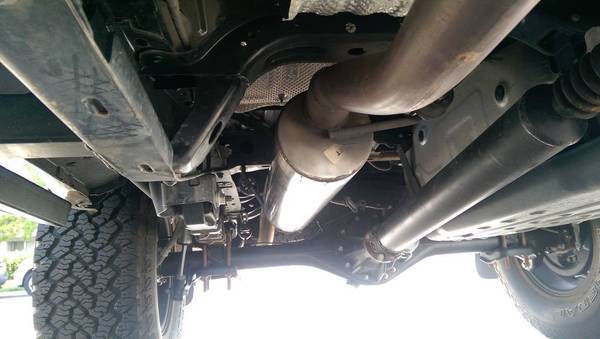 "TOYOTA" & "4 Wheel Drive" old school Tacoma decals in Flat Black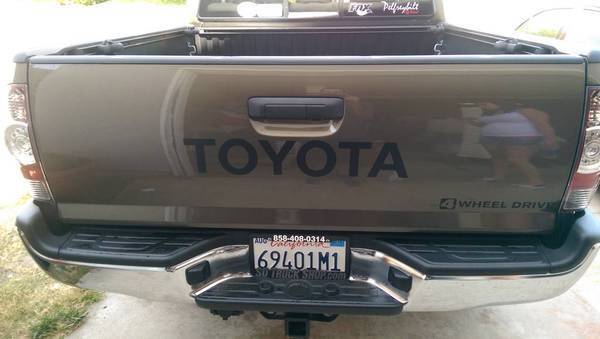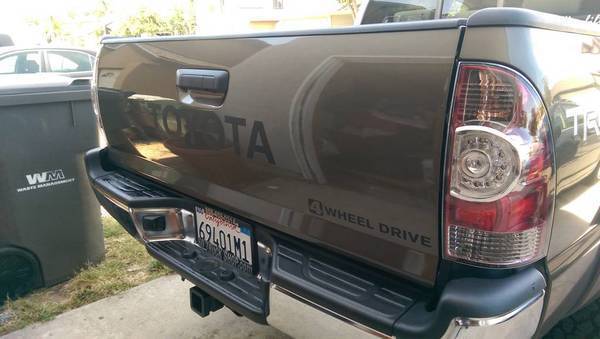 Projector Install (FX-R Stage 3 Retrofit Projectors (Apollo Shrouds) w/ LED Angel Eyes in White & BHLM)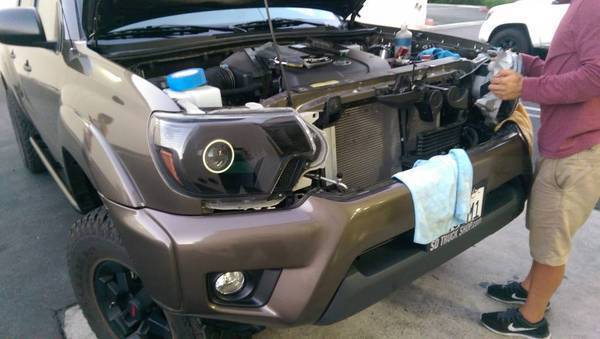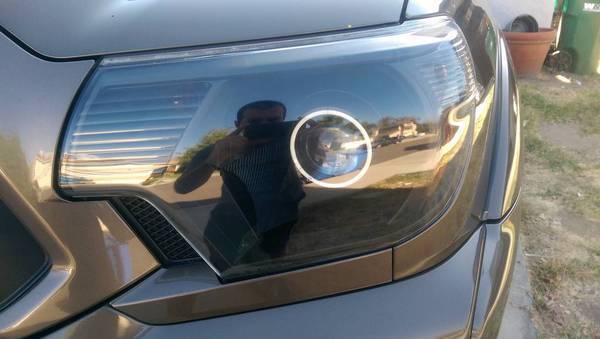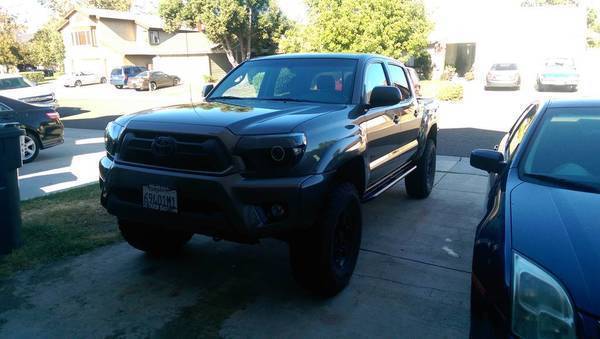 TRD Off-Road Bedside Decals Black w/ Red Shadow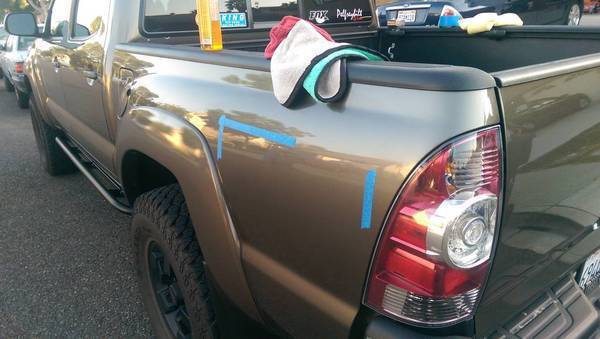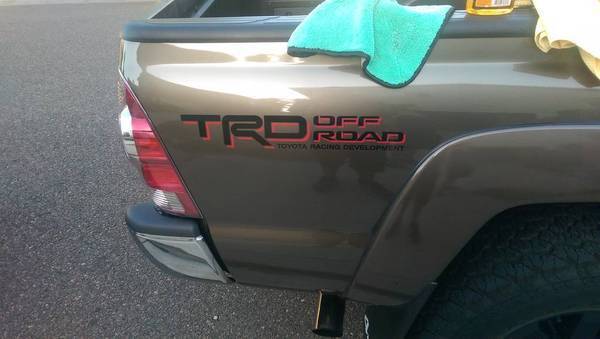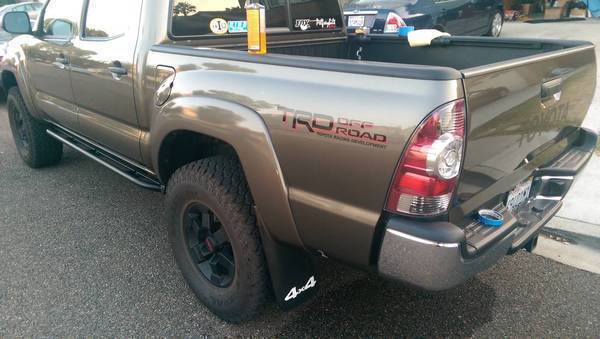 All-Pro Standard Leaf Pack, Fox Adjustable Reservoir FJ/Taco Rear Shock 2.0 , U-Bolt Flip Kit, Crown Rear Extended Brake Lines.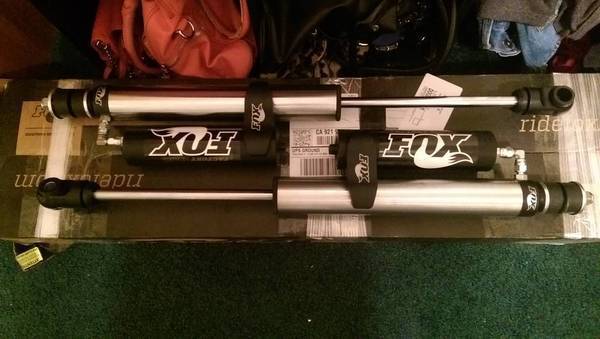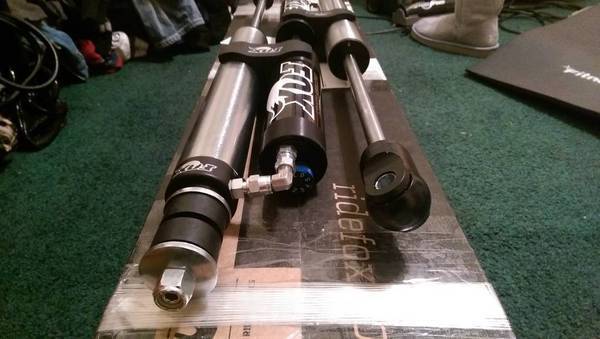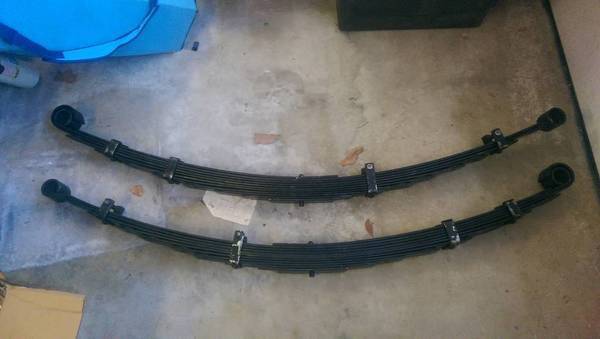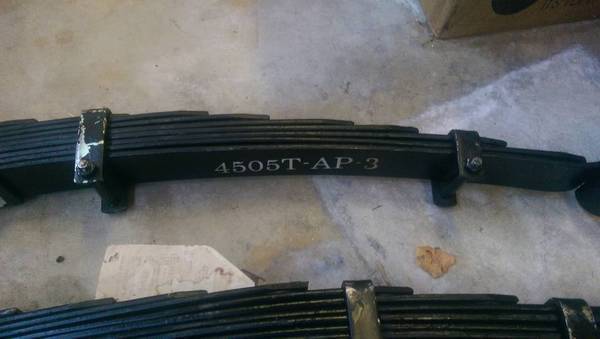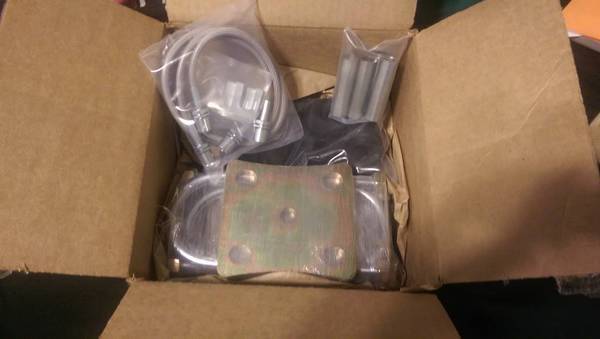 Rear Set-up Installed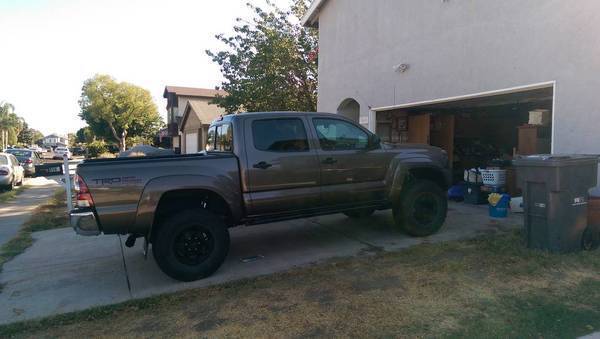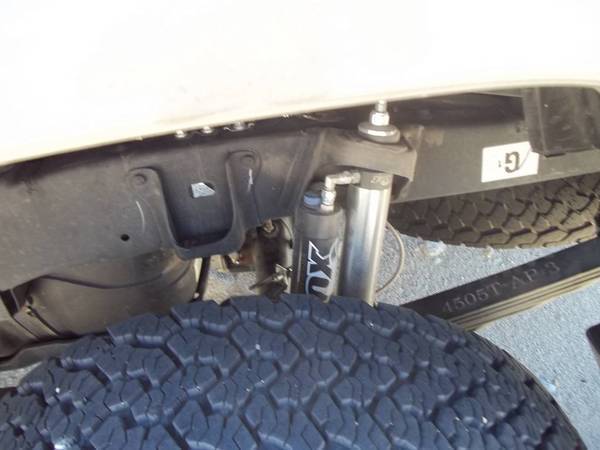 Random Trips (Most recent first):
Mount Laguna; Thing Valley Rd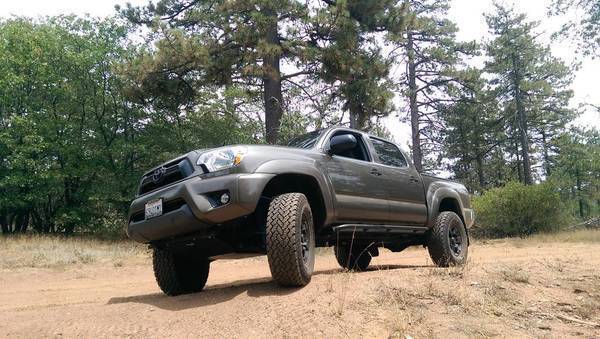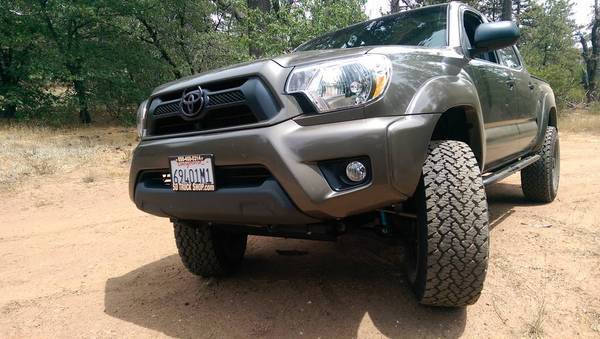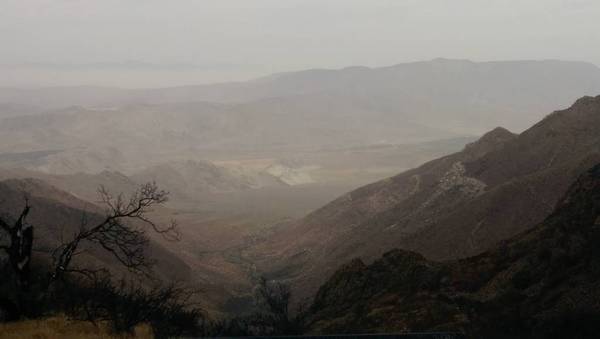 Somewhere near Julian off the 67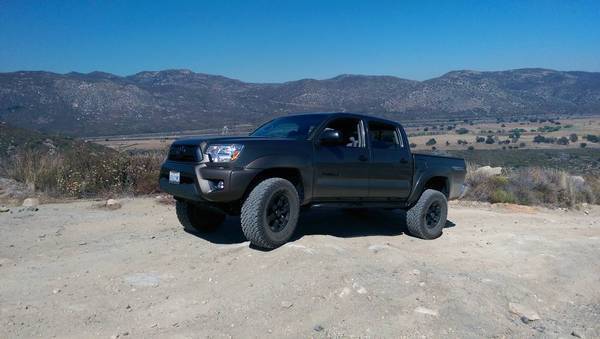 Anderson Truck Trail ( ATT for you Mountain Bikers!)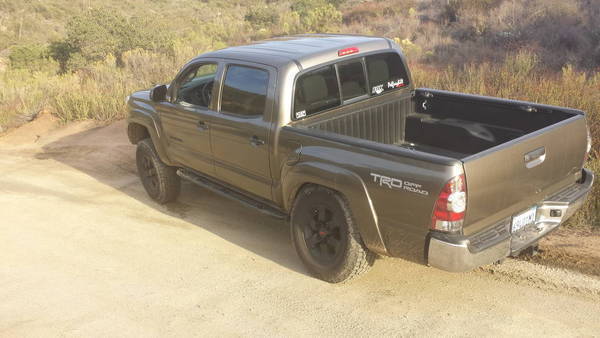 Indian Truck Trail Trips (Most recent first):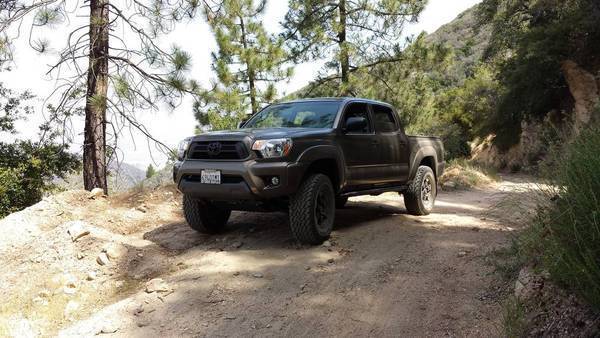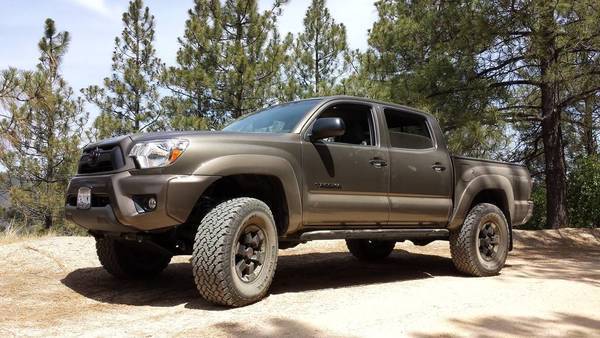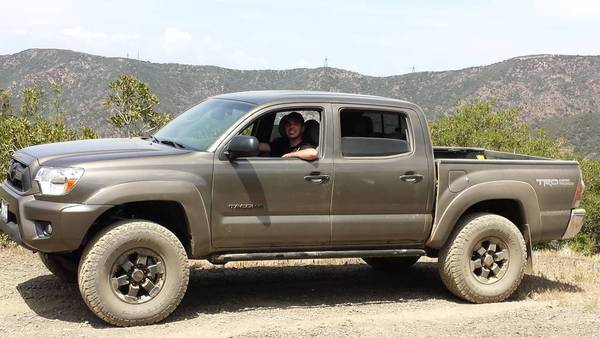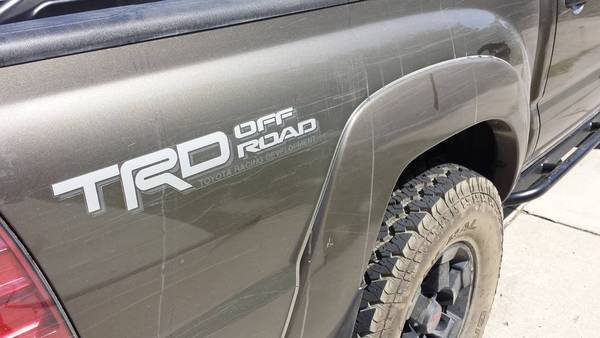 Took another trip out to Indian Truck Trail, this time w/ some new tread and suspension.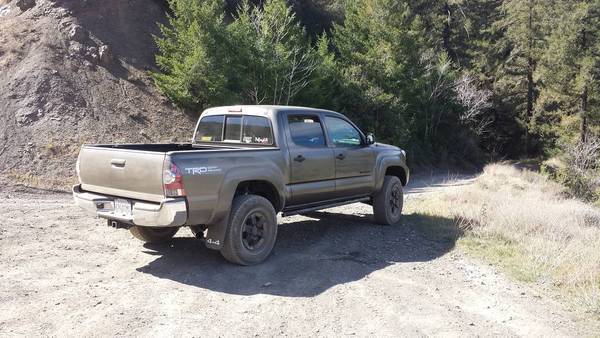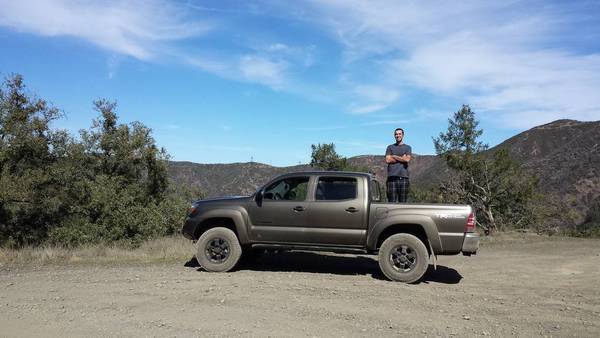 Picture 1: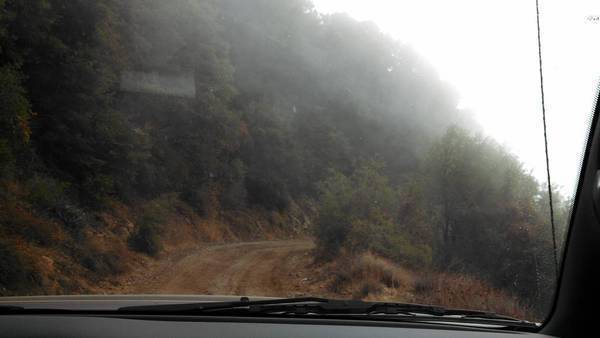 Picture 2: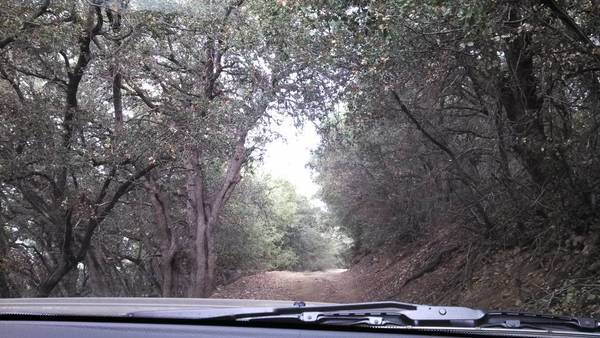 Picture 3: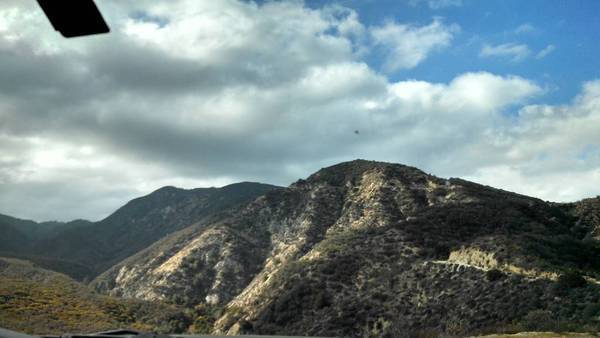 Ocotillo Wells Trips (Most recent first):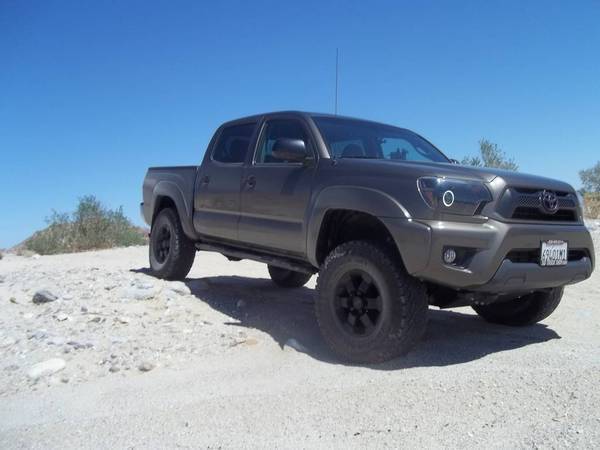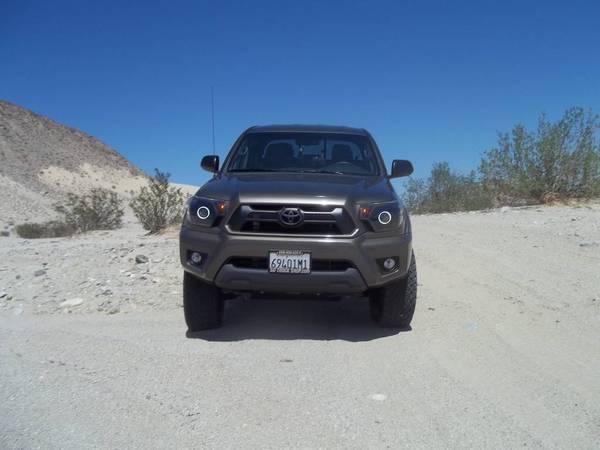 Table Mountain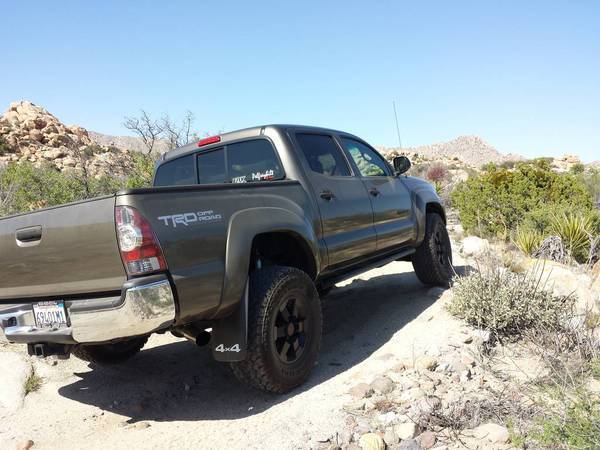 Una Palma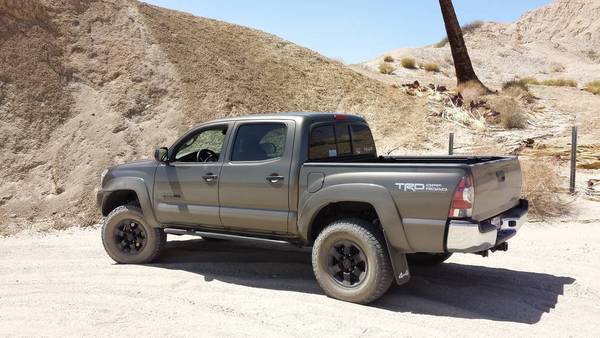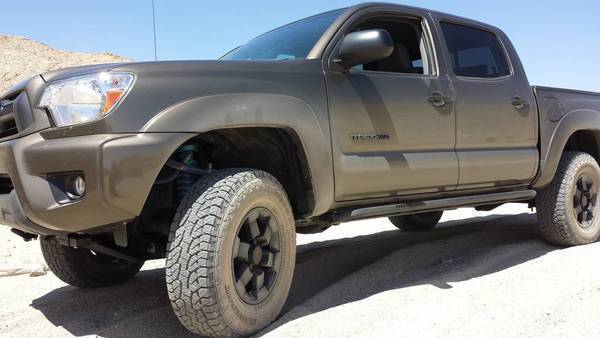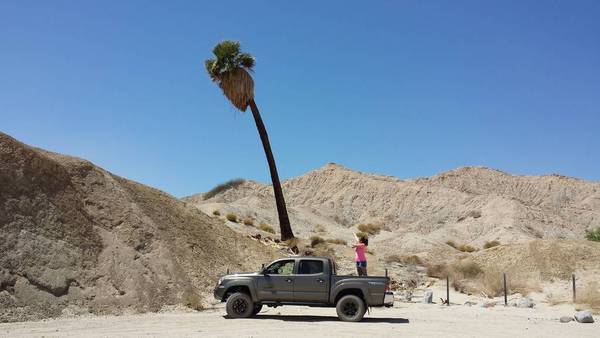 Split Mountain Rd.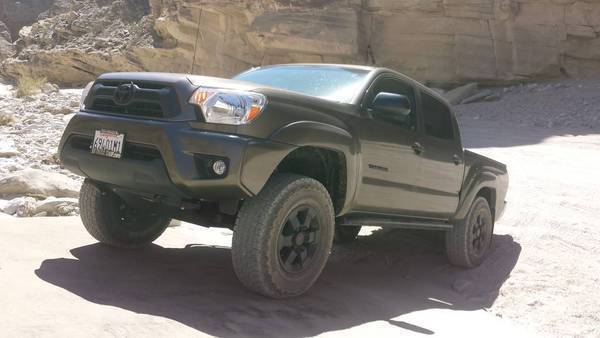 Pumpkin Patch??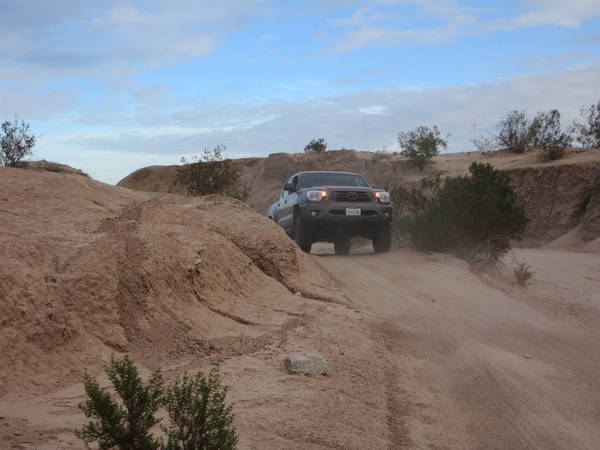 Arroyo Salado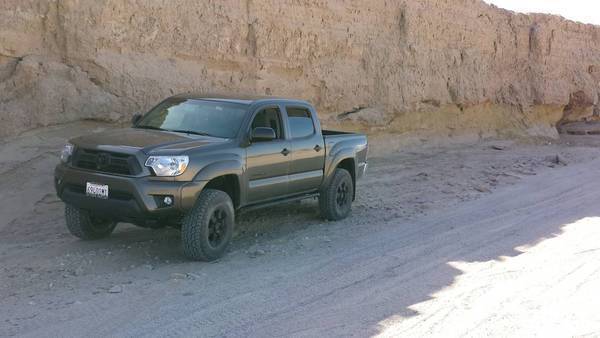 Buttes Pass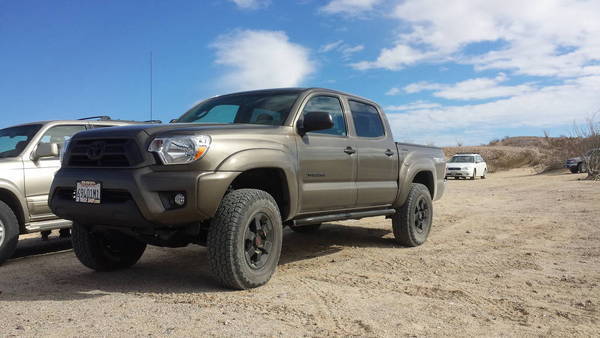 Added Andres Devil Horns in Gun Metal Black (In
Blaire Valley
)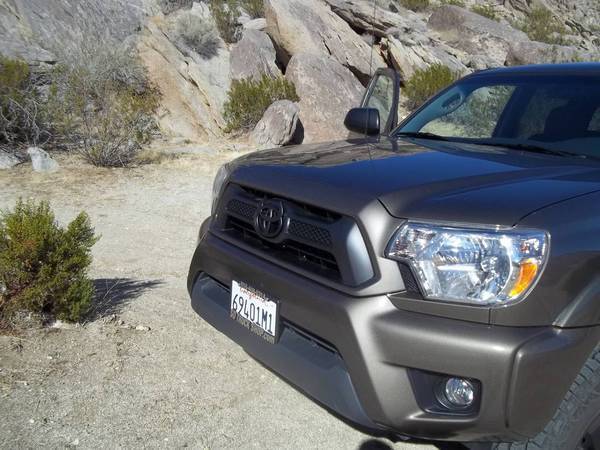 Random Picture at
Blaire Valley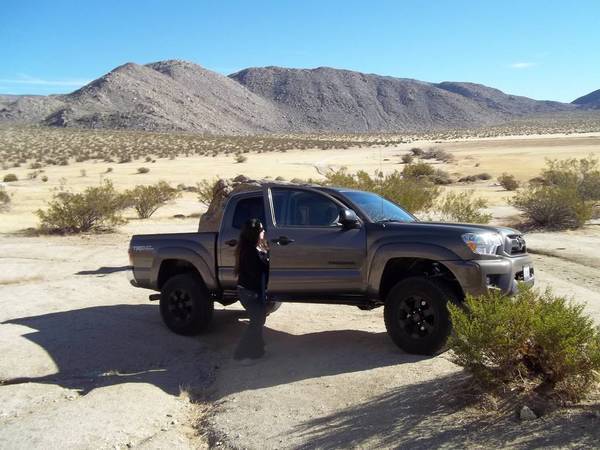 McCain Valley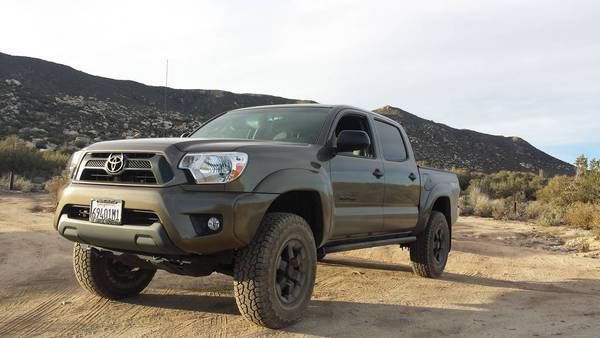 Took a trip to
Ocotillo
to test out my new shocks!
Took a Picture of the MAP just in case we got lost, although it was pretty obvious where you were once you got driving.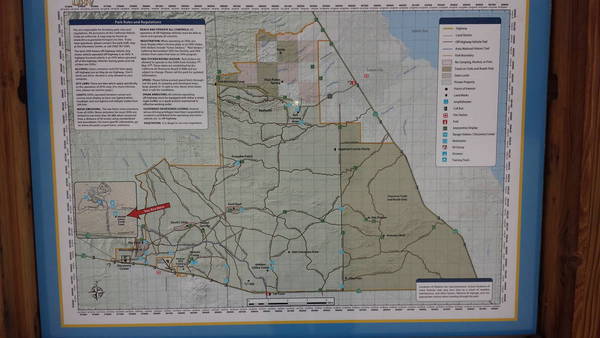 Shortly after these 2 pictures below we had to bail, some dark clouds were approaching. On the way back we headed towards Julian to grab a pie! Well we hit a crazy rain cloud had to use full speed on my wipers it was pretty intense. Glad I had 4x4 for this situation too...I didnt snap any pictures of the rain obviously too dangerous.
Shelf Reef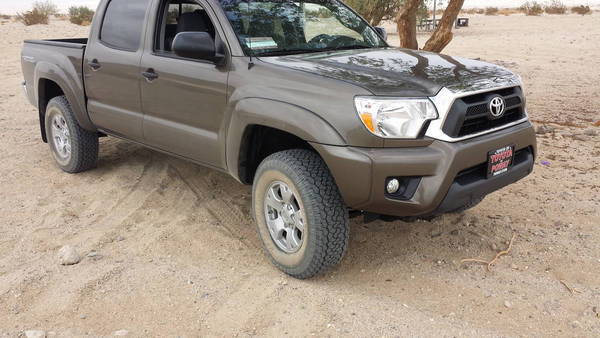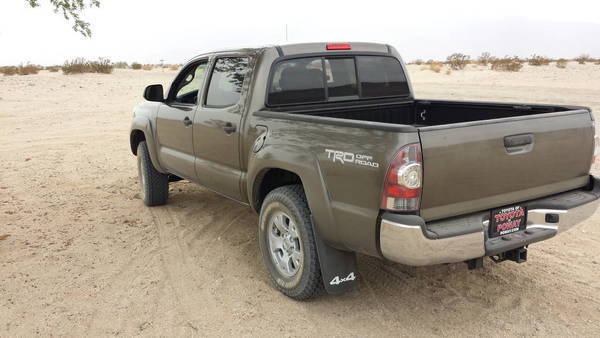 Well thats all I got right now, I modded the shit out of my other truck so this wont be any different.
Hope you like my truck!! Let me know what you think!