This is a thread is two parts
; (1) for anyone thinking about getting this kit in the future and (2) to help me decide what rim and tire setup I should run.
I know this has been beaten to death, but on some other threads I posted in, I promised people I would report my findings.
At the bottom are some plans I have for rims and tires; ANY and ALL help would be appreciated!!
So here we go:
Kit Details:
OME 885 Front Coil Springs
Nitro Charger Sport Front Shocks
OME Nitrocharger Sport Rear Shocks
OME Trim Packer
Deaver 2" Add-A-Leaf
Front Diff Drop Kit (not installed)
Carrier Bearing Drop Kit
LR Upper Control Arms
Top Plate Spacer
Strut Assembly Assembly of the Front OME Nitrocharger 90000 and OME
coils (OPTIONAL $100 extra)
Shipping was $70
Total: $1362 shipped and assembled from HeadStrong Off-Road
Shop: AutoPractor St. Charles, IL
Front
Disassembly: 1 hour
Reassembly: 45 min (shocks and coils came assembled)
- UCA bolts were giving us issues has to bend a little of the inner fender metal and remove the brake line mount on the driver side and we put the bolt in reverse or "backwards".
- Passenger side, no issues just had to bend some of the inner fender metal to slide the UCA bolts out. Again, we put the UCA bolt in reverse or "backwards.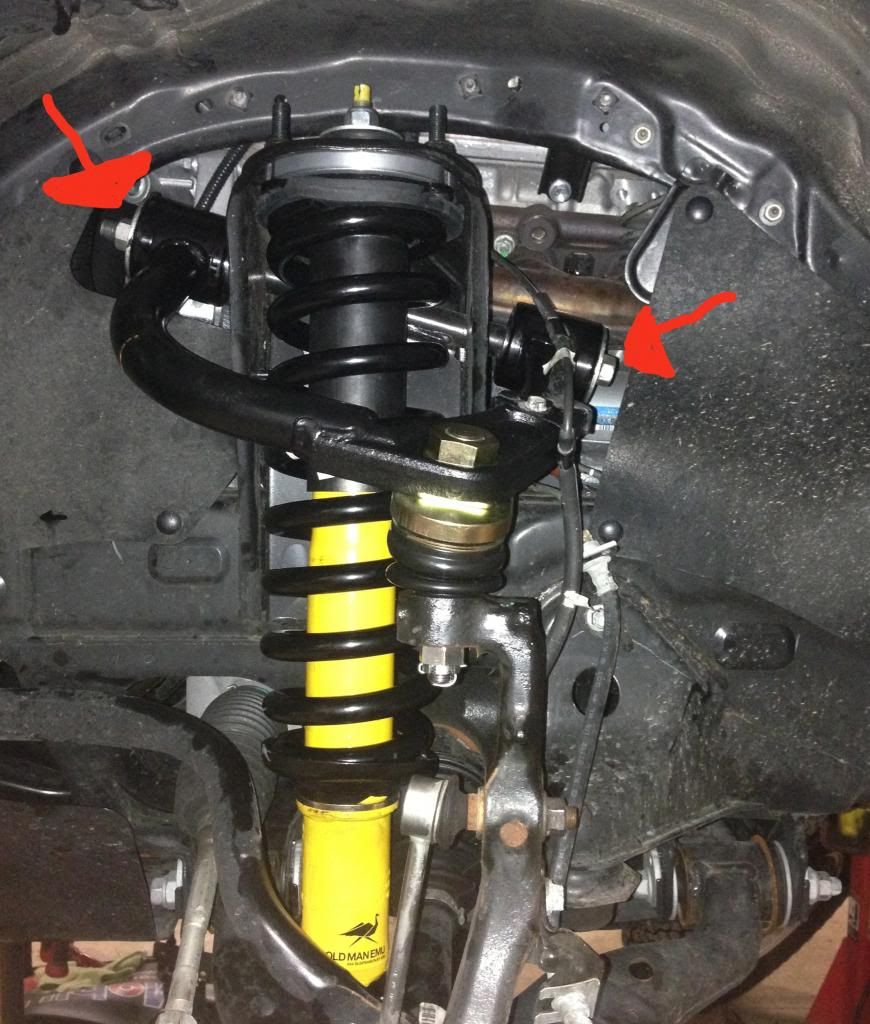 ABS brackets had to be removed since its now lifted. Zip ties helped reattach the lines.
Rear
Disassembly: 45 min
Reassembly: 1 hour including having to install the carrier bearing drop kit.
The mount where the rear shock mounts had to be widened due to the thicker shock.
Alignment time - 1 hour 45 min (had to be taken to a place down the road that was pretty busy)
Kit install & Alignment - $480
Front and rear measurements:
(Center cap to top of fender arch; w/ lift kit (old parts) in the bed and a
tonneau cover
)
Before
FD: 20.5"
FP: 20.75"
RD: 20.5"
RP: 21"
After
FD: 23.5
FP: 24
RD: 23.5
RP:24
Alignment Report:
Front
Caster: 2.34* (Left)
2.29* (Right)
Camber: -0.12* (Left)
-0.14* (Right)
Toe: 0.04* (Left)
0.04* (Right)
0.08* (Total)
Rear
Camber: -0.26* (Left)
-0.30* (Right)
Toe: 0.18* (Left)
-0.23* (Right)
-0.05 (Total)
Thrust Angle: -0.21*
Finished!!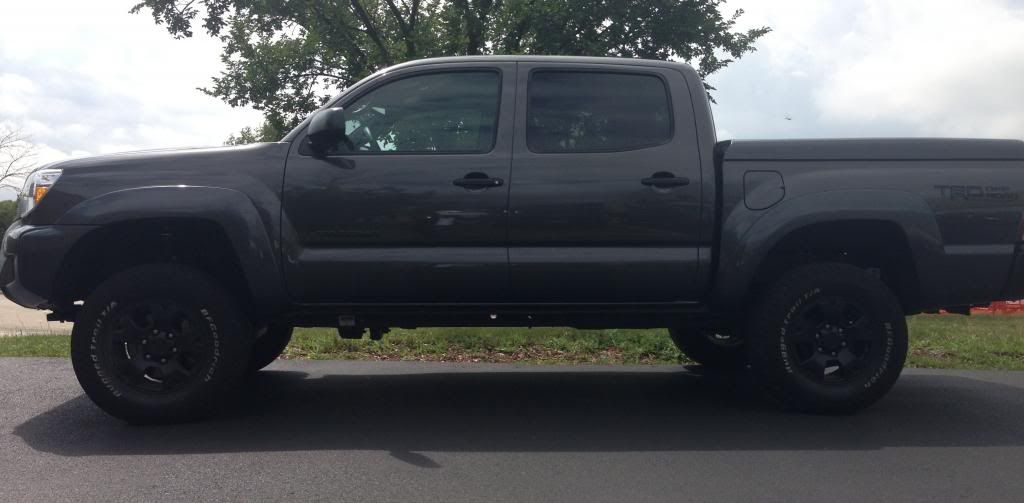 Now all I need to do is decide on a bigger tire. I am thinking of 32" so I don't have to chop anything.
Can anyone confirm this?
Does anyone have any suggestions on what tire to run? I am thinking 32" BF Goodrich all terrain T/A's on the stock rims (painted black) with some SpiderTrax wheel spacers for a bit more aggressive stance. I do not want to re-gear.
A big thanks to TW for all the information in helping me choose a lift kit and, also, Gary and his team at AutoPractor for all their hard work and letting me hangout in the back while the kit was installed.
UPDATE 3/30/14:
When the 2" AAL was installed:
RD: 23.5
RP:24
Before Dakars with D29XL:
RD: 22
RP: 22
Bed was loaded down with a tonneau cap and the Dakars; talk about bro-lean
After Dakars with D29XL:
RD: 25
RP: 25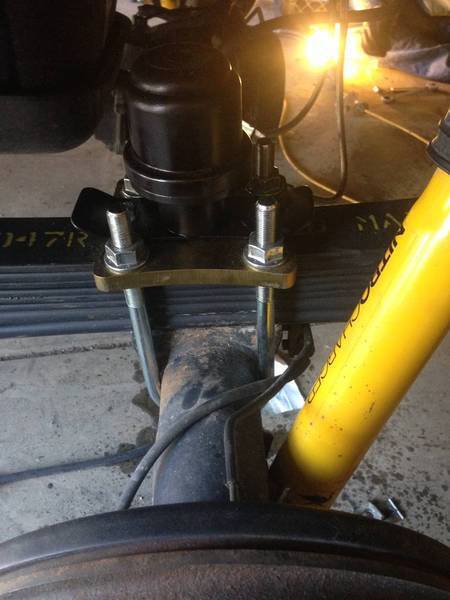 Install was done by fellow local TW member NWiTACO. Thanks a bunch!!