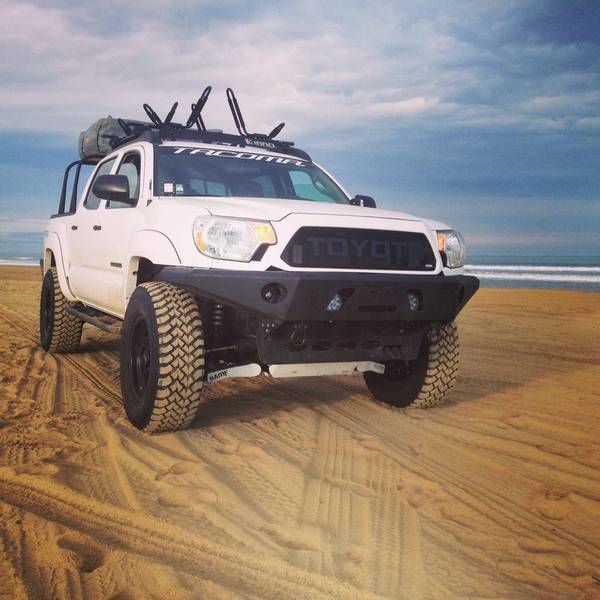 https://www.youtube.com/watch?v=1OKNnJxKTqA

CURRENT MODS: Updating the list to help answer PMs that I keep getting. If it helps, please let me know in a comment.
ARMOR:
All Pro Apex Front bumper
All Pro Front Skid
Old school IFS
ALLPRO
skid that requires you to remove sway bar. (Bent and sitting in garage)
All pro transmission skid
All pro Rear bumper with hitch and side panels (SOLD)
CBI rear bumper with Jerry can holder, Tire mount, and Hi-lift mount.
Relentless transmission skid ontop of the all pro.
Modified Flat - All pro transfer case skid
- BROKEN
BAMF T-Case skid - Prototype
RCI gas tank skid
BAMF LCA skids
BAMF Rear Diff skid
Trail Gear sliders
Avid bar (sold)
Performance:
Exhaust re-route
Magnaflow exhaust
Under the truck turn down on the exhaust
Extended Crown Brake Lines front and rear
Racks:
Toyota Roof Rack
Inno Cross Bars
Inno Fairing
Toyota Bed Extender
Bamf Bed Rack
Cargo Bed rack (made of two kbvoodoo's bed racks)
Bedcovers:
Flat Bed cover
Bestop Camper shell
Misc:
Redline Quicklift Elite hood struts
Mounted Hi lift
Slider adapter for hi lift
Husky weatherbeater liners
Short antenna
Plasidipped badges
4x4 badge
Color matched grill from toyota
Grill craft Black mesh with BAMF letters
Bedlined Stock Chrome Bumper (Sold)
Tacoma Decal
Ultraguage
CB Radio setup. Links below
http://www.amazon.com/gp/product/B00000K2YR/ref=oh_details_o07_s00_i00?ie=UTF8&psc=1
http://www.amazon.com/gp/product/B001JT7DV0/ref=oh_details_o07_s01_i00?ie=UTF8&psc=1
http://www.amazon.com/gp/product/B001JT0CGI/ref=oh_details_o07_s02_i00?ie=UTF8&psc=1
http://www.amazon.com/gp/product/B001JT74EG/ref=oh_details_o07_s02_i01?ie=UTF8&psc=1
http://www.amazon.com/gp/product/B004X84B5K/ref=oh_details_o07_s02_i02?ie=UTF8&psc=1
Diff breather mod
http://www.tacomaworld.com/forum/2nd-gen-tacomas/15686-diff-breather-mod-dummies-pics.html
Pop n Lock (have to mount the camera with a Zip tie on the 2014)
Lighting:
Rampage off road lights on Relentless hood brackets.
Blue Sea Fuse Box
Tuff LED offroad lights
http://www.amazon.com/gp/product/B009ES3F0Q/ref=oh_details_o04_s00_i00?ie=UTF8&psc=1
8 of these under the truck as rock lights
http://www.amazon.com/gp/product/B00GLLW3AM/ref=oh_details_o06_s00_i00?ie=UTF8&psc=1
Tent:
Tepui AYER
Rims and Tires:
5 Black Rock 909b 17" rims
5 HANKOOK dynapro MTs 285/70/17
Suspension:
UBolt Flip Kit
Wheelers Bump stops infront
These in the rear
http://www.amazon.com/gp/product/B000CN5GRC/ref=oh_details_o02_s02_i00?ie=UTF8&psc=1
MY NEW LIFT -MIDTRAVEL
Icon
extended travel shocks and coils upfront with Icon UCAs and Icon 2.0 resi's in the rear. I kept the Dakar leaf pack. I also removed the sway bar for maximum drop.
MY OLD LIFT
3" lift kit with Bilstein 5100s and toytec Coilovers with Dakar leaf pack and 5160s
http://toyteclifts.3dcartstores.com/3-lift-kit-with-Bilstein-5100-Height-Adj-Coilovers_p_364.html
__________________
Future Mods:
Sub and speaker upgrade
Leather
Bushwacker fender flares
All Pro rear bumper
Long Travel
35" tires
Chevy leaf spring swap
Shout Out To
Ryan at Allpro. He will help you get what you need and he knows what he is talking about.
Jerry at BAMF. He has some great armor products that are not real common.
George at SWAT customs in fremont. Great cheap install work.
RCI metal works has great prices on skids.
Toytec has great customer service and was able to answer all my questions.
Here are the slickrock pics
NO sway bar FTW
The bamf LCA skids work
SO LET THE STORY BEGIN
I traded in the 2012 prerunner for a 2014 white DCSB 4x4 trd offroad. I got to keep my wheels and tires. I had a long commute when I bought the the prerunner and now that I only drive about 10 miles a day the mileage doesn't matter as much anymore.
My 2012 prerunner build
Link to that build:
http://www.tacomaworld.com/forum/2nd...ore-after.html
The First Day I put everything from my prerunner on the truck.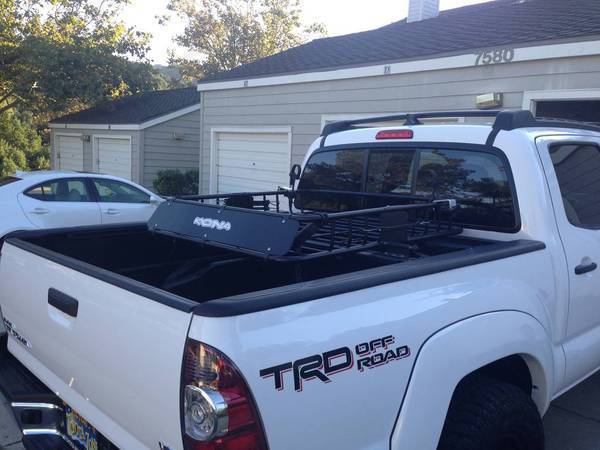 Also added my old avid bar and skid plate
and roof rack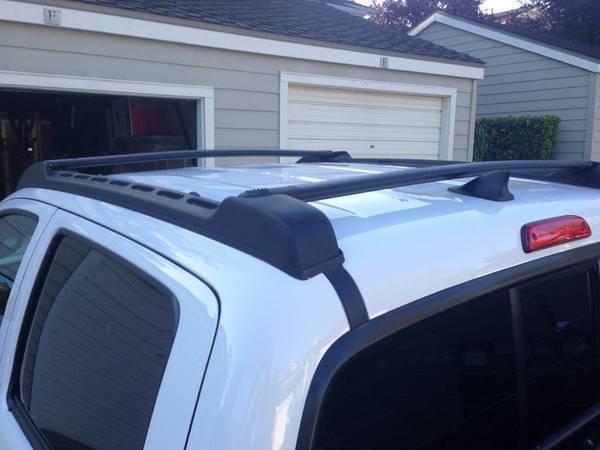 Then I got a color matched grill and did some plsti dipping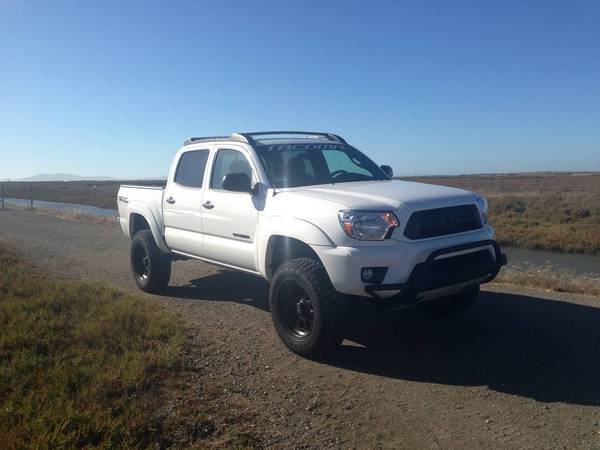 Next was a 3 inch lift from toytec. with toytec coils/ 5100s/ dakars/ 5160s and a ubolt flip kit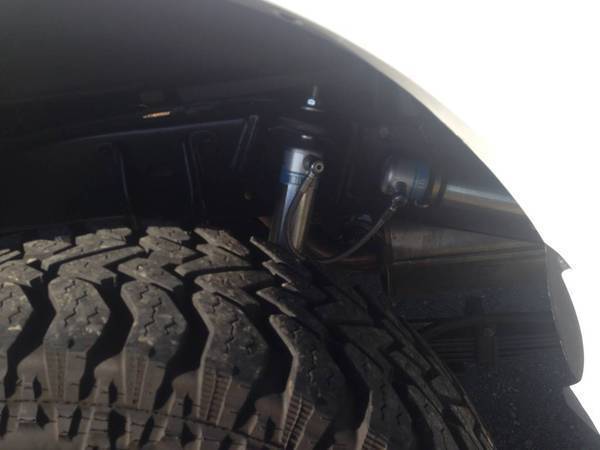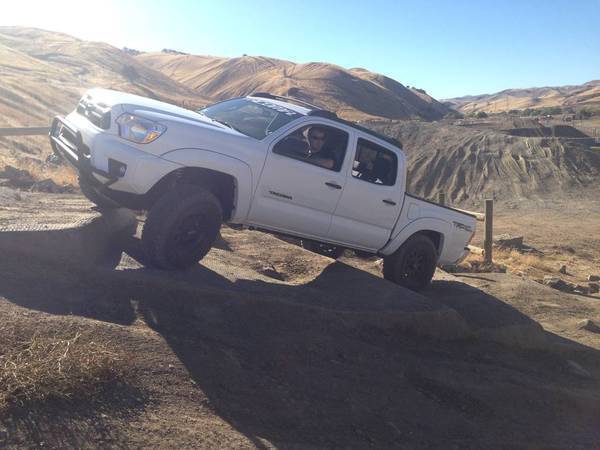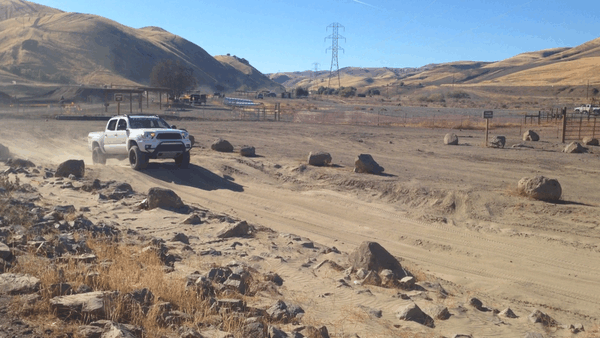 Picked up trail gear rock sliders on craigslist bedlined them and welded them on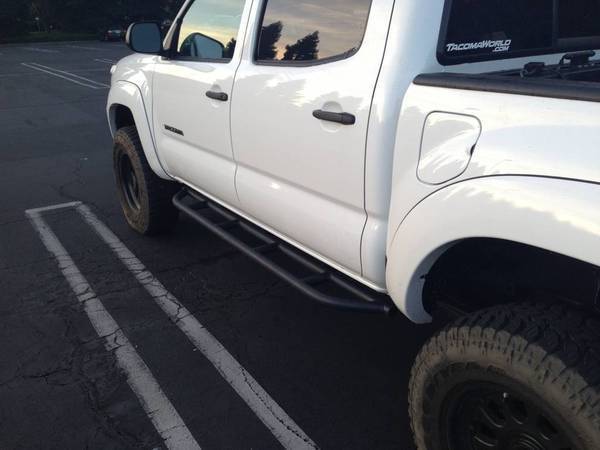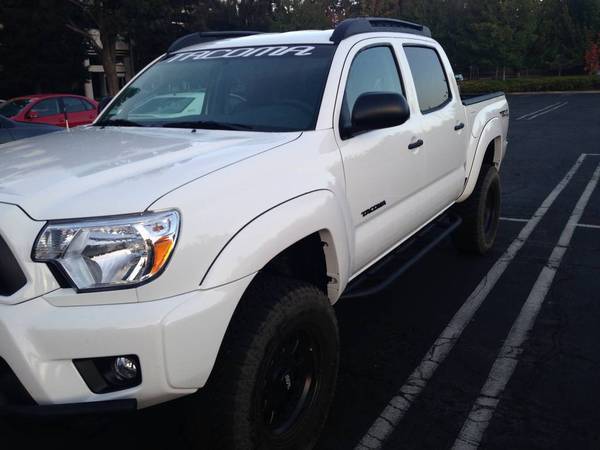 Then I bedlined the chrome bumper.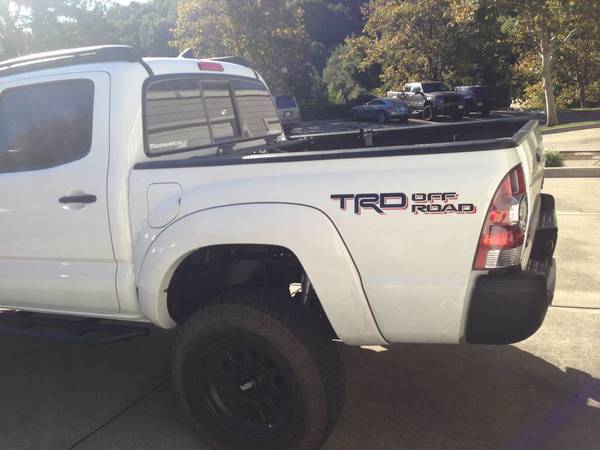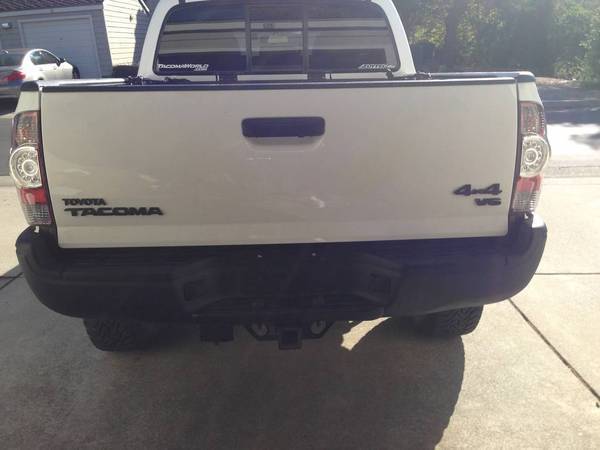 Then I did the full size spare mod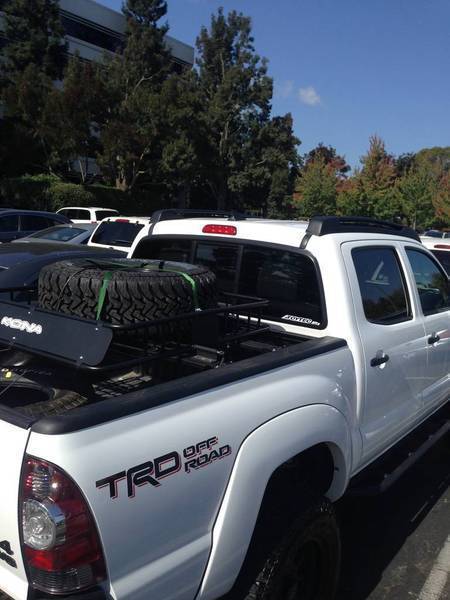 How she sits 10/10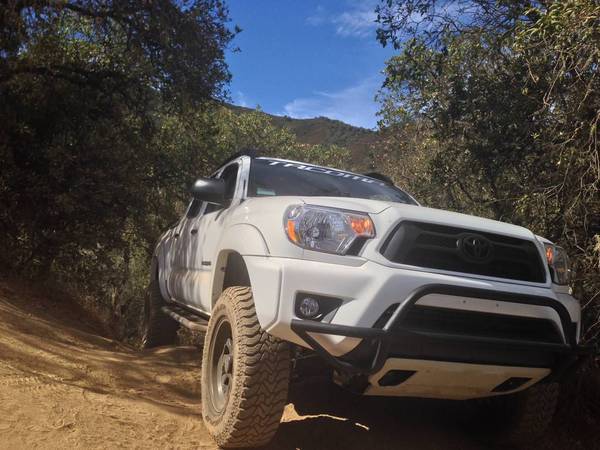 Got my CB installed. Midland 75. With a 4' antenna mounted on my bed rack.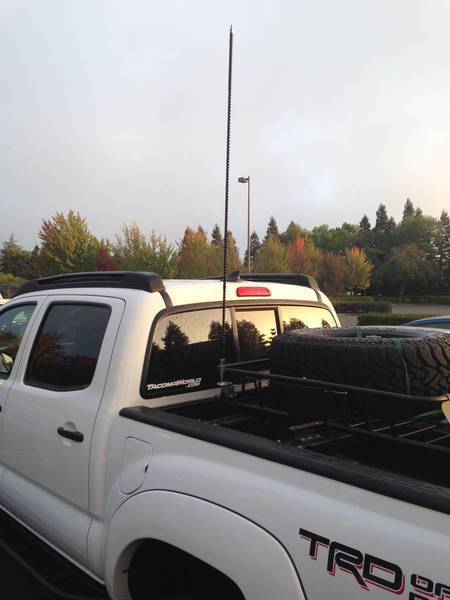 wired it through the window no issues
Then behind the seats and under the carpet. Plugs into the cigerette port and I can put it in my center consel when I dont need it.
Picked up an air compressor that works with the bed plug.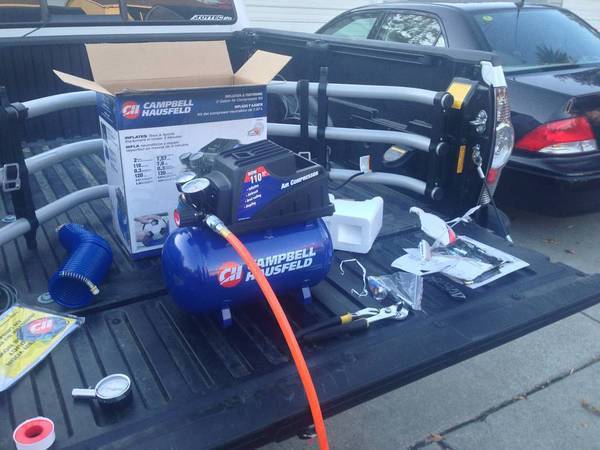 Did the diff breather mod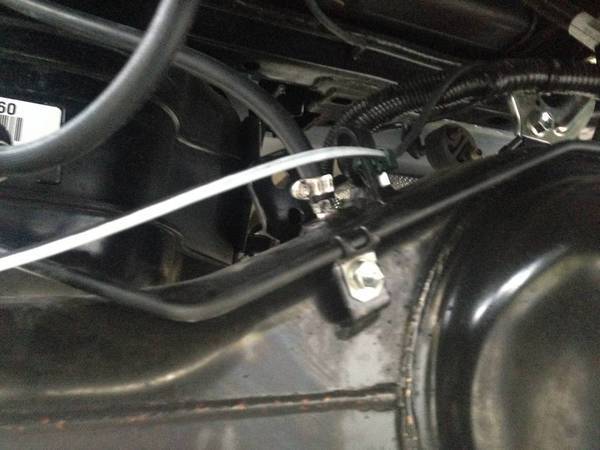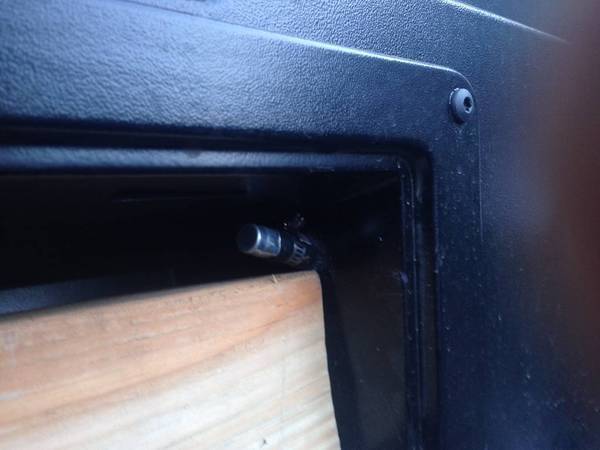 Added my plate bumper and all pro skid plate
Installed tuff leds from
amazon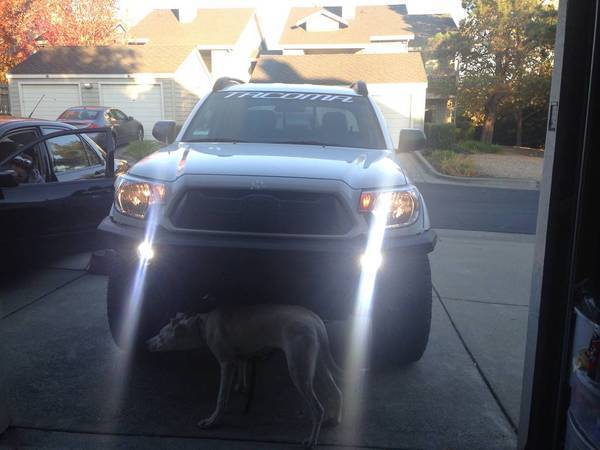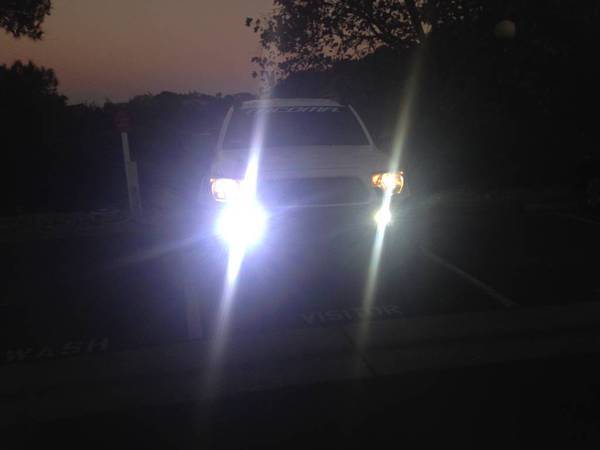 just headlights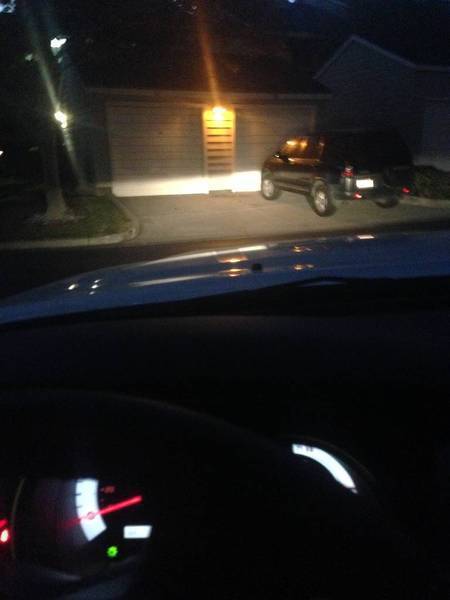 headlights with LEDS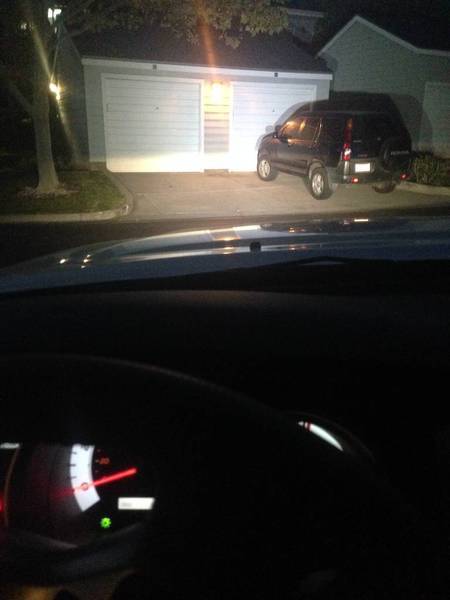 Pictures of bed extender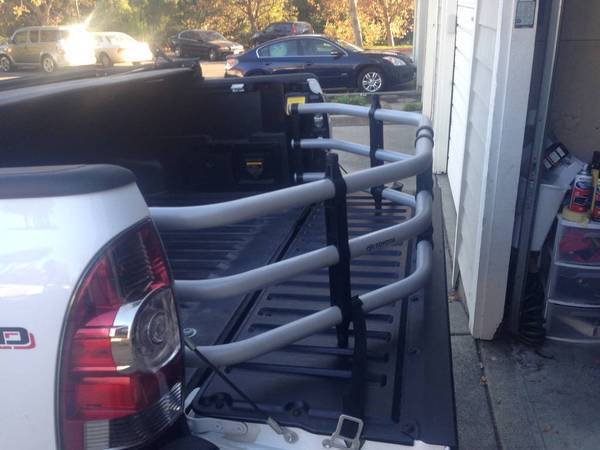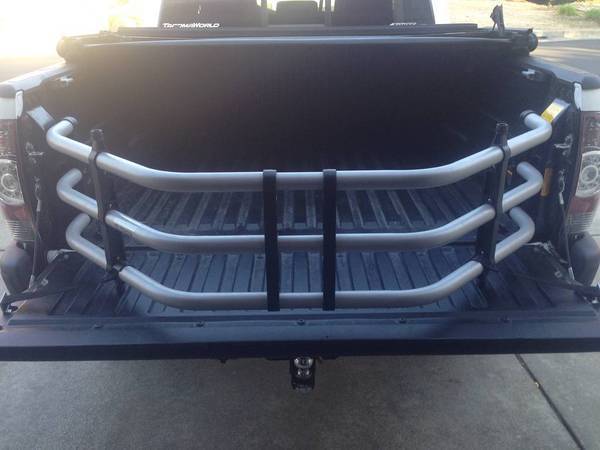 Pictures of bed cover and pop and lock handle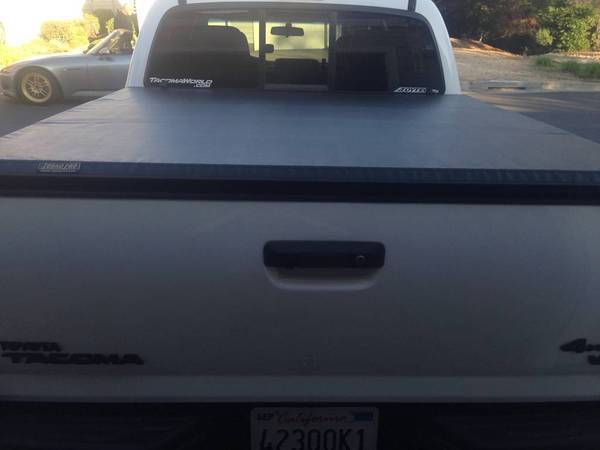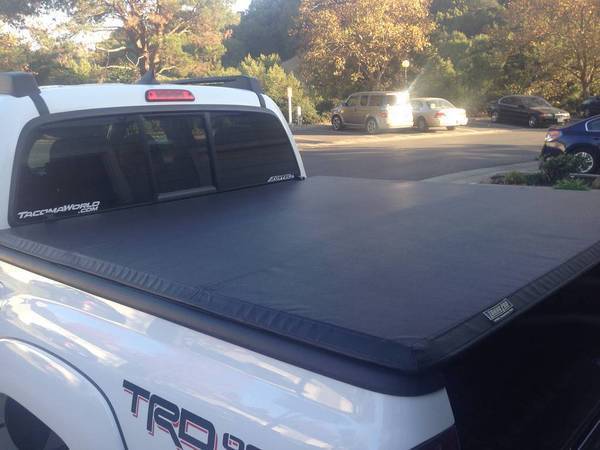 Added husky liners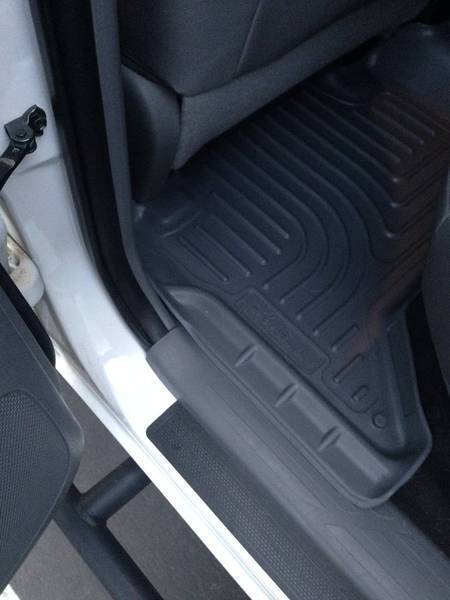 Got my hi lifted mounted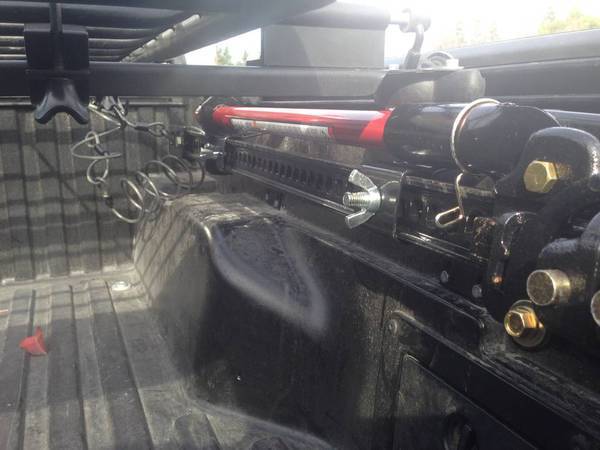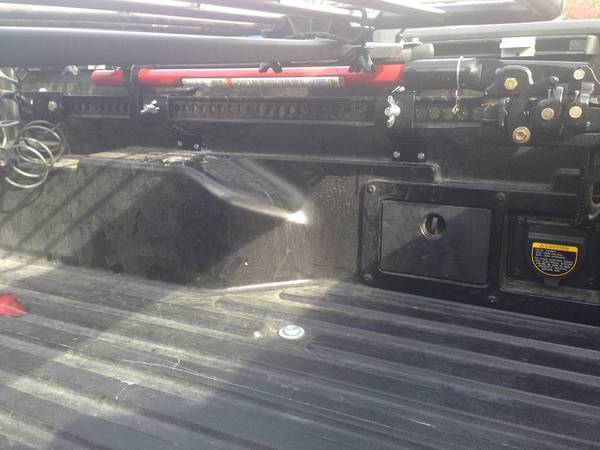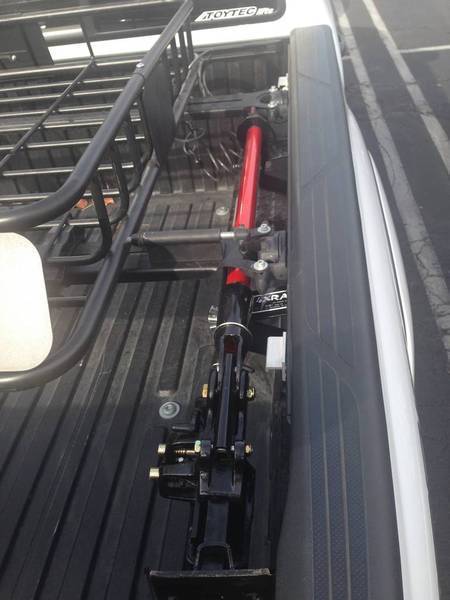 Got the ski rack on for next weekend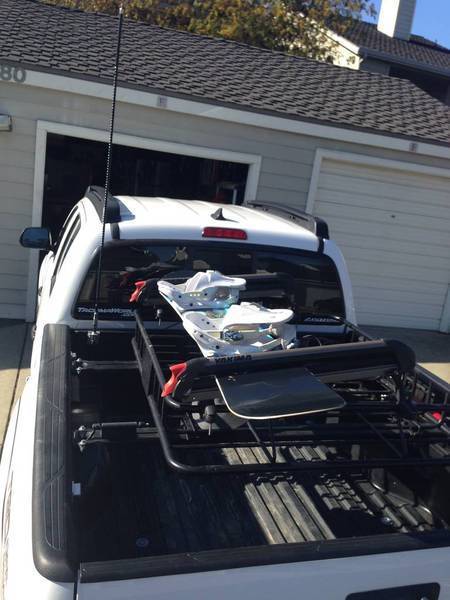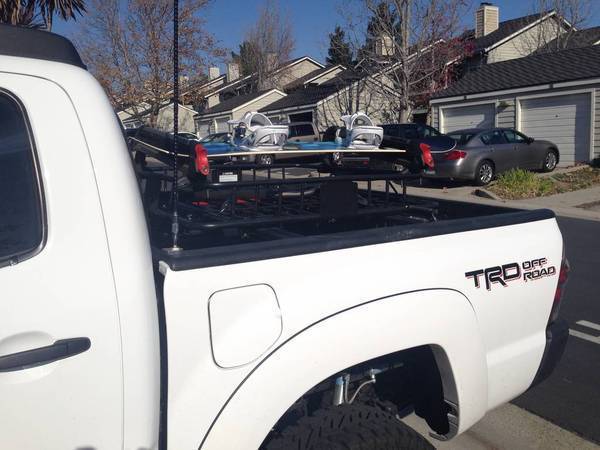 Check it out. Tacomahq.com ran an article on my build on December 4, 2013.
http://www.tacomahq.com/3069/superwhite-2014-trd-offroad/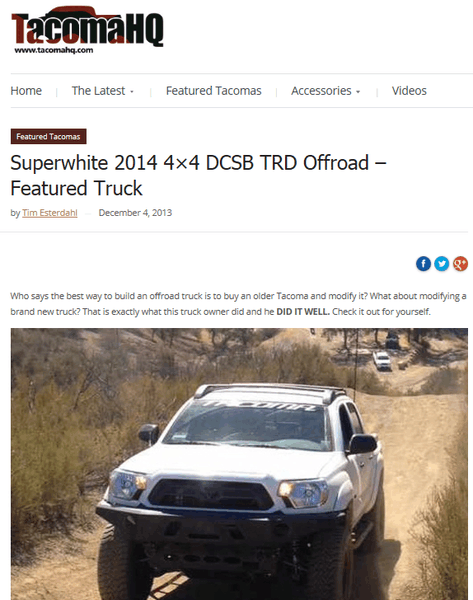 Got my aftermarket bumps stops installed to go with my Ubolt flip kit. I tried to flex the leaf pack into them with obsticals near my house but couldnt get them to touch.
http://www.amazon.com/gp/product/B000CN5GRC/ref=oh_details_o02_s02_i00?ie=UTF8&psc=1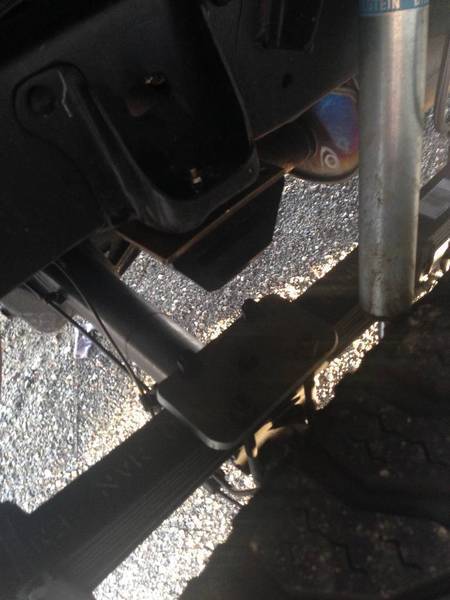 Added my transmission, transfer case, and gas tank skids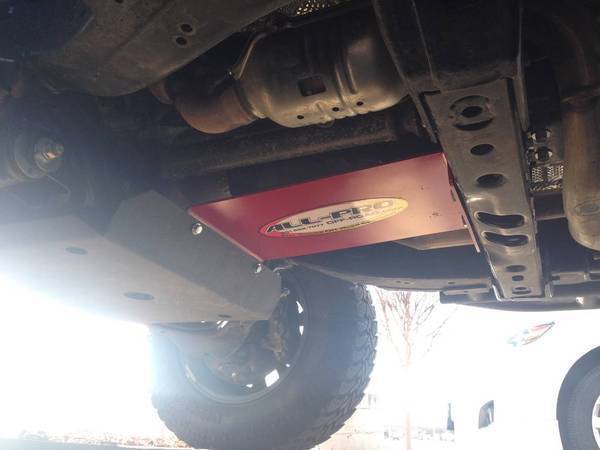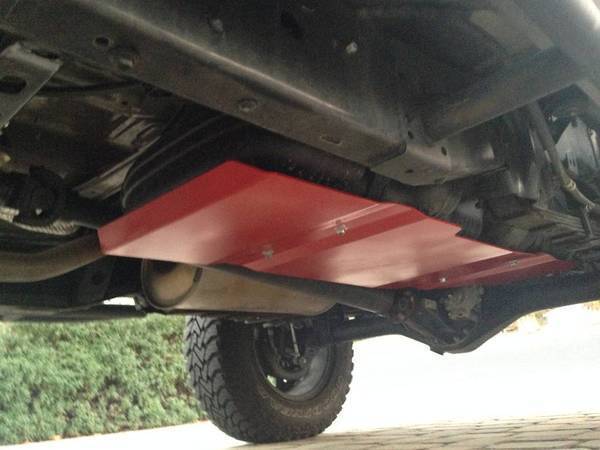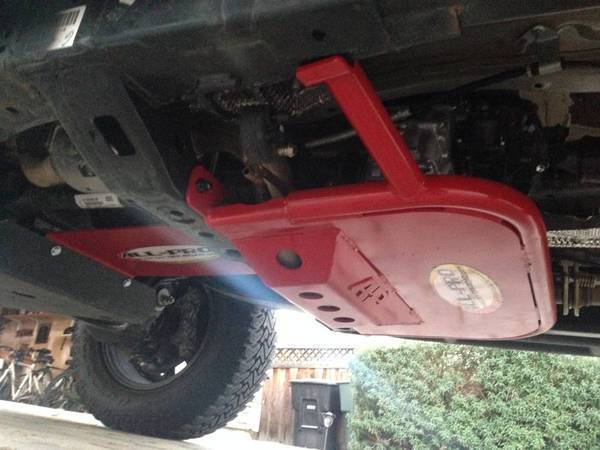 Photos of my Grill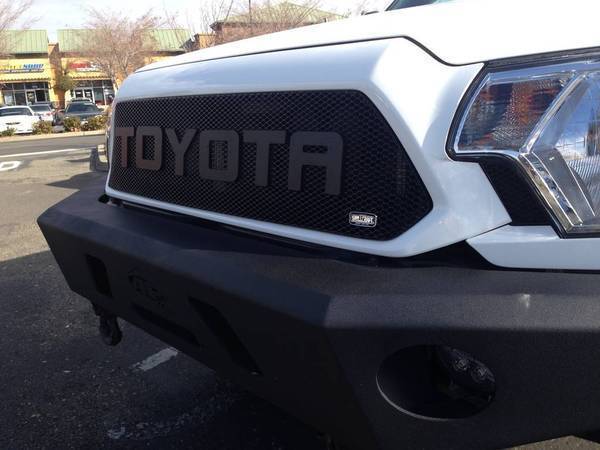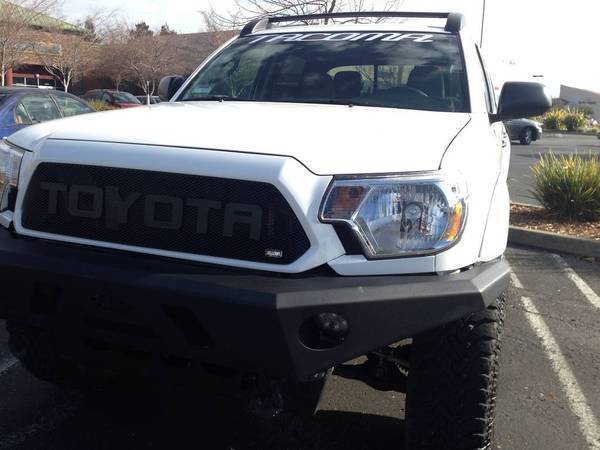 I got the exhaust routed around the transfer case. Also got a magnaflow and a tip. I had them dump the exhaust with a turn down instead of sticking out the side. Now I just have to get the old skid modified to be flat.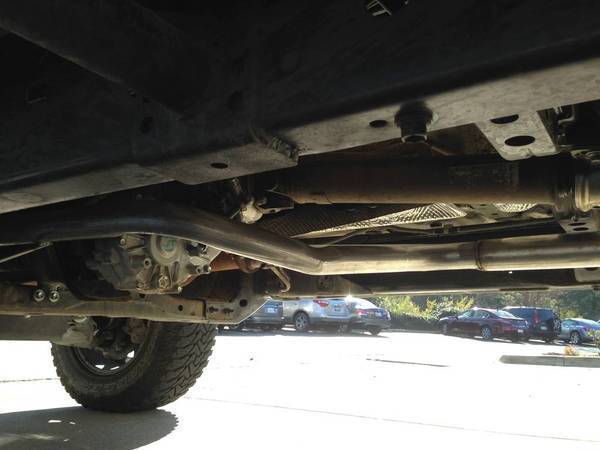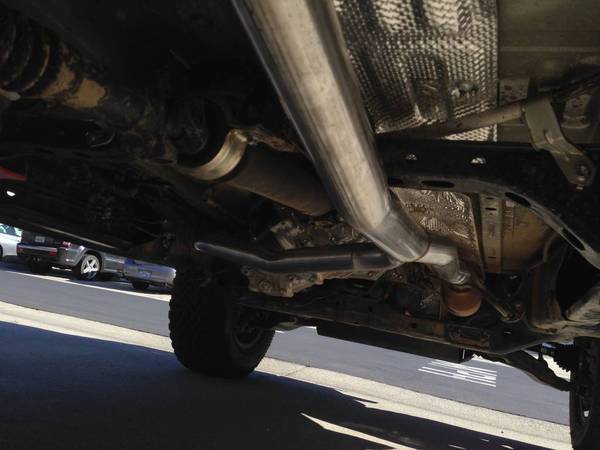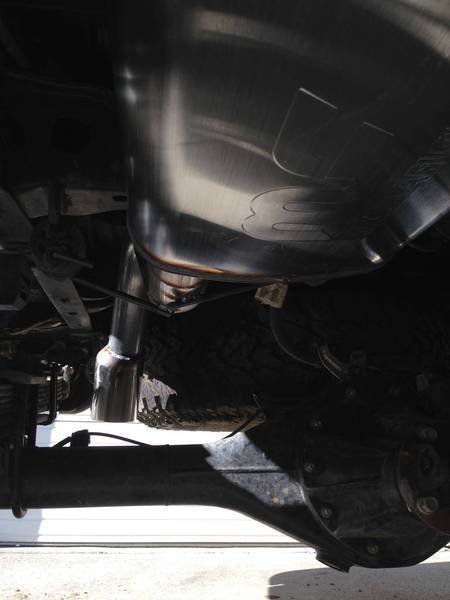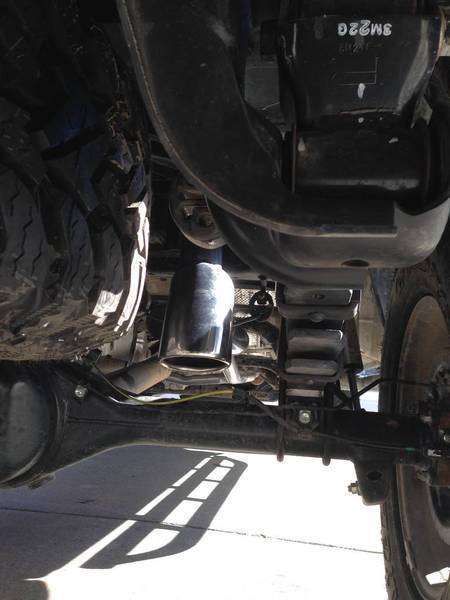 The T case skid is on and flat. No place to get hung up on now.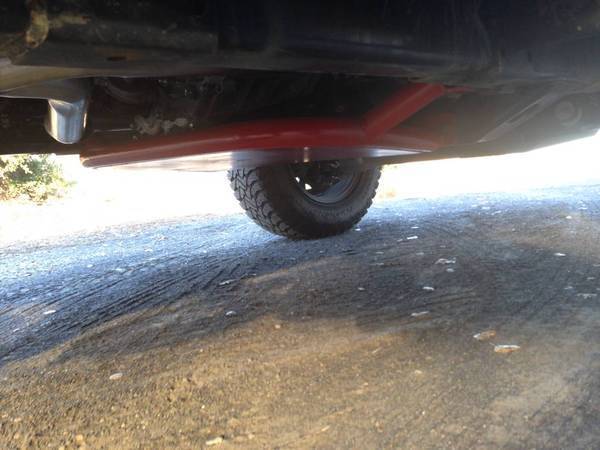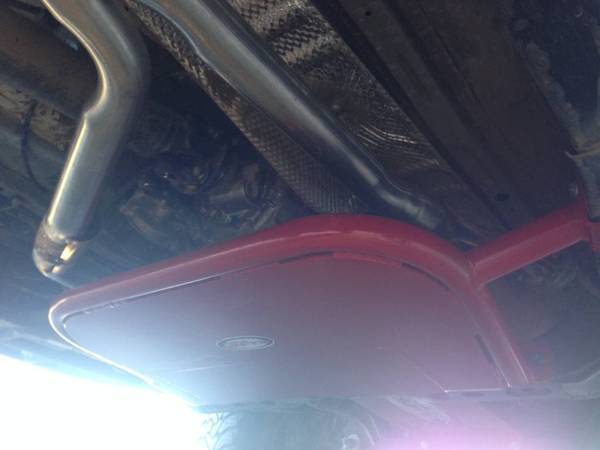 Moved my CB antenna and mounted my axe.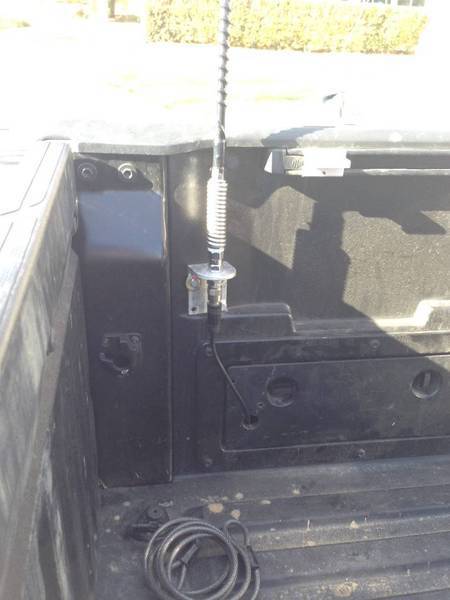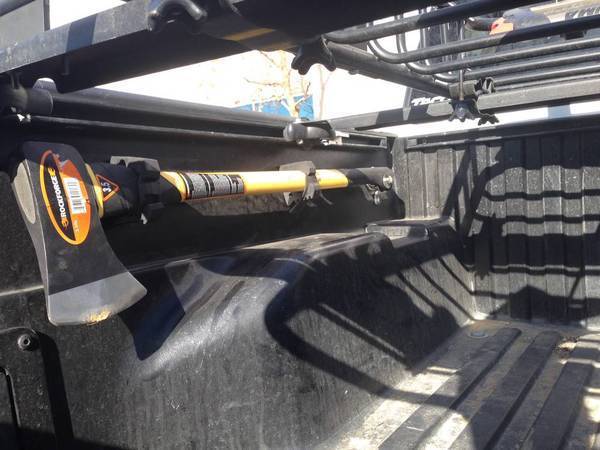 New ski rack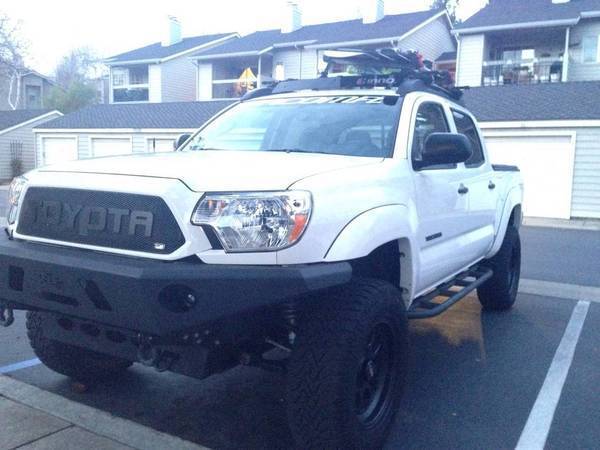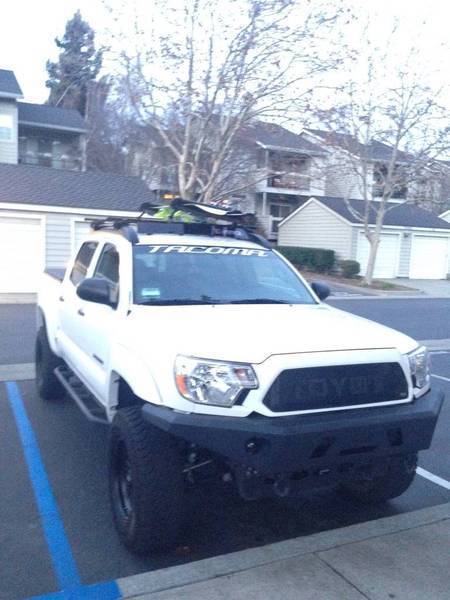 NEW BAMF LCA skids are on. I got a bestop to. I will take pics of that later today.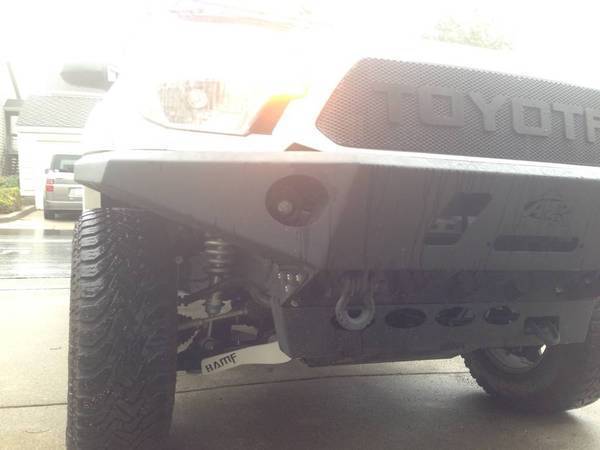 Diff Skid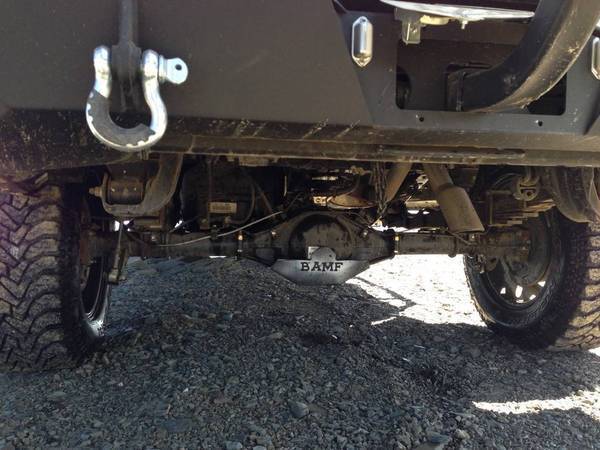 Photos of the new bed cover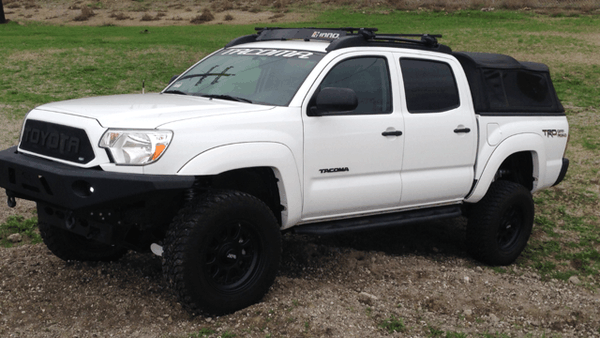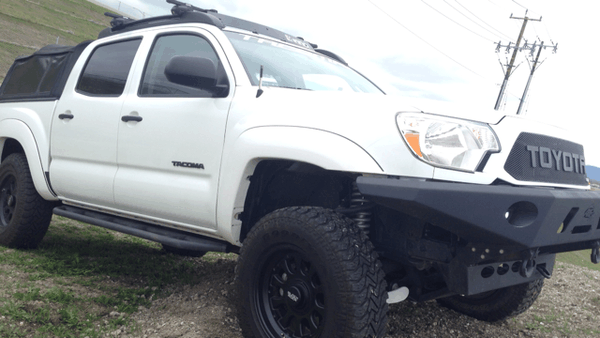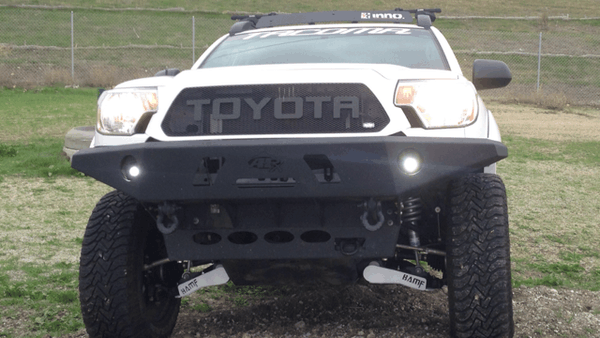 Got the hood struts on. These things are great.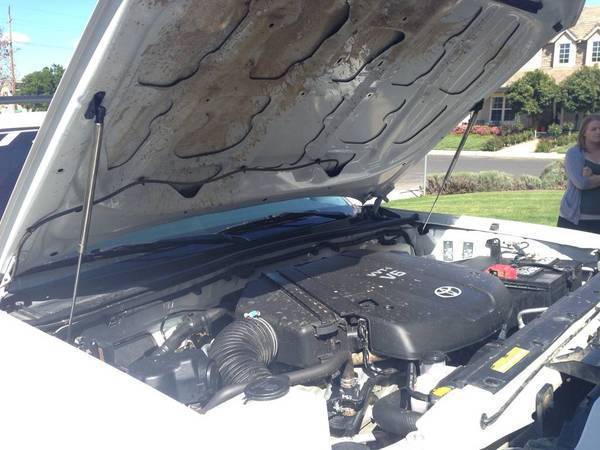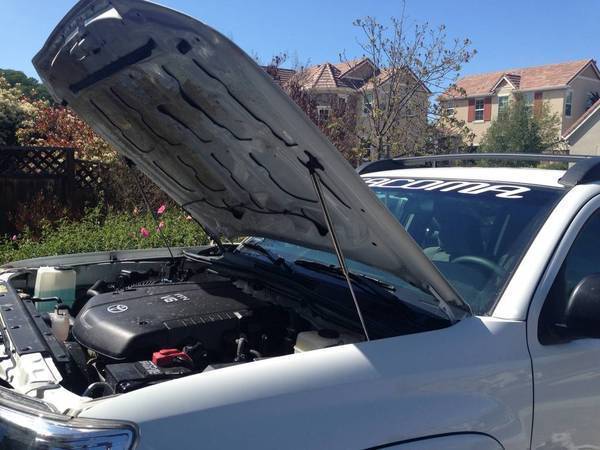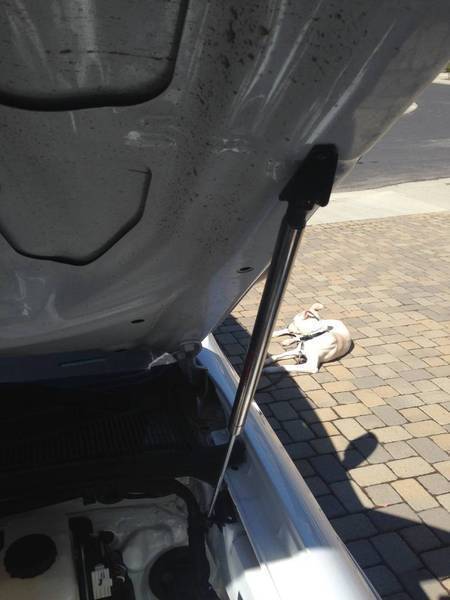 Got the new allpro bumper on.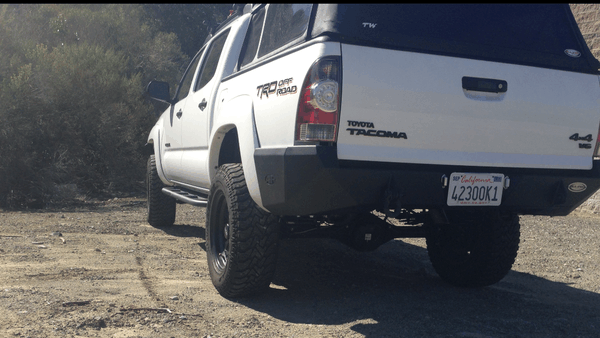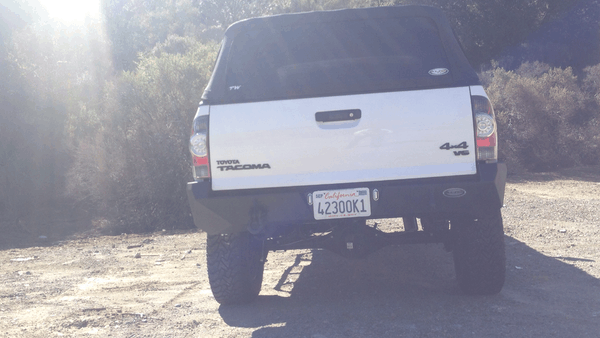 Got my BAMF CB mount and a spare carrier since my spare no longer fits underneath the truck because of the new bumper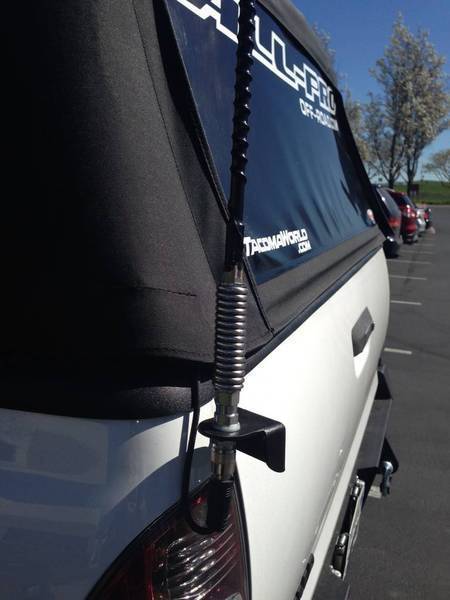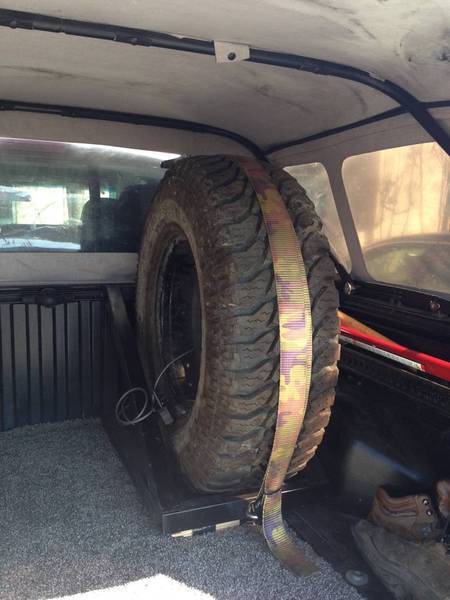 Got my relentless lights.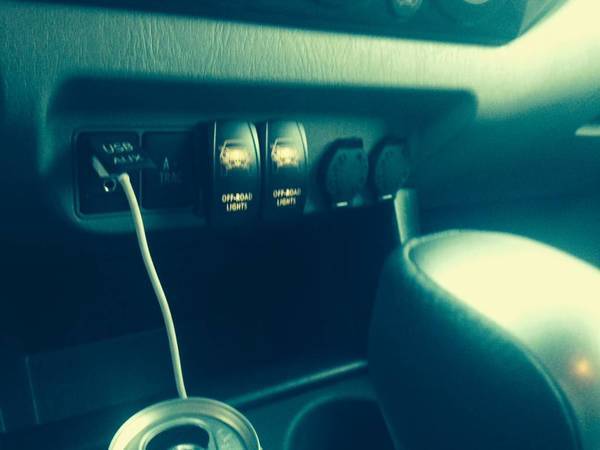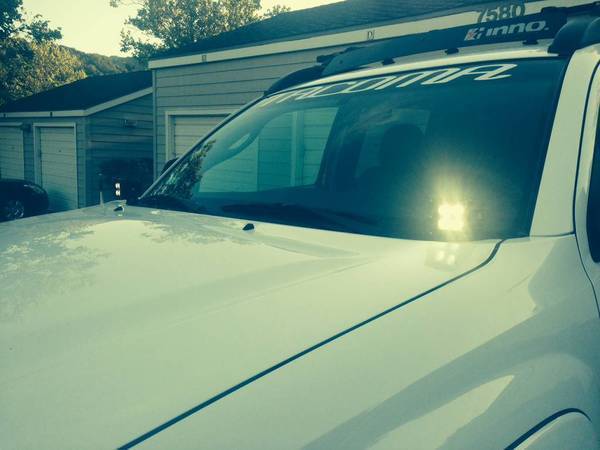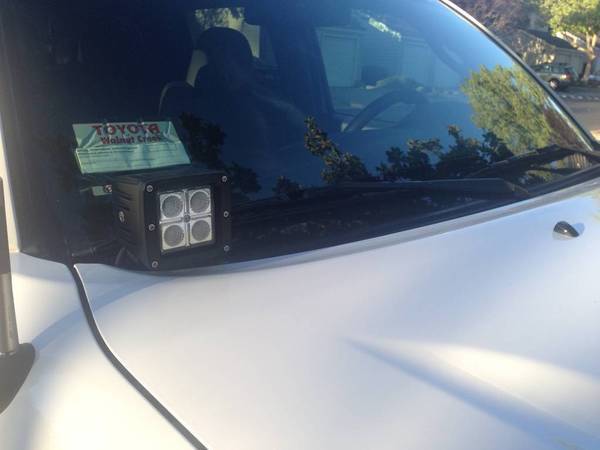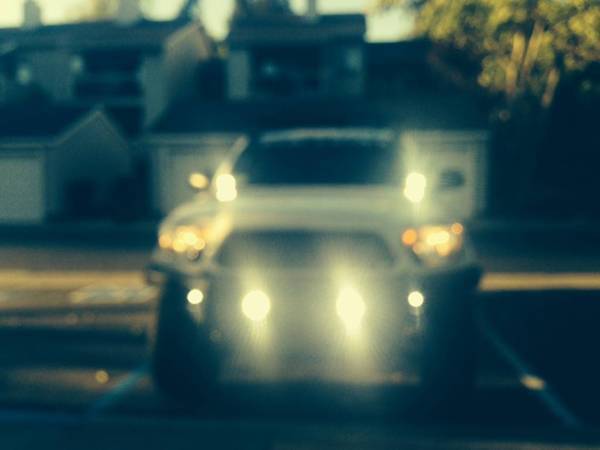 Yes my headlights are on.
ALL NEW SUSPENSION AND TIRES
I upgraded my toytec billy kit to icons with extended travel and icon uca's. I removed the sway bar and got 285/70/17 hankook dynapro MTs.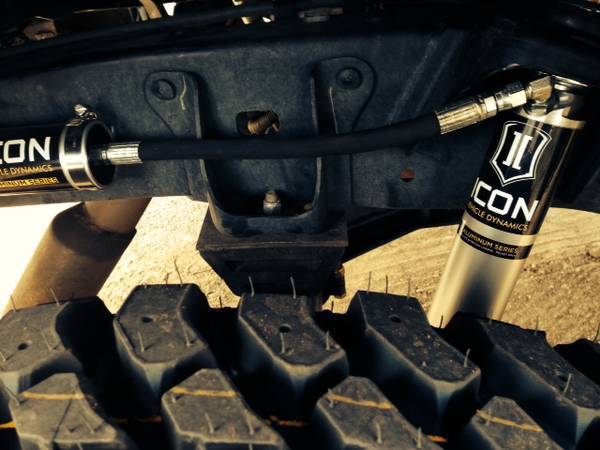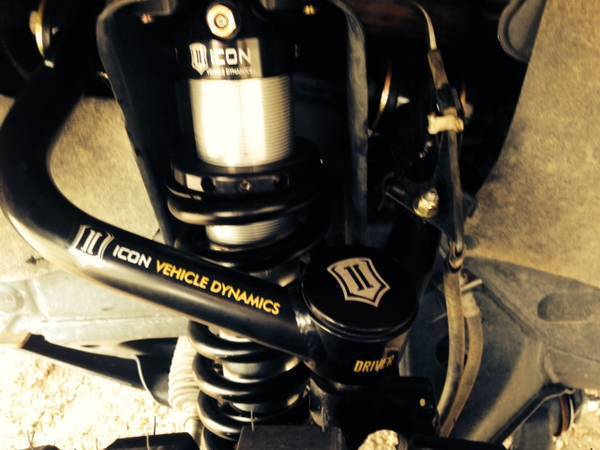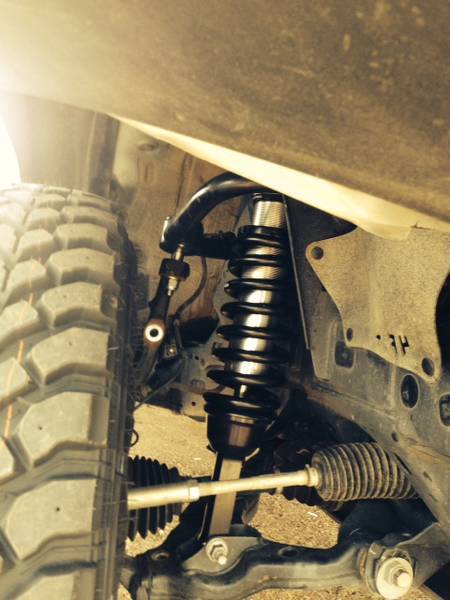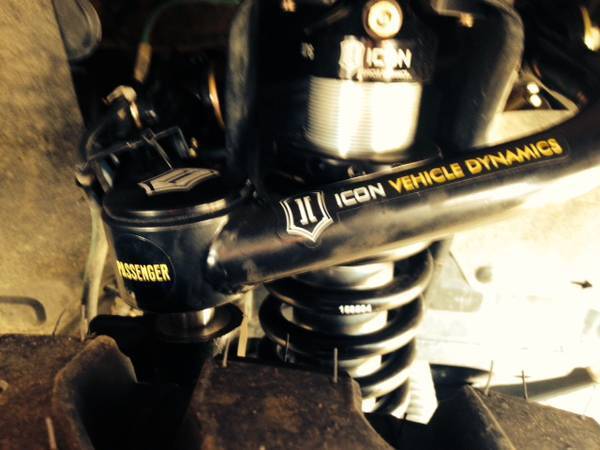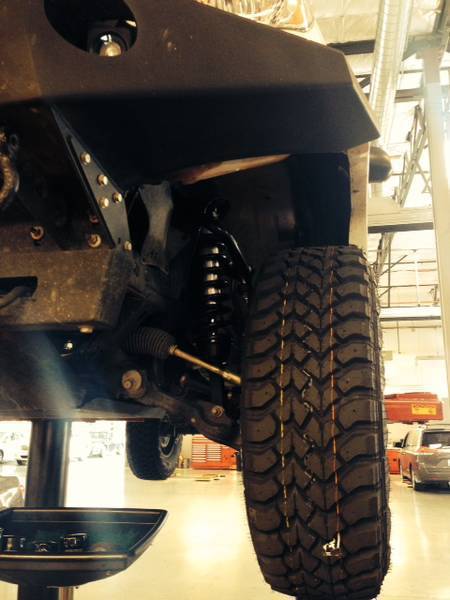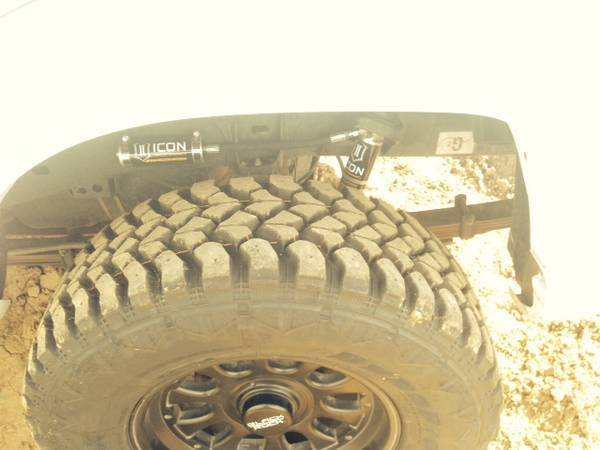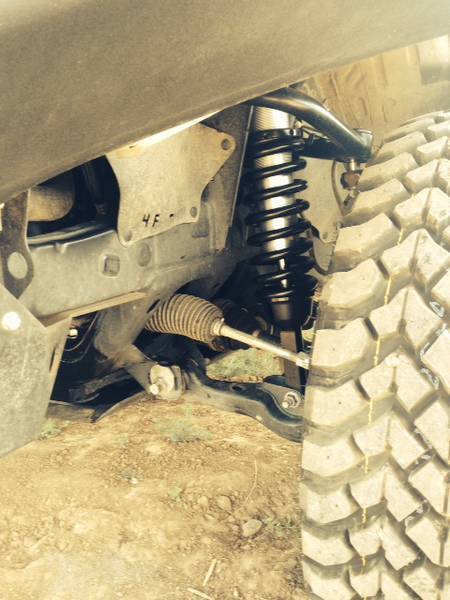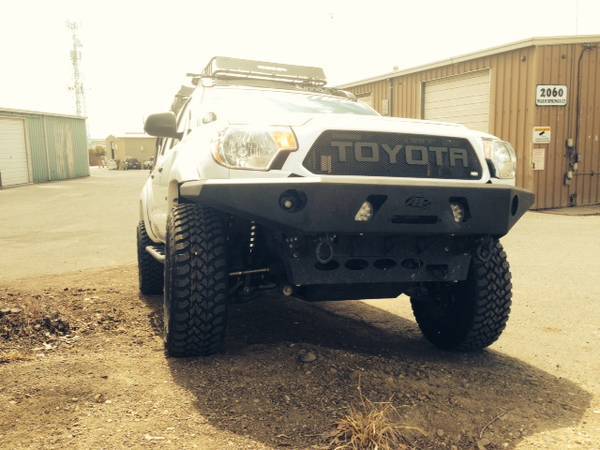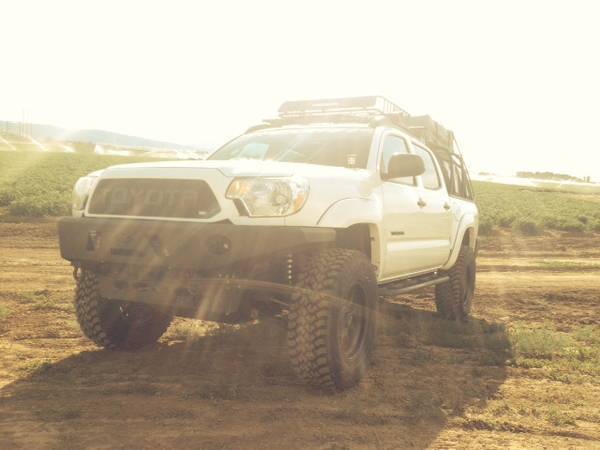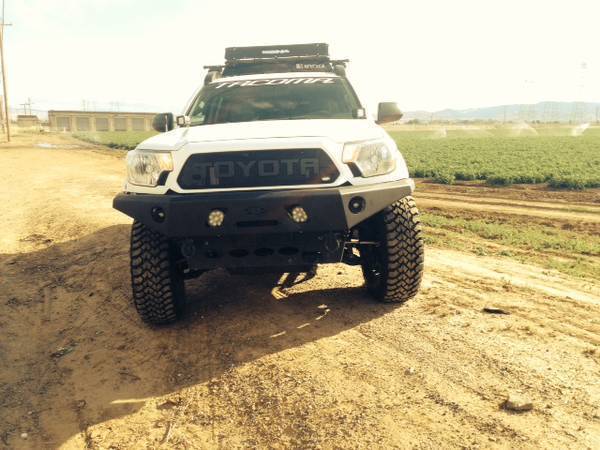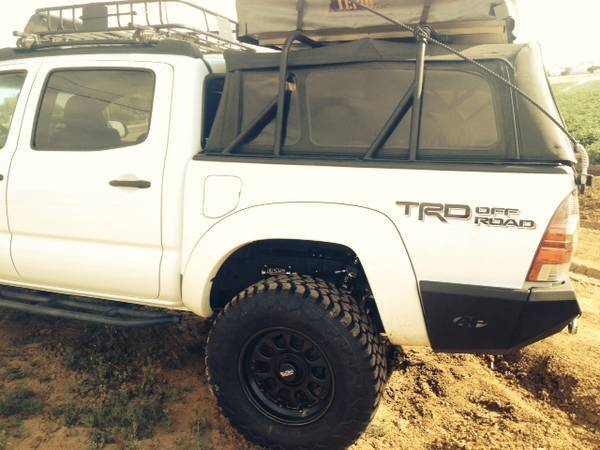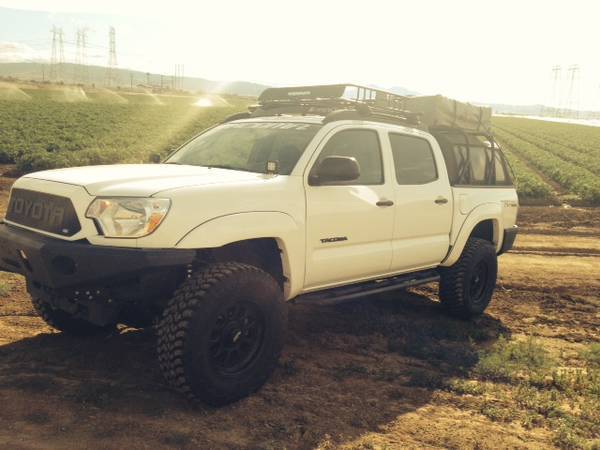 Got an old ALLPRO skid with more clearance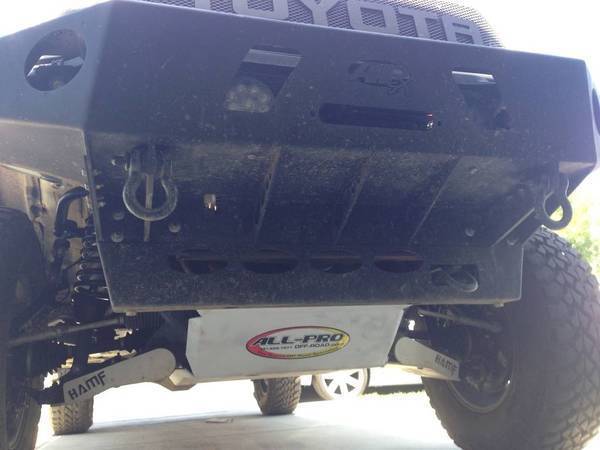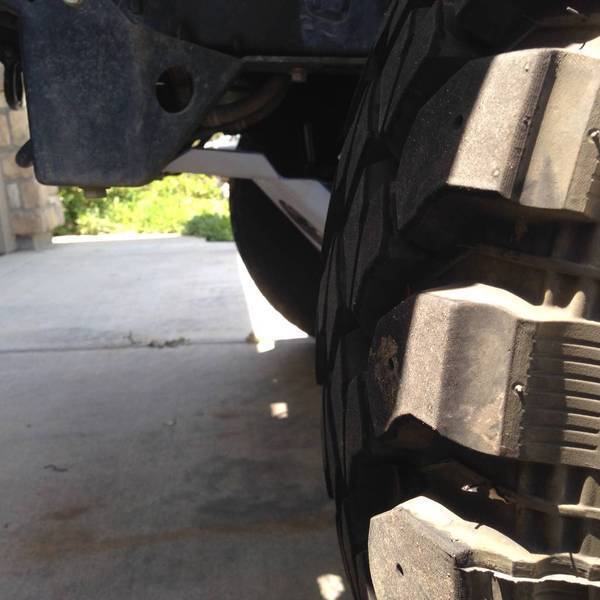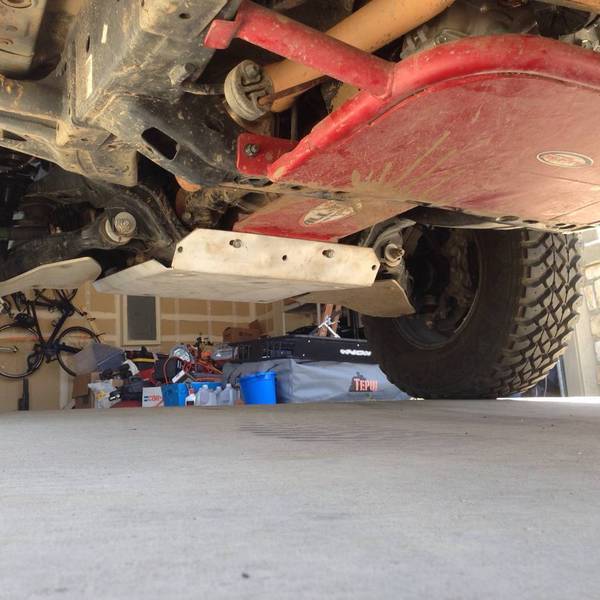 Pictures of the new extended brakes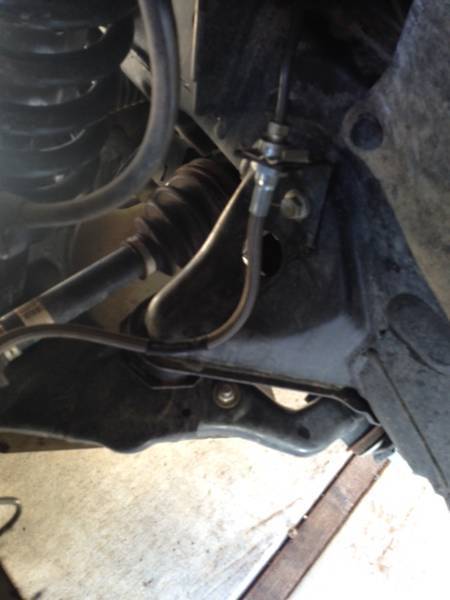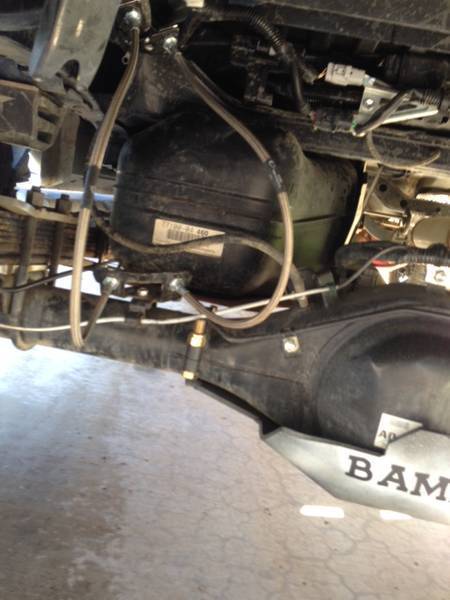 Rock Lights...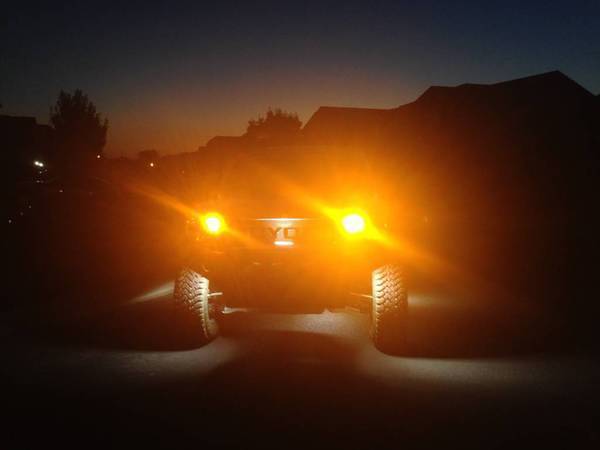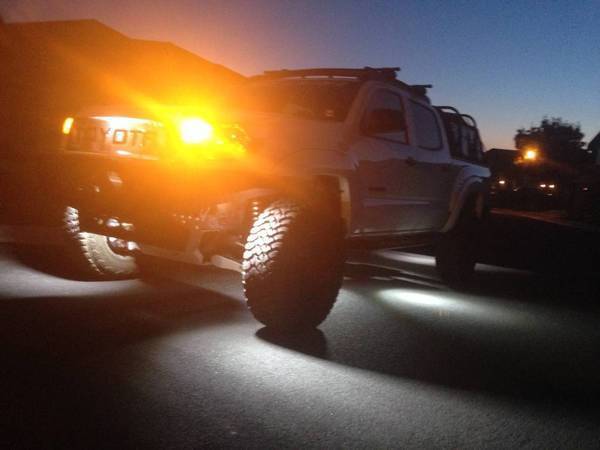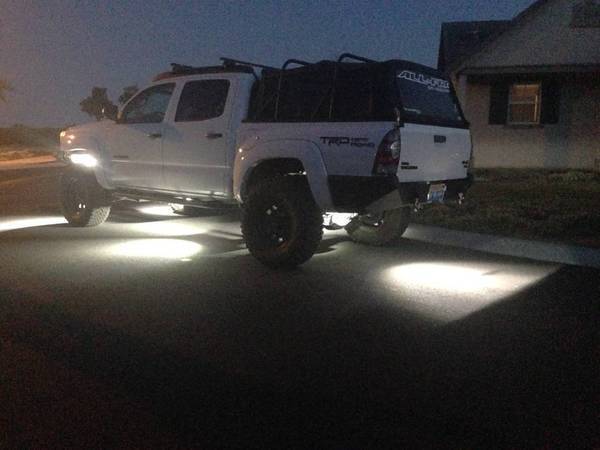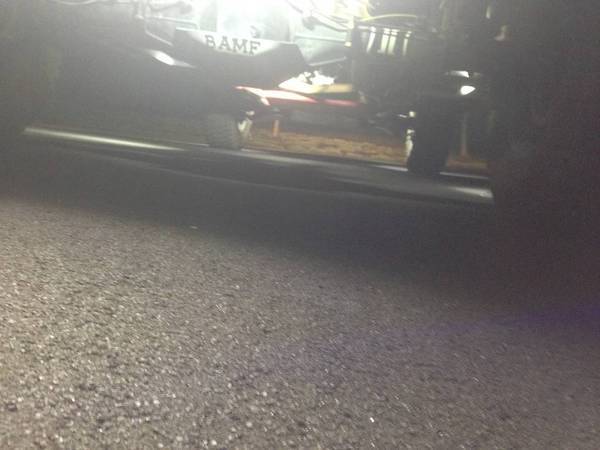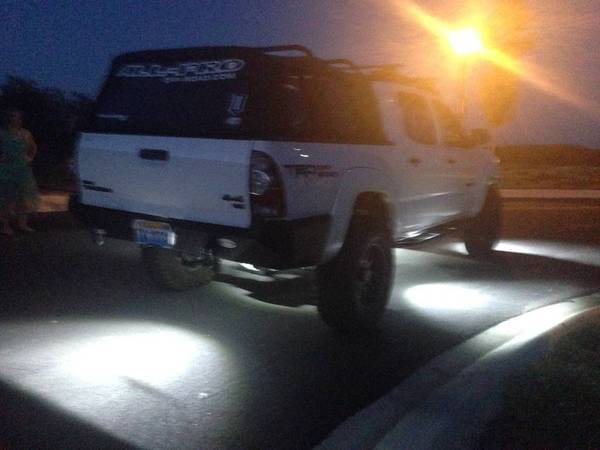 Commuter MOD:
So as some of you know I moved and went from 20 minutes a day in the car to over 2 hours. I was putting well over 3,000 a month on the truck. I just bought my truck but after all the mods 14 mpg in traffic and filling up twice a week just didnt add up. I also hate put highway miles on an offroad rig. I never though I would own a boring white 4 door sedan but if it means I can keep my truck I will drive anything. I picked this 2013 ford focus up with 35,000 miles, leather, sync (entune), and power everthing for $14,000.
It seems like the more you build your rig the worse it does at everthing but offroad, BUT ITS WORTH IT...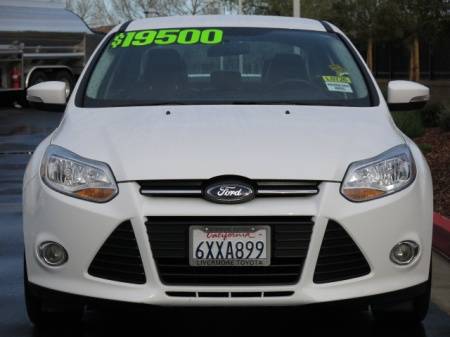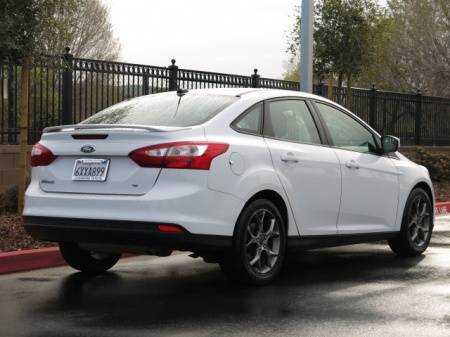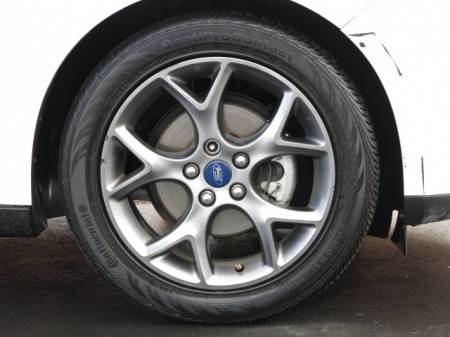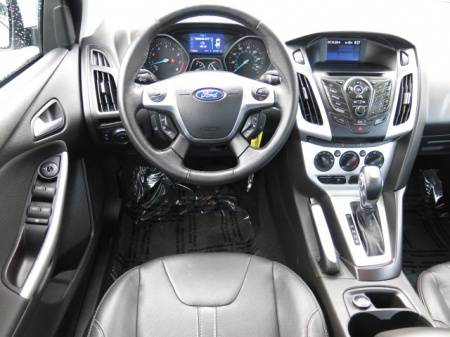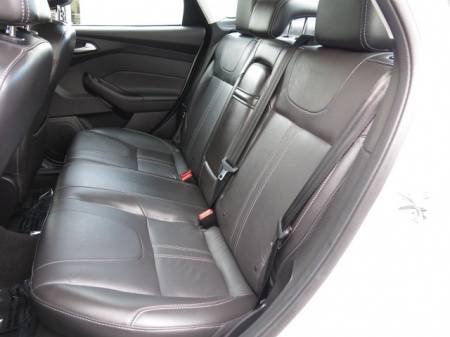 Got my cab mount chop done at BAMF. Almost looks like nothing was done. Thats how good he is.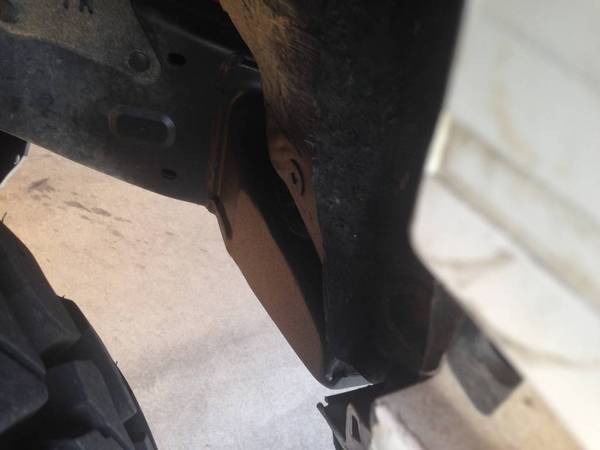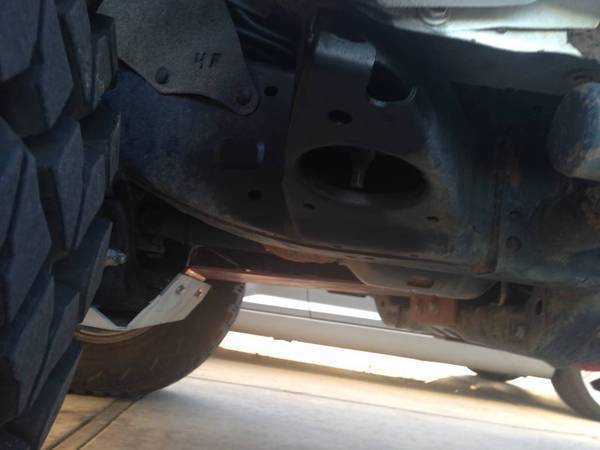 My tent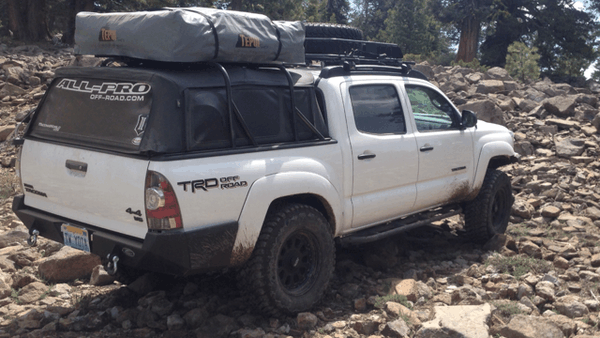 New transmission skid fron relentless. Im switching my skids from red to blue.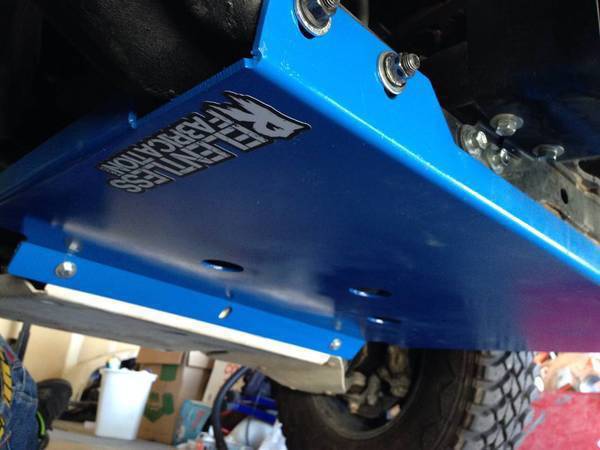 A buddy invited me saturdays to go to pismo. I finished my chores and the wife let me drive down there for the night. It was a great last minute trip. The sand is awesome and I finally got to use my traction boards when I got stuck.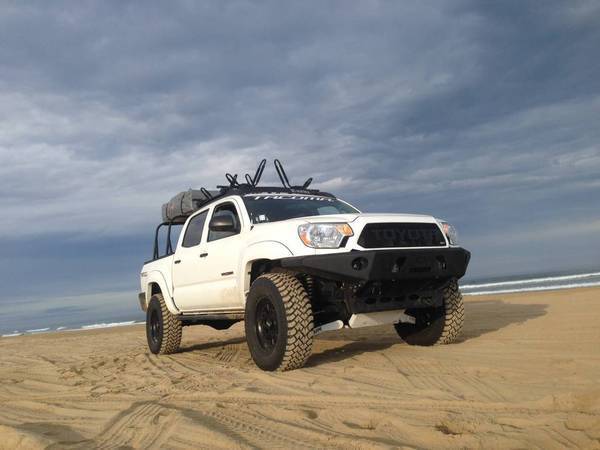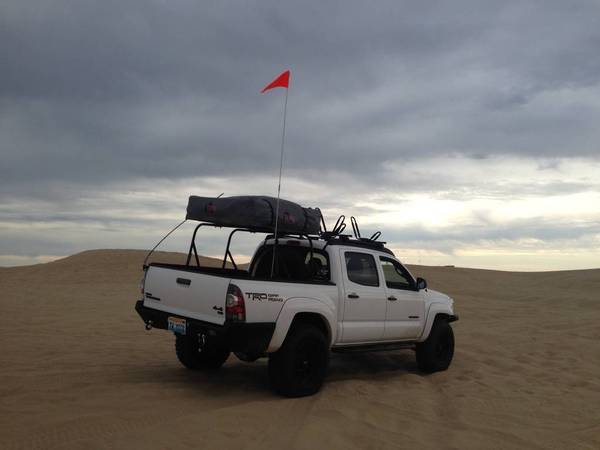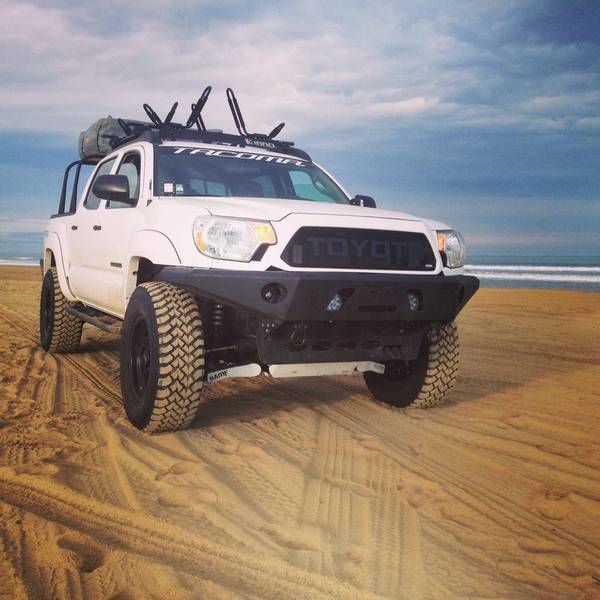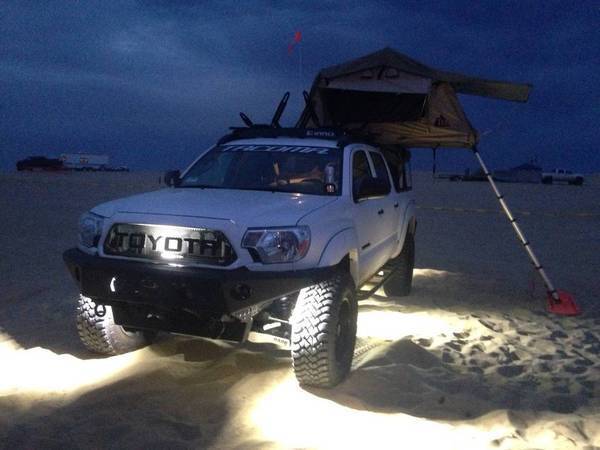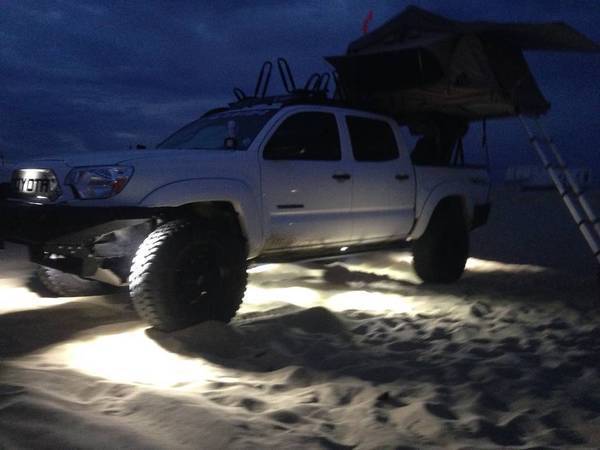 My new BAMF T-Case skid is painted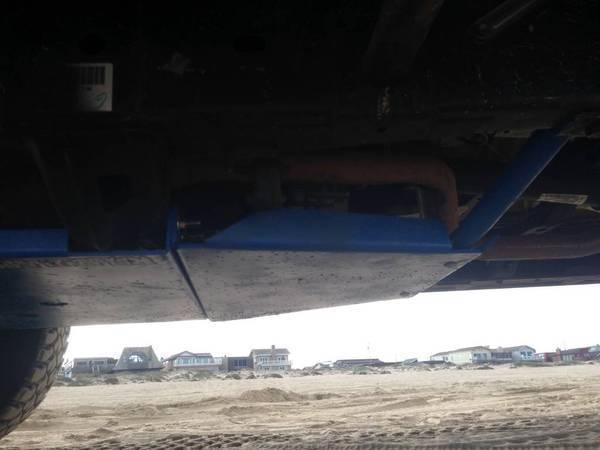 Skids are now blue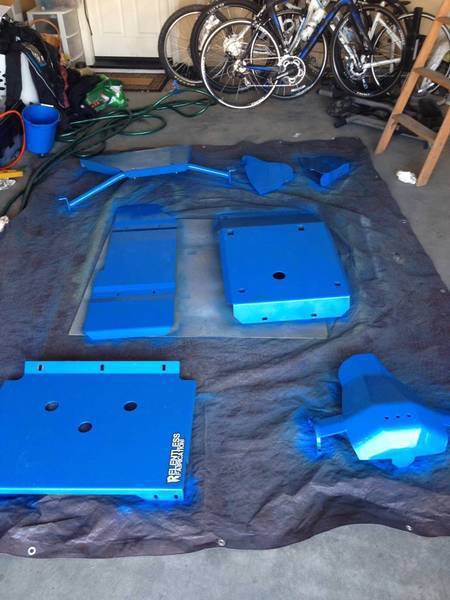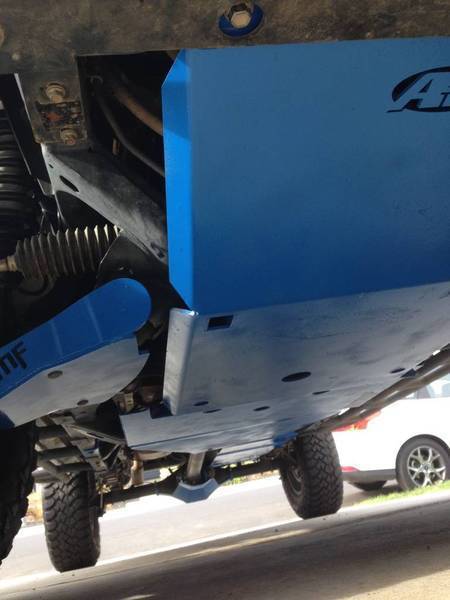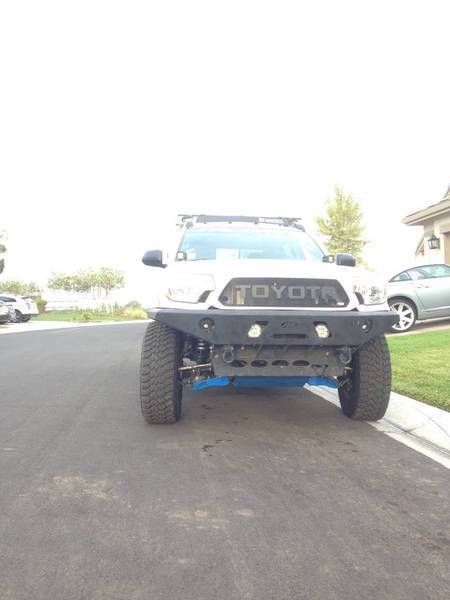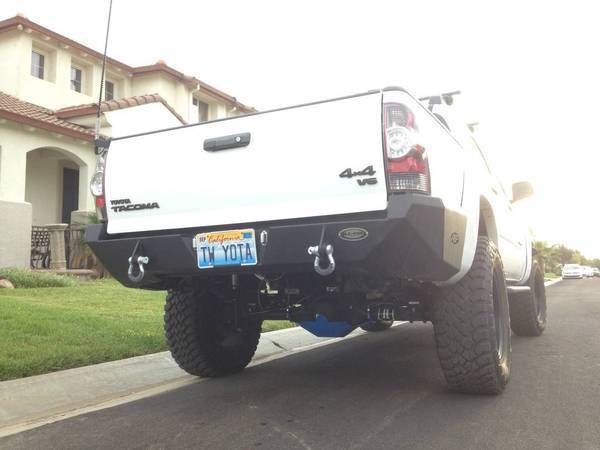 Cow Mountain ohv
Here are some awesome photos of my rig at slickrock.
Got a CBI bumper with a swing out for gass cans, spare, and jack. Now my bed is empty again...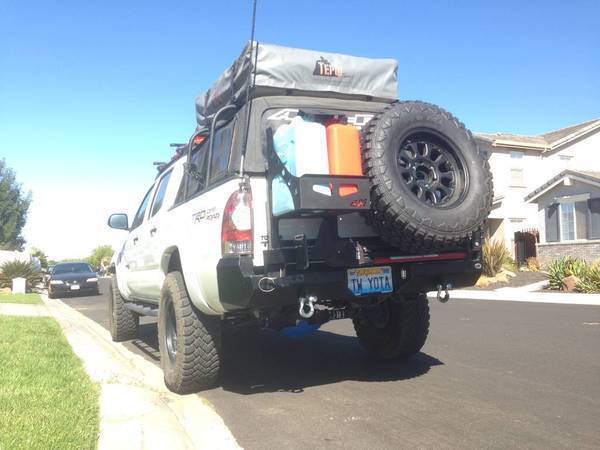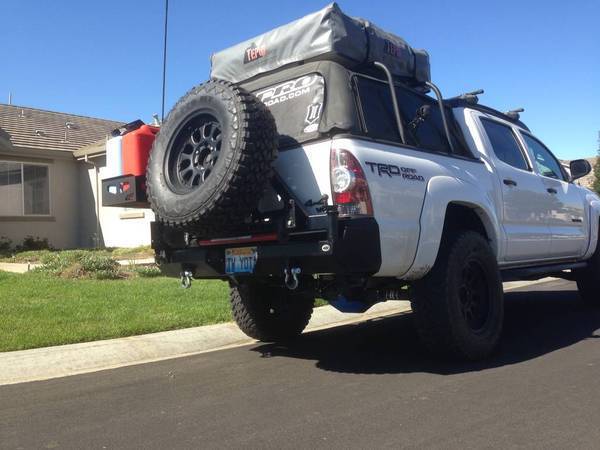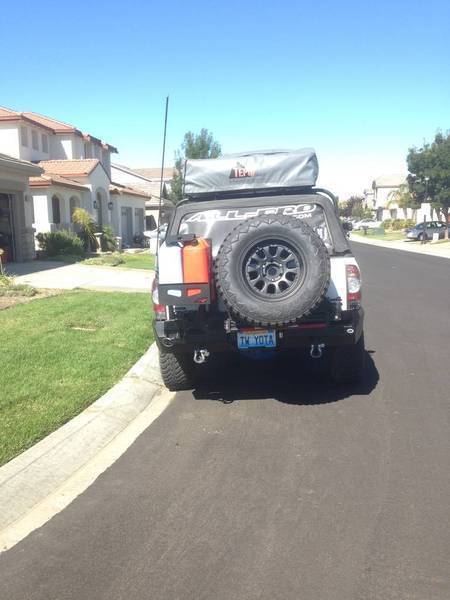 IN THE END...