2005 Toyota Tacoma 4x4 Access Cab. 75K Miles.
My most recent picture with leer100r (sorry for the crappy cell phone pic):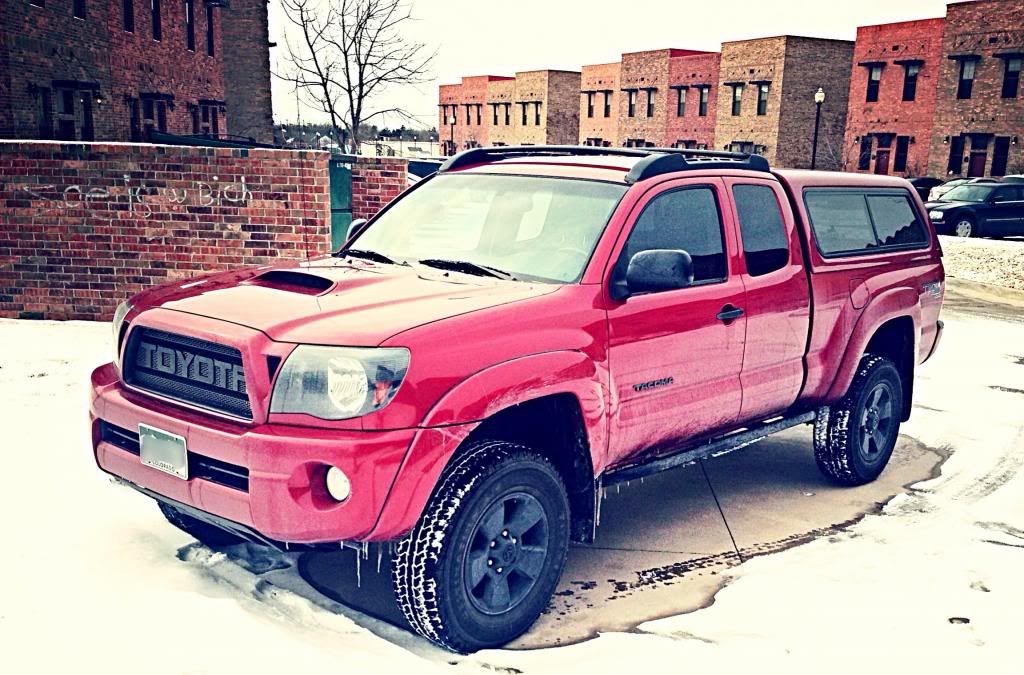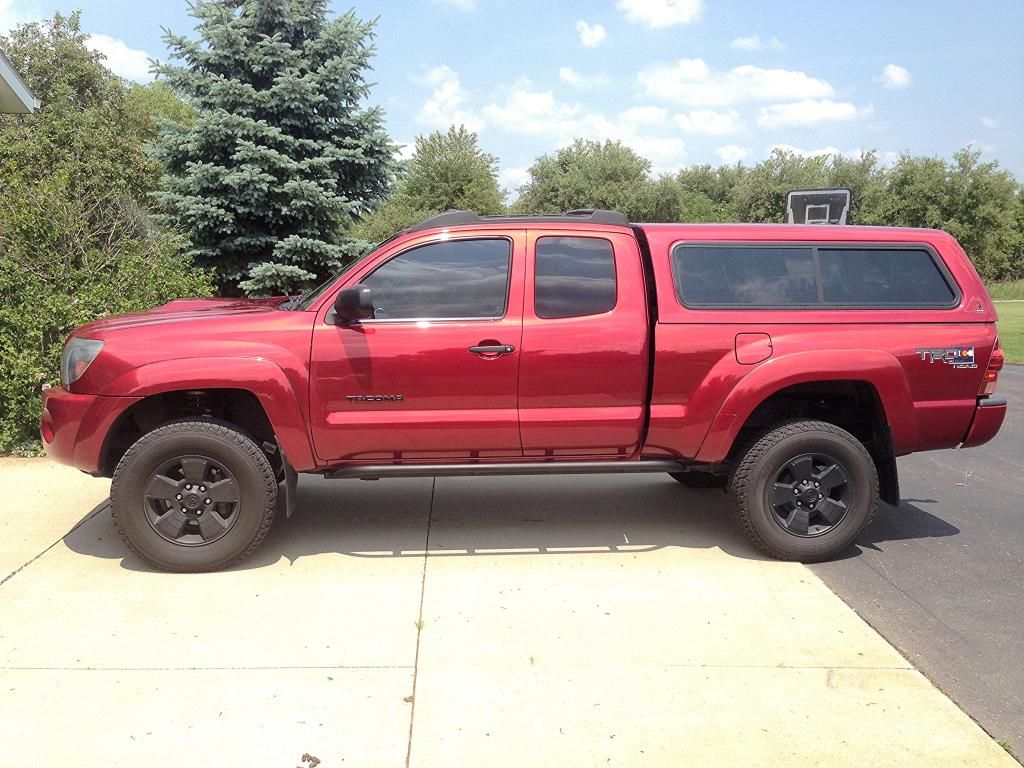 Must thank my dad for all the help getting it to this point.
Got the truck from my father with 38k miles in 2009. The truck came 33" Mickey Thompson Baja MTZ and I had to add a spacer lift (limited funds) to avoid rubbing. Loved the tires but went with a more highway friendly tire once they wore out as this is my daily driver.
Current Mods:
Suspension:
-Toytec Ultimate Lift Kit adjustable front coils
- Bilstein 5100s
- Dakar Leaf Pack
- Front differential drop
- LR UCAs
- Sway bar relocate
Armor:
- Trail gear sliders welded on (covered in a spray on bedliner)
- OEM front skid plate (covered in a spray on bedliner)
Electronics:
- Alpine deck with bluetooth
- Alpine speakers in all four doors
Misc:
- Custom one piece driveshaft (Precision Drive LTD, OKC)
- leer100R w/ sliding windows, cab sliding window, headliner
- lock on the tailgate (w/ key)
- Trail Teams TRD FJ center caps
- OEM roof rack for access cab mod (saw the mod on TW)
- BHLM
- Color-matched grill and bumper
- Sockmonkey Colorado State Flag bedside decal
- Powder coated factory 17" rims
- Sanded and sprayed emblems black
-
Weather Tech
Digi Fit floormats
- Hitch w/ lock
- 265/70/r17 Firestone destination A/T
- matching spare tire
- aftermarket rearview mirror with homelink, compass, and outside temp
The day i bought it:
W/ the awful spacer lift:
Installing the ULK w/ LR UCAs:
After having sanded the chrome off and painting the emblems black:
Colorado Bedside decals
Did the OEM roof rack mod for access cabs (found an excellent write up on TW):
Getting the bumper and grill painted to match the body (I hated the chrome!):
After the grill and bumper were installed before the raptor style grill:
After the Dakars and ULK (holding stage of raptor grill):
Also am open to any suggestions or thoughts! I like the idea of an overland expedition style and am thinking of moving in that direction.