Hi all, I am Ben Gibson, owner of Xpedition Ready LLC based in Raleigh, NC. We aim to offer the best overlanding and off-road products on the market today. Xready is a family owned and operated business that strives to sell products at the best possible prices, as well as with the best customer service. We got started in early 2012 when I was working full time as a firefighter. As some of you know firefighter's work a unique schedule, which allows the pursuit of extracurricular activities. Meaning, you have to work another job to make a living.
I have lived a life of 4-wheeling, camping, exploring, traveling, and riding motorcylces since a young age. Through college I spent every dime I had building trucks set up for rock crawling, which led to many arguments with my then girlfriend because there was no money left to go on dates. But hey, she was patient, and stuck it out and eventually became Mrs. Gibson and is now an employee/brains of Xready; also known as Jess. The third and final member of Xready is my older brother; guru of all things mechanical, and the instigator of making overlanding, 4-wheeling, motorcycle riding, traveling, and adventures my passion. Xready's head mechanic; David.
Crawler Build: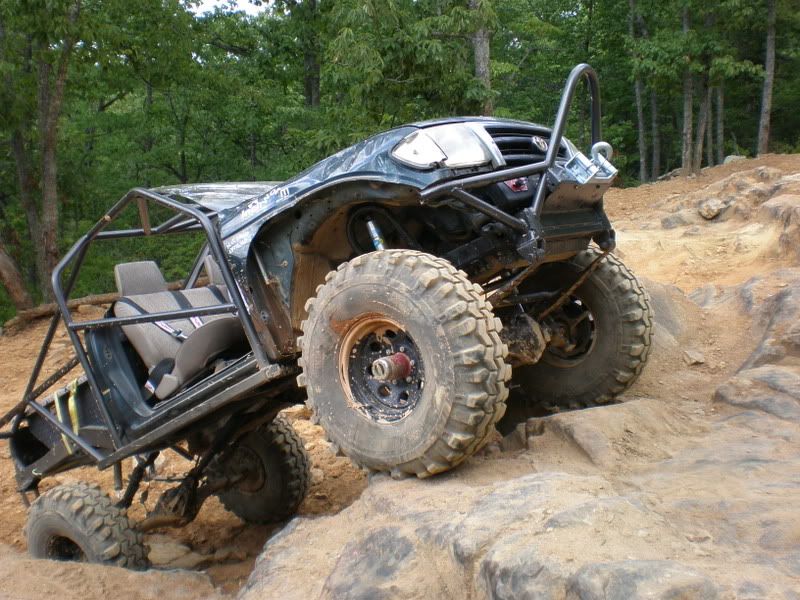 Fast forward several years, we relocated to Raleigh for family reasons, I left the fire service from a professional standpoint, and now press head long into Xpedition Ready full-time. We are not the most computer, internet, or web design savvy so bear with us and our website problems as we continue to build the site, as well as update this build thread.
Now that you know a little bit about who we are….on with the build
September 23, 2013 Xpedition Ready purchased our 2013 4wd Double Cab TRD OR to be the new face of the company. We have plans to do a modest overland build, with a goal to make it functional, simplistic, and affordable for the common everyday consumer. This truck is an everyday driver and will be designed and built as such.
Stage 1:
The goal of Stage 1 will be to get the truck ready for a cross country trip Jess and I will be leaving for in April. We will be leaving NC March 28th and headed North West on a loop to see the best places this great nation has to offer. We will arrive back on Easter Sunday April 20th. We will be camping and exploring all along the way and documenting it as well.
We would love your input on what you would like to see in this build so please post up!
∑
Tires:
BFG KM2s 255/85/16
∑
Suspension:
Old Man Emu 885 coils, Nitro Chargers, and Dakar leafs....later changed to 886 for bumper
∑
Roof Top Tent:
Undecided but leaning towards Eezi-Awn 1400
∑
RTT Rack:
Xready prototype design
∑
Fridge/Slide:
Undecided
∑
Sliders:
Stubbs Welding HD-SKO most likely
∑
Skid Plates:
Bud Built full skids, as we already have a set from another build
∑
Storage Solutions:
Working on this so stay tuned
∑
Lighting:
Undecided
∑
Battery:
Not sure if we will go with a dual battery setup for this trip as we will be on the road everyday so we may go with a larger single battery for now. Ended up going with a single batter Die Hard 31M
∑
On Board Air:
Undecided but probably an ARB Twin Air compressor because we want to try one out.
Stage 2:
These are things we will not need for this particular trip so they will be put on the back burner for now.
∑
Front Bumper: ARB Deluxe Bumper
∑
Rear Bumper:
∑
Winch: M8000
∑
Front Locker:

Day we brought it home: