I have enough work done to my truck that I can create a build thread. This truck is no where close to other trucks on this site, but it's my truck and I am damn proud of it and wanted to share it with you guys! The truck is no where complete and constantly a work in progress.
First things first, this truck is a truck. Meaning it has a bed that actually gets used, and a 4x4 system that gets put to the test. It is NOT a daily driver, just a work truck for around the house and a fun hobby.
I picked the truck up from Prestige Toyota in North Jersey February of 2012 (great dealership, I would recommend them anytime). After looking all over the Tri-State area for an Access Cab, v6, 6spd, TRD OR, 6 foot box and not finding any. I bought this truck off the car carrier in the dealer lot as it was coming in. Literally hot off the press. V6, 6SPD, Black, SR5, long box, tow package.
When I was in the process of searching and buying the truck, I told myself that I was going to keep this one stock………….. well that didn't even last a week…. so here we go!!!!!
Sorry about the pictures, they are not the best quality. And thats coming from someone who does photography on the side. I have great pics of other rigs on the trail, but not mine.
Within days the first mod was TRD OR wheels. I found them used from a TW member in Penn.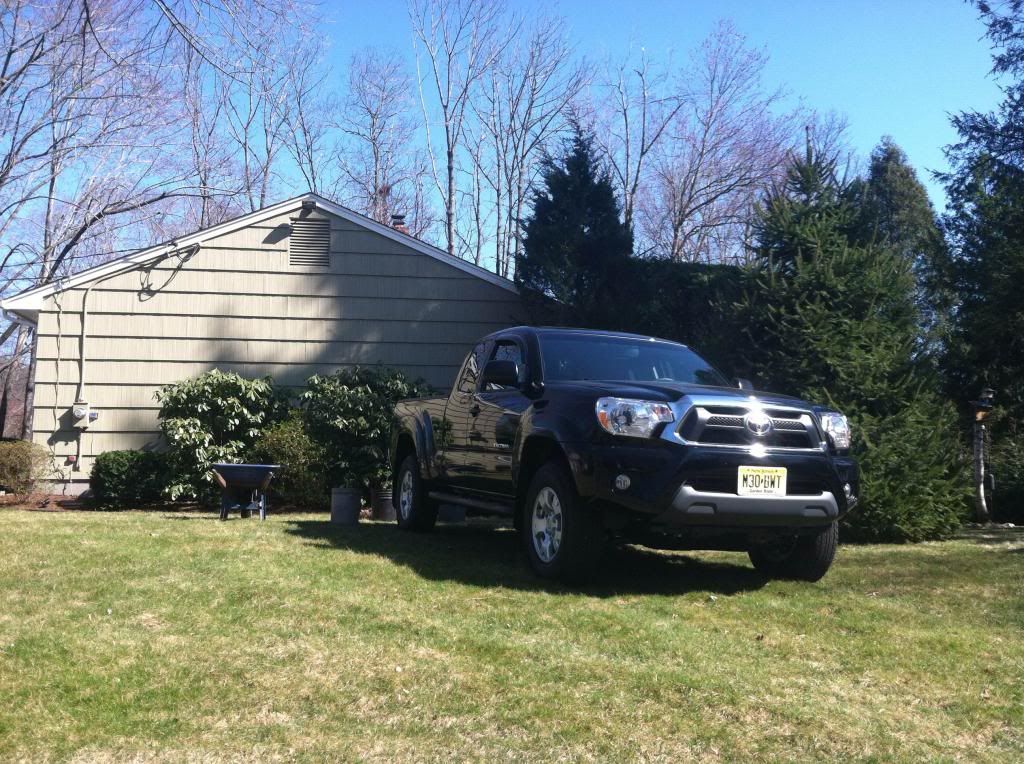 Days later came a Access Roll Up cover, vent visors on the front windows, and sock monkey bedside decals. I have to say the cover is top notch, except for the fact that it developed a small water leak over time. I had to pull the whole cover off and put on new weather seal.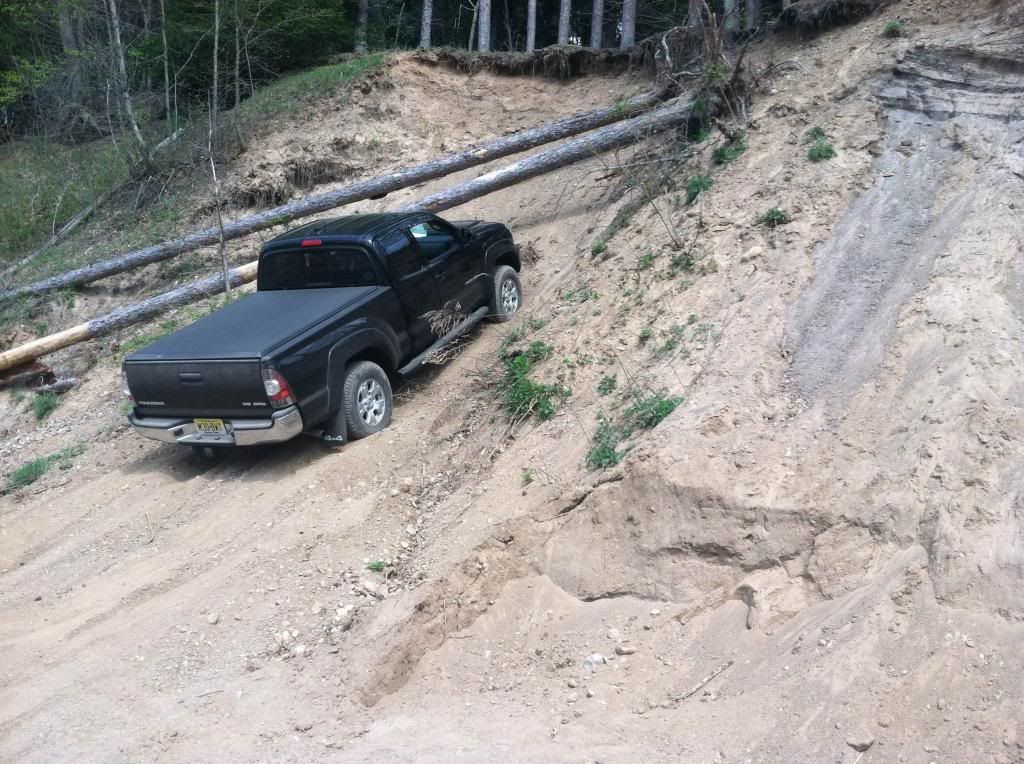 Next up on my list was tires. After searching and searching, hours and hours of reviews I picked Cooper AT3s in the 265/75/16 variety. I was very nervous to get a more beefy tire at this point in my trucks life. This tire won over Duratracs and BFG KOs. The Coopers are a great tire for a truck that sees mostly highway driving and a little snow/dirt. I could def feel the added weight and bulk in the tires. Coming from the stock Grandtrecks they were a nice step up, temporarily….
Around this time I also got tired of the chrome grill and painted it body color. What a great mod and a wise decision. I ordered primer, color, and clear online. After much sanding and several coats of each the results put a smile on my face. The paint is still holding up great after 18 months.
Around this time the stock mud flaps were cut about 6 inches up. In one of the above pictures my rear tire is tucked and the stock flap is about 1 inch from the ground. A small rock would take the mudflap out. The edges were cut and sanded with a Dremel. I still hang them up on rocks when on the trail, i am most likely going to cut them an inch shorter in the future. I personally like them, they do keep snow, salt, sand, rocks, and mud off the truck. Finding a happy median of protection and clearance is hard.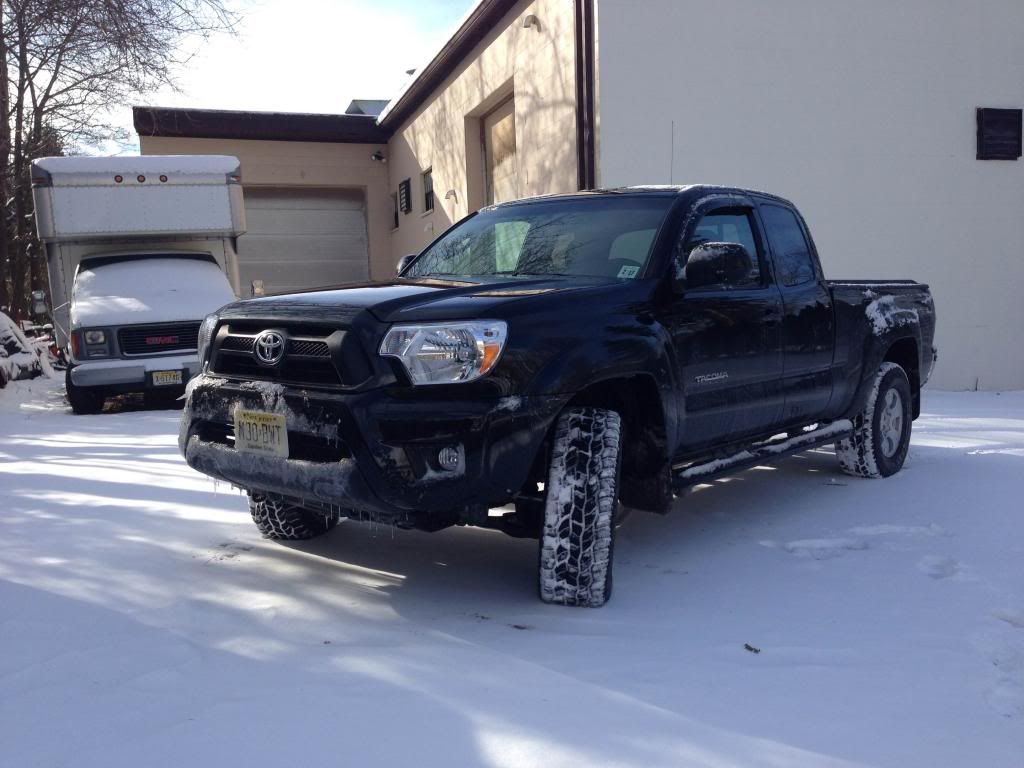 Next up on my list was a rack of some sort. I needed a rack so i can fit more gear when I go on camping trips (coolers of beer), and mount a shovel and hi-lift to. I decided on building my own bed rack from Yakima products i found used online. This took me several months to get everything in. Yakima and Thule prices are out of control. Here is a list of products:
Yakima universal rails 60"
Yakima Rail Rider 1 towers (they do not make these anymore, they are cheap if you can find them)
Yakima Bars 66" cut to length
Yakima Loadwarrier Basket
Basic Yakima cleats that clamp on to the cross bars.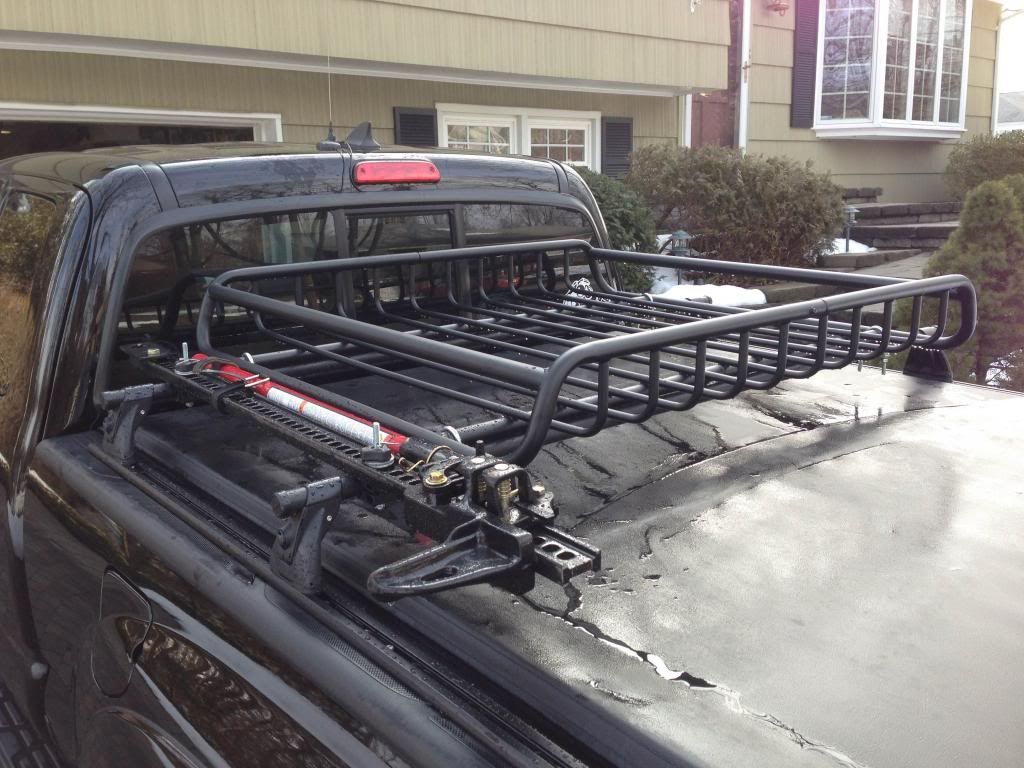 The nice part about this rack system is that it can be removed off my truck in minutes, and can carry an array of items. I did not want to cover up any part of my bed, i need the full length to carry large items.
After a trip to Rausch Creek down some of the green trails in the older section my factory tube steps were toast. They were removed one sunday afternoon.
Tires, again. I decided after hours and hours of more research and reading reviews that I needed a tire upgrade. I chose BFG KM2s in the 265/75/16 variety. They tires are great I would highly recommend them to anyone. They make a hell of a deference out on the trail, and really shine once aired down to 18psi, and 12-15psi in the sand.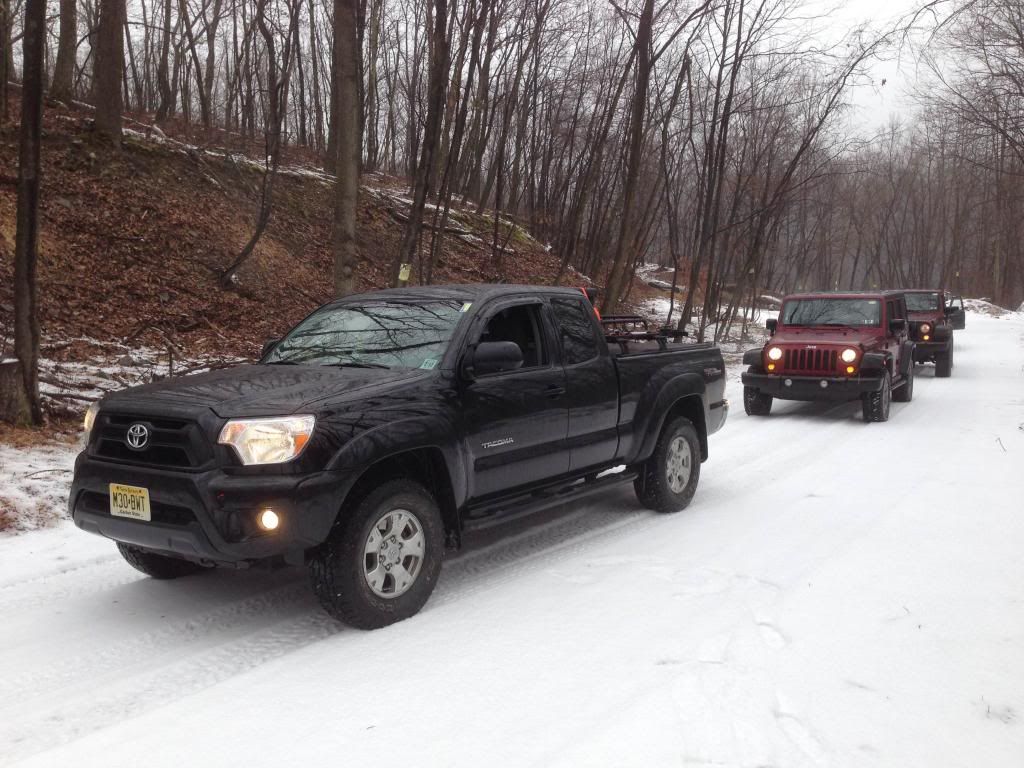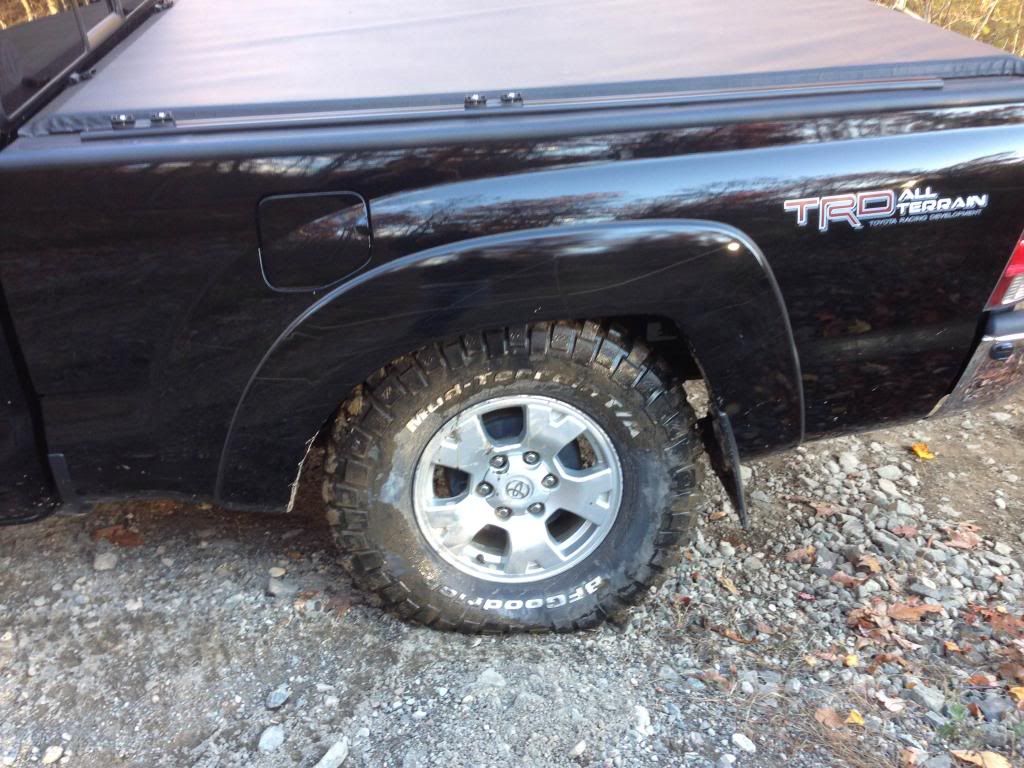 After bending the towing plug back on the trail and almost tearing out the wires, I had to mount it up and out of the way. I basically screwed it to the frame that the bumper holds on to using large metal screws. Nothing fancy. To reach the plug you have to lean under and get your arm way up there. For the amount of times I tow a trailer this works perfect.
I was eying up the BHLM for several months and one weekend afternoon I decided to say screw it, let me take my headlights off and toss them in the oven. I am sure glad I did. The BHLM is awesome on a black truck!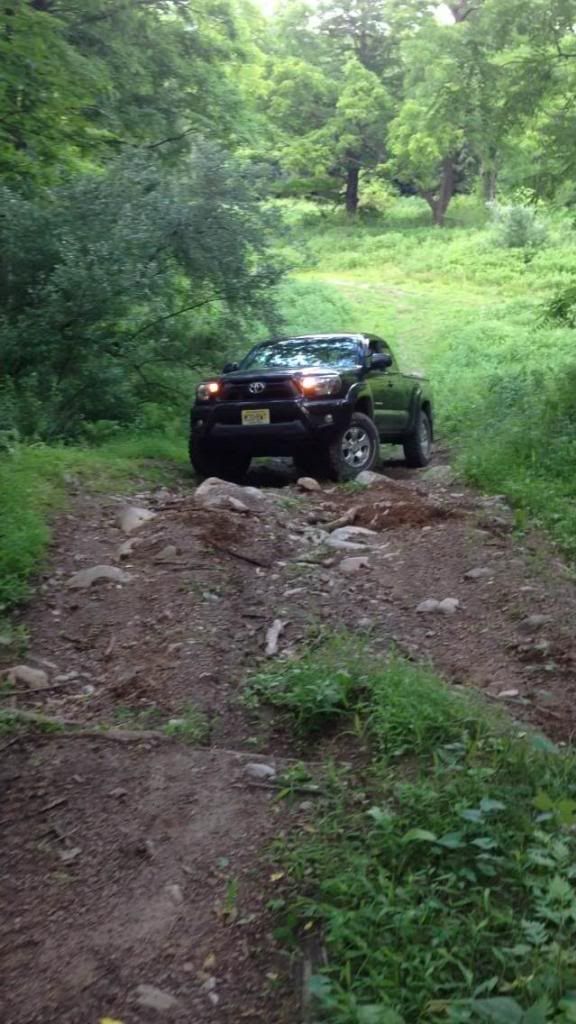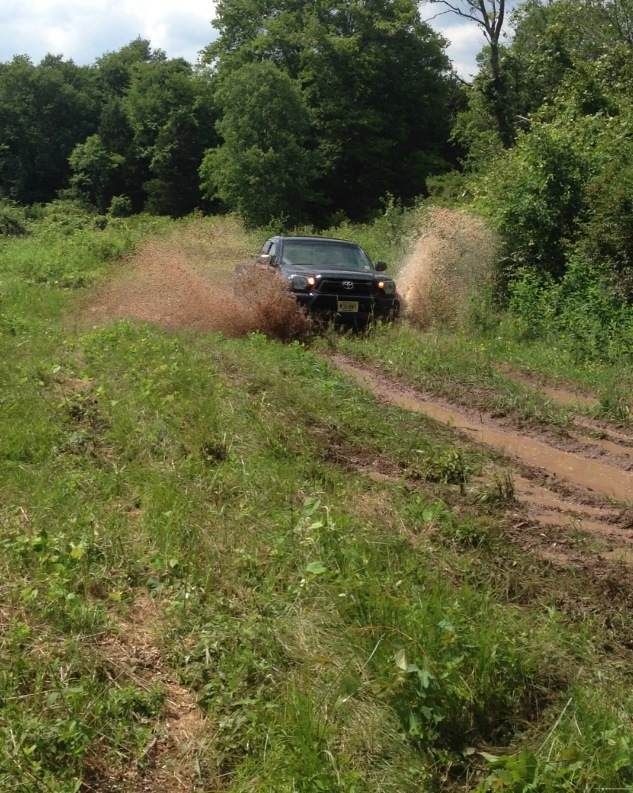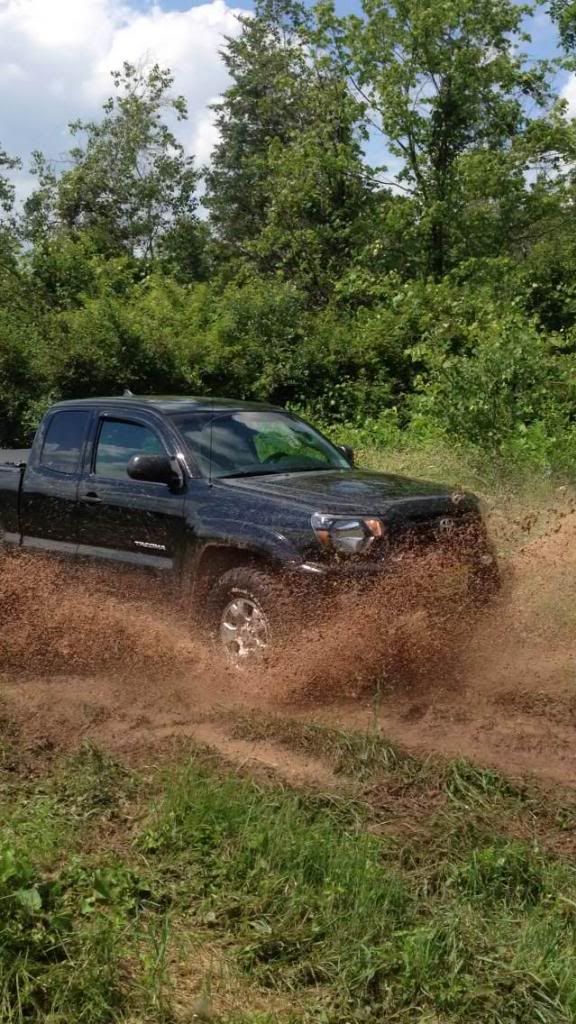 The next mod kind of just came at me. My friend had Thule off road lights sitting in his basement for over 5 years. They never made it on his jeep, so they were given to me. The only thing I had to purchase was the nFab bar. I am not sure if the lights are going to stay on or not. I am having a problem with them moving around and getting out of position.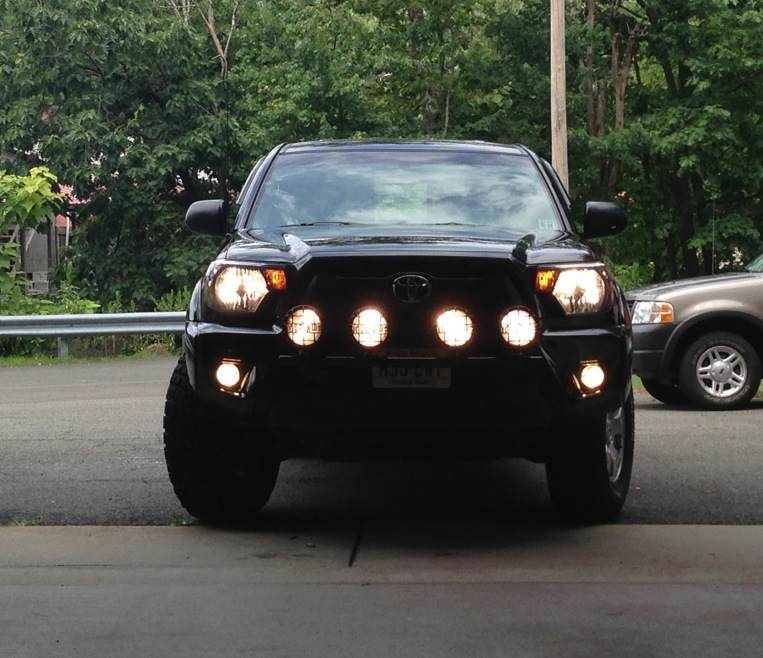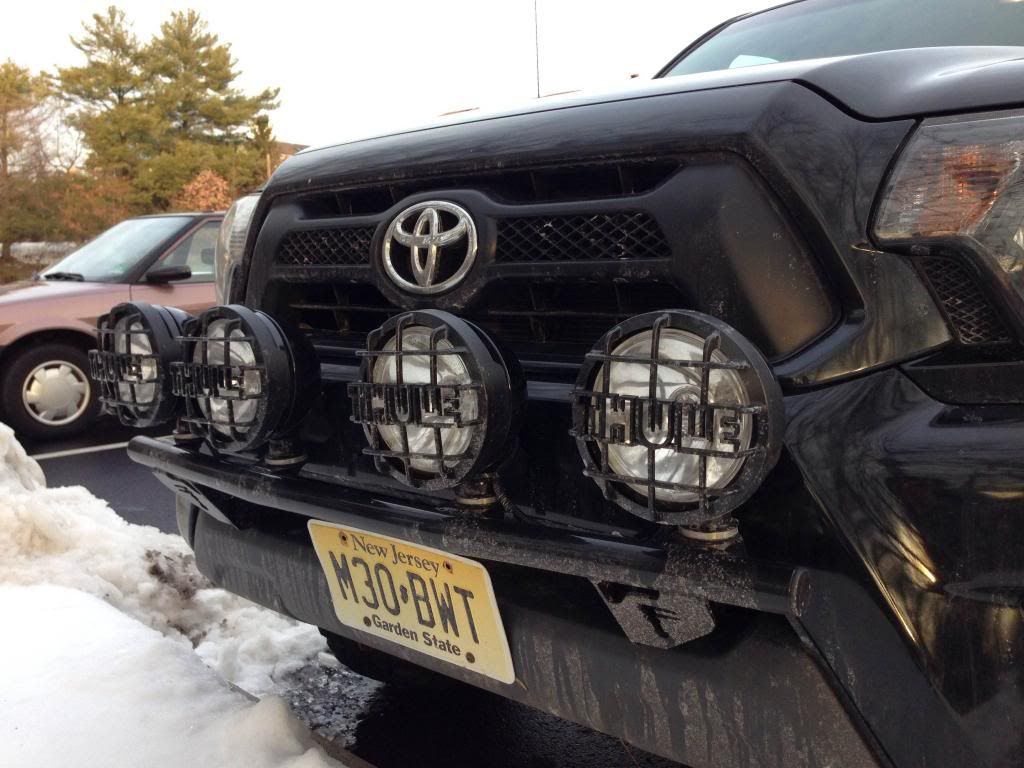 Yakima control towers and cross bars for the roof.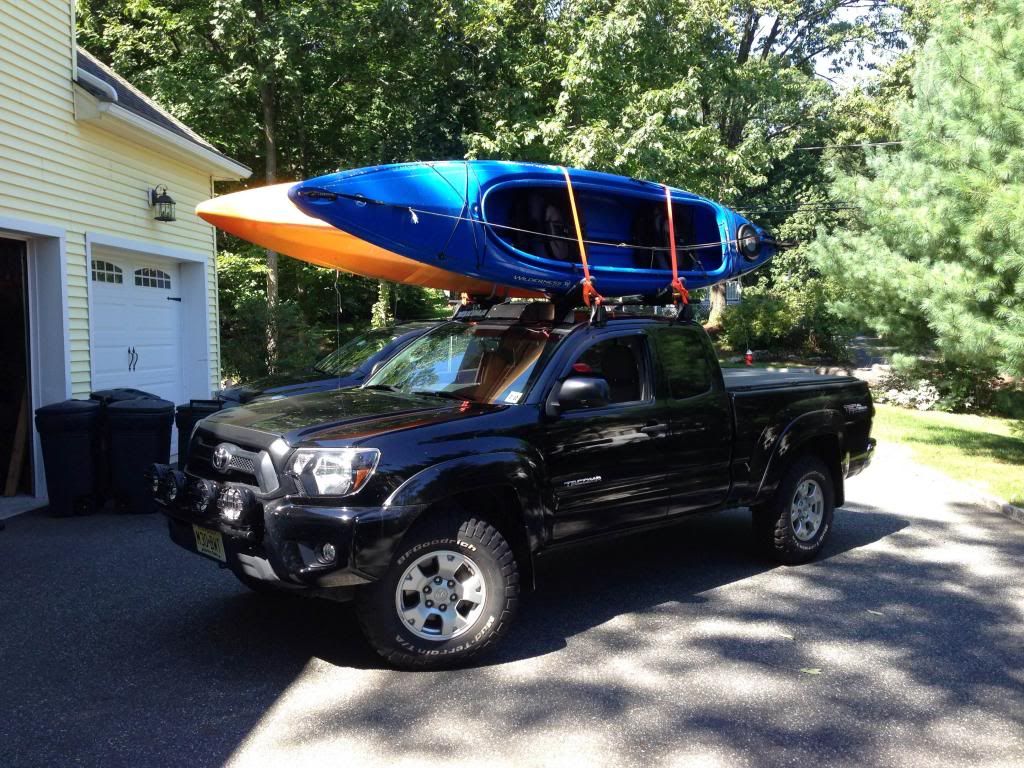 I was able to find a set of BAMF sliders from a TW member that were never used. I have to say these sliders are top notch quality and look very clean on the truck. No steps or sliders makes it very easy to get in and out of the truck, the only downside is the fact that I have to step over the sliders to get in or out. Same issue with my factory tube steps. They truck is not high enough to use them as a step. I am 6'2".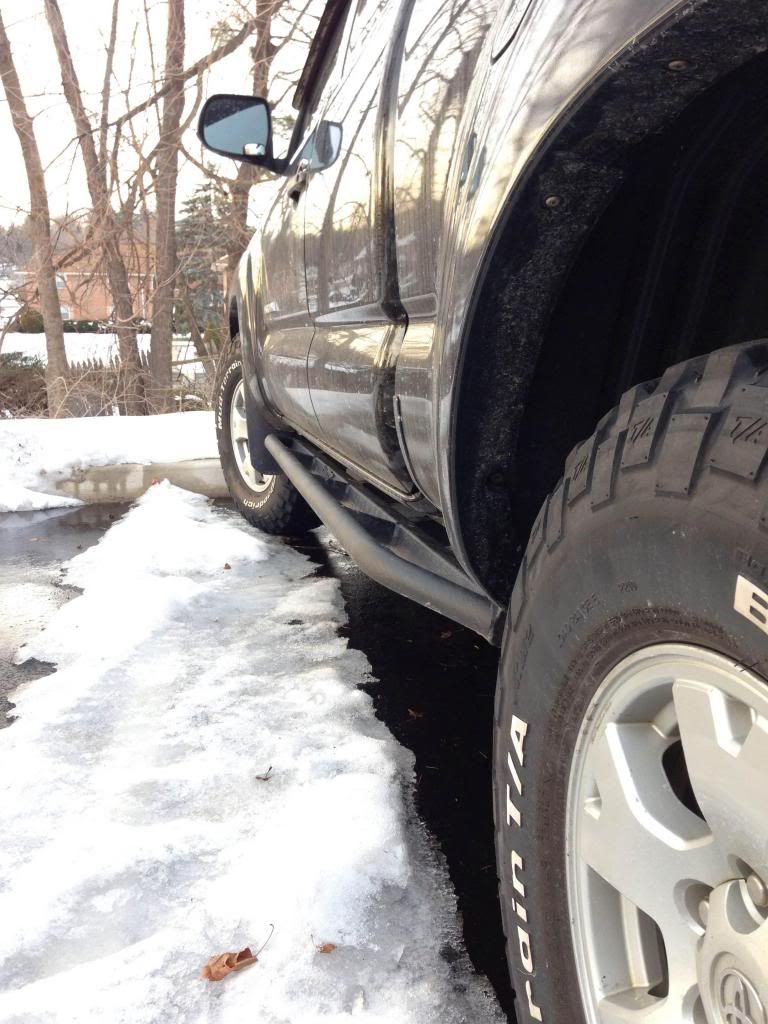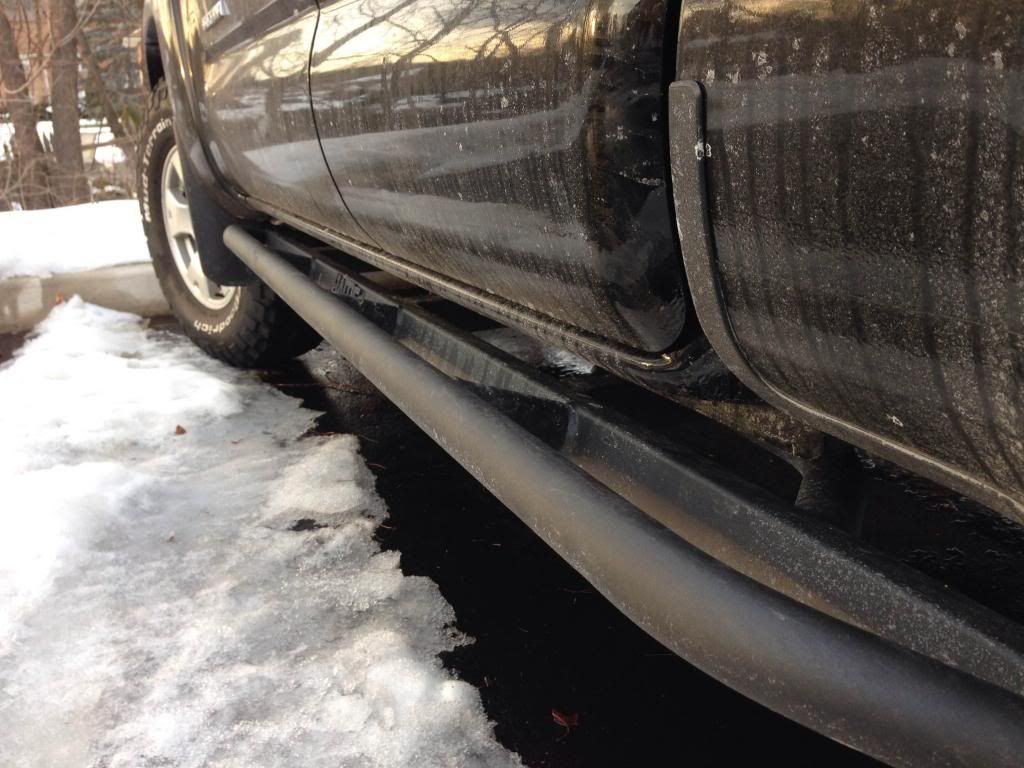 I am slowly adding to this post as I get time, more to come.