Hey guys!
Figured I'd hop on the bandwagon and start up a build thread. When I started this thread I hadn't even had the truck a whole week yet, but I'm still enjoying it. This is my first new vehicle. I've been waiting for this for a while.
The truck is a 2014 Magnetic Grey Metallic DCSB Tacoma 4x4 TRD Off Road w/ Entune Plus.
MODS:
Interior:

OEM Door Sill Protectors
OEM All Weather Floor Mats
TRD Shift Knob
Salex
Center Console Organizer
IMMRYO Review Mirror Relocation Bracket
Gentex Rear View Mirror with Auto Dimming, Homelink, & Compass from
RJP869


Exterior:

OEM Bed Mat
OEM Black TRD Badge (PT413-35120-03)
OEM TRD Pro/SR Edition Smoked Headlights
OEM Color Matched MGM Grill
TRD Pro Grill Insert
TRD Exhaust
TRD Off Road Bead Lock Style Wheels in Black
Black Plasti Dipped Side Emblems, De-badged Tailgate
35% Tint on the Front Windows
Trimmed Front Mud Flaps
Diff Breather Mod
Tailgate Lock
Bed Mounted Bottle Opener
Bullaculla's Trailer Harness Relocation Bracket
Harbor Freight
Receiver Tow Hook
'Krob Edition'
Proven Design
Rear Mudflaps
Relentless Fab
Tailgate Reinforcement Plate

Suspension & Tires:

TRD TX Baja Suspension Kit
Icon
3-Leaf Progressive Add-A-Leaf with Factory Overload Removed
265/75/16 BF Goodrich All-Terrain TA KO2

Lighting:

Optilux Yellow H11 Foglight Bulbs
Lamin-X
Amber Fog Light Covers
ND4's Fog Light Anytime Mod
LED Dome Light and License Plate Lights
Most Recent Photo: 1/16/15


I really wanted a TRD Baja Edition truck, but they were not making them at my time of purchase so my ultimate plan is to just build my own. The way it sits now, it pretty much is one with exception to the color of the wheels.
Here it is just after purchase. Thanks to Vann York Toyota of High Point, NC for the good deal and locating the truck for me!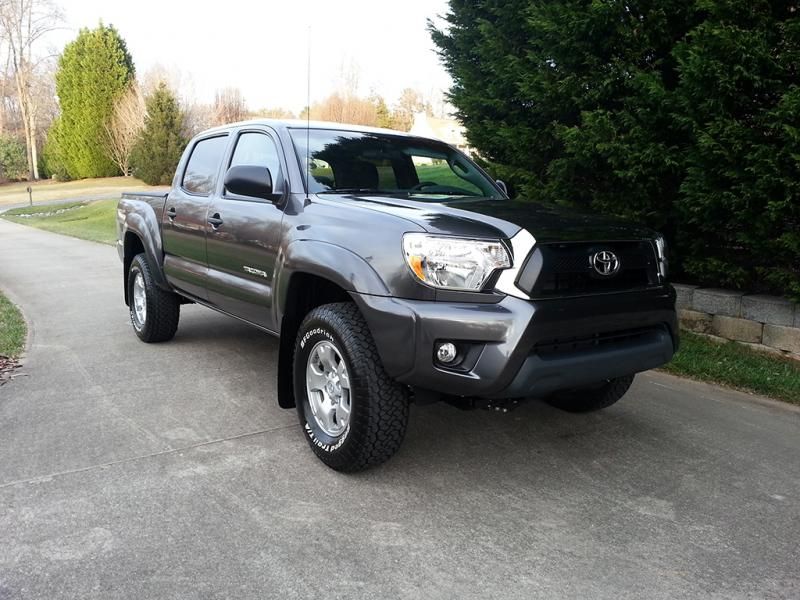 Right away I took care of some minor details - OEM TRD Badge
I also added the OEM door sill protectors. No pic of those though.
Picked up a TRD exhaust locally from a 2013 that was like new. PO said he only had it on the truck for 2 days before he took it off for a stock setup.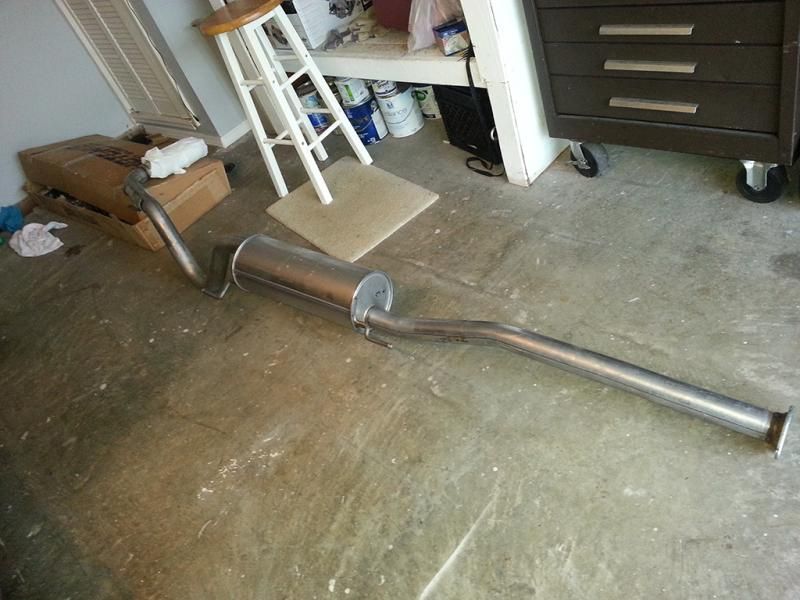 Got it installed today in about 35 minutes.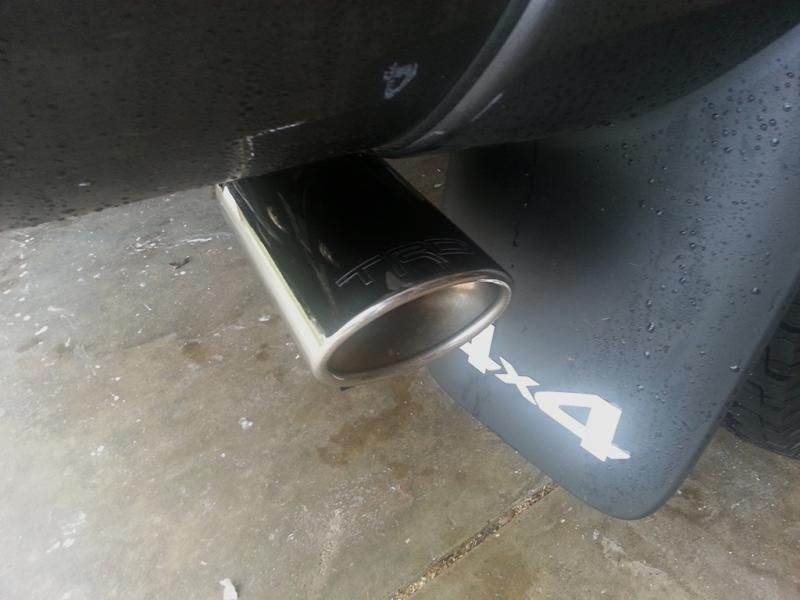 Yellow fogs in as well, now just waiting to figure out what to do with the headlights.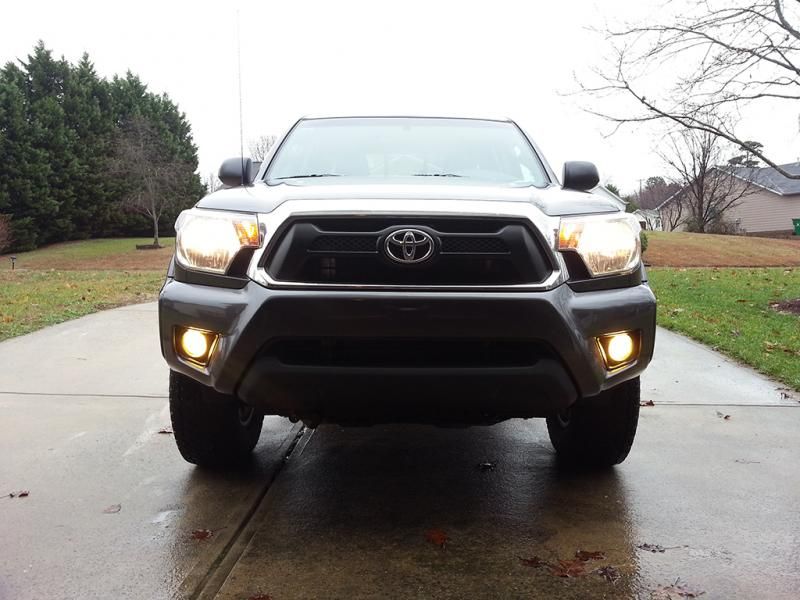 Oh yeah... these came in today too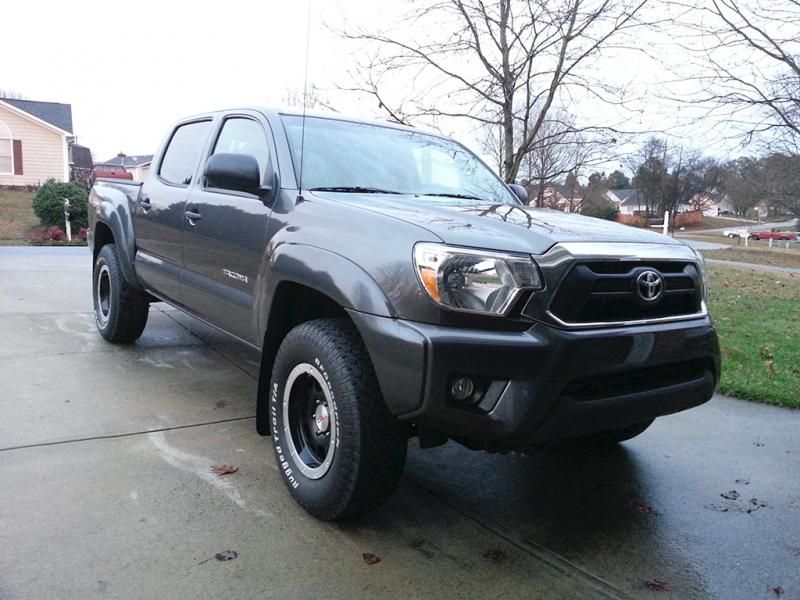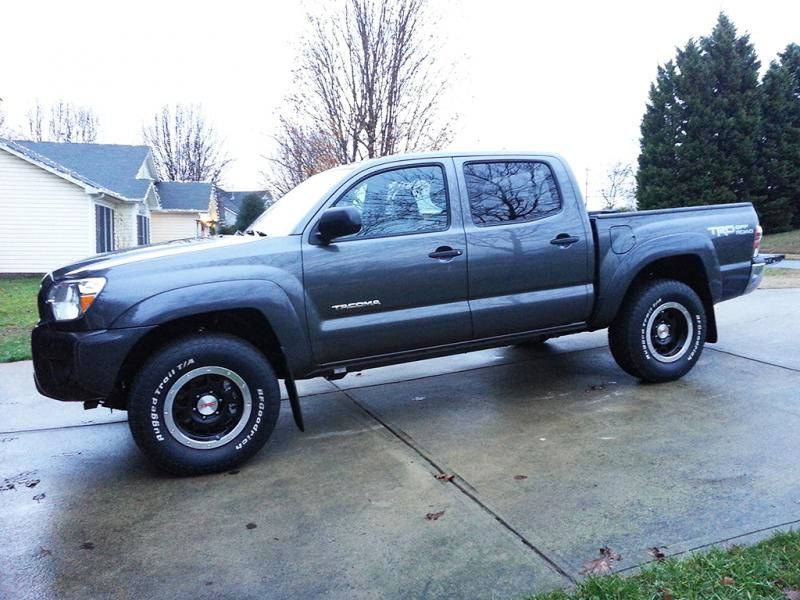 Big thanks to
TRDParts4U
of Dallas for being the only people I found that were able to get me these rims! Everyone else told me I was pretty much sh*t outta luck.
I ran into an issue with only one of the wheels. The torx bolts that attach the rock ring/fake beadlock to the rim itself were a slightly different thread pitch than those for the rest of the wheels. They would only just start screwing in before they would bind and not secure the ring. I called TRDParts4U and they were absolutely helpful in getting a package of the correct hardware to me overnight. I can't thank them enough for the awesome service.
Some newer pics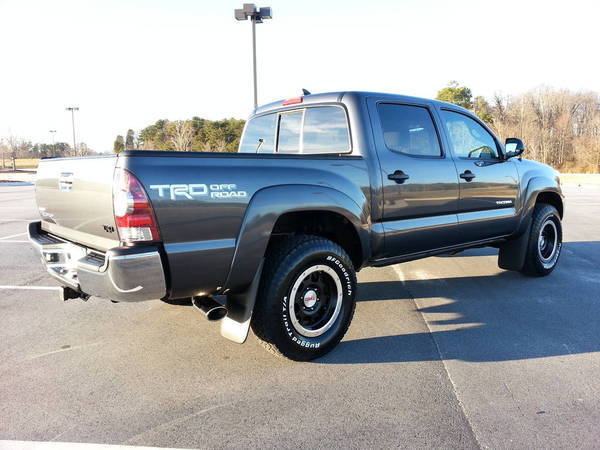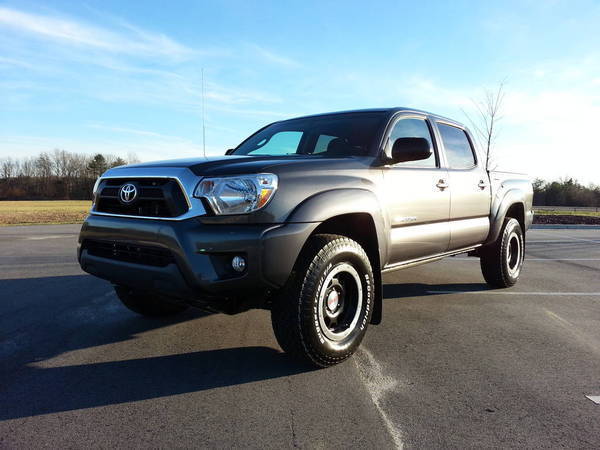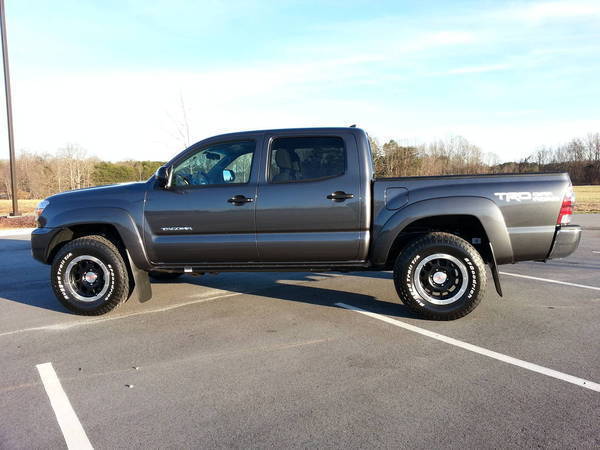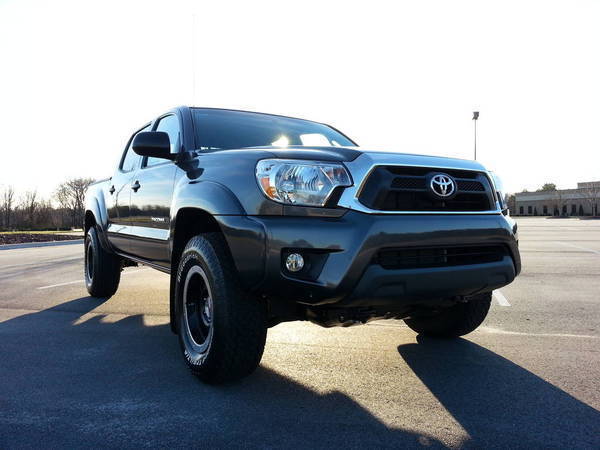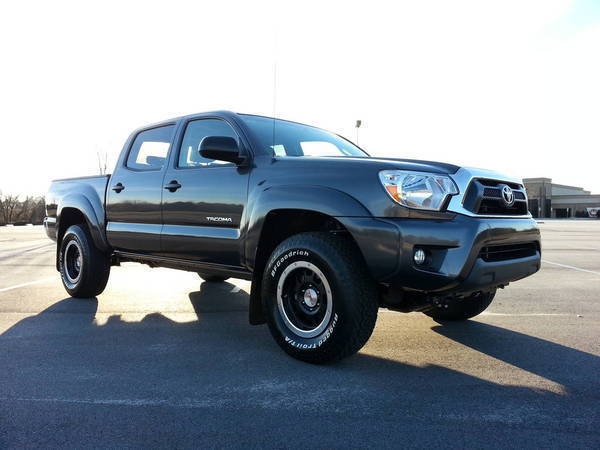 Salex Console Organizer... so nice for my inner OCD self
Front Flaps trimmed down. Took em down by about 6 inches.
Installed
Bullaculla's Trailer Harness relocation bracket
! Since this pic I've painted it black so it blends in underneath.
Had the windows tinted 35%. They messed up the first two times so it had to be re-done.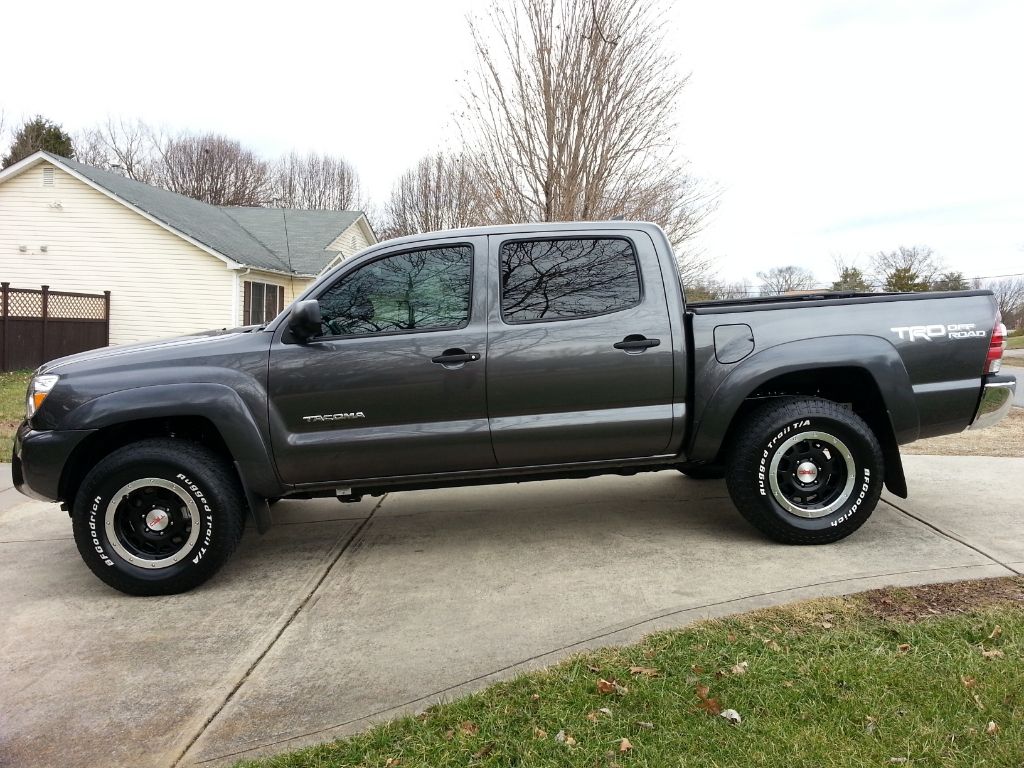 Anyway, I installed a
Harbor Freight
Receiver Tow Hitch... pretty much a big ass hook to cover my ass in case I get rear ended. I've since flipped it around so it hooks upward instead of down as pictured. After attempting a hill climb I treated it like a rock breaker dragging it across some concrete... nothing a can of spray paint can't fix.
Also added
IMMRYO's rear view mirror relocation bracket
. It installed in about 2 minutes. Great product! A few days later my Gentex Mirror arrived from RJP869 so I took care of that too. Completely plug & play, hassle free installation.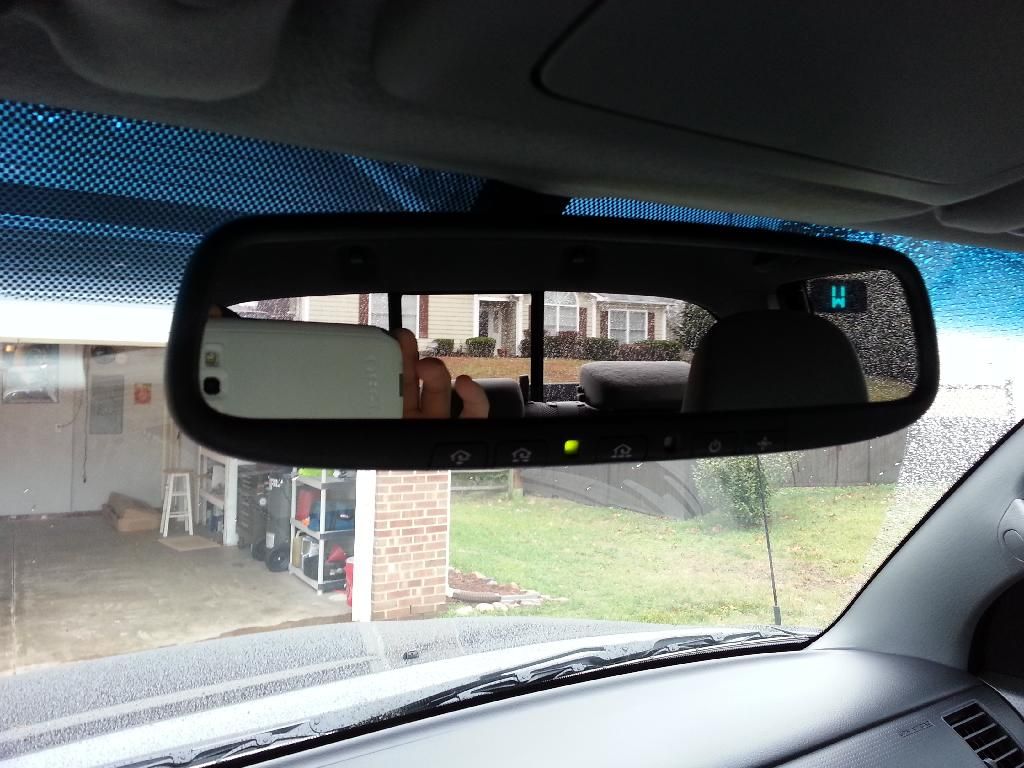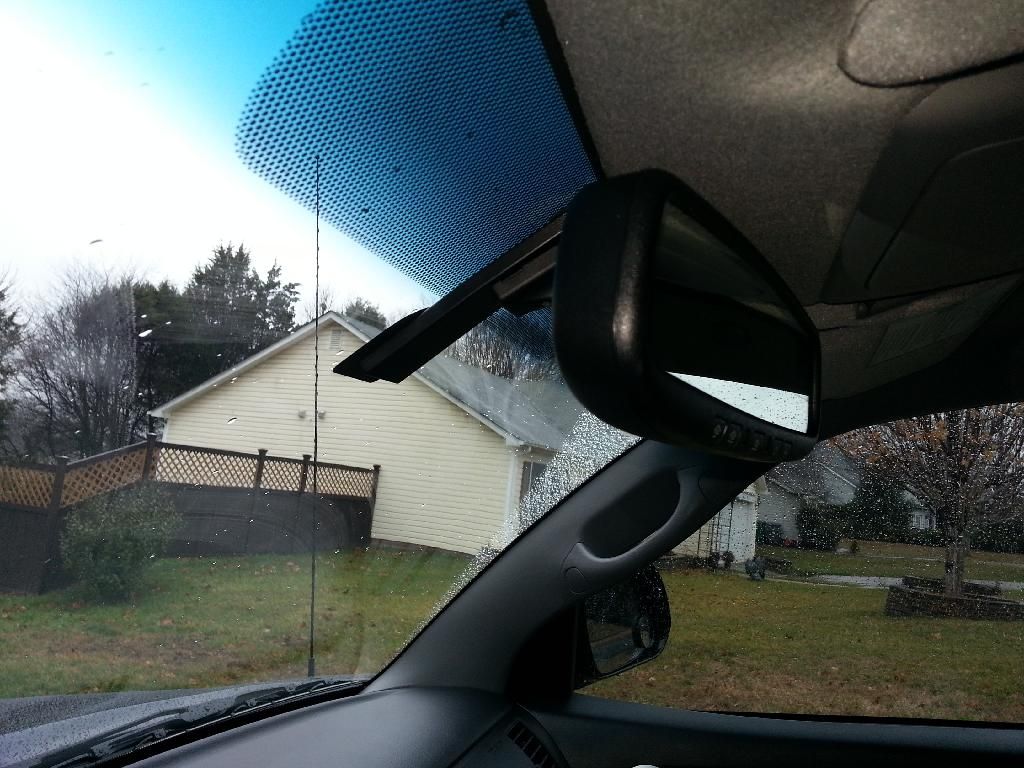 Not long after the mirror, I braved the cold to take care of
ND4's Fog Light Anytime Mod
. I liked the idea of no cutting, bending, or splicing.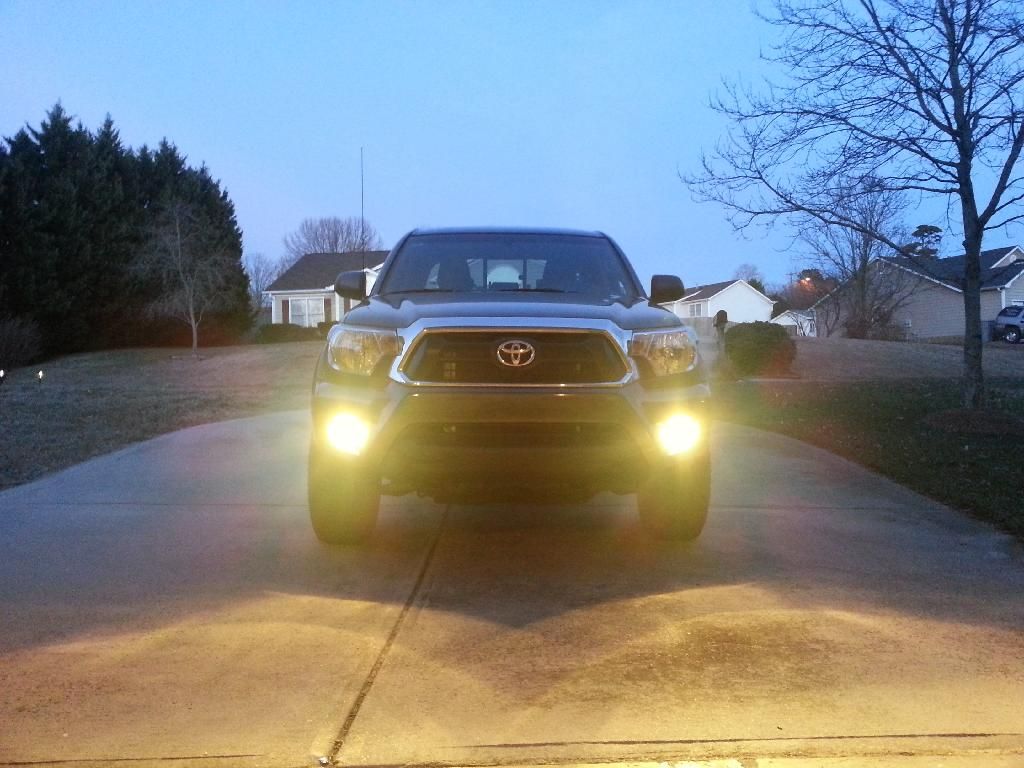 Now I've added Lamin-X Amber fog light covers. I had to order them twice since I messed up putting them on the first time, but the second time around they went on real smooth. I really like how these set off the front of the truck.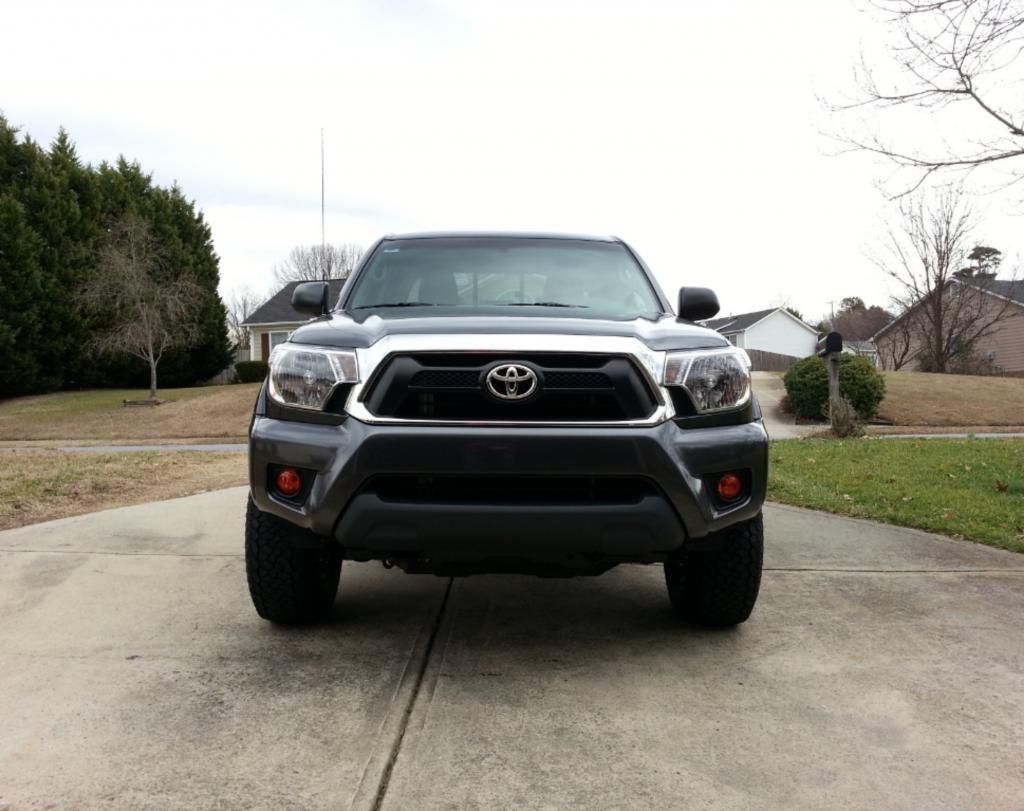 Took some more time to install my Christmas present from the girlfriend. This should get plenty of use. Painted Satin Black so it's not soo obvious. I used double side tape on the back side of it and then riveted it in place. I don't think it's going anywhere.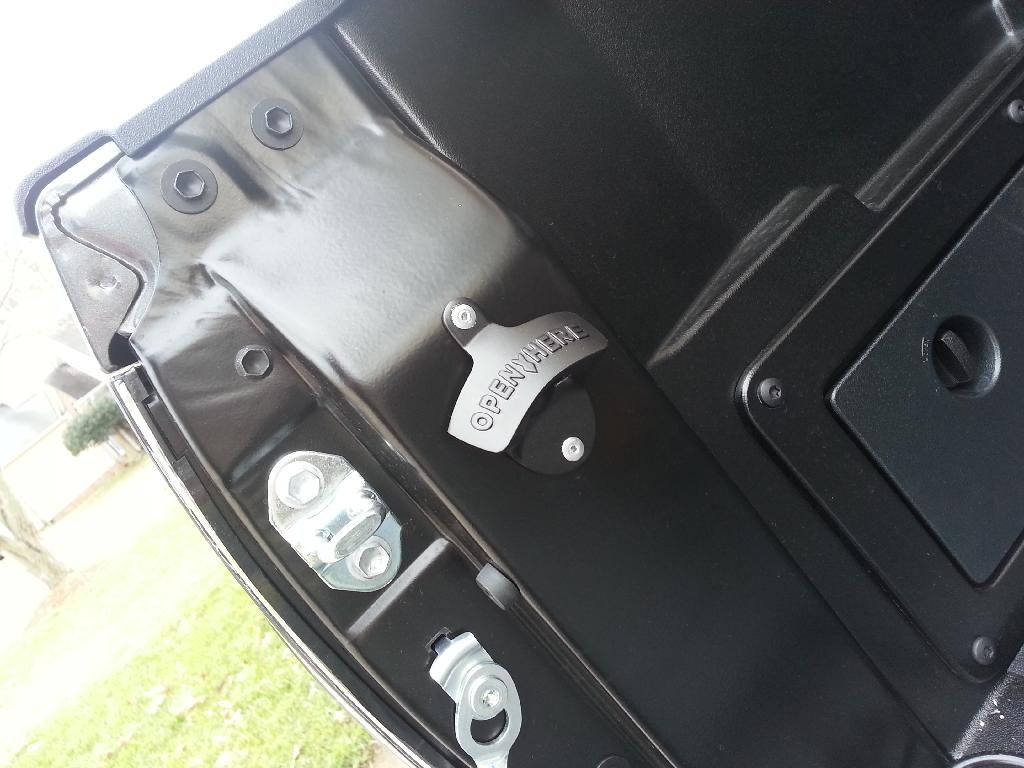 Also I got around to doing the Diff Breather Mod. I chose to route mine to the bed storage bin.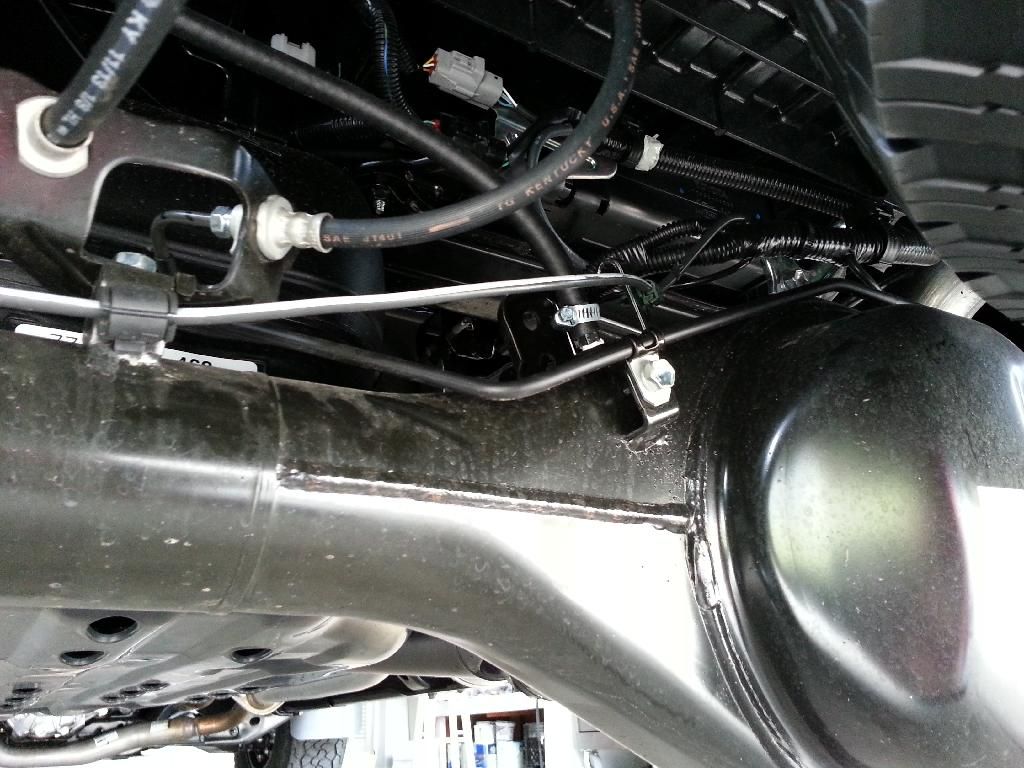 This part is zip-tied for now, but I plan on getting a new clamp that I can screw into that bracket and mount this better and more professionally.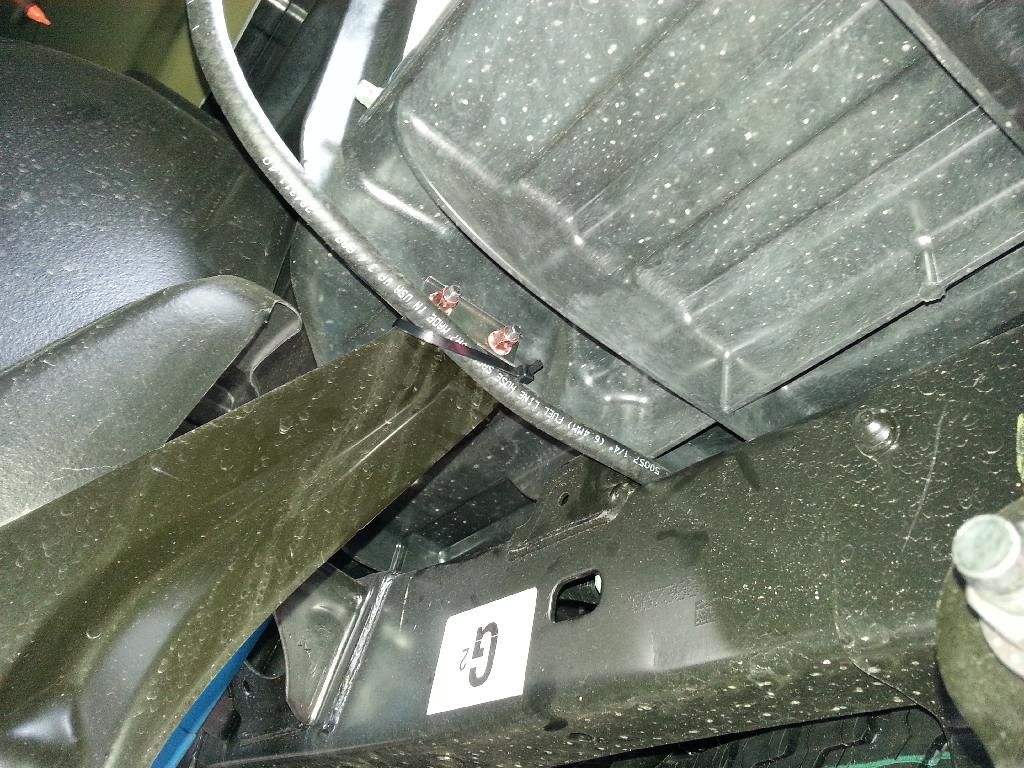 ------
Finally, got my hands on a Baja Kit. I felt like a little kid when this showed up.
Freshly installed!!
Cleaned up the truck some after the suspension install and took some pics.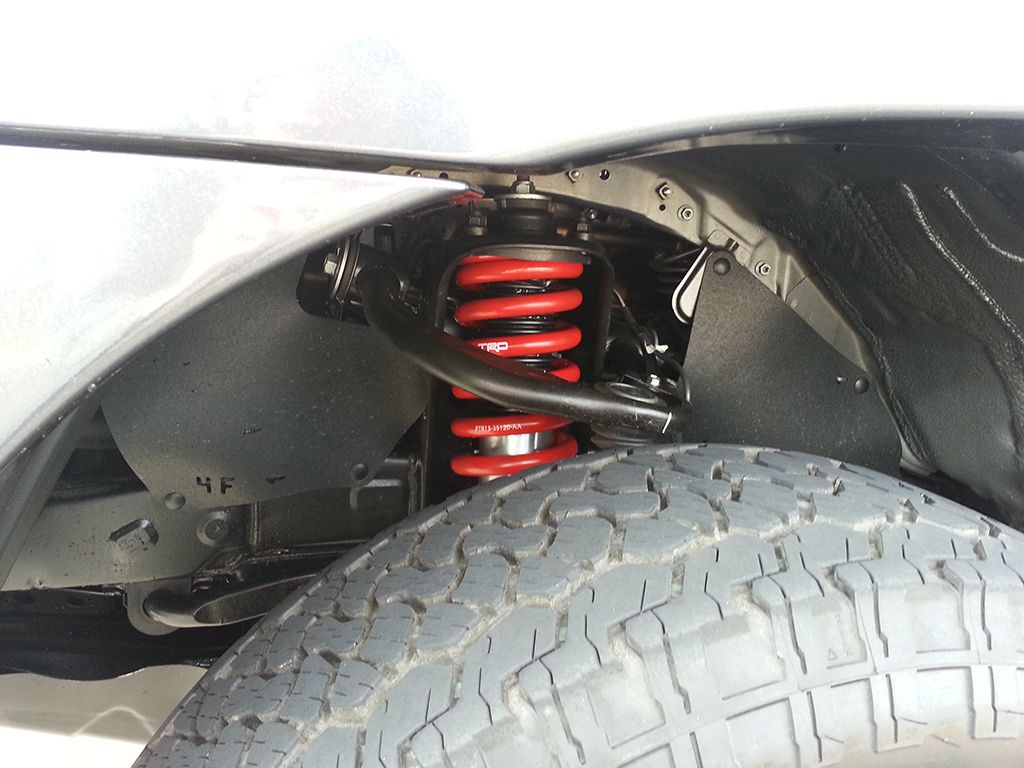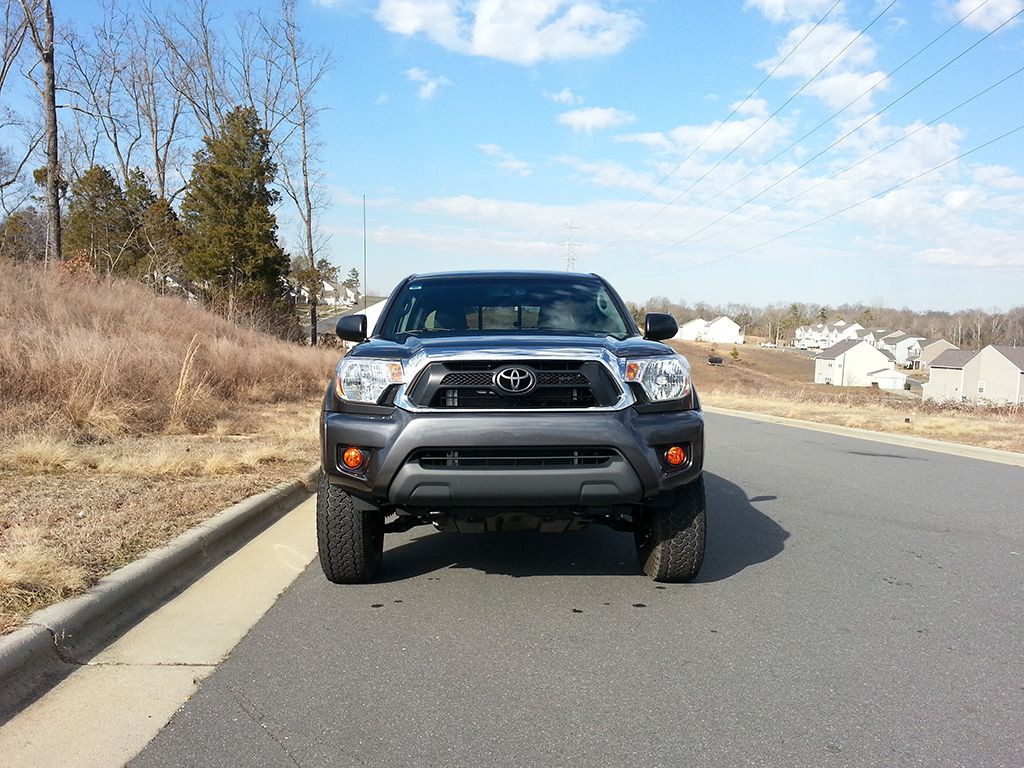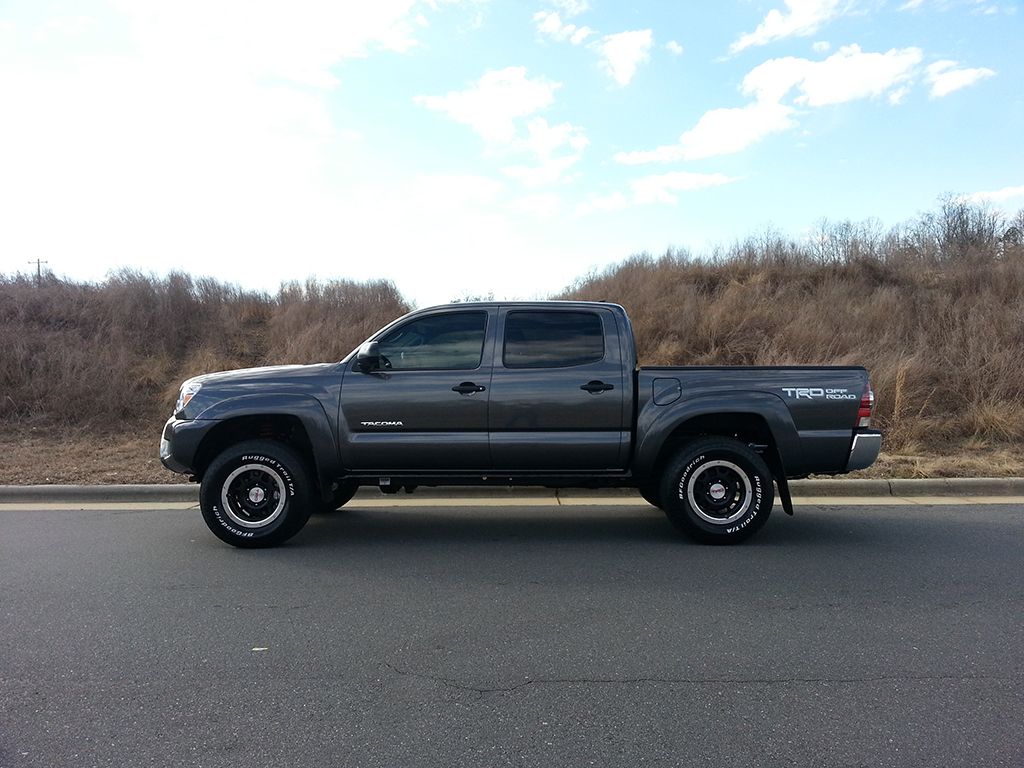 I picked up a set of the OEM smoked headlights that are available on the SR and TRD Pro edition trucks. I did this over the BHLM because I didn't want to break the factory seal on the headlights. I also didn't have the time or desire to go through the whole process of doing it. OEM options work just fine for me.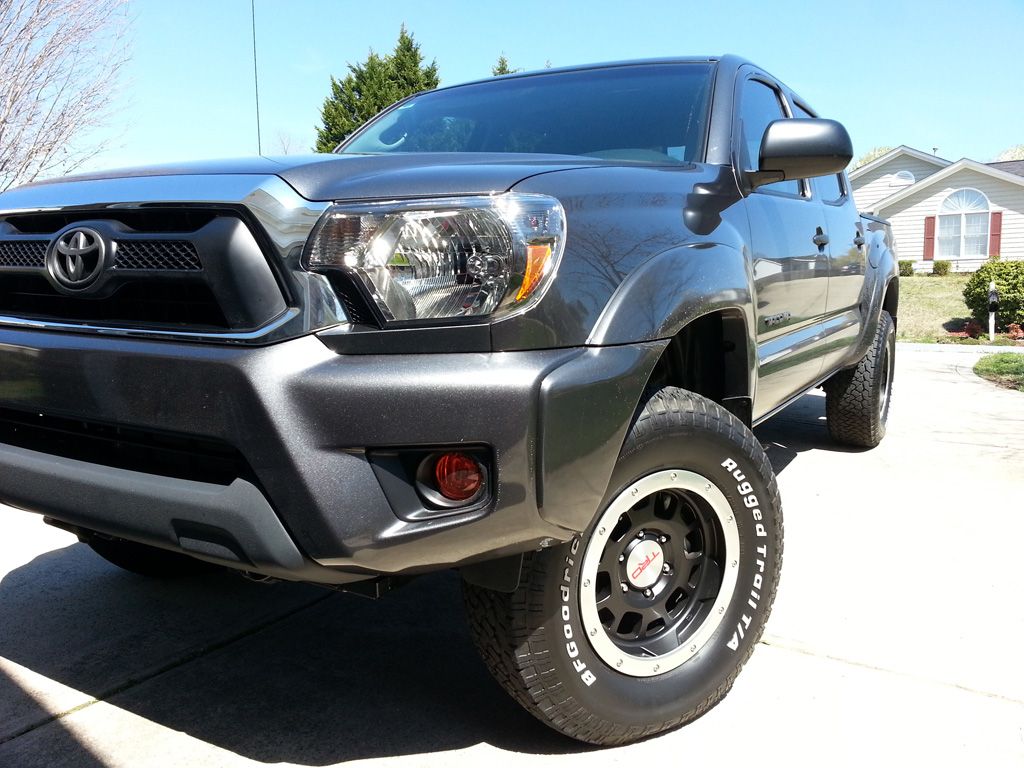 My truck came from the factory with the 4 leaf pack in the rear (3 +1), so when I installed my Icon AAL I had to grind away one of the clamps on each spring pack to allow the AAL to fit properly. I got a head start a couple weeks ago by taking the Icon AAL kit apart and wire brushing away all the rust that was between the leafs since Icon, or their supplier, coats the leaf pack assembled. Then, after applying some fresh coats of paint, I let it cure and added a thin coating of red marine grease between each leaf where they touch.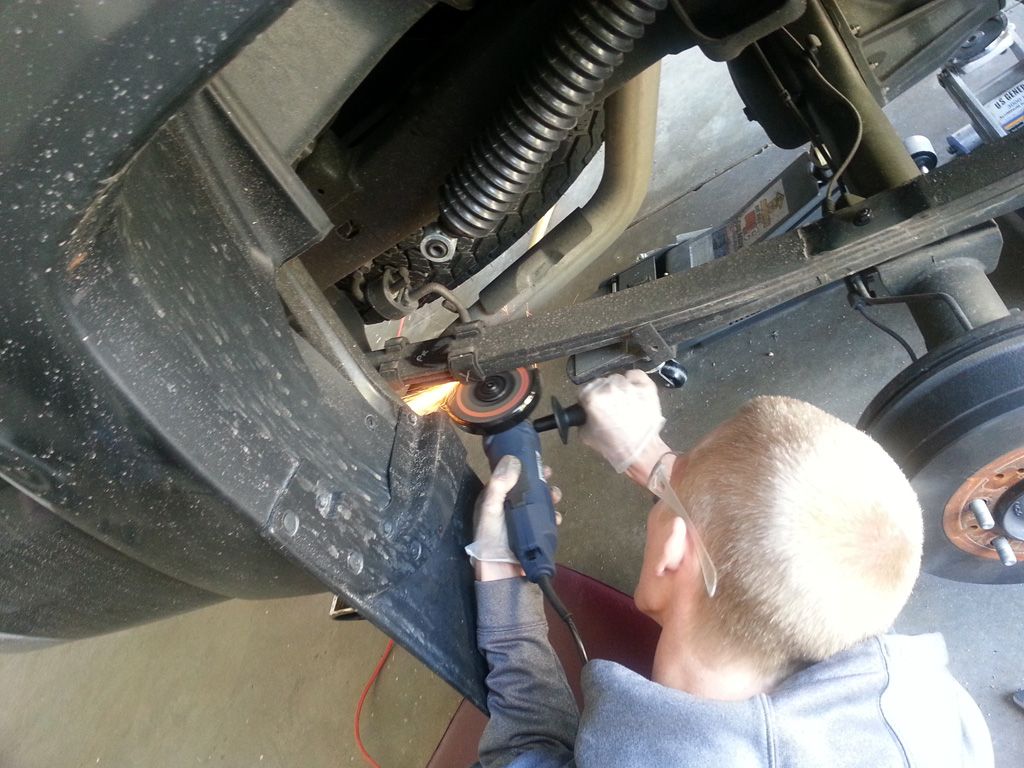 Installation was pretty straight forward and with the help of a friend took about 3 hours. Grinding off the factory pack clamp wasn't that bad with the help of an angle grinder and cutting wheel. We managed to get it done without even removing the leaf packs from the truck. I had to enlarge the holes for the e-brake cable bracket, which I had heard I may have to do. I reinstalled my factory U-bolts and nuts, the Icon U-bolt package that was included had one nut that was the wrong size. After contacting Icon they were very helpful and have a replacement on the way. Overall lift in the rear seems to be just over an inch. Right now I have a full tank of gas so I'll measure again once it's empty. Before the install the rear wheel gap averaged about half an inch lower than the front. Now it's a little over an inch higher.
As far as future mods, we'll see. Maybe some armor down the road.
I'll try to keep updating this with some pics as I make progress. Thanks for looking!!