Hey guys. Figured I'd start a build thread on here to hopefully give some ideas to others. I am in college, so this will be a slower build since my budget is limited. After my dad bought a Tundra over the summer, I inherited the Taco.
2005 black sand pearl access cab. 4.0 V6, 6 speed manual, 103k miles still going strong. TRD Sport/SR5 packages.
I'll get more pics up soon! For now just a couple.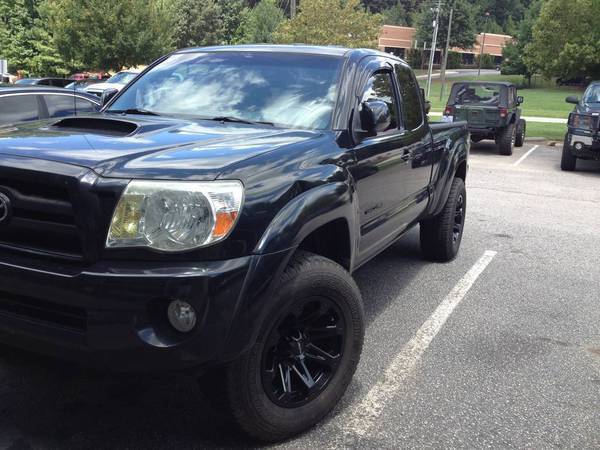 When the truck was clean/dipping the emblem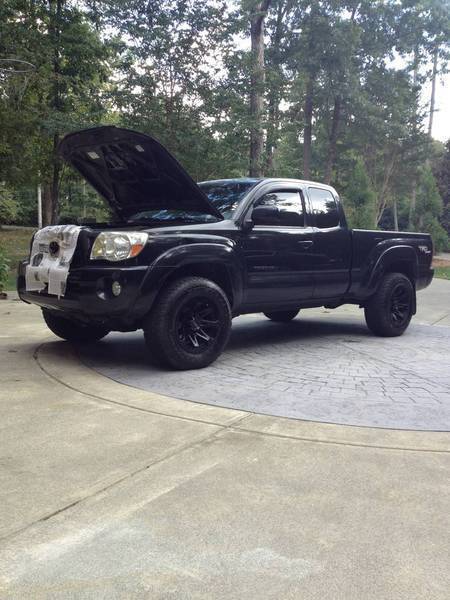 List of mods:
Wheels/Tires
17x9 Ballistic Jesters (inserts/bolts left off)
Yokohama Geolander AT-S
Interior
Pioneer 2500bt
Back-up camera
Exterior
Tinted Windows - 35% up front, 5% in the back
Plasti-dipped badges/emblems
Mudflaps removed
Dents/scratches to show some character
Engine
Flowmaster 50 muffler
Planned Mods
3" lift (still deciding, probablt 5100s/AAL)
Avid Offroad
sliders
Avid Offroad light bar
Full skid plate set
BHLM
DIY Flagpole Holder in the bed
285/70/R17 KM2s or Trail Grapplers
OEM roof rack
40" Light bar
3 flood lights on light bar
Grillcraft Grill
HID headlights/fogs
Wet Okole seat covers
Weathertech
liners
Maybe tinted tail lights
Will post more pics soon!