I bought my first brand spanking new vehicle from Lander's Toyota in Little Rock, Arkansas on January 25. I picked it up from the dealer on the 27th with 72 miles on the odo.
*2014 Tacoma 4x4 Sport DCLB*
BACKSTORY:
My first vehicle was a 1988 blue Toyota truck with custom graphics that my dad purchased new off the lot. I drove that in high school until my parents decided I needed something safer. For my 18th birthday, they gave me a 1996 green pathfinder. It was a good vehicle, but it never felt like mine. My mom got a new Subaru Forester, so I switched over to her two door Honda Accord. It got great gas mileage, but was tiny inside. I did a lot of Rock Climbing, so I put a rack and basket on it. I'm my own enabler. I convinced myself I had to have the extra space. My first Mod on any vehicle! A few months later, I was driving back home from a solid game of disc golf with my uncle and two dogs in the back seat when an older couple pulled out in front of me and "totaled" the car. I used that money and bought a 2005 Subaru Forester XT. This was my baby. I put a lot of time into it, mainly a 2" lift. Not something you see everyday. The Forester is now up for grabs because I finally got my dream vehicle (Note: dream vehicle with a plebeian-like budget). A new 2014 DCLB 4x4 Tacoma. I even got to pick the color.
So here I am starting a build thread. I'm doing this because I want to hold myself accountable to a)taking care of my vehicle b)keeping up with modifications c)hopefully contributing back to my fellow members of tacomaworld through lessons learned and what little bit of knowledge I come across.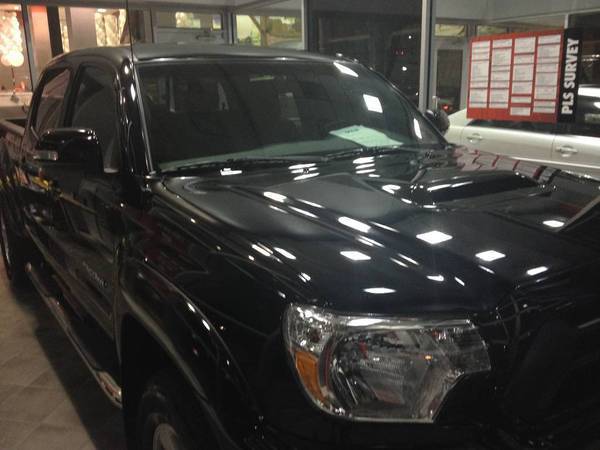 Jan. 27, 2014: Picking her up from the dealer!
Jan. 27, 2014: So clean
Jan. 27, 2014: Had to pull over on the way home to admire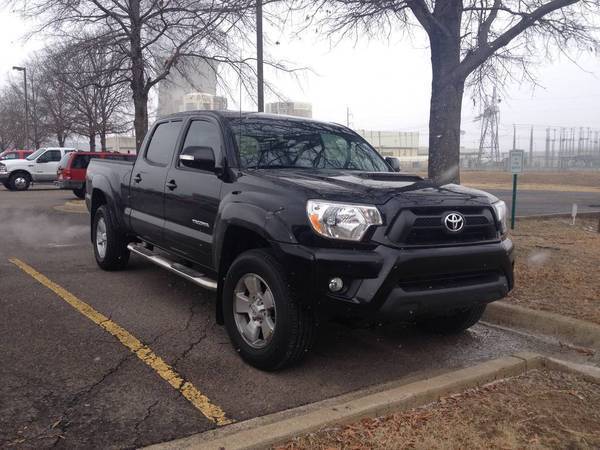 VEHICLE SPECS:
-2014 Black Tacoma
-4.0L V6 Automatic
-TRD Sport
-Long Bed/Double Cab
Goal is to build a vehicle that is a reliable DD and can adapt to my ever-changing needs
SUSPENSION:
CURRENT
-Stock sport suspension
FUTURE
-I've been researching hardcore on long travel kits. Heavily debating the
allpro
kit. This vehicle is my dd and I don't want to compromise too much on reliability. I'll definitely be doing at least three inches. I just need to keep collecting information...and monies.
WHEELS/TIRES:
CURRENT
-17" Stock sport wheels
FUTURE
-Might derp my current ones black.
-17" wheels like Black Rhino Sidewinders
-285/70/17 BF Goodrich All-Terrains
ARMOR:
Current
-none
FUTURE
-Relentless Fabrications Aluminum Front Bumper with Prerunner Bar and supports
-Relentless Fabrications Rear High Clearance Bumper with Tire Gate, Hidden hitch, backup light cutouts
TRUCK BED:
CURRENT
-Ratchet Strapped and padlocked plastic trunk haha
FUTURE
-Debating a softopper for now
-wanting to build a rack system with a waterproof cover
-LED truckbed lighting kit, waiting to see if BeeRad will get these going or not
EXTERIOR COSMETICS:
CURRENT
-none
FUTURE
-purchased some "raw" raptor styled lettering from BAMF, I was going to put them on the tail gate until I decided to undergo a raptor grill mod, but the tail gate is curved and they won't fit. I may stencil them and derp them on the tailgate
-blackout badges/remove
EXTERIOR LIGHTING:
CURRENT
-none
FUTURE
-LED bar on the roof, possible 50" curved, we'll see
-Auxiliary LED back up lighting
-LED rock lighting
-Retrofits
INTERIOR COSMETICS:
CURRENT
-Ultragauge, mounted above rearview mirror (2/3/14, groupbuy)
-WeatherTech Digital Fit Black front/rear (2/2and3/14, groupbuy)
FUTURE
-RGB floor lighting
-Sound system
-Black out some of the light grey around clusters, etc.
-Seat Covers
-Maybe build a dog bed or something more pet friendly than my seats folded down.
-Automatic sliding rear glass
-Viper Smart Start system