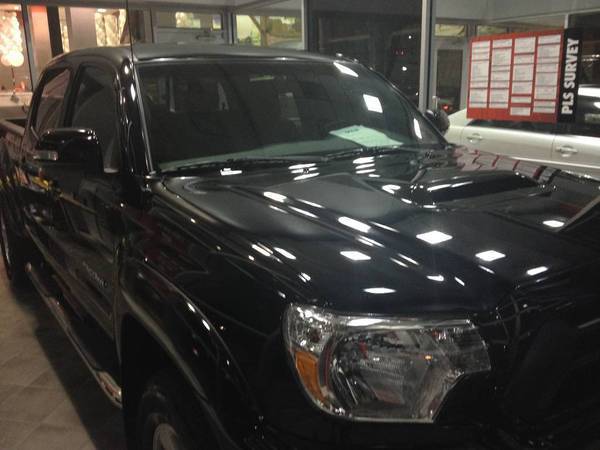 Jan. 27, 2014: Picking her up from the dealer!
Jan. 27, 2014: So clean
Jan. 27, 2014: Had to pull over on the way home to admire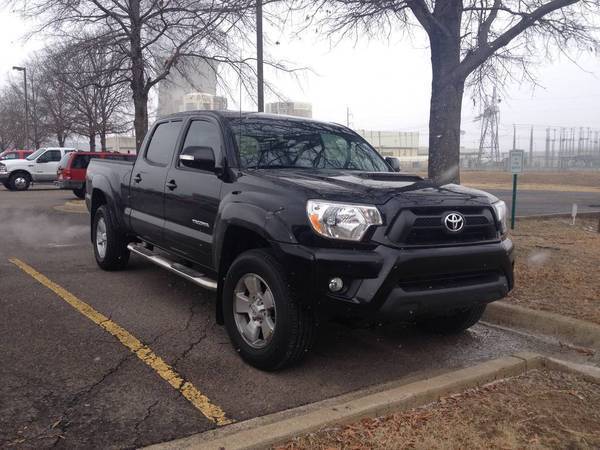 VEHICLE SPECS:
-2014 Black Tacoma
-4.0L V6 Automatic
-TRD Sport
-Long Bed/Double Cab
Goal is to build a vehicle that is a reliable DD and can adapt to my ever-changing needs
SUSPENSION:
CURRENT
-Stock sport suspension
FUTURE
-I've been researching hardcore on long travel kits. Heavily debating the
allpro
kit. This vehicle is my dd and I don't want to compromise too much on reliability. I'll definitely be doing at least three inches. I just need to keep collecting information...and monies.
WHEELS/TIRES:
CURRENT
-17" Stock sport wheels
FUTURE
-Might derp my current ones black.
-17" wheels like Black Rhino Sidewinders
-285/70/17 BF Goodrich All-Terrains
ARMOR:
Current
-none
FUTURE
-Relentless Fabrications Aluminum Front Bumper with Prerunner Bar and supports
-Relentless Fabrications Rear High Clearance Bumper with Tire Gate, Hidden hitch, backup light cutouts
TRUCK BED:
CURRENT
-Ratchet Strapped and padlocked plastic trunk haha
FUTURE
-Debating a softopper for now
-wanting to build a rack system with a waterproof cover
-LED truckbed lighting kit, waiting to see if BeeRad will get these going or not
EXTERIOR COSMETICS:
CURRENT
-none
FUTURE
-purchased some "raw" raptor styled lettering from BAMF, I was going to put them on the tail gate until I decided to undergo a raptor grill mod, but the tail gate is curved and they won't fit. I may stencil them and derp them on the tailgate
-blackout badges/remove
EXTERIOR LIGHTING:
CURRENT
-none
FUTURE
-LED bar on the roof, possible 50" curved, we'll see
-Auxiliary LED back up lighting
-LED rock lighting
-Retrofits
INTERIOR COSMETICS:
CURRENT
-Ultragauge, mounted above rearview mirror (2/3/14, groupbuy)
-WeatherTech Digital Fit Black front/rear (2/2and3/14, groupbuy)
FUTURE
-RGB floor lighting
-Sound system
-Black out some of the light grey around clusters, etc.
-Seat Covers
-Maybe build a dog bed or something more pet friendly than my seats folded down.
-Automatic sliding rear glass
-Viper Smart Start system