ALWAYS CHECK THE LAST PAGE FOR UPDATES!!!
How he sits today:
So after almost 2 years and countless amounts of money spent, my truck (Papa Smurf) is starting to become what I envision it. Granted, there is still so much more stuff I plan of doing to the truck, I am pretty proud of where I have got it so far. Here goes nuffffinnnn
Truck:
2009 Toyota Tacoma Double Cab 4x4 TRD Sport w/ Leer 100R cap
Suspension:
Old Man Emu 886s
All Pro Standard Leaf Pack
Rims and Tires:
285/75/16 Nitto Trail Grapplers
Mickey Thompson Classic Locks
Blue "Beadlocks"
Armor:
ARB Deluxe Edition Bull Bar
Exhaust:
MBRP XP Series T409 SS turn-down exhaust
Communications:
Uniden Pro 520XL
4' Firestik
BAMF tailgate antenna mount
Lighting:
Halogen UltraBrights
4 Hella Black Magic
OTRATTW
switches
Interior:
Wet Okole Seat Covers
Weathertech
Floor Mats
FUTURE MODS:
Sliders
Pelfrey-Built High Clearance Bumper w/ spare tire carrier
35s
Re-gear to 4.56s
Light-bars everywhere
And I'm sure I'll find more shit to empty my wallet with
This is the earliest I could find, at this point I upgraded to some BFG All Terrains and side steps that were on for like 2 weeks.
Next were some Bushwacker Fender Flares and the Roof Rack (And for about 3 days), plasti-dipped rims, and Wet Okole Seat Covers
STICKER BOMBED
The truck stayed like this for a while so I'll add some artsy pics for shits and giggles
SOoOoOo after saving for a while, the real shit could start
Old Man Emu lift with 886 coils,
Allpro
Leaf Pack, Nitto Trail Grapplers 285/75/16, and Mickey Thompson Classic Locks with Blue "Beadlocks", also got some black LED taillights
Then I had plans to line the Bushwackers with some sort of Bedliner or possibly Line-X but thats for the future, aaaaand i kinda liked the way they looked off so the truck was left like this for a while..
How about a little sunset photo shoot
The winter rolled around and now for some snow and Christmas Spirit
So as some of you may guessed, I installed the 886s instead of the 885s for a reason. A bumper was on the way!! I chose to get the ARB deluxe edition. I also put on 4 hella black magic with some OTRATTW switches, after
4wp
accidentally sent me an extra set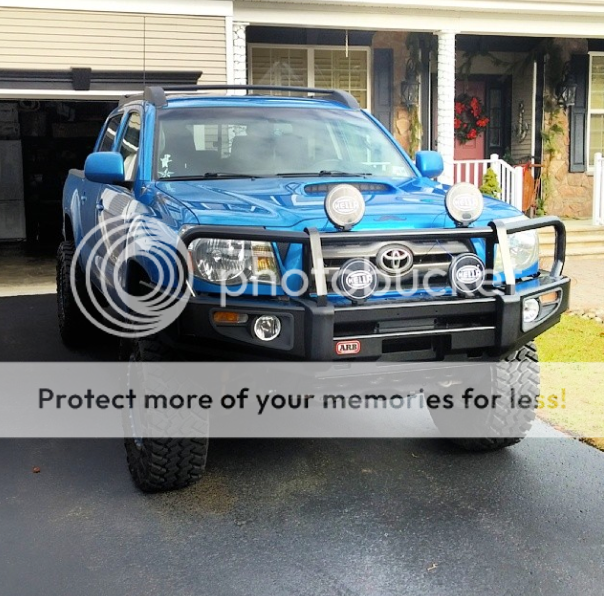 Then I decided to put the Blue fenders back on..
Out in the woods
And thats it for now… This site has made me broke and I know as soon as I get more spending money, I'll be broke again