Hi All, been around the forums for about 2 years but yet to get a build page up. So here it is, and pic heavy.. I like what I've done so far and most of the mods have been things that are useful to me given that I love exploring and camping in the southern UT canyon lands and mountains.. Don't rock crawl or run trails just to run trails. More of a overland expedition rig in progress. Anyway, thanks to all for the info available on these forums, great community & resource for sure!!!
Mods So Far
:
Drivetrain
- Completely Stock
Suspension
- Bilstein 5100's front & rear, fronts set to 0"
- Eibach coil springs
- Wheeler's Heavy Duty 3-Leaf progressive AAL
- Hellwig 550 Helper Springs
Wheels & Tires
- Stock 16" Wheels
- 265/75/16 Treadwright Warden AT's on BFG AT Casings Load Range "E"
Exterior
- 6' ARB Roof Mounted Awning
- Custom Roof Rack (fabricated by Zscott
http://www.tacomaworld.com/forum/2nd...oof-racks.html
)
- Rage Powersports Stingray low profile roof basket
- Century Ultra Shell (w/ sliding rear windows & screens, removable front window w/ slider, carpeted head space, LED lamp)
- Front Grille, Rear Bumper, Wheels & Badges Plasti-Dipped
Interior
- Weather Tech Floor Liners
- Ritchie Dash Mount Compass
- Sun Altilinq Dash Mount Altimeter
- Seat mounted Trustfire Cree 3600 Lumen LED Flashlight
Lights
- Nokya 2500k hyper yellow fog lights
- Fog light housing yellow paint mod
- BlitzPro 1300 Lumen Magnetic LED Work Lamp
Other
- Clore JNC300L 900 Amp Jump Starter
- Q Industries MV50 Superflow Portable Air Compressor
- Frontrunner 5 Gallon Jerry Can & Vertical Can Holder, bed mounted
- Roof Mounted Hi Lift 48" Jack & misc. recovery accessories
- Roof Mounted Shovel, shorty
- Bed Rail Mounted Axe
- Bed Rail Mounted Shovel, full size
- Bed Mounted Fire Extinguisher
- Basic Emergency Kit (First Aid Kit, emergency blankets, MRE food bars, water purification tablets, Eton hand crank emergency radio, etc.)
- Sockmonkey SR5 Bedside Decals
- AntennaX euro style 13" antenna
-
Weathertech
bug deflector
-
Smittybilt
receiver hitch D-ring
- Tow Package
- K&N
Air Filter
- Rear Diff Breather Mod
Future Mods:
- Skid plates
- Wheeler's 16" black steel wheels (distant future)
- Full OME set up & Dakar Leaf Packs (distant future)
2009 Timberland Mica DCLB Base 4x4 SR5
I purchased it certified used from the dealer with 33,000 on it, and had a shell installed right away. Here it is February 2012: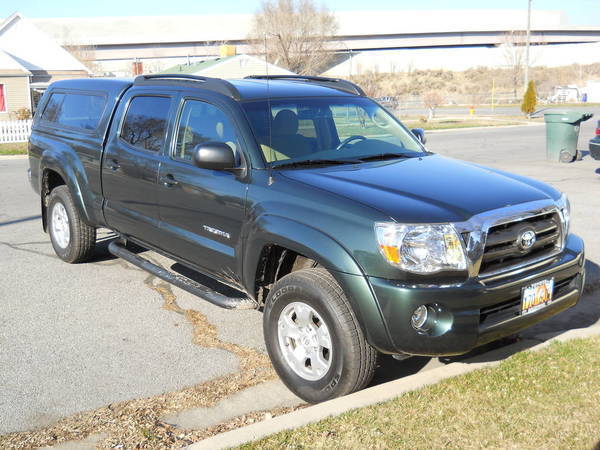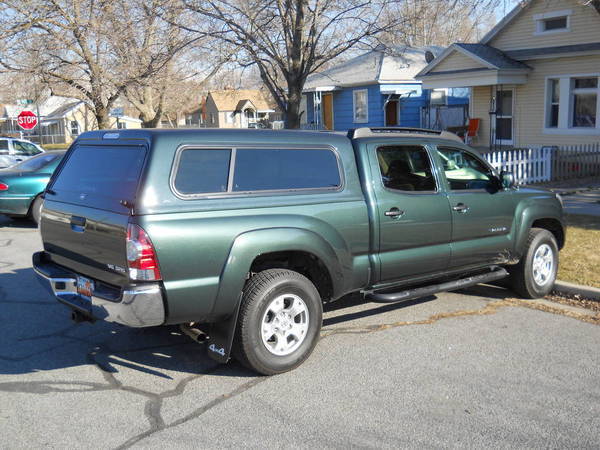 Got rid of the shitty El Dorado Sport Fury
tires that came with it after I blew one out in the San Rafael Swell about a month after, and put on some 245/75/16 Hankook Dynapro AT's: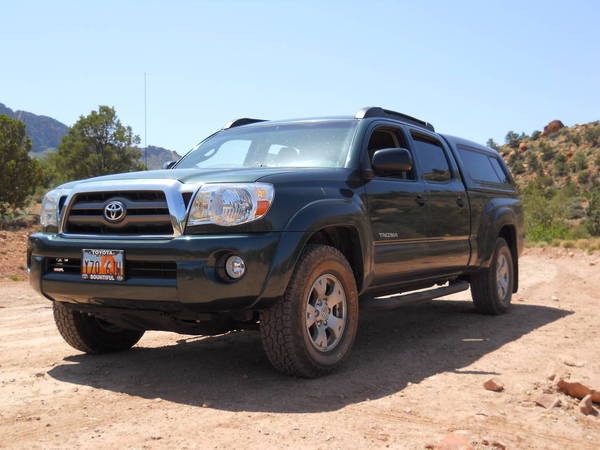 Added a roof basket for carrying gear (mounted on OEM roof rack):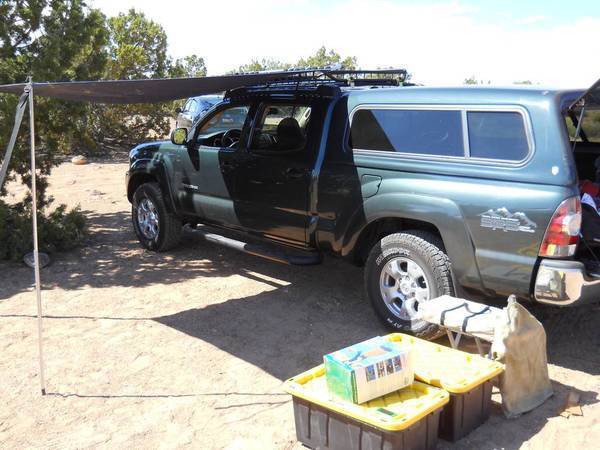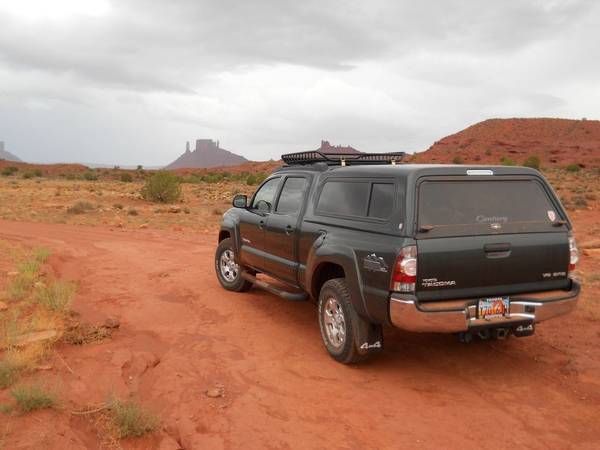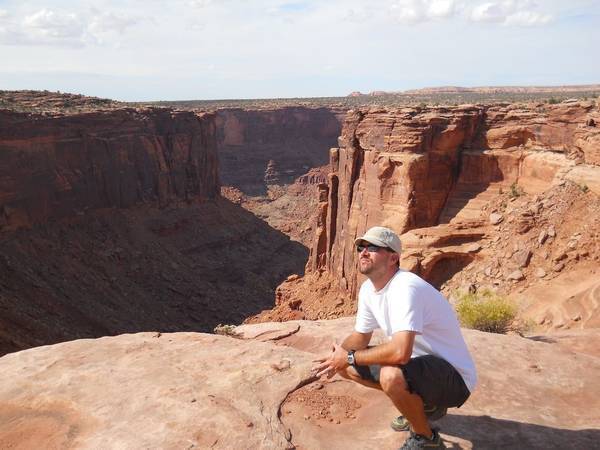 Then came a long period of about a year or more of studying TacomaWorld.com and all the wonderful mods that could be done and all the $$$ to be spent
Finally decided upon a lift to get installed.. Yay!!! And, Thanks babe
Went with a modest set up based on my budget at the time: Bilstein 5100's all around (from DSMS), Eibach coil springs, and Wheeler's Off Road heavy duty 3-leaf AAL packs.. (Installed by Fat Bob's Garage in Layton, UT). Also went with a set of (4) Treadwright Warden All Terrain tires in 265/75/16: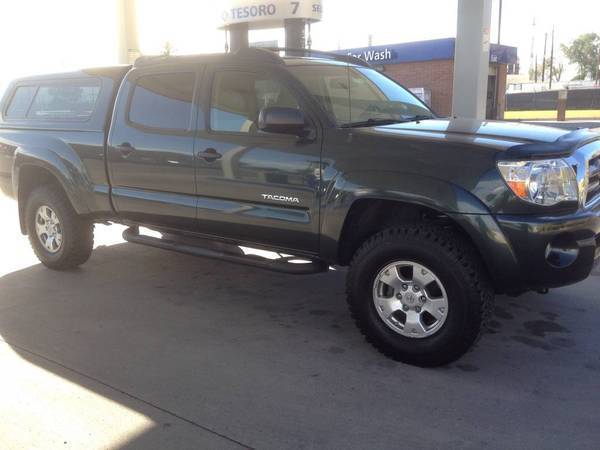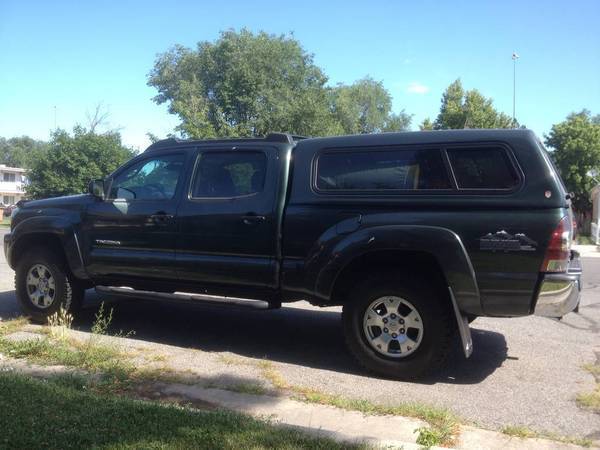 Shortly after took it for a trip to Fishlake National Forest for it's first post lift camping trip: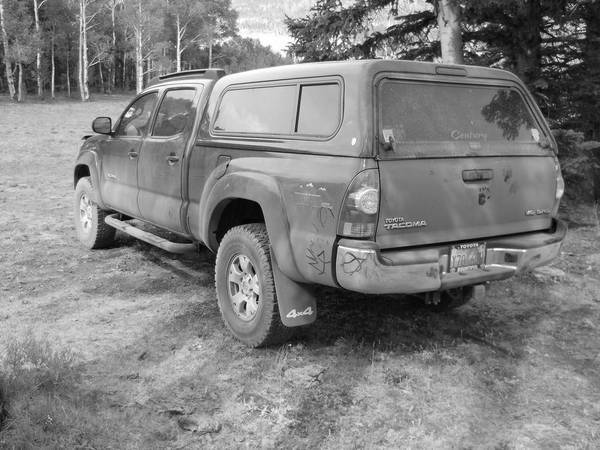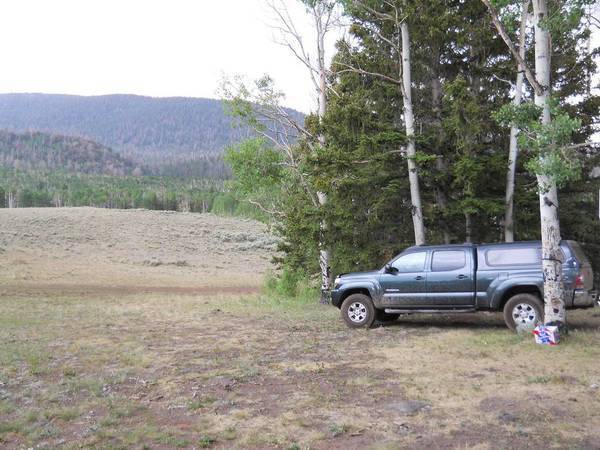 And then some more SoUT dez exploring later that summer: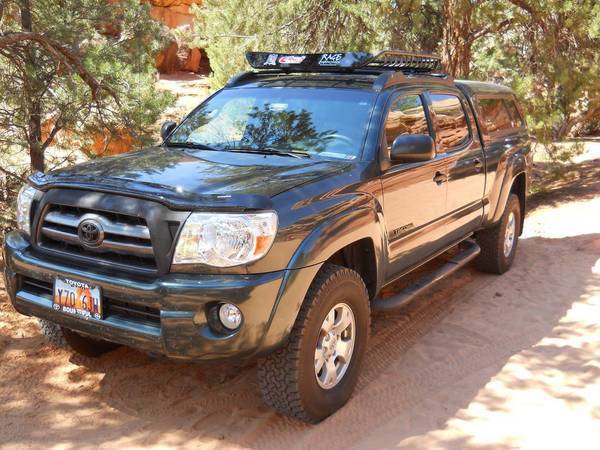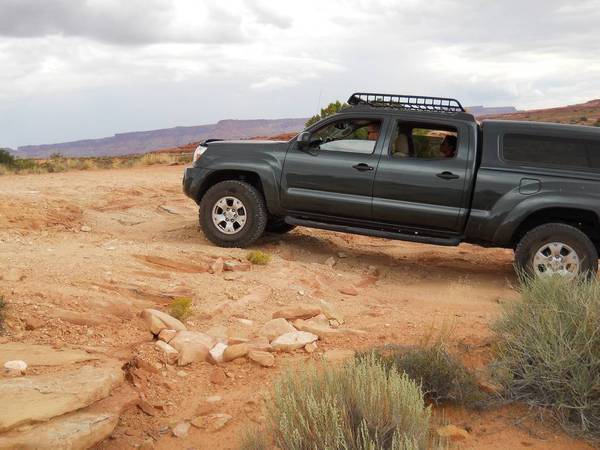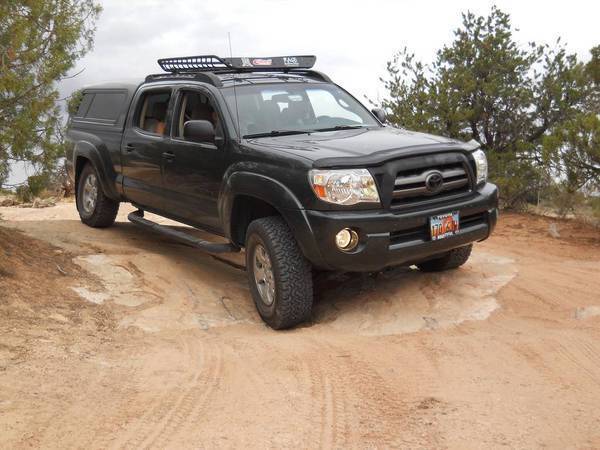 Recently installed custom roof rack from Zscott: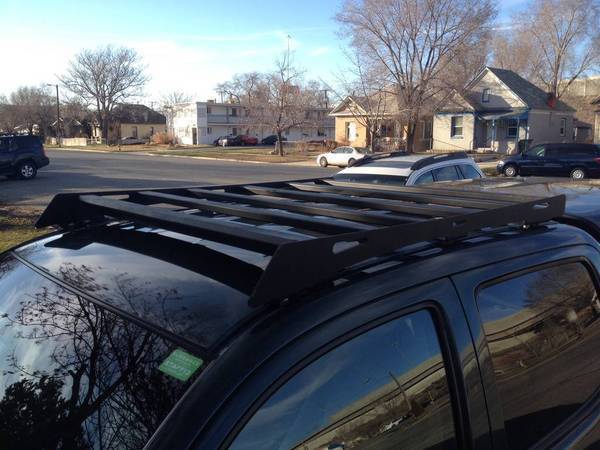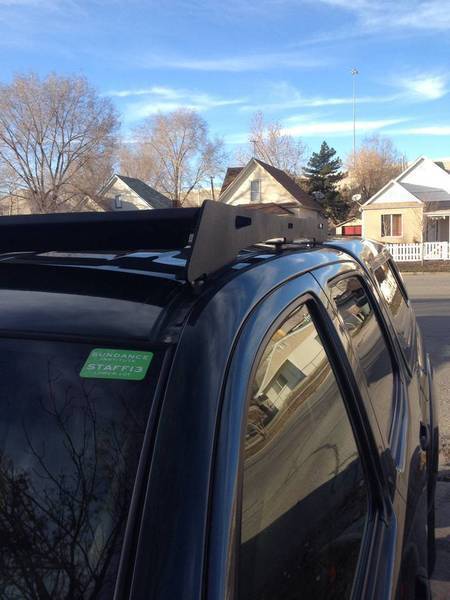 As it pretty much stands currently, after dipping the front grille, rear bumper, wheels & badges last November and adding roof mounted hi-lift and accessories..