As of today (3/23/15) I've had my truck 1 full year. I have just under 12k miles on the odometer. It's been a good year and I'm pretty dang happy with the progress so far.
Goals:
I'd like to turn this truck into a capable off road/adventure vehicle along with a being a reliable daily driver.
Most recent pic, 4/21/15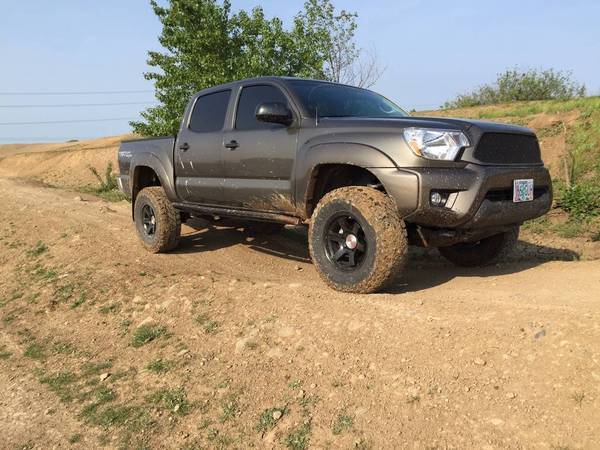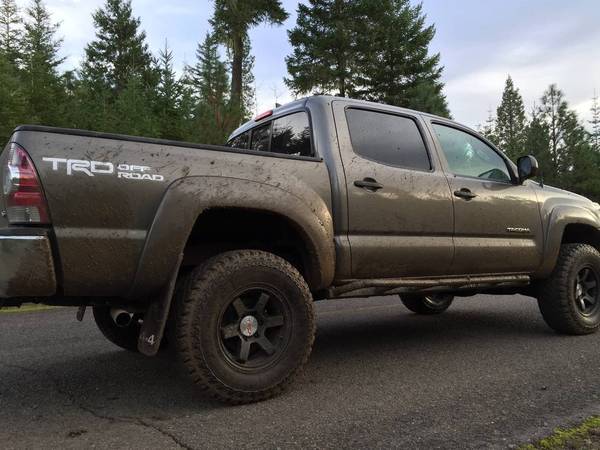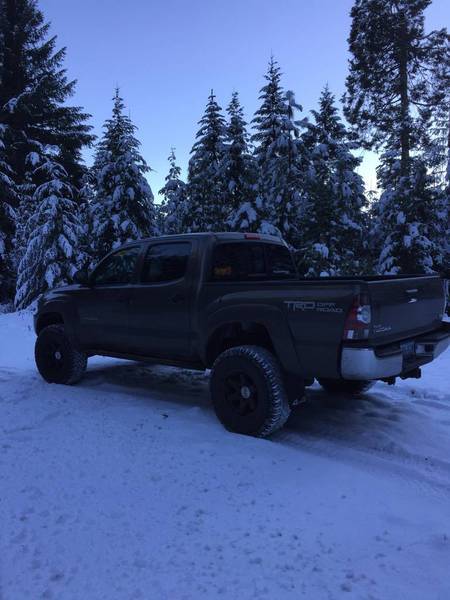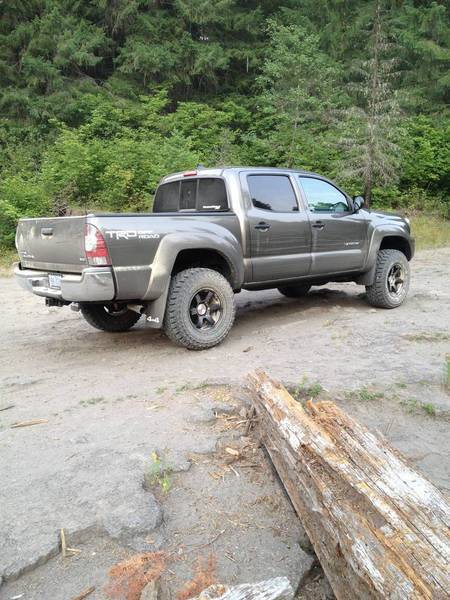 MODS
Performance:

AFE Pro Dry S drop in
air filter
Suspension:
Old Man Emu 887 Coils
Camburg
UCA's w/ moog balljoints
Old Man Emu Dakar rear leaf pack
Old Man Emu Nitrocharger shocks and struts
Extended rear brake lines
Old Man Emu carrier bearing drop
"Invisible" swaybar
Interior:

Weathertech
(black) floorliners front and rear
Bird Dawg industries rear view mirror riser
Exterior:
Debadged
Cravenspeed Stubby antenna
Front mud flaps removed
OEM bed mat
OEM Bed extender
Relentless Fab Hi-Lift mount
Color matched Satoshi grille from TW member StealthTaco
"ChuxFab" spare tire mount
BAMF bed tie downs (on order)
15% Tint on all door windows
Lighting:
Rigid SR 20 inch led lightbar (on order)
Rigid Dually floods (on order)
Rigid Led reverse lights (on order)
Wheels/Tires:
Cooper ST Maxx 265/75/16's
16x8 Level 8 MK6 in matte black with TRD center caps.
Cooper S/T 265/75/16 spare on a 16x8 Pro Comp steelie
Armor:
BAMF Sliders w/kickout (weld on)
Pelfreybilt
steel plate bumper with center hoop and fog/LED bar cutouts (on order)
Pelfreybilt standard rear bumper with reverse light cutouts and hidden hitch (on order)
Pelfreybilt IFS skid (on order)
Pelfreybilt Mid skid (on order)
Perlfreybilt T-case skid (on order)
Recovery:
Smittybilt
XRC 9.5 winch with synthetic line (waiting for bumper to install)
Wheelers 3" x 20' recovery strap
Shovel
Axe
48" Hi Lift w/ offroad base
Coms:
Uniden 510XL CB (not installed)
4ft Firestik (not installed)
Misc mods:
Diff breather extension (have parts, not installed)
Rerouted and chopped exhaust with Aeroturbine 2525XL muffler
Seat belt beep disable
Door lock/Unlock beep disable
Future mods:
(In no particular order)
ABS disable switch
Locker anytime mod
Seat covers
More recovery gear
U-Bolt flip
Wheelers Superbumps
Bedrack and RTT
Onboard air
Roof Rack
and so on...