What's up TW! I decided to have a couple of beers, take a couple of pics, and create a build thread as I continue to become more and more involved with TW and my Tacoma. I always wanted a Tacoma, got one, found this forum, and
shit got real
.
I didn't expect to do even a fifth of what I've done to my truck already, and I "vulture" ideas from other very informative members that I appreciate! Thanks! Links provided to certain mods. I haven't done much if any real "wheeling" previously, and not much work on a Truck in general. So this thread will track my progress.
2012 Tacoma 4X4 DCSB TRD Sport with OEM Towing Package
in Silver Streak. The only picture I have somewhat factory is this one, which I had already done the BHLM and blacked out badges 3 months after I purchased the truck!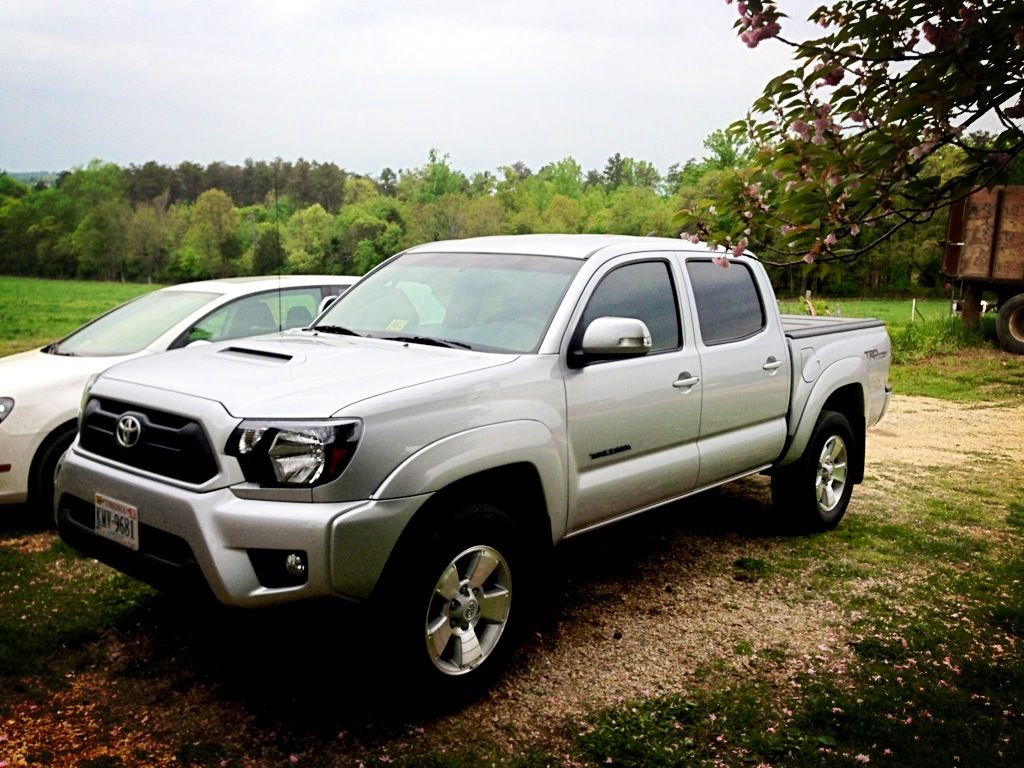 Current Picture as of 5/24/14 (all ready for the
pelfreybilt
bumpaa!)
MOD List:
Interior:
-
ImMrYo Rear View Mirror Relocation
-
GT Covers
in Digital Camo with Console Cover and Gun Pouch (great People)
-
OTRATTW Switches
(great people)
-
FlyzEye Interior Lighting
(V2W (Red/White) and 3VP for Console and Glovebox)-Fantastic CS
-
CSJumper2003 LED's
(Red Maps, White Dome)-Fantastic CS
-Toyota OEM All Weather Floor Mats
-
Cobra 75WXT CB Radio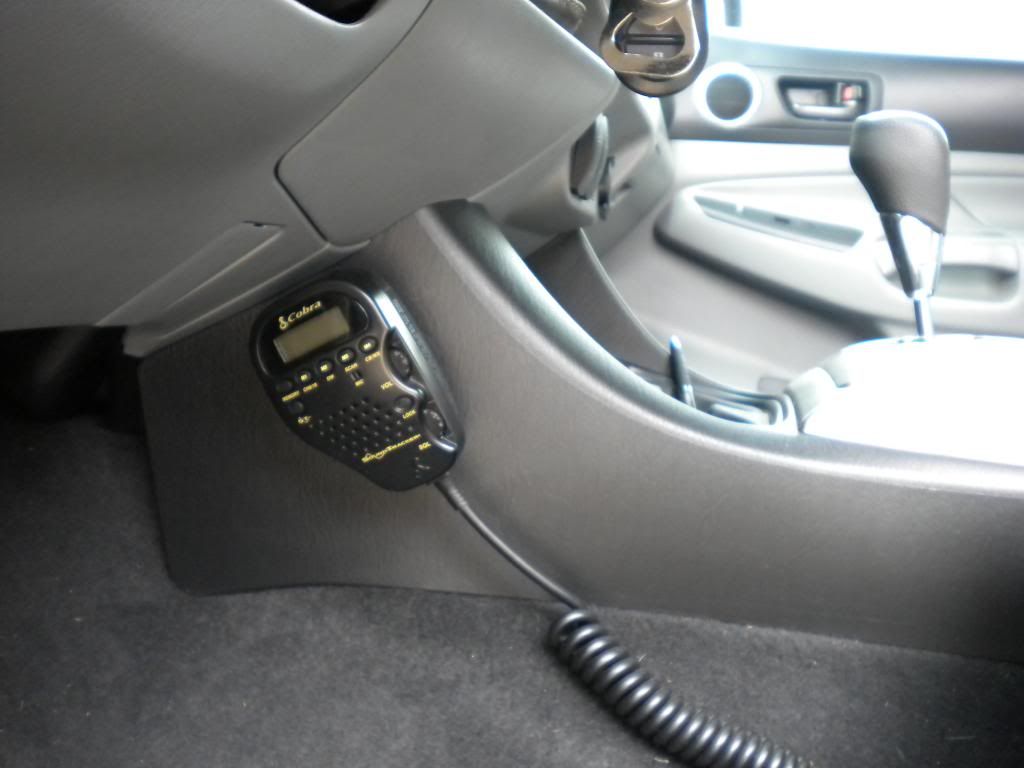 -
Pioneer 5500 Stereo
-
Pioneer 5500 Install
Exterior Mods:
-Front 30% tint
-Bed Liner Badges and
Debadged
Tailgate
-
RuggedT Bedside Decals
in Matte (SC drive/VA Passenger)
-
Front Runner Roof Rack
(won at Steven Toyota Show n' Tell
)
-
Bakflip G2 Bed Cover
-
Andres Devil Horns
-
Grillcraft Mesh Grill
-
Toyota Trucks 3rd Brake light Cover
-
Pop n' Lock Tailgate
Exterior Lighting:
-Rigid Dually's Amber Fogs (awaiting install)
-Rigid SR 20" Light Bar (awaiting install)
-
OKLED
3" pods mount on front runner roof rack
-
Retrofitted FX-R's with Halo's
behind shrouds
-
OEM Fog light anytime
-CSJumper's Parking/Driving/Reverse/License LEDs
-
Hella 700ff with Slims HIDs retrofitted and mounted on BAMF light bar
-
mattgecko waterproof hidden bed light
-Anti Dark Hood Lighting LED
Suspension/Drivetrain (other shit):
-Icon Extended travel 2.5 front coilovers (700# Spring)
-Icon Tubular UCA's
-Icon Rear 2.0 Shocks
-OME Dakar Leaf Pack with D29XL Add a leaf
-
All Pro Flip Kit
-
Wheeler's Superbumps front and rear
-
Rear and front SS Extended brake lines; OCTaco
-
Beefed Taco Carrier Bearing drop
-
Rear Diff. Breather Mod
-
Blue Sea Auxiliary 12 ST Fuse Block with 100A Breaker
Wheels and Tires:
-16" Trail Teams in Matte Black
-265/75/16 Goodyear Duratracs
More Pics: of Mods: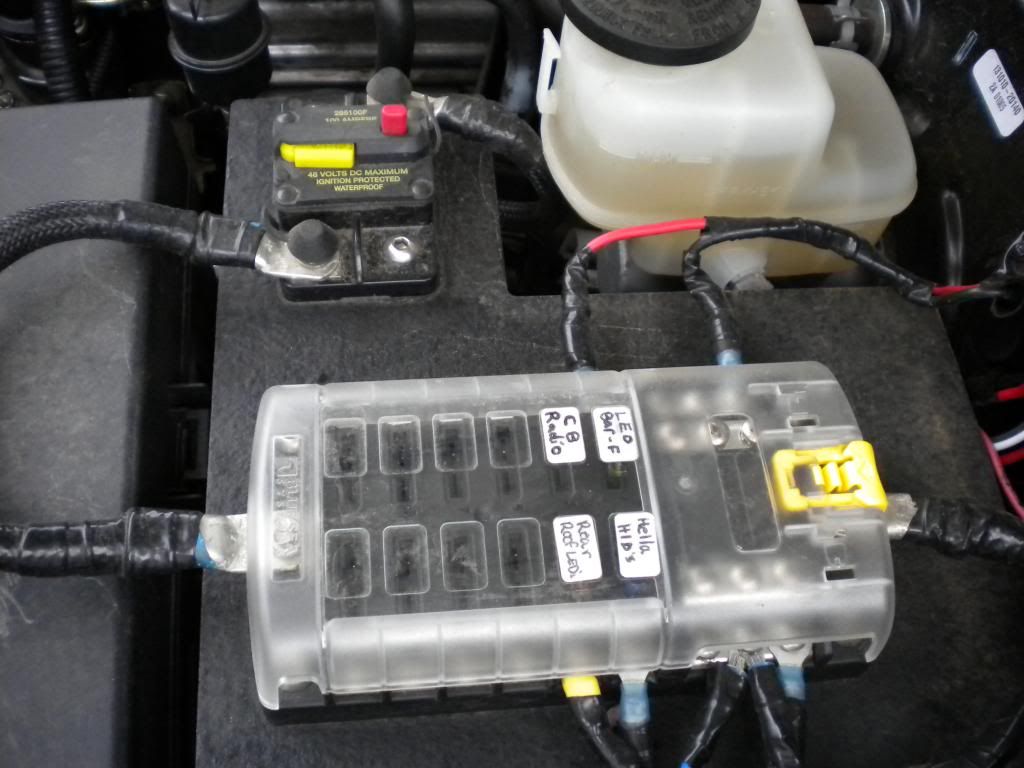 Awaiting Install:
-Rigid SR 20" LED Bar
-Rigid Amber Dually's for Fogs
-Pelfreybilt Aluminum Front Bumper with hoops
-Pelfreybilt IFS/Mid/Rear Skids
-Pelfreybilt Battery Cage
-Group 31M diehard battery
-OKledlightbars.com Rock Lights
-Engo synthetic Winch with remote
-OTRATTW winch/light switches
-Exhaust Reroute
Future MODs:
-SOS Concepts HC Rear Bumper
-Soft Topper with custom mounts from SOS for RTT
-SOS CMC
-Tepui RTT
-Goodyear Wrangler MTR w/ Kevlar 285/75/16
-ARB Rear Locker and Compressor
-40" LED single row light bar under roof rack
-Airflow Snorkel
-rear diff skid
My Buddy:
And of course, this thread may be used for BS. Suggestions/questions welcome.