The Tank Build
Whats good everyone? So I'm finally doing a build thread of my 05 SSM DCSB TRD 4x4.

I've had this truck for a while and I finally started making some changes to her this past spring. She's still a work in progress and a huge money pit since there's so much that I want to do.

Big thanks to some of the Tidewater guys that have helped me out and have taught me so much.

Anyway, here she is.
Winter 2015
Beach September 16, 2014
September 9, 2014
Recent pic from August 2014 (Before sliders and recent suspension upgrade)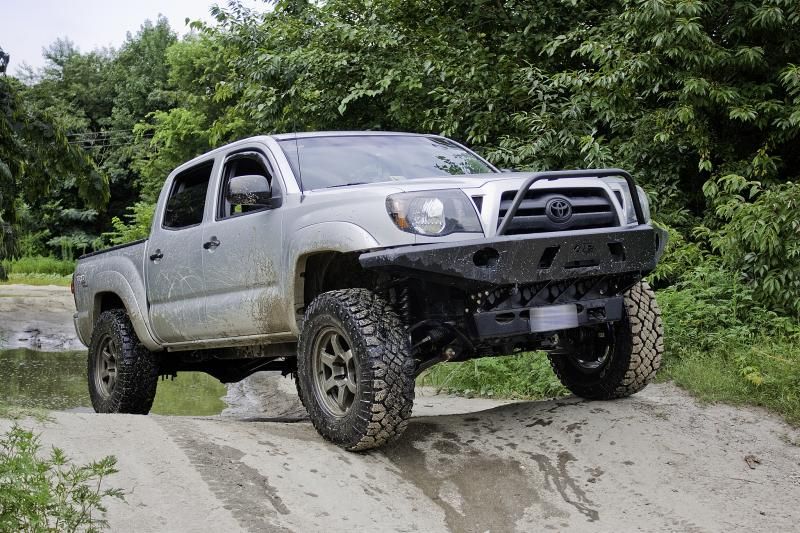 Current Mods
Suspension
Bilstein 5100s
OME 886X Coils with 1/4 Top Plate Spacer
Light Racing UCA's
Removed swaybar
ToyTec
Differential Drop Kit
Cab Mount Chop
Rear:
Dakar Leaf Pack
Toytec Extended Brake Lines
Wheels
17x8 Bronze Konig Six Shooters from FN Wheels
285/70/17 Goodyear Duratracs
1.25 Spidertrax Wheel Spacers all around
Exterior
All Pro Offroad
Apex Front bumper
SOS Concepts
Weld on Rock Sliders
Ebay
BLH Headlights (have a set of retrofit projector HID lights that I'm about to put back on after repair)
Ebay Red Tailights
Paint matched grille and rear bumper
Front
Weathertech
Window Visors (lost one of the rears and didnt want to roll with just three)
Shaved emblems
Interior
TRD Front Seat Covers
TRD Rubber Floor Mats
Future Mods
Icon
2.5 Coilovers and Rear Shocks or King Coilovers
Rear Ubolt Flip
Satoshi Mod
Aftermarket Foglights or LEDs for the Bumper
Winch
Armor Tech or CBI High Clearance Bumper with Spare Swingout
Comms
LED Light Bar on Roof
Trunk or Roof Rack
Aftermarket Exhaust
A bunch more...
When I first got her back in 2010 after a deployment. Good steal off Craigslist from a guy that needed to get rid of it quick because his son was moving to Europe. 65k mileage for $16k.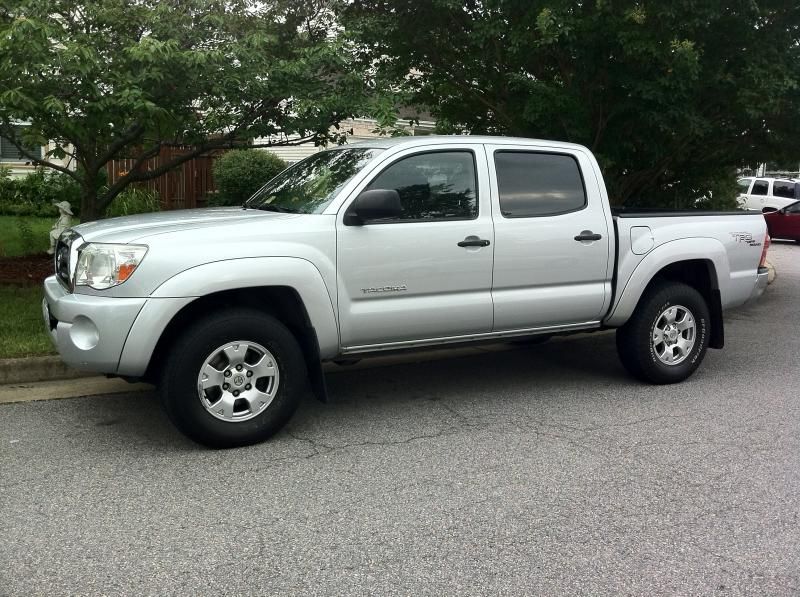 With my other love that I should have never gotten rid of.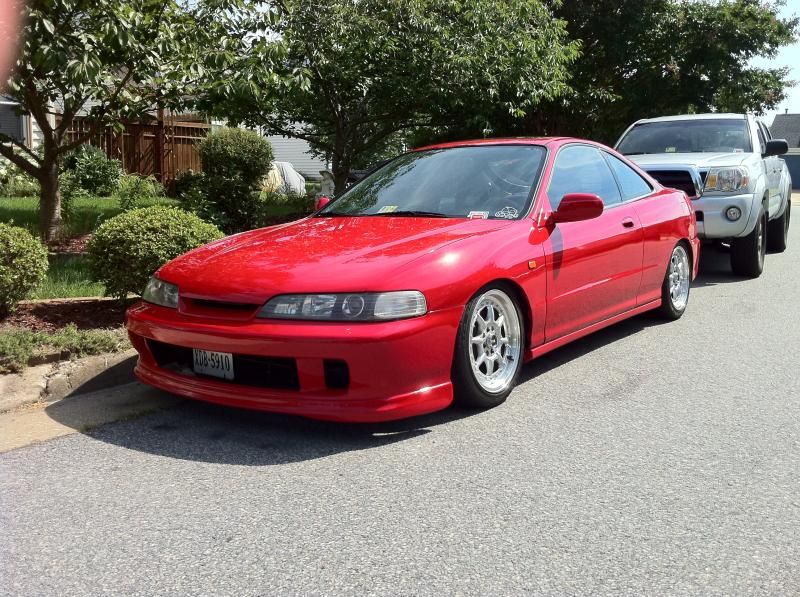 Then got impulsive that summer before I left again and went to a local shop who put on 5100's, rear leveling blocks, and 17x9 ultra Gauntlets wrapped in 285/70/17 Toyo Open Country. They charged an arm and a leg and I also didnt know anything about Tacoma World at the time. Looked like this till winter 2012 since I was gone a lot.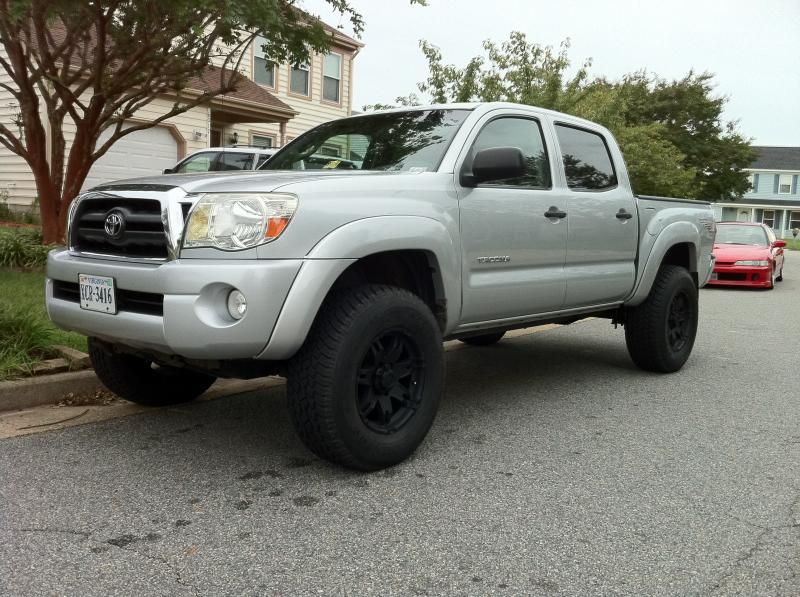 Put Ebay BLH Headlights on and Plastiderped the grill and lower valance.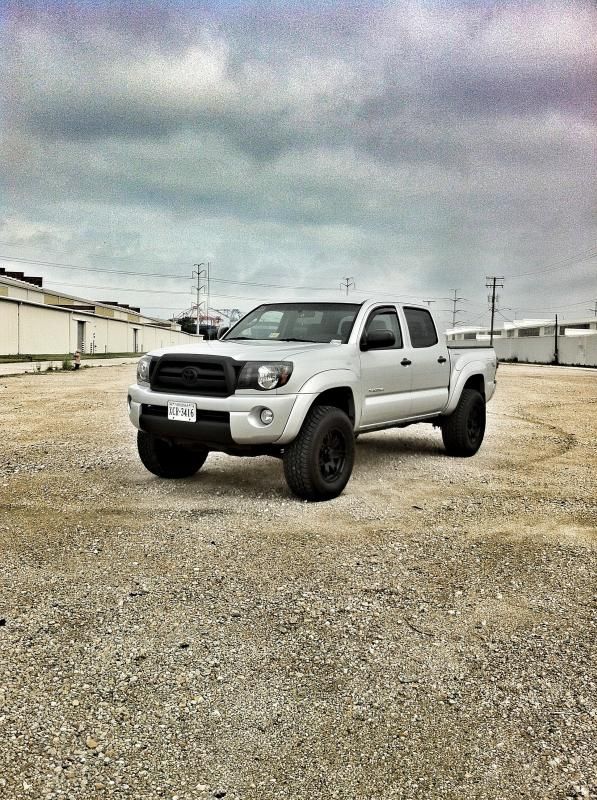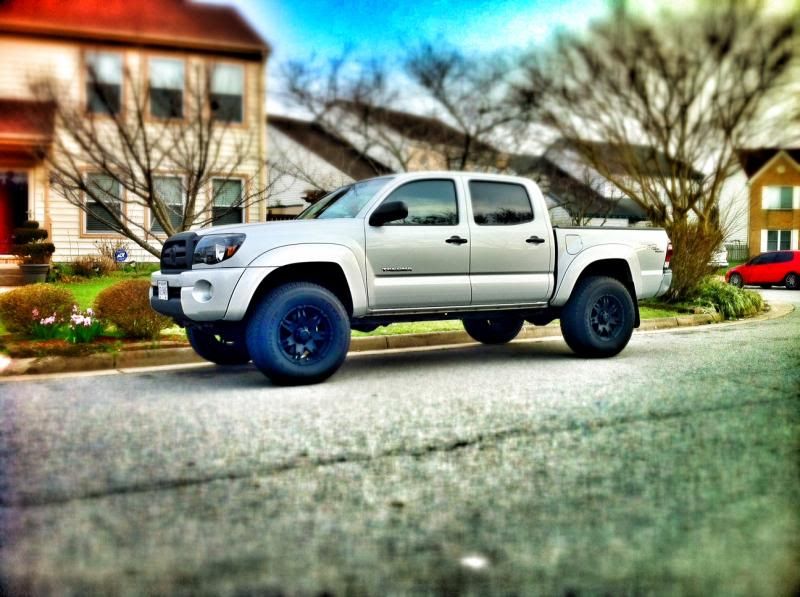 Ordered 17x8 Konig Six Shooters still wrapped with Toyo Open Country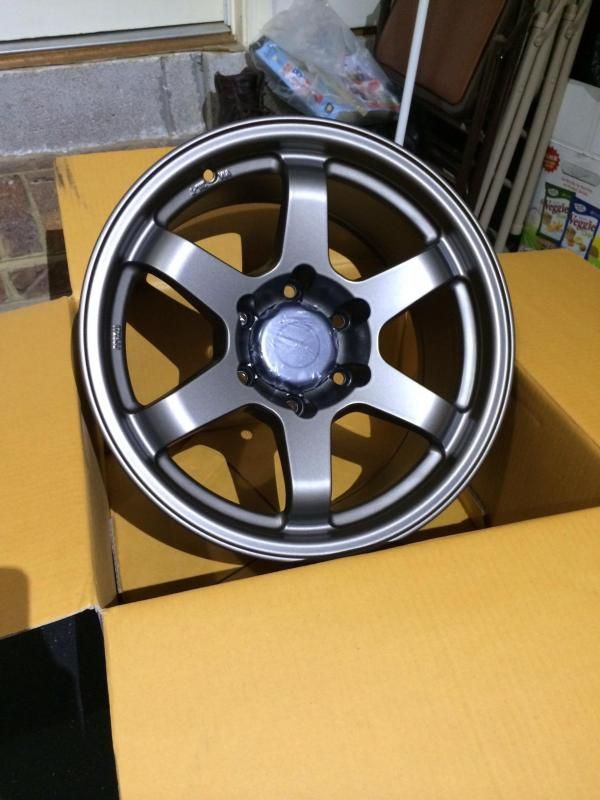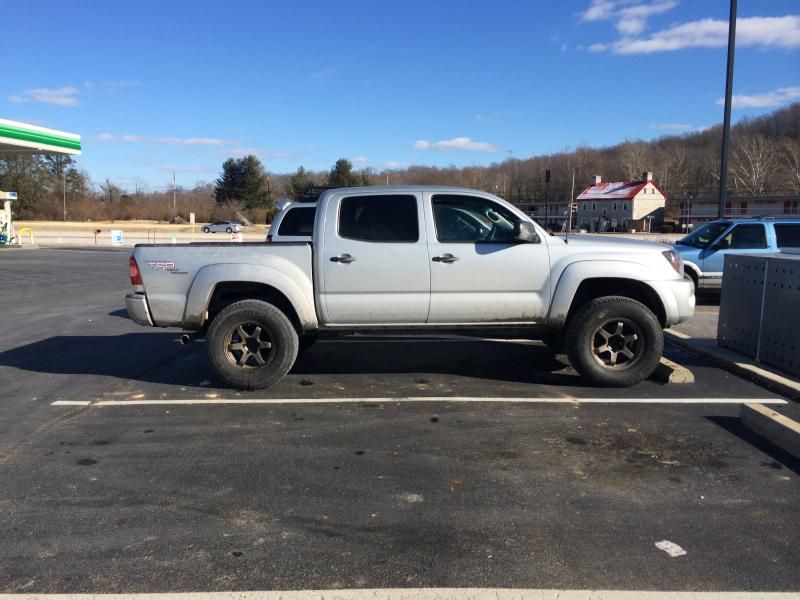 Went on my first wheeling trip to Shoe Creek in January 2014. Good times and met a good group of guys. I was definitely a little worried about how she was gonna handle but I made it through.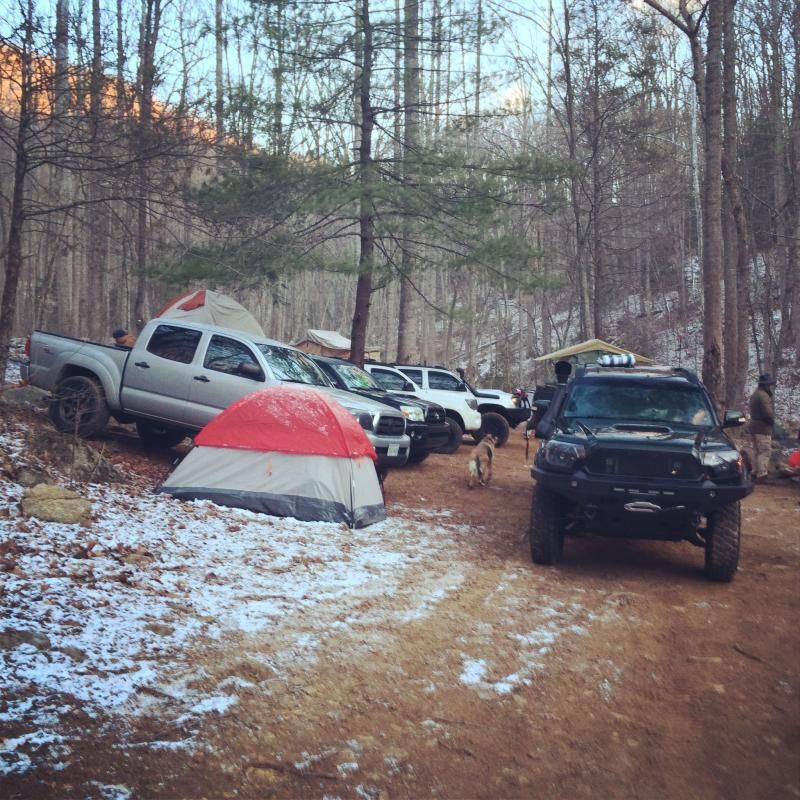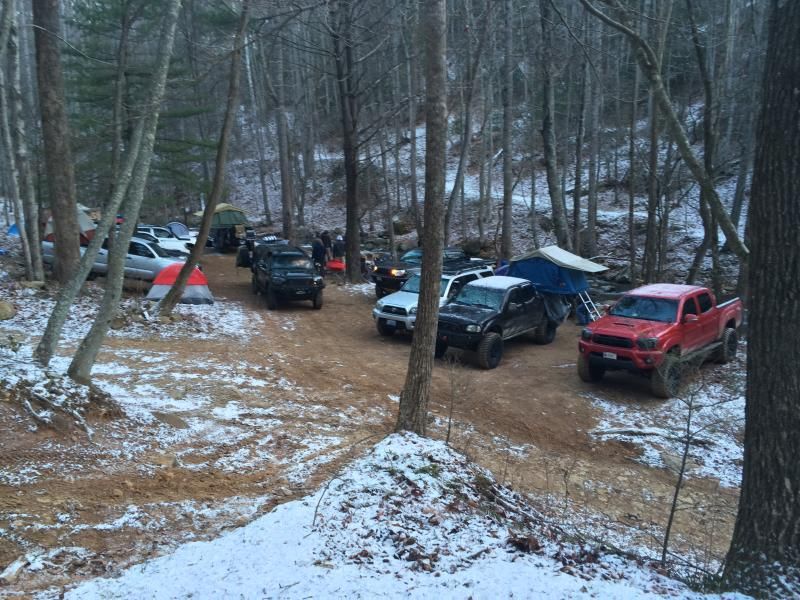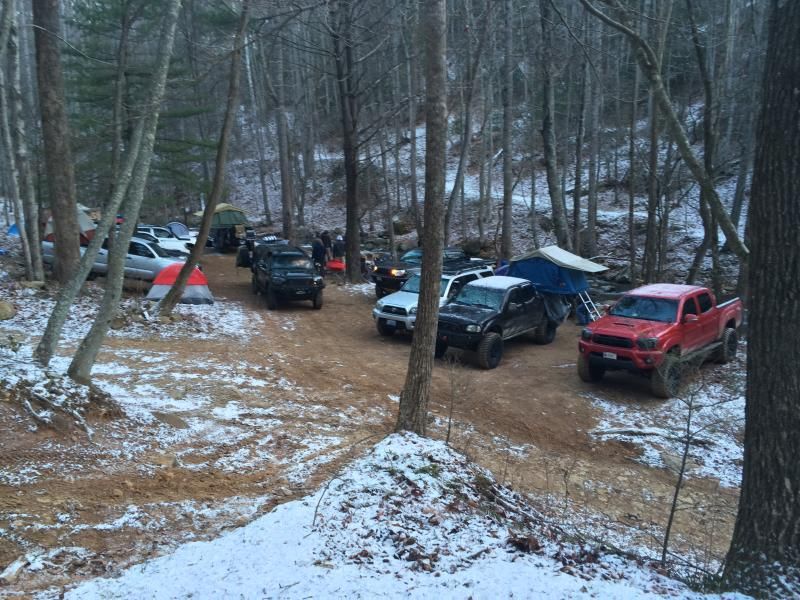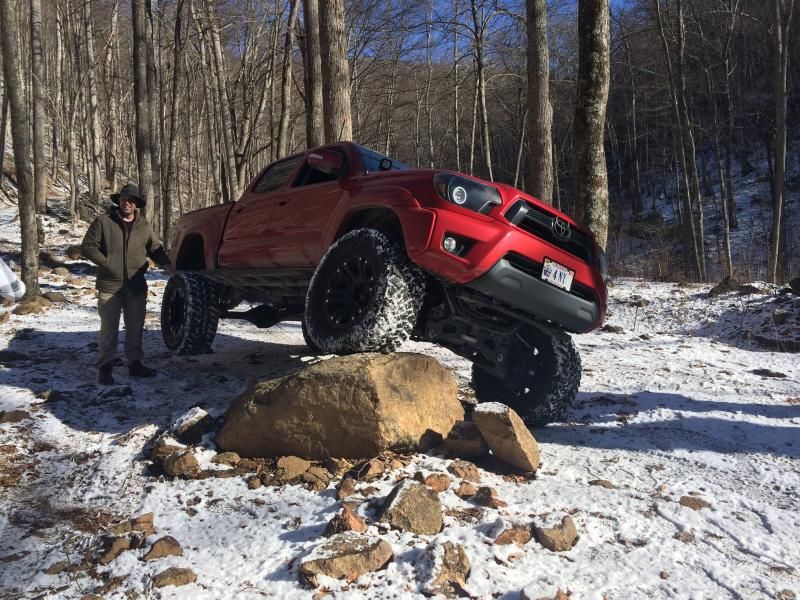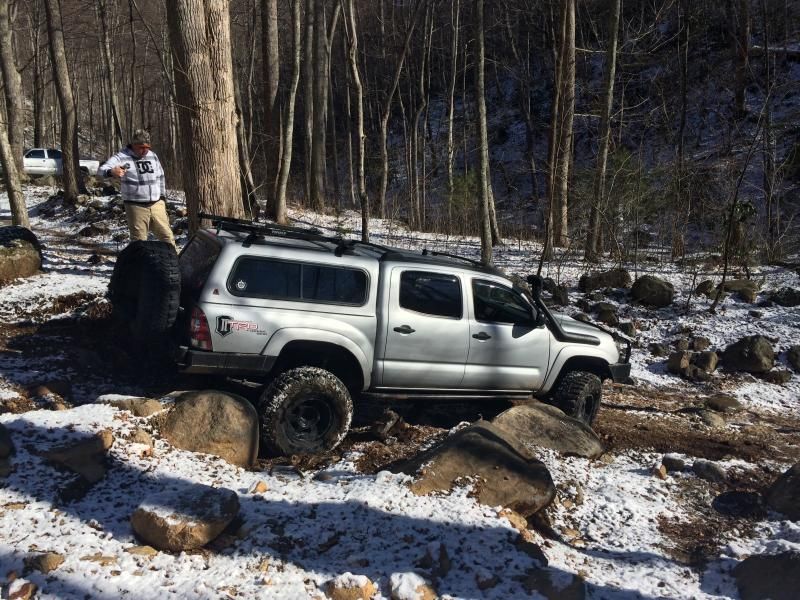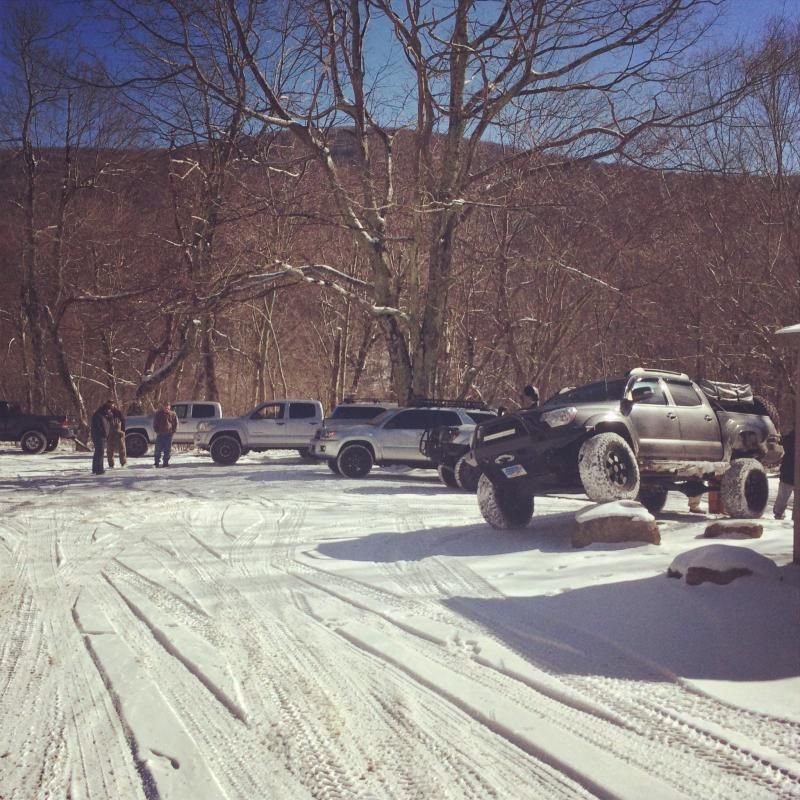 Then April 2014 I ordered OME 885's, Top Plate Spacers, Light Racing UCA's, Dakar Leaf Pack. Luckily Scalded Dawg hosted a mod day that weekend and I got lots of help.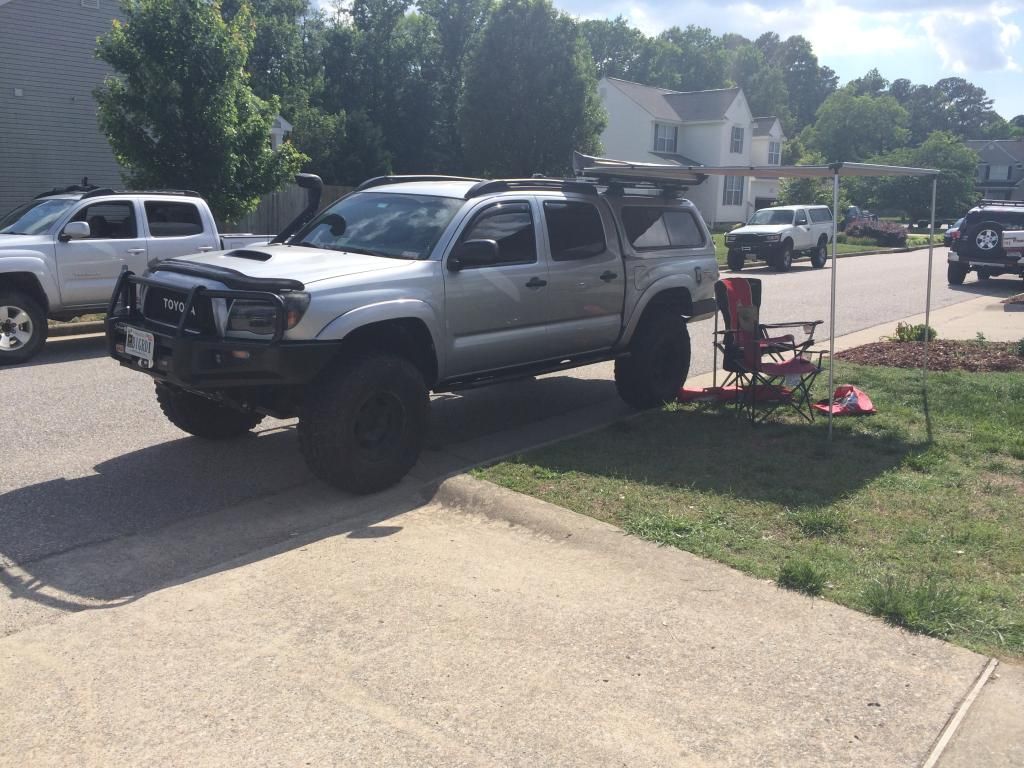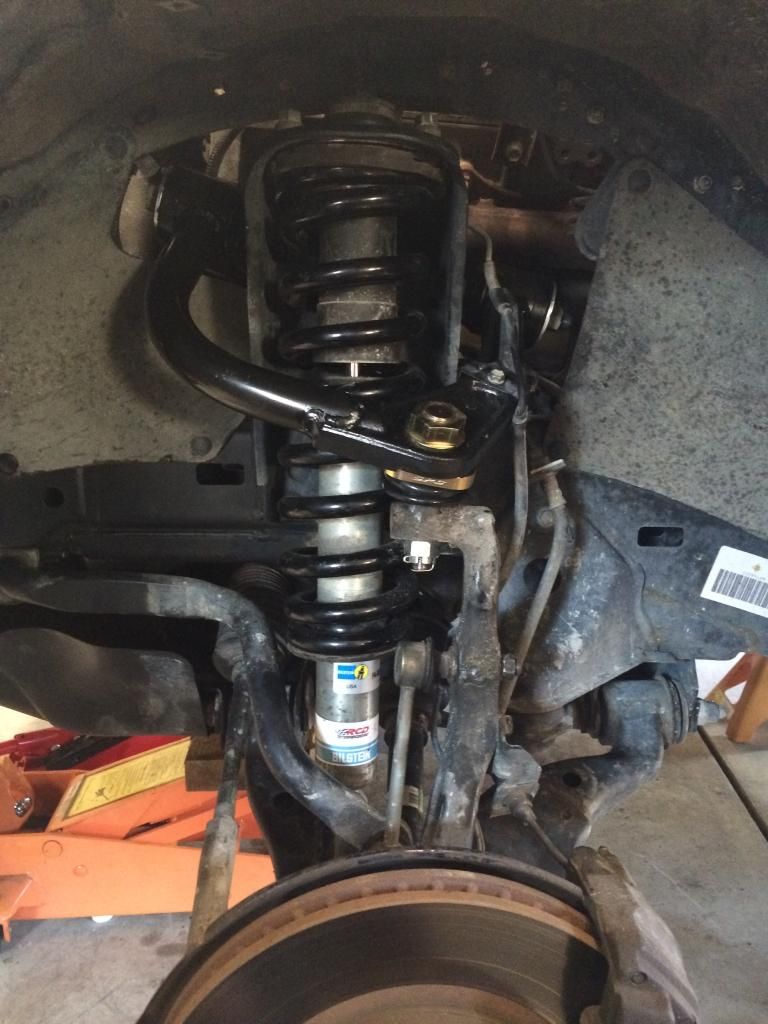 Shortly after, I ordered 285/70/17 Goodyear Duratracs and added Spidertrax 1.25 Wheel Spacers all around. Also did the CMC and trimmed the fender lining.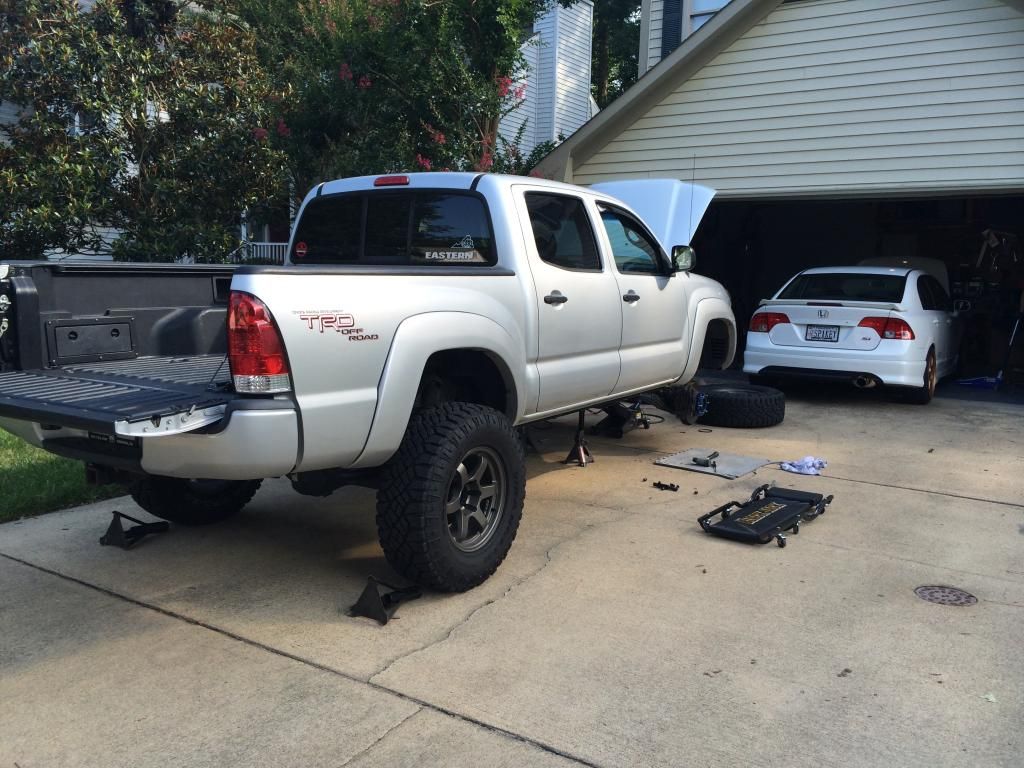 June 2014 I ordered the All Pro Offroad Apex Bumper which came in early July.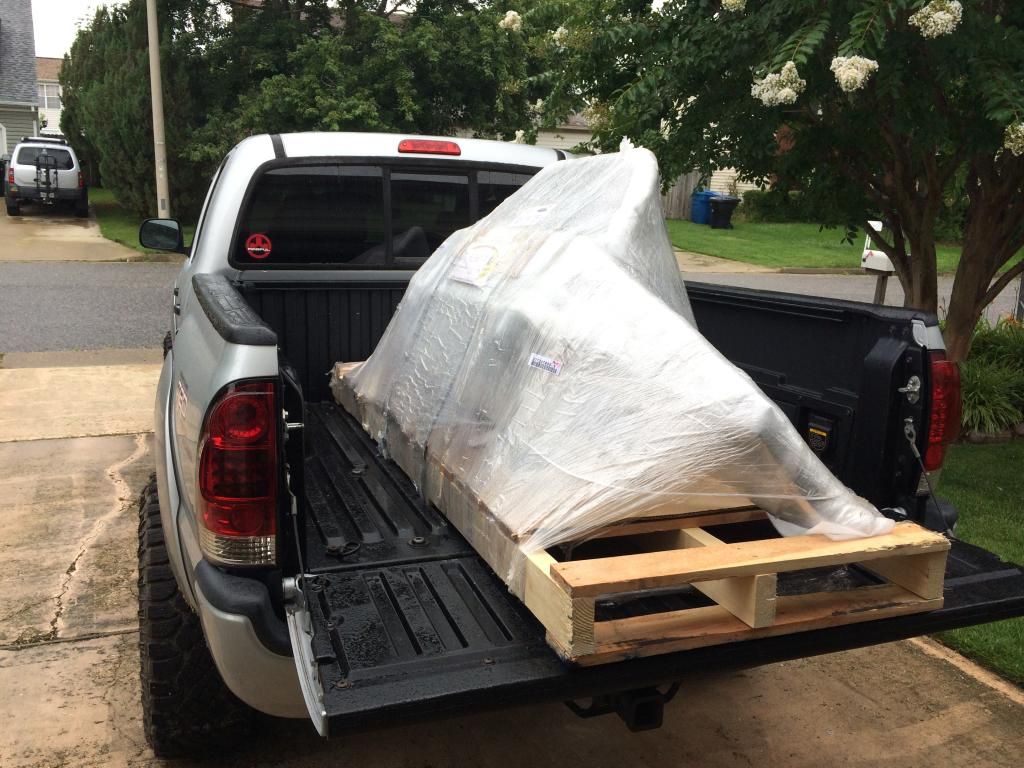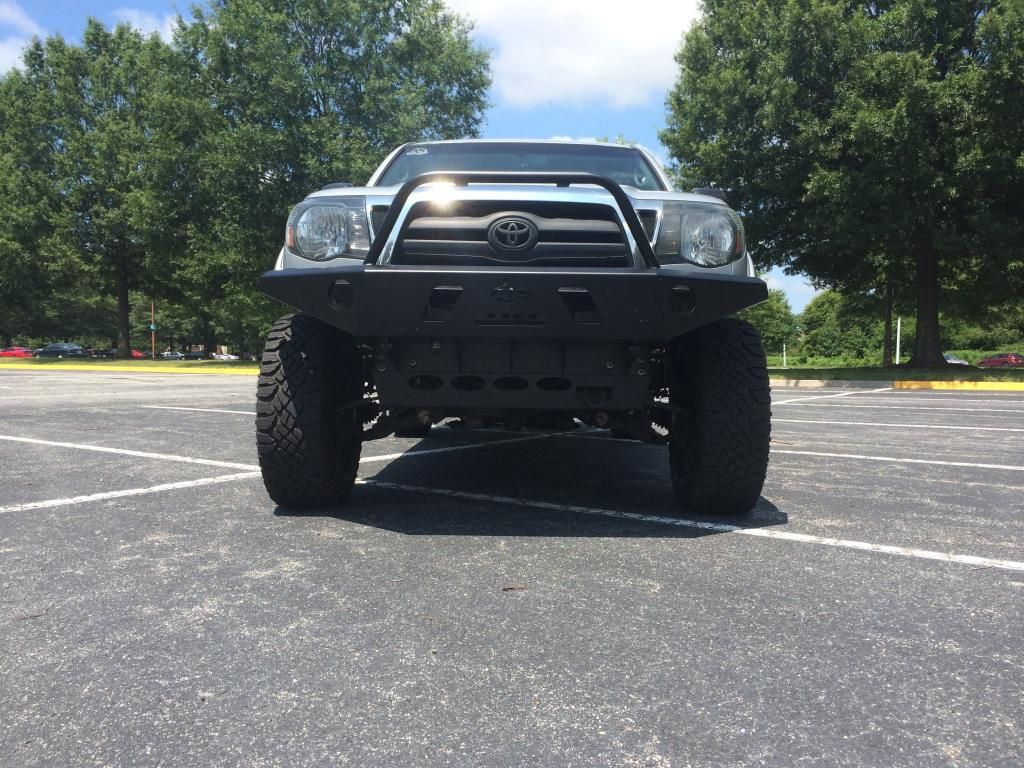 August 2014, did some mudding/light crawling at a local hole in Virginia Beach with some buddies.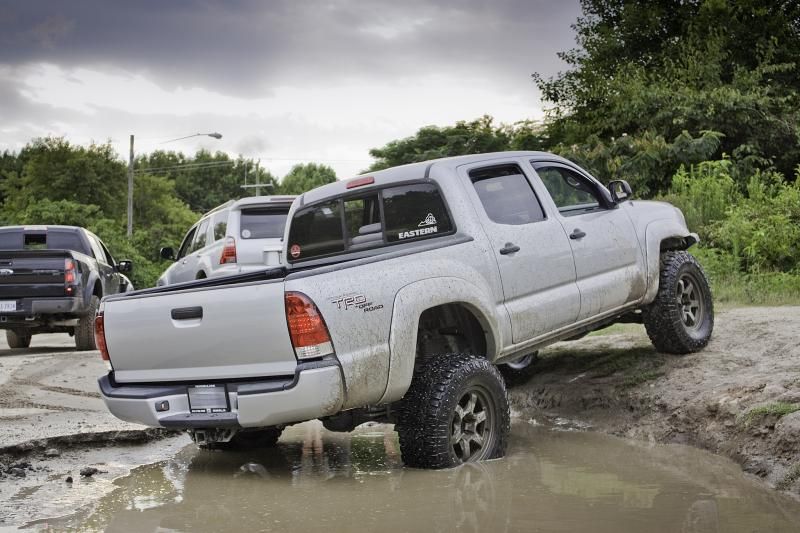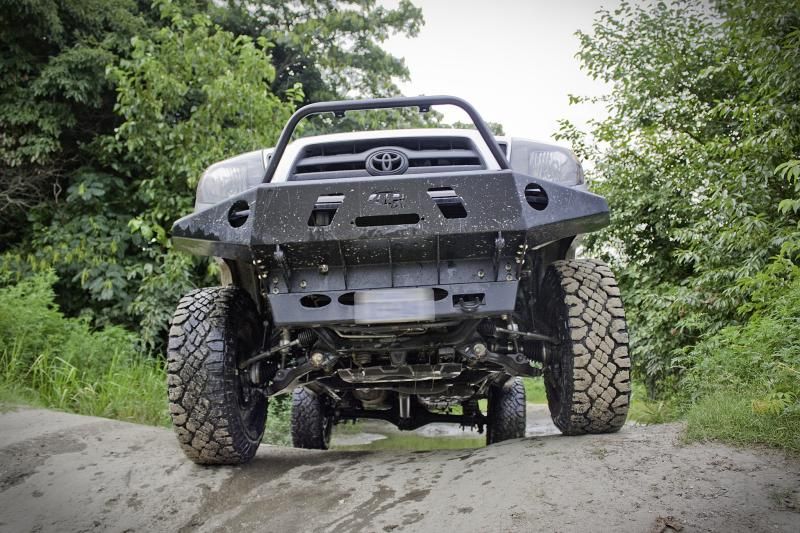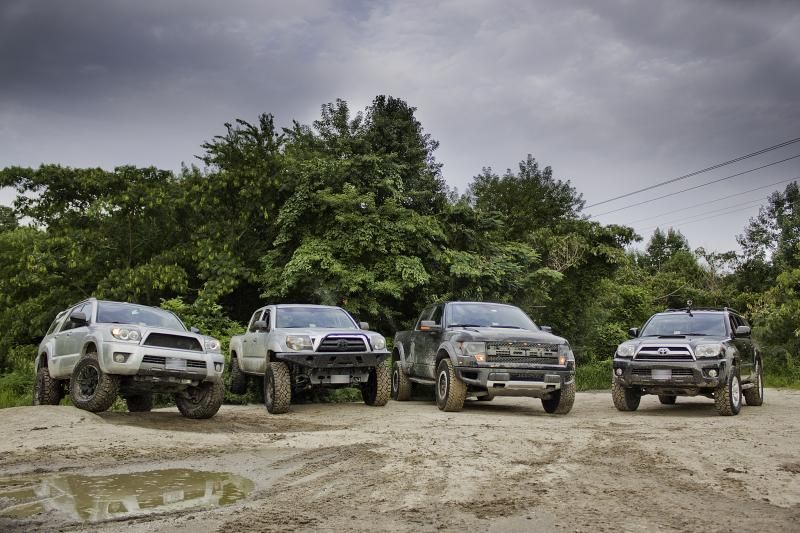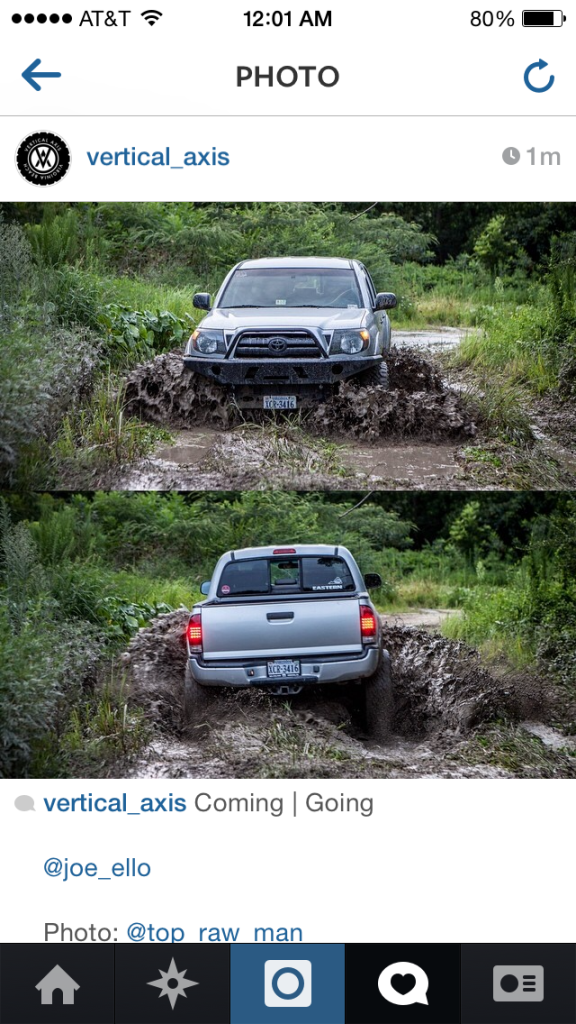 Labor Day weekend 2014, a buddy and I rolled out to see Scalded Dawg after a long and crazy night of drinking to have our SOS Concepts Sliders welded on. Thanks again Brent for hooking me up!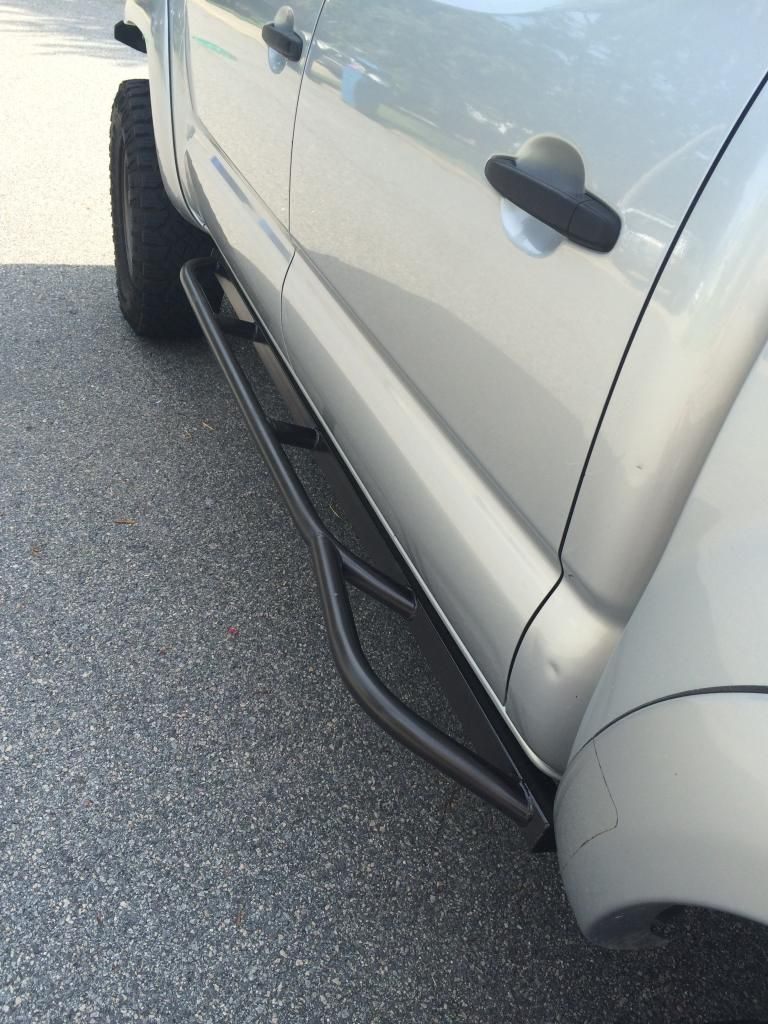 And here we are to today, September 9, 2014. I know I'll probably get shit from some for this set up, but it'll do for now. I was already having issues with front rake and a lot of rubbing after the bumper install on the 885's. Decided to order 886's to handle the extra weight and finally installed a differential drop kit to help my axles out. I saw the video about installing aftermarket struts and springs without a strut/spring compressor and figured I might as well save some money and do it. I took my time and it took me about an hour and some change. She's definitely riding and sitting a lot better now. Love it.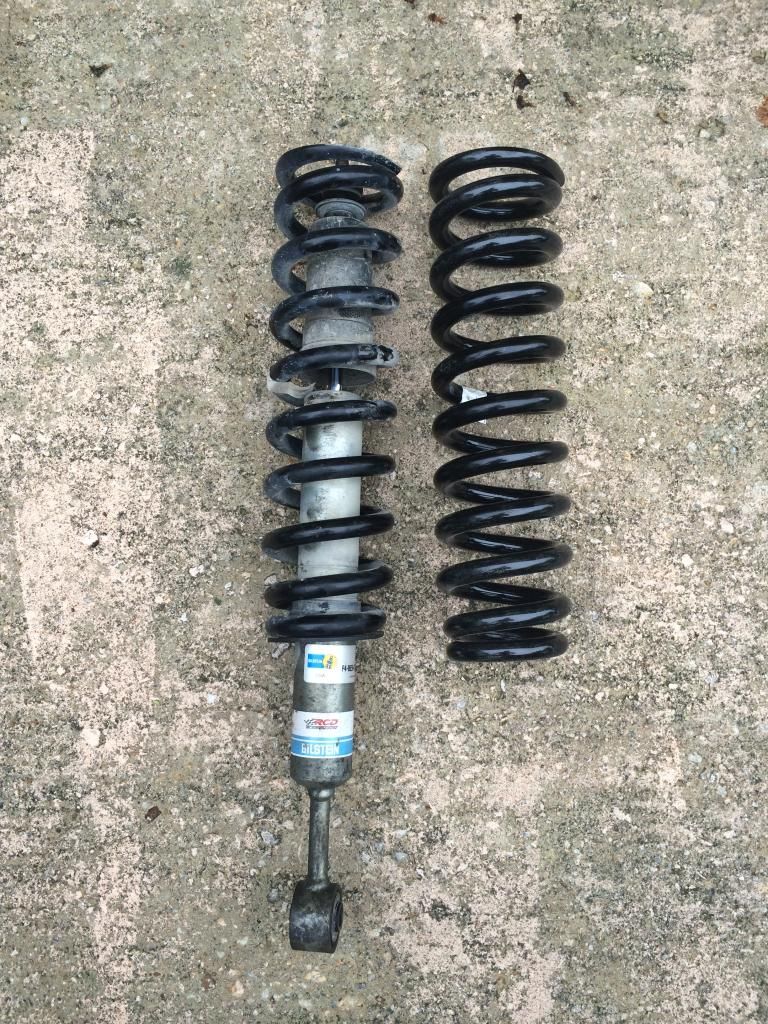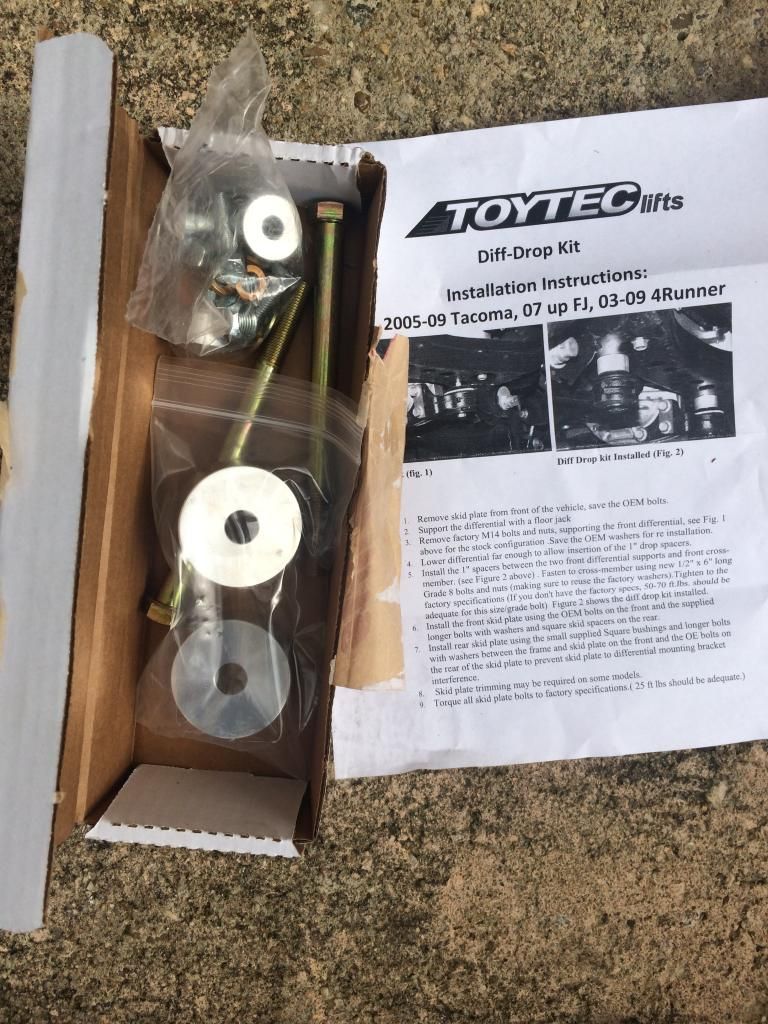 Thanks for checking out my build thread. Like I said, there will be more to come in the future.