Wanted to start a build thread mainly to help me keep track of everything
I'll come clean my daily driver is a Passat TDI...45MPG enough said. When I bought that car in early 2013, it led to my old '09 Chevy Silverado 2WD sitting in the garage most of the time, except when I need to haul something or take the boat out. I decided my second vehicle should be much less practical than my daily driver - and I knew that Tacoma was a great platform for modding.
Traded in the Silverado (it was my third Silverado) on this Tacoma in January 2014. The truck came with a spacer lift and the Duratracs on Raceline 16s. Someone had aired up the tires to ~60psi so the truck drove very squirrely and was below true-car price by a few grand. Easy fix was to lower the pressure to 30psi...instant fix.
Pic how it came from the used car lot with 45k miles on it: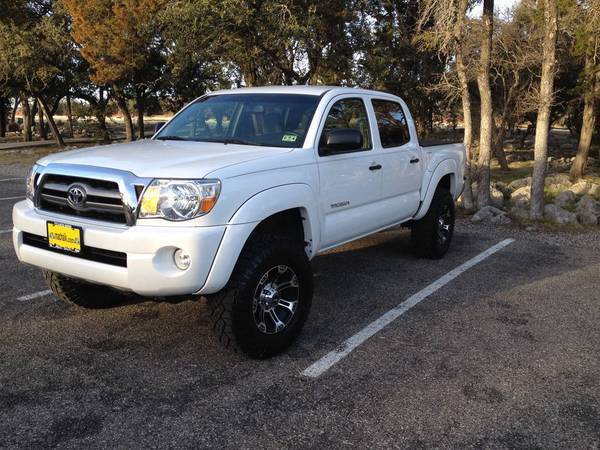 Current Pictures: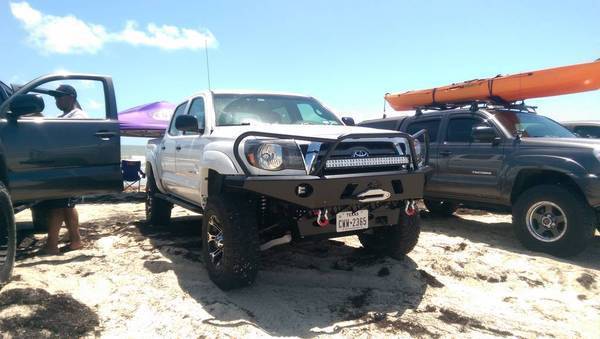 TW Houston BS Meetup at San Luis Pass ^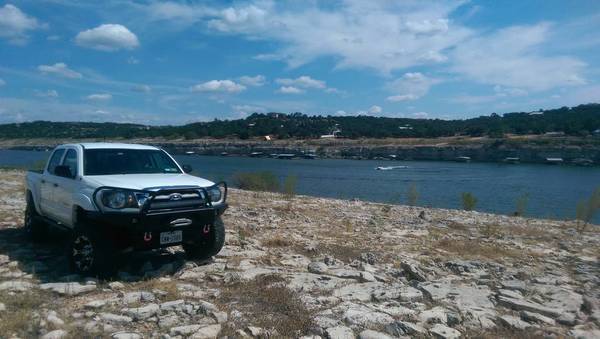 On the bottom of Lake Travis near Lago Vista, TX ^
As of January ,3rd 2015, this is what's on the truck:
Suspension / Lift
Icon Extended Travel 2.5" with 700# Springs
Desert Products boxed uniball UCAs
OME Dakars
Bilstein 5100 RCD 3-4" lift shocks
All-Pro U-bolt flip
Timbren bumpstops front and rear
Sway Bar Delete
All-Pro spindle gussets (Awaiting Install)
Drivetrain / Engine / Brakes / Wheels and Tires
Goodyear Duratrac 265/75R16s on Raceline Wheels (came on the truck)
AFE Pro-Dry S Filter
OME Carrier Bearing Shim
All-Pro Stainless Rear Brake Lines
EBC Stage 3 Front Brake kit (Dimpled/Slotted rotors, pads)
ARB CMKA12 Air Compressor and Air Locker Wiring Harness, Air-up Kit
Armor / Recovery
All-Pro APEX front plate bumper with full hoops (powdercoated at All-Pro)
All-Pro standard duty weld-on rock sliders with APEX filler plates (powdercoated locally)
Armor Tech Off Road IFS Skid (slight trimming to work with APEX bumper)
Armor Tech Off Road Transmission Skid (hardware mod - brass nuts)
Armor Tech Off Road Lower Control Arm Skids (hardware mod - brass nuts)
Smittybilt X2O 8,000lb Winch with synthetic line (custom wiring extensions, solenoid box inside bumper)
Smittybilt rear recovery clevis in receiver hitch
Warn winch accessory kit
Lighting / Other Outside Accessories
Vivid Illumination 39" Spot Pattern Light Bar (60 LED)
OKLED flood "dually" style pods (6 LED type) in the fog pockets (not useful in fog)
Black headlights (aftermarket)
TacomaWorld Stickar!!!
ToyWerx Raptor Style Grille
Interior / Audio / Comms / Electronics
Wet Okole seat covers
Weathertech floorliners
Ultragauge
OTRATTW Switches for LEDs
Uniden PRO 520XL CB in center console (not mounted to anything)
Wilson Silverload 24" CB Antenna on a medium duty SS spring
Wheeling Trips
Shiloh Ridge, Alto, TX - Summer 2014
BMRA, Gilmer, TX - November 2014