Goal of the build:
A vehicle able to easily navigate the roughest of backwoods trails, while being a comfortable drive on and off road, without completely destroying my MPGs, and keep all its upgrades below $10,000.
As she sits today:
2013 Toyota Tacoma TRD Sport Double Cab 4x4 manual.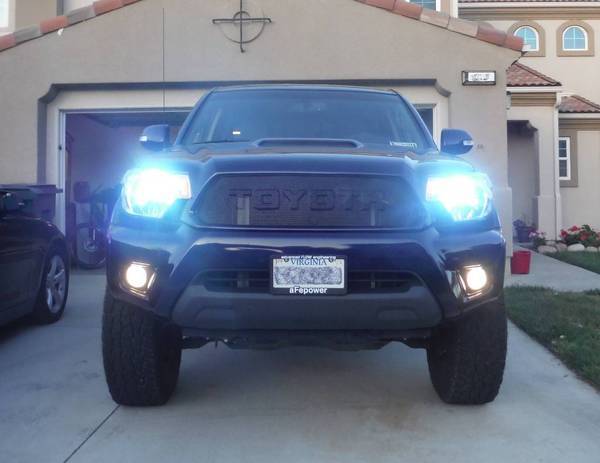 Suspension:
-Icon Stage 4 Billet suspension kit
-AllPro U-Bolt flip kit (Sitting in garage. Still need to install)
Wheels and Tires:
-Raceline 981 Raptor Black 16"x8" - 4.5" Back spacing
-Toyo Open Country A/T II 285/75R16 (Worked for me with little trimming.
Here
's how it went for others)
Performance:
-aFe Stage 2 Pro Dry intake
Aesthetics:
-HomerTaco "Ghost Raptor" mesh grill
-Simply HIDs 6000k Slim Ballasts
-Debadged
-Smoked out the taillights thanks to
THExBUSxDRIVER
Future Projects:
-Nitro 4.10 Differential Master Install kit.
-Exhaust (haven't decided what type)
-AllPro APEX 3 hoop aluminum front bumper
-14"x3" 700lb Coil Over
-LED interior lighting kit
-Rock Sliders
-AllPro Rear leaf pack maybe Dakar (what do you think?)
-Wrap for the truck. (Way down the road, when the itch to buy a new truck is too great. But I know having no payments is worth it, so I'll just make it look new.)
My build began after I saved up some money after my deployment. Christmas was good: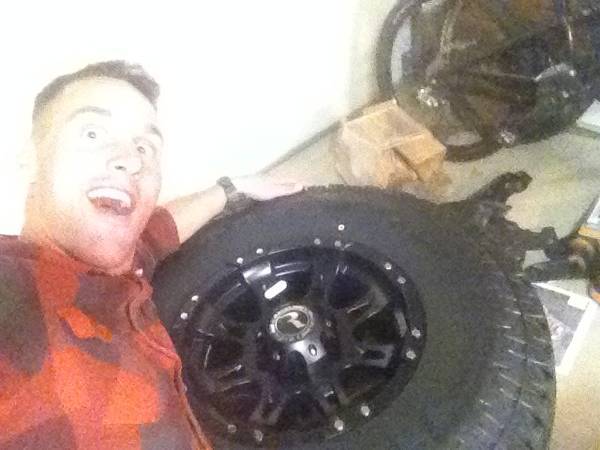 All stock ready to have the lift, wheels, and tires installed: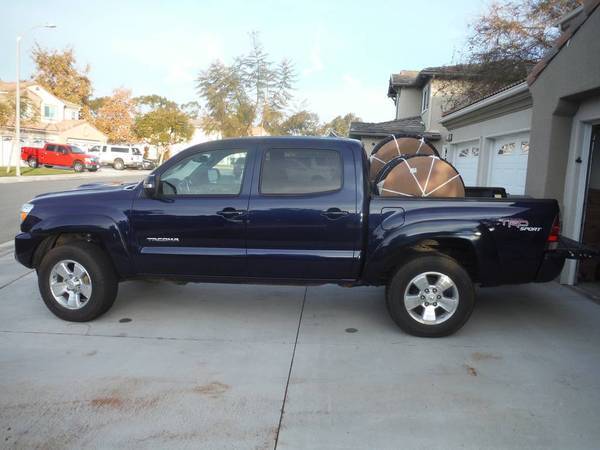 Having the lift put on took all day and then it was going to take another three hours to have the wheels and tires installed and aligned. Unfortunately for me I was going out the the field the next day and didn't have the time. This is what the
Icon
Stage 4 looks like with everything else stock: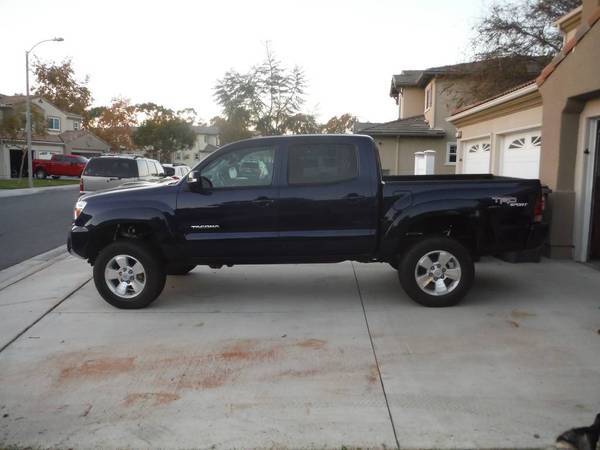 Turns out Firestone offers LIFETIME alignment for your vehicle for only $180. Yeah, you can four wheel every weekend and make an appointment every Monday to have your truck aligned no charge. We have a Firestone on base so I drove over there and had the wheels and tires put on.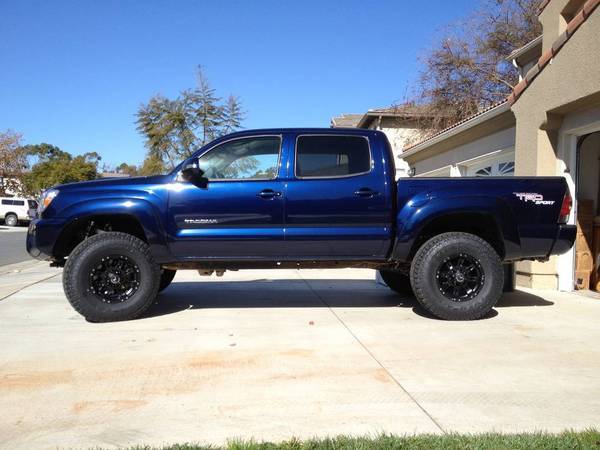 Close up of the ICON Stage 4 Billet:
So, 285/75R16 will fit on a 2013 if you only drive on the road and don't allow the suspension to articulate while turning. In other words, it will rub every time you hit a bump. As you can see it is clear toward the front of the wheel well, whereas the rear of the fender rubs substantially:
But a quick Dremel job can fix the issue in no time: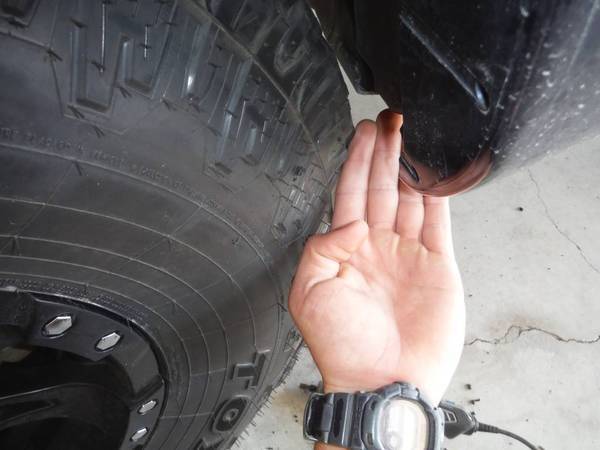 Side Note: After a few times off road with this set up I have not had any rubbing from the tire on the cab mount. It appears that although it is a tight fit the travel of the wheel does not move the tire closer or further from the cab mount.
Next up is the new HIDs my wife got me for my birthday. Simply HIDs slim ballast 6000Ks. I decided to waterproof them with the ole hot glue gun. I actually like the two tone look of the headlights vs. fog lights: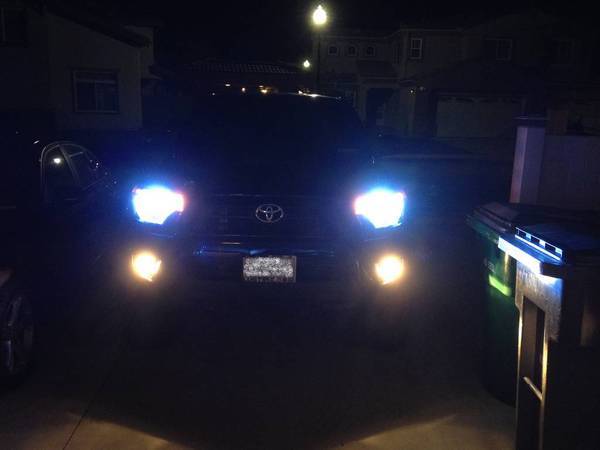 Then I spoiled myself with the aFe Stage 2 Pro Dry intake:
Stock:
aFe Stage 2 Pro Dry:
Then, as I am sure everyone who spends way too many hours on this site have, I stumbled upon HomerTaco and his business venture.
Ghost Raptor Mesh:
Surgery has commenced: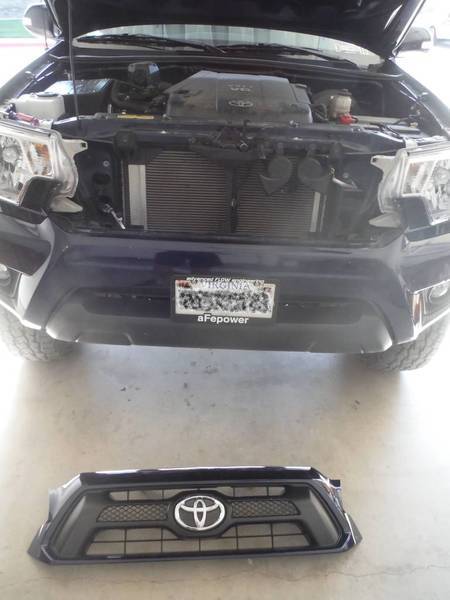 Ghost Mesh Grill: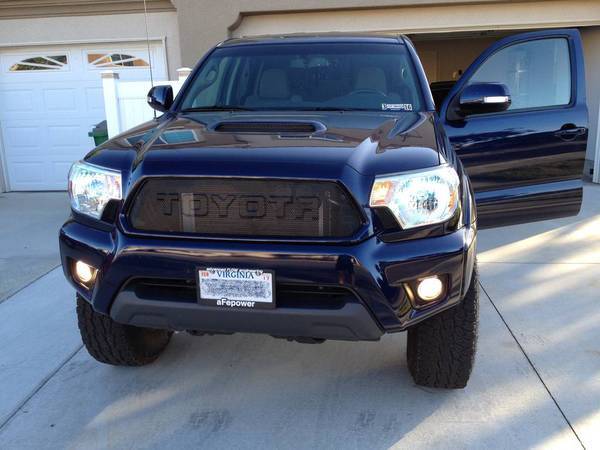 My next venture will be to fix this. From an engineering standpoint(heck even just a common sense standpoint) why would you make the lowest point on any 4x4 the exhaust?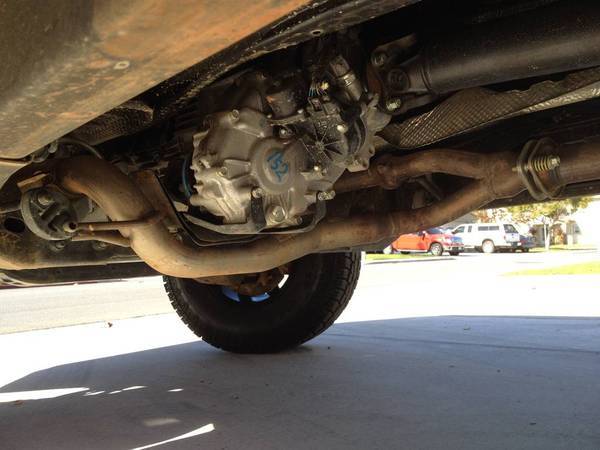 Continue to tune in as I find ways to convince my wife that it is a good idea to spend more money on my truck. Also I'm all ears for any suggestions.