I didn't really take a lot of pictures but here is my 2009 TRD Sport Double Cab Long Bed. I've had it 3 months now and it came along faster than I thought.
Here is my truck when I first bought it: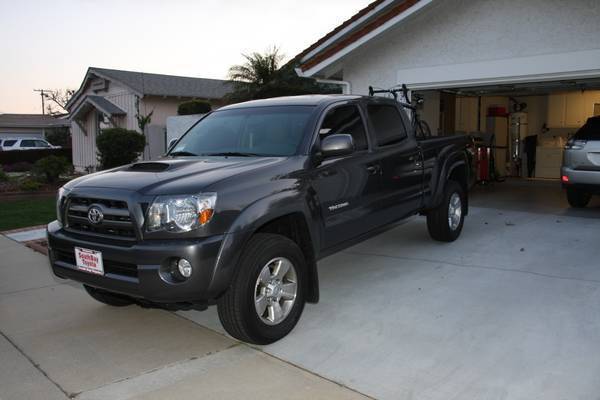 I made a bike mount that goes in the rail to hold my road bike, that was technically my first accessory I made myself.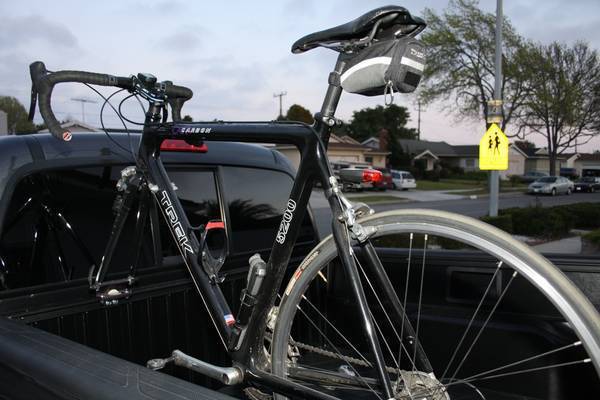 The first purchased accessories were all weather mats and a rubber bed mat (not shown):
I liked the look of the OEM tube steps because the gap between the body and steps were minimal, I have dogs and I didn't want their legs to get stuck between the body and step so I got those. The bad part was they only came in silver so I took them apart (a real PITA) and got them powder coated semi gloss black.
I then decided I wanted to lift the truck (I had lifted trucks in the past) but I wanted a practical lift that did not affect my mpg too much. I liked the size of the double cab long bed (I always had a full size truck) but felt it was too low from the factory. I start looking for deals and ordered the
Toytec
Ultimate lift kit,
Moto Metals
and Nitto TGs. I drove down to a buddy's house and we installed the lift. Here is all my parts in the truck: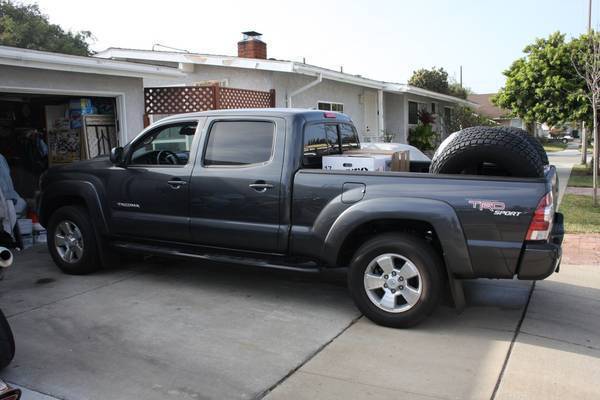 We installed the front c/o's and here is a pic, looks pretty funny: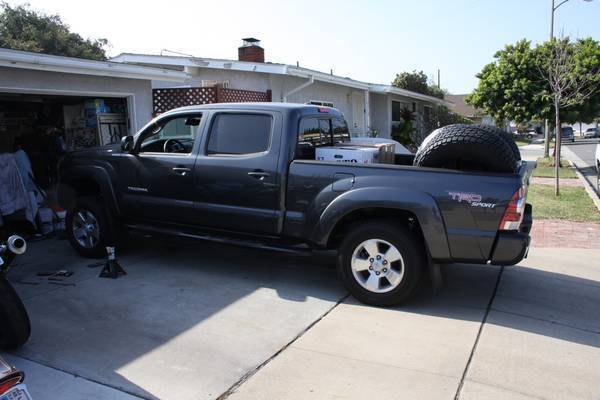 I didn't take a picture after we put the aal in but with the stock tires, it looked pretty wimpy. After that it was off to Firestone to have my TPMS removed and put in my new wheels:
The c/o's I got with the silver Eibach 600# springs, they were out of red and told me if I wanted silver it was available, I thought it might look better since I didn't have any other red parts so I went for it: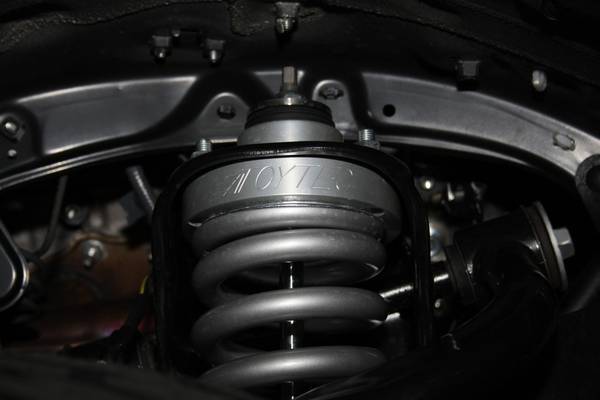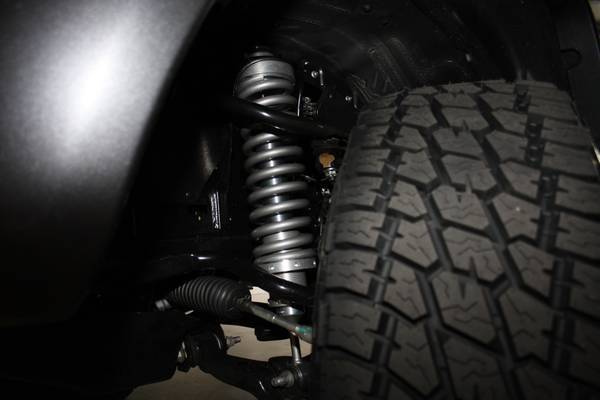 Here it is with all my stuff: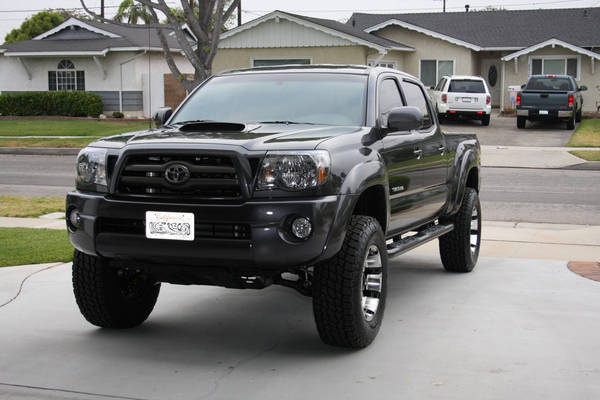 After more reading on TW in the buy/sell I found an ad for a powder coated TRD skid plate. I procastiated a while but emailed the guy. I thought the front end was missing something. He was pretty cool but told me there was someone else who was interested in it first so he had dibbs. He said he would confirm the sale but let me know the outcome. He emailed me back an hour later and said the first guy could not buy it for a month, I paypaled him that night and he shipped it the following Monday, I had it a few days later!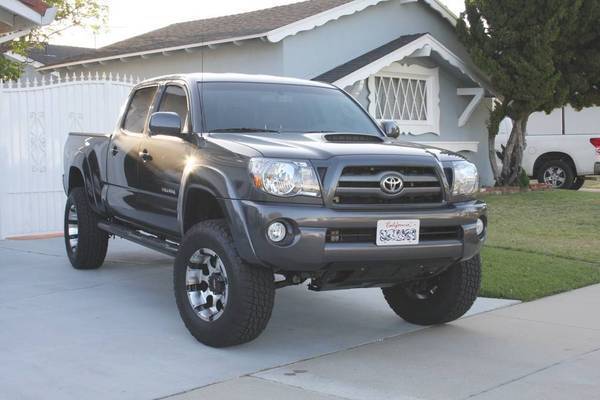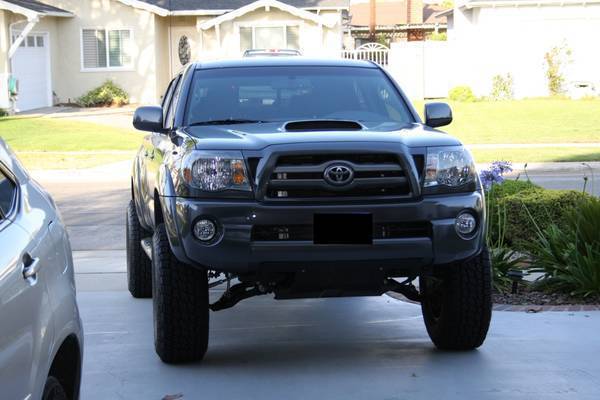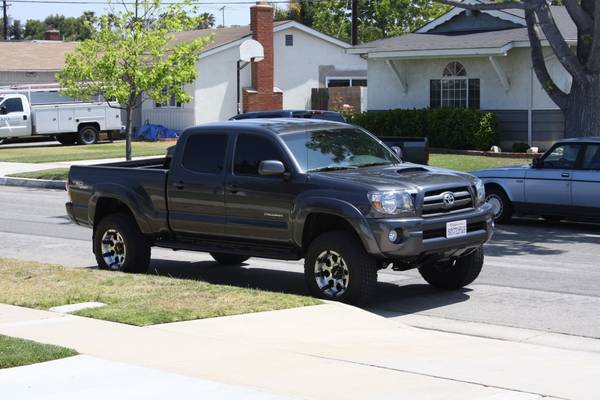 After driving it around about a month or so, I was getting sick of wandering around on my commute to work. I adjusted the c/o's to right around 3.25" and my poor balljoints looked like it was almost binding. My alignment guy said the caster was close to factory specs (but not exactly there) but the adjusters were maxed out. Johnny from Wheeler's and I worked out a trade for something he needed for some Total Chaos UCAs and we did the trade. Now we're both happy and being the great guy he is became a friend that I never met in person yet. I installed the UCAs and got another alignment per Chris4X4's specs (thanks Chris if you see this) and it drives perfect and my alignment guy was happy the adjustment is no longer maxed out.
Here are pics: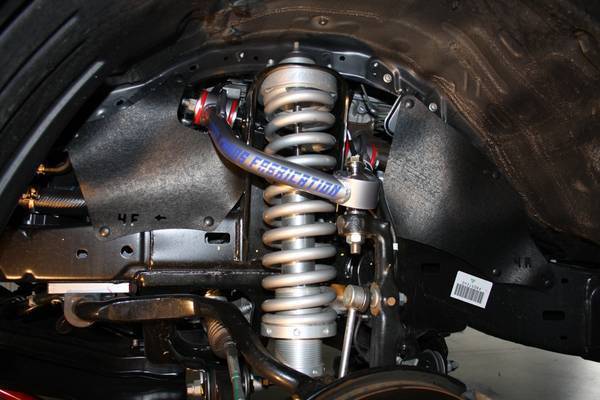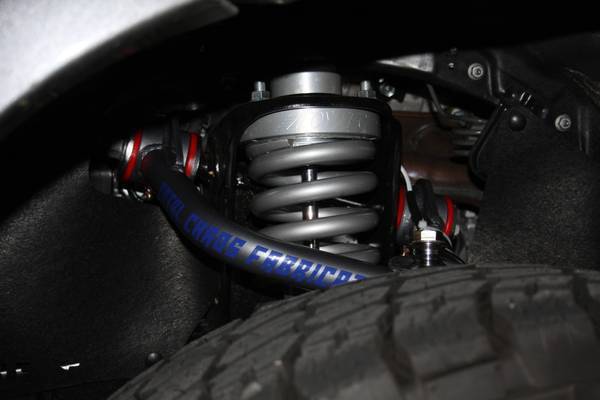 This was in the past 3 months... What is next, I have no idea. The TRD supercharger kit looks interesting. I forgot to add I have the TRD intake, no pictures but I installed it a couple weeks before the lift kit. Sounds pretty cool. I didn't tell the wife everything I did (she only thinks I got wheels and tires) so don't tell her.