I decided to start a new build thread now that I have focused in on the ultimate goals of my tacoma. I want to build my truck up with mods that take into account that it is my Daily Driver. That means that most of the mods done will reflect my desire to get the best MPG possible but also make it a weekend trail warrior.
I have a 2007 base model 2.7L I4 access cab 4x4.
Since this is one thing I am going for than not many other major modders are going for, I will start with the gas-conscious decisions I have made:
Most important is my driving style. I get up to speed and higher gears promplty but smoothly, and coast in neutral any time I can.
I switched my engine oil over to Mobil 1 fully synthetic 0W-20
I switched the transmission, front differential, transfer case and rear differential over to Mobil 1 fully synthetic 75W-90
I removed the secondary air filter and added an AFE Pro Dry S drop-in air filter, but noticed .5-1 MPG increase. Not much but the fact that I will never have to buy another air filter without sacrificing MPG is great.
I am selling my 17" FJ rims so I can stick to 16" wheel with a smaller tire
(and look more proportioned doing it) to save mpgs.
Next I will add either 245/75R16 or 255/70R16 tires to keep a smaller size and save on some fuel consumption. I don't have a need for huge tires, just better traction.
Those tires I have decided to be Bridgestone Dueller Revo ATs since they have better traction ratings than BFG ATs and seem to be the most street friendly ATs out there.
I have decided against a big lift and am instead doing to leave it stock or add some shocks to level it only.
I am thinking about selling my sliders (never installed) to keep the 90lbs off of my truck, but have not decided yet.
Installed Doug thorely Long tube headers. Lost a little power in the low end, but have a nice gain at 1500-2000 rpms and above
So far I have upgraded the head unit to an alpine CDA 9884 head unit with amplified aftermarket speakers. I am currently reinstalling the speakers while deadening the truck.
I did a White headlight mod, blacked out the emblems, and added a white shorty antennae.
Then I swapped hoods with another member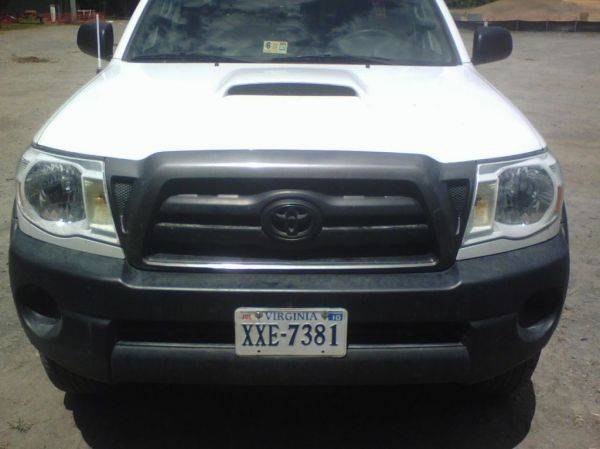 The less notable additions were the SR5 seat covers and TRD floor mats.
To sum it up...
Things DONE:
White headlights
White shorty Antennae
Black emblems
Mobil 1 oil in engine, transmission, front diff, transfer case, rear diff
AFE Pro Dry S Drop in Air filter with removed secondary air filter
TRD Floor mats
SR5 Seat covers
Doug Thorely Long tube Headers
Things waiting to be installed:
Sliders (may sell)
LEDs for gauge cluster
Sockmonkey bedside decals
Future mods:
Dynomax muffler
16" steel wheels (after I sell my current FJ wheels)
Bridstone Dueller Revos in 245/75or 255/70
ARB Rear locker (after truck is fully paid off)