Okay, so I didn't really think I was "building" my truck, but as I do more stuff to it, I'm beginning to realize that it is a "build." So I decided to start my own build thread so that I can log the mods that were done when I bought it and the things I have done since. I don't exactly have a goal in mind, I guess I'm still figuring that out. It's my DD and I don't do very much off roading other than the occasional field or log trail.
2005 Base Model 2wd Access Cab 4cyl, MT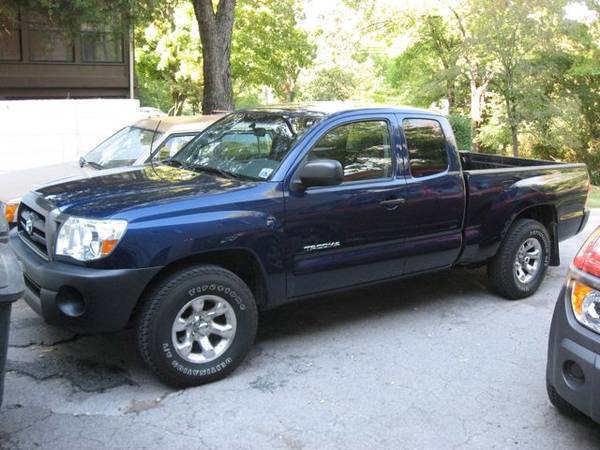 As Purchased
70k miles in October 2008
K&N drop in oiled filter
stubby antenna
wiring for an active sub, but no sub
15x7 series 146 eagle alloys
30 x 9.5 Firestone Destination AT's
"Cowboy Up" Rear Mudflaps
Mods I Have Done
Metra Ipod Adapter
Wet Okole Seat Covers (thanks TW GB)
Factory Fog Lights
AMSoil 5w30 Synthetic Motor Oil
AMSoil 75w-90 Severe Gear in Rear Diff and Transmission
Super Blue DOT4 Brake Fluid
Rear Helper Springs-----REMOVED
Removed secondary air filter
Removed intake resonator
OEM Int wipers (easy and well worth it)
OEM Bedmat
URD Short Shifter (dramatically improves 5spd shifting)
Scanguage II w/Blendmount
AFE Pro Dry-S Air Filter
DT Headers - purchased very used with rusted flanges (apparently those aren't ceramic coated). Finished cleaning the rust off and recoating with VHT clear ceramic header paint. I would advise just buying them new, or at least not rusted from winters in Michigan.
ARE CX Topper
Fat Bob's 2.75" spacer lift w/long AAL option
Bilstein HD shocks
Curt Mfg Class III receiver hitch
Bridgestone AT Revo 2 31x10.5x15
Hub Centering Rings from JustForWheels.com

Inside Diameter: 60.1mm (5-lug hub diameter)
Outside Diameter: 78.03mm (inside diameter of eagle alloy center cap)

Weathertech in channel slim ventvisors (thanks TW GB)
Weathertech digital fit floormats (thanks TW GB)
SP Performance Slotted Rotors (purchased from www.raceshopper.com)
Street Plus Pads (purchased from www.raceshopper.com)
Painted drums black
4.10 gears w/LSD
speedo gear from prerunner

To Do
Tint windows
Wire up lights on topper
Burco Heated Mirrors
Aux Fuse Block
Wish List (someday
)
Beefed front skid plate
TC UCA's with SAW coilovers
URD Supercharger
Thanks TW for all of the ideas, info and just being a great forum for our trucks!