Attention to those who have questions for me... I will no longer be responding to PMs. I can't keep up with it. If you have a question about my build or just want my $0.02 on something, please post it here in this thread and I will respond accordingly. I just don't have the time to continuously answer the same PM questions over and over again. Thank you.
Here is my build, started in August 2009.
Specs:
2008 Tacoma
4.0 V-6 Automatic
4x4 Base
Short Bed/ Double Cab
TRD Seat Swap
TRD Hood Swap
Electronics:
Eclipse AVN-52D Navigation Headunit w/ iPod, Bluetooth and Back-up Camera
Custom TRD Black Splash Screen during Navigation Start-up
9" Shorty Antenna (Black)
Cobra 75-WXST CB Radio
3' Firestik Fire-Fly Antenna (Black)
18' Firestik Fire-Ring Coax
Lighting:
3M Crystalline Front Windshield Tint (50%)
15% Suntech Window Tint
5% Suntech Rear Window Tint
Black Headlight Mod (BHLM) retrofitted with 5000k HIDs
2 Hella 500's retrofitted with 5000k HIDs - Mounted behind Satoshi Grill
2 OEM Foglamps retrofitted with 5000k HIDs
LED License Plate wedge bulbs in Cool White
Foglight Mod (Thanks to Chris4x4)
Armor:
All Pro IFS Skid Plate
Avid Off-Road
Bar powdercoated Tuscan Black
Avid Off-Road Sliders powdercoated Tuscan Black
Thule Roof Rack & Fairing
Avid Off-Road Roof Rack Basket
Engine:
TRD Intake
Dynomax Superturbo Muffler
TRD Catback Exhaust 2.5" Piping
Doug Thorley Long Tube Headers w/ o2 Simulators
Vibrant Performance Resonator - 14" Oval, 2.5" In/ Out
URD
MAF Calibrator
FelPro Gaskets
TRD Exhaust Tip Thermal Coated in Black
Front:
Total Chaos Uniball UCA's
Camburg
3" Coilovers - 2.5 Series
Sway-bar Removed
All Pro Extended Brake Lines
BSP Satoshi Grill
Rear:
Icon
Shocks - 2.0 series with Reservoir
All Pro 1.5" Leaf Springs Pack
All Pro U-bolt Flip Kit
Timbren Bump Stops
All Pro Extended Brake Lines
5lb Fire Extinguisher from Wal-Mart
N-Fab Spare Tire/Wheel Carrier powdercoated Tuscan Black
BSP Matched License Plate Frame
48" Base-model Hi-Lift
FourTrex Hi-Lift Mounts rattle-canned matte black
KR Fabrication 2-Jerry Can Cage
Blitz Jerry Can (x2)
Relentless Fabrication Hitch Shackle
Wheels/Tires:
American Racing ATX Artillery Wheels - 17x9
(5) 295/70R17 Nitto Trail Grappler M/Ts
How its sits now.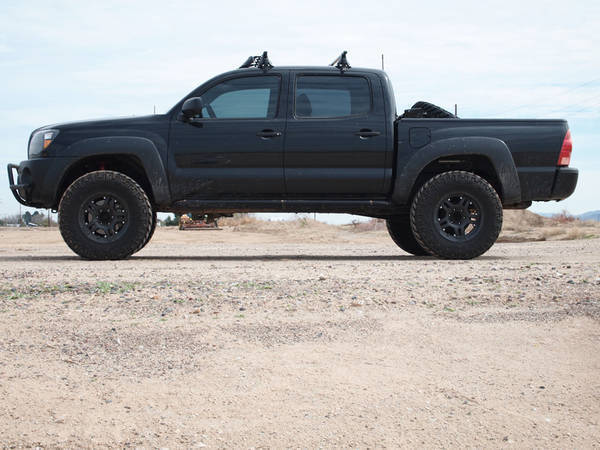 -------------------------------------------------------------------------------------------------------------------------------------------------
September 7, 2009
Welp, I've owned my SPB 08 Tacoma for nearly 1 month now, and it's time for a build thread! There's been many "wasted dollars" (as the girlfriend sees it) on suspension mods and interior odds-n-ends over these last few weeks.
Oh yeah, many props to OakleyTRD. Cliff has been helping me and yielding many of my crazy questions and always offered his suggestions. Dude's been a huge help. So thanks!
A couple "Day #1" photos;
Black Billet Grill... I still need to relocate the horns and possibly spray the radiator black. I really like the Satoshi style grill, but wanted to try something different.
Shot of the T-style Auto shifter (available at the stealership for about $60
). The double-din navi head unit is an Eclipse AVN52d (similar to AVN5200 I believe). I purchased an AVN62D, but the installer jacked it up during install and put this one in for the time being. A new one is on order. Comes wtih the back-up camera, blue-tooth handsfree dealie and iPod connection. Best of all, its made by Eclipse... which is basically Fujitsu which Toyota owns... so the install is clean and connection is plug-n-play!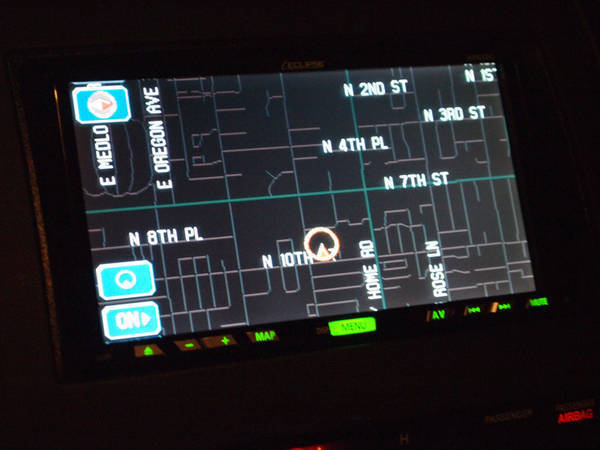 And I set the start-up/ splash screen of the navigation unit to this....
(If you have an Eclipse unit; here's how to change the splash screen-
http://www.tundrasolutions.com/forum...image-eclipse/
)
Installed 4G fire extinguisher on 12/20/2009. Purchased from WalMart.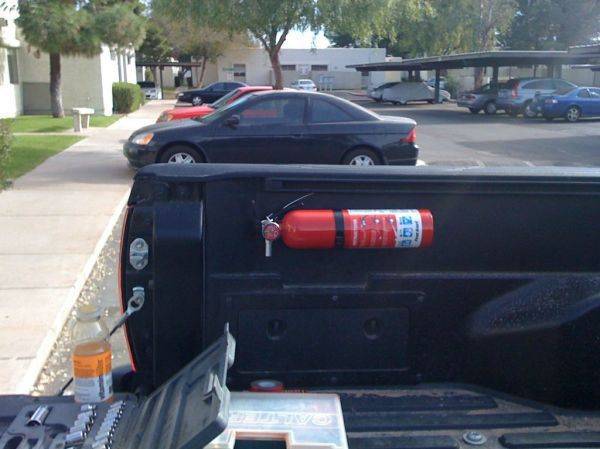 Arizona trailday at Bulldog Canyon on 12/19/2009.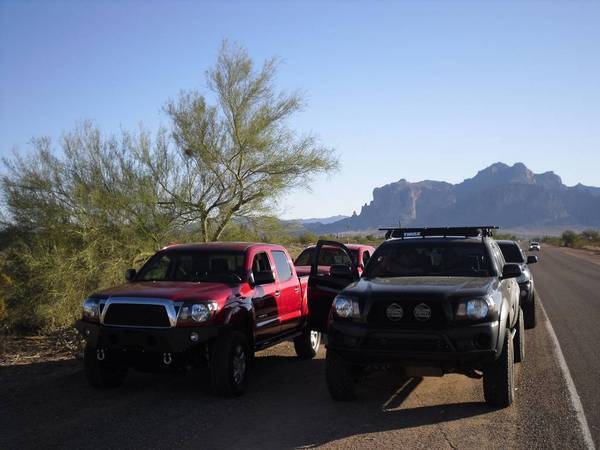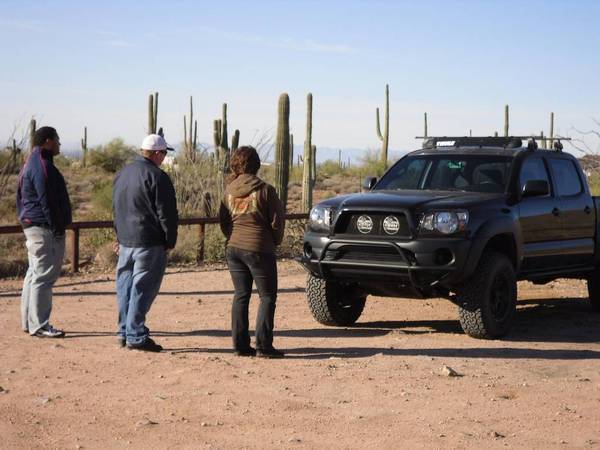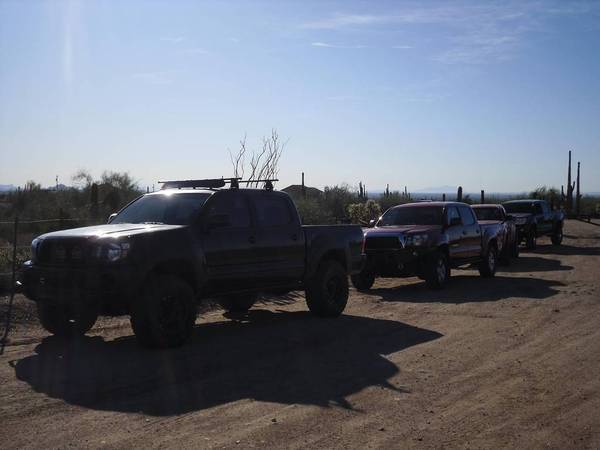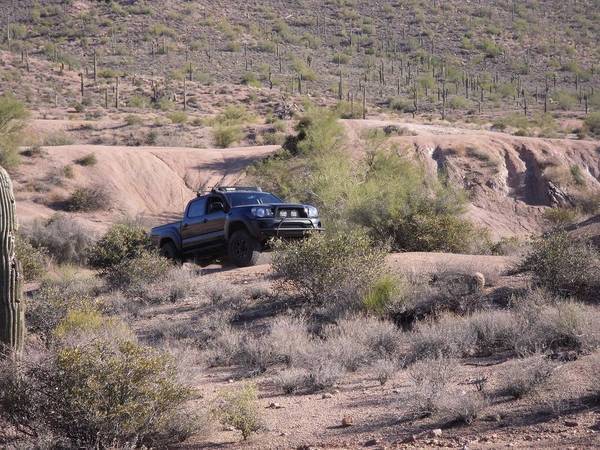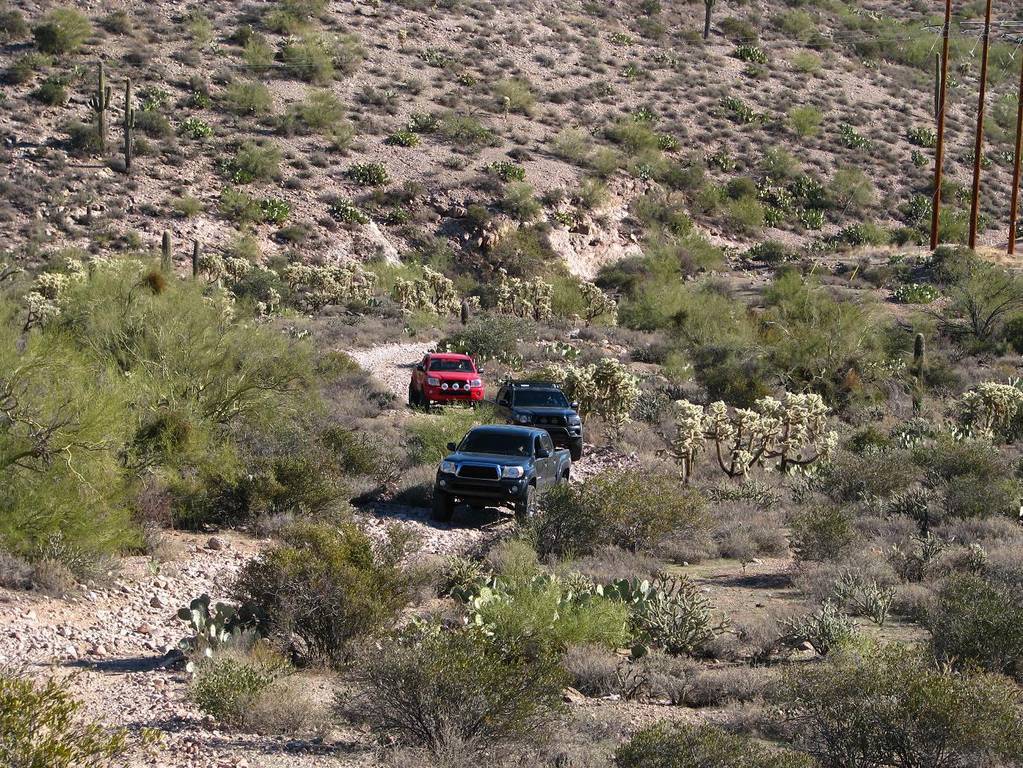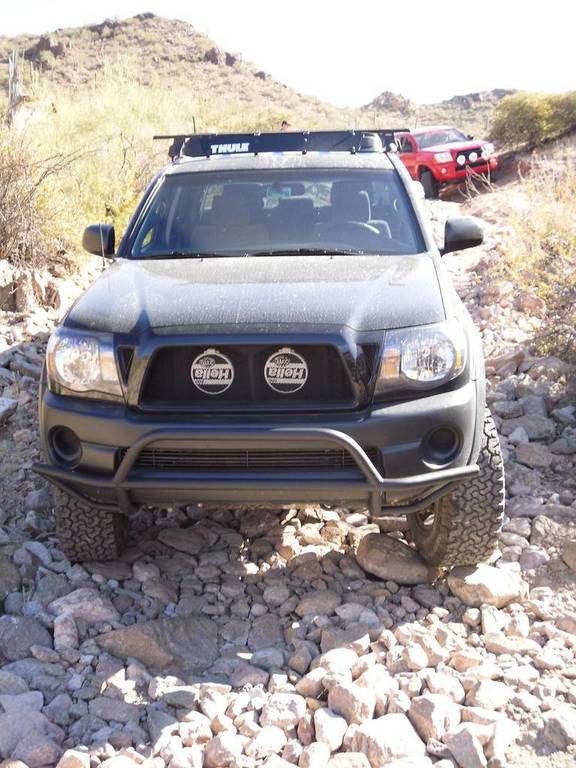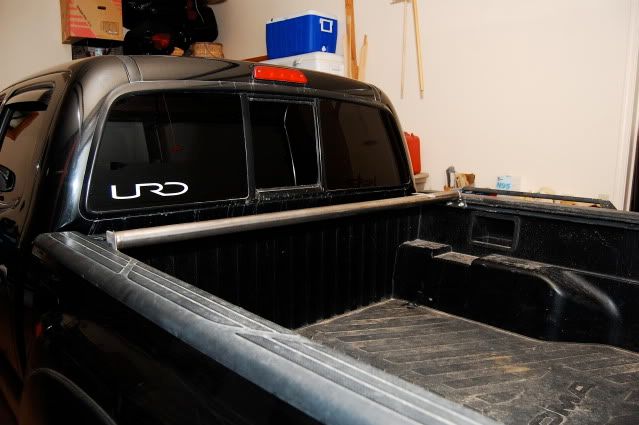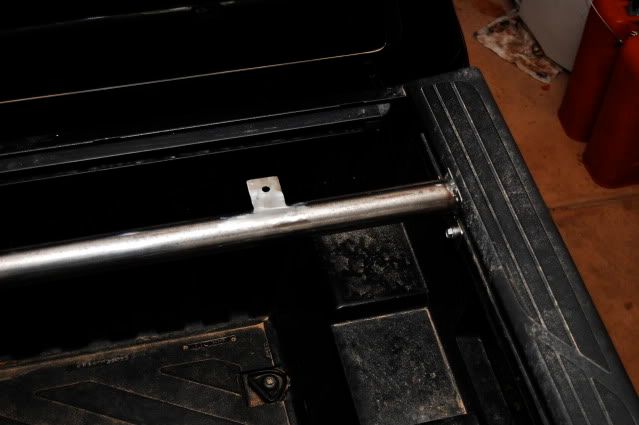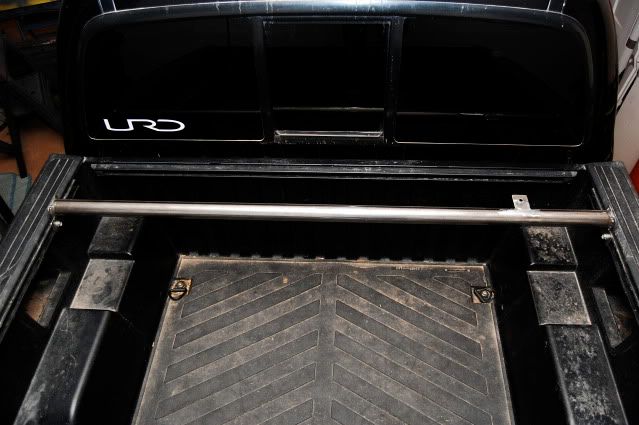 January 18, 2010: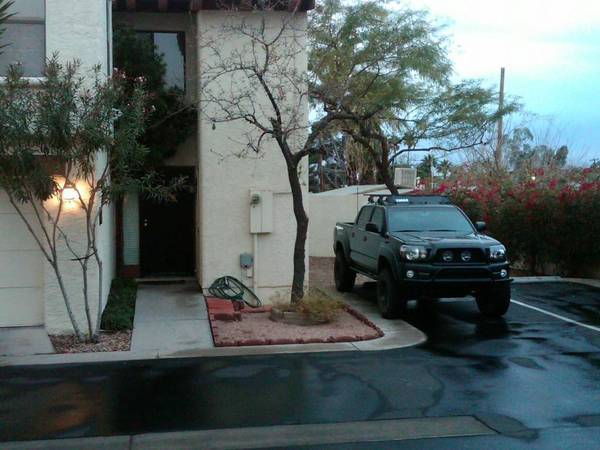 January 24, 2010:
New Tires - Nitto Trail Grapplers 295/70/17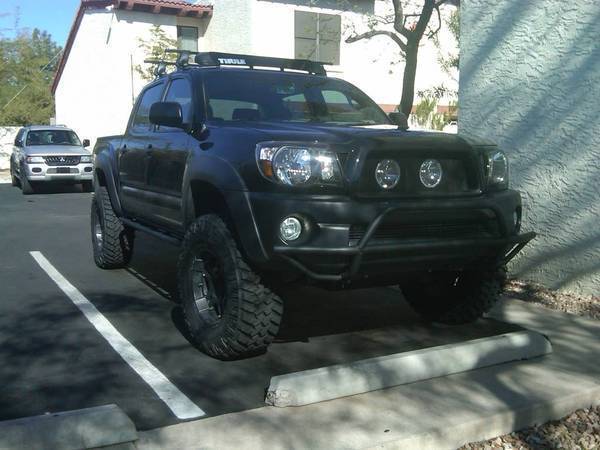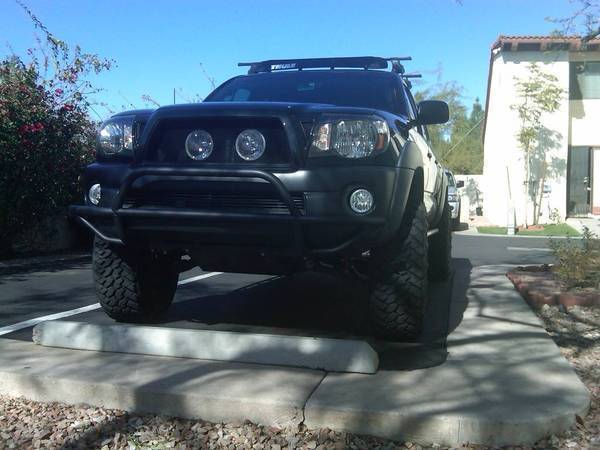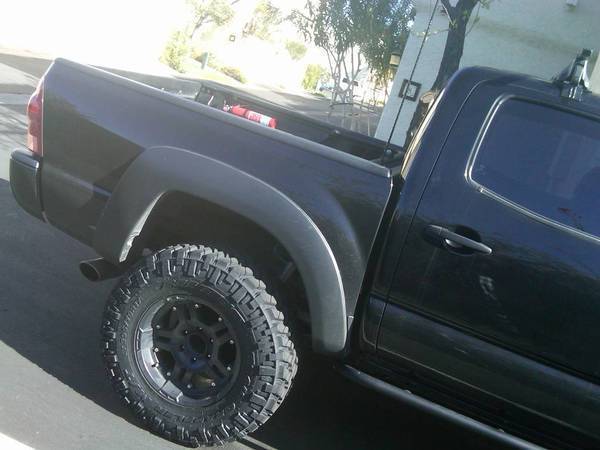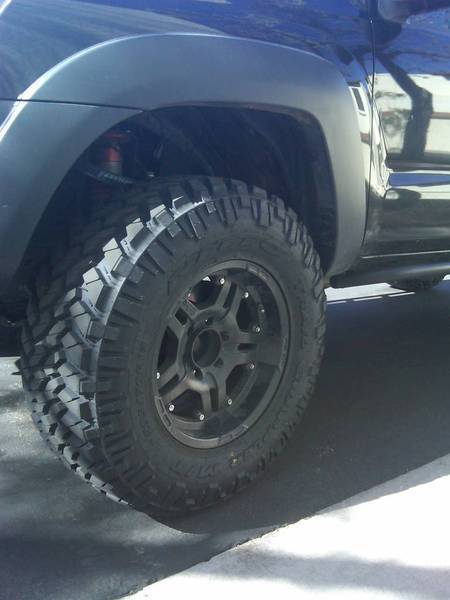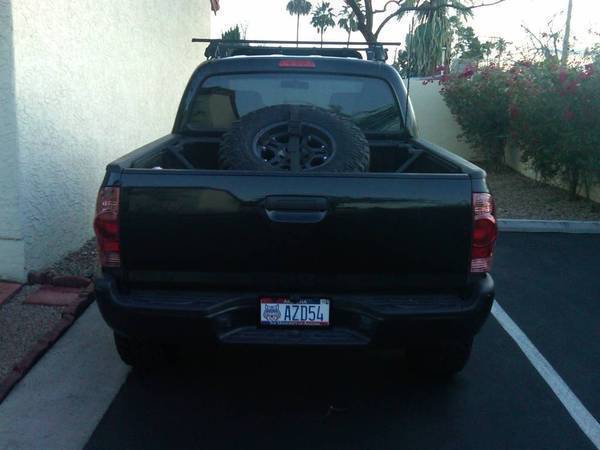 As you can see in this pic at the bottom left of the tire, I picked up a braided bike lock from
Home Depot
. It is a black carbon fiber look which just plain looks badass. This is a 4' lock. Works perfect, it fits nice and snuck around the wheel/ tire/ N-fab carrier.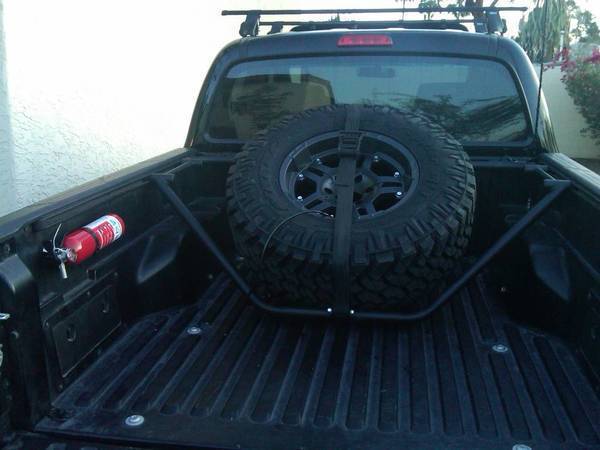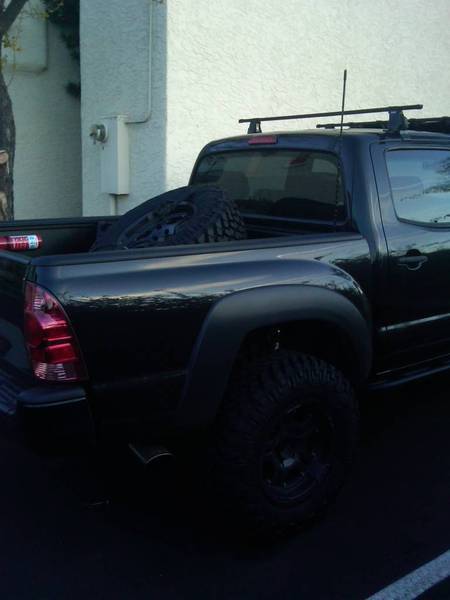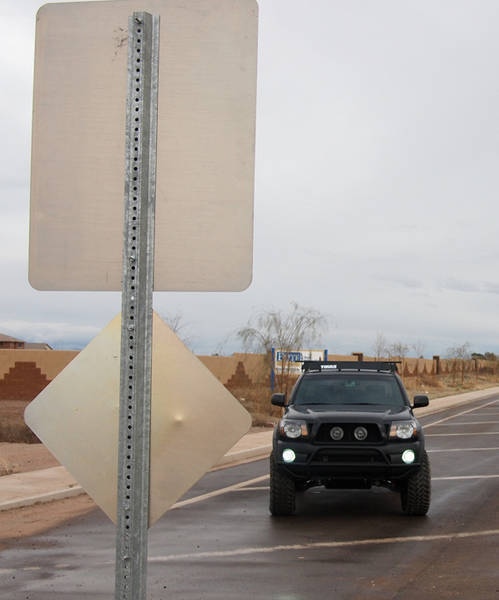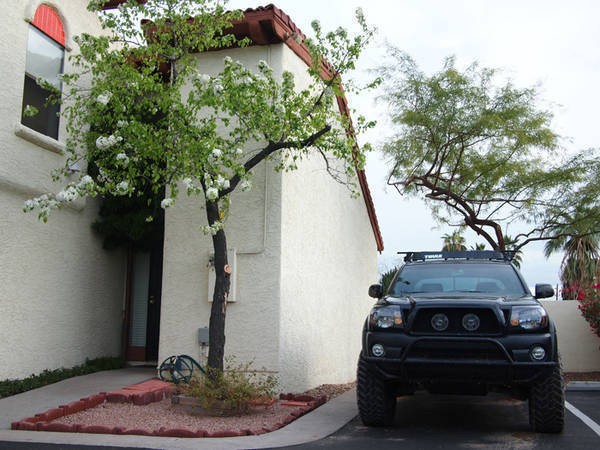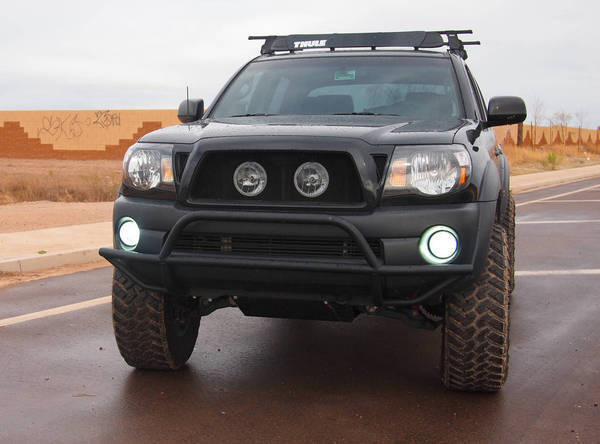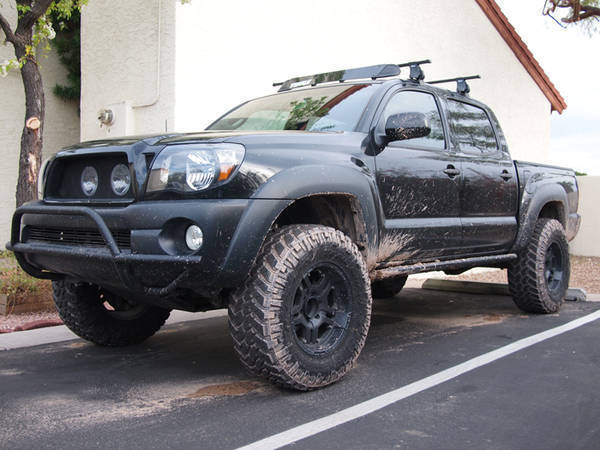 Grabbed some nighttime photos of the HID fogs and headlights;
Here's complete darkness, you cant even make out the truck!
Help from a big flood-light....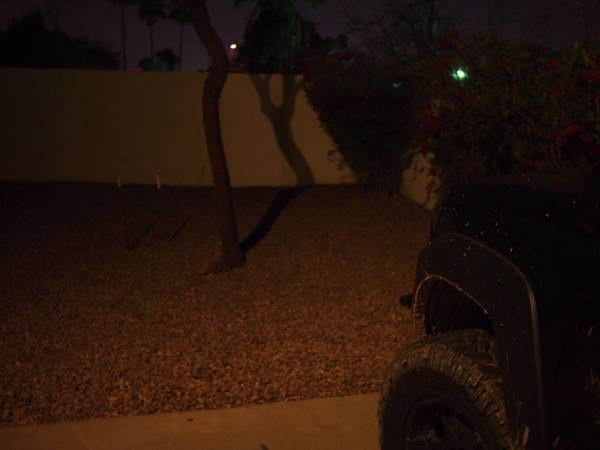 Foglights on only...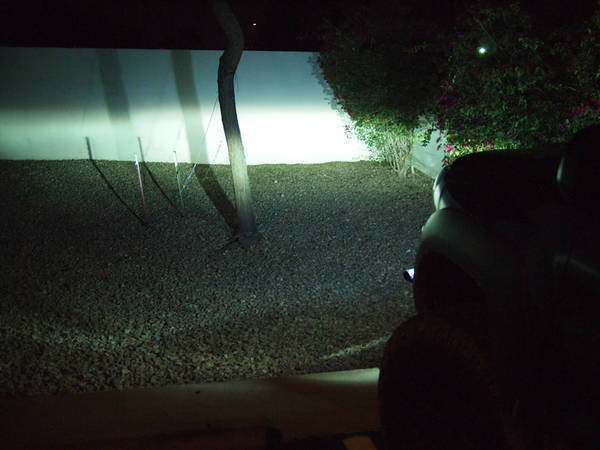 HID 5000k's in Headlights and Fogs. Both on...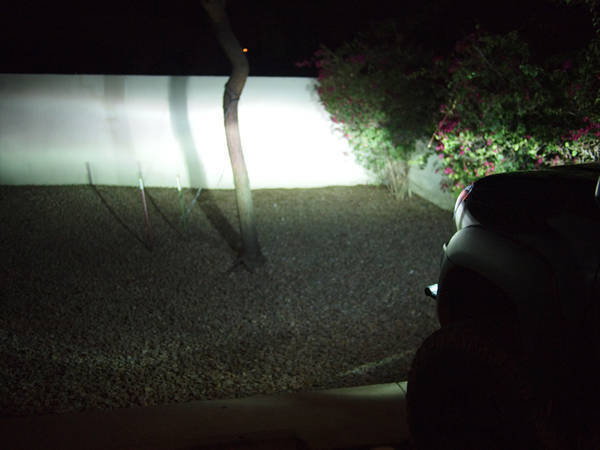 SuperWhite LED license plate bulbs...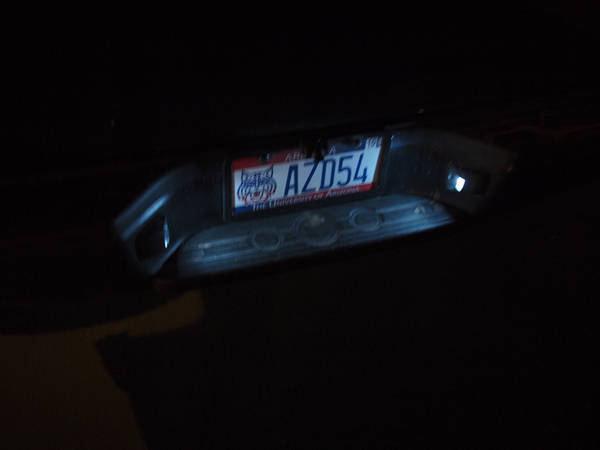 Shown in the back of the truck;
1. Full size spare wheel/tire carrier: NFab powder-coated Tuscan Black w/ a black spray painted ratchet strap!
2. Full size spare Wheel and Tire: 17x9 American Racing ATX Artillery wrapped in 295/70/17 Nitto Trail Grappler
3. Fire Extinguisher from Walmart (came with mount) attached using self-tapping screws
4. 3" Firestik Antenna in Black. Chris4x4 helped me with this two months or so ago.
5. 48" Hi-Lift (base version) mounted to the Nfab wheel carrier using FourTrex mounts (the silver things you see)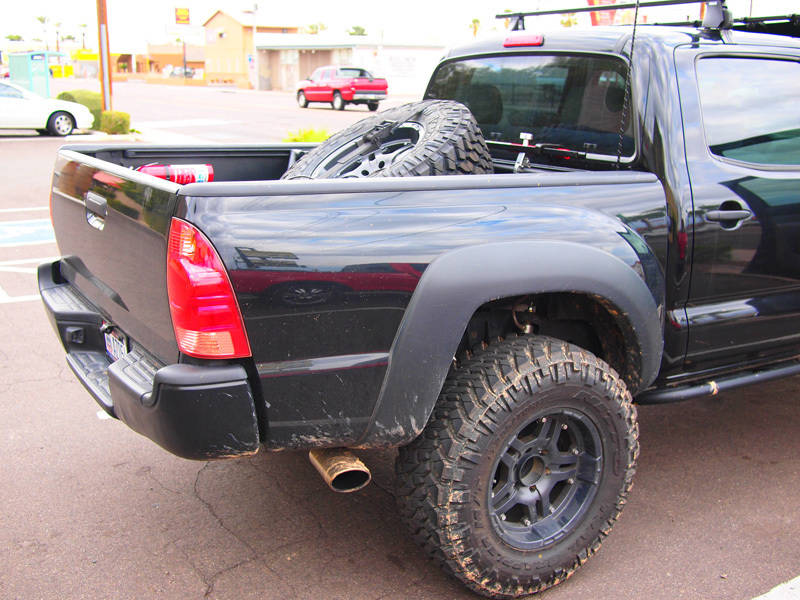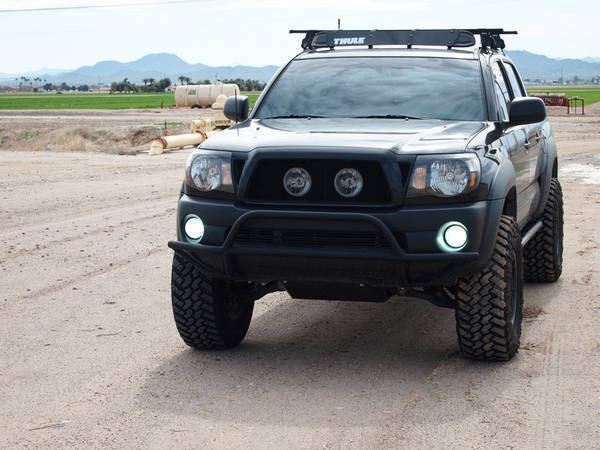 Some new pics courtesy of Cmack from the Arizona Mod-day on April 10, 2010!
TINT!!
Here's the old tint;
No Tint;
and New Tint!;
and check out my brand new BSP SCOOPED HOOD!!!
Dyno'd on 8/6/2010 before install of Dynomax Superturbo and DTLT Headers; 204 WHP and 231 Torque.
Pre-test mode
Results of Dyno;
Again, like I mentioned before, the WHP was 204. Torque was 231.
Here's a few videos from my HTC Incredible
http://www.youtube.com/watch?v=iynIZWLUSGk
http://www.youtube.com/watch?v=6HByzRjZepM
The new Dynomax Superturbo muffler was installed 8/7/2010. Here are a few pics from the install (Tristan at Performance Muffler on 19th Avenue and Cactus here in Phoenix)
OEM still...
Cutting out the TRD muffler...
And then it was time for the new muffler to shine...
Exhaust is dumped right before the OEM spare tire carrier under the bed for the time being. I am taking the TRD tip to Arizona Powdercoat this coming week to have them PC it Tuscan Black like my sliders and front bumper bar...
Maintaining the OEM hangers...
I swapped my non-TRD seats for TRD seats!!
Ta-da!!!
8/8/2010 - Laying out the header assembly. Headers being installed with LOTS of help from Kris (TRDguyKC).
Rear-ends of both vehicles;
Pics from today's DTLT header install aka sweat-fest. It was freakin' HOT!
OEM vs Doug Thorley
Kris' 2007 Tacoma (TW member name TRDguyKC)
Blockin' da streets homie!
OEM gaskets vs. Fel Pro gaskets!
No break-in period (sorry, the camera-phone audio pickup sucks!)
http://www.youtube.com/watch?v=Dlx1uPtAqbE
Kris' truck;
http://www.youtube.com/watch?v=ZrNhN...layer_embedded
Again... the video audio destroys the clips, but dah well.
Well... after only a few hours with the headers, I had had it! It was time to order a resonator to eliminate that damn rasp! I ordered up a Vibrant Performance Ultra Quiet 14" OVAL body, 2.5" In/ Out resonator.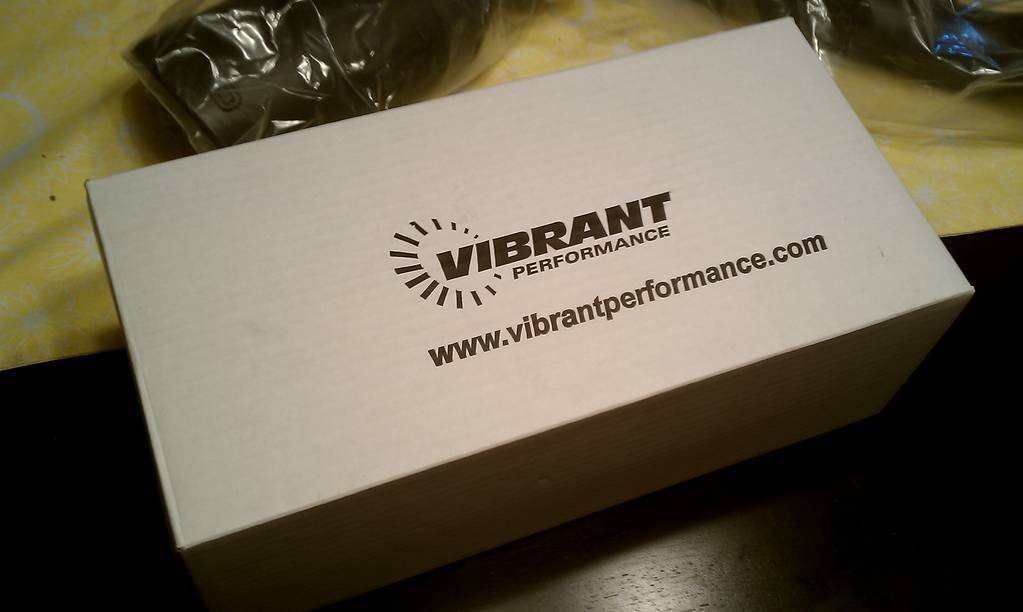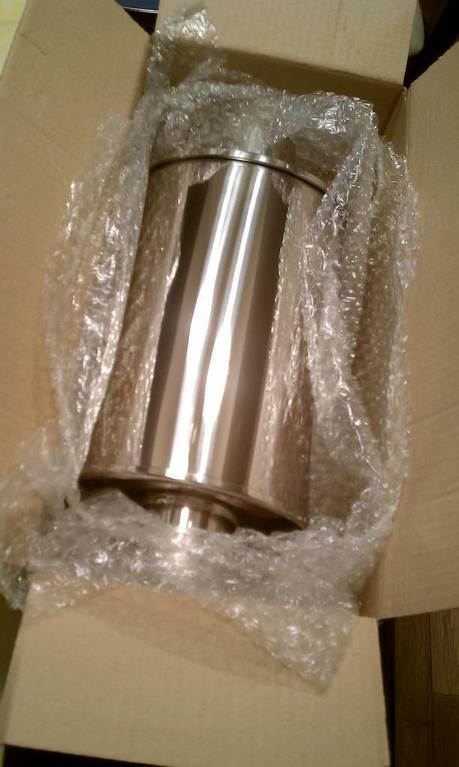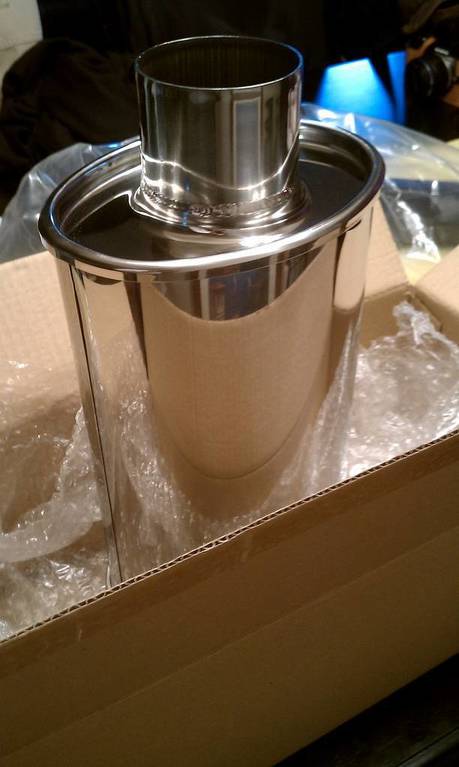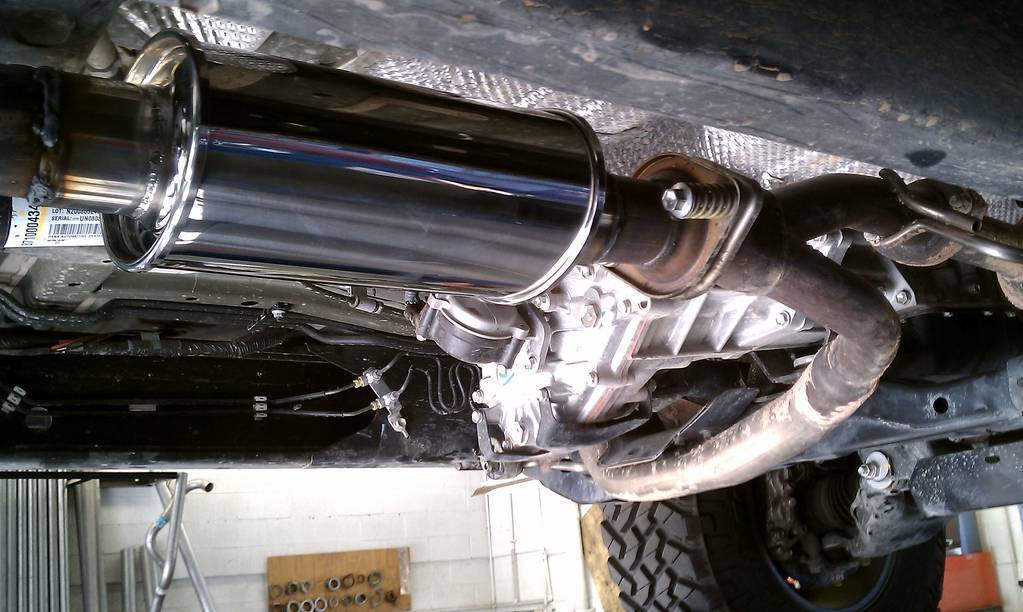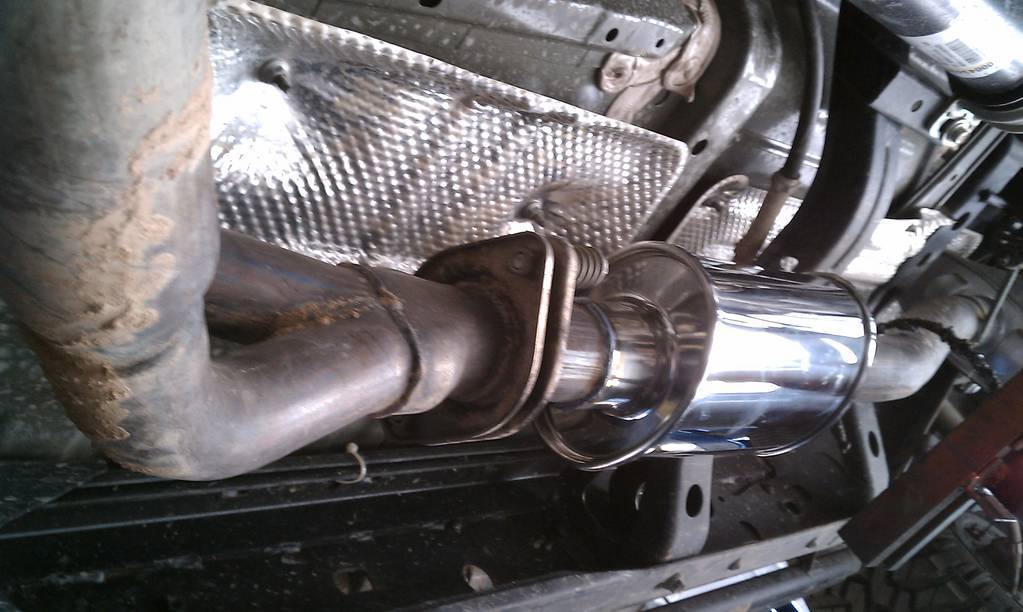 When the Dynomax Superturbo muffler was installed, I had the exhaust temporarily dumped so that I could thermal coat the TRD exhaust tip. Here's the final product;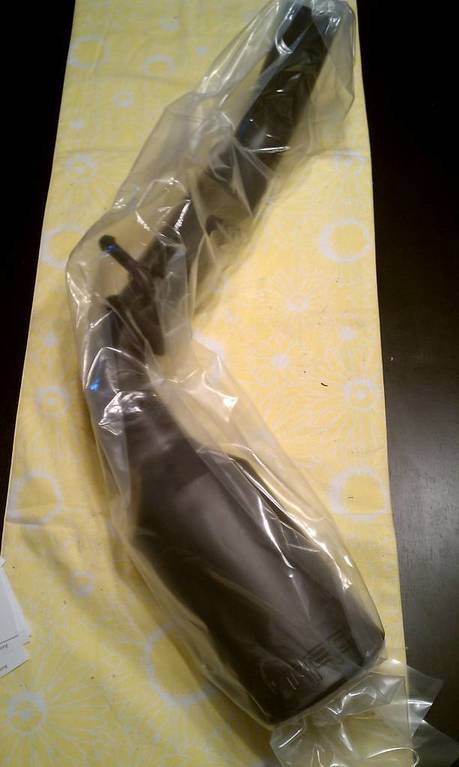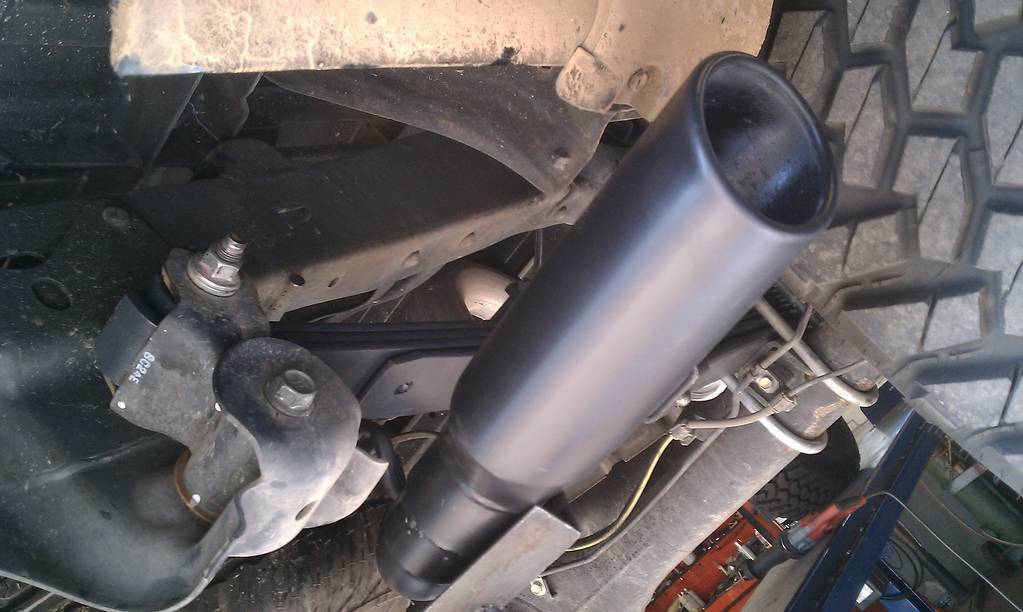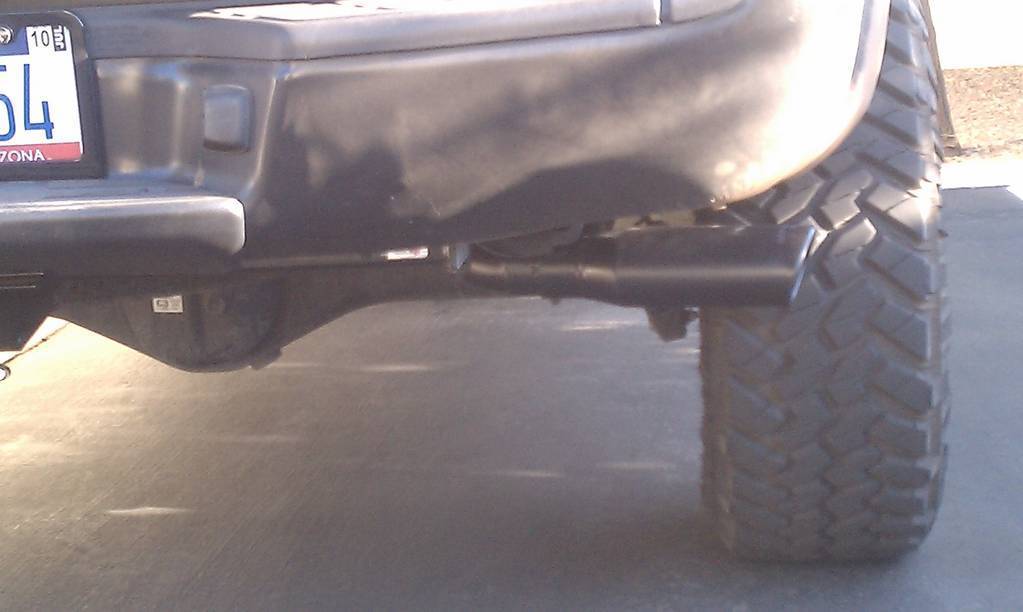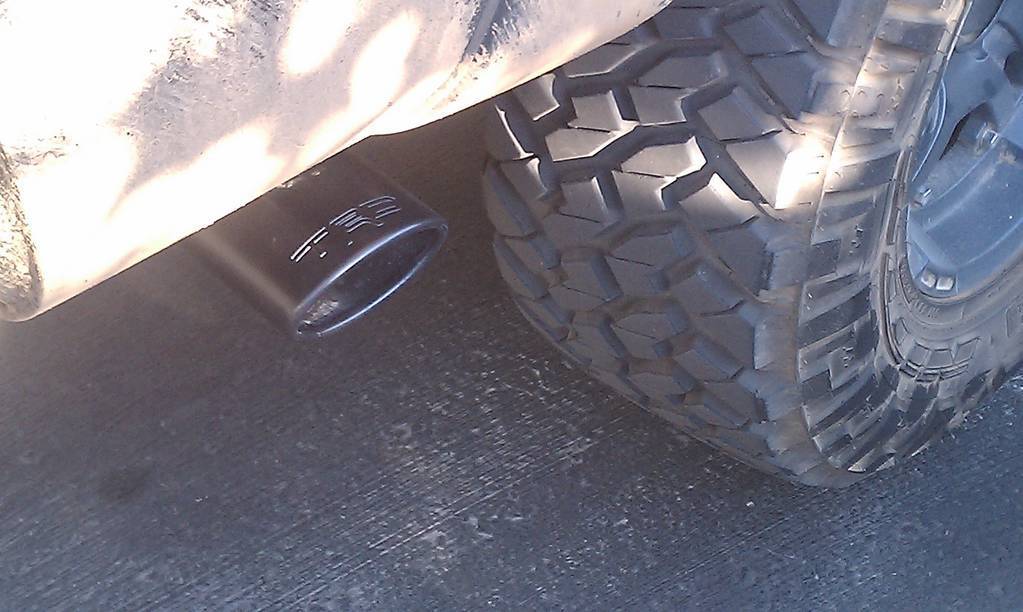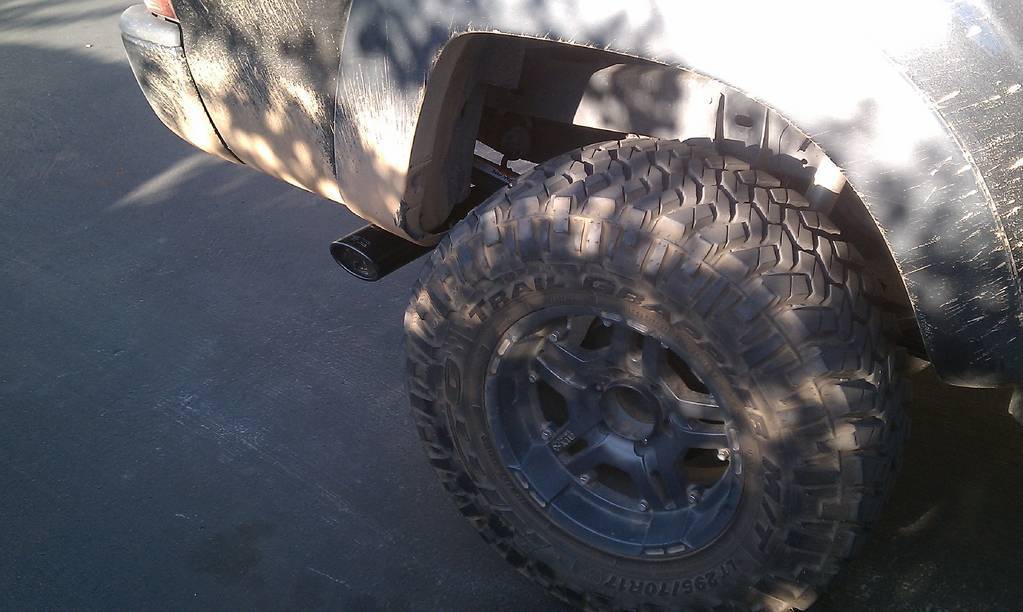 Random photo taken before a work meeting;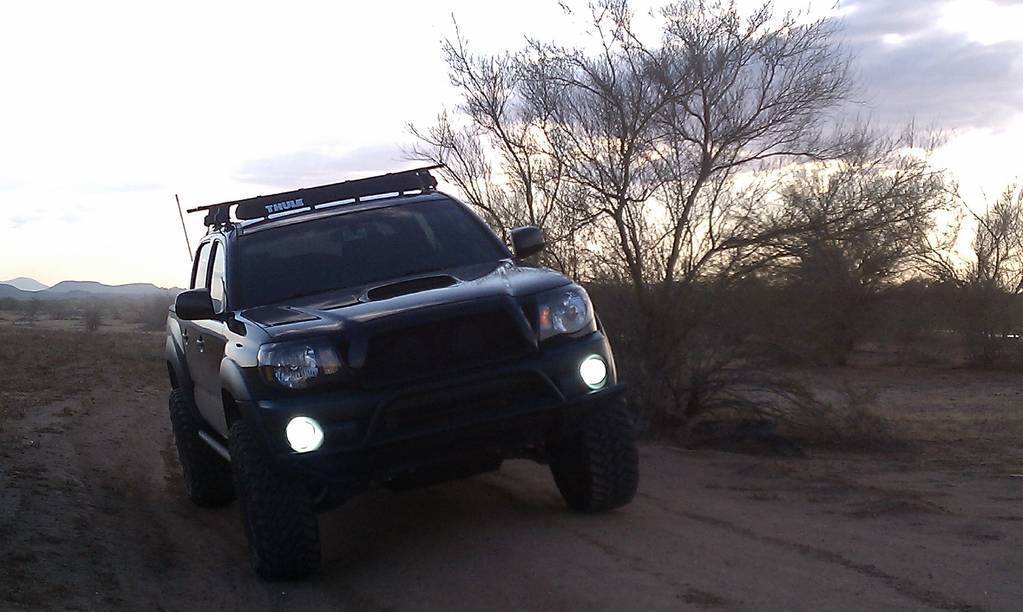 OME Dakar 2.75" Rear Leaf Srings swapping out my 1.5"
All-Pro
Leaf Kit;