My Build/Story:
I figured since I've been here for a bit over a year, it's time to start a build thread. I bought my Tacoma in 2007 with about 22,000 miles on it… here it is on day -1 (I test drove it, parked it there, snapped a picture, and made an offer the following day)
From there it's pretty much a blurr. I did know that I wanted to mod the truck, but in a way that made it more user friendly and comfortable to drive, and more fun if I decided to off road, which I ended up deciding to do!
I'll go out of order from here on out…
I ended up getting a toyota brand hitch:
Did the fog lamps on anytime mod:
Designed the
"bed lights in the cubby hole"
mod found on the free/cheap easy mod section:
Installed my compass/temperature gauge bought from sideways, here on the forums
(and did a writeup on how to)
… at the same time did the "map lights on with dome light" mod:
Removed my secondary
air filter
… as to which I have not noticed any difference one way or the other.
Installed the double din stereo:
Decided that one wasn't good enough, sold it to a member here on the forums, and went with this the Kenwood ddx512 (and the ipod cable that runs into the center console.)
Got the sockmonkey SR5 decal… I decided on California in the background because I grew up in Northern CA, now live in San Diego… and my truck is obviously a Prerunner.. so it's "Off Road" and it's not TRD, so SR5 it is…:
Door and seatbelt chimes were disabled.. no pics..
Painted my engine cover:
And got a set of those Redline Hood Struts.. (so so so awesome by the way) :
Put a set of tan
Weathertechs
in and did the
"Cheap Piezo Buzzer" mod
:
A mod some jackass decided to do for me… (who knew a screw driver coudn't open a door?!) I guess he liked my truck just as much as I do:
When I got my truck I didn't have a spare tire, so I found a scraped up sport rim and bought it a used tire.. total of $50 later:
Then did a set of Bilsteen 5100's in the front, set at 2.5 (thank you Roger and Steve!!) :
...and realized that now since I'm pointing my headlamps up in the sky… got an AAL from
ToyTec
to put in. Turns out Roger had a set of leafs with the ToyTec AAL already in it! So we shoved that in place instead with a set of rear bilstein 5100s:
BFG TA K/O 265/75R16's to replace my knobby Wrangler 245's..
Before:
After!
Pretty nice upgrade if i say so myself..!
Color matched door handles.. My old ones were looking shabby and i got a great deal on a set (thanks Ron!) So....
Bed bar from Albert
and attached a
harbor freight
off road light:
It's not a mod, but it will be on my truck from now on out.. so lets call it a mod: a
Hitch Safe
!
Revenge Fab Sliders added!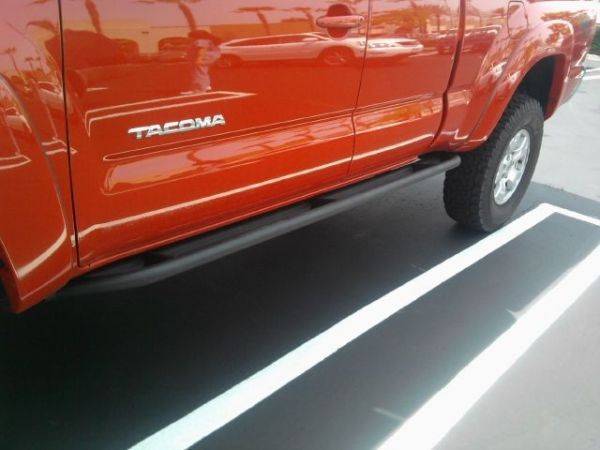 Snagged a bed mat off of craigslist for $35!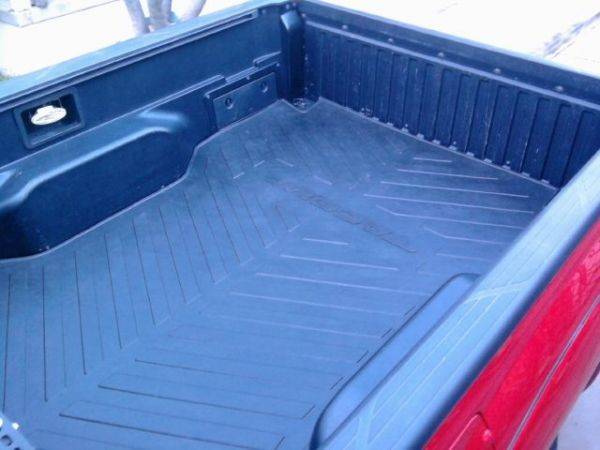 Added my PA speaker behind the grill.. From outside you can't see it at all. Ran the wire under the removable cupholder up front. When i plug in my cb, i can remove the cupholder and stick it inside there. It fits perfectly!
Added my CB antenna's hardline to my Albert bedbar (and flipped the albert bed bar around to make it work).. picked up a 4 foot antenna from Fry's with a spring mount (not pictured). Ran the connector to the same place as the PA speaker wire.
Added an auto-dimming mirror and
wrote a writeup about how to do so.
Installed a
Lock-Right POWERTRAX Richmond locker!
It was a simple install but required a lot of time and patience and tools. Some pictures:
This is before the locker went in there.. no more open differential!
Now.. positraction burnout:
----------------------------------------
Future Mods:

leather on the doors instead of the now gunky cloth, color matched grill, maybe painting those TACOMA badges black..
-----------------------------------------
Tacoma Action Shots:

This pic was two days after I got her: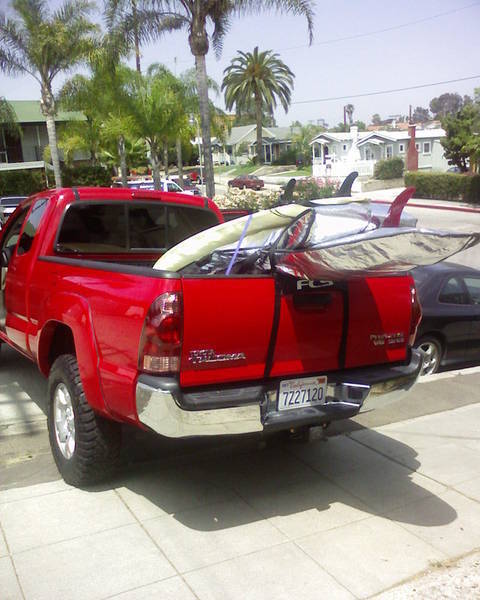 Small camping trail in Anza Borrego:
San Bernardino Wilderness backpacking trip:
Joshua Tree National Park car camping and offroading trip:
Cleghorn with a busted taillamp:
Anza Borrego, Cougar Canyon: (yes, this IS where i met your mom)
Mod meet #7 wiring up fog lamps:
When my truck took on a T-Rex:
And that one time it tried to destroy Hong Kong:
There is more, but I'm over typing and can't find many more pictures. Of course more will be added… and thanks to all the members/friends who have helped make my Tacoma awesome.
As She Sits Today: