Well, I guess that I've put this off long enough... I've had to put a hold on mods for a while, but I've been slowly working the small ones until I could get some expendable loot to do the bigger stuff again...
I started out with a stock 2006 Red Tacoma, TRD Sport 4x4...
One of the first things I added was the seat covers (pics coming)...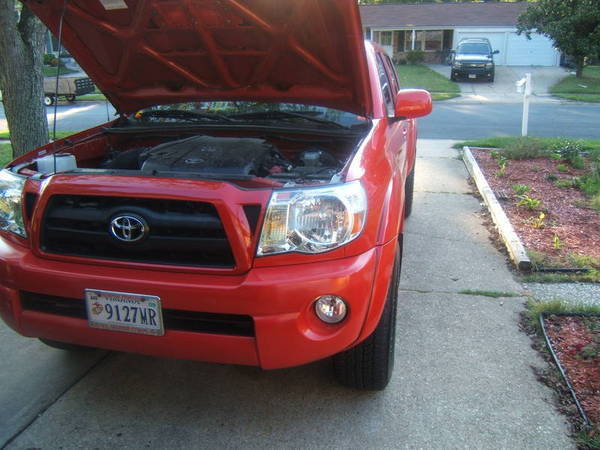 Then, I added the headlights: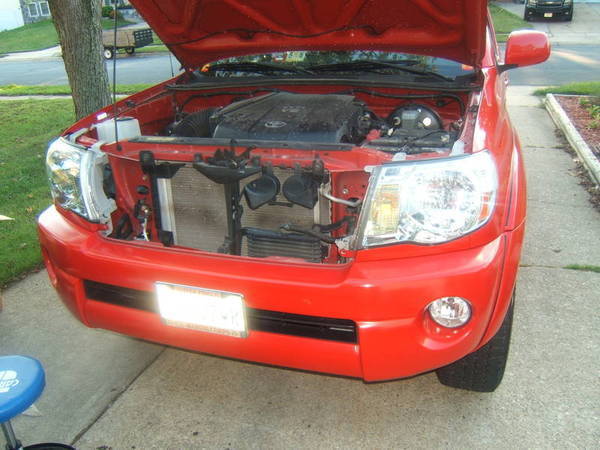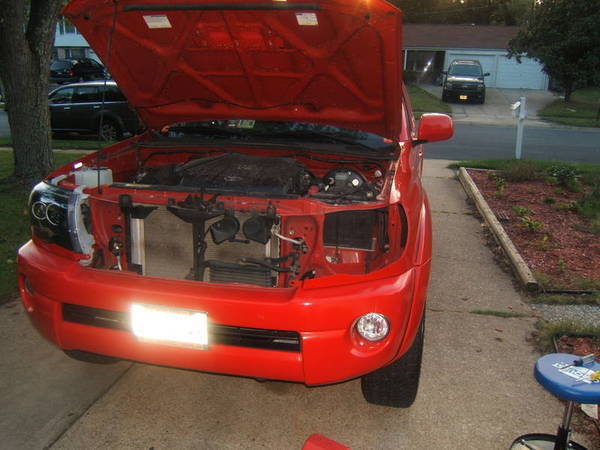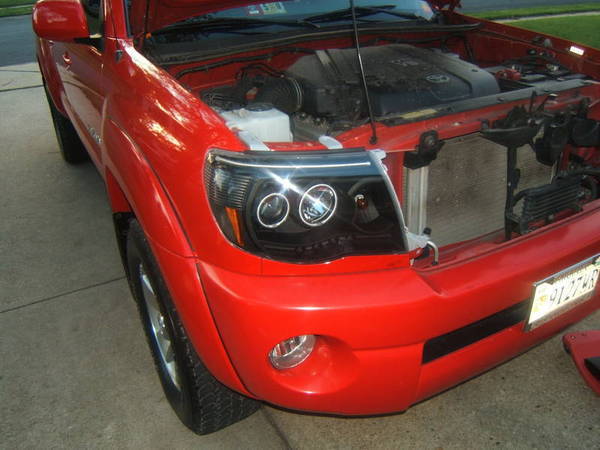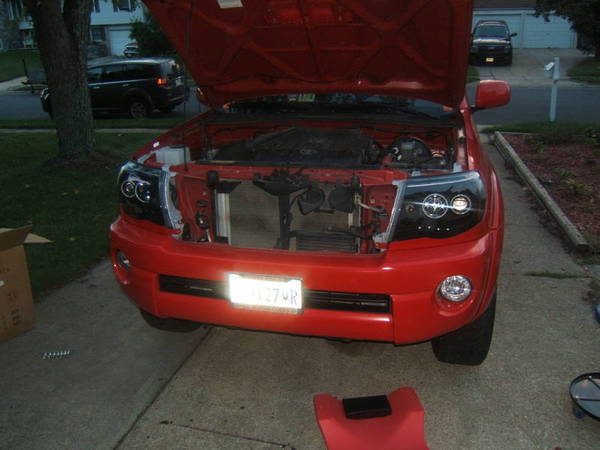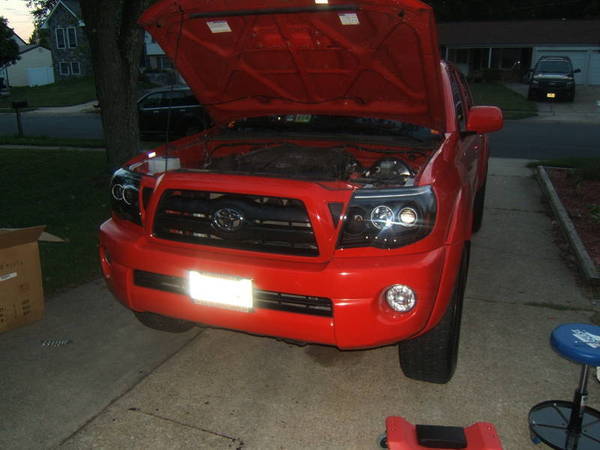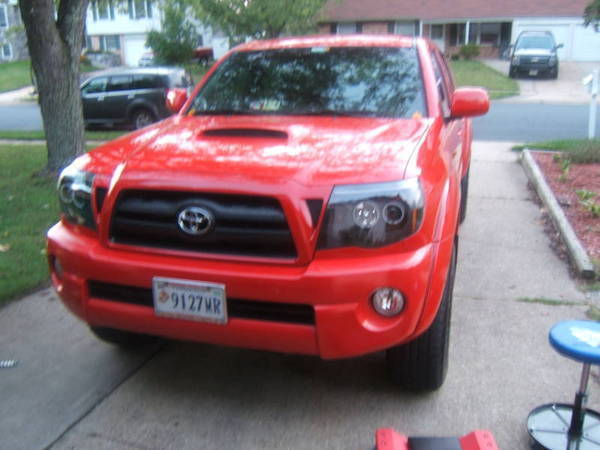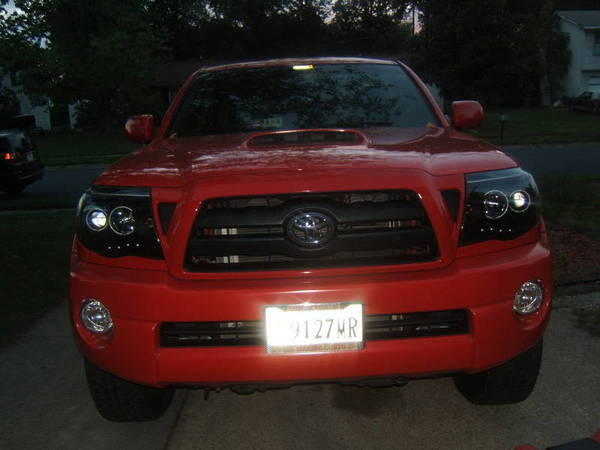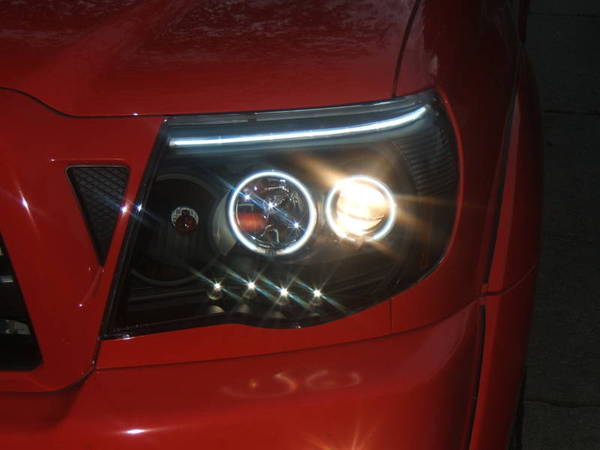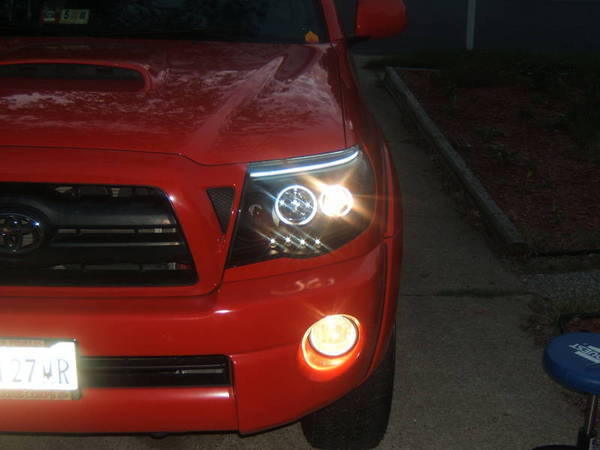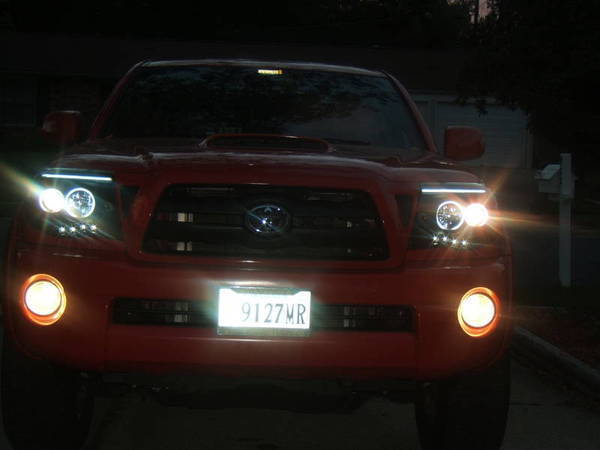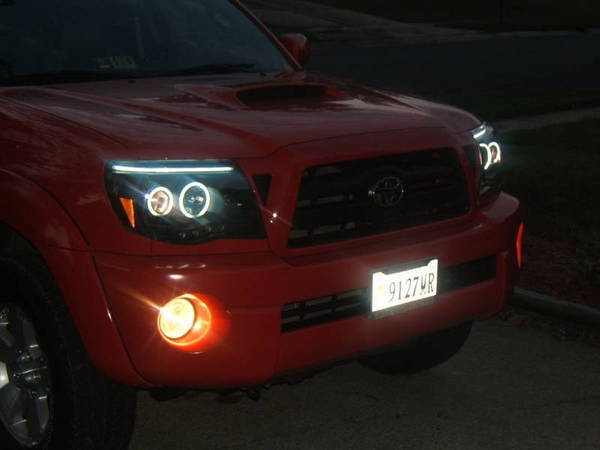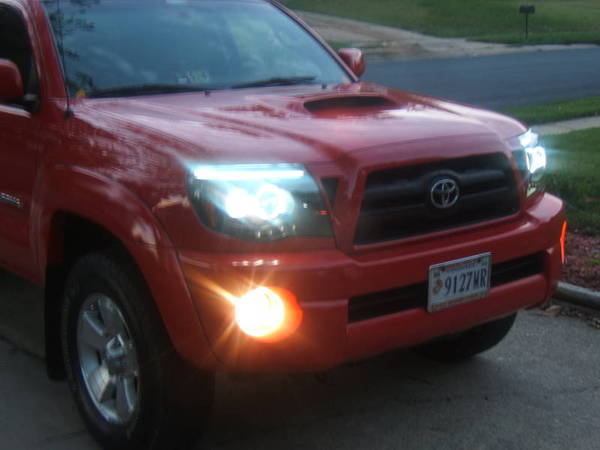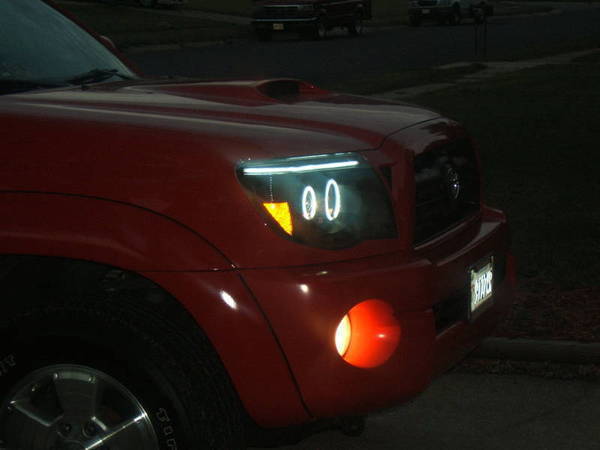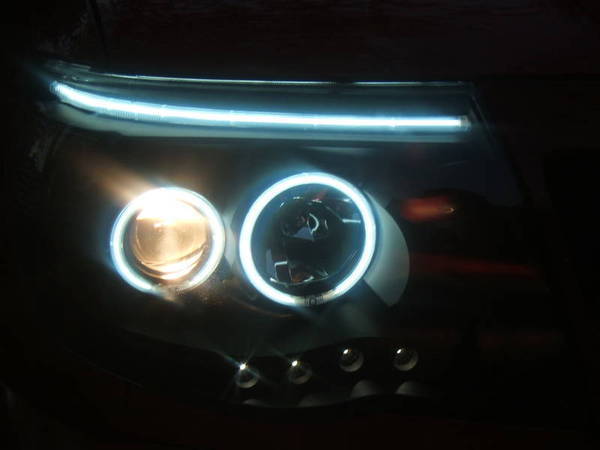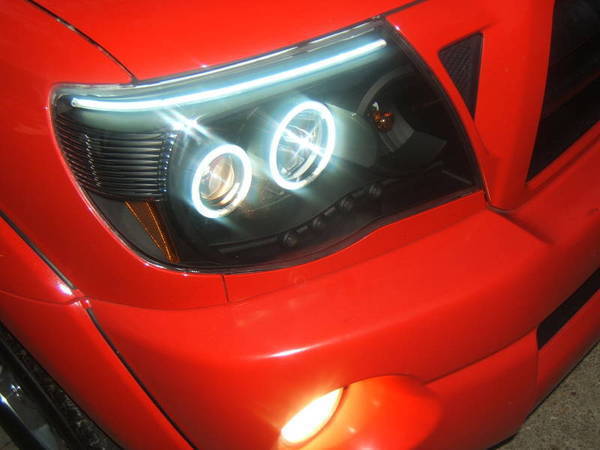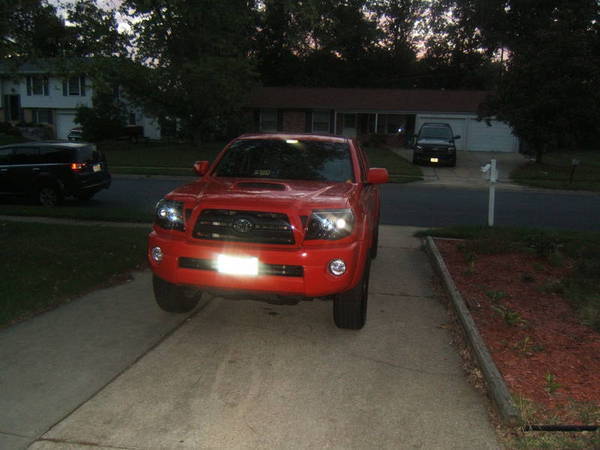 Then, the 3" Tuff Country Lift: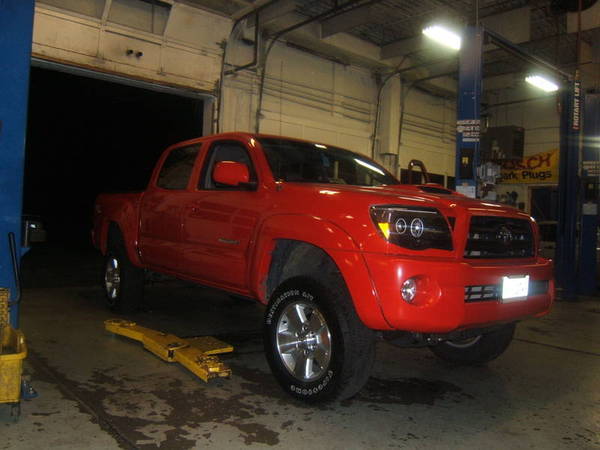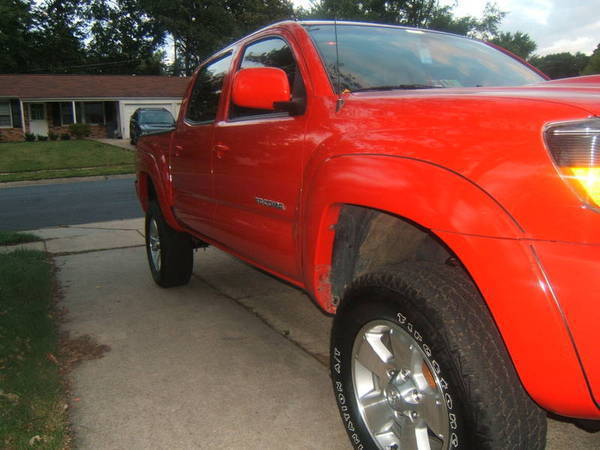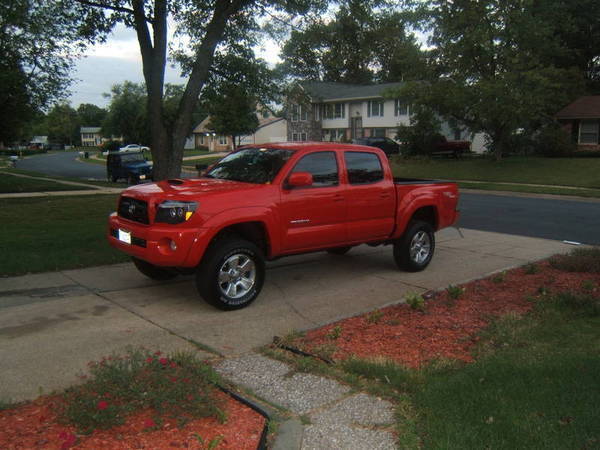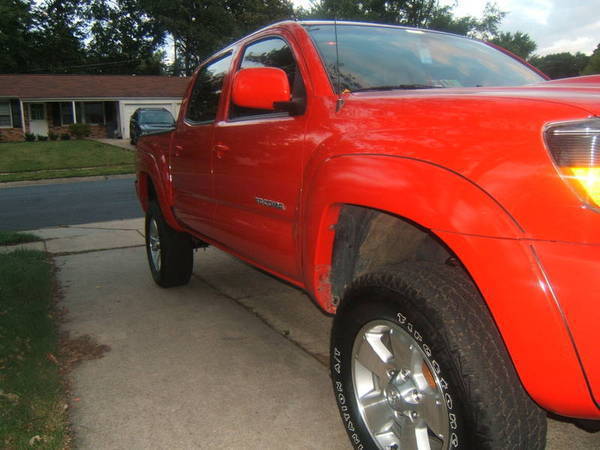 Most recently, I added the tailgate theft mod: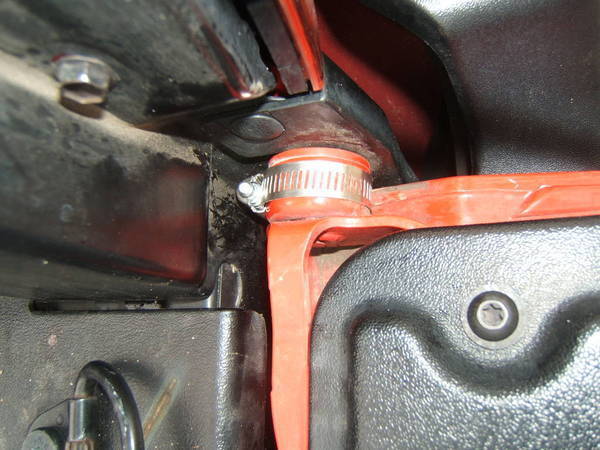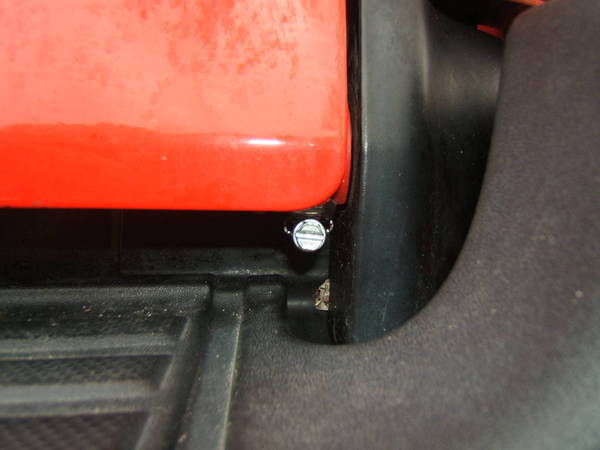 And the permanent oil filter drain plug:
Connected the Fuel line using a hose clamp: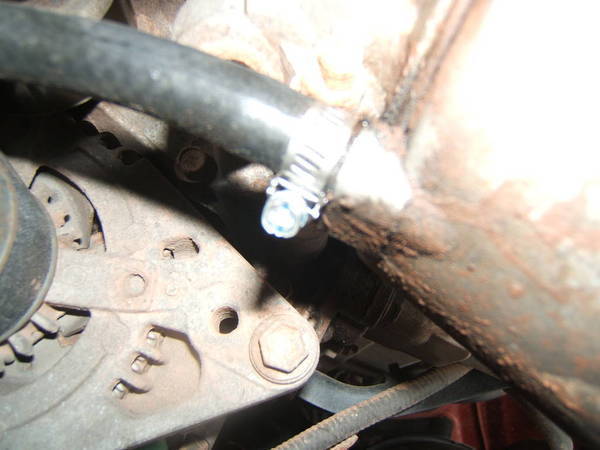 Another view from side: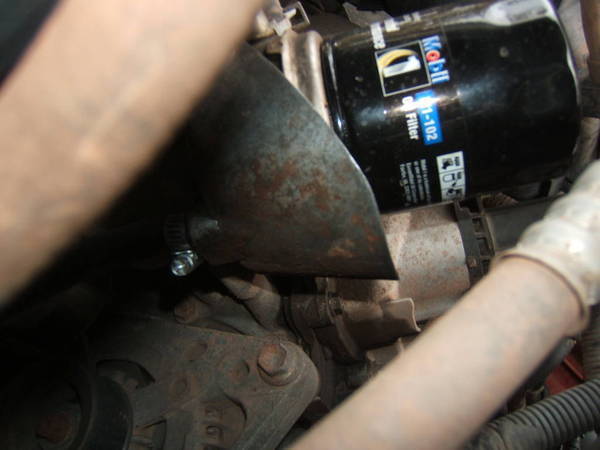 Ran the hose next to the fan, with two other hoses: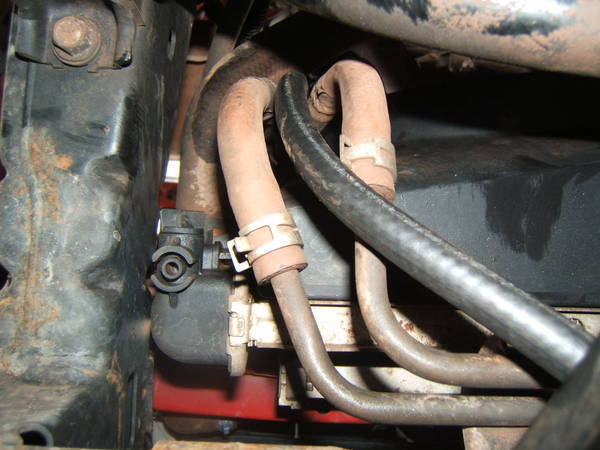 Zip tied them together:
Zip tie from under the truck (you will need to remove skid plate):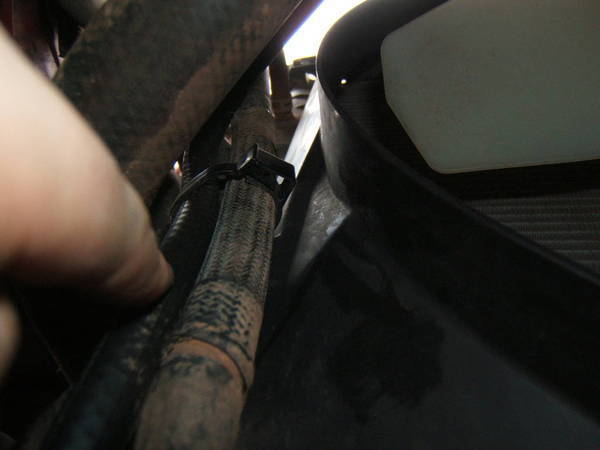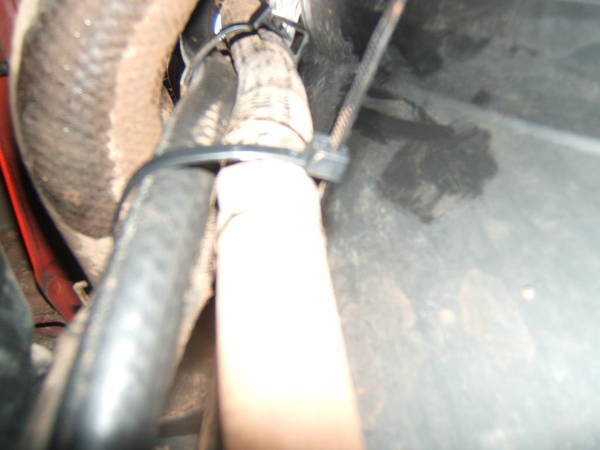 Run hose through the frame hole that is under the skid plate: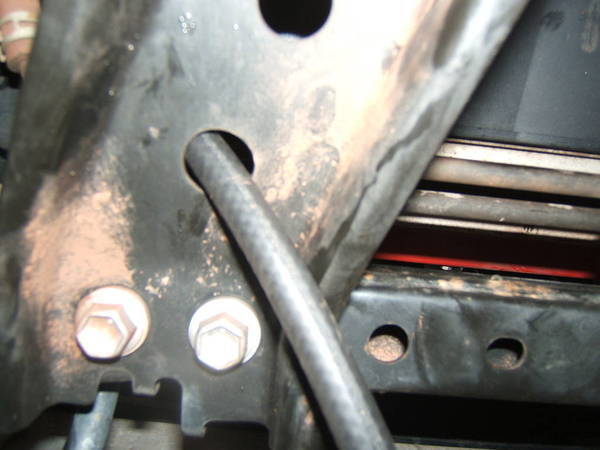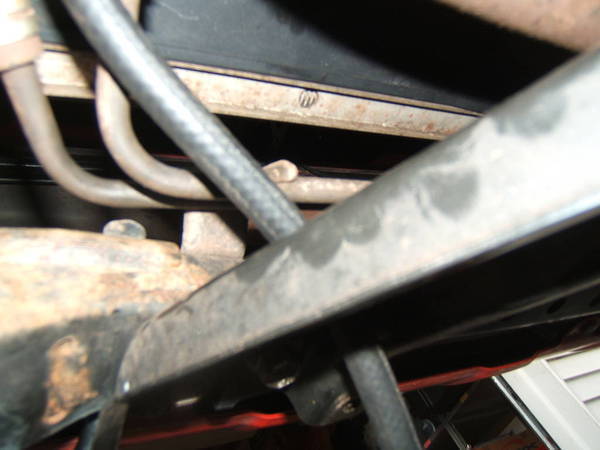 To finish, I ran the hose under that frame bracket and zip tied it along the way.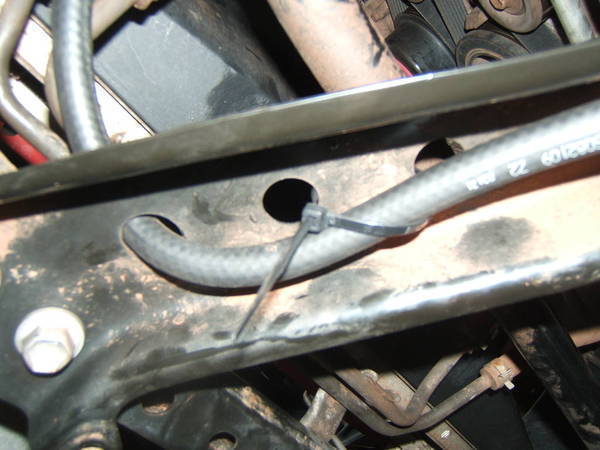 Nonetheless, all you need to do is zip tie the drain hose out of the way, reattach the skid plate, and trim the hose. And now, when I change the oil, I don't have to worry about attaching a hose to that oil filter drain plug or spilling oil in the engine....
Took off some badging (which you cannot really see here)... and I added a USMC badging on the side (pics to follow soon).
Then I added my personalized plates: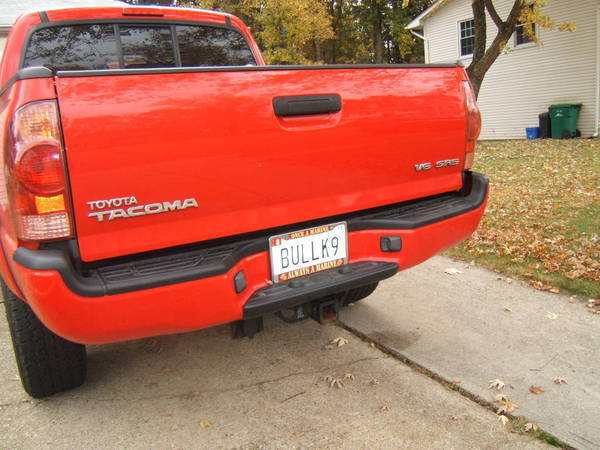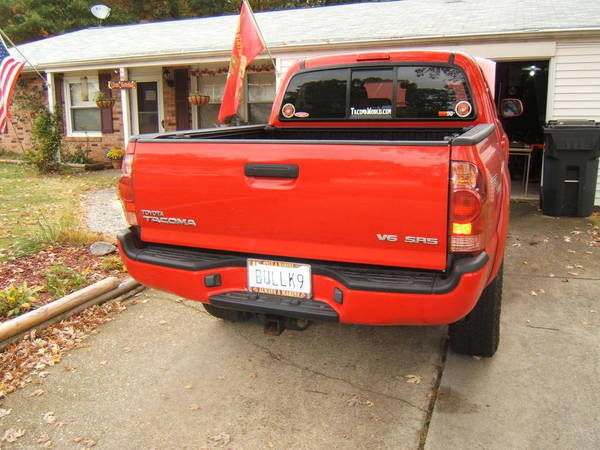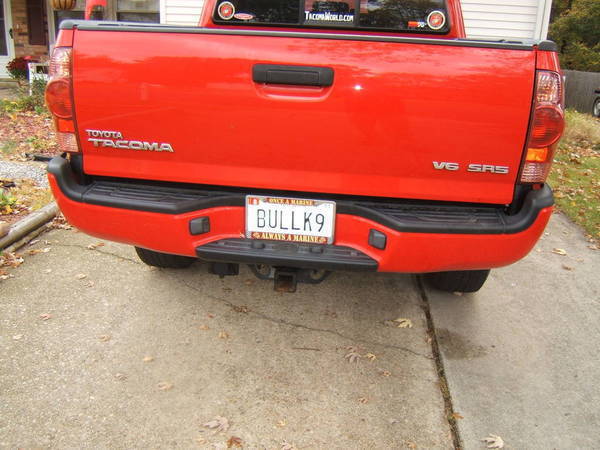 UPDATE 3/8/2010:
So this weekend we finally got some decent weather and I took care of a few more odds & ends with the ride...
First up was brighter backup lights... Rather than shell out the 21 bucks for a set of aftermarket lights, I spent 14 bucks and just installed brighter bulbs using the mod here:
http://www.tacomaworld.com/forum/tec...tml#post145152
Of note, the Sylvannia 886's are specified here - but the 885's work just the same.
Second, I relocated the horns to just behind the battery in anticipation of getting some off-road lights mounted behind the grill I am going to put in. Easy and cheap mod (free) and had fun doing it. Having looked at various lights at the store, I am thinking that I might just go with some thinner rectulangar driving lights and mount them between the plastic pieces on the existing grill... Kind of like police lights - but no strobes. Still up in the air right now.
Lastly, now that I was warmed up mechnically with the other two mods, I thought I should finally install my OME Carrier bearing drop kit I picked up from
Toytec
. This was a VERY easy install... loosened both bolts first and did one side at a time after that... Spacer in and new bolts in, I used my handy torque wrench to tighten them down to 50ftlbs. I may tighten them later - but 50 is what was specified. With a 3" lift, you almost HAVE to get a 1/4" CB drop. Having done that, I can say now that my driveline vibes are gone... THANK GOD! And I noticed better acceleration and no more creaking/grinding... Great fix!
Pics to follow when I get another nice day to take some!
UPDATE 4/1/2010:
So the weather has finally warmed up again... Aside from retitling the bathroom floor last night and today - I decided it was time to start my satoshi grill mod... I also got my weathertech floor liners in today, and I'll be installing them when I get a chance to clean out the interior well enough to be worthy of the
weathertechs
. Anyway, so after calling around to several metal places today... I finally found a guy here in Waldorf that was willing to sell me a piece of perforated galvanized steel mesh for 20 bucks (it was a contract company, so I was psyched he worked with me. I'll update with some pics after it's all done. He also asked for one of my DJ cards for a company picnic... Nothing like being at the right place at the right time!
Step 1, setup the table: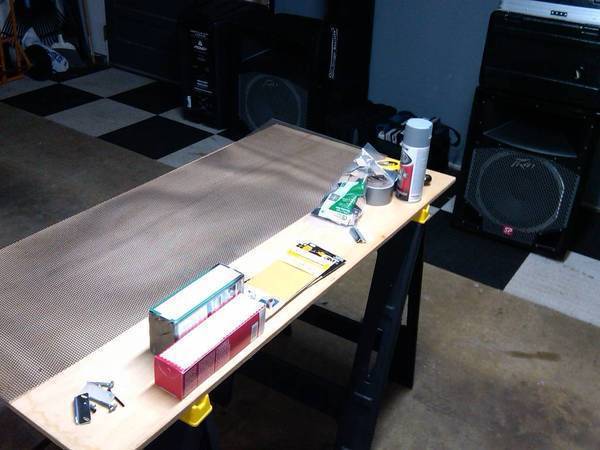 Step 2, take pics of the mesh. This is galvanized steel... good stuff: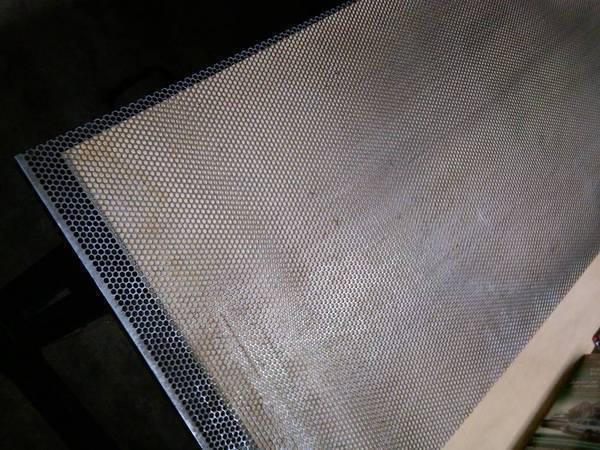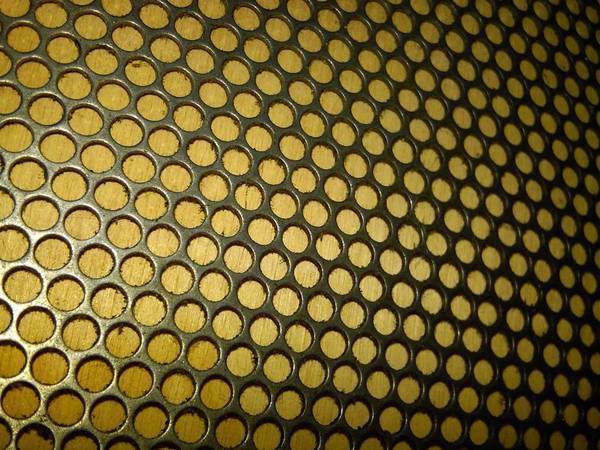 Step 3, position the grill for measurement and destruction on your wife's favorite beach towel: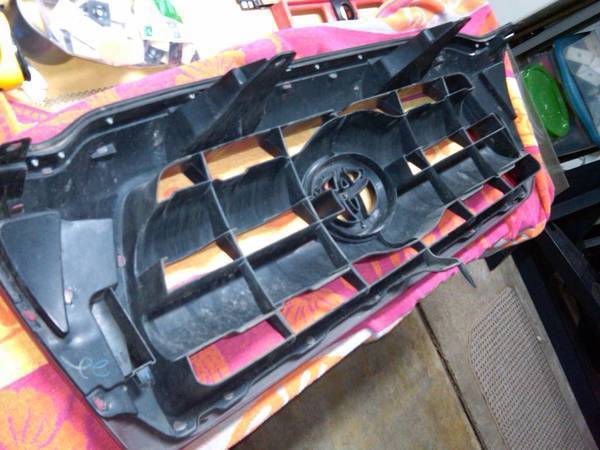 Step 4, destruction and measurements (remember to measure twice and cut once: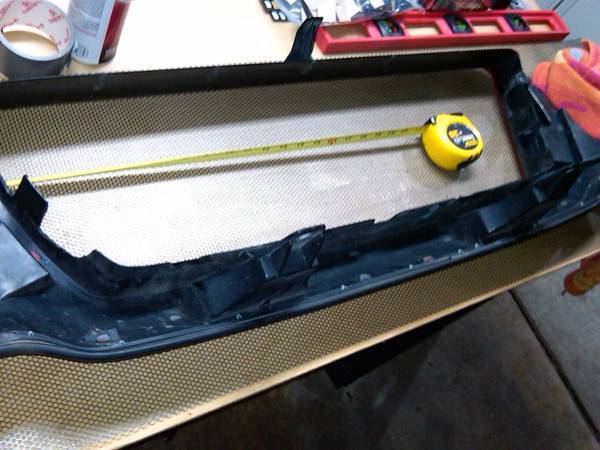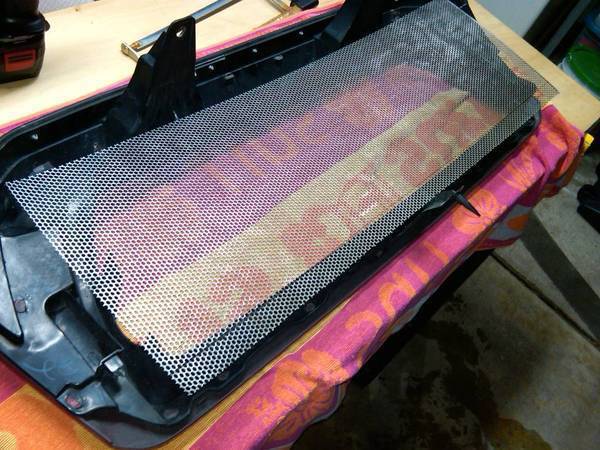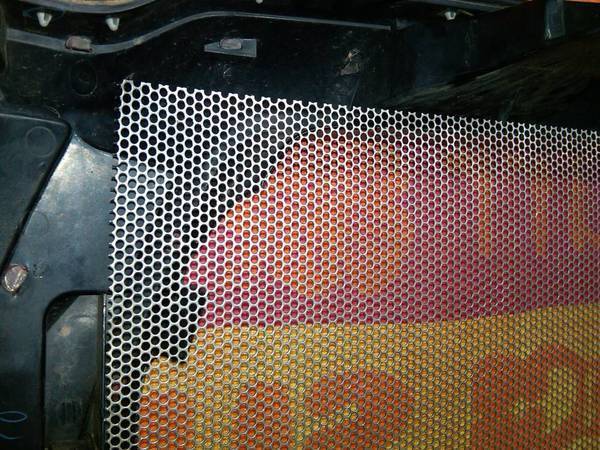 Step 5, after you dry fit your mesh, SAND and SAND some more: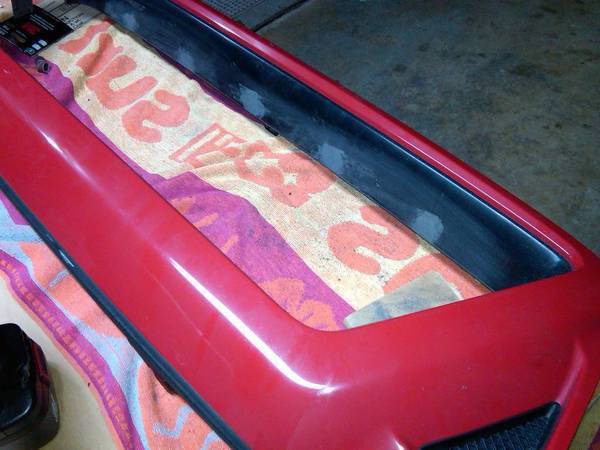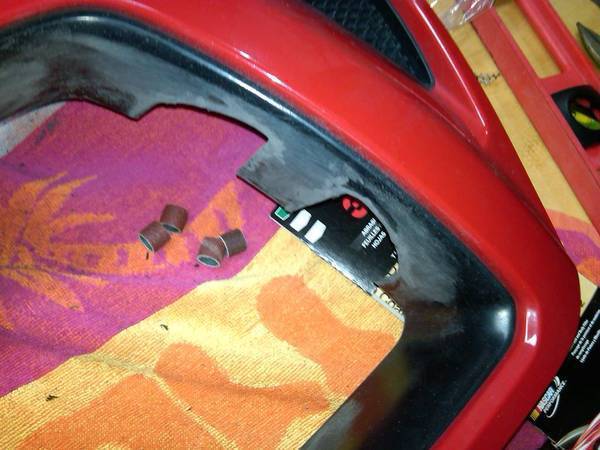 Step 6, ruin aforementioned towel making a mess while doing your first fiberglass job:
Step 7, Sand and Sand some more... Then add body filler and sand again: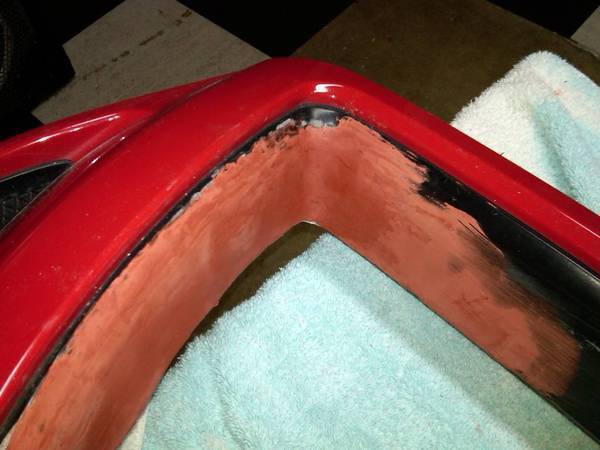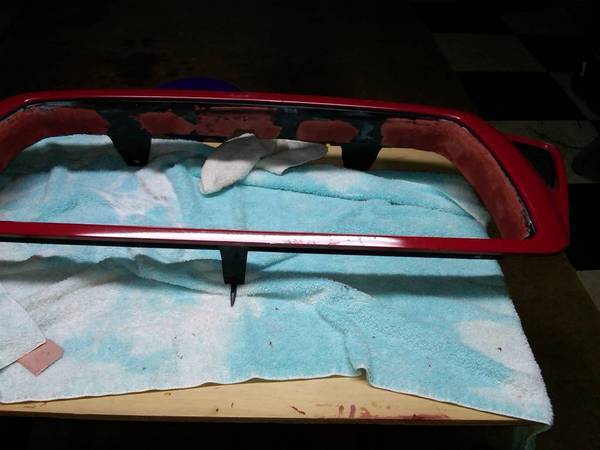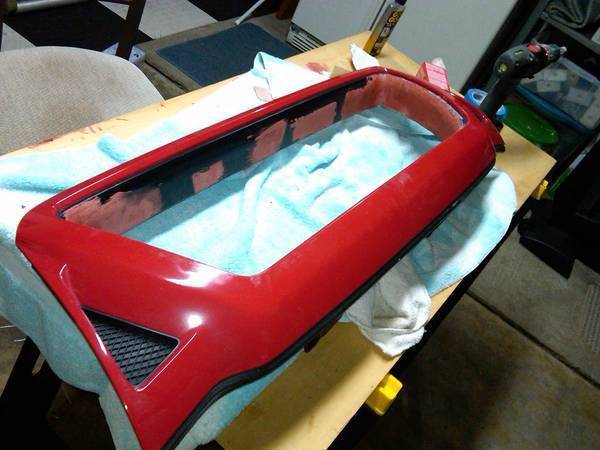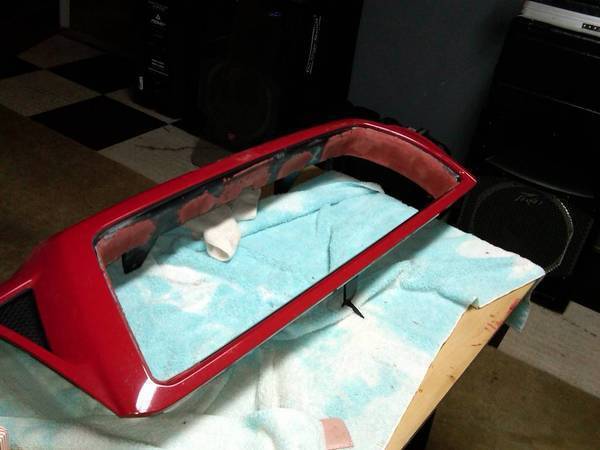 Step 8, tape it off: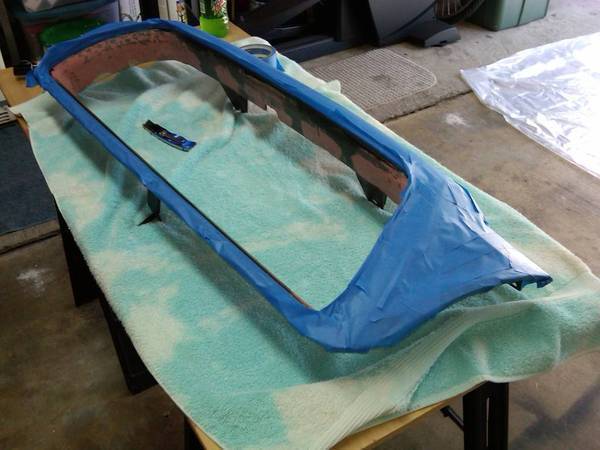 Step 9, prime it: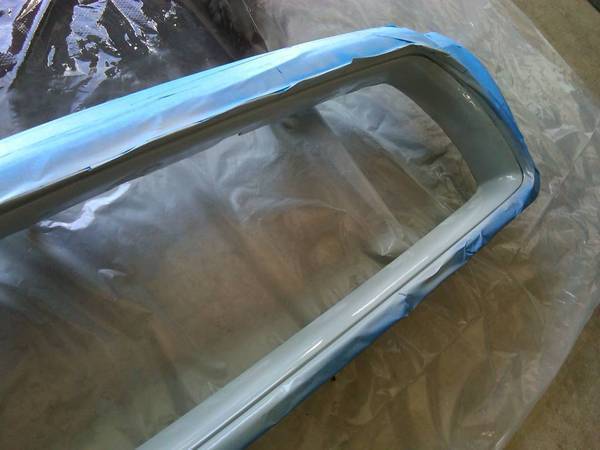 Step 10, while the primer dries... Spray your grill: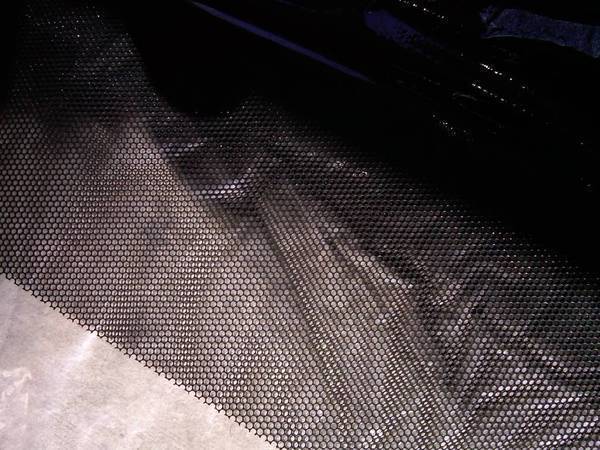 Step 11, while grill dries - spray what you primed. Let dry and attach grill to grill surround: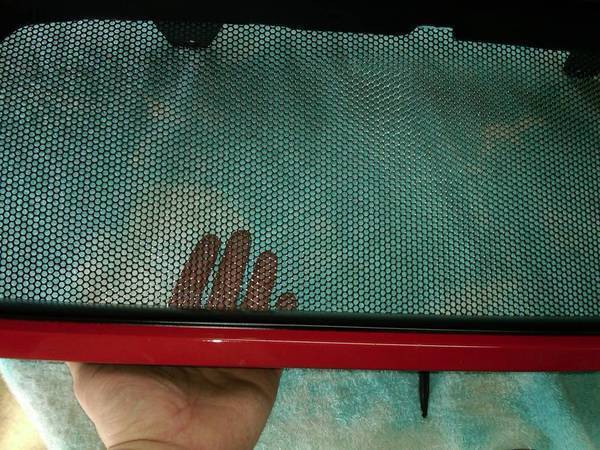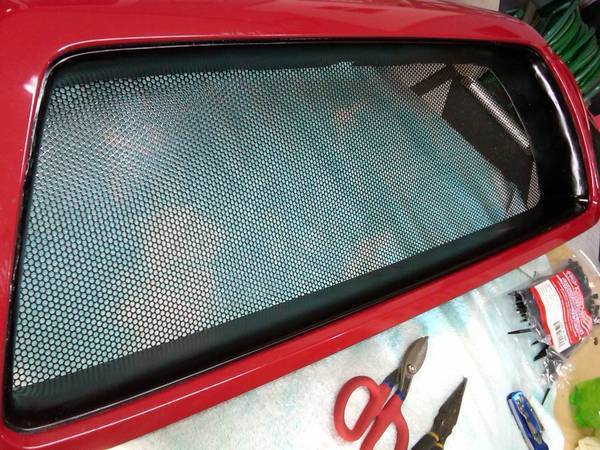 Step 12, reattach to truck and view finished product: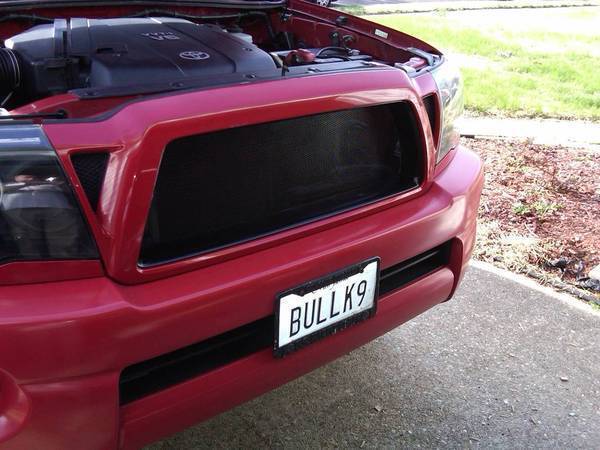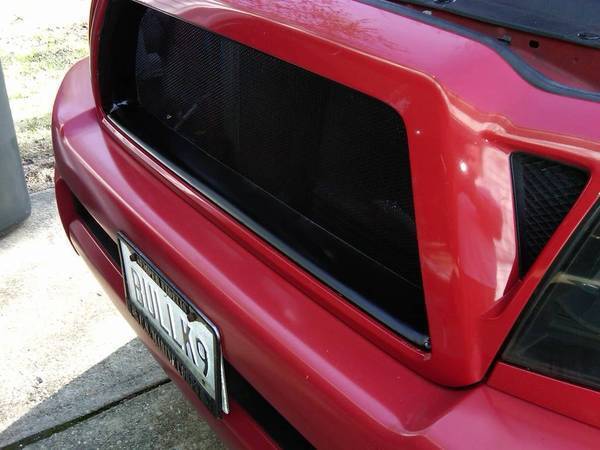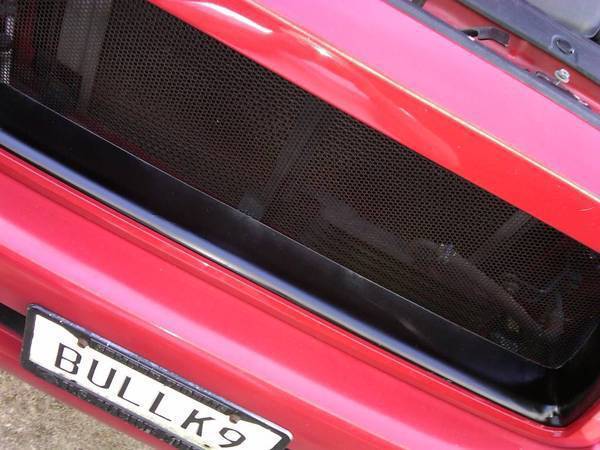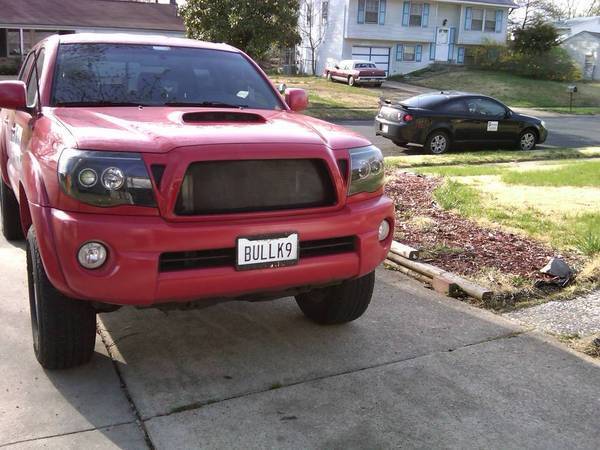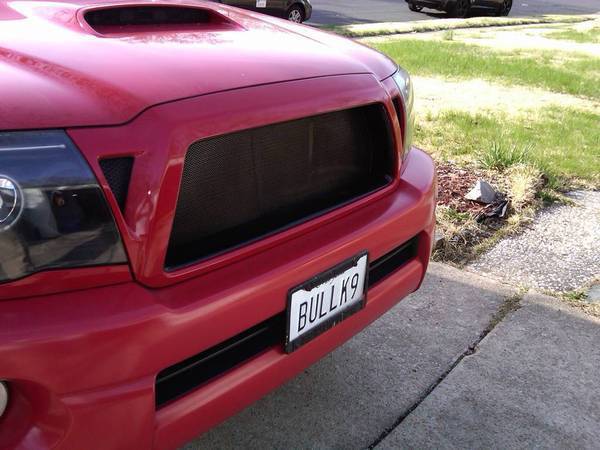 And, since I was already out there - I decided it was time to go ahead and install the WeatherTechs: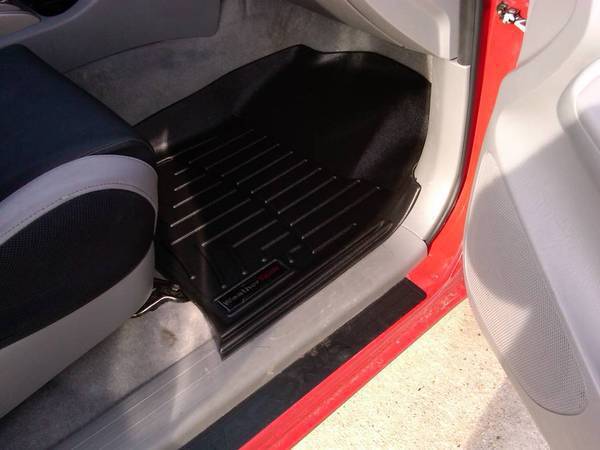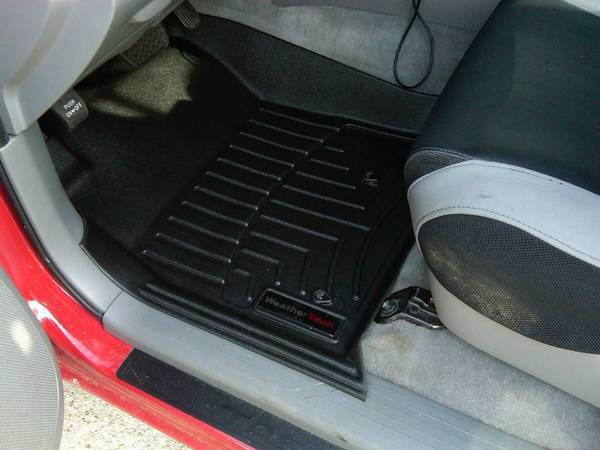 Next up is the breather diff. mod and finishing the tailgate debadging....
On the to do list:
-New in-dash navigation
-Black ATX Thug rims and new off-road tires
-Sliders
-Push Button Start by Bully
-Front and rear bumpers
-winch
-roof rack w/ square lights integrated into the roof rack for 360 degree lighting
-spare tire bed mount
-hi-jack lift mount
**UPDATE 5/07/2010:
Not really a Taco related item, but I just picked up a new project:
http://www.tacomaworld.com/forum/gen...-new-whip.html