Updated 07/07/2010
2006 Toyota Tacoma TRD Sport
Most Recent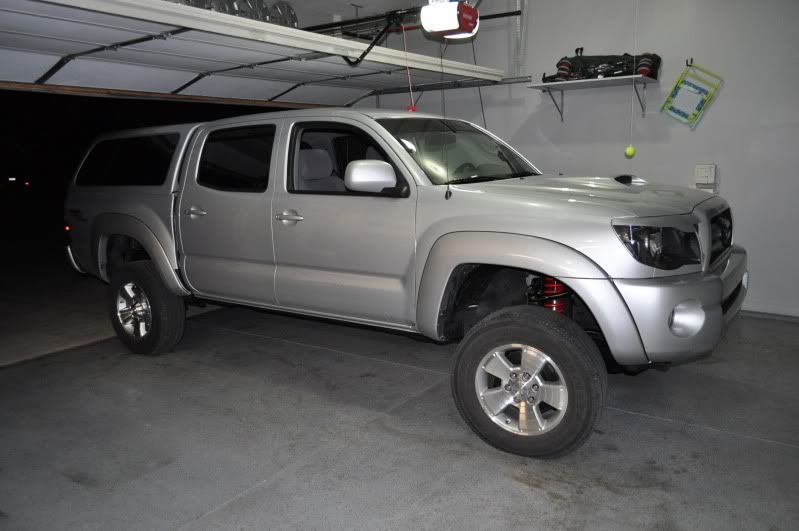 Current Mods:
Exterior
Tinted brow and front windows
Leer Camper Top
Black Headlight Mod
T Rex Angry Eyelids
Lamin-X on 3rd Brake Light & Fogs
Interior
Weathertech
Floor Mats
Electronics
Pioneer D3 Navi Headunit
7" Headrest Monitors
Optima Yellow Top Battery
Auxilary Fuse Box
Viper Remote Start / Alarm
Scangauge
w/ Blendmount
Lighting
6k and 3k HIDs
Engine
Redline Tuning
Gas Hood Struts
Dynomax 17747 Muffler
Wheels / Suspension
Toytech
Ultimate 3" Lift
LR UCAs
Misc
Toyota Rubber Bed Mat
On Board Air - Viair 480C w/ 3 gal tank
Future Mods:
Hide-A-Way Strobes (already had the kit, so can't resist)
Painted (tinted) tails
Gauge LED Swap to Red / White
Wheels and BFG 285s
The Story
I was running around in a Scion xB for the last 3 years and then decided it was time for something new. I knew I wanted to go back to a truck, and the Tacoma was the best fit for me. I sold the xB to a friend then started the search for the right Taco. I had no luck locally,so I expanded my search to the internet. I saw my future truck on
ebay
and missed the reserved. One day later, I called the seller and made an offer. A few hours later, he called me back asking for a credit card number. The truck was 4 hours away, so I decided to jump on a plane and drive it home.
Day 1
11/07/2009
I've been modding for the last 2 months. Most of the mods have been smaller "detail" type mods. The larger mods like lift and wheels will come down the road. Here is what I've done so far:
The first thing I did was pop in my D3. I had this in my previous car and love it: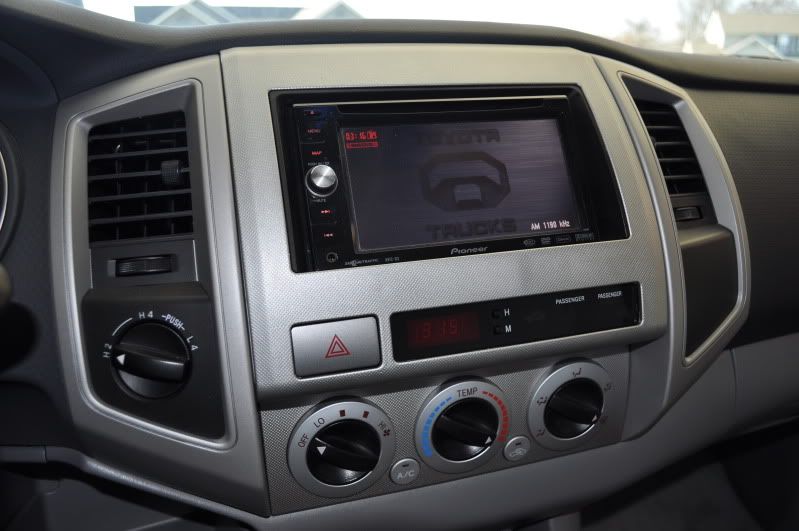 I picked up a Leer Camper shell from a guy on Craigslist. I had to drive 4 hours to pick it up but it was a hella deal.
I had a set of 6K HIDs from my Scion that I popped into the heads. While I was at it, I painted the insides black, removed the reflectors, put in chrome bulbs, and also installed strobe tubes . . . I also bought and installed a set of 3k HIDs in the fogs.
I loved the look of the angry eyelids so I picked up a set and rattle canned them. While I was at it, I also painted the center Toyota emblem in the grill black.
No front plate required in Indiana, so I painted some plastic plugs and put them on the bumper to cover those ugly holes. The plate wore through the paint on the lower valence, so I think paint or vinyl is in my future to cover it.
I got my new plate and had to install it right. I powdercoated the frame since the black paint only lasts about one winter. Also added LEDs to the lights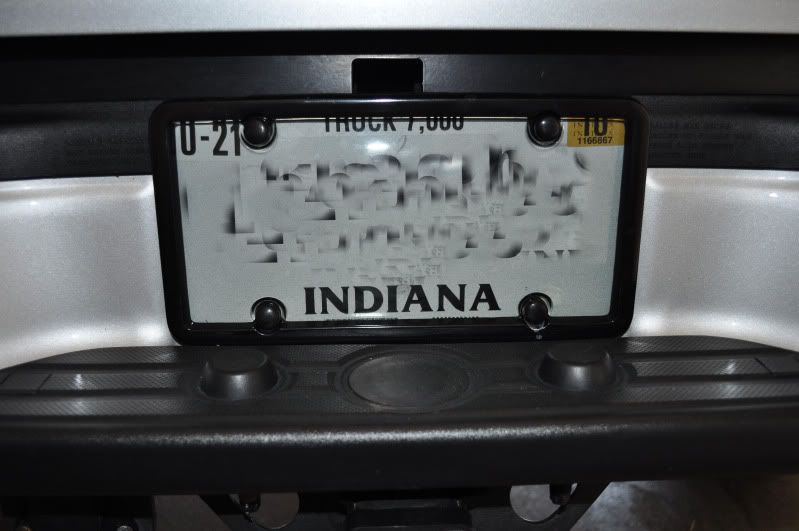 I had a Viper alarm / remote start laying around so that got installed.
The hitch was rusty and nasty when I got it, so it got a coat of paint and a bumper cover. While I was at it, I used about 8 cans of rubberized undercoating on the under carriage along with some Eastwood Rust Encapsilator.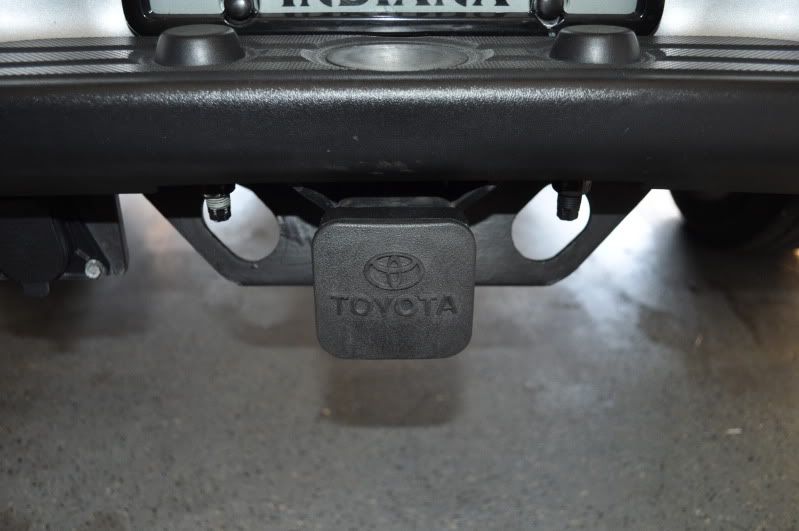 In an effort to remove all color (only black and grey) from the Taco, I threw on a set of Sockmonkey decals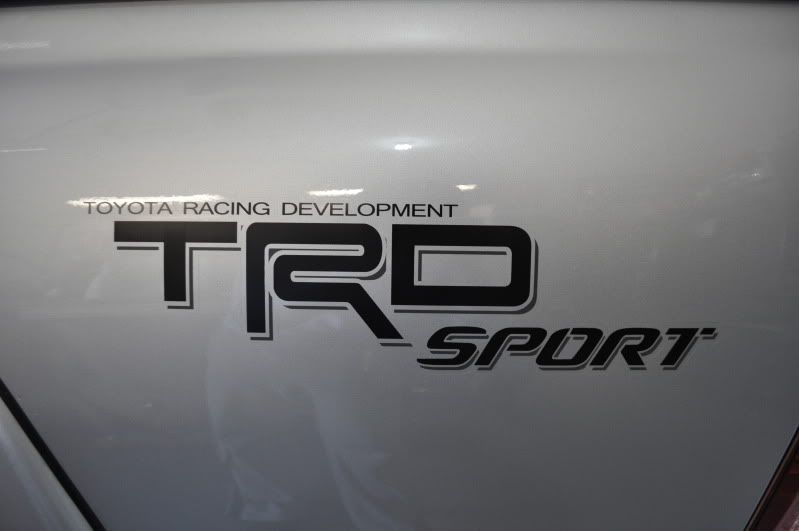 I had a Yellow top already laying around and the positive terminal on the battery was highly corroded, so I bought a billet mount and got it installed. I also put in new terminals to dress and tidy it up.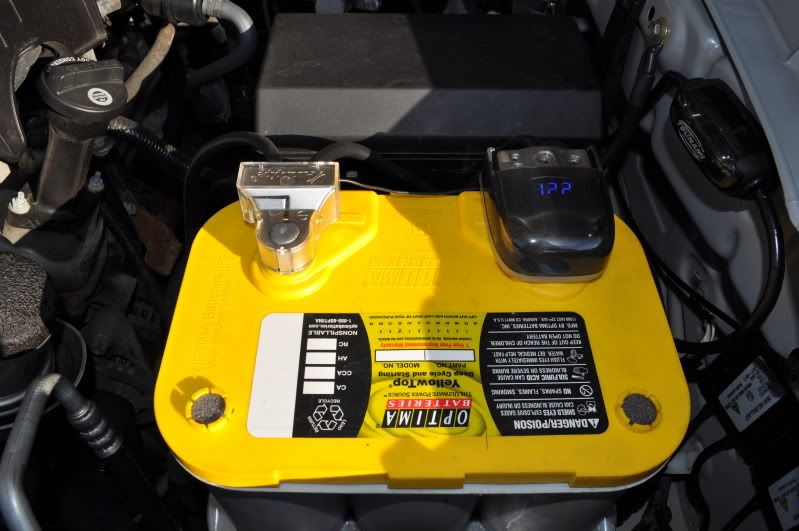 I saw a few guys with this fuse box setup and I figured I should start my electrical installs right and put this in first.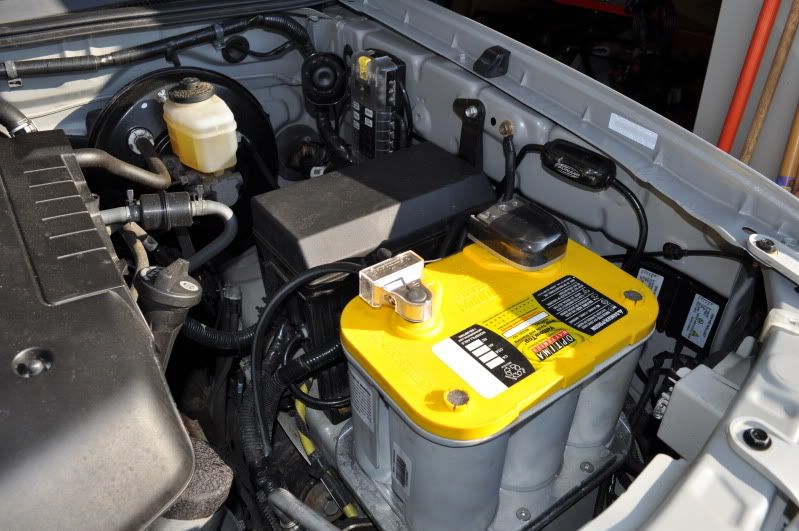 I picked up a Scangauge (from a member here) and a blendmount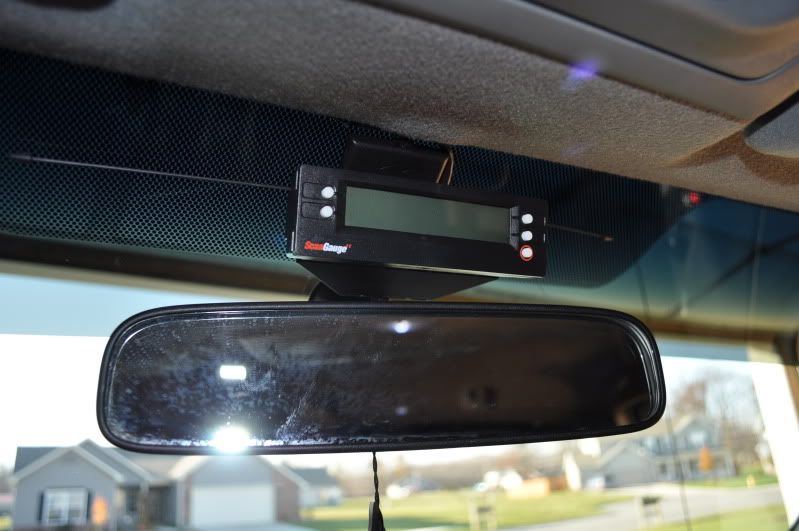 I got a bedmat from the local dealer. It only cost me $26.
The net is great for getting groceries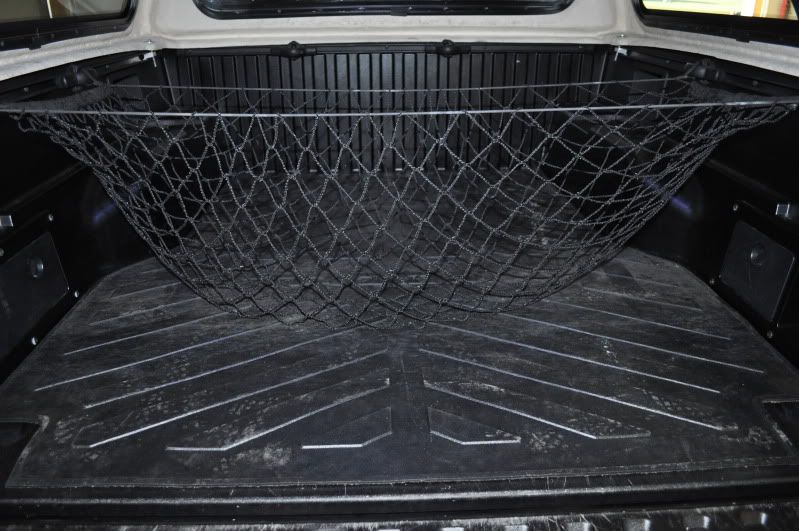 To light up the bed area, I put in a pirahna bar from Oznium.com. It does a great job. I have it on a small toggle switch mounted to the inside of the topper.
I also had some shorter pirahna bars so I put them in the footwells to give a little extra light. I have really grow used to having light on my feet while I drive. I picked up some extra switches while I was at it too.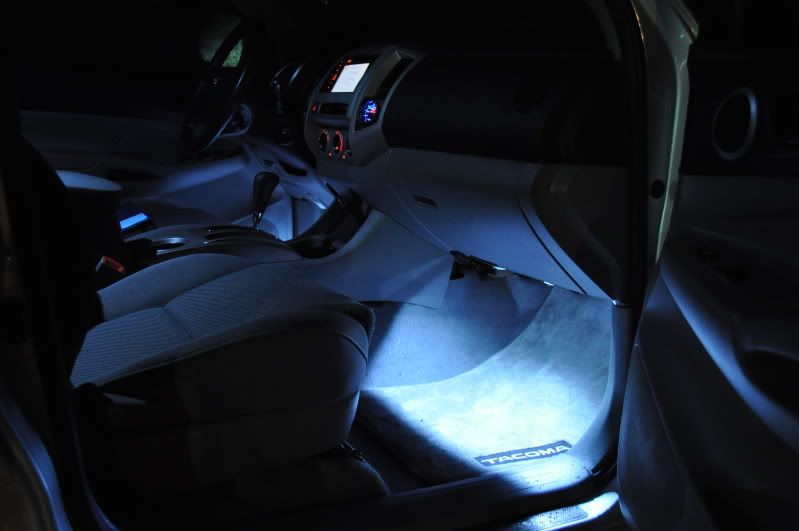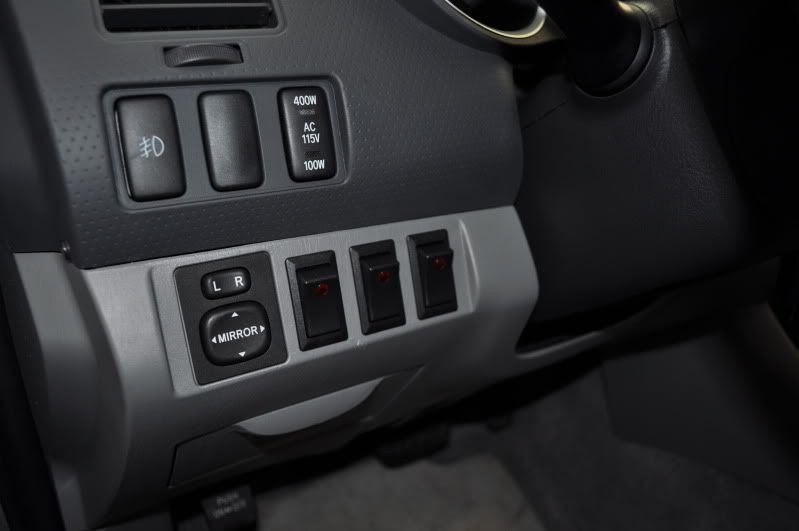 11/22/2009
I made some progress over the last 2 weeks. I started by pulling the mud flaps. I'm 50/50 on whether they will stay off, so they are sitting in the garage for now.
I really was wanting to get some hood struts and after putting them on, I couldn't be happier. It is sooo nice not to have to use the hood prop bar.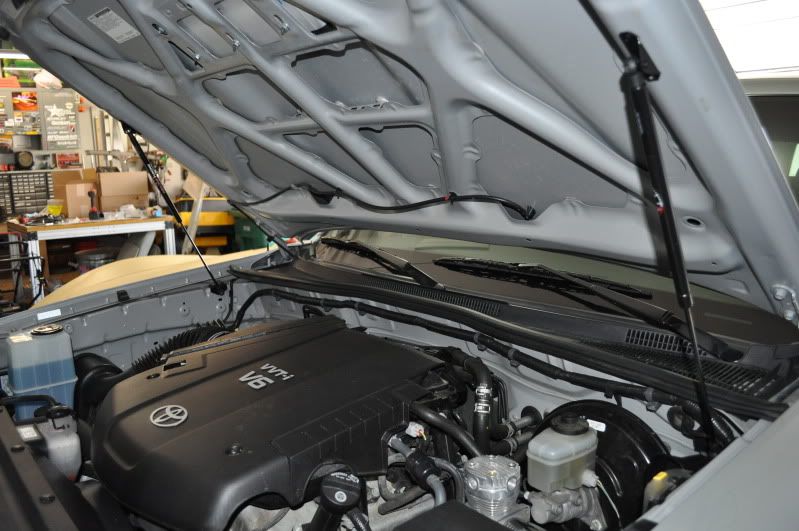 I bought some Lamin-X for the fogs, brake lights, and 3rd brake light. I went with tint for the fogs to just make them not so white, and I chose smoked for the brake lights. I personally think I could have went darker and had no problems, but I'm happy for now.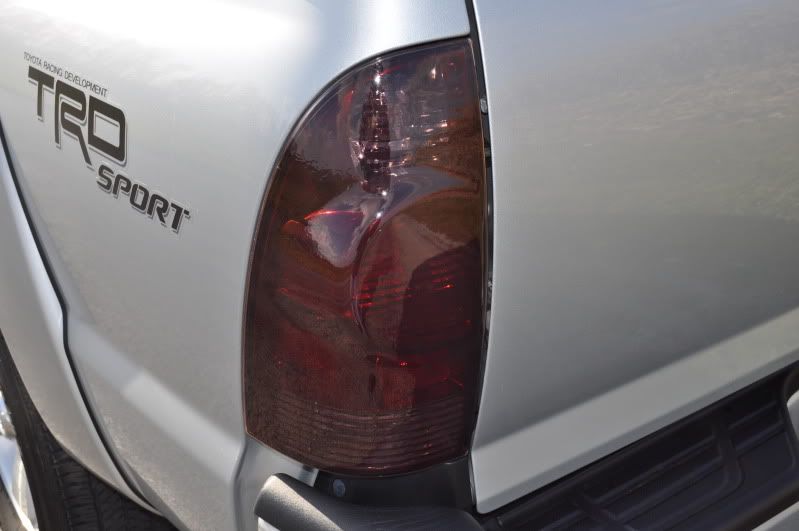 I already had 75% of what I needed for on board air, so I went ahead and installed that too. It will be nice the very few times I need to use it. More info on OBA can be found here:
http://www.tacomaworld.com/forum/2nd...ml#post1154911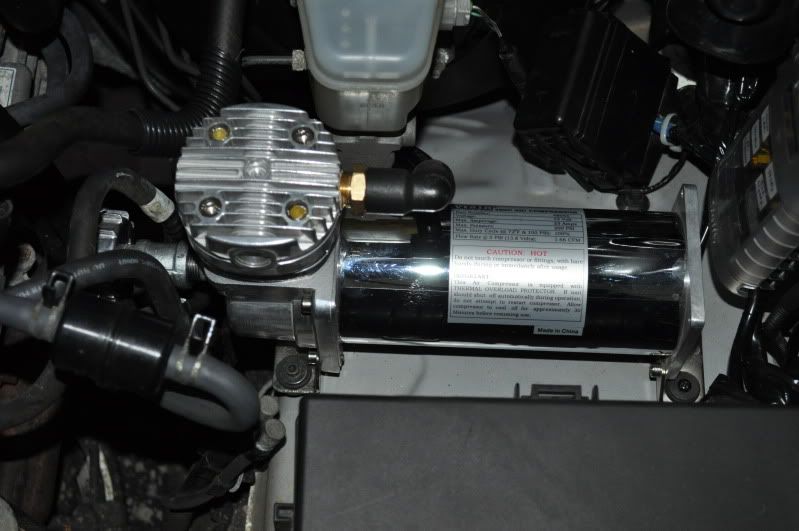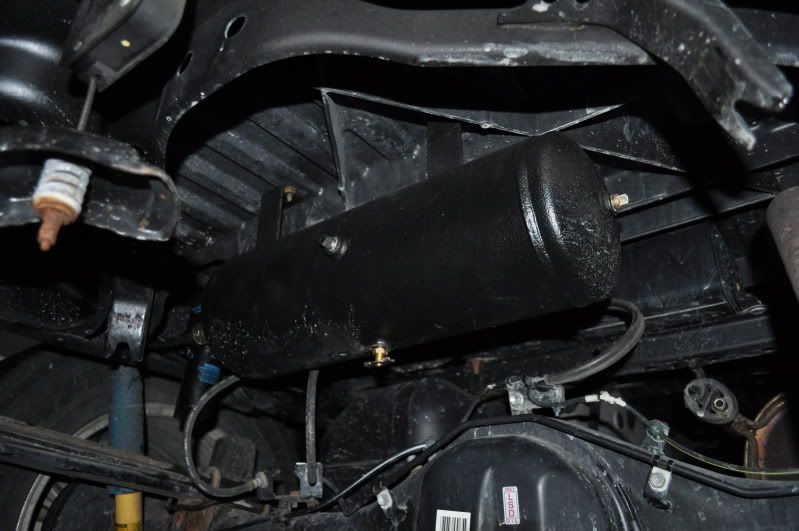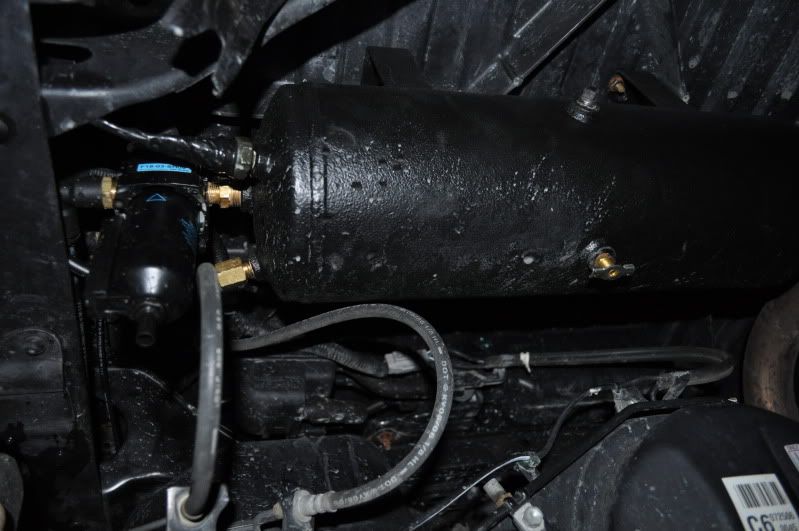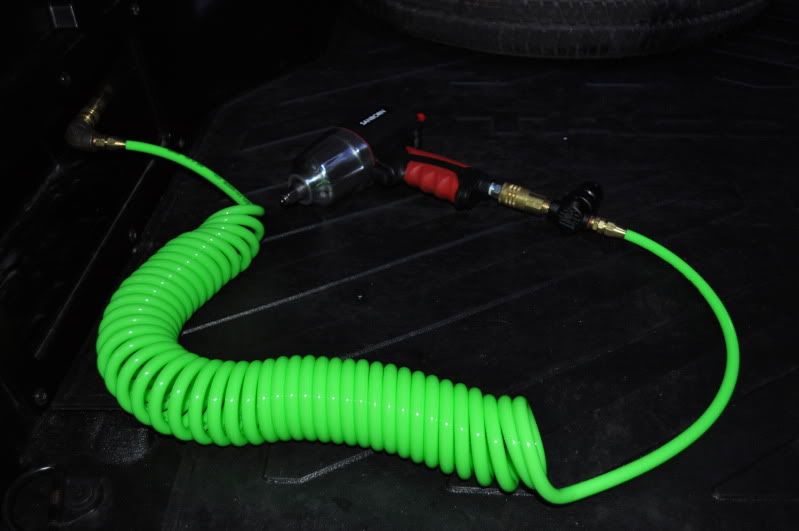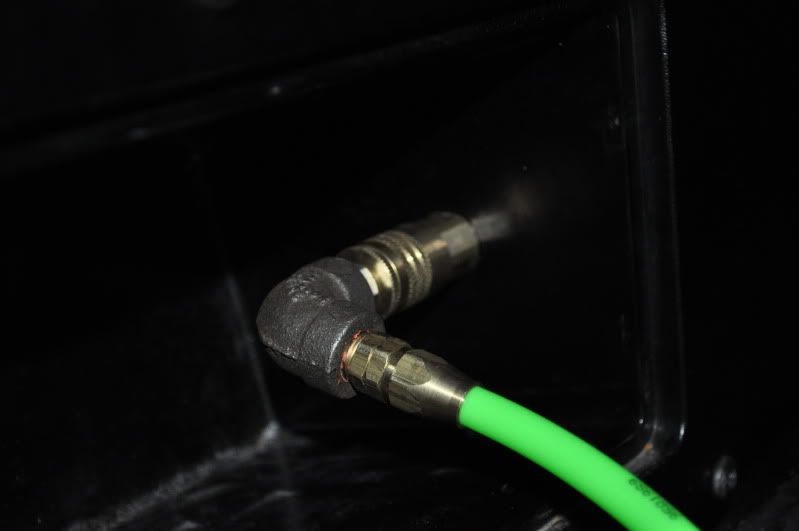 12/2/2009
I put the finishing touches on the OBA setup.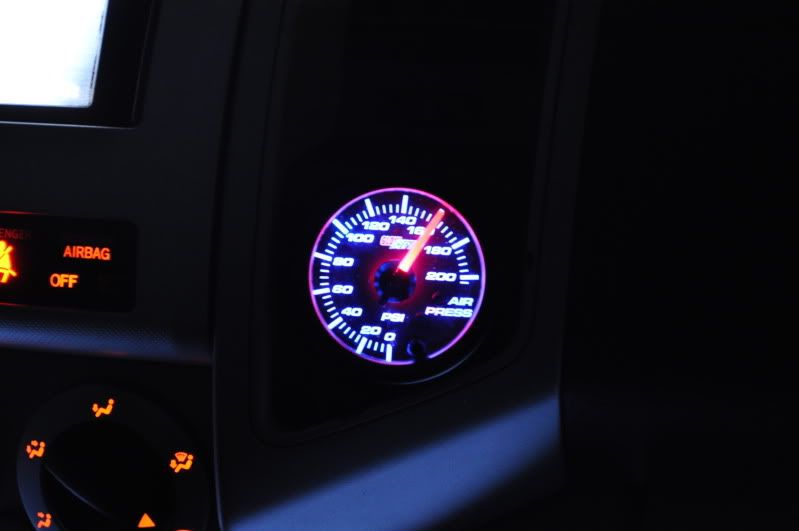 Here is with the spare tire back in. The tire rests against the tank but not against the drain. Its definately lower but not enough to cause a problem on road. I will probably just need to pull the spare if I want to do any offroading.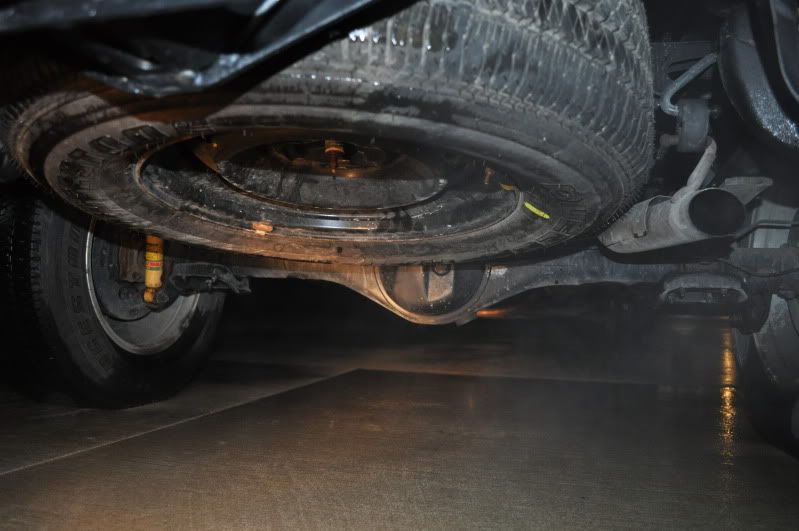 12/12/2009
I had some Oznium LED Flood Lights laying around so I thought I'd pop them under the hood for some lighting. I'm very happy with the amount of light. They are controlled with a mercury switch, so they come on when you open the hood.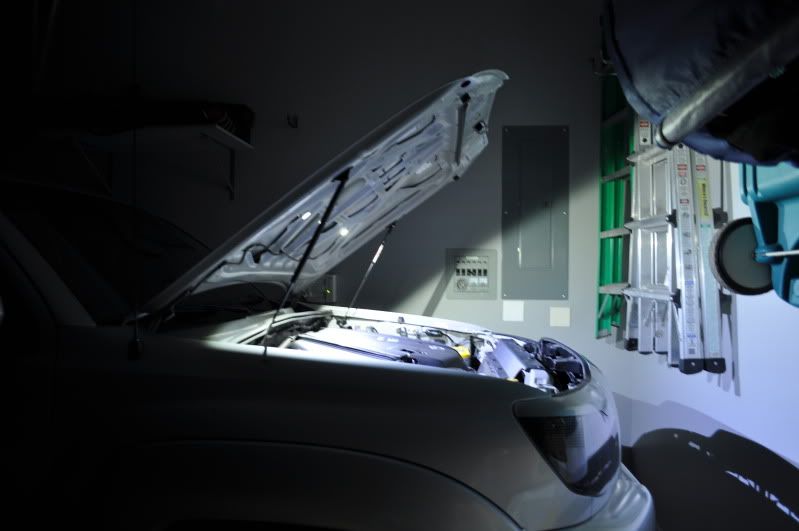 02/12/2010
I wanted a little more growl out of the Taco, so decided to switch to an aftermarket muffler. I saved a lot of money by buying the muffler only and doing the install myself. I just need to add a turndown on it in the future and overall the job cost me less than $50! I went with the Dynomax 17747.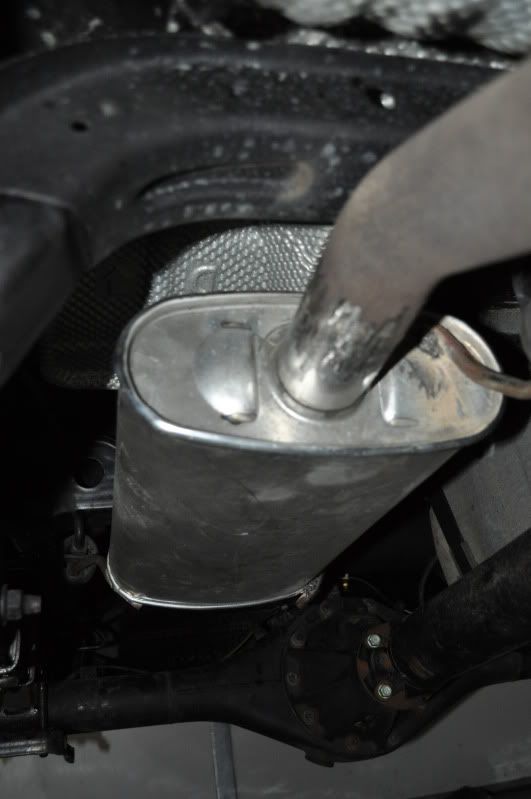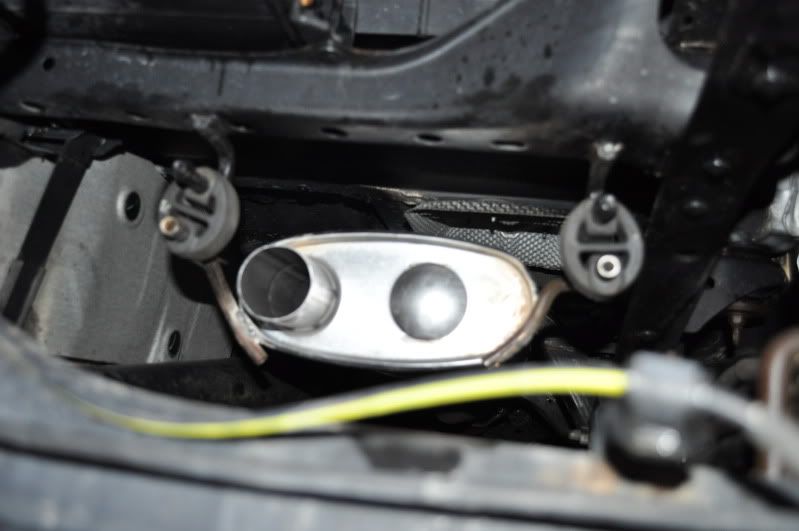 02/15/2010
I finally got a spare set of headrests (from a single cab) to hack into and put my old monitors to use. The kids approve very much so. My DIY can be found here:
http://www.tacomaworld.com/forum/aud...ml#post1434535
I also added a solenoid valve and momentary switch for a future air horn . . . I wanted the switch to be somewhat hidden and I'm happy with my location. For now, its simply a way to blow down my tank and get that cool air ride sound. 8)
02/10/2010
I wasn't happy with the location of the air pressure gauge so I installed an A-pillar gauge pod w/ air pressure gauge and voltage gauge.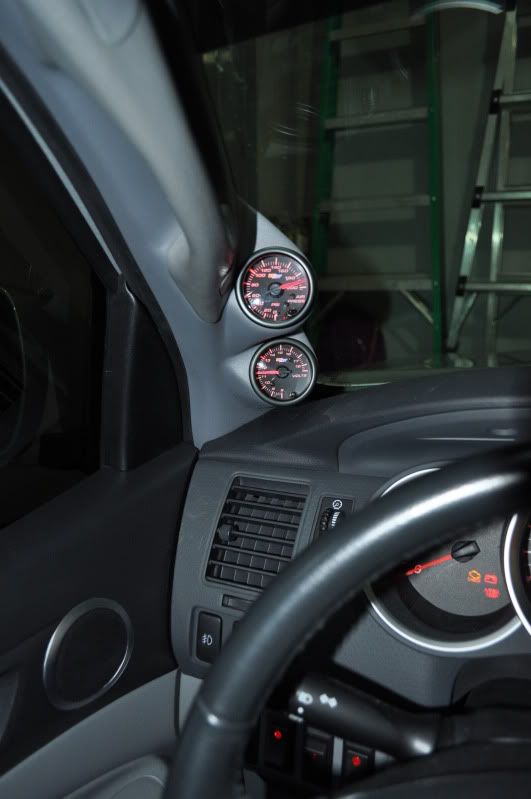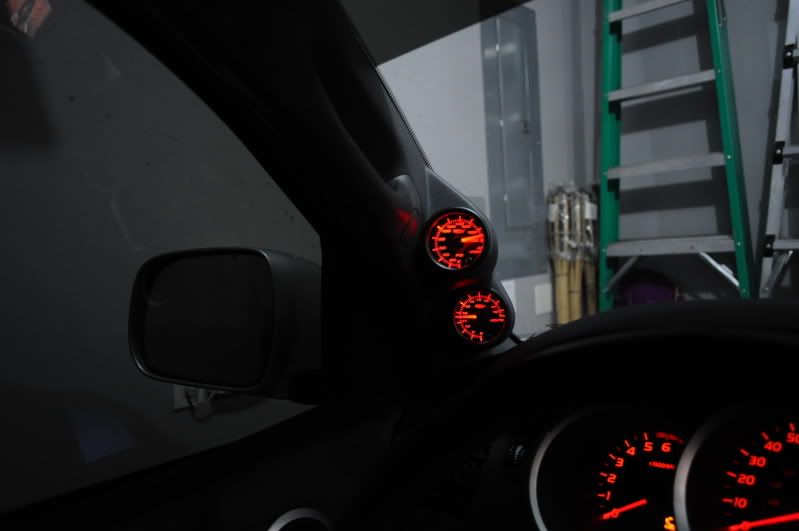 02/28/2010
I finally got my Weathertech mats. The fit is perfect and I really like the black accent.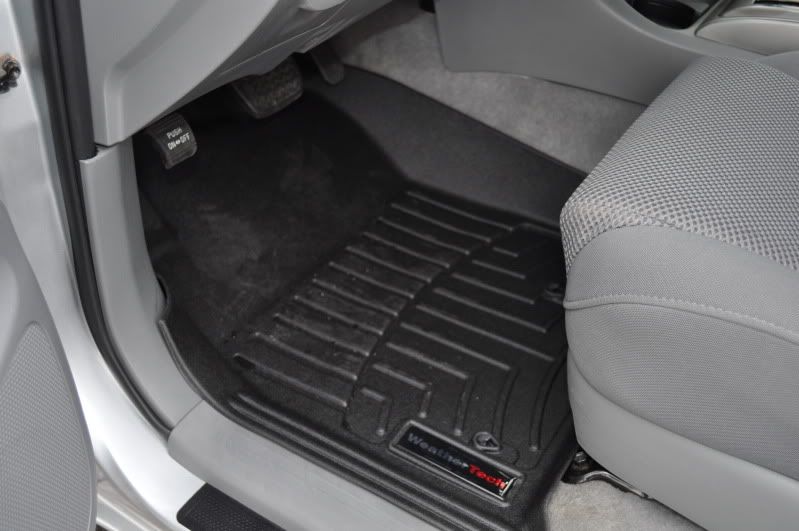 04/10/2010
I bought a cup holder mount for my iPod that I couldn't be happier with.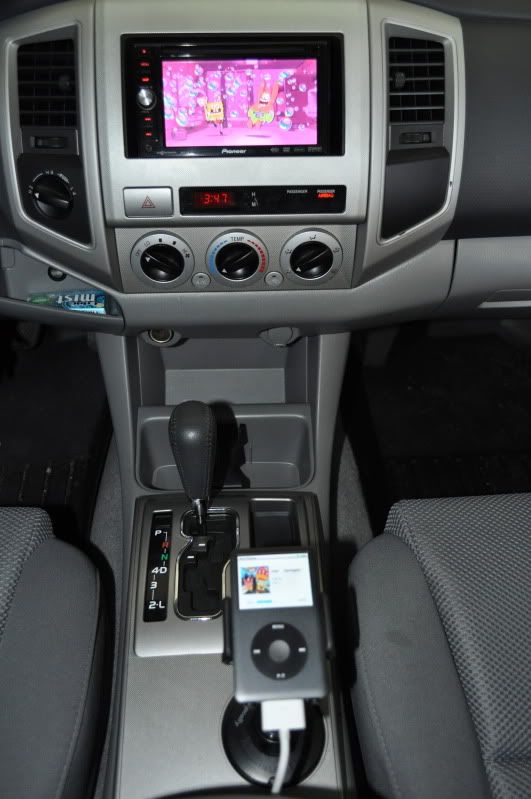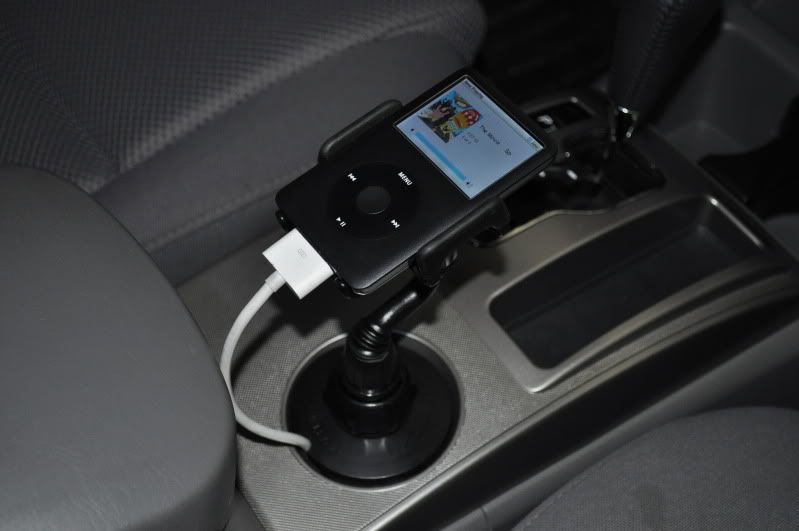 07/07/2010
I finally got around to puting on my lift. I went with the Toytech Ultimate lift and SR UCAs.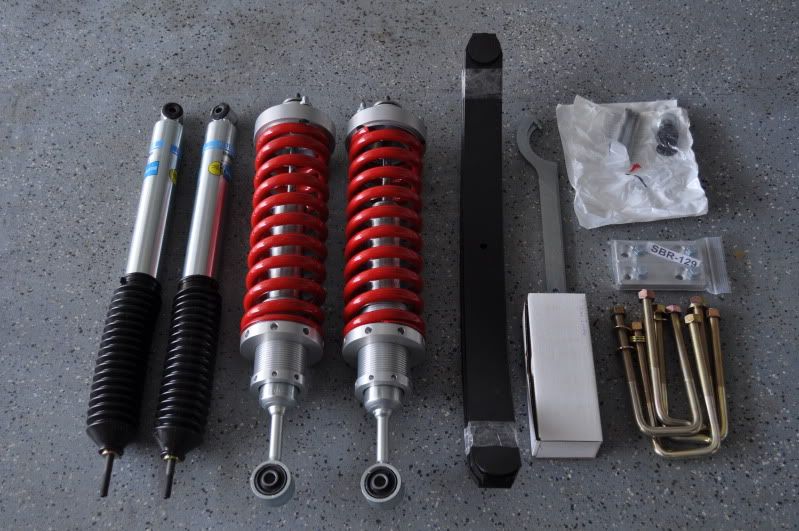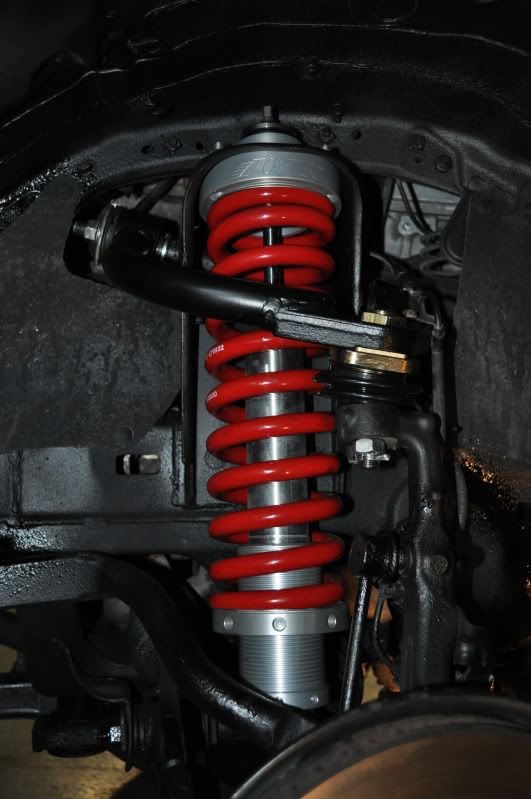 and how it sat when done: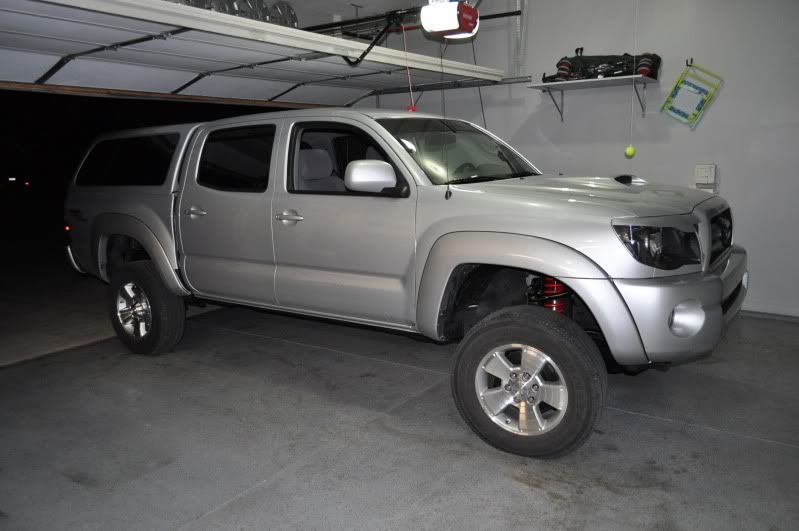 I have the 285/16 BFG ATs in the garage. Just need to buy rims next.