I have a 2006 Toyota Tacoma Prerunner TRD Sport Indigo Ink that I bought on March 11 of 2008 with 20,019 miles on the odometer. I bough my truck from a private seller who had installed the Bullbar, HQ driving lights, toyota side steps, Precision Grille, and Borla cat-back exhaust
This is the night i brought her home
Next day, after she got a nice wash
Heres the Borla Exhaust Tip
A couple months later I bought a K&N Cold Air Intake 77 Series
Shortly after I bought an Alpine CDE-9874 with a ipod hook up in the glovebox
Then the first week I had my license I backed up into a cheap $5 ace hardware mailbox and smashed my taillight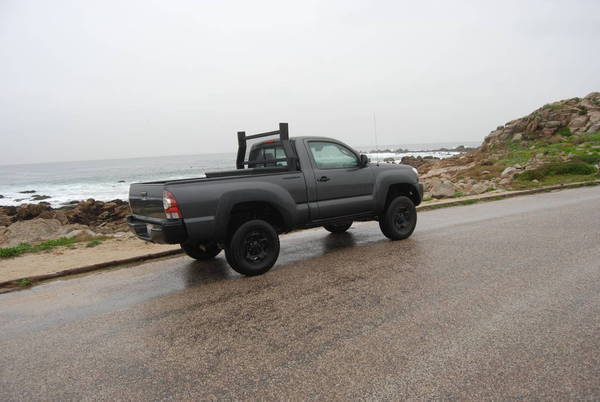 Then I got rid of my Bridgestone Dueller tires and got BFGoodrich A/T
Before
After
Then I entered my truck in a car show filled with 132 classic cars and muscle cars such as corvettes, mustangs, camaros, etc. When it came time for the awards I sat and listened to the awards handed out thinking to myself that I wont get an award but I'd like one. Then i heard my trucks number called out followed by "2006 Toyota Tacoma" and when i heard that i just went nuts. Im soo proud of my truck!
Then in October I did the Foglight Mod with a BIG THANKS TO WILL AKA tacomaman06
I did a little test with my new BFGoodrich A/T's and they check out as a big 100% in F**King Awesomeness
I found my trucks Twin, that Tacoma had a flowmaster exhaust, procomp front lift, procomp tires, grille and bullbar. so its similar, but alot of my friends always spot this truck around town thinking its me
For Christmas I got Wet Okoles (Thanks Mom and Dad)
Then I got the 48 Blue LED dome light with a BIG THANKS TO NOE AKA 05PRERUNNER! the light is so blue that even my Nikon had the worst time trying to focus for the picture
I got a Mototrix light from
autozone
, this thing helps in backing up and seeing at night and is strong, i backed into a trash can and it snapped in half like its suppose to and i just stapped back together and it still works, its very bright
Then I bought an Extang
tonneau cover
from Albert AKA W8N4MUD, THANKS BUDDY FOR THE GREAT DEAL!! the cover works great!
Then one night, me and this girl were cruisen in my truck doing 40+ on a dark two lane road when a deer ran infront of my truck, i hit it, causing the deer to skid across the road and get run over by a Honda accord. I was very very upset and i was scared cause i could have swerved to miss it and hit a tree or hit a car, so i am thankful that i just plowed it down, and I am thankful that we were safe. the damage came out to be two new headlight, bumper resprayed and things that hold the bumper to be replaced, new bumper grille, new foglight, and bullbar to be readjusted, IT WAS NOT BENT all this came out to be 2,100 in repairs Thank you Dad
Heres when she came back from the shop
I dont want to talk about this picture
I got my Cobra 29 installed (no longer in my possesion) with my PA installed(not working)
Then my brother helped me install my Hellas 500FF
She Hit 30K
Then I got my front window tint at 15% around the beginning of august along with my roof racks
I got
Weathertech
floorliners back in august of 08, these things are the best, no complaints, I 100% suggest buying these
I did the horn mod
I was able to trade taillights and headlights with the service guy who takes care of my families toyotas and my truck, he needed to return his truck back to stock so he could buy out the lease. I happily helped him out and gave him my lights
I recently bought new head light bulbs from Luminicsusa.com, they are Krypton Pure Blue 6,000K halogen bulb, i love these bulbs!
I recently installed my back up camera. My brother takes all the credit for the installation, and Thank you SOCALMAN22 for helping me figure out where to put the transmitter
My backup camera screen had a window holder but it was cheap and broke so i through it out and my brother velcroed it to the center console area so i can tuck the wires between the seat and when backing up i can just look down at the screen
And couple weeks ago I got a Revtek 3inch spacer lift, I gotta say its not bad at all, i love it, i doesnt ride harsh or anything, the suspension is firmer and it takes corners a bit better
Thats it, Thanks for viewing my build