Under Construction
Through moving numerous times and taking hiatus' from TW this build has been severely neglected
Will do my best to piece everything back together from the last three years...
So here is Tessa, a 2005 Access cab, TRD OR, 4x4
Purchased used: March, 2009 with 42k miles (140k current)
Most recent pic (01.04.14)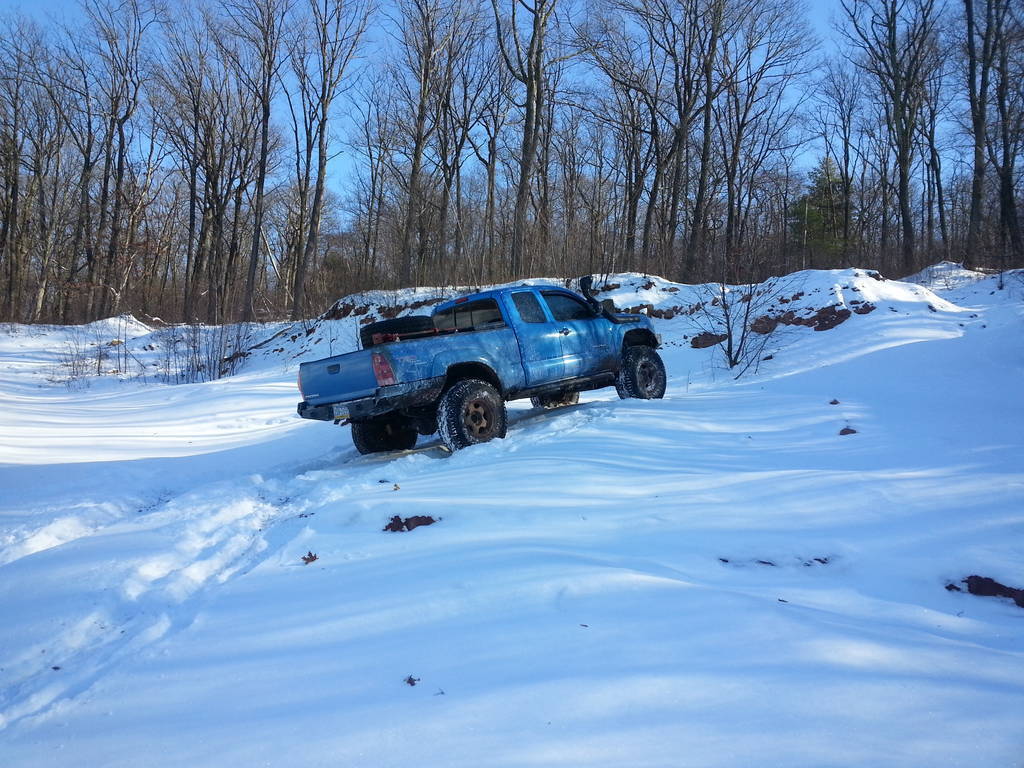 Front Suspension
Icon
extended travel coilovers RR + 700lb coils
Total Chaos UCA's with SS uniballs
Total Chaos cam tab gussets
Total Chaos spindle gussets
Removed sway bar
Goodridge extended brake lines
Wheelers bump stops
Cab mount chop
Rear Suspension
Dakar springs
ATO shackle flip
All-Pro
U-Bolt flip kit
OME N182 nitro rear shocks
Goodridge extended brake lines
Timbren bump stops
3deg axle shims
Engine/Performance
Flowmaster 50 series cat back
Exhaust re-route with custom dual out
Hurst short shifter
Diff breather mod
ARB Safari Snorkel
ECGS front diff bushing
Redline Hood Struts
Wheels + Tires
SCS F-5's
315/75R16 Hankook ATMs
Matching spare wheel and tire
Lighting
Black head light mod
Backup light mod
PIAA 510 Fogs
Fog light anytime mod
x3 7'' Kragen driving beams (35w internal HID w/6000k bulbs)
Electronics
Blue sea 12 slot fuse box
Uniden PRO520XL CB mounted in center console
CB Ant: NMO roof mounted Wilson 1000
HAM Ant: NMO roof mounted Larson Q2/70B 2-Meter & 70cm
Ultragauge mounted on steering colum
Compass/temp fix
Interior/Audio
LED interior lighting
DIY blue/white dash mod
Removed buzzer/chime
Blue/Red 4x4 switch
Pioneer head with Infinity all around
20% Tint all around
WeatherTech
floor liners
WeatherTech door sill protectors
WeatherTech in-channel vent visors
Exterior/Armor
Relentless front bumper
Relentless HC rear bumper
Relentless weld on sliders
B.A.M.F. LCA Skids
A.T.O. IFS Skid
A.T.O. Transfer case skid (reinforced)
A.T.O. Transmission skid (reinforced)
Partial De-badge
Color matched DIY Grillcraft Satoshi
Custom tire carrier
Front fenders/flares trimmed 2.5"
UWS wedge style toll box
Recovery/safety
Hi-lift mounted to Bed rack with Hi-lift aluminum tube mounts
ARB recovery kit
Tire repair kit
!! IMAGE DUMP !!
Check my gallery out for more if interested