As I got it, more or less; stock except for the rubber and topper.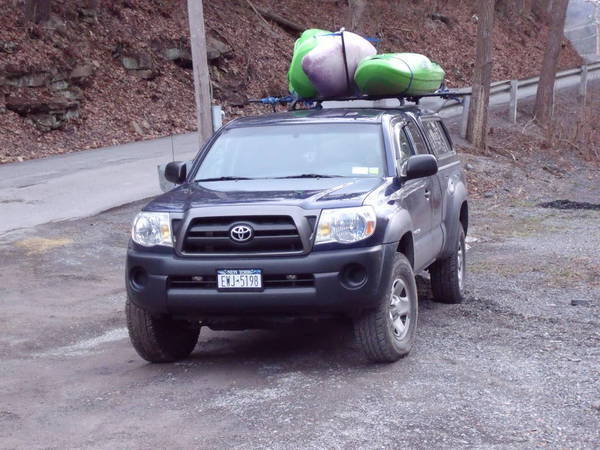 6 months later: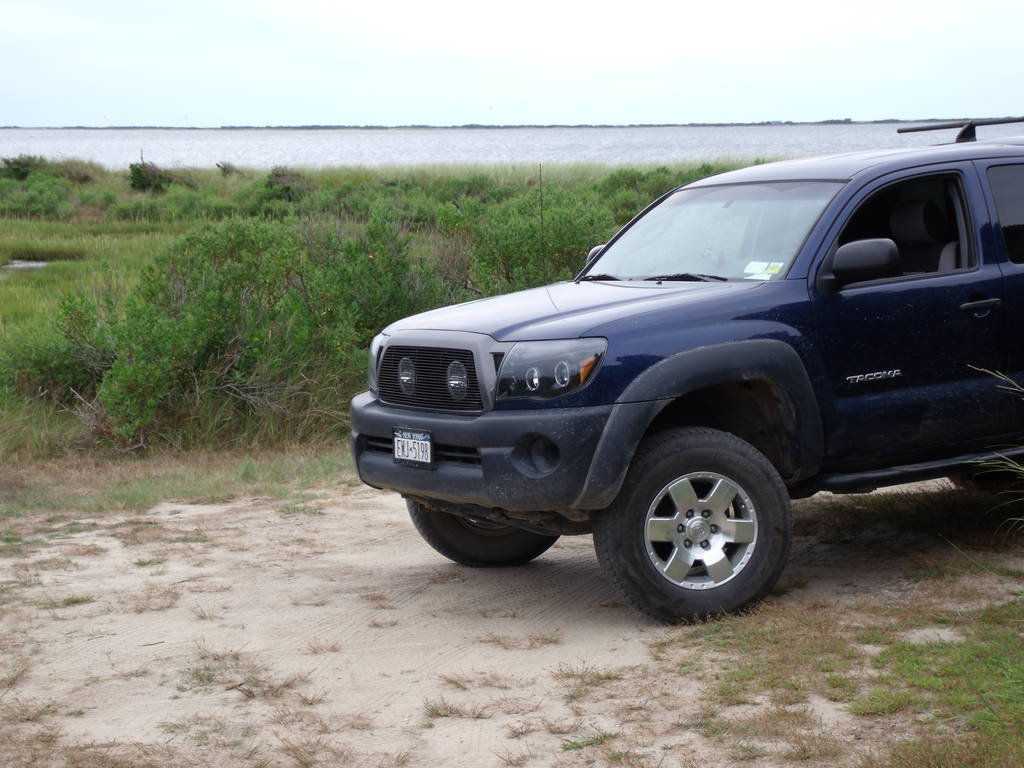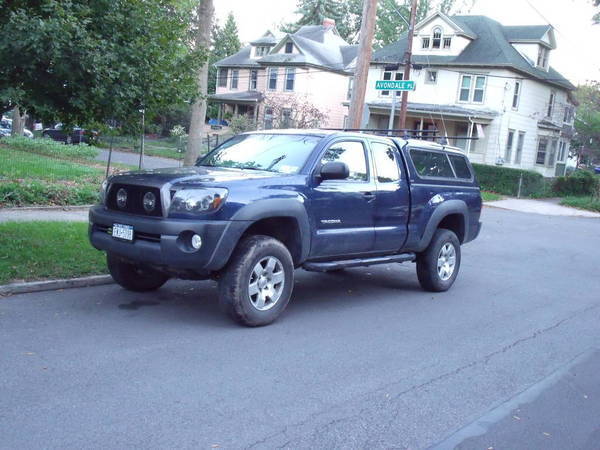 1 year later
Bought my 2007 Access Cab SR5 4x4 used with 55k miles in Feb. 2010.
The idea behind my build is that I am planning to spend at least 8 months on the road in the near future whitewater kayaking across the country and I want a rig that: can move all my gear, I can camp out of and sleep in comfortably, is great for long hauls, is affordable and works for the paddling lifestyle (not too tall and still gets good MPG).
Most of the stuff I am running I am buying used or on the cheap to keep the project affordable. Also I am trying to stay away from anything flashy or easily removed, where I live at school I am on the other side of a park (1 block) from the ghetto. Last thing I need is someone trying to rip off stuff from my truck.
This is the first vehicle of my own that I have ever done work on so this has been an adventure to say the least.
Work done so far
Shell
Jerraco- no rise camper top with dome light and Yakima racks (racks are great, but Jerraco is a crap company do not buy their products)
Unnecessary Stock Parts Removed:
Mud flaps
Secondary
Air Filter
Front Sway Bar
Resonator- 4 cyl only
Rear brake line holder at the pumpkin
Lighting:
Blacked out Gen 1 Projectors modified to keep the low beams on with the highs. Low beams are now HIDs
HID Hella 500s behind the grill
Fogs- installed first cheapos hidden behind the lower grill (great option for $20)- then later OEMs in the stock slots
Rock Lights- mounted facing backwards on the cross member
Blue "Fighter Pilot Lighting" in foot-wells (front and rear) and cup holders- trick to these is to use prewired 12v
WIDE ANGLE
LEDs available in bundles of 20 for $8 on
Ebay
.
Installed Carling Contura switches into the OEM slots with some modifications and illuminated them to run the above and more to come.
Full LED swap on all the stock LEDs in the cab to a blue/white theme. This includes the gauges, head unit, display by the clock, and the climate controls.
Map lights on with Dome light- still might go back and make this work better so that this only happens with the "Door" mode instead of all the time.

Suspension:
Front Bistien 5100s at 1.75" (Will be going to 2.5, waiting to figure out how- might be with OME 885s)
Rear Bilstien 5150 remote resi's. 8" travel stock valving.
Middle leaf from a stock 3 leaf pack modified with 20 min of cutting into an AAL. This gives about 2.5" of lift with my camper top as well as increases my load capabilities and gives an awesome ride for less than I could have bought a standard AAL for.
Ubolt Flip Kit
No rear bumpstops- they hadn't touched in two years since the lift, even with two blown shocks. I'm going to be doing flex tests and research before making a final decision.
Cosmetic:
Black Billet Grill
Aries Nerf bars
Shortened the stock antenna
Interior:
Pioneer AVIC-U310BT Head unit
6" under seat sub- JVC CS-BB2
TRD neoprene seat covers
Weathertec
digi-fit floor mats

Armor:

Avid Offroad
Light bar- LineX'ed no tabs
TRD Skids added for the transmission and the Tcase
Wheels:
17/265 Duratracs
FJ Rims
Misc:
AUX bed power outlet- Makes inflating an air mattress in the back way easier.
Mounted a 2 D-cell maglight in the center console lid.
17" FJ cruiser Alloys – Waiting for the stock rubber to die so I can go to Duratac 265/70/17s
AFE Pro Dry drop in air filter
Micro On-Board Air system
Biggest bottle-jack I could cram into the stock location
Exhaust chopped above the axle
Some photos (a lot more as you go):