Here is a thread for my 2007 Tacoma TRD Sport Prerunner double cab long bed.
I bought it used in June of 2009 with 6,300 miles.
How it sits today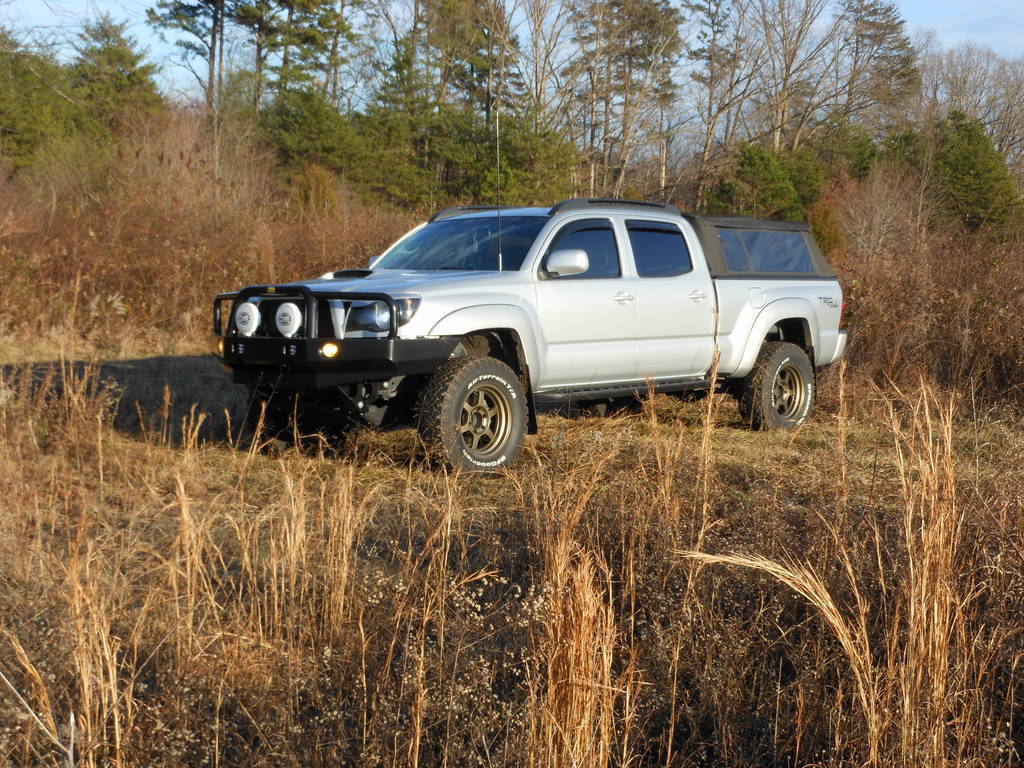 This is what I started with, minus the roof rack and tool box. The
bug guard
came with it, and was quickly removed.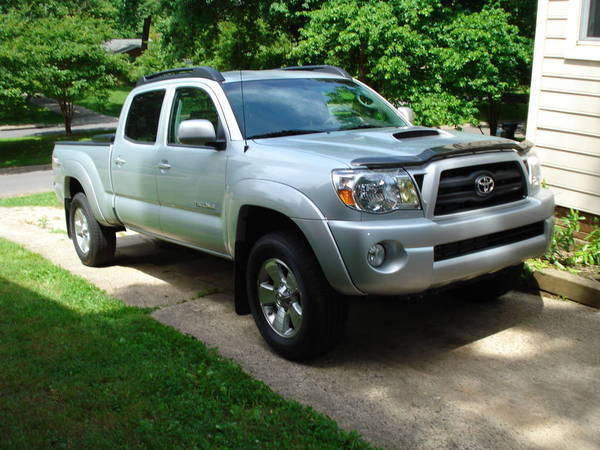 Suspension:
Icon
2.5 resi
King 14" 700 lb coils
Total Chaos UCA's
Rear:
All-Pro
Expo leafs
Icon RR shocks
Wheels/Tires:
Konig Counter Steer Type-X matte bronze 17x8
BFG AT 275/70r17
Engine:
URD
cold air intake
URD MAF calibrator
XTP ITM spacer
URD U-spec headers
Borla catback
Exterior:
TJM T-15 bumper
Amp Research Bed Xtender
Husky toolbox bedlined
Toyota bedmat
Toyota roof rack
AVS rain guards
Sockmonkey decals
debadged and rebadged
Grillcraft
Devil Horns emblem
T1 Angry Eyelids
Relentless hood mount w/ 4' Wilson antenna
Interior:
Inalfa 925 in-built moonroof
Katzkin leather, grey with black inserts and black stitching, black armrests
Weathertech
floor mats
Front windows tinted 35%
Electronics:
Cobra DLX 19 w/ Wilson super flex 4' (relentless mount)
Pioneer avic-8000nex
Focal Polyglass 165 VB components in front doors
Focal Access 165 CA1 coaxials in rear doors
Speaker adapters from hookedontronics
JL Audio 10w1v3 in Mr. Marv box
Alpine PDX-5 amplifier
Rammat and Ensolite on doors and back wall
'09+ backup camera
SPod
OTRATTW
switches
Lighting:
FX-R stage III with Morimoto 35w ballasts, 6000k D2S bulbs, gatling shrouds custom painted silver streak and satin black
BHLM with krylon fusion satin black, reflector bowls painted silver streak
Nokya 2500k H4 55w fog light bulbs
Zues 20" dual row LED bar
Ebay
50" radius LED bar
Rigid Dually spot lights
LED license plate lights
LED reverse lights
6" LED backup lights
LED strip bed lighting
4wd conversion parts collecting: * = collected
A750F transmission *
Front driveshaft *
Front diff *
CV axles *
4wd hubs *
FJ Cruiser t-case *
ADD wiring harness
Rear driveshaft
Want 4.56 gears and Detroit trutrac
The first thing I added is a low profile black toolbox from Leonard truck accessories and the factory roof rack. I cut some carpet squares to fit in the bottom of the toolbox to keep my crap from sliding around and rattling.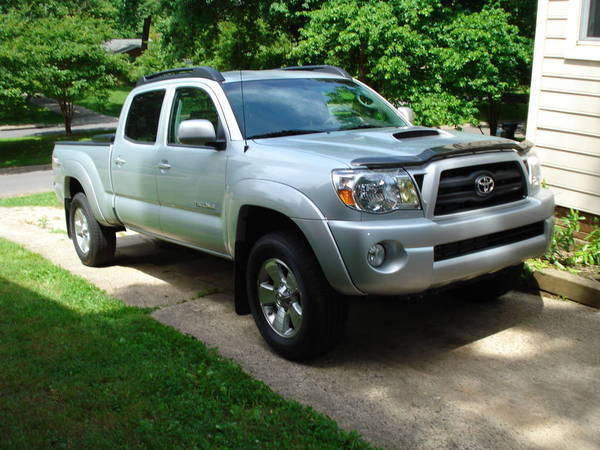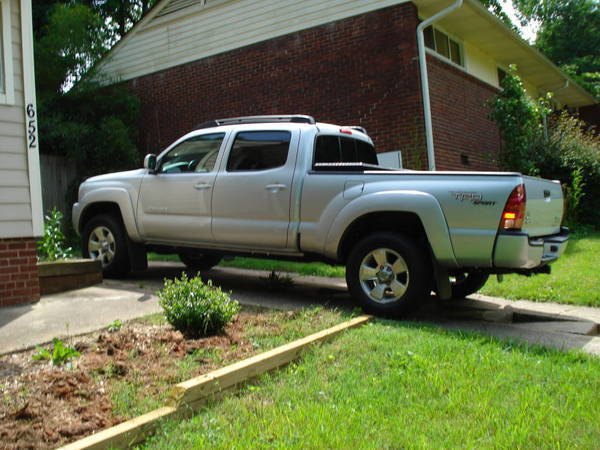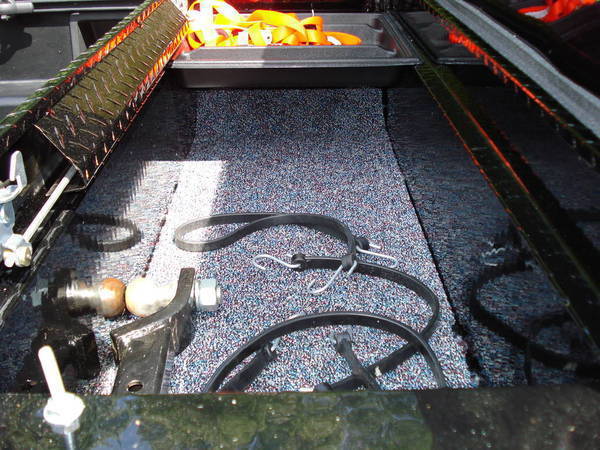 Then I added the USA-Spec I-pod integrater. This was a nice piece. I can choose an album or playlist with the ipod, and change tracks with the stereo control.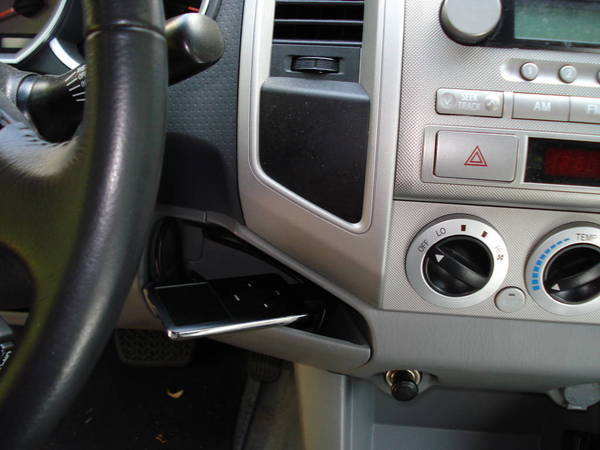 I then installed the angel eye headlights. I loved these for a while, but they started fogging up and only working when they wanted.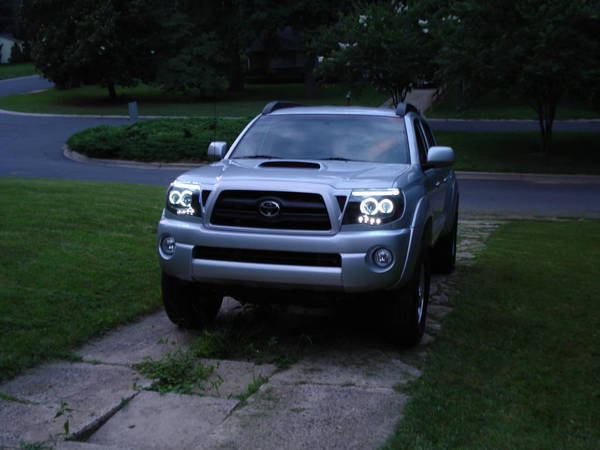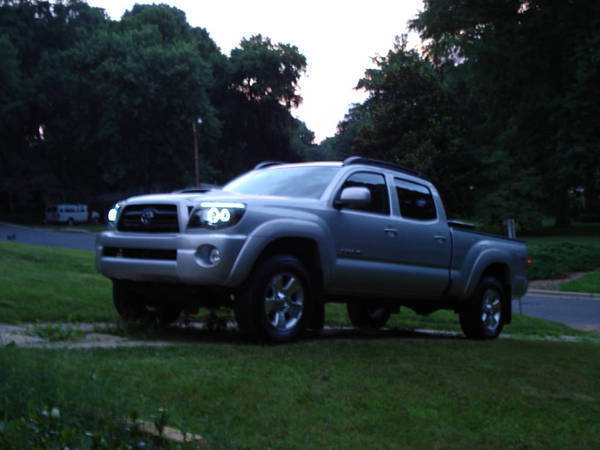 Then I installed the Flowmaster dual exhaust kit and TRD cold air intake.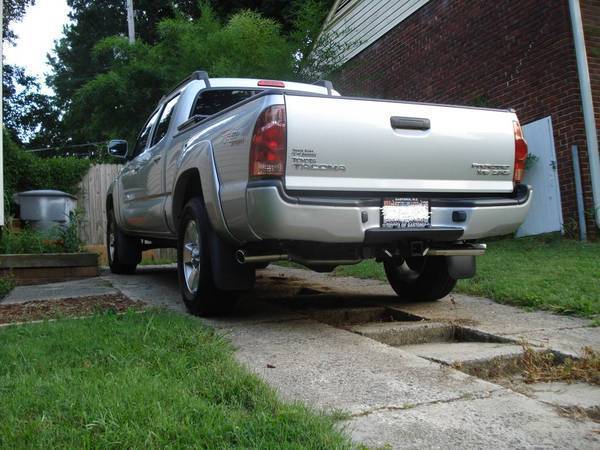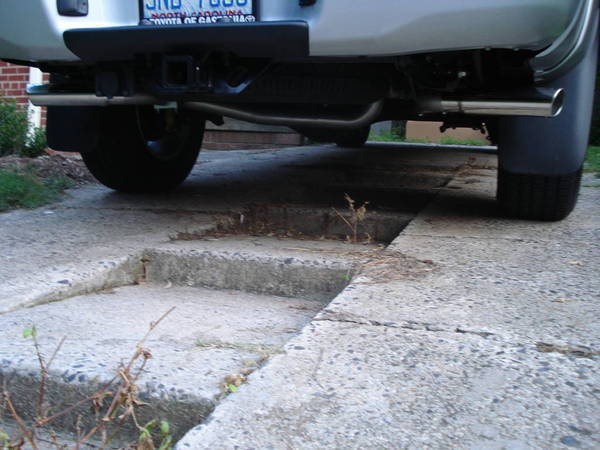 Added Sockmonkey decals and tinted the front windows 35%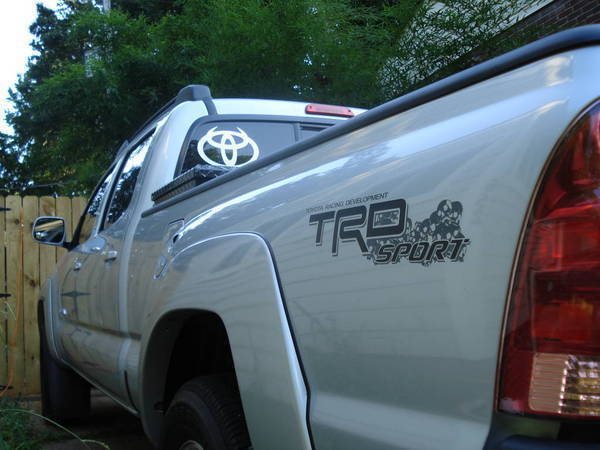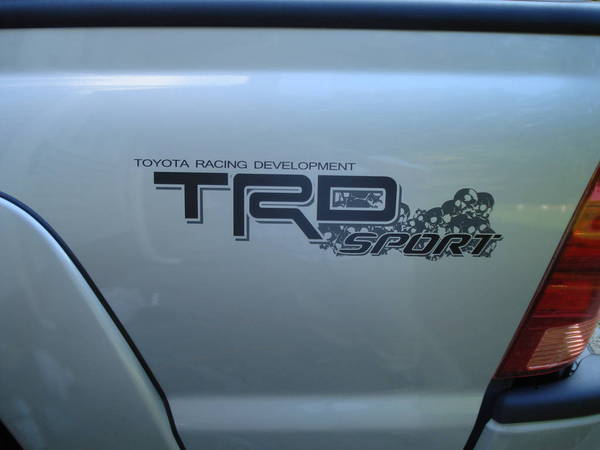 I added some N-Fab step bars in September of 2009, but I never liked the way they look so I sold them to a member here.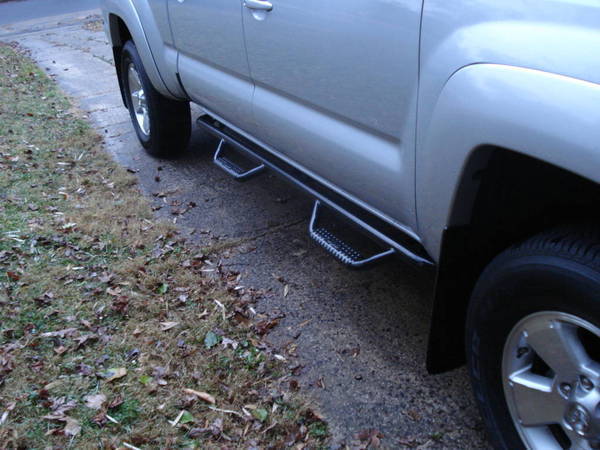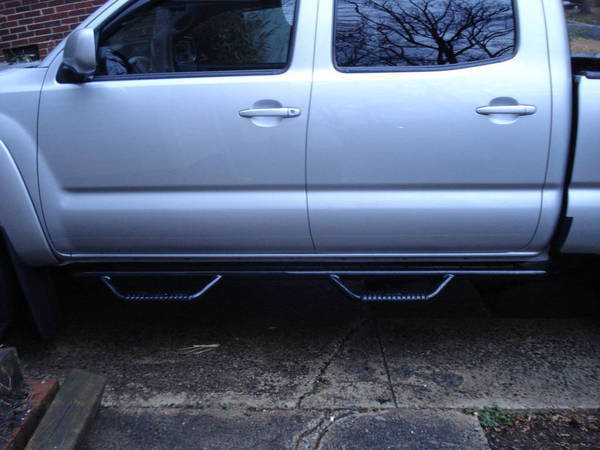 I love this truck. Here it is hauling some mulch. I hauled 5 yards, 1 yard at a time, while fixing up my Dad's yard.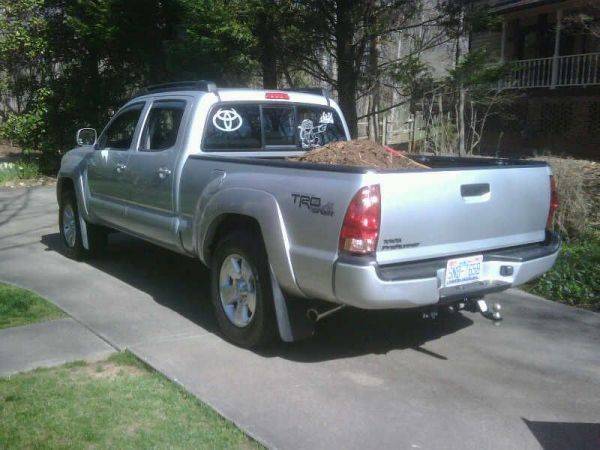 Here it is busy in my yard in summer of 2009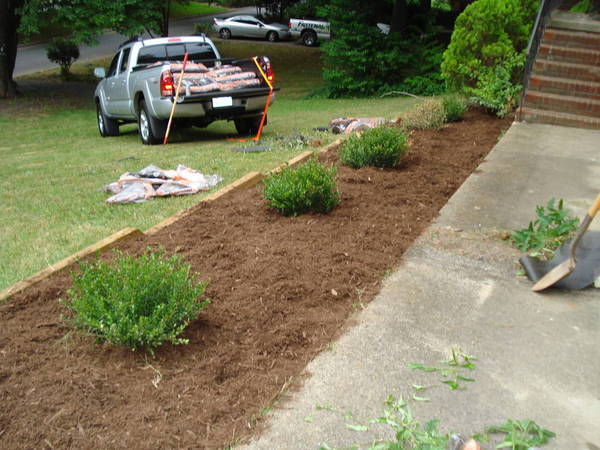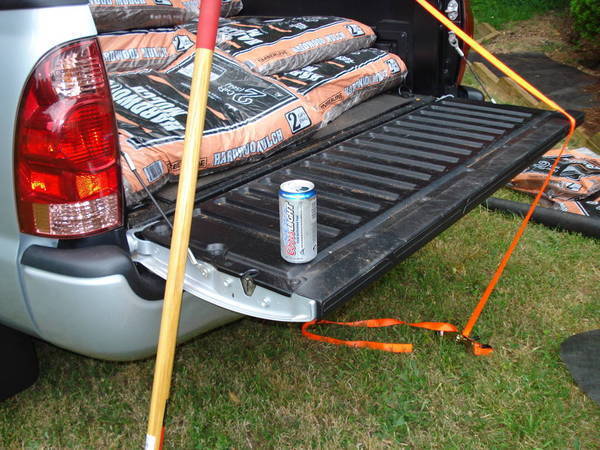 Grillcraft upper and lower, Lamin-x fog lights, AVS rain guards, debadged with "Taco" grill emblem, and trimmed 1 1/2" off front mudflaps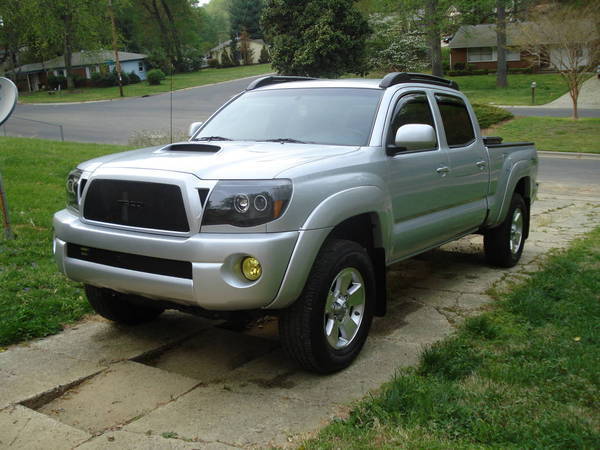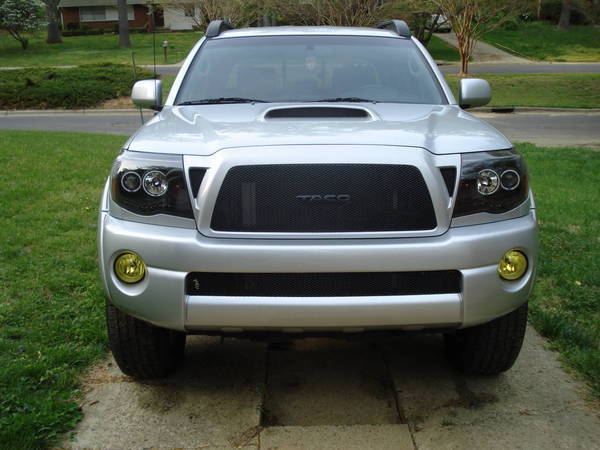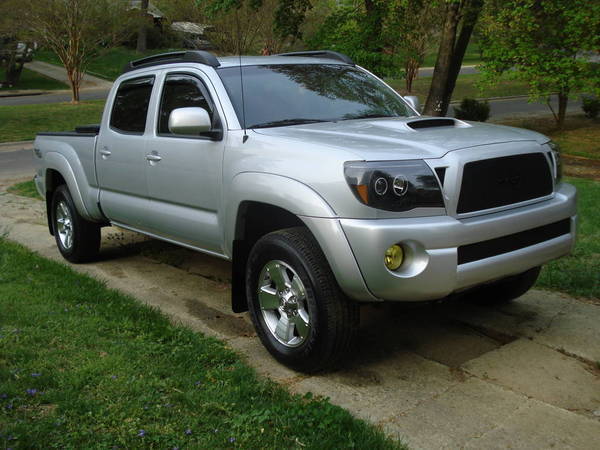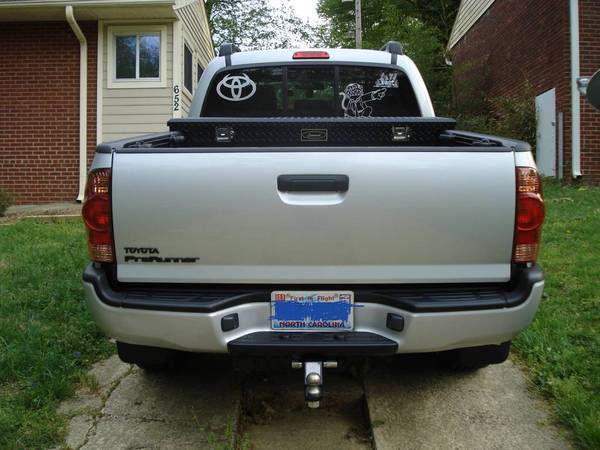 Billies @ 1.75" with lean spacer, rear Billies and 1.5"
Toytec
AAL. Raceline Renegade 6 16"x8" w/ 265/75/16 Goodyear Duratracs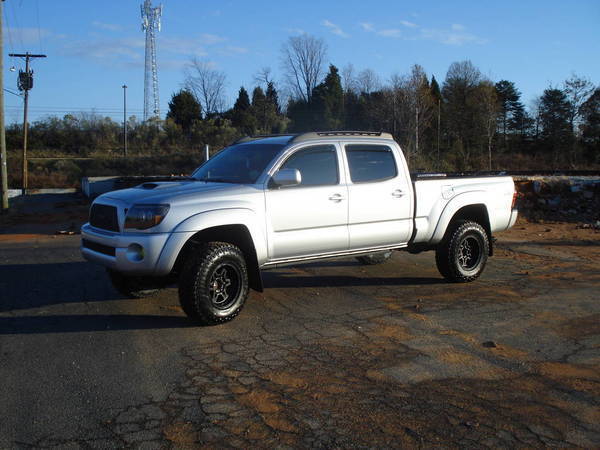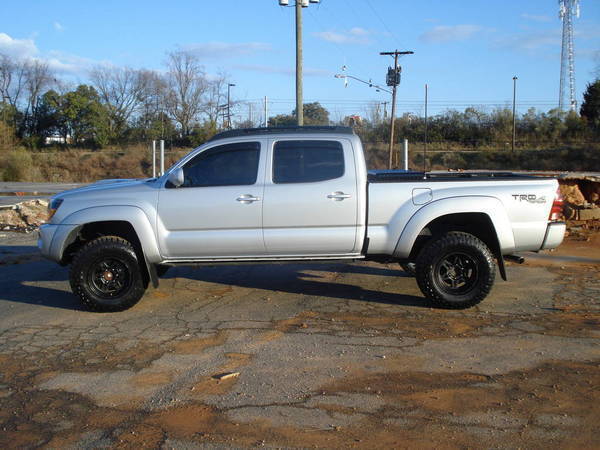 Upgraded to a Kenwood DDX-516 headunit w/ i-pod integration, and added a CB radio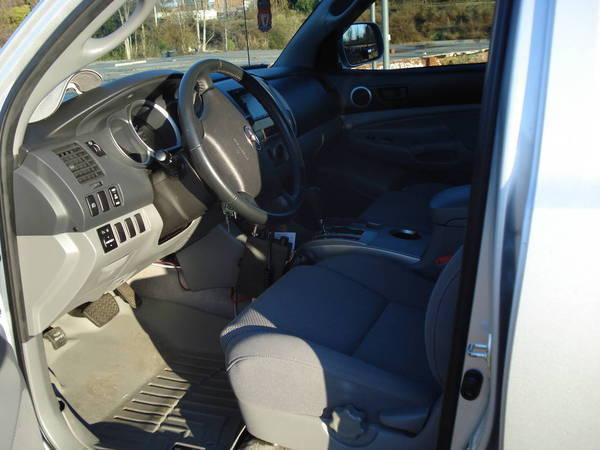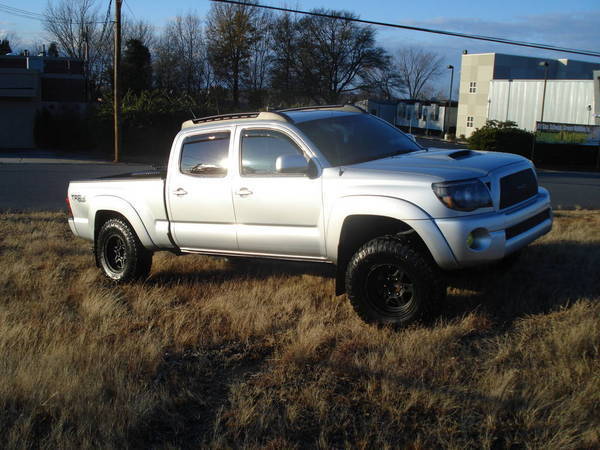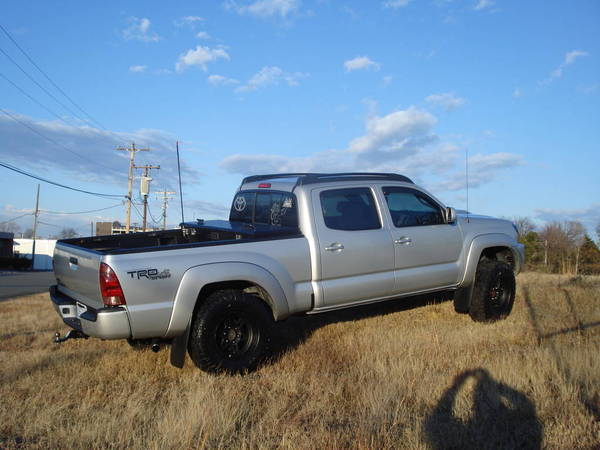 Bought a Amp Research bed extender. Got it on sale for $140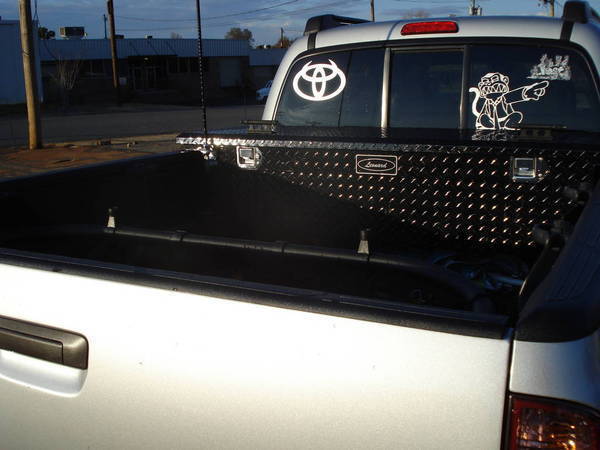 Leather and moonroof!!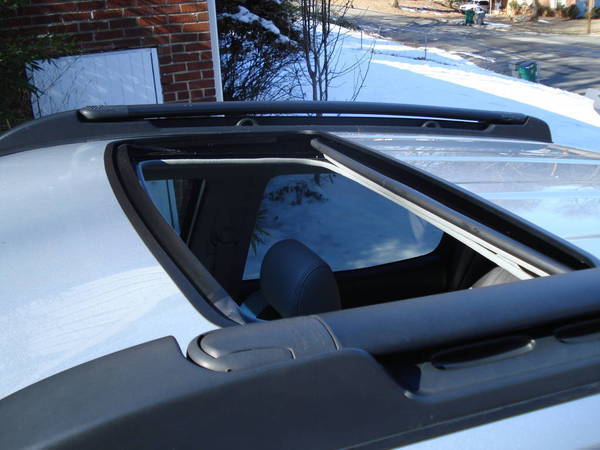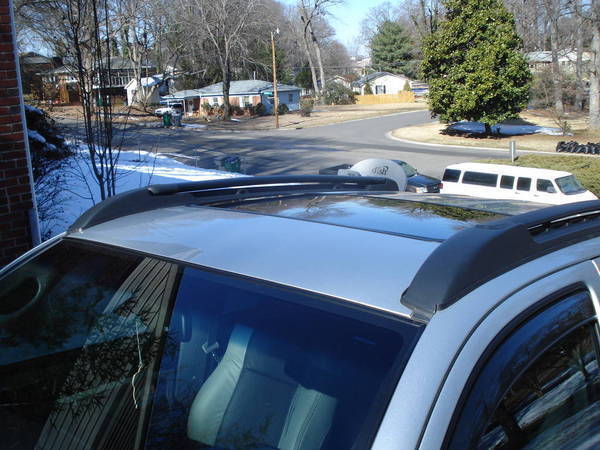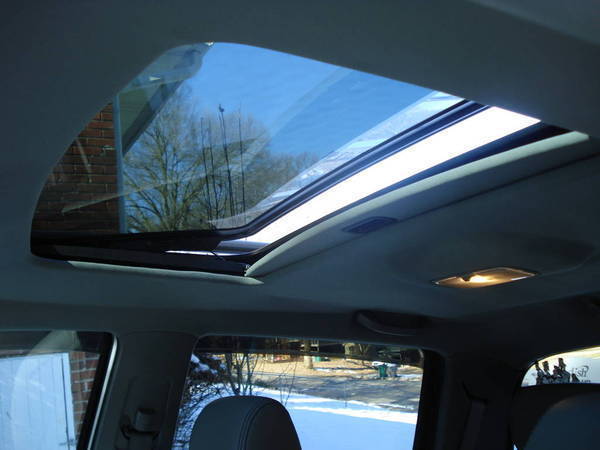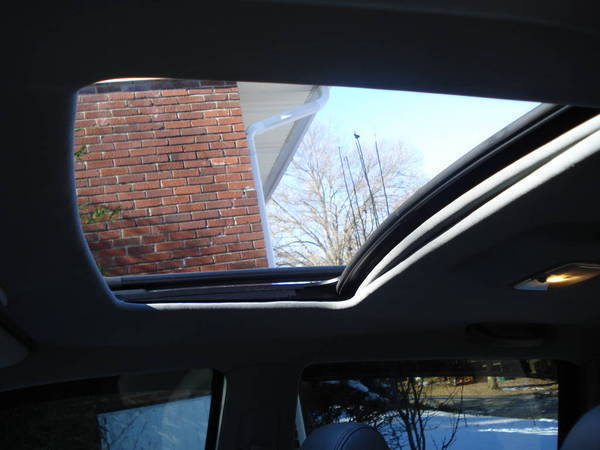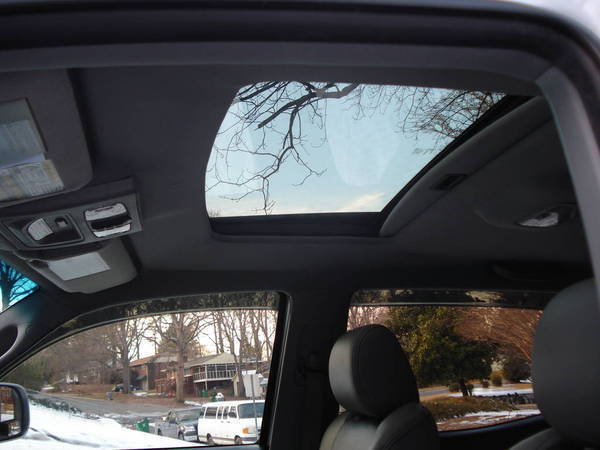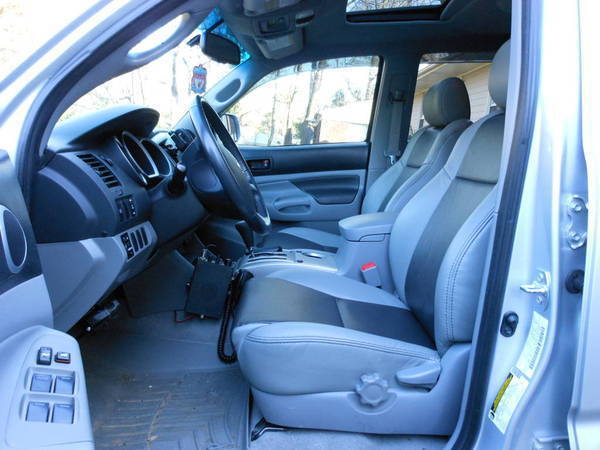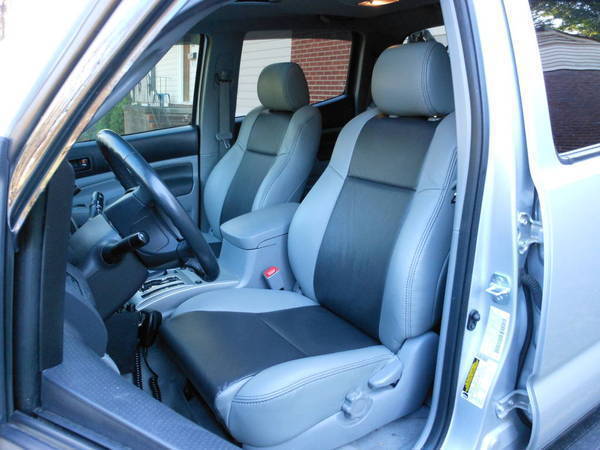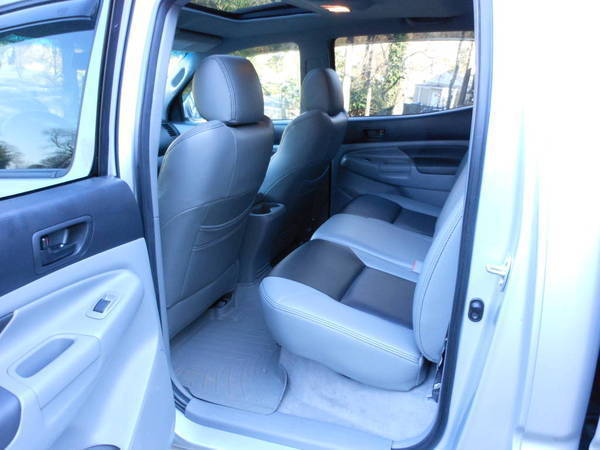 Added the Bestop Supertop. I love how versatile it is.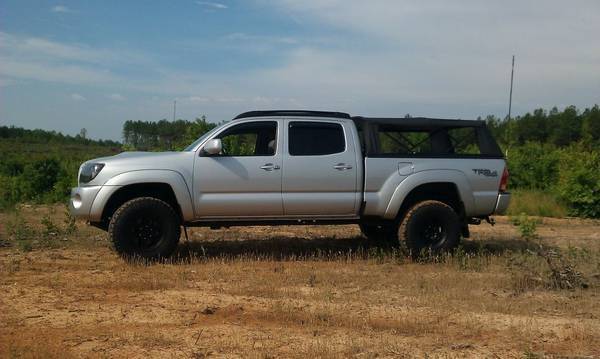 Got tired of the angel eye headlights fogging up only working when they wanted to.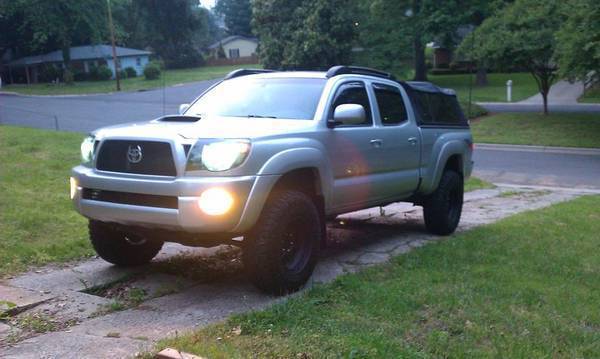 New devil emblem and headlights: ebay black housings with DDM 35w 6000k HID's. Also added Nokya 2500k fog bulbs.
New front suspension setup. Eibachs and Light Racing UCA's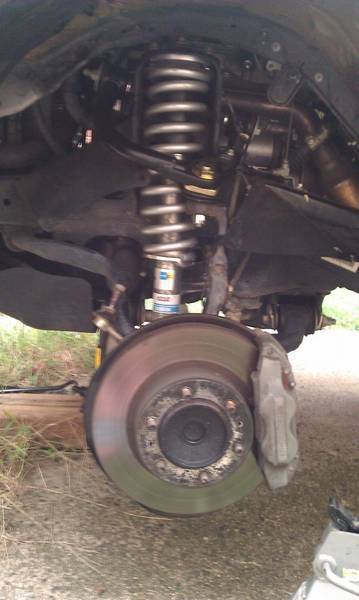 Crappy picture of the new stance.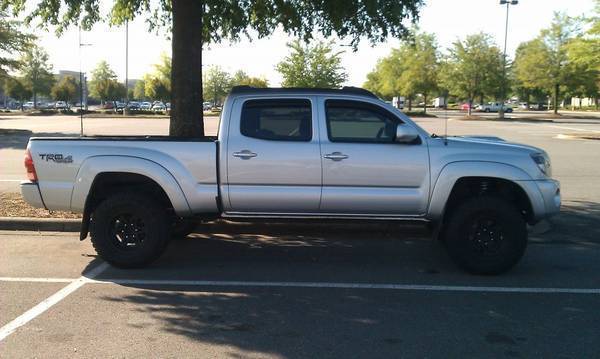 Bought a used BDF light bar from a member and added Hella 500's behind the grill.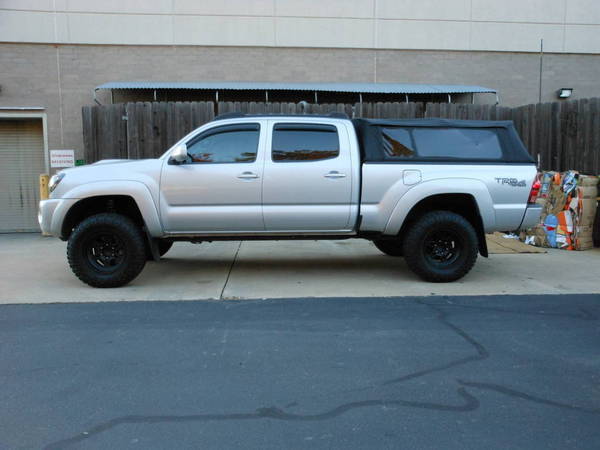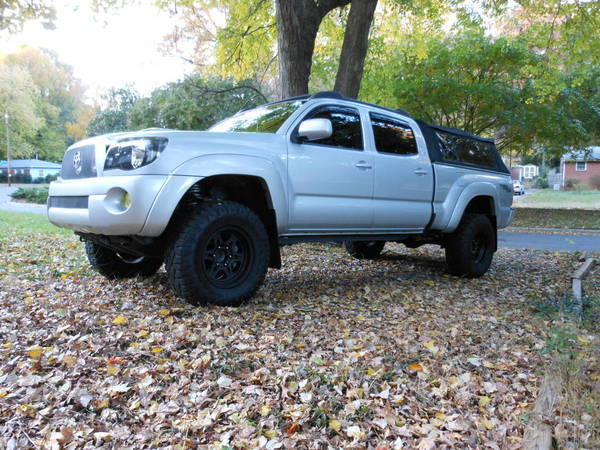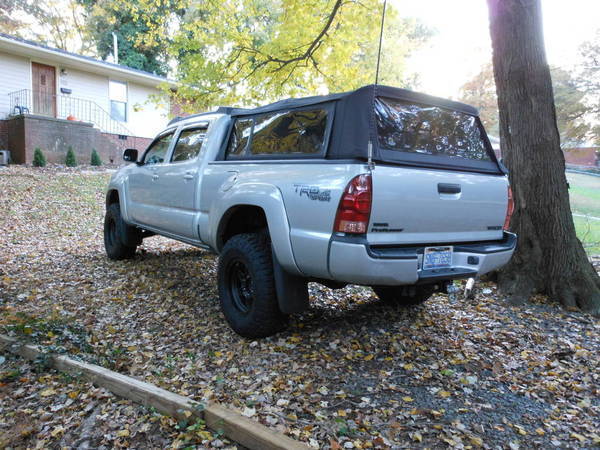 Toyota running boards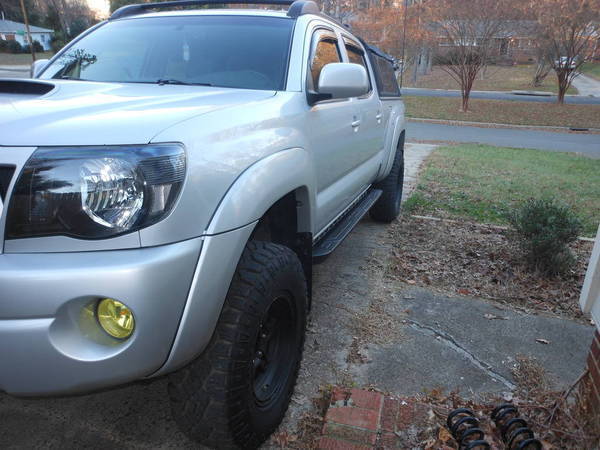 Retrofitted FX-R projectors from TRS. Morimoto 35w 6000k D2S with gatling shrouds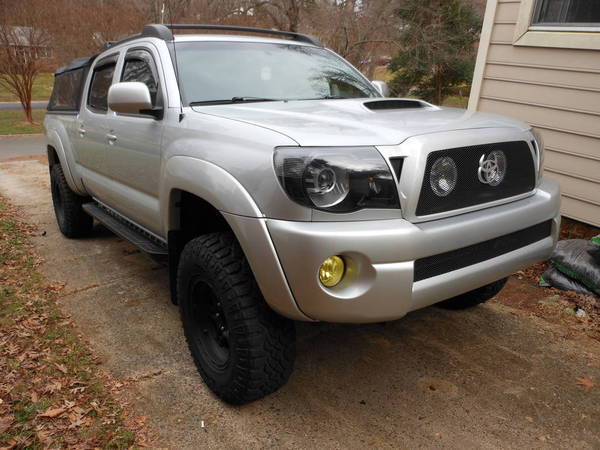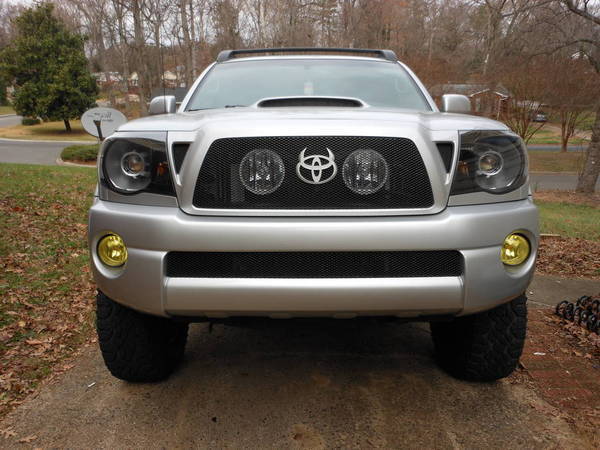 Mr. Marv built me an enclosure out of birch to fit my Polk Audio MM1040 dual voice coil 10" sub.