Hi everyone. Been wanting to make a build thread for a while so here it goes.
Most Recent Pics :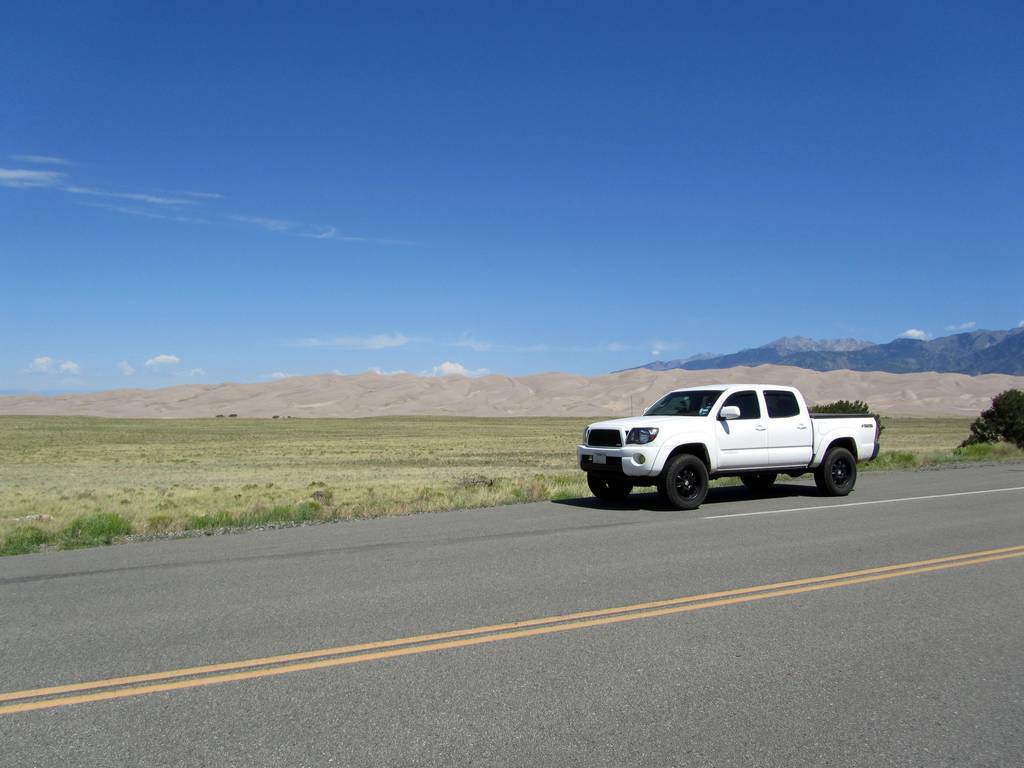 MODS:
(In no particular order)
-Katskin leather interior
-Satoshi grillcraft
-N-Fab 2" step bars
-Bilstein 5100's all around, front at 1.75"
-Rear leaf TSB
-18x9 BBS RW's - painted black
-265/65/18 Hankook Dynapro ATm's (old)
-275/65/18 Nitto Terra Grapplers (page 76)
-Black headlights
-Black taillights
-EFX Tri-fold
tonneau cover
-Magnaflow exhaust, dumped after rear axle.
-Sockmonkey badging
-Color-matched door handles, grille surround, mirror covers
-Black rear bumper
-Black front valence
-Shorty antenna
-Weathertech floor liners
-Home-made fishing rod rack
-Home-made back seat liner for my dogs
-Ultra Gauge
Purchased the truck new in July of 2009. It's a super white SR5 Prerunner. Here's the
day I brought it home
.
First set of mods was to ditch the Dunlops and add
265/75/16 Firestone Desination AT's
. Also shown in this pic are my yellow lamin-x fog covers. Now, I'm not a big fan of chrome, so my rims, grille, and rear bumper we driving me crazy. First and easiest step was to buy a
color-matched grille
from TRDparts4u.com. While I was at it, I got
color-matched door handles
and bought some
cheap chrome mirror covers from ebay, which I painted super white
. I also debadged the entire truck.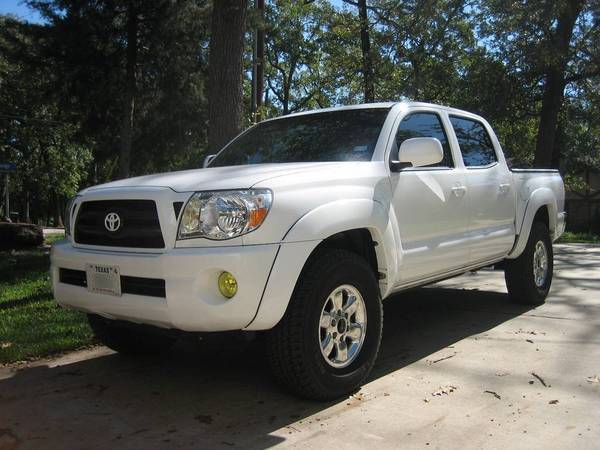 Next I installed what I call the "
bumper dent mod
". This mod took me only seconds to install, but proved difficult to uninstall. Therefore, I would only recommend doing this mod if you are really sure it is the look you are going for.
After several attempts at uninstalling the bumper dent mod, I decided to just ditch the chrome one and buy a
black bumper
from Toyota parts barn. This meant the only chrome left was on the wheels. I took care of that by getting some
18 x9" BBS RW's
off of craigslist. A guy near me had them on his '03 Tundra and didn't like the look. I had them wrapped in
265/65/18 Hankook Dynapro ATm's
. This size is the same width and diameter as the popular 265/75/16 tires. Also shown in thie pic are
sockmonkey bading
and bedside decals.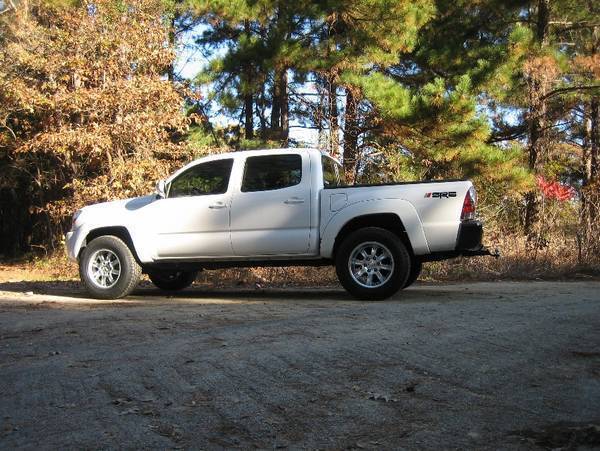 Here's a couple of home-made mods. First pic is a
fishing rod rck
I made out of a 1x8. It keeps my dog from tripping over the rods while she's riding back there. Second pic shows how I
lined the back of the rear seats with indoor-outdoor carpet
so my dog doesn't slide around when she's in the cab.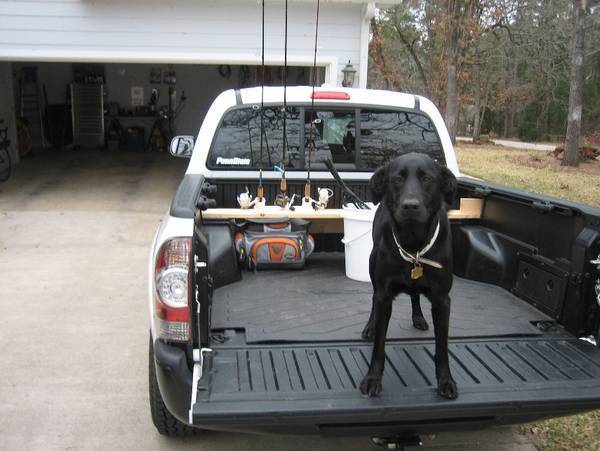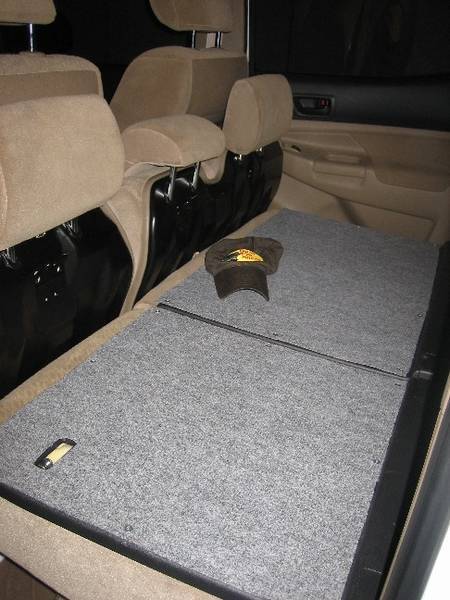 Next set of mods was a set of
black headlights
made by Depo, along with a
grillcraft
and
black vinyl front valence
. I also added a
magnaflow exhaust system
and dumped the tip ofter the axle for a cleaner look.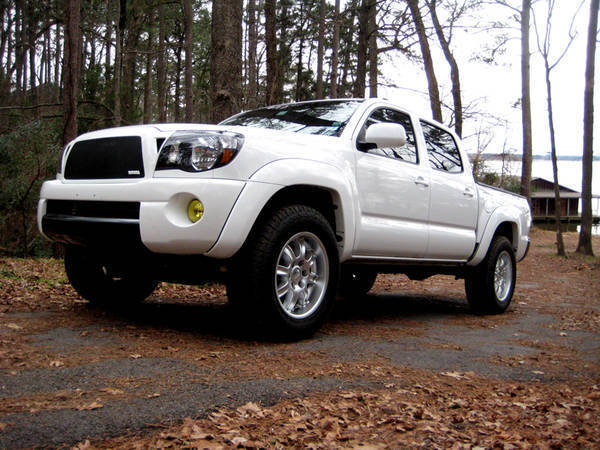 Got the
rear leaf TSB
done, and lifted the front with
Bilstein 5100's set at 1.75"
. Also added 5100's to the rear. Also decided to
paint my BBS RW's semi-gloss black
. I think it turned out great.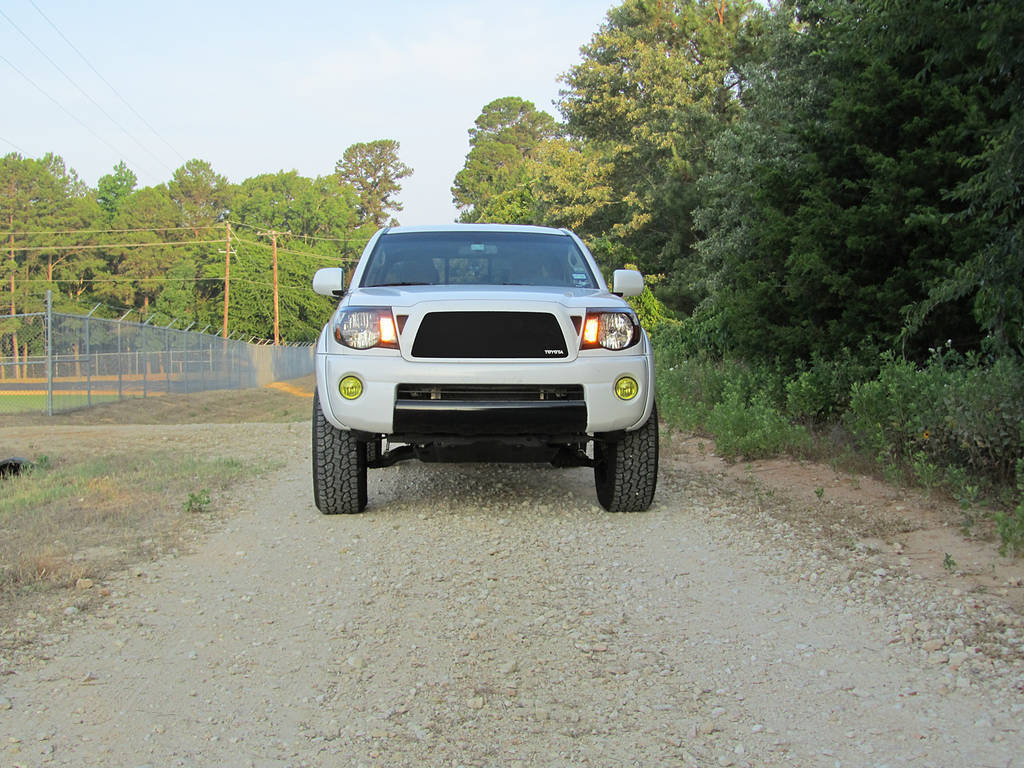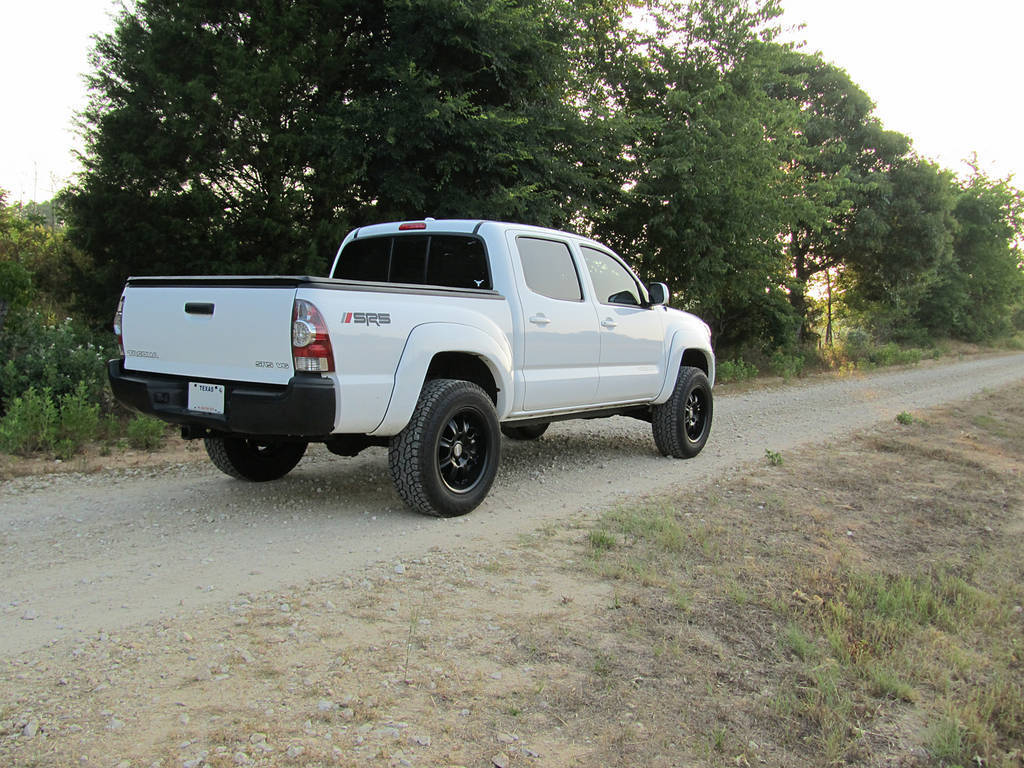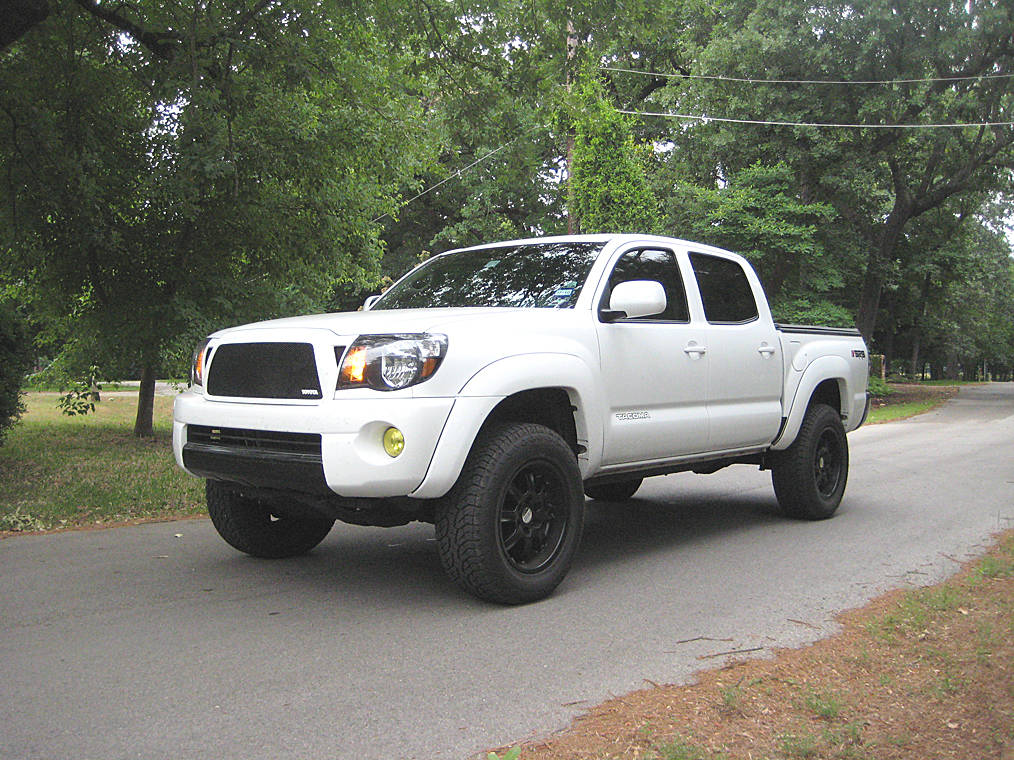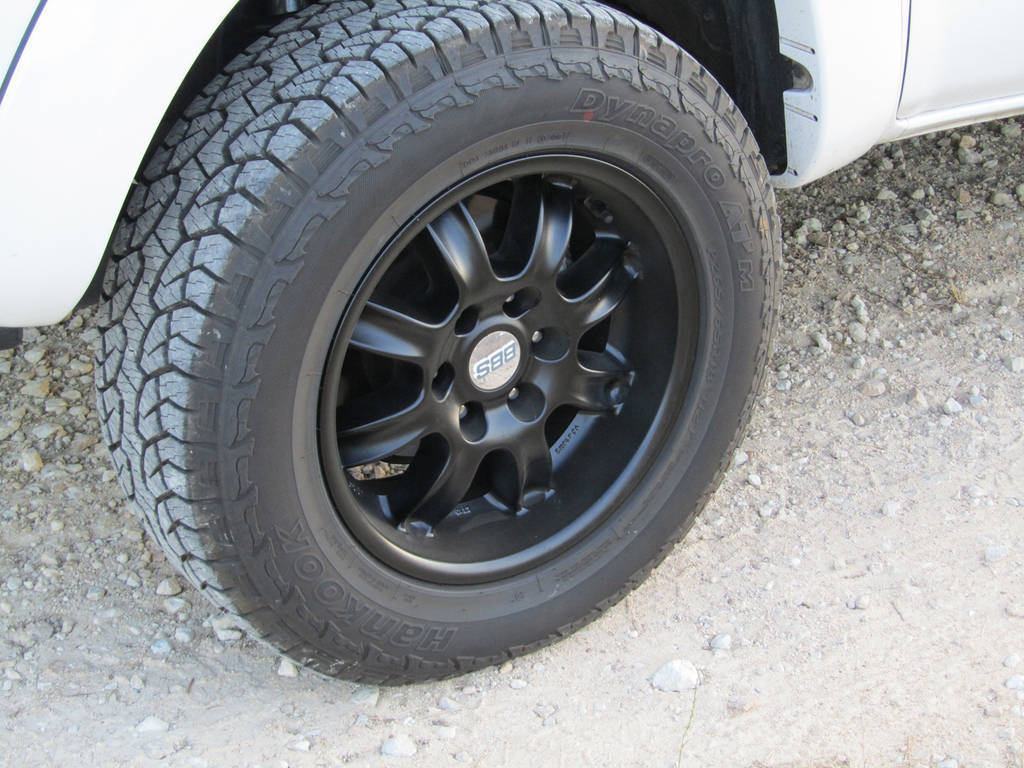 Check in often, I'm always doing little things here and there. Comments welcome!