All Beef Taco's 2010 Tacoma Build
2010 Tacoma TRD Off Road 4x4
4.0L V6
Double Cab
Magnetic Grey metallic
Present build: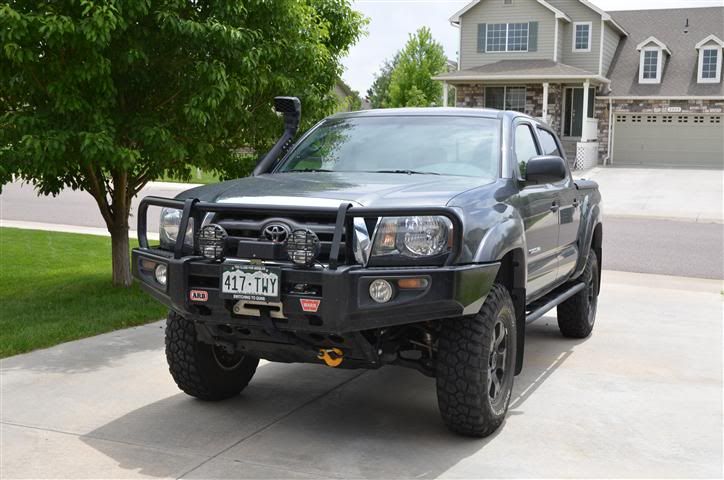 I first discovered Tacoma World last year, a few months before deciding to purchase my Tacoma. I lurked here for a long time before finally joining and haven't looked back since. Tacoma World has been an endlessly vast resource for me, chock full of great information. Thanks to all the posters and folks that are willing to help out when someone has a question… Tacoma World is the best!
At first I was really torn between the Tacoma and the FJ Cruiser but ultimately chose the Tacoma for its outstanding reputation, its roominess and its improved carrying capacity for all of the outdoor activities (and equipment) I enjoy. I'm an FFL (gun dealer/gunsmith) and an avid shooter, so the Tacoma made more sense in terms of being able to haul all of my gear… not to mention the convenience of four real doors when I'm driving with the family. It gets me where I need to go, and I've always wanted a vehicle that could take me wherever I wanted to go off road. As we all know, the Tacoma has so much potential in this arena as well, even without modifications. My Tacoma is my daily driver, but it sees regular use on off road trips/trail runs, hunting/camping/outdoor/expedition outings, etc. I had always looked at the Tacoma as a better way to get me to destinations that happened to be off road. I didn't realize how quickly I'd be swept into the world of off roading just to off road… now I'm totally hooked!
I have to thank some of the folks I've drawn inspiration (and help) from so far, including but not limited to: silverback07, timmer, Neubs and TacoDoc (from Expedition Portal). Thanks for answering my questions and endless PMs! I've always found these build threads to be especially helpful in guiding my own decisions and illustrating the possibilities, so I thought I'd give my own build thread a try. Here's a summary of my build so far….
CURRENT MODS/ACCESSORIES:
Weathertech
floor liners
Undercover tonneau
DIY Hi-Lift bed mount
Demello
sliders
ARB bumper
ARB fog lamps
Warn M8000 w/ Amsteel Blue
Billet 4x4 aluminum Hawse fairlead
Rear leaf TSB
BFG MT KM2's (LT265/75/R16)
IPF 968 lamps
Toytec
adjustable coil overs
Fogs on anytime mod
Toytec 1.5" AAL
Assorted recovery gear
Midland 75-822
All Beef Taco's very own rubber bumper pads mod
Rear Bilstein 5100's
Safari Snorkel SS135HFD
Tacoma4x4.com illuminated 4x4 switch
FUTURE MODS/ACCESSORIES:
BudBuilt skids
Amateur radio rig (I'm KX7G)
Roof top tent of some kind for camping trips
Pull Pal
If I find it necessary... better shocks all-around (
Icon
, Fox, King, etc...) and Dakar leaf springs
Here she was on day 2, bone stock….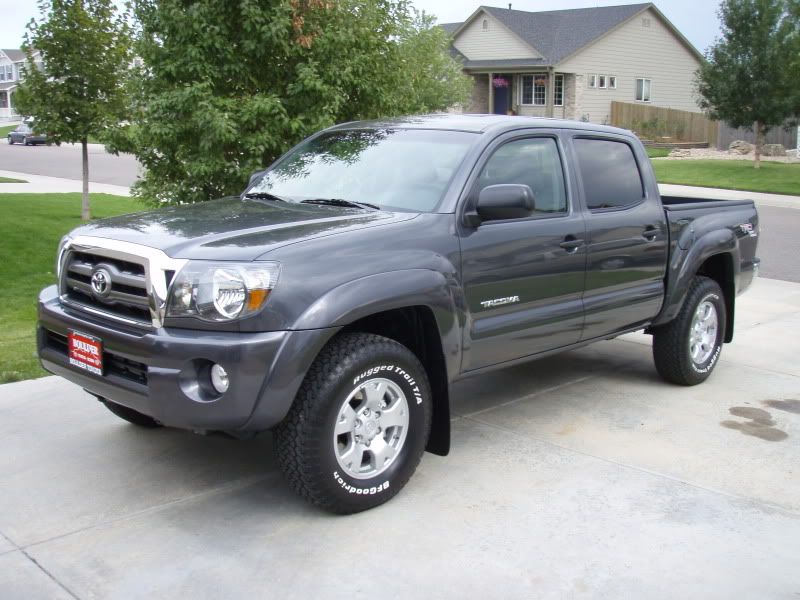 First mod was painting the wheels black on day 3. Tacoma World's first influence, and thanks to the handy write-ups I found here:
Next came my DIY Hi-Lift bed mount: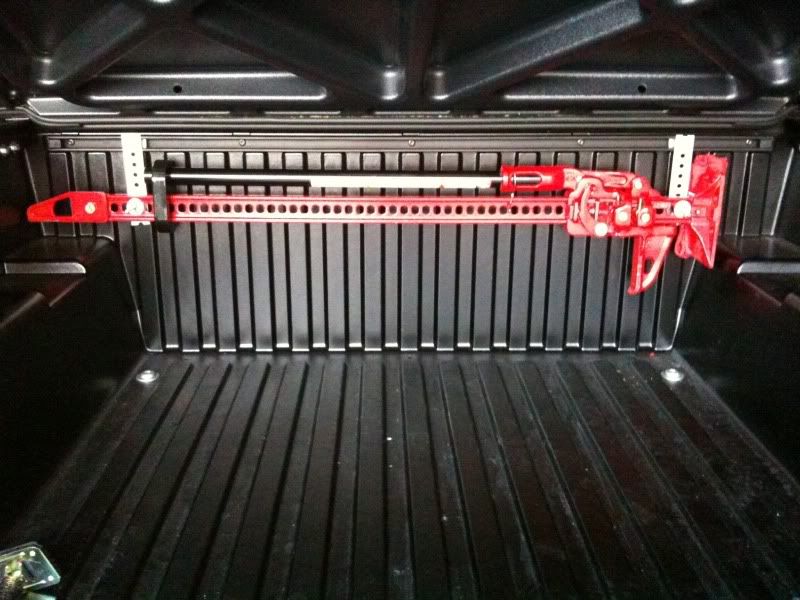 A few pics from her first off road trips: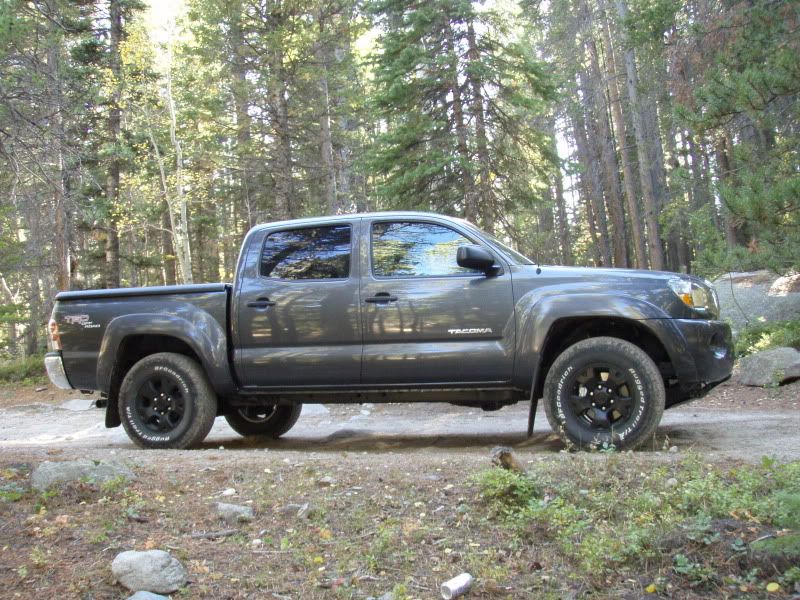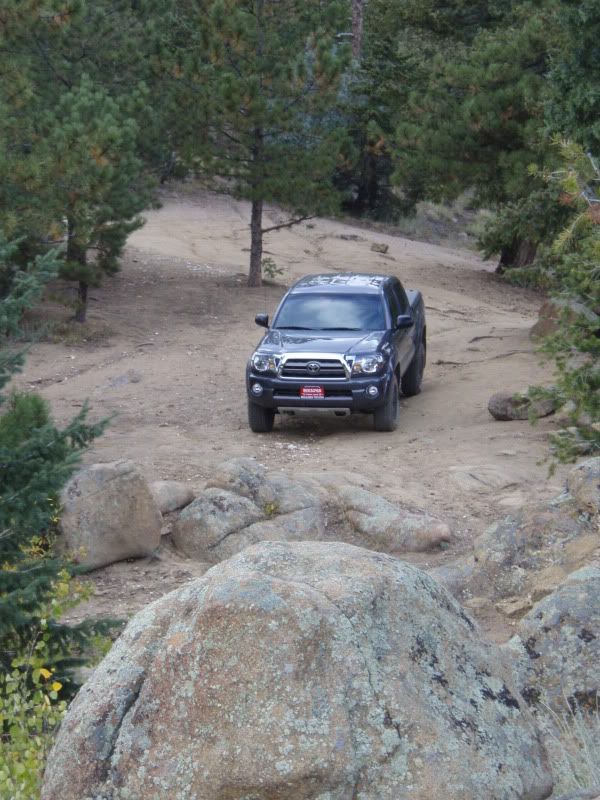 Next came my Demello sliders. I got these through one of the handy group buys here on the forum: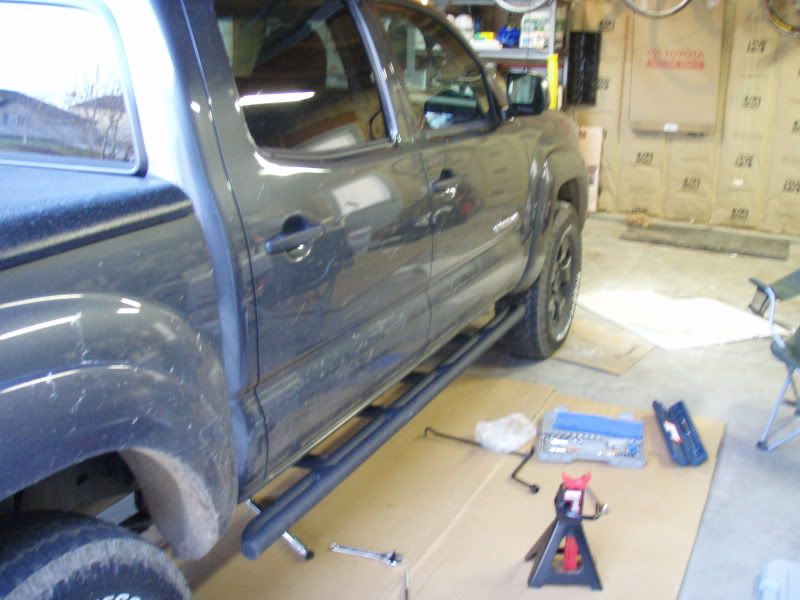 After wheeling more and more (and often alone), I decided to go for an ARB bumper and winch. I got everything just in time for my birthday. The winch has literally saved my a$$ 3 times already since it was installed:
I started with a
Smittybilt
XRC-8, which seemed like a great deal with the synthetic rope and aluminum fairlead. Unfortunately it was an absolute POS (though their customer service was great) and I ultimately returned it for a Warn M8000. I installed an offset aluminum fairlead from Billet 4x4 along with 80' of Amsteel Blue. I also dropped my Boulder Toyota license plate frames (did I mention how much I hate them???) and added these. "TOO CLOSE FOR MISSLES – SWITCHING TO GUNS" Gotta love it!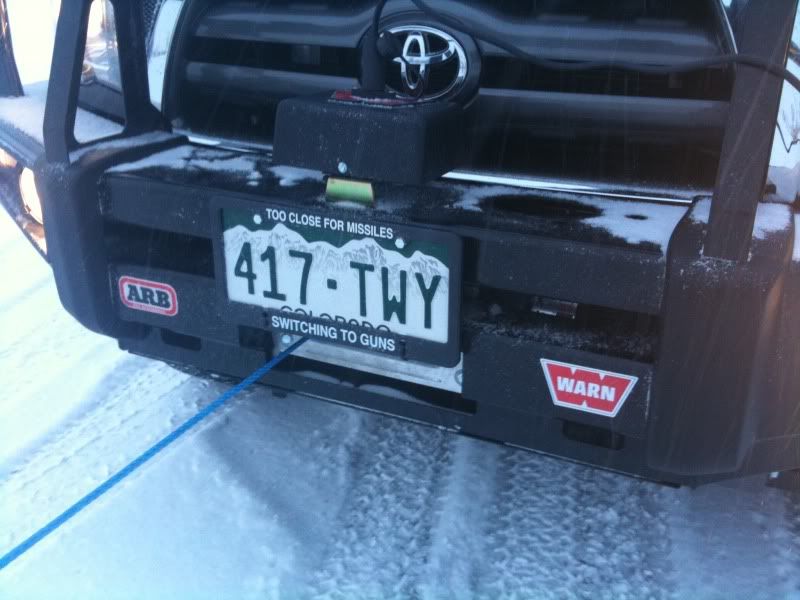 Shortly after the winch/bumper install, I got my rear leaf TSB done. Consequently my front end was sagging pretty low after adding the bumper and winch, so it was time to upgrade. I decided to go with ToyTec's adjustable coil overs. I wasn't sure if I wanted to raise the rear any more after the TSB, but thought I might eventually, so the adjustability and ease of installation seemed like a good fit for me. They're at a decent price and while I'd love to go to Icons in the future, these will do for now. My wallet is straining as it is! I also appreciated the lifetime warranty and close proximity of ToyTec, as I live very close to them. Here's a pic of the coil overs next to the OEM Bilsteins: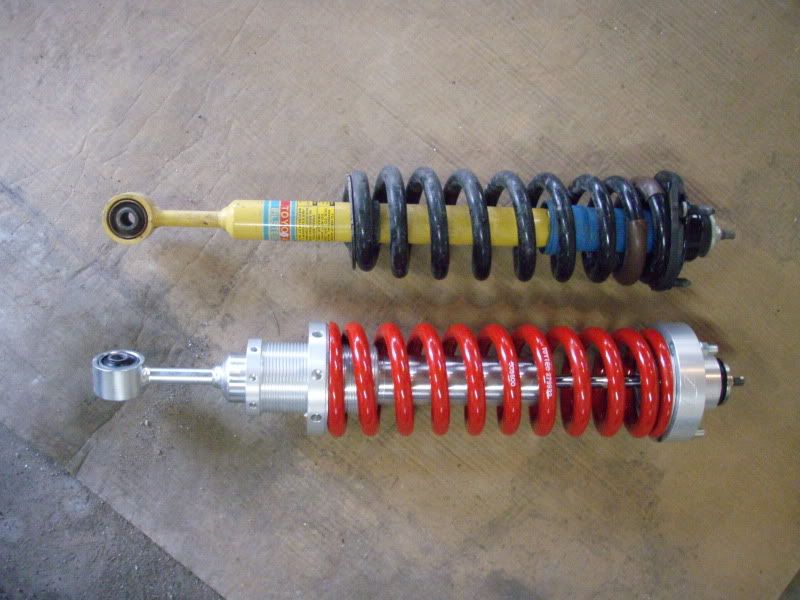 I decided to go with some better tires for trail use. I went with BFG Mud Terrain KM2's on Bill Burke's recommendation and the tons of good things I've heard here and everywhere else. I went up to 265/75/16s (still on the stock TRD alloys) because I wanted to ensure maximum articulation without any further mods… at least for now.
I've most recently added ToyTec's TSB AAL's, and raised the front again to compensate. I'd love to go to some Icons and Dakars in the future but this setup is working great for me, for now. Here are some pics from the trails: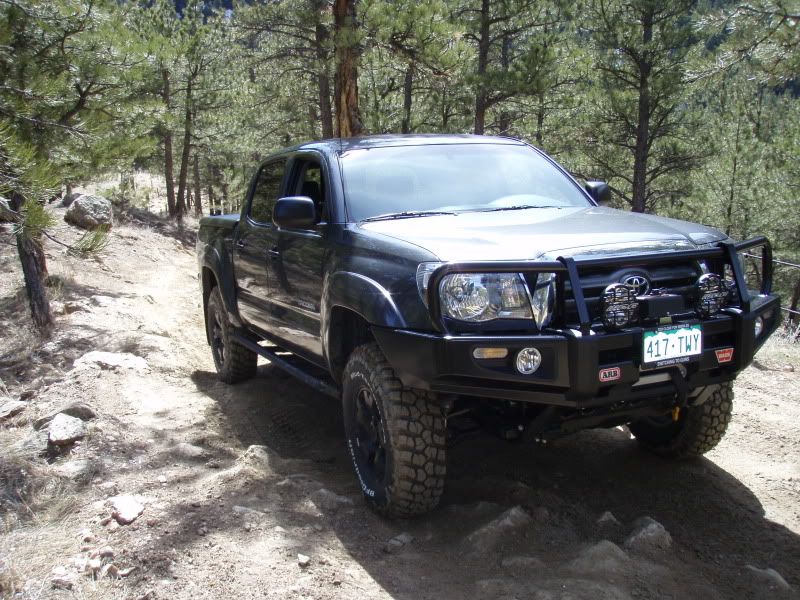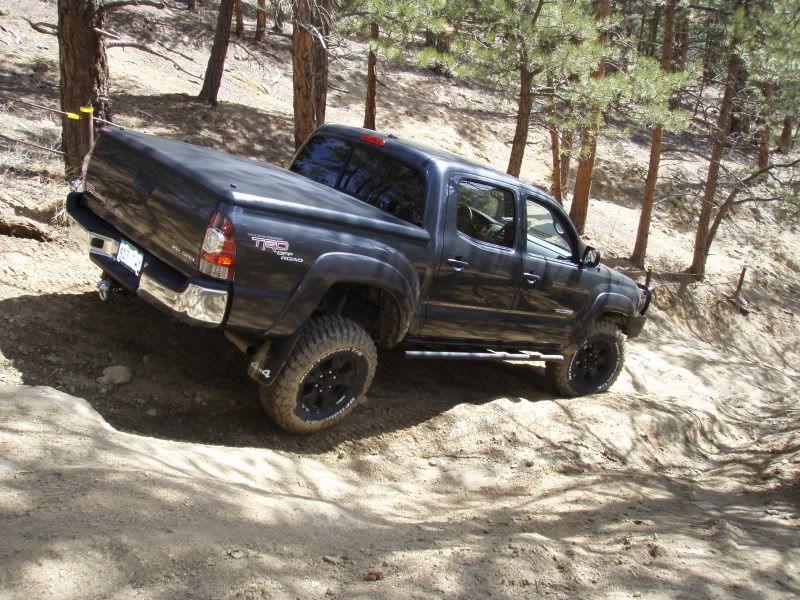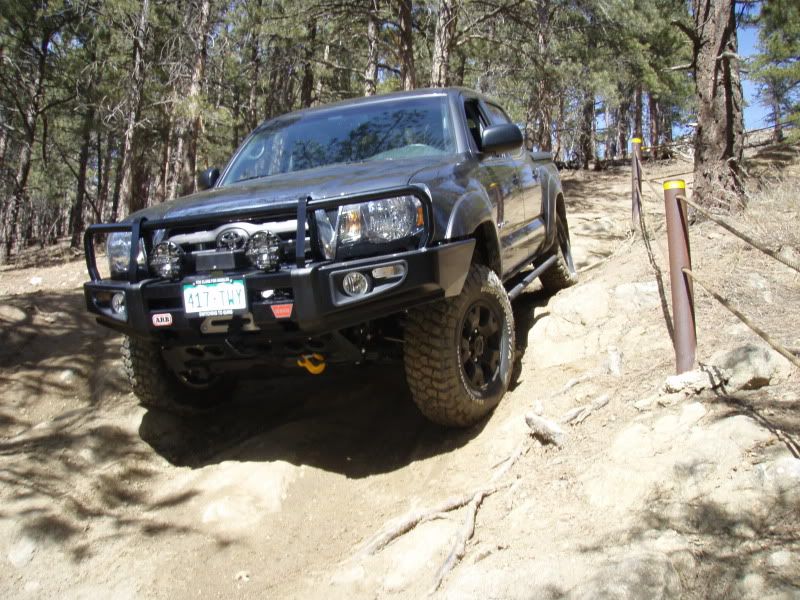 My wallet is hurting but I hope to do more in the future....