Purchased in January 2010 and I can't stop playing with it
So Far:
Blacked out headlight from
ebay
Satoshi Grille
rear TSB
Bilstein 5100's set at 1.75
Goodyear Duratrac's 265 75 16's
Gunmetal (anthracite) FJ TRD wheels
20% tint all around
Relocated Horns
Painted radiator black
Painted engine cover
D-rings in front of bed
Things I will be doing either tomorrow or in the near future:
Hella 500's behind the satoshi
N-Fab step bars (black)
Blacking out the badges
Punisher side emblems from Sockmonkey
Tacomaworld.com sticker in the back window (adds +5hp)
Punisher sticker in back window
Custom skidplate from metalmiller
Painting the front calipers red
Cold air intake (maybe?)
and other shit I haven't thought of yet...
and now... pictures!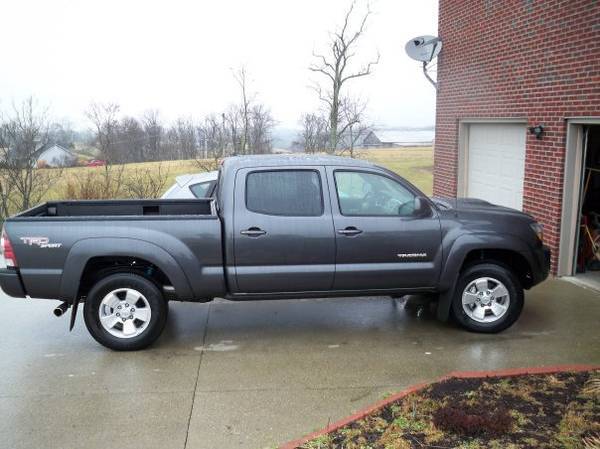 Bone stock the day we bought it!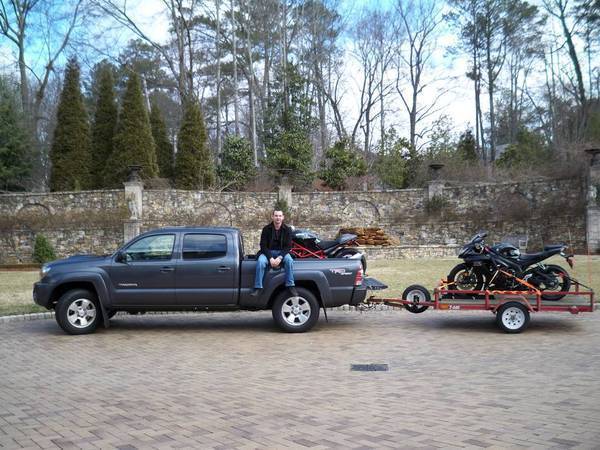 Of course, right after the first 500 mile service I took it on a road trip to Florida in an attempt to escape the snow...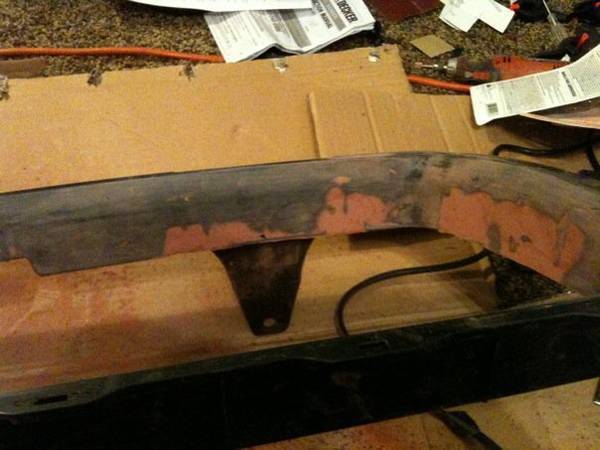 I began with a bang... SATOSHI!!!
I purchased one of those super-cheap oem grilles for like 45 bucks and it took me about a week to do. I did discover that epoxy has a habit of getting on things and places you really don't want it to... like my hair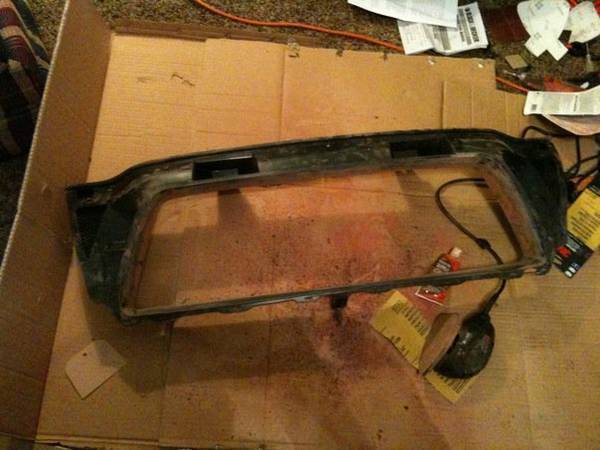 Alot of bondo and sanding...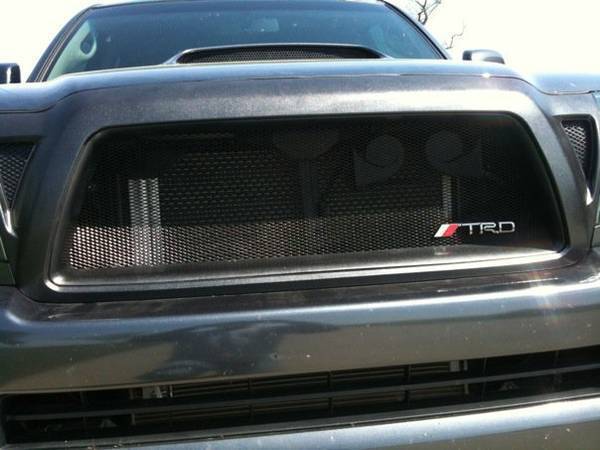 Well, the satoshi turned out great but my painting skills sucked the big one... I ended up taking it to a professional to get it done right.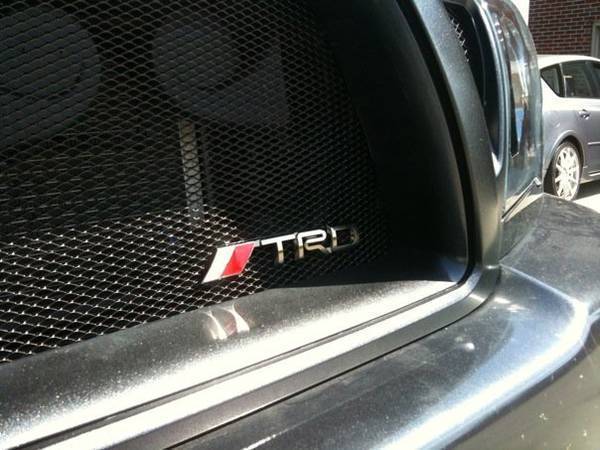 TRD emblem I picked up off ebay...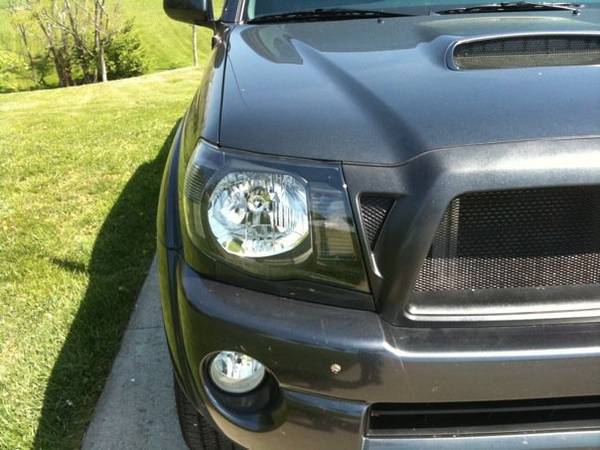 Purchased some blacked out ebay headlights and installed them while I had the grille off.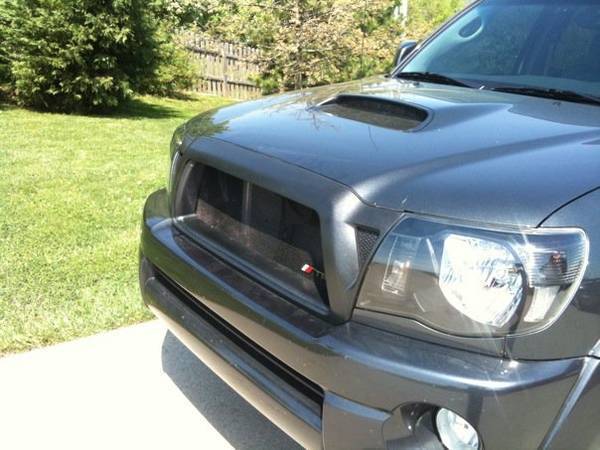 Another shot of the headlights and satoshi. The grille was still dirty from bondo dust and the shitty paintjob
It will look better in a bit... I promise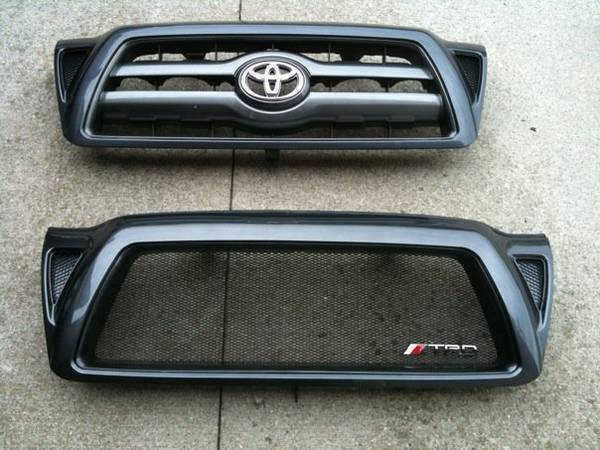 This is after having it professionally color-matched. WAY BETTER! This was a good comparison between the stock grille and the finished satoshi.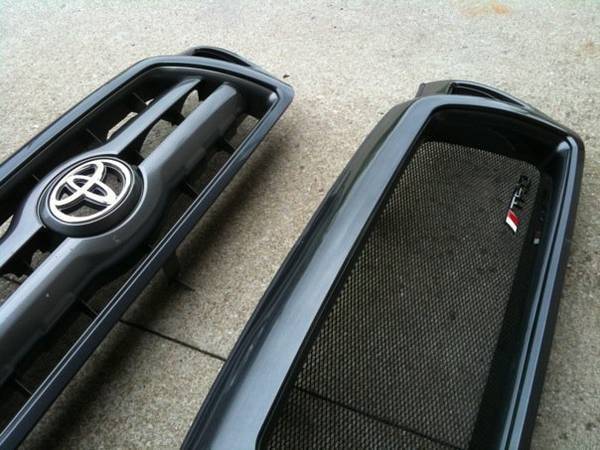 Another comparison shot.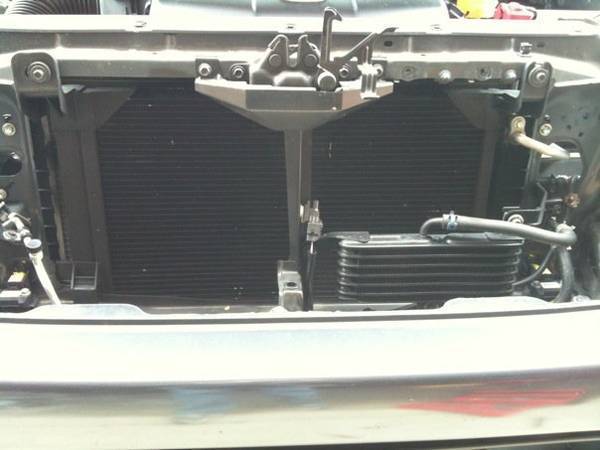 Of course I had to paint the radiator black because it looked stupid shining through the mesh on the satoshi grille.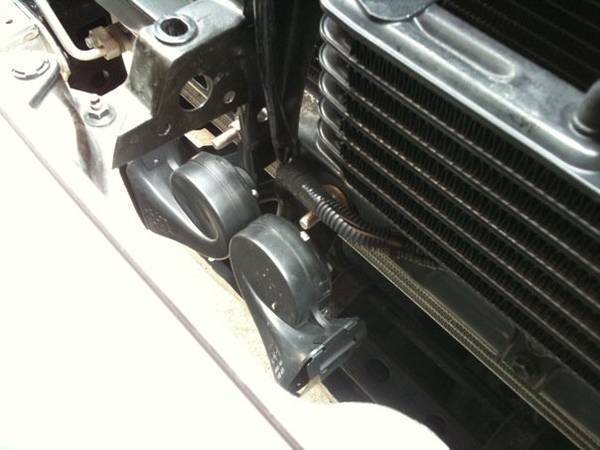 I was able to relocate the horns to just behind the front bumper and was able to leave the temperature sensor in it's original position!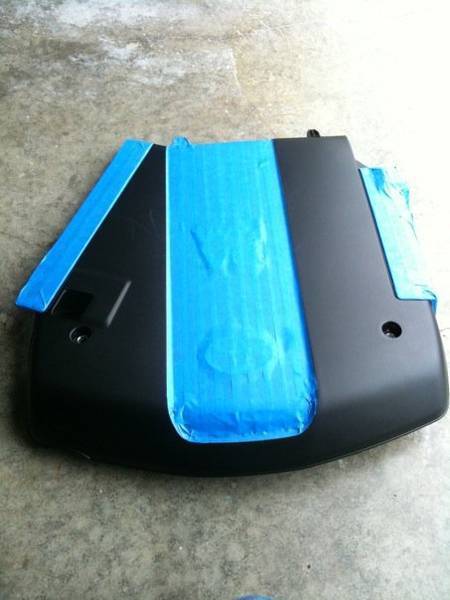 I was going to put on the bilstein 5100's myself but mother nature decided to literally RAIN on my parade so I decided to get creative with the engine cover instead.
Red is the color of
POWER
!!!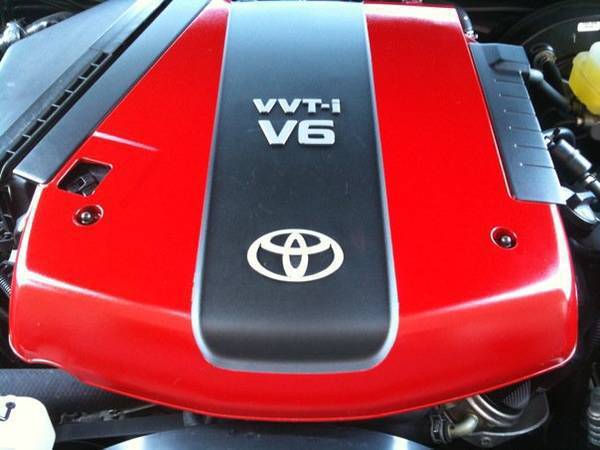 I was pretty happy with the result!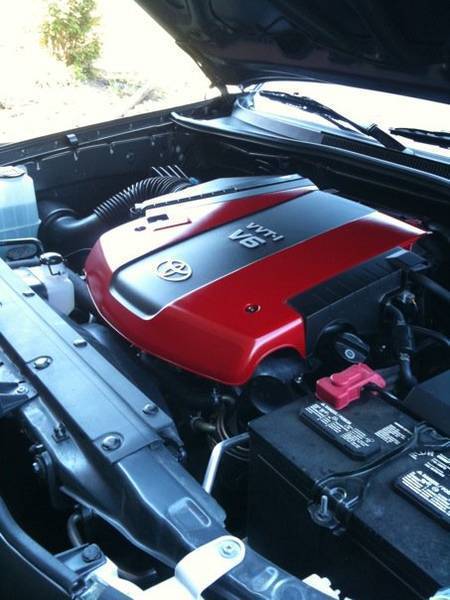 Some people wonder why do it when nobody else can see it? The reason is because "I" know it's there and that all that really matters to me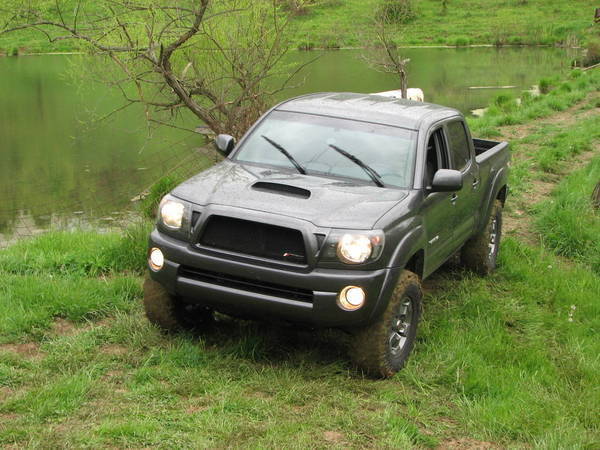 I've gotten the bilstein 5100's installed in the front and set to 1.75 and the rear TSB done. I've also added some Anthracite TRD FJ wheels with some Goodyear Duratrac Wrangler tires (265 75 16) but I haven't gotten the opportunity to take some pictures of them yet. This is a picture taken by a fellow tacomaworld member at the Northern Kentucky Tacomaworld shindig last weekend. As soon as it stops raining and I can get the batteries on the camera recharged I'll take some more and update the thread!
UPDATE!!!
Here's some pics that I finally uploaded to my computer.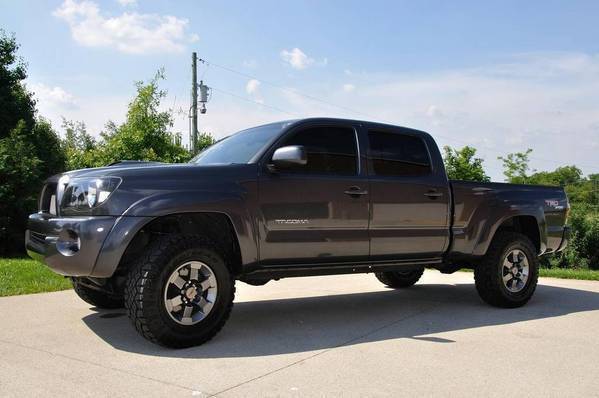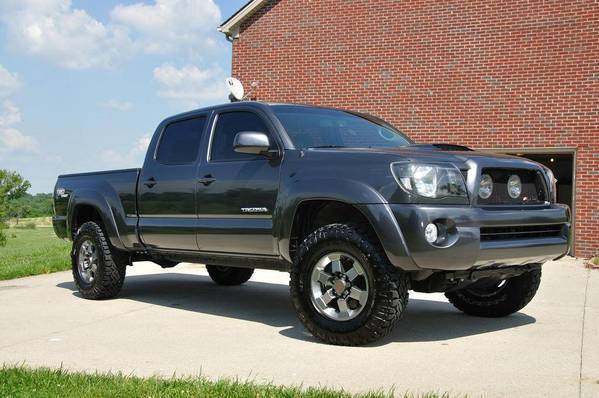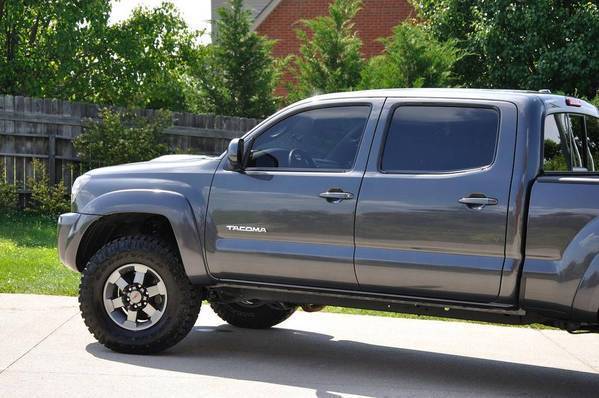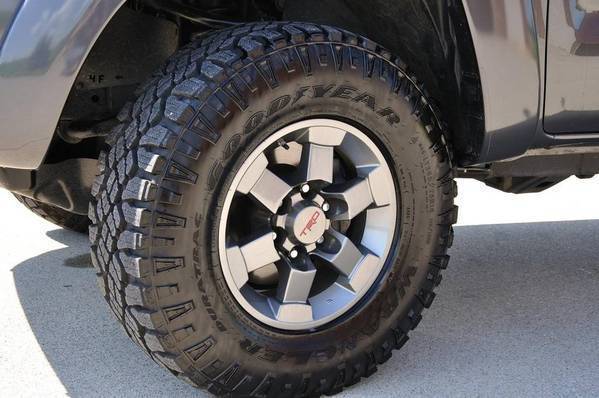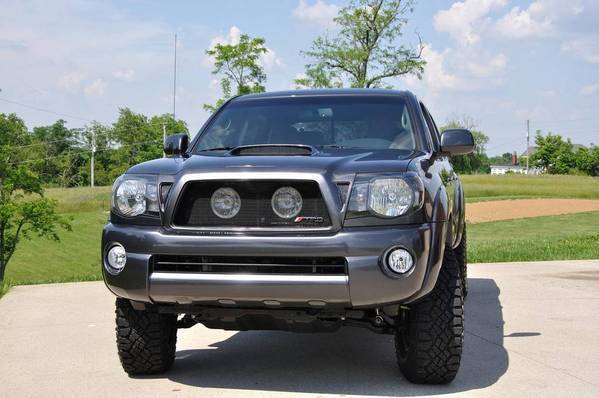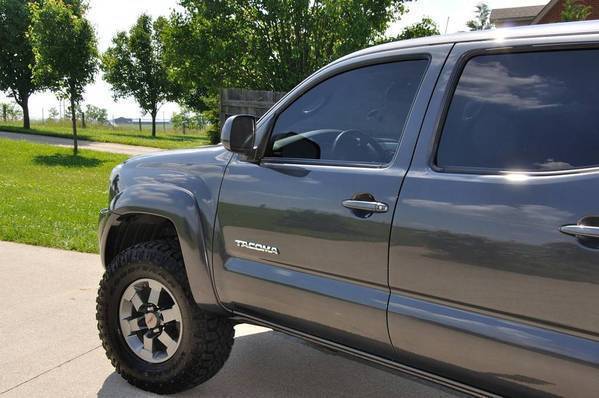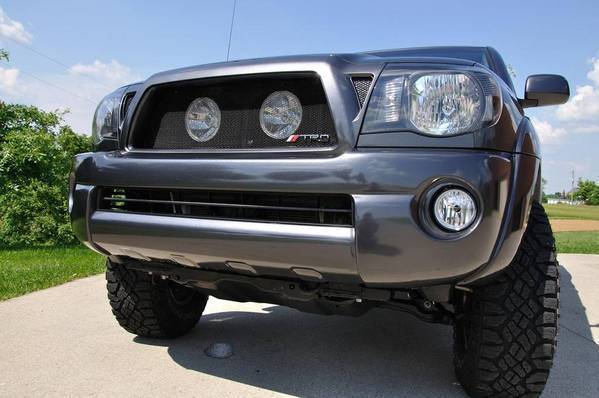 I've got some sockmonkey bedside decals on the way and I've tinted the tail lights. Still wanting to put a roof rack on it and some step bars. Once those Duratracs wear out, I'm gonna go the full 3" lift and put on some 285's!!! Can't go any higher than that though because I'm afraid I won't fit into parking garages...