SOLD SOLD SOLD!!!! Please remove posting.
Yes, it's
still
available. So, this box has been listed for a little while now, with lots of interest but no buyers. I really didn't want to have to resort to tackey sell tactics but I really would like to sell this soon. So here goes nothing.
Gentlemen, (or gentleladies),
Now
is your chance to seize the deal of a lifetime!
Yes you
, I'm talking to you! What would you say if I told you this sub box setup used to belong to someone famous? Who you might ask? Well, we all know that Tacoma's are the tuffest, most bada@@iest "compact" trucks to ever inhabit the earth! And who better to drive such a beast of a truck than the baddest, most kickass-iest lawman of all time? Yes, of course I'm talking about the one and only
Walker, Texas Ranger.
Aka "Charles Norris", aka "Chuck Norris", aka "The Allmighty", you know who I'm talking about! They say when Chuck does a pushup, he 's actually pushing the Earth down. And that the opening scenes of Saving Private Ryan when they're storming the beach, are loosley based on a game of dodgeball Chuck Norris played in gradeschool. Yeah, what if I told you this setup belonged to the Chuck! He rolled all around Texas busting bad dudes and cranking the tunes. You now have the chance to own a part of Walker memoriablia personally used by Chuck, by purchasing this, from me. How, you may be asking yourself, did I ever get my hands on something from THE Walker Texas Ranger? Well, the answer is, he's my father. My mom couldn't resist his
ginger swagger
. Anyway, this
is
a nice box, surely someone is in need of upgrading their system. This is a great start. Chuck Norris Aproved! Come on guys................... Let the bidding wars begin!!!!!
P.S. Before all of you go correcting me by saying, But Paul, everybody knows Walker Texas Ranger drove a Ram in the series, not a Tacoma!! Well, he only drove a Ram because that's who was sponsering the series. Once the director yelled cut for the day, what do you think old Chucky drove back to his trailer? You're damn right, he drove a Tacoma!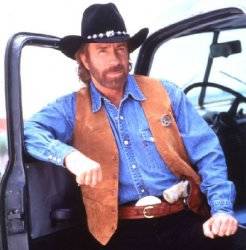 Still Available.
Price Drop. Time to sell my dual 8" sub box with JL subs installed. This is a professionally built and carpeted enclosure that I bought off of a fellow TW member about a year ago. There's nothing wrong with them and the enclosure fits 2005-2009, doublecab Tacoma's behind the rear passenger seat. This is a sealed enclosure that fits nice and tight, no bouncing around behind the seat. The bass is tight and punchy, and the box was built specifically for these subs. Asking $150.00 for the box with the two JL subs installed. I'm not against shipping (on buyers dime) but would perfer local Oklahoma City area pickup. I am willing to ship or drive a bit for the sale. If you've been considering a stereo upgrade and are looking for a little bump on the cheap, this is the way to go. If you're local, I'll even help you with the install. Let me know if you have questions. Thanks.
Here's a photo installed, more photos on page 2.
EDIT:
Many have asked so I figured I'd add, I was running an Alpine Vpower Digital mono amp, pushing about 450w RMS to these. Yes they definetly still have life in them, but no I'm sorry I do not know what model sub they are. As far as I know, since I bought them off another member about a year ago, they're about 2-1/2 years young, and still bumpin' The box is a custom built, sealed enclosure, made of high quality MDO or MDF (unsure) NOT cheap plywood. As TexasIslandBoy (post #14) can attest, the original owner paid way more than 150.00 for this setup before I bought it off of him for 250.00 a year ago and it is a very well built enclosure. I'm asking $150.00 plus shipping, which seems to be averaging about $40.00 bucks. It will weight 35 pounds all boxed up and it's shipping from 73013 but I can still look up the shipping charges for you if you give me your zip code. Thanks for looking.