SOLD
These are take-offs from my 2011 which had roughly 15,000
miles on it at the time the gears were removed.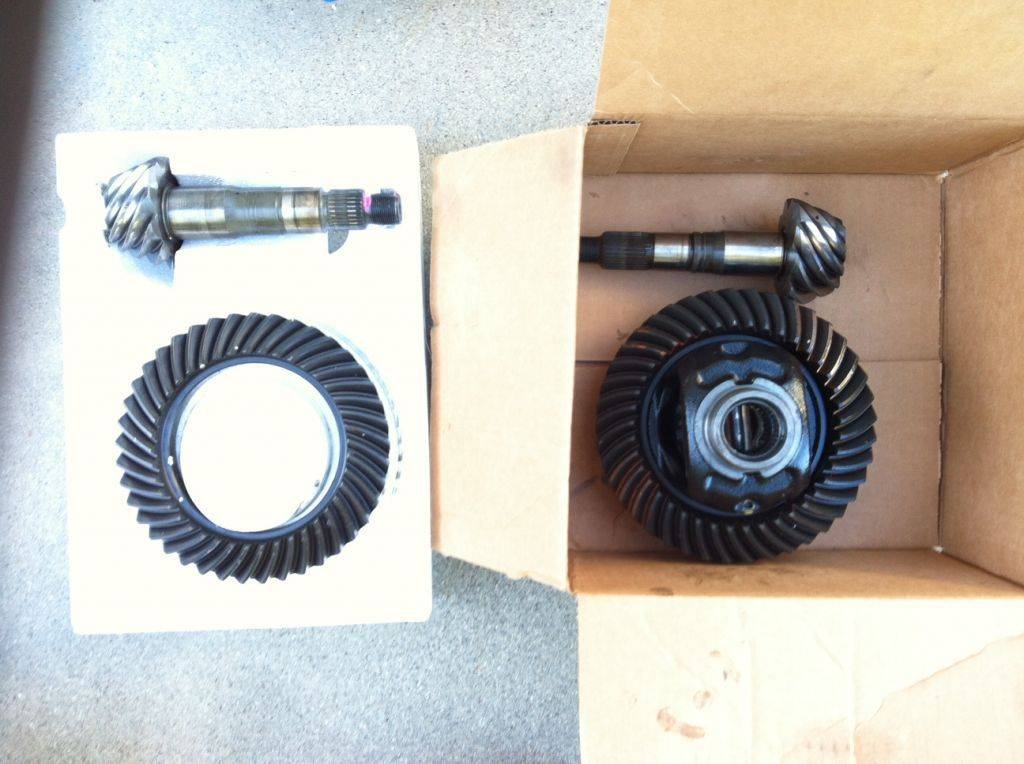 Hey, bjmoose, I've got a question:
No prob, I've got an answer.
FAQ:
Q: What's included?
A: Included is 4.10 rear ring and pinion,
4.10 front ring and pinion, and front carrier.
Q: Why would I want the front carrier?
A: The carrier is the part that the ring gear physically mounts to.
If you're regearing from a 3.73 front diff, the existing carrier is
the wrong size for factory 4.10 gears. So you need this too.
Unless you're also installing ARB locking differentials.
Q: Will you split up the set and only sell me <blank> ?
A: Nope. Sold as a complete set sale only.
Q: What size are these gears?
A: Rear: This is what is commonly known as the 8.4" rear differential
- the non-electronic locking differential. The front is from what is
commonly known as the 8" clamshell.
Q: How much you askin'
A: $350
shipped
in the lower 48.
I'll ship 'em anywhere, but I may need to ask a little
more denero outside the lower 48.
Q: Is that a fair price?
A: I think so. TW's favorite "gear guy" is Chase at
http://eastcoastgearsupply.com/
. If you bought
these from him, he'd charge you about $400
plus shipping
for these gears in this condition. But he doesn't even have used
front carrier or gear set listed in stock right now on his website.
Q: Will they fit my truck?
A: Basically, if you're running a 2nd gen with a V6 and a
non-locking rear differential, (or aftermarket locker) this
is the set of gears you need.
Q: Do I want to regear to 4.10? 4.30? 4.56? 4.88?
A: There are lots of considerations. But folks who want to
return to a "factory" gear ratio after stepping up to 32" tires
(e.g. 265/75R16 or 265/70R17) often switch to 4.10 gears.
Folks who've moved up to 33" tires often switch to 4.56 or
4.10 depending on whether optimizing for power/acceleration
in traffic (4.56), or gas mileage/lower rpms while cruising at highway speeds (4.10).
Q: How much work is it to install?
A: I'm pretty handy. You've probably seen some of the
threads I've posted on TW on work I've done on my truck.
That said - I don't set up gears. I don't weld - and I don't do jobs
where the difference between success and failure is measured
in thousandths of an inch. So I recommend you get a competent
mechanic to take on this job. If you're "pretty handy" you can
drop the front and rear differential out of your truck yourself, and
drive the "3rd members" (assembled differentials) to the gear
mechanic of your choosing and have them set them up.
Q: How much does that cost?
A: I've given up on guessing. Whenever I tell folks how much
I pay for competent shop labor here in the Bay Area for labor,
they act like I've been smoking that funny tobacco. Find a
mechanic you trust, and ask HIM.