SOLD
SALE PENDING FOR SATURDAY 03/30/2013 LOCALLY
I will give an update if it doesn't go through.
Install these about a month ago, but I was very indecisive on the looks of it with the fully blacked out headlight on a silver truck. Don't get me wrong, it looked good, but just a little too much for my taste.I ended up sticking with my 2011 headlights that came from factory with the gunmetal look instead of the chrome.
Run down on Retro:
1: DS2 projectors from "
The Retrofit Source
" during group buy with Gatling gun shroud. they are in perfect condition. Just the nuts for tightening them down are kind of beat up from actually tightening them down. I don't know how i could have prevented that with the way they have to be tightened with the clearance you have and actually getting them down tight so they didn't move.
2: I am keeping the ballast, and bulbs for a different project. I was keeping the harness, but i am now including it.
3: My order did not include the little metal washer for retaining the bulb for one side. Its used to put pressure on the bulb when installing the lock nut so the bulb doesn't move. So i made my own which i will include.
4: Headlights are DEPO lights i purchased off
Amazon
already with black housing. I took out the housing and painted the reflector while it was still in the headlight assembly. The alignment of the reflector bowl was not touched.
5:
The headlights are opened as of now i will re seal them before shipping.
If you want them as is without me re sealing them they will need to be re sealed before install. I will include the extra 3M seal i have that was left over. It should be more than enough. I purchased it separately from amazon. I was going to reuse the projectors in the 2011 factory gunmetal headlights, but decided to go with the fx-r projector.
6: headlight have NO broken tabs.
I am asking
$205
. I don't mind shipping on you dime. If you want to know how much shipping will be you can either go onto USPS, UPS, or FEDEX website and type in my state and zip "Ocoee, FL, 34761" and get a shipping quote. For the box i don't have one yet to fit them so you would have to estimate it with a big box. I will confirm on shipping price before payment.
This is how they looked before i pulled them apart.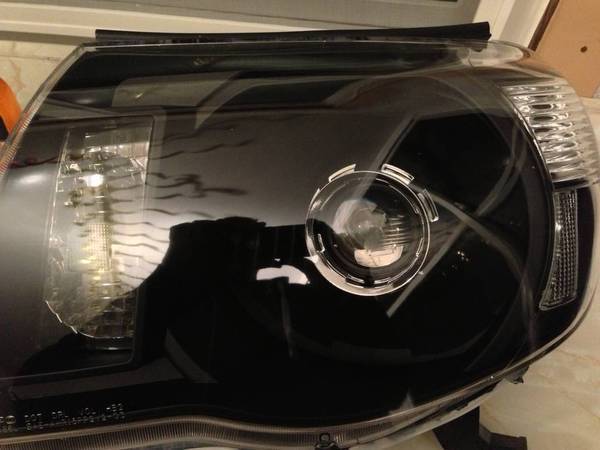 UPDATE: If anyone is worried about re sealing them i will re seal it before shipping and run a bead of silicone like i did when i finished it.
$200 obo
you cover shipping.
If you already have a Bi Xenon HID kit on your truck all your would need is to purchase the DS2 bulb and the adapter that will plug into the DS2 bulb on one end and your ballast on the other end. Its pictured below post #8 last pic. I will also be including the harness that the kit was included with.