SOLD SOLD SOLD SOLD SOLD
$450 + shipping FIRM via Paypal
I would consider trade items as well. Right now I am looking for a set of LED 09+ Tails and sliders.
I have for sale a pair of retrofitted headlights complete with FX-R projectors. These were built by another member back when he was making them and then I purchased them off the member they were made for. They are not perfect, but I will outline to the best of my knowledge everything you need to know.
The Good:
Light output is excellent with no bowing and is damn near dead on rotation wise. If you have a mini D2S setup you won't be disappointed in the upgrade. That's what I originally had and don't regret the switch a bit.
I am including Phillips 85122 bulbs and Denso Slim ballasts. These are OEM components to which other retrofit parts are generally compared against.
The Bad (take into account that I didn't build these
):
1. The main reason I took these off and built my own is that on hard bumps and stuff they tend to "deflect". In other words they sorta bounce on bumps and stuff. No one else in my vehicle seemed to notice or care, but it bothered me. You will get this with any retrofit you do or buy and I believe it is because the projector is too heavy for the bowl thus the deflection on vibration. My new ones aren't even cured of this though I am working on a solution.
2.
(UPDATE 6/2/13: I got in behind them and modified them more to avoid this issue. I believe I have remedied it, but can make no guarantees as I have no way to bench test it currently. I can provide the buyer with a diagram of all FX-R moving parts so that if the issue still exists they can fix it themselves pretty easily.)
When you flip to high beams, occasionally the shield will catch part way on its way down. When I got them it happened nearly every time. I got in there and messed with them, but I couldn't completely take apart the projector so my access to the components were limited. It now will catch MAYBE once in 20 cycles. To remedy all you have to do is flip the stalk back once to go high beam again, and then back to low beam and it should be all good.
3.
(UPDATE 6/2/13: I have taken apart and resealed both headlights. Ran a bead of ribbon sealer and reapplied silicone to both. If the buyer modifies his/her boot off of their OEM headlights correctly I see no reason that these should not be water tight.)
They get a little bit of moisture in them if you go through an automatic car wash. When I wash the truck at home with the hose I have no problems which leads me to believe that the moisture is coming in the back where the ballast hooks up to the bulb. I would recommend taking the stock rubber boots off of your OEM headlights and modifying them to fit snugly over that. Regardless, they clear up after like 20 minutes in the sun.
Alright, now that I have laid out everything that I know that you need to know I figure I shall let you know how much I am asking and how you might get a hold of these daylight makers. I am looking to get $450 + shipping. Should be no more than $50. Canada and Hawaii might be a little different as I haven't shipped there before. We can figure something out though price might be the same.
Let me know if you have any questions and this FS listing will have the same rules as my others. I am more than happy to answer questions within the thread, but a PM is the only way to get yourself in line to buy them. If you send me a pm and I respond you will be given 18 hours to get back to me before I move on to the next guy.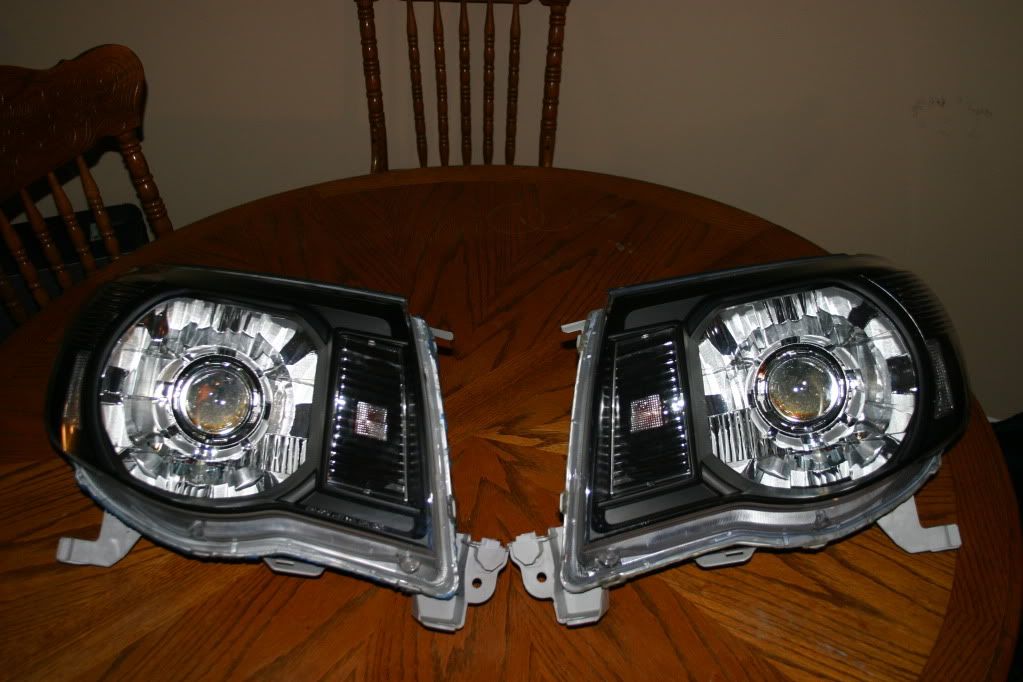 And a pic when they were on my truck