IN STOCK!

Supplies on order.
For ordering information see the bottom of this post.
Please note that these will also fit 4Runner trucks, as well as corresponding FJ Cruisers and Lexus GX 470s. Spread the word and let others know about these!
One of many reviews I have received: (spelling mistakes left intact)
Quote:
Hello Bill, just wanted to thank you for the excellent product that arrived in the mail yesterday. The hubs and bearings look beautiful and I'm not just saying that ........ All in all the unit you sent me looks like a professional had put together and the parts look brand new, all the bolts in the hub were in the hub and it was also packed better with filler and not just plastic wrap and paper for the hubs to move around in the box and tear it open. I had to let you know these things and would very much like to put it out on the forum ..... I just want to thank you for a great set of hub assemblys, .... you do put out a superiour product and yours is the name I will give when asked about hubs or anything else you are selling, I got my money's worth. Thank You Bill.
I've been working for a while now with Toyota, Timken, National, and Dorman. We all know the front wheel bearings are a common failure for both the Pre-runner, AND the 4X4 (ESPECIALLY the 4X4!) and trying to find a quality replacement is a pain. Then you have to get the parts together, drive to a shop, pay anywhere from $25-$50, and PRAY that the shop doesn't break something in the process!
Have you wanted to be able to buy the entire bearing, ready to bolt on, with quality parts without breaking the bank? My work is your gain. I have obtained contracts with suppliers and now am able to make pre-assembled FULL units, ready to bolt on. EVEN THE PRERUNNER 6 LUG 4X2!
Here is what you will get:
For the 4X4 Tacoma:
National brand bearing (Timken, GMB, or Koyo available)
Dorman wheel hub
Timken bearing seal
Toyota bearing installation bolts
Toyota o-ring seal
The price of this bearing unit, pre-assembled and ready for install is:
$184 each.
This includes flat rate shipping within the United States (INCLUDING Hawaii and Alaska). Canadian orders see bottom of this post.
These will fit the following
4 wheel drive
vehicles:
2005 - 2013 Toyota Tacoma
2003 - 2013 Toyota 4runner
2007 - 2013 FJ Cruiser
2003 -2013 Lexus GX 470
For the Pre-runner:
National brand bearing (Timken, GMB, or Koyo available)
FACTORY Toyota wheel hub
FACTORY Toyota hub nut
Timken bearing seal
Toyota Bearing installation bolts
The price of this bearing unit, pre-assembled and ready for install is:
$284 each.
This includes flat rate shipping within the United States(INCLUDING Hawaii and Alaska). (Canadian orders see bottom of this post)
These will fit the following
2 wheel drive
vehicles:
All Tacoma Prerunners
2003 and up Toyota 4Runner
2007 and up FJ Cruiser
All assemblies are built in a fully
ASE certified shop
, by an ASE certified Master Technician using a 20 ton shop press.
I was finally able to upload my own photos. Below you will see the components as well as the assemblies.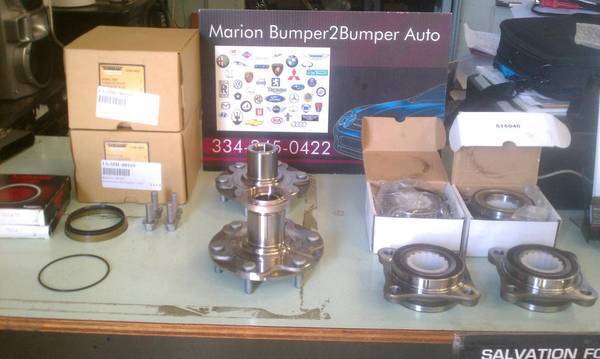 Above you will see the Toyota o-ring, Timken bearing seal, Toyota hub bolts, and the National hub bearing assemblies.
Also you can see the Dorman hub for the 4X4 setup, as well as the Toyota hub for the 4X2 setup.
Assembled 4X4 hub unit: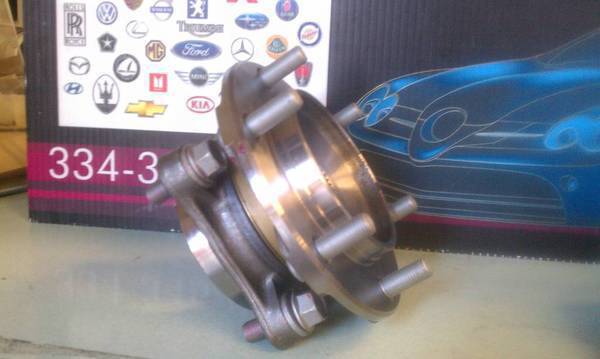 Assembled 4X2 hub unit: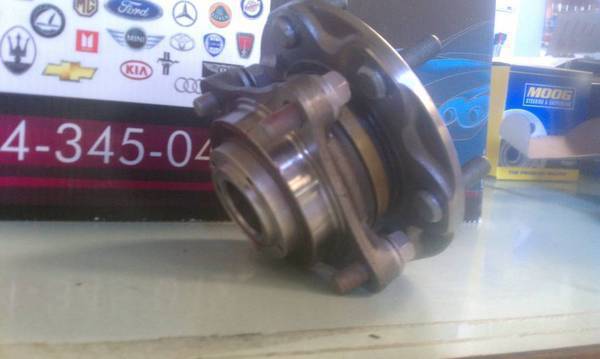 Here is the proper way to press these units together.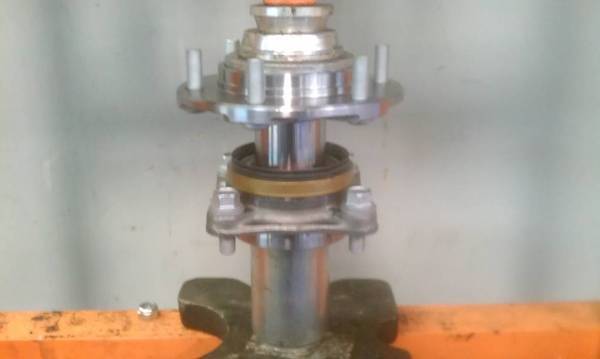 Some people place the hub and bearing assembly directly on the lower plate. This is not the correct way as it applies force to the bearings themselves on the inside. This can cause chipping of the bearings or races, resulting in premature bearing failure. By using a press sleeve underneath the assembly, and directly on the center bearing support it forces the pressure only on the inner races of the bearings, pressing the two races together, and pressing the wheel hub into place. This applies NO pressure to the bearing itself. How can you tell? Check out this short video I made that demonstrates this.
http://www.youtube.com/watch?v=BhHbO...ature=youtu.be
The process will include:
Proper full greasing of the new bearing
installation of bearing seal
installation of mounting nuts
pressing of wheel hub into bearing
installation of hub backing nut and torque to spec.
I have a new system I designed to pack these wheel bearing FULL with the appropriate high pressure grease. Most bearings, including Koyo, Timken, National, and all of the others, come with an inadequate amount of lubrication. I pack these bearings properly.
***WARRANTY***Now included for free!!
I offer a 12 month/12,000 mile warranty (Whichever comes first)
Please photograph your odometer when you install the hubs.
Again these are professionally built units, assembled by an ASE certified master technician (ASE identification number ASE-1923-5640) and are assembled in a licensed automotive repair shop.
Please note that in order to make sure I am doing this legally, I have to charge sales tax to any orders shipped within the state of Alabama. Not what I want to do, but it is the only legal way to do this. All states require sales, even online, to charge sales tax if sold within the same state, so if you live in Texas, and buy them from a seller in Texas, you are required by law to pay sales tax.
Shipments to Canada are available, but due to weight limits of 20lbs as designated by the USPS, I cannot combine shipping to reduce costs for 2 hub assemblies. I have researched alternatives, and I may be able to combine shipping using UPS, but I cannot always guarantee the same price. If there is an overpayment on shipping to Canada, the overpayment will be refunded. If you are purchasing from Canada PLEASE specify that when asking about the hubs so that there is no confusion. Thank you.
PayPal Merchant ID email address:
Marionb2bauto@gmail.com
To order simply send the appropriate payment VIA PayPal to the above merchant ID. Include in the information box your name, address, contact number, and TW ID to expedite your order. Leaving out ANY of this information can result in delays.
--------